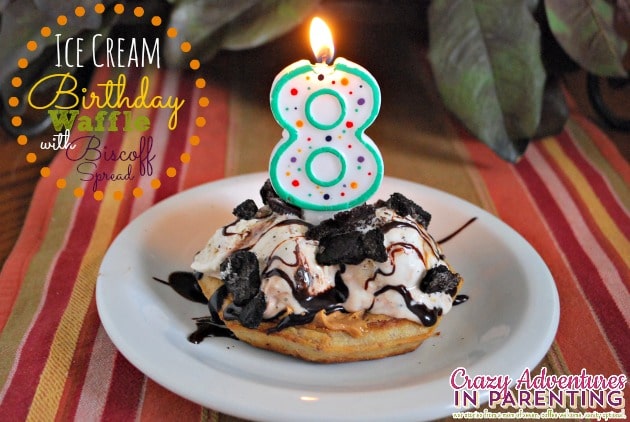 I am a compensated Chief Waffle Officer for Eggo®.
You want to celebrate each and every moment of your loved one's birthday, right? They wake up, they get hugs and kisses and "Happy Birthday's!" from everyone in the home (which, if you're a part of our family, is a lot of people). When they head downstairs to grab breakfast, why not go "big" and do something unforgettable? Something awesome and fun, that will likely get talked about for years to come (especially if it becomes a tradition?)
In our house, the day after someone's birthday, we eat leftover birthday cake for breakfast. But that's the day after. I wanted to make a tradition for the day of the birthday.
And then it hit me.
What if I made a waffle sundae? What if it was made from Eggo® Thick & Fluffy Cinnamon Brown Sugar Waffles with luscious Biscoff Spread topped with Breyers BLASTS!® Girl Scout Cookies® Samoas® and HEATH® English Toffee drizzled with chocolate syrup and sprinkled with crumbled OREO cookies?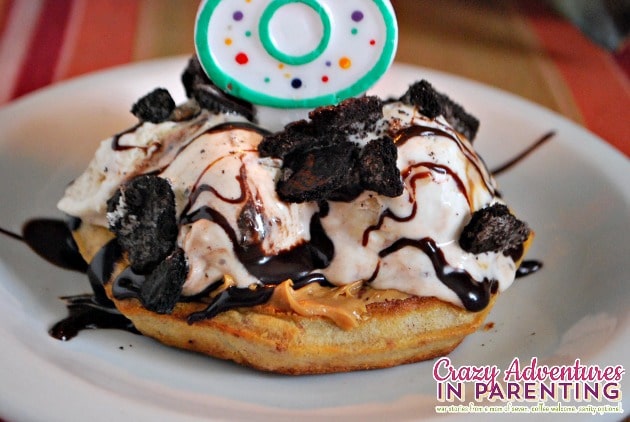 Is that NOT spectacular!? OH YES!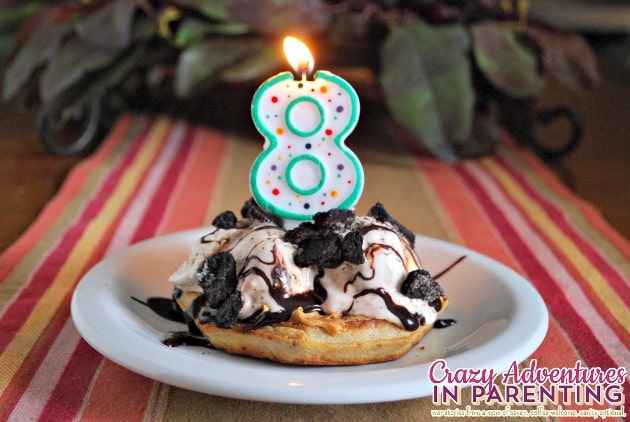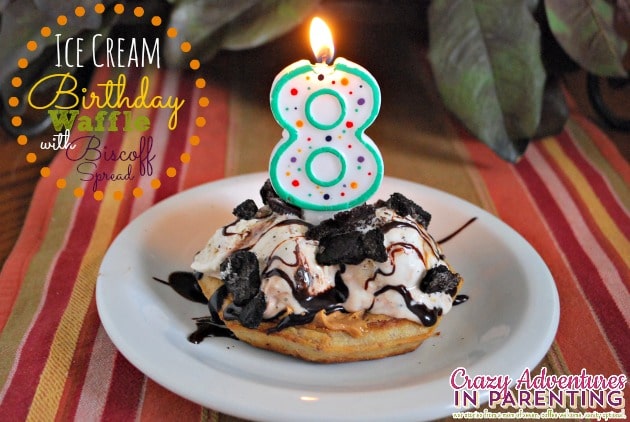 Ice Cream Birthday Waffle Sundae with Biscoff Spread #EggoWaffleOff
Celebrate a loved one's birthday with a fantastic start with these birthday ice cream waffles!
Print
Pin
Rate
Ingredients
Eggo® Cinnamon Brown Sugar Thick & Fluffy waffles

Breyers BLASTS!® Girl Scout Cookies® Samoas®

Breyers BLASTS!® HEATH® English Toffee

Biscoff Spread

Chocolate Syrup

OREO Cookies

crumbled
Instructions
Toast your waffle in the toaster until it's browned and somewhat crisp.

Immediately move it to the freezer to cool down while you take out your ice cream to soften.

Whip the Biscoff Spread around a bit, so it becomes fluffy and easier to spread.

Once the waffle is sufficiently cooled off, place it on a plate (with a dollup of chocolate syrup on the plate to hold it in place) and spread the Biscoff Spread on it.

Using an ice cream scoop, scoop half a scoop of ice cream from the Girl Scout Cookies® Samoas® and fill the rest of the scoop with HEATH® English Toffee; continue doing this until you've filled 3-4 scoops onto the waffle. (They mix together sooo well!)

Drizzle the chocolate syrup onto the ice cream, then sprinkled the OREO cookies on top.

Top with your candle immediately and get ready to sing!
Is that not gorgeous? Wouldn't that put a smile on your loved one's face for their birthday?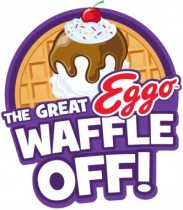 What could you create using Eggo® waffles? Enter The Great Eggo® Waffle Off! contest and visit Eggo® on Facebook for their contest app. Breakfast, lunch, dinner or dessert, you choose what recipe to create and enter that could win you the $5000 grand prize (or several other prizes for runners-up, including cash or Eggo® products)!
Did you catch my Whole Wheat Peanut Butter Banana Blueberry Waffles last week? Stay tuned for more wafflelicious recipes from me every Wednesday from today until the end of October as a Chief Waffle Officer for Eggo®.