It's almost Easter! How are you getting ready for it? We've been decorating for it for a few weeks now, and I wanted to share with you what I've been up to with a few select additions the folks at ProFlowers sent me to make it schnazzy and more spring-like!
As you enter the house, here's our entry wall complete with flower garland and this gorgeous Children's Easter basket from ProFlowers.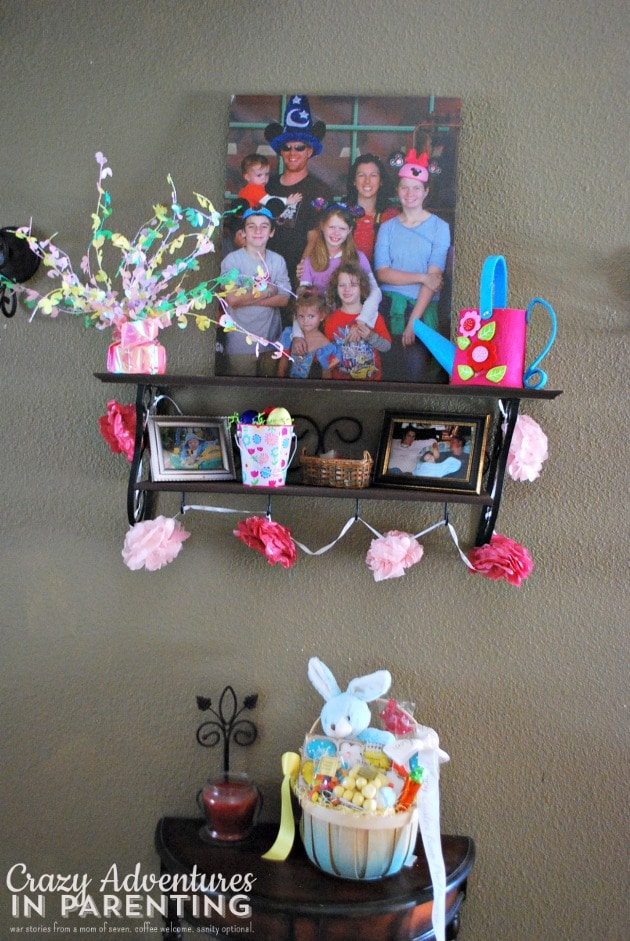 It's perfectly packed with just the right amount of sweetness and cute gifts for your little one. (And it's a gorgeous basket to boot! A perfect basket to reuse for later!)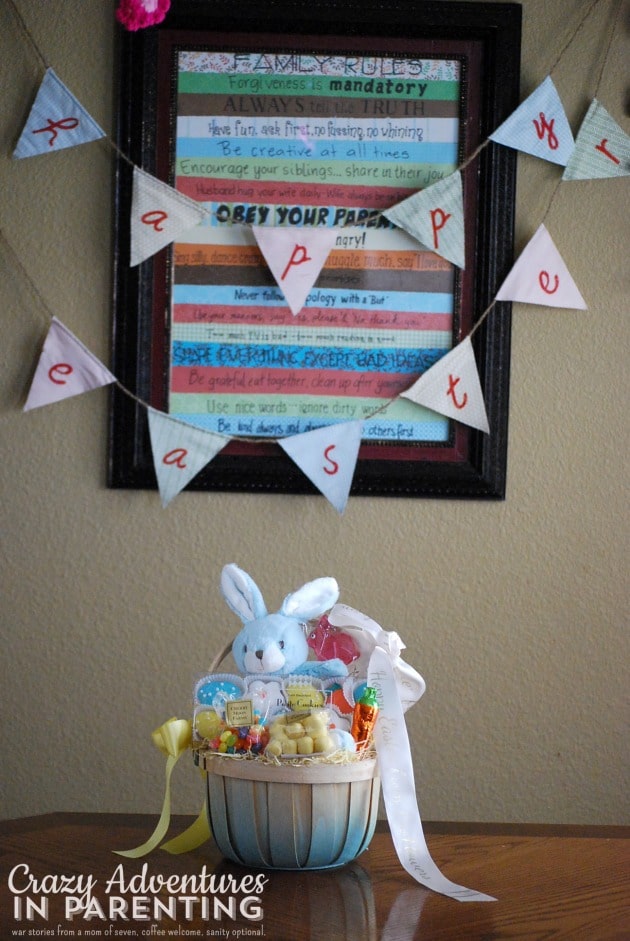 It features hand-decorated cookies and boutique candy for our child. (It took a lot of restraint not to sample a little. Ahem.)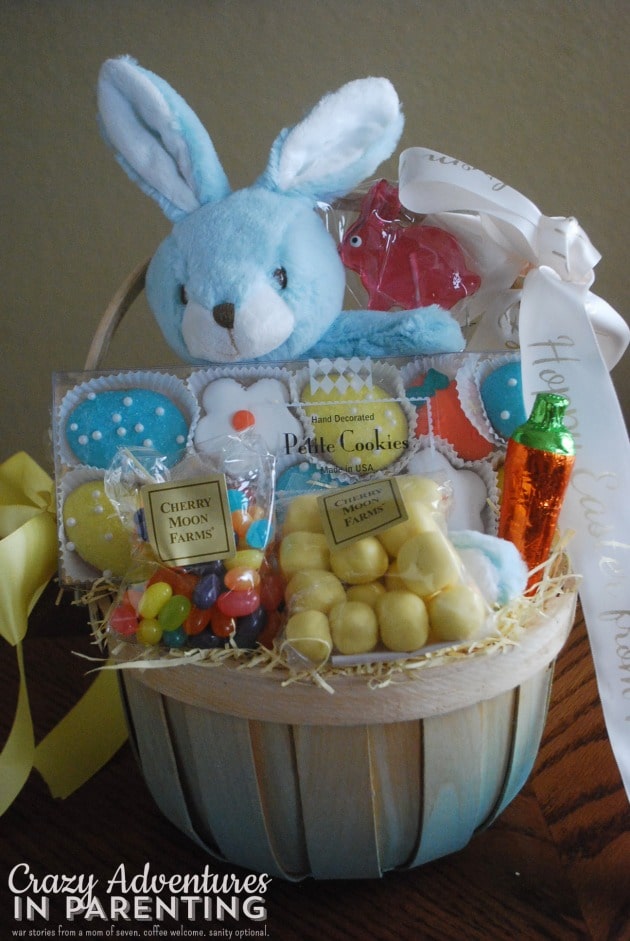 Further into my living room, you'll see this open wall into my kitchen with my cute ledge I looooove to decorate for every season. Any reason for tissue paper is a win for me, and these large tissue paper pom-poms are too cute for words!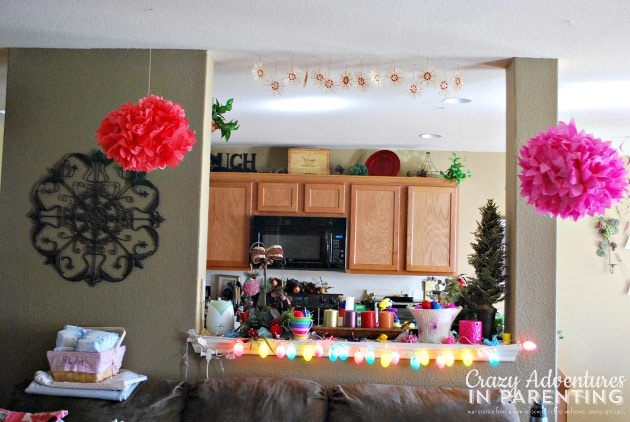 I'm such a sucker for lights, especially here, so I purchased some Easter Egg lights from Target as well as spring time LED lights you'll remember from Baby V's Garden birthday.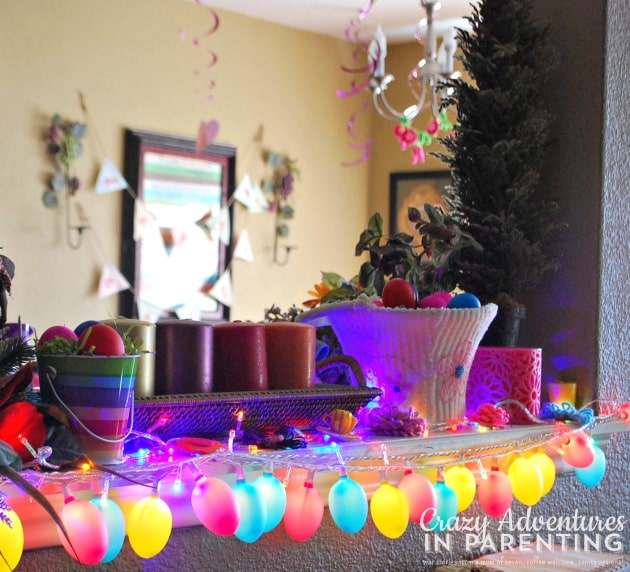 I repurposed the tins from her party with cascarones (confetti-filled eggs), including my older daughter's felt Easter basket. (They're just too festive and fun not to have on display.)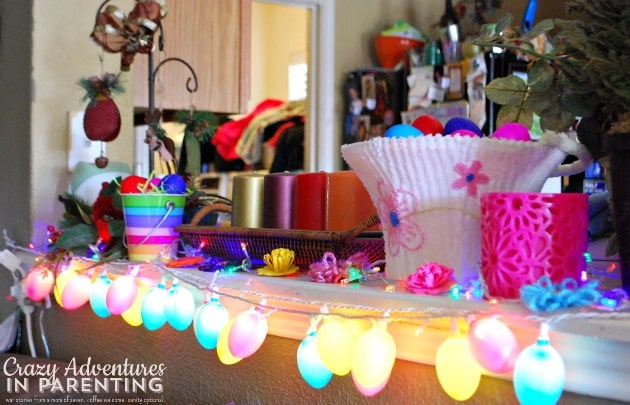 You'll find more tissue paper pom-poms on the other end of the living room by the television with more Easter decor.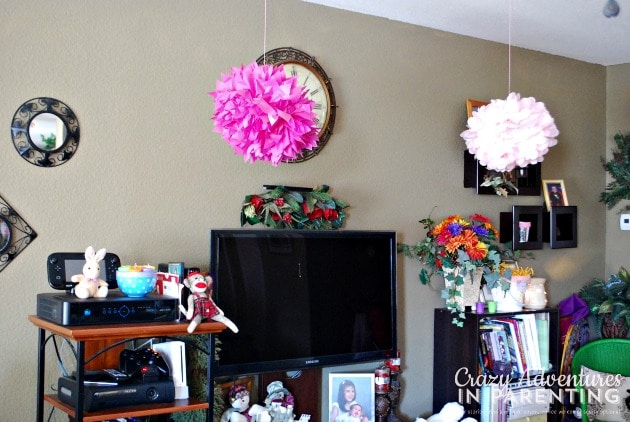 On the entertainment stand, I filled these cute dotted bowls from Target with the spring-colored candles, sitting next to a cutesy small Easter bunny.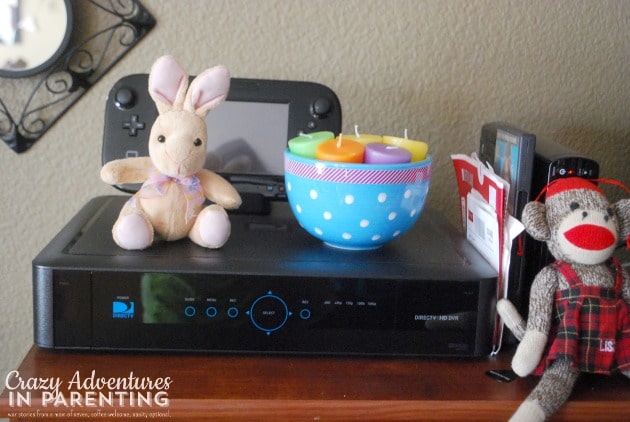 On the other side of the TV, another metal bucket sits on the wall shelf while my daughter's Easter basket is filled with grass and sits next to more candles.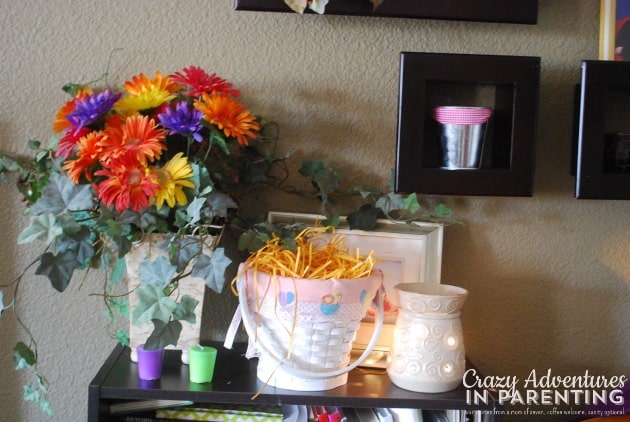 This is the back wall of my house, featuring more tissue pom-poms and flower lanterns from Target hanging above my bookshelves chock-full with spring and Easter lovin'.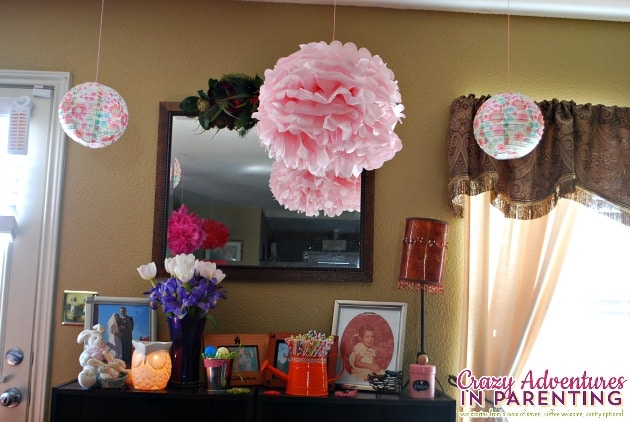 Here's another shot of the book shelf with flowers and decor. I added the Easter Egg Hunt plant in this shot because it would look SO pretty here (but it needs to grow by the window).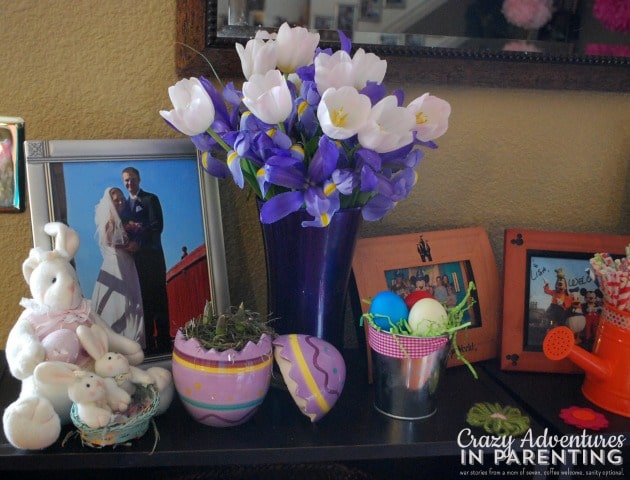 Here's a closer shot of my gorgeous spring bouquet called Delicate Easter Blooms that features tulips and irises. They arrive closed up in bud form and bloom so spectacularly pretty quickly, don't they?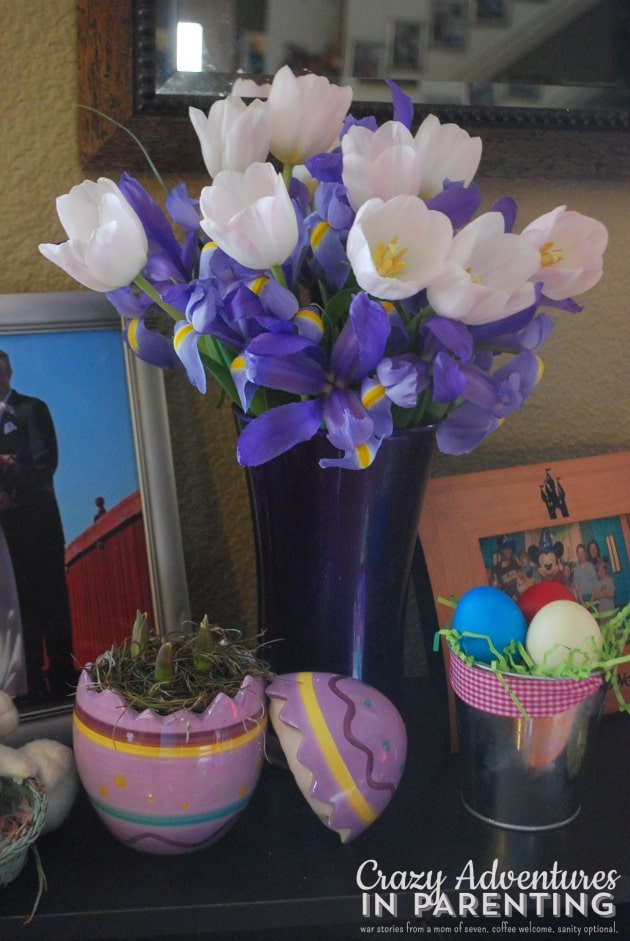 Just to give you an idea, in this shot they're only 48 hours old. Amazing, right?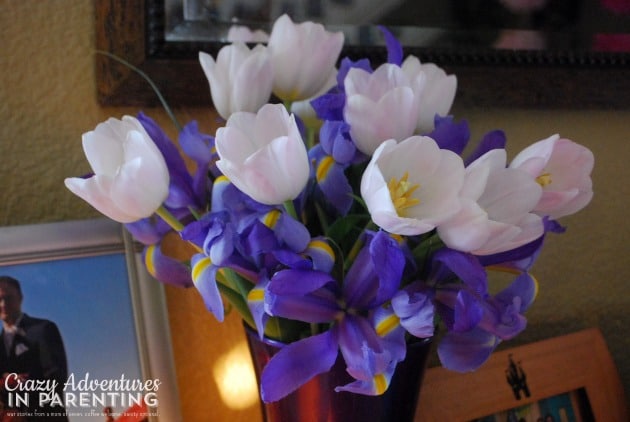 Gorgeous!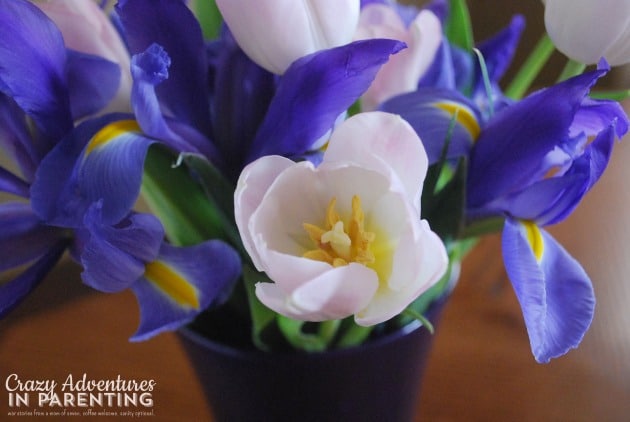 And that Easter Egg Hunt plant I referred to is a preplanted set of three Calimero Tulip bulbs that arrive as teeny tiny sprouts that grow amazingly and fast! This is about 48 hours worth of growth, before and after!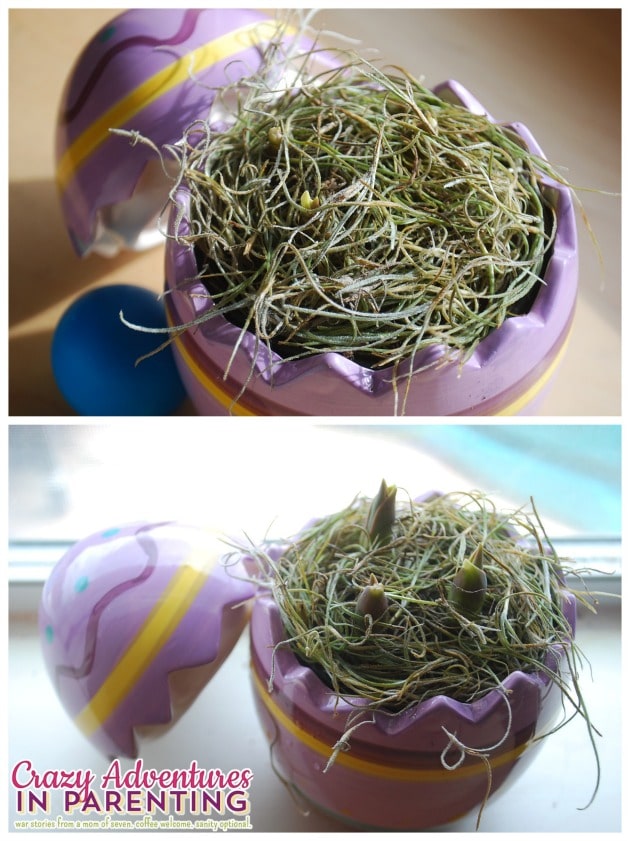 The kids really REALLY love watching it grow. So much so, I created a page just for this fun Easter plant. Join us in watching it grow, if you'd like!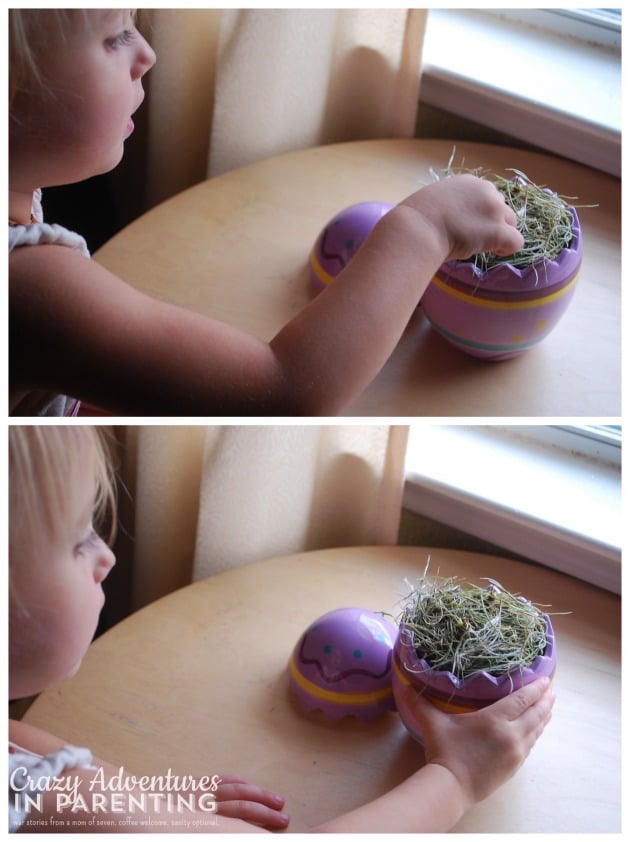 And that "Happy Easter" bunting.. gosh, is it not gorgeous? It's from Target. (And possibly one of my most favoritest things.)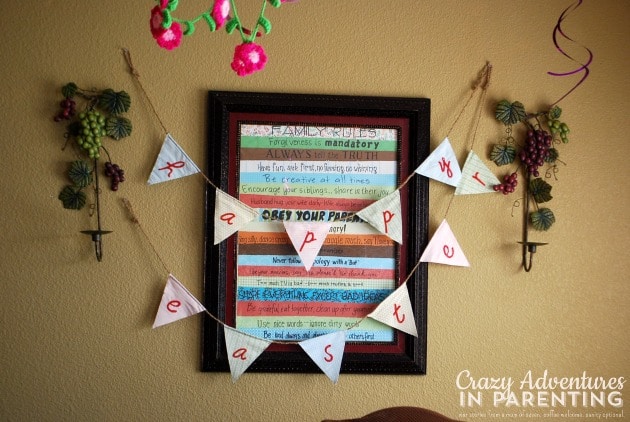 With it in the dining room is this adorable crocheted flower garland (also from Target) that's wrapped up in our chandelier.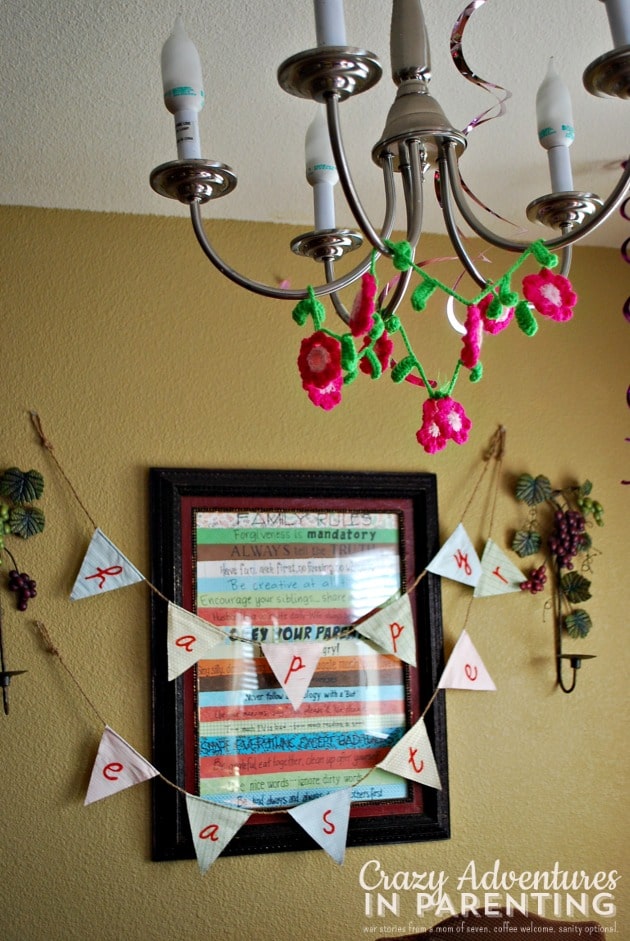 The garland is also on the other dining room wall, too.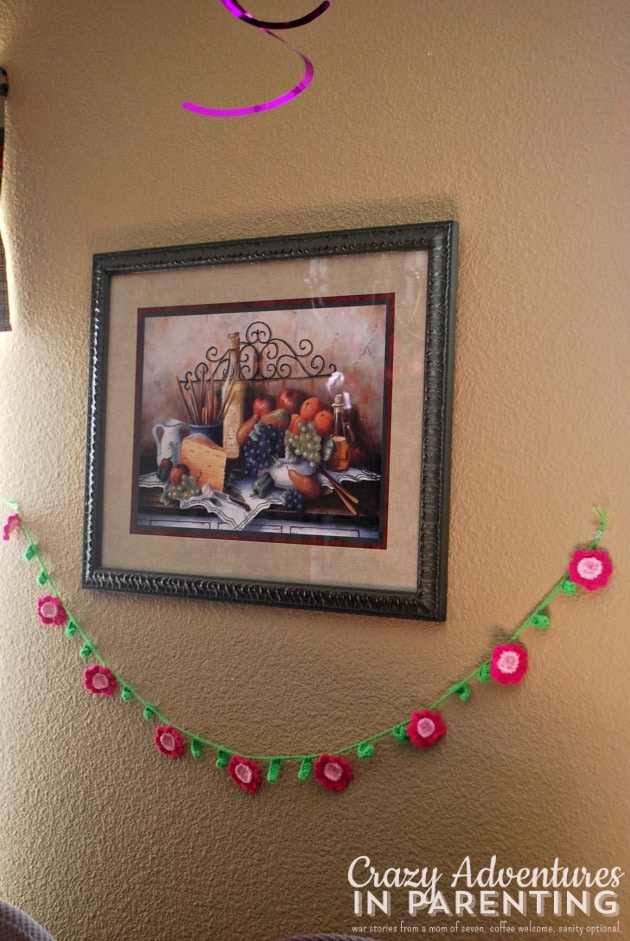 We re-used the small flower pom-pom garland from Baby V's party on the china cabinet.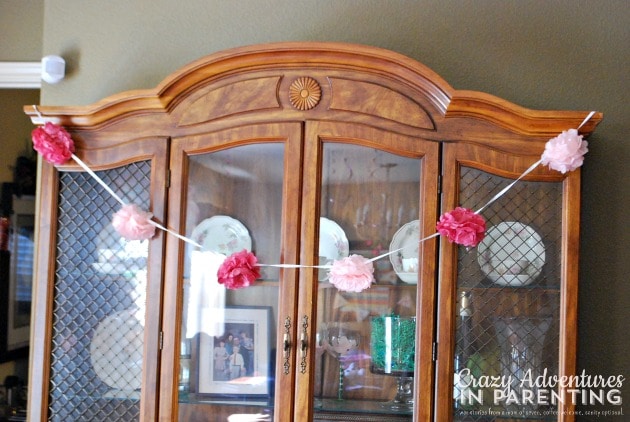 I hung this wooden Easter sign up on the wall separator facing the dining room. (I believe I got this from Michael's many years ago?)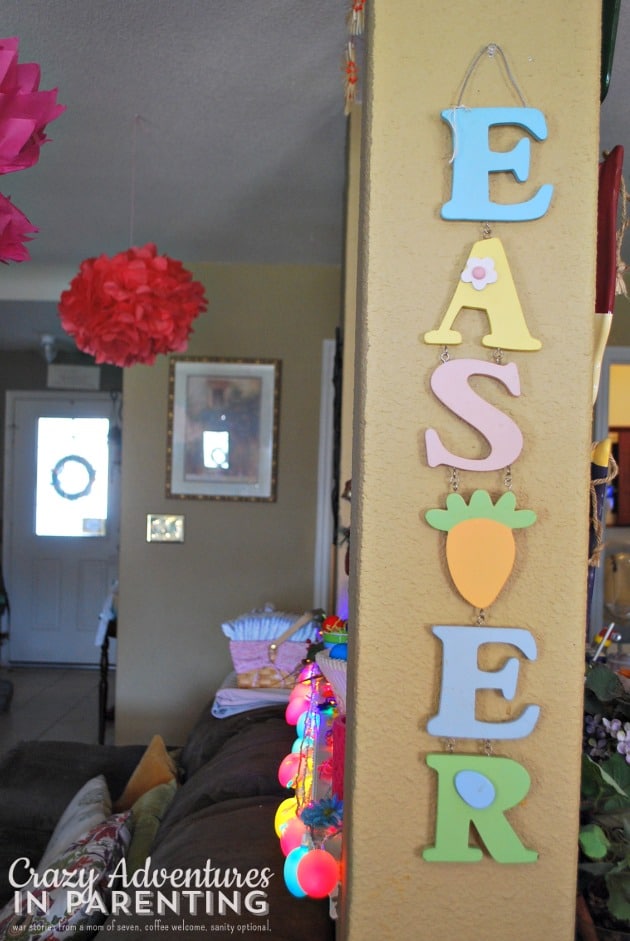 These wooden eggs are also a product of Michael's (if my memory serves me correctly). They sit near the front door next to the coat closet.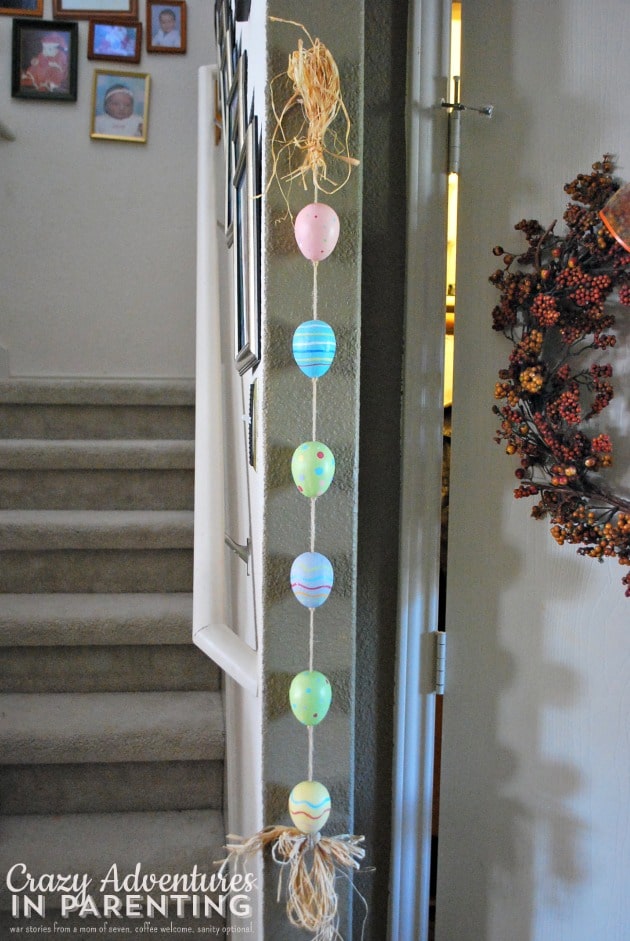 Now, keeping Easter decorating in mind, if you're looking for a fun, decorative Easter dessert, try serving these delectable Easter cake pops.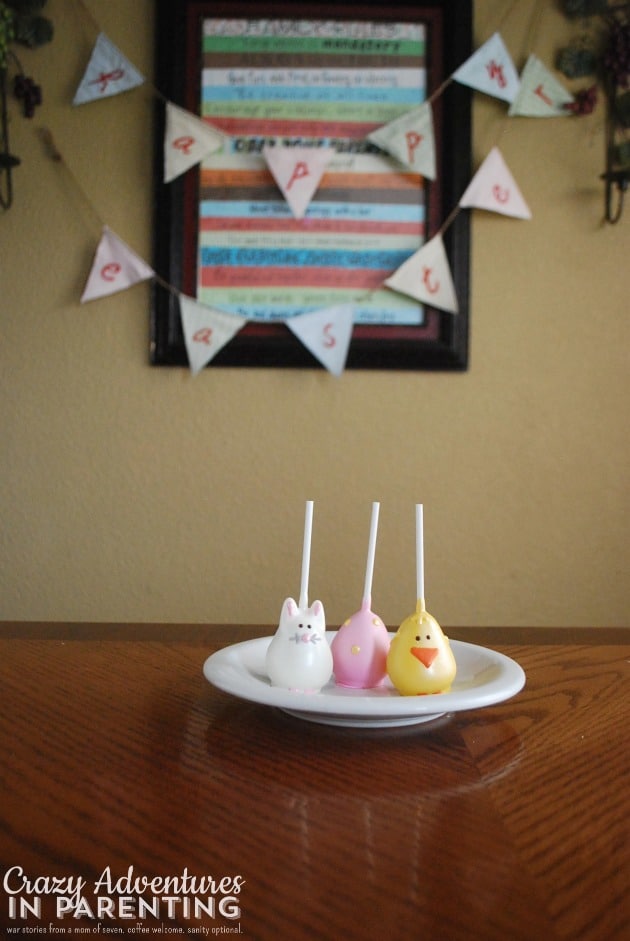 The detail on these cake pops are egg-straordinary!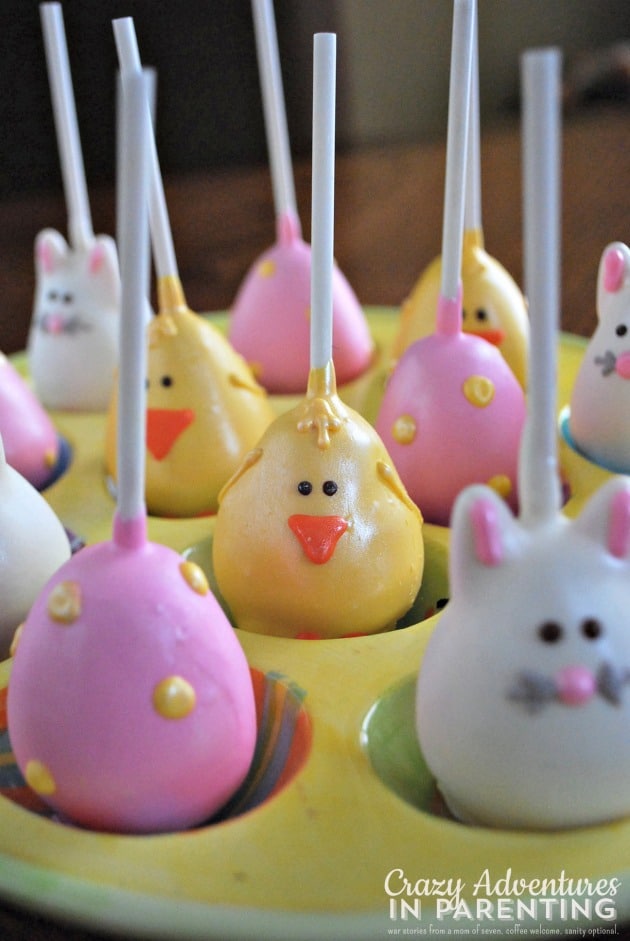 I decided to serve them on an Easter egg decorating plate (where you can dry your decorated eggs and display simultaneously). I think they look ADORABLE, don't they?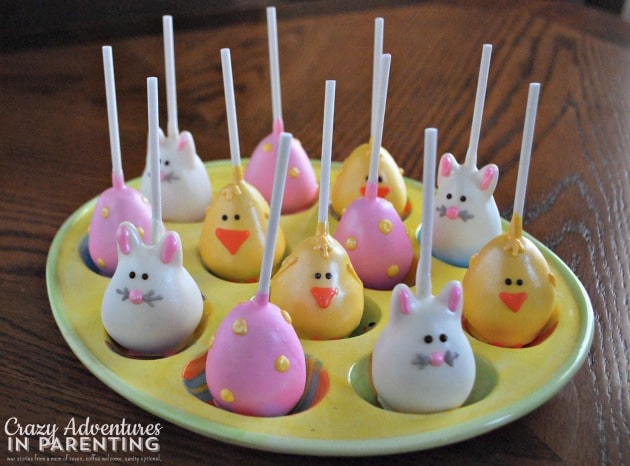 These are the three different kinds. The details, the faces, gah! So so cute!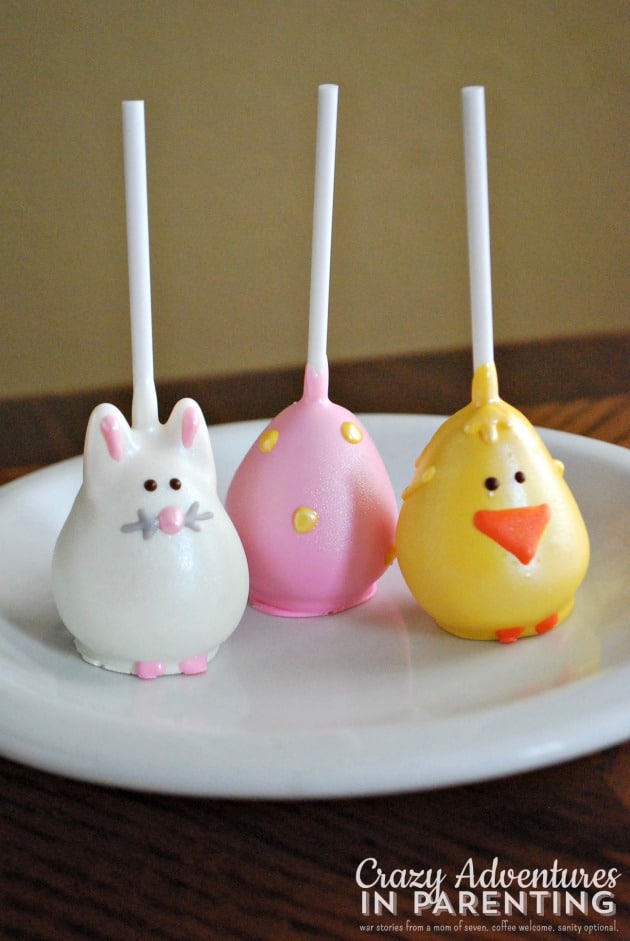 After dinner, we enjoyed these cake pops immensely!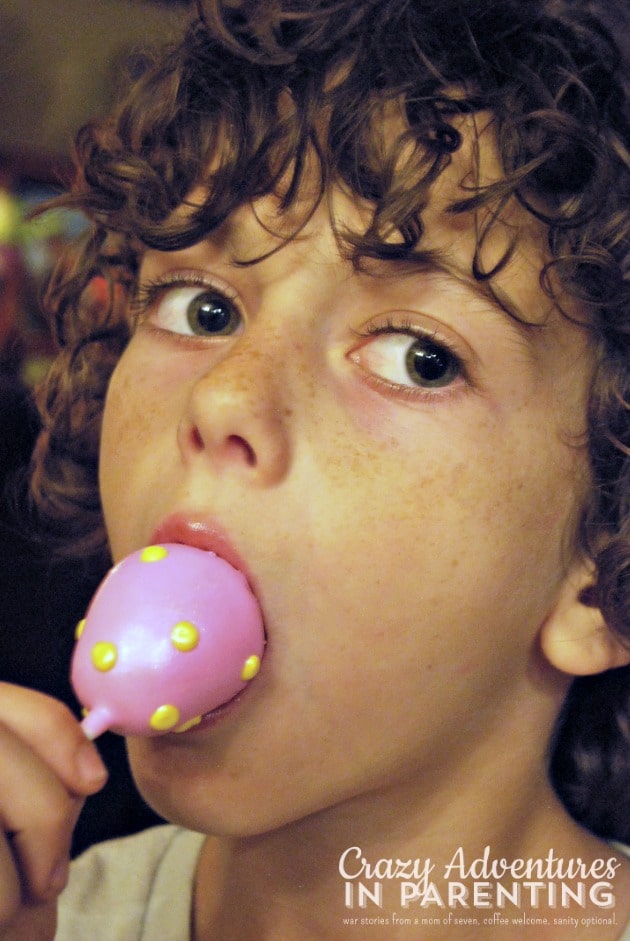 I don't know about you, but between the Easter baskets and the Easter decor, I am SO ready and excited for Easter now! What about you? Are you decorating? What are you making? What are you giving your kids in your Easter baskets this year? (Gah, can you tell how excited I am? lol)