Baskets in all shapes and sizes make me happy. To me, there is no better medium with which to organize than using baskets. They're so pretty, functional, versatile, and sturdy. Each year on Easter, we crack open the stored box of my children's baskets, dust them off, prettify them while packing them with goodies to give as gifts, only to store them away once more. It breaks my basket-lovin' heart so bid them goodbye year after year.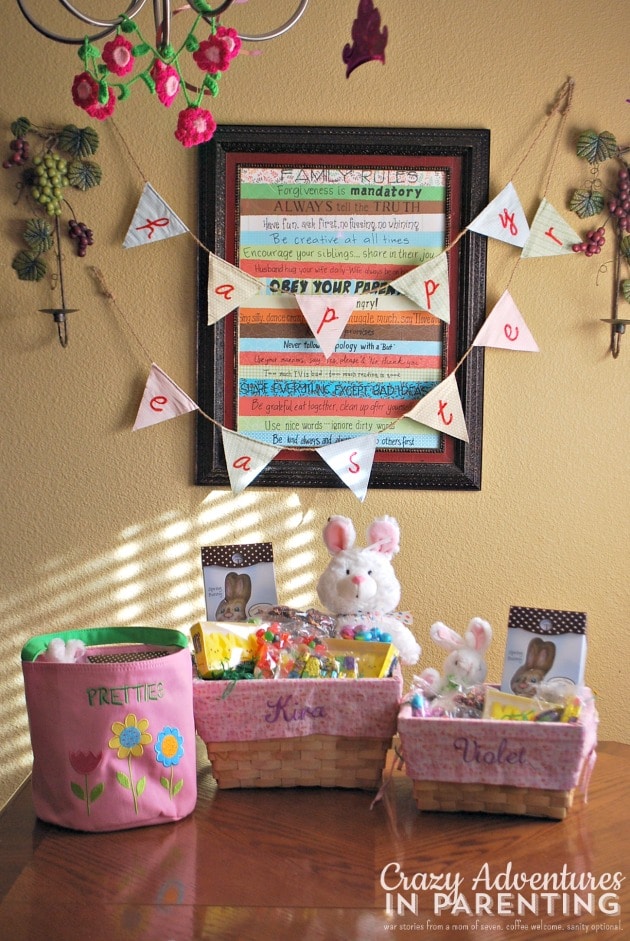 This year, however, I was sent a gorgeous set of personalized baskets from Personal Creations, and I set out to find out how to repurpose Easter baskets around the house. They're too pretty and useful to pack away! (And, given my hearty love of storing things, this wasn't a hard challenge.)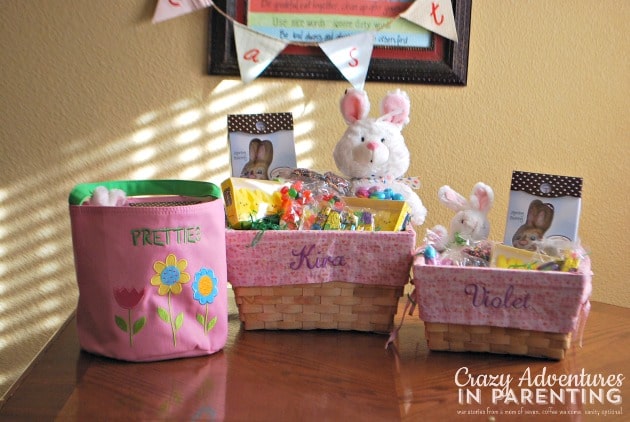 I'm sure, when looking at the Personal Creations website for Easter baskets, you'll be tempted to personalize a basket with your child's name for them to open on Easter morning, but what if you decided to personalize a basket for something else instead? I fell in love with the Canvas Easter Basket set, knowing how handy they would be to hold my daughter's barrettes and the like, which we nickname "Pretties" around the house. So, instead of one of their names, I got it engraved to read "Pretties" for their hair pretties.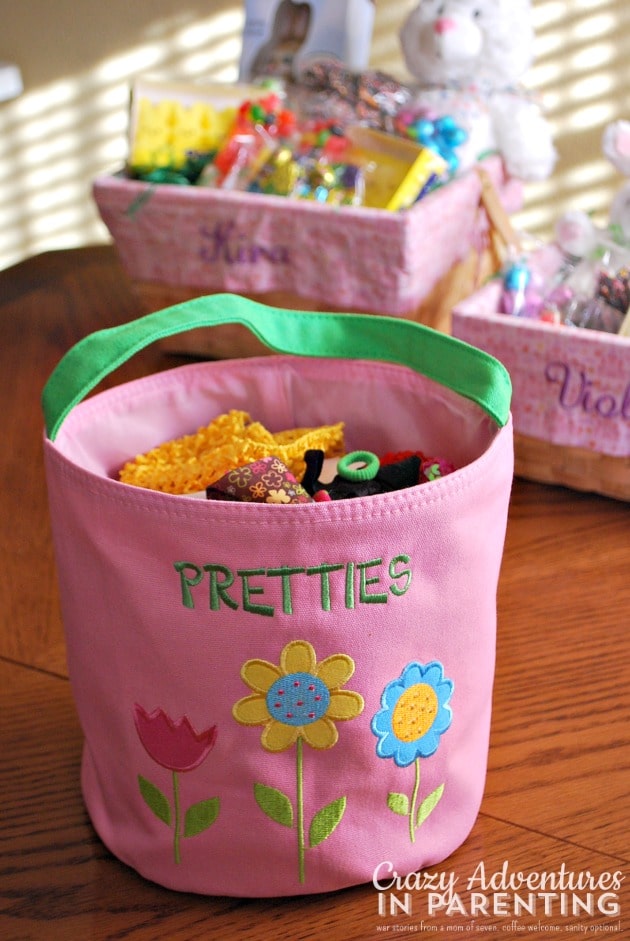 Whether you choose to engrave it with your child's name or not, here are a few easy ways you can easily repurpose your Easter baskets to use around the house (look for both boy and girl ideas below).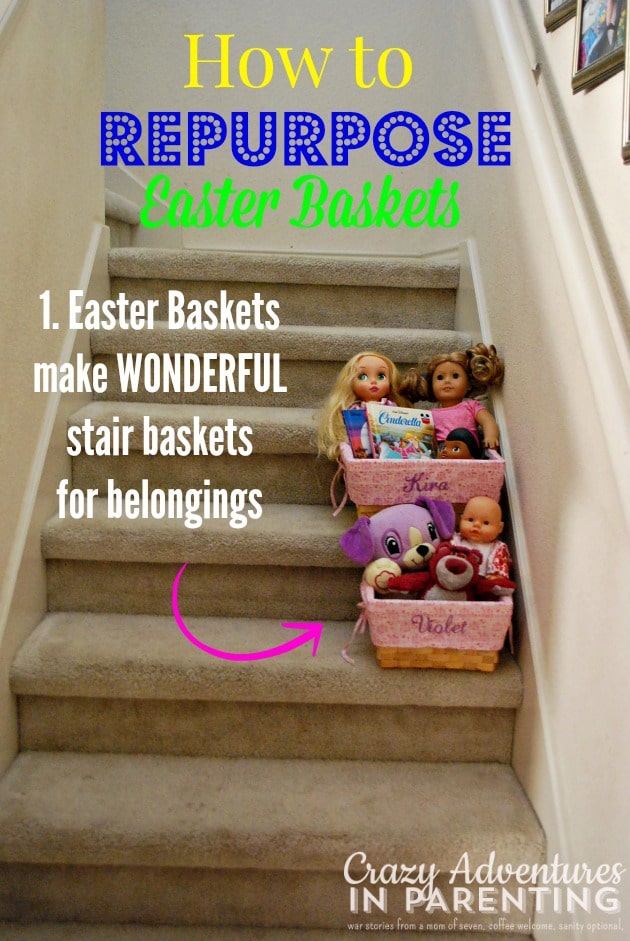 1. I'm a HUGE lover of baskets on the stairs. If you own or rent a two-story house, chances are, the kids' have brought down stuff from their rooms and left it downstairs. Why not place a few baskets on the stairs (in my case, one for each child who resides upstairs), so that, when a toy of their's is found, it can be placed in the basket for easy cleanup? With their names embroidered on it already, it makes it a no-brainer who's is whose.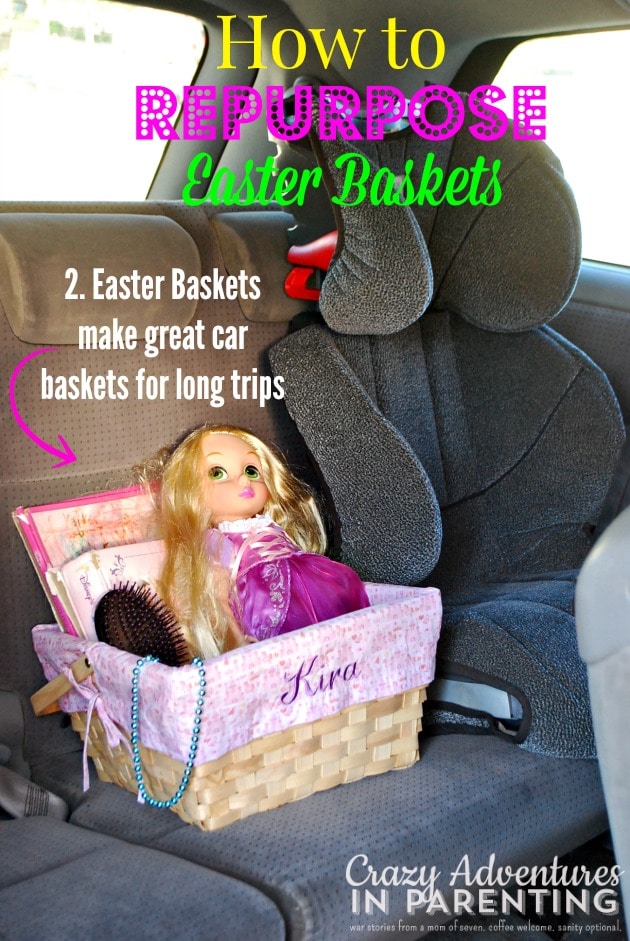 2. If you're like us and regularly take long car trips to visit friends, family, or go on vacation, the kids always need to have their "stuff" with them to keep them busy on those long car rides. Why not reuse your baskets in the car? You can keep their toys, water bottles, and snacks right there with them, whether next to them on the seat or on the floor beneath them.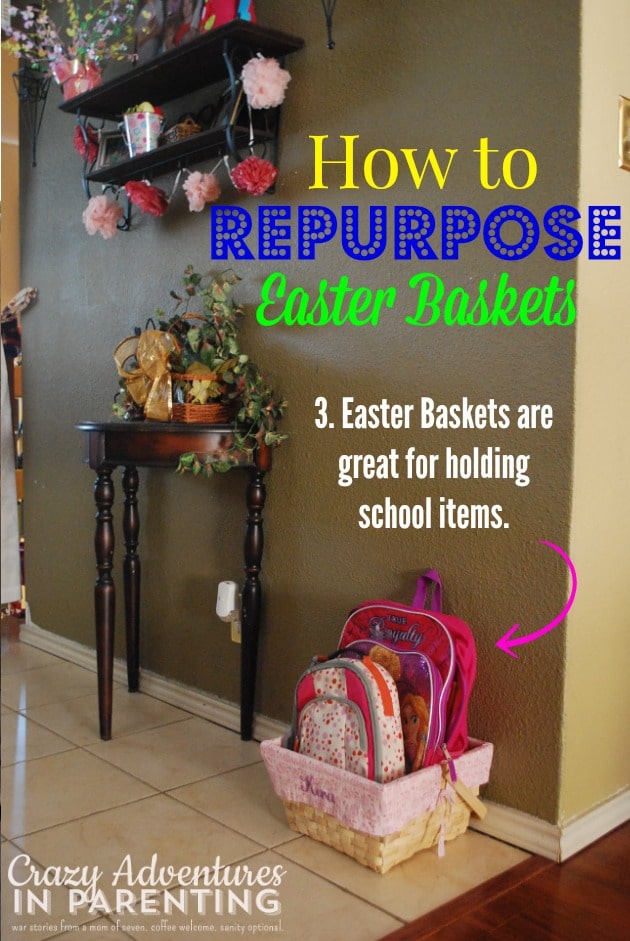 3. I regularly keep baskets by the front door. Sometimes, it's for shoes. Sometimes, it's for umbrellas/hats/gloves. But I like keeping baskets by the door, particularly with school-aged kids, so they can store their school stuff in one spot, and you're never wondering where the bookbag, school folder, or lunch box went.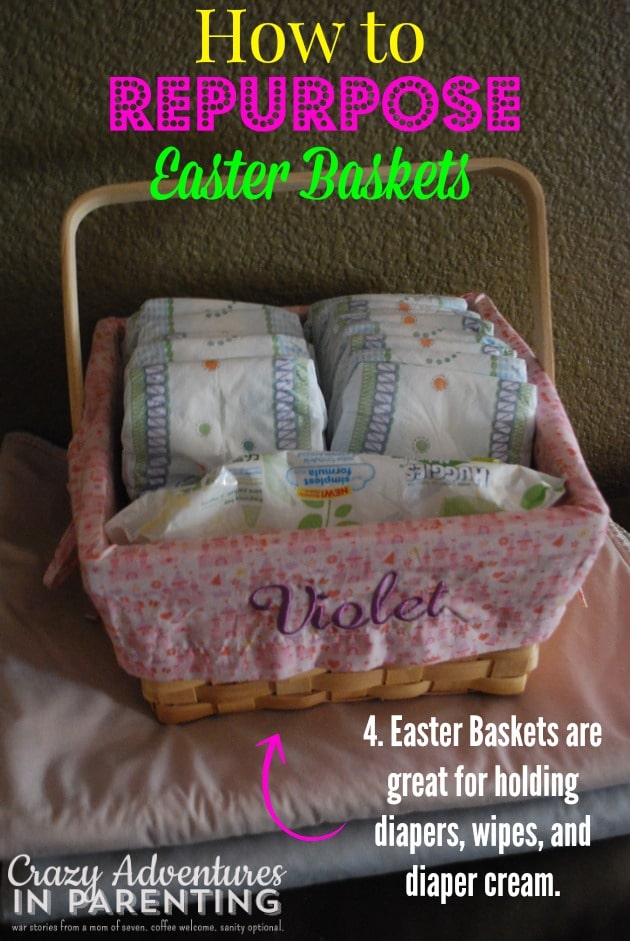 4. If you have a tiny tike at home in diapers, why not reuse their Easter basket as a diaper and wipes holder? The girls' baskets featured here are the All in One Girls Basket in Premium and Ultimate and, as you can see, they hold an awful lot.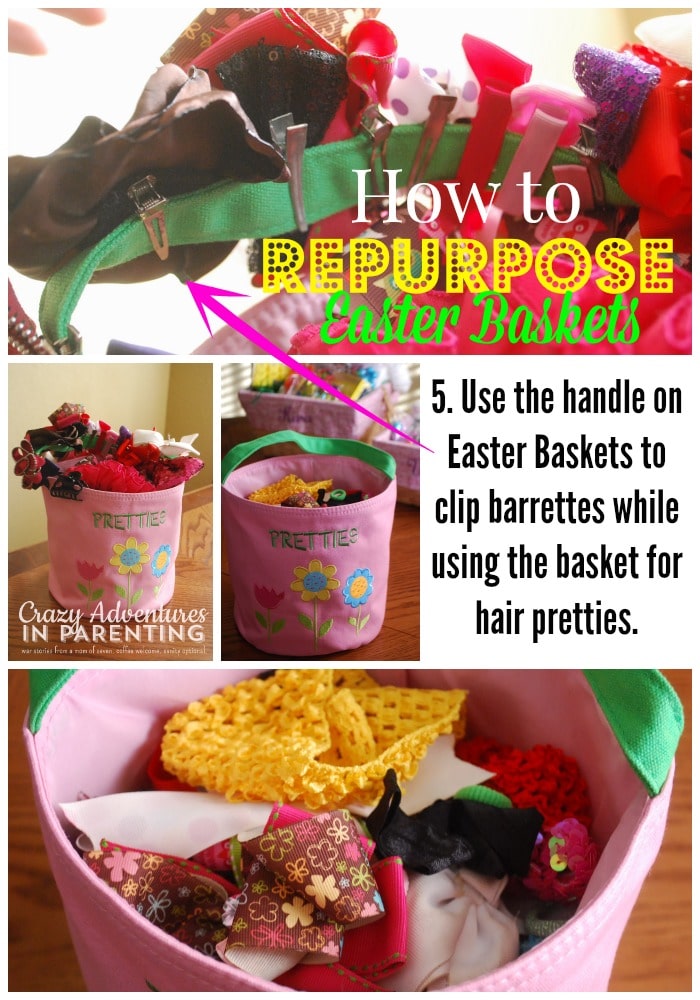 5. I mentioned earlier about this canvas easter basket being reused as a "pretties" holder, but do you see what else I did there? I even reused the canvas handle to double as a barrette holder by clipping each barrette and clip to the handle! If the handle fills up, you can continue to clip them along the side, too, leaving the well of the basket for pony tail holders, scrunchies, headbands, and much more. There's even room there for a brush sticking out, too!
Additional ways to repurpose and reuse your Easter baskets (including ideas for boys):
Storing library books in them (especially if each child has chosen their own, so you can keep track)
Keep Legos, action figures, Matchbox cars, Little People, Barbies/dolls, or Imaginext figures safe and separated by child
Crafting supplies, like crayons, markers, paper, coloring books, art items
Video games keep nicely in baskets
Personal handheld gaming devices, like the Nintendo DS, with games
Dress up or costume items that are too small to fit in the costume trunk (that would get lost)
Rainbow loom and the many accessories, bands, etc., would work WONDERFULLY. And, with the easy basket handle, it makes it easy to bring out to sit with friends and create on the porch, too!
What other ways can you think of to reuse and repurpose Easter baskets for your children? Check out all the personalized Easter baskets Personal Creations has to offer and save 25% off with this special code, BunnyHop25, good until 4/14/14!