I could tell by the way she was slugging along in the school pick-up line that she wasn't doing so well. She'd been coughing since I'd gotten back from my trip, but seemed fine otherwise. I thought maybe she was tired, or was sad about something. Even calling out to her, she didn't pick up her step. She looked at me with her puppy eyes. I knew something was wrong.
"Mommy, my tummy hurts a lot."
Oh boy, I thought to myself as I shuffled curls off her shoulder so I could rub her back gently while we walked to the van. "Do you feel like you have to throw up?"
"I don't know," she said in such a pitiful, miniature version of her voice. "It just hurts."
The good news was, she didn't throw up immediately upon returning home. The bad news, when she got home, she immediately went to bed, and woke up about an hour or so later with a 102-degree fever. Not good.
What she didn't realize at the time, but I knew was suddenly a threat was… now that she was sick, there was a good chance she was going to miss out on her Mother and Me Tea on Friday.
– –
"Say ahh," the doctor instructed.
She did her best to stick her tongue out, but she told the doctor her "neck" hurt (which is code for her throat hurting). He felt her lymph nodes and noted how enlarged they were. "I could put her through the trouble of taking a throat swab, but I'm pretty certain it'll come back positive, so I'm going to treat her for strep."
She immediately knew what this meant. "Can I still go to school tomorrow? I might feel better by then.."
She trailed off as I looked to my feet and shuffled my toes in my sandals.
– –
Last night, as I prepared my son's lunch for school, I made her and my younger ones some tea before bed. I promised her, to make up for what we're missing out on today, that we would make tea together again, too. "I'll make more of this with honey, and some tea sandwiches, too! Maybe even cookies if you think your tummy can handle them? And we'll get dressed up really pretty in dresses, okay?"
I did my best to allay her worries, but I have to admit, I was (and am) pretty bummed about it, too. They don't do "Mom and Me" teas in many grades after this, if at all, this might be my last chance at having one with her at school. If it's anything like my last ones, there's a performance, and everything. But I won't know, now, because she's too sick, and now throwing up, too.
So there I stood, preparing grilled cheeses for my son when it occurred to me we had two cans of Immaculate Baking cinnamon rolls in the fridge. Perfect, I thought. I turned on the oven, and with a couple sprays of the cooking spray, I popped open the cans, began unrolling the cinnamon rolls halfway and rerolling on the opposite side and pinching in the middle to make hearts for breakfast/tea – the first of many surprises for my sad, sicky girl.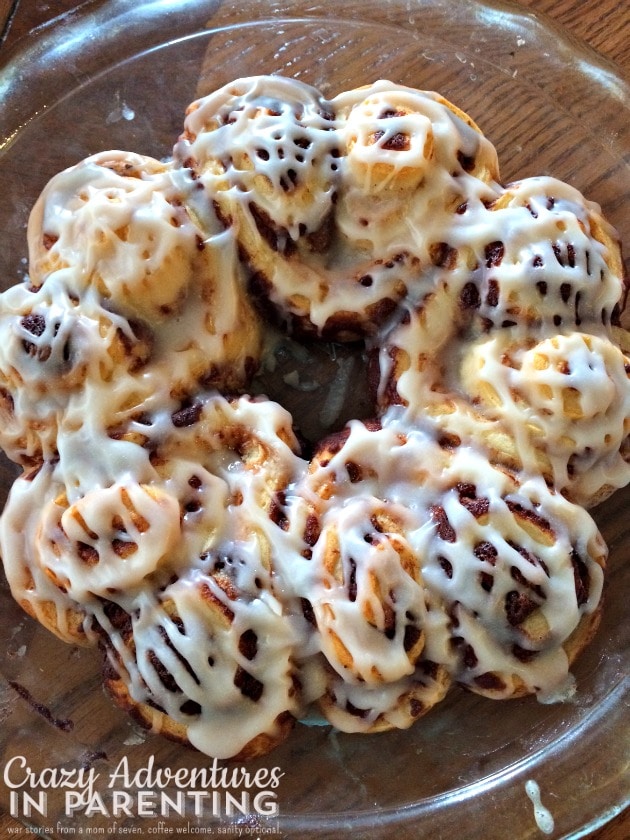 – –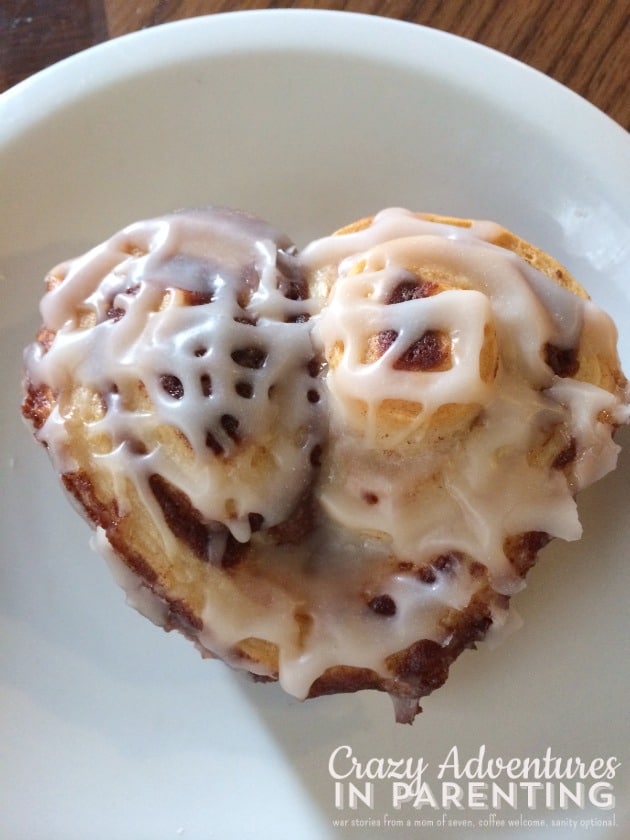 In twenty years, she'll be too busy with her family, her job, and having a wonderful life to remember that she missed out on her Mom and Me tea in the first grade, but I hope that, maybe, just maybe, she'll always remember how I always tried to make things extra special, and how I did my best to cheer her up when she needed me to the most. I hope she'll always remember fondly my heart-shaped cinnamon rolls, and, perhaps, she'll make them for her children and loved ones, too, if they're needed.
– –
Our "Mom and Me" Tea Party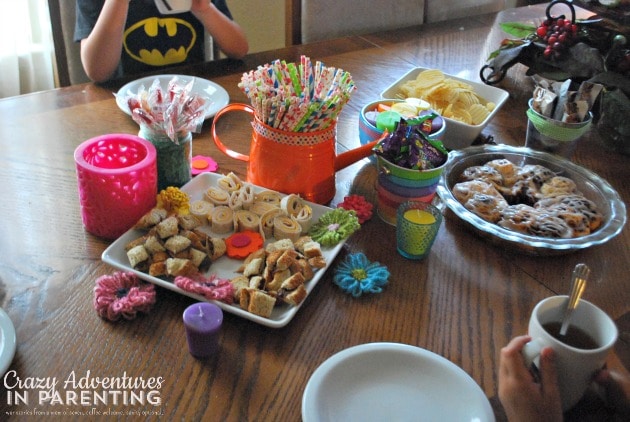 Turkey and cheese pinwheels were a HUGE hit. I had to remake more! I reused the decor from Easter and Baby V's party. There were Nutella sandwiches and Nutella Peanut Butter sandwiches, plus chips, granola bars, fruit snacks, cinnamon rolls, lollipops, and of course, TEA!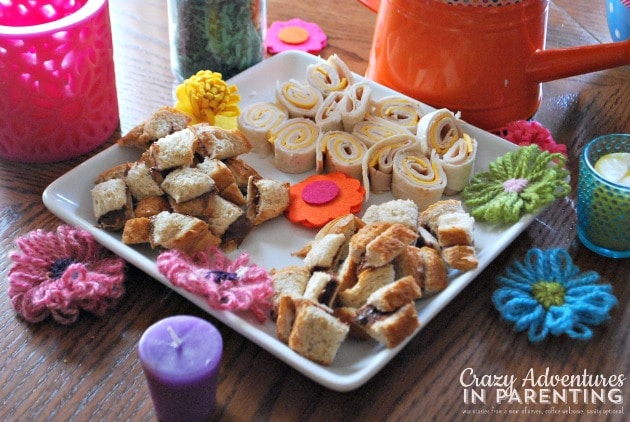 I, however, enjoyed my coffee.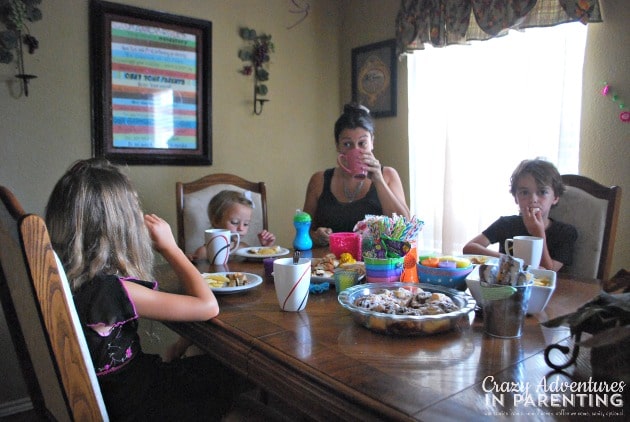 Baby V waved her hands in the air, because this was fun!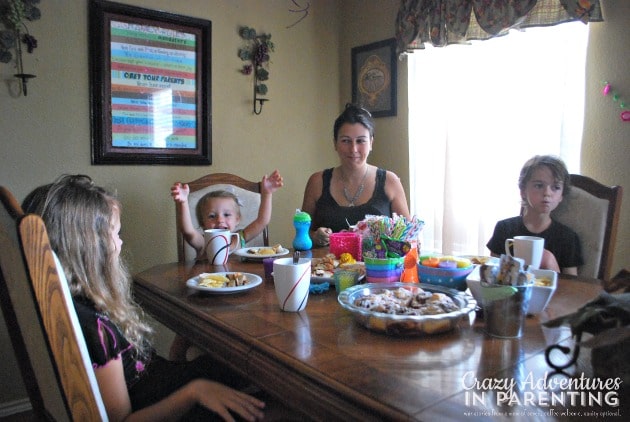 So.. I stole one of Baby Dude's chips.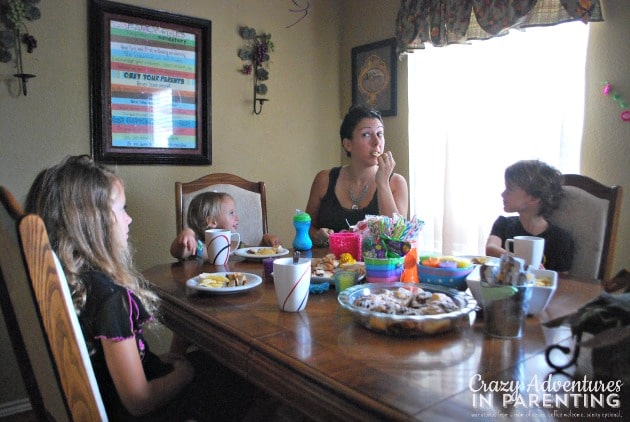 And then I caught him stealing one of mine, and he went HYSTERICAL!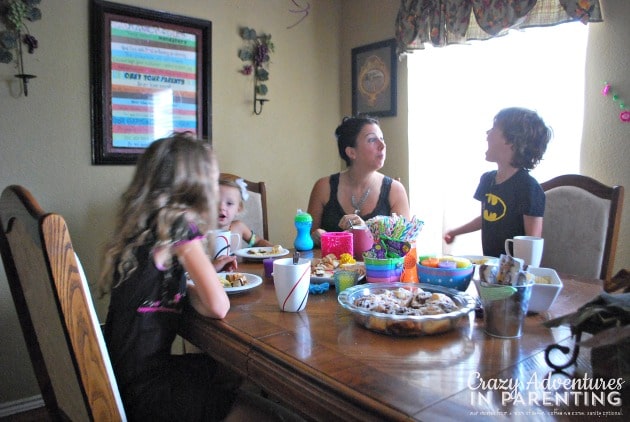 While Baby Dude still laughed his head off, Baby V was super sweet, and she kissed me!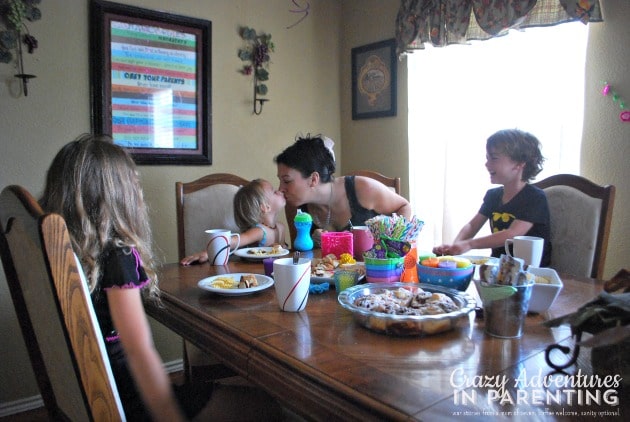 The food, albeit nothing fancy, was perfect for them!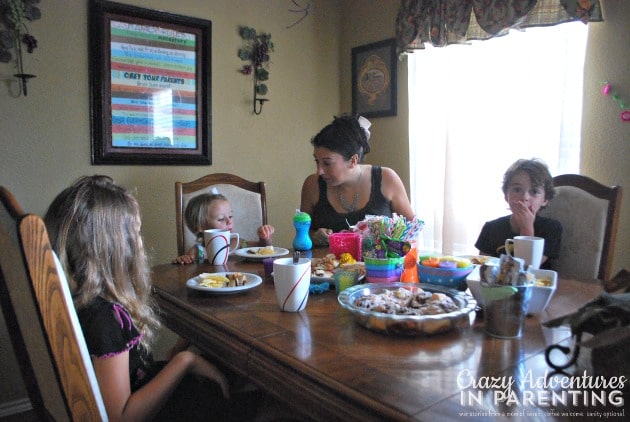 The party was a hit, I'd say!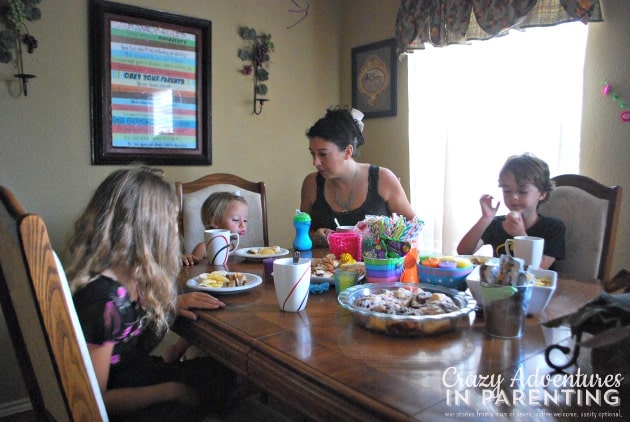 Here's our Mother's Tea portrait! Not bad, huh? (Thank goodness for timers!) Is Baby V's smile not the funniest?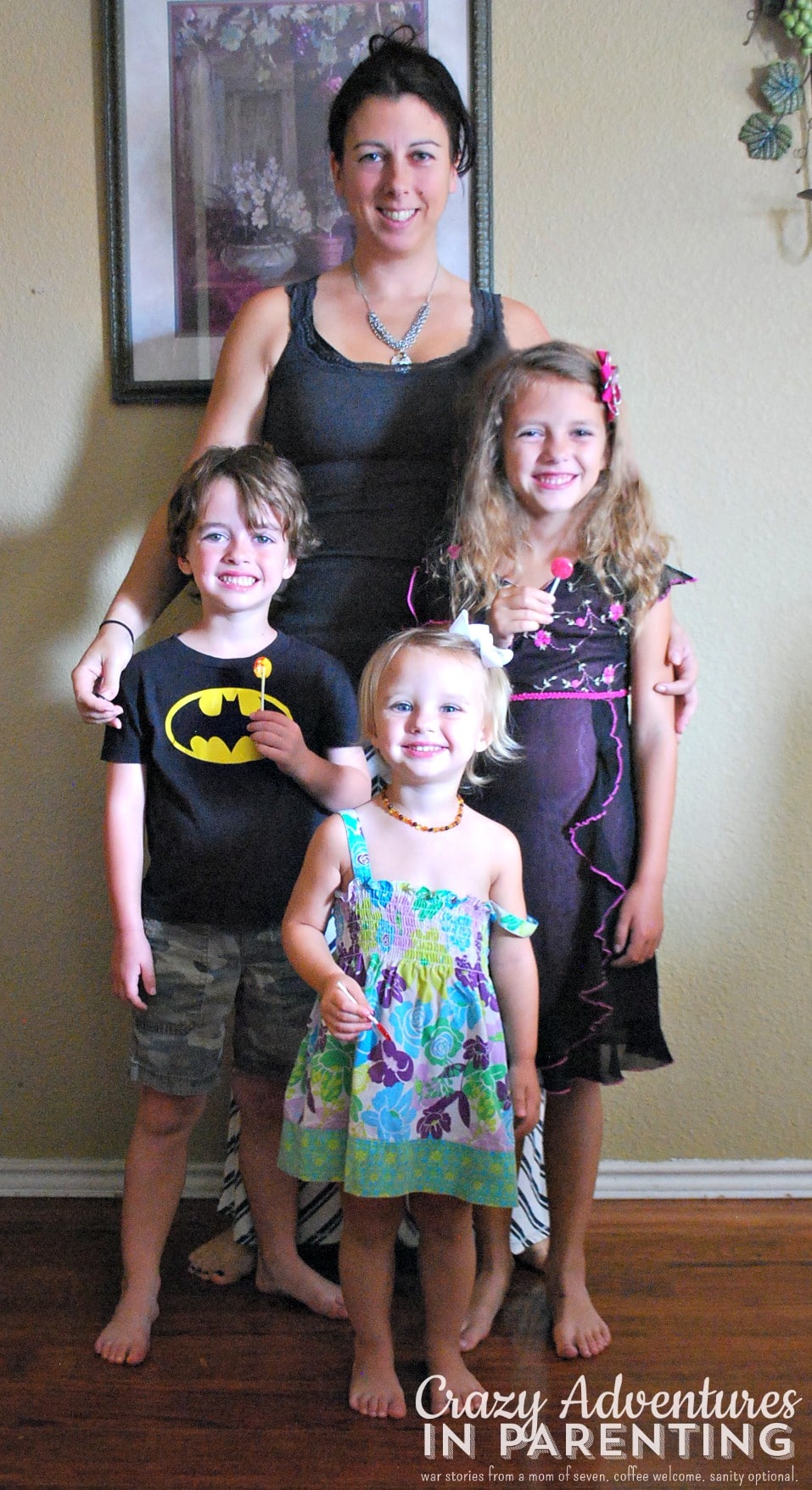 Happy Mother's Day to you!