While I miss San Antonio, my Texas friends and family. I cannot deny that I'm really loving North Carolina.
We used to have to wait for the "cooler" weather until November in San Antonio, suffering through 90's (and even 100's) until that point. But here? The cooler fall weather already hit in September, and it's just plain PERFECT right now. Lows in the high 50's, lower 60's – highs in the high 70's, low 80's.
Perfection.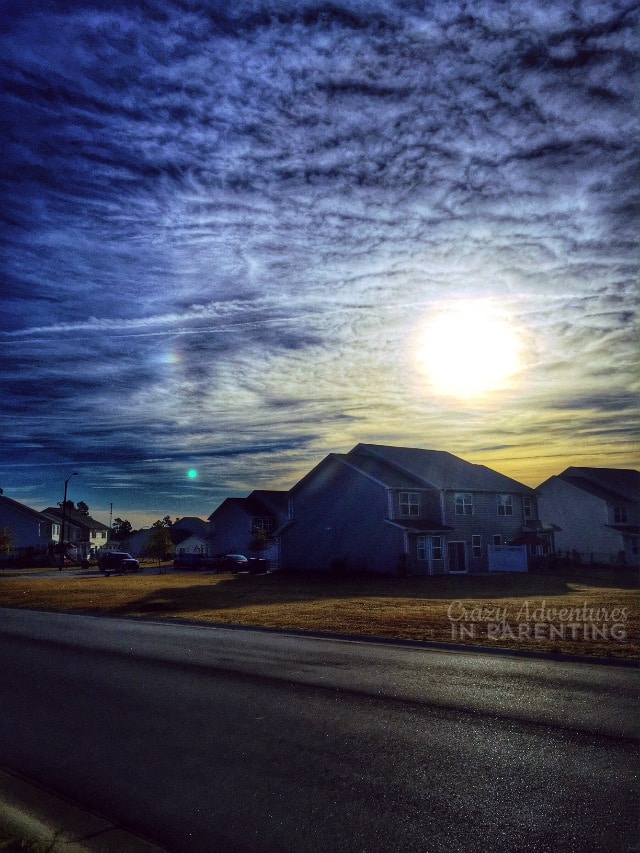 Some mornings, the sky is too breathtaking for words. I just close my eyes (carefully, I am pushing a stroller y'know) and soak in that gorgeous sunshine, even if there is a slight nip in the air requiring a light jacket.
Every morning, despite being rushed or on time, I cannot begin to convey to you just how special each one is to me, how those moments behind that stroller powering our bodies on that pavement to and from school make me feel. It is such a wonderful way to start the day, and I have become such a believer in morning workouts as a result.
The sun, the workouts, this weather – they are just so healing to me. It just makes me realize how broken I was in San Antonio in a lot of ways, despite loving it there and calling it home, it made me see how desperately in need I was for this, even though I dreaded this move and the uncertainty of what we'd face here. I am stronger because of this move. I am stronger because I have faced my fear head on and wrestled it to the ground.
–  –
A few weeks back, I got a bronchitis and double ear infection diagnosis. I was SO SURPRISED, given how well I had been taking care of myself, I simply thought it was my allergies and asthma out of control. I thought I was well on the path to recovery, but I've begun coughing and feeling congested again. I will NOT let it get me down, though. I am feeling too good – in body, mind, and spirit – to let that happen. If I need to get a recheck and more antibiotics, so be it. These skies, those mornings, my children and this wonderful weather every day that I am blessed enough to wake up to are keeping me sane, and giving me LIFE.
–  –
Join me for Truth Thursdays every week. Spill it, what's happening your life currently? What is your truth?