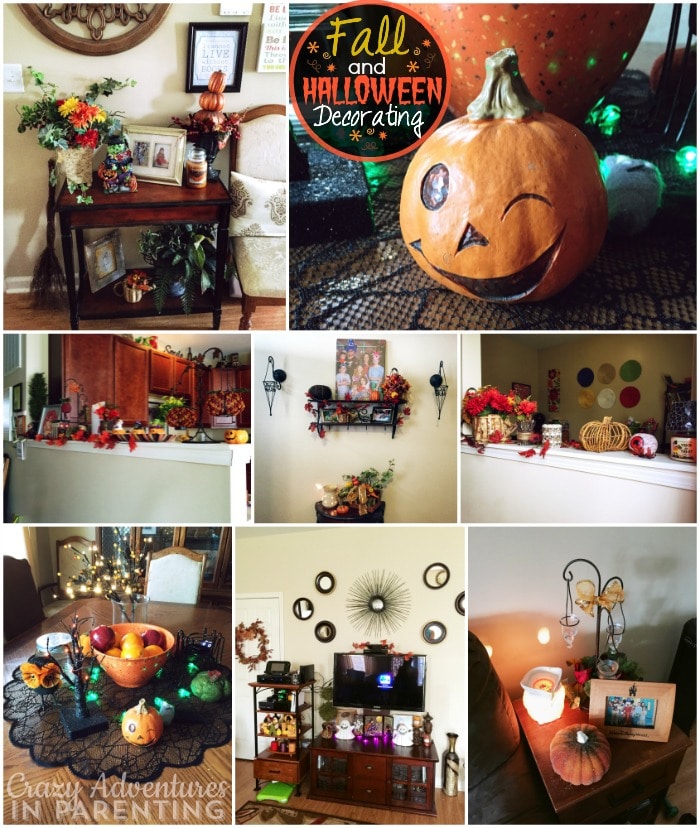 YES! I love decorating so so much! Particularly, I loooove love decorating for Halloween and fall!!
It was like Christmas unpacking our boxes from the movers – not only did we have a surprise in each box (because they weren't packed properly – Christmas stuff in Valentines, Easter stuff in Fall/Halloween, etc), but we had almost forgotten about all the NEW stuff we'd purchased last season! Woohoo!
You see, we shop the sales AFTER the holiday or season is over, getting deeply discounted brand new items to stash away for next year. Holy excitement, Batman! Here's a little peek at what we've been up to and the new stuff we've unearthed: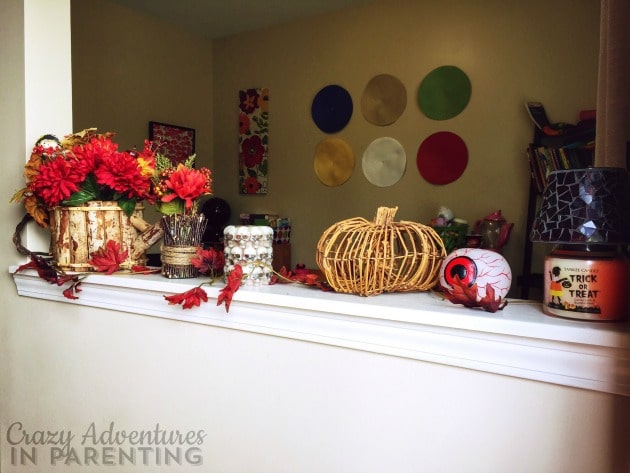 That's the little ledge you see as soon as you open the front door. At first, when we first moved in, I haaaaated it for cutting off the openness of the room. Now, from a decor standpoint, I looove it! I now have another place to decorate, tee hee! Most of this decor you see is from previous years, but the eye and skeleton candles are new from Garden Ridge (we stocked up last year while it was on clearance). That Trick or Treat jar candle is a Yankee Candle we found at our on-post PX. It smells like candy corn. YUM-MO!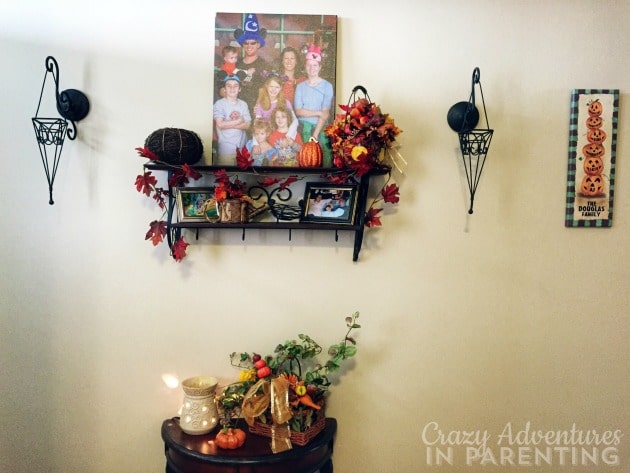 This is the entryway wall on the left when you first enter the house. It's the start of a long wall in our home, so I did my best grouping together some fun fall decorations in the front area, adding in my beloved wax melter from Scentsy (that just makes the entryway and playroom smell delish). That Halloween sign was personalized and given to me last year by Personal Creations. All of these decor items are ones I've had for a while.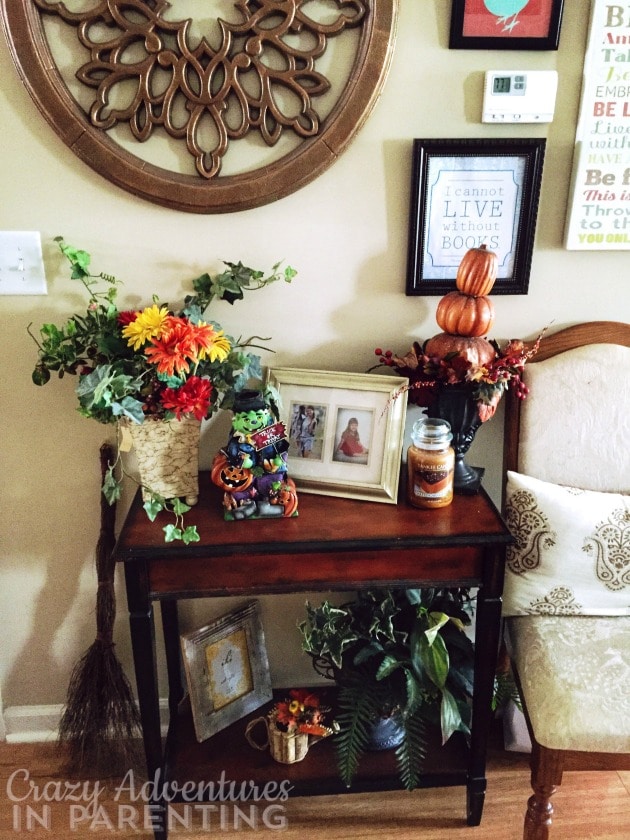 I love this cosy little area in our living room. It helps break up that long hallway wall and I love having it here with all of my fun artwork on the wall and this inexpensive table (from Hobby Lobby – used to be in our bedroom). The only new piece of "decor" here (if you can call the candle "decor") is the Salted Caramel Candle from Yankee Candle (that I purchased at the PX). This candle ALSO smells as delicious as it sounds. (Can you tell how much I love the baking scent smelly stuff? House smelling like a bakery = awesomeness!)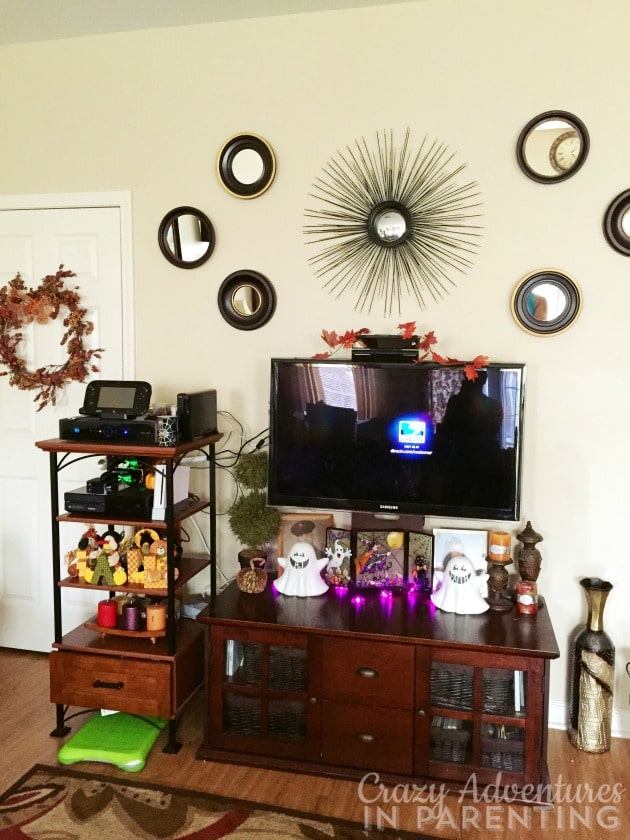 The area around our TV is a little more festive with those adorable LED purple bat lights from Target and those cute personalized ghosts from Personal Creations (from last year). That spider web candle near the Wii U is also from our Garden Ridge clearance purchase.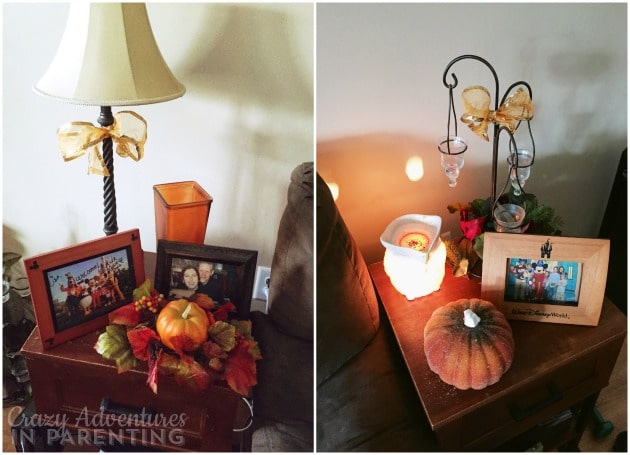 My living room end tables are similar with pumpkins on each of them. One of these tables has an orange vase we got last year from an arrangement, and the other side has another Owl warmer (currently warming something vanilla-y). That pumpkin greenery is new and came from last year's Garden Ridge purchase, too.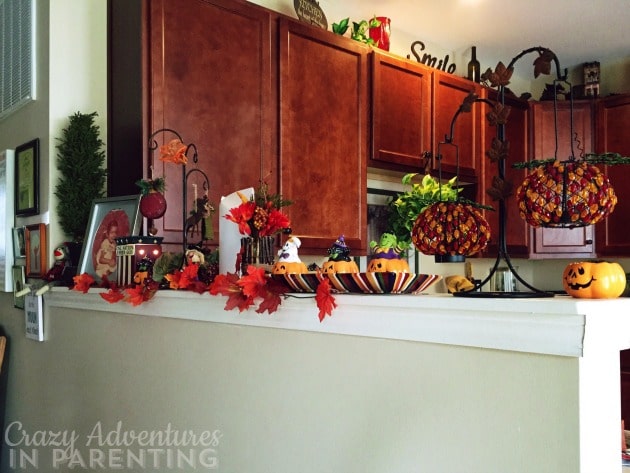 Here's another ledge that divides the dining room and kitchen. This one immediate made me SO happy, and was the first thing I decorated upon unpacking the decor. I love having cute, decorative things up there to stare at from each of the three rooms, and it splits up the rooms quite nicely while still keeping everything compartmentalized. I have another wax melter from Scentsy here and it just makes the kitchen and dining room smell amazingly! The only new piece of decor up here is the ceramic witch (next to my Young Living diffuser).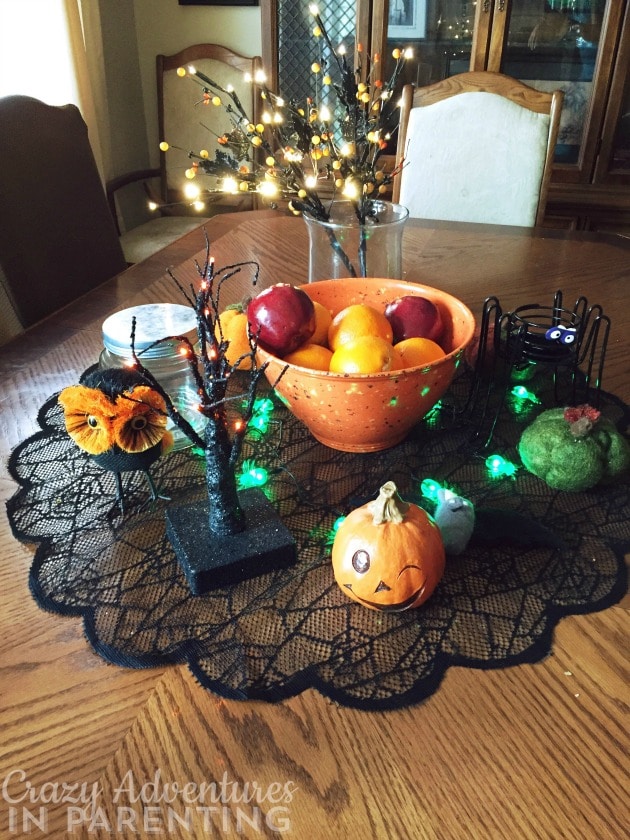 This whole table arrangement is new (except for the Halloween bowl). I adore every piece on there, most are from Target or a new store we've been introduced to called the Christmas Tree Shop. (Have you ever been? You should check it out!) I love having all those LED things in this arrangement, it looks particularly festive at night! Now, for a little help for my Halloween table – what should I stick in the big vase with the lighted branches? I was thinking orange and black marbles (like gum balls). Do you think that would work? And what should I stick in that empty jar?
I don't know about you, but I can't stand how ADORABLE that winky pumpkin guy is! He's just so perfect isn't he?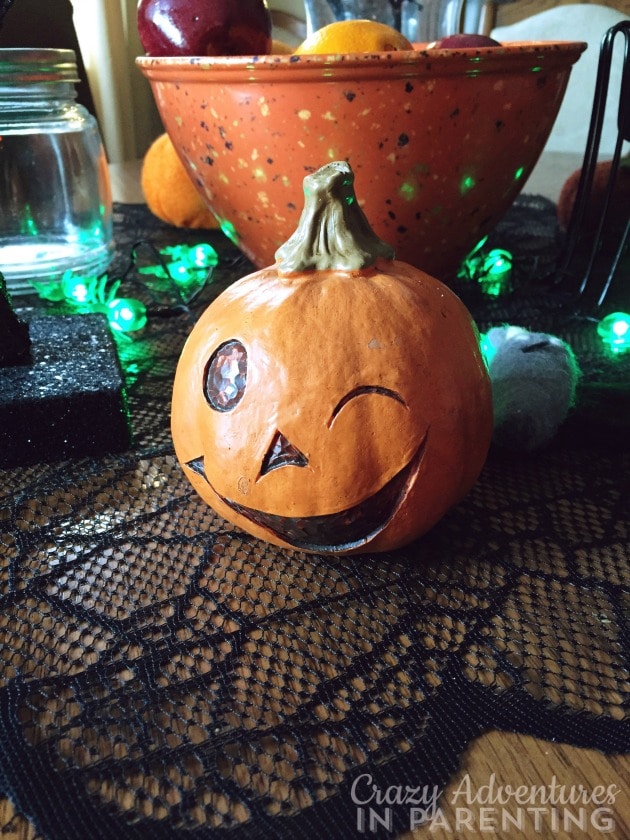 What Halloween and fall decor have you put up yet? Care to show me some pictures? I'd love to see!