Getting back to school and rigid sports schedules is totally not my favorite. But breaking out all things pumpkin, the boxes of yellow, orange, and brown decor filled with pumpkins, straw, gourds, leaves, and flowers like mums and sunflowers? Oh, so very much my favorite! Not forgetting to mention, the cooler weather and getting a break from the crazy Texas heat? Oh yeah, baby. I love LOOOOOOVE this time of year, and each year I excitedly add onto what fall decor I already have, spicing it up, so to speak.
Wanna see what I did inside my house this weekend? (Psst, by the way: my outdoor fall decor post is coming soon!)

Isn't fall just soooo pretty? Since we live in the south, we don't get much in the way of fall foliage. I do my best to make the interiors look as fall and festive as I can.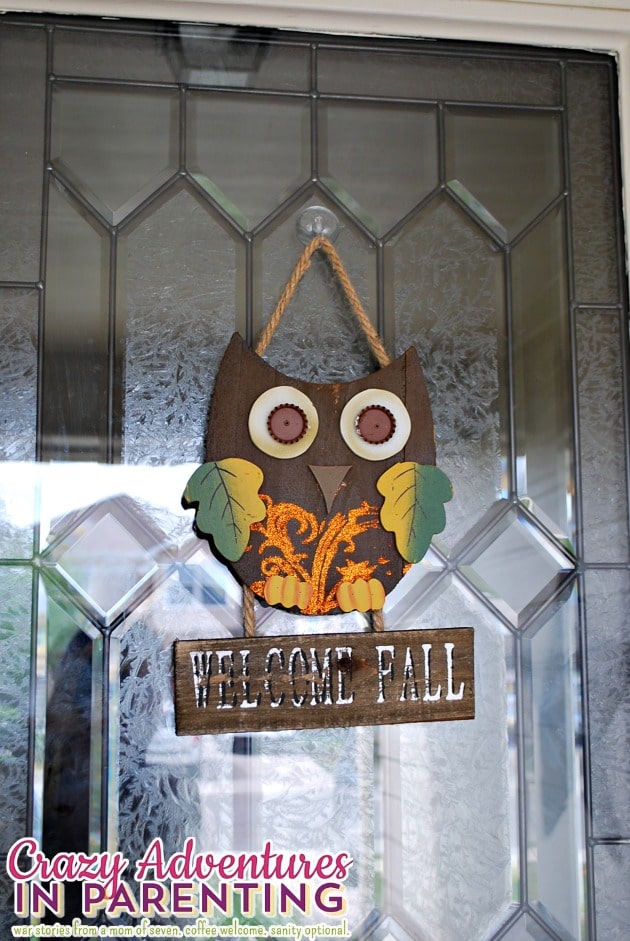 First thing I did this season was pick up this gooorgeous owl sign from Walmart about a week or so ago. I'm currently looking for a large wreath to go with/around it, but I haven't found anything that caught my eye just yet.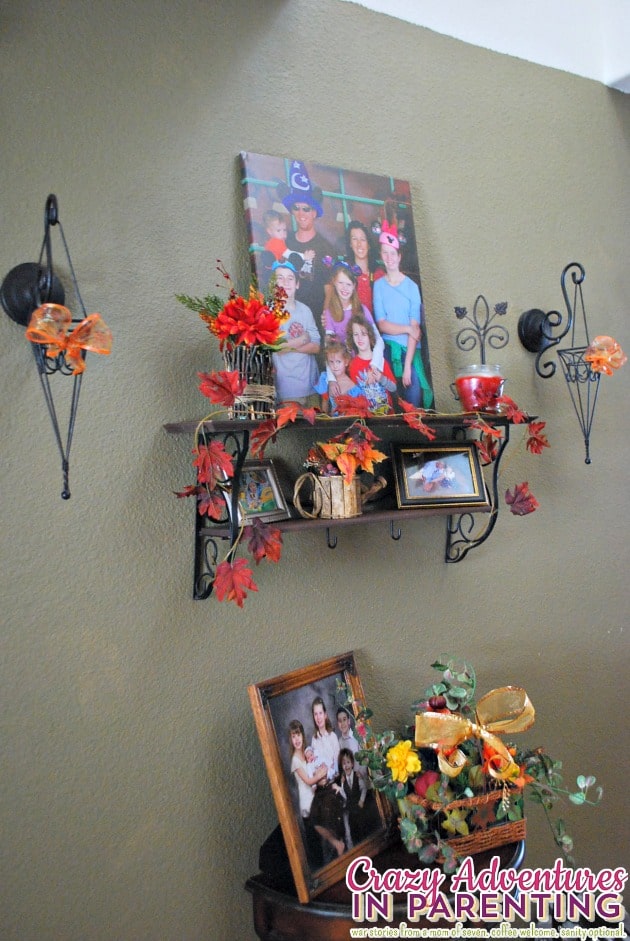 Here's my entryway as soon as you walk in. I love this shelf, and how easily I can make it instantly take on any season or occasion. I got the leaf garland and ribbon that I used to make the bows from Dollar Tree.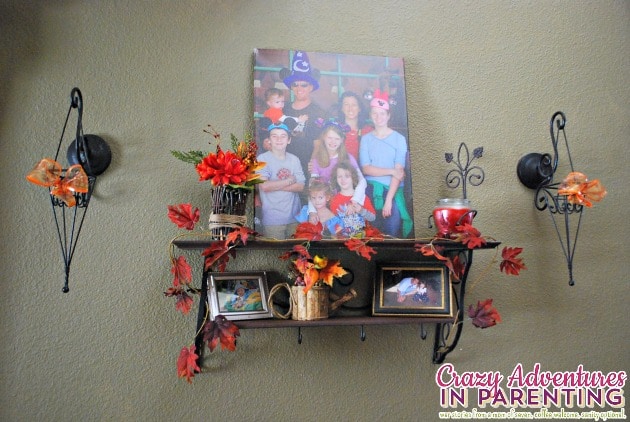 The bouquet held by sticks can be easily handmade using a small collection of fake flowers. The wooden watering can I purchased from Michaels many years ago.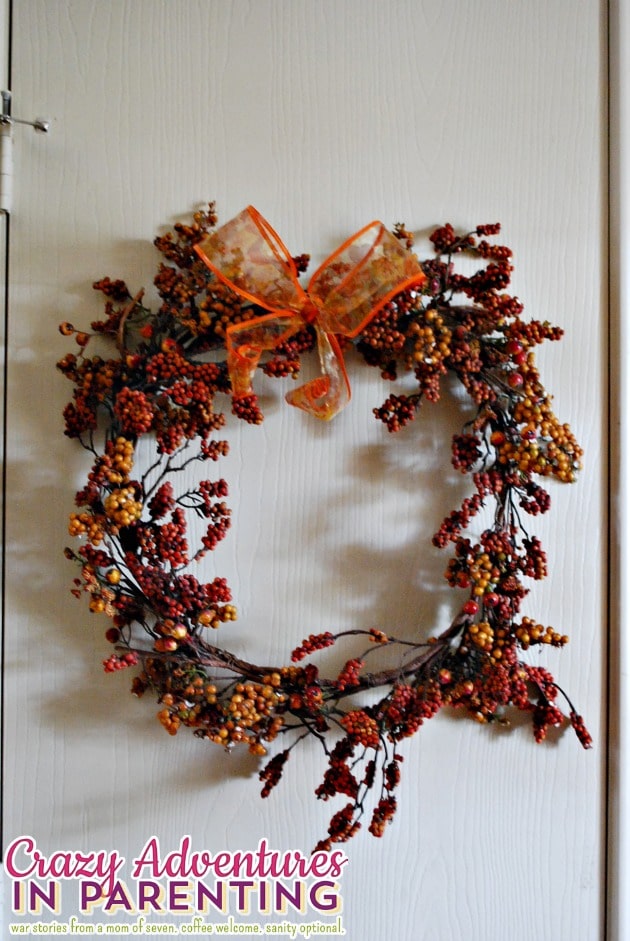 This berry wreath was a Home Interiors buy back when I used to sell it. (Sniff sniff, I miss it so. Been considering possibly signing up to sell At Home products. Anyone familiar with them?) The bows I hand-tied with ribbon I purchased from the Dollar Tree.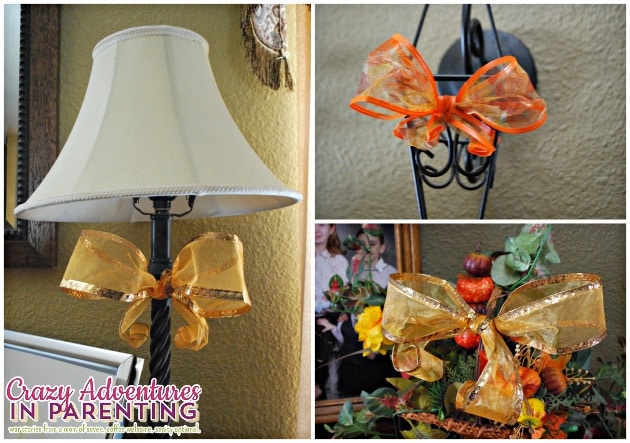 Aren't those ribbon bows so fun and colorful? Easy, fall touches you can add to just about anything. To get them to tie onto things, I reuse twist ties from bread bags, looping the twist tie through one of the knots, and twisting it to stay onto whatever I want.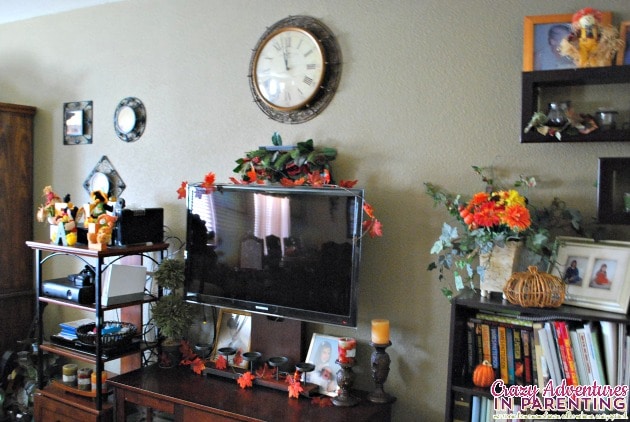 Here's what my living room TV wall currently looks like. That candelabra will be filled with candles as soon as I can find nicely scented ones that don't cost a fortune (another reason I miss selling Home Interiors). The FALL blocks, candelabra, candlesticks, and vase with Gerbera daisies are all from Home Interiors. The wicker pumpkin is from Michaels, and the leaf garland is also from Dollar Tree.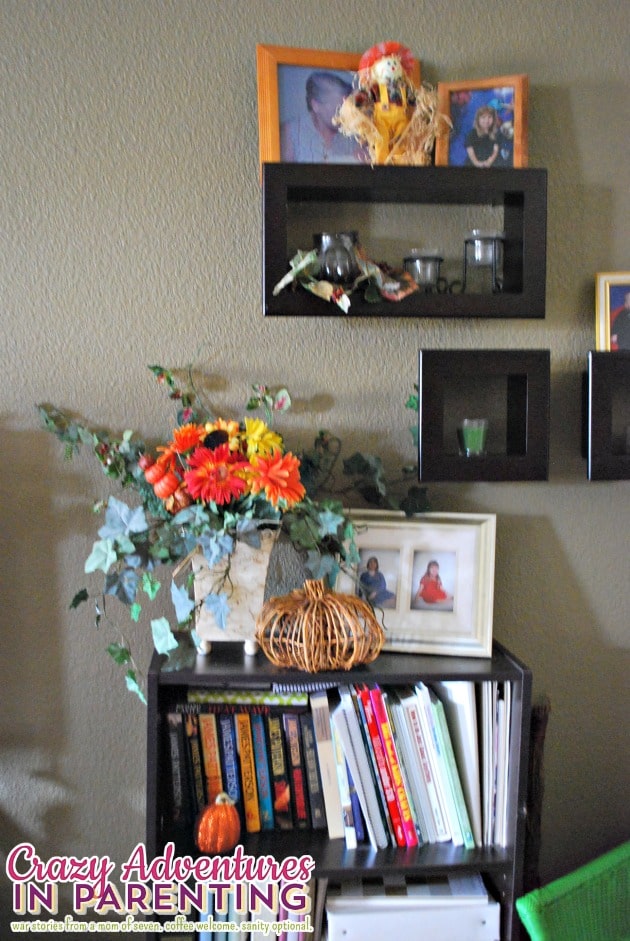 Here's a closeup of the bookcase in the living room. The glitter pumpkin there on the bookshelf was from The Dollar Tree. That scarecrow up top was from Michaels.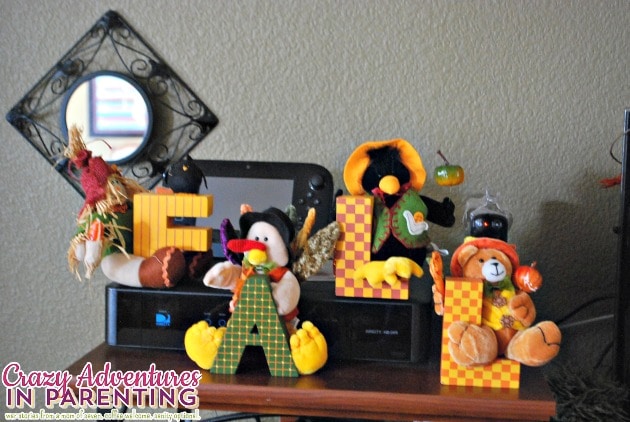 Aren't these FALL blocks the cutest?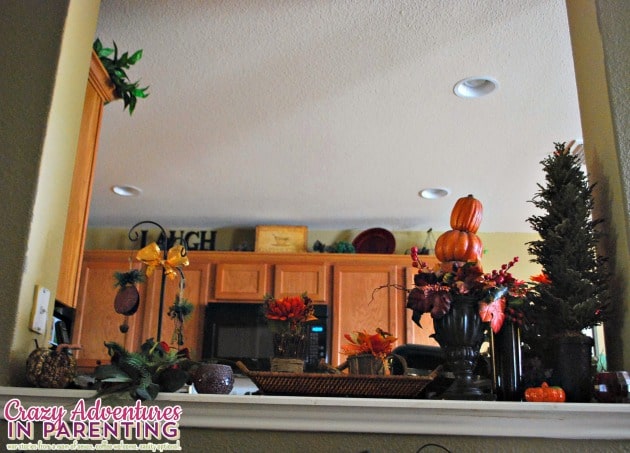 Most of what you see here on the ledge is from Home Interiors, except for a few fall items. The moss pumpkin to your left is from Dollar General. The bouquet and wooden watering can in the center are the same as the one from the front, with the small pumpkin on the right from Dollar Tree.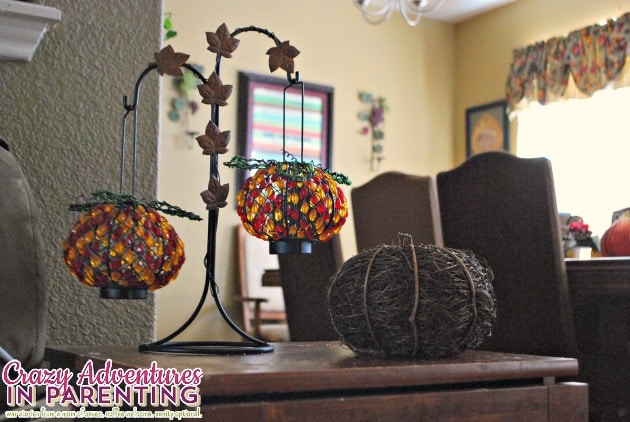 The hanging lantern here on my end table is also from Home Interiors, and the stick pumpkin is from Dollar General.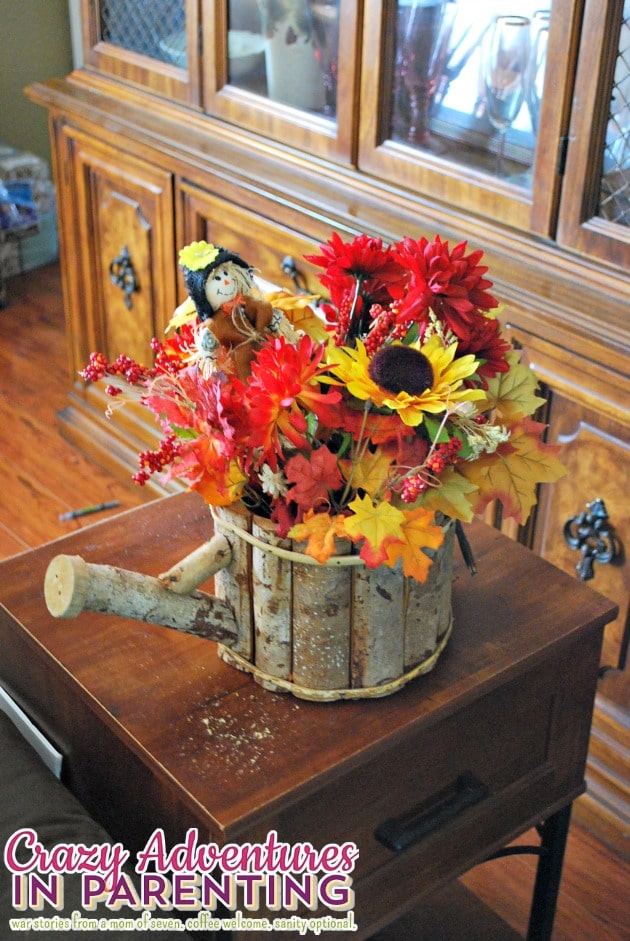 This large watering can matches the small ones and is from Michaels (it's held up well over the years, move after move). The flowers are mostly from Michaels, too, with a few autumn picks from Dollar General or Walmart.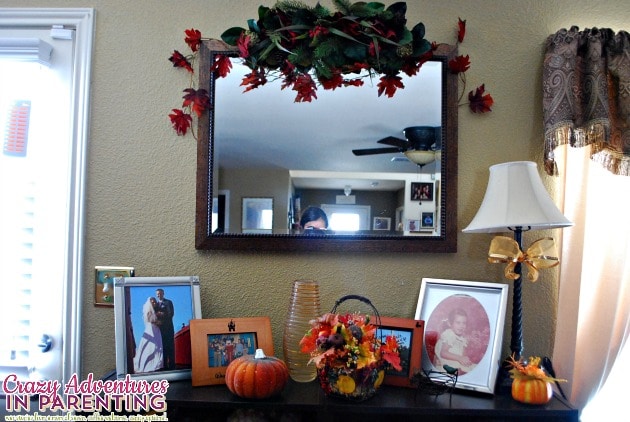 This back wall is a smorgasbord of items from Home Interiors, Michaels, Walmart, Hobby Lobby and Dollar Tree.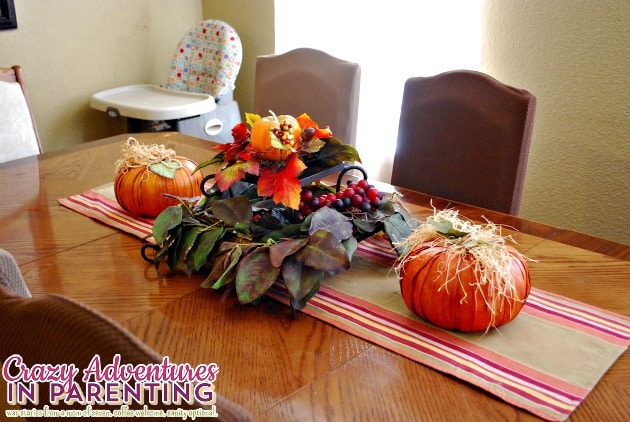 The table runner, believe it or not, is an old Pampered Chef item! That two story centerpiece was an old Home Interiors serving item, with the grape wreath and grapes also from Home Interiors. That top centerpiece I just purchased this weekend from a store called Garden Ridge (that I am returning to this week to get more stuff, OMG what a store!!). The two pumpkins are from Dollar General.
Can you believe this is only my fall items, and not even my Halloween decorations? Tee hee! Can you TELL I love this season?
Have you decorated for fall yet? What do you generally do to decorate? Do you love the fall as much as I do?