Pumpkins are out in full force and I am a happy baking momma. Yesterday, I invited people on Twitter to visit my Blog Frog Community to post their favorite pumpkin recipes. Here's what I received in a mere couple of hours:
Are those not magnificent sounding? Be sure to bookmark them all, including mine (see below)!
Pumpkin "Carrot Cake" Oatmeal Pancakes with Protein
Homemade Whoopie Pies with Pumpkin Cream Cheese
DIY Sugar-Free Pumpkin Latte with Truvia
Maine Pumpkin Bread Recipe
Pumpkin Muffins
I wanted to be further inspired to prepare other pumpkin recipes at a later time (and maybe sooner than I thought) with a now-open can of pumpkin I used for my recipe below.
I can't begin to tell you how delicious these cookies turned out! Imagine, if you will, what pumpkin pie might taste like paired with oatmeal in a light, fluffy, cake-like cookie – that is what these are like. Wonderful, and healthy, too! Originally adapted from Roni's Vegan Pumpkin Oatmeal recipe, I added 1/4 cup more pumpkin, a tad more spices (because I'm a speecy-spicy lover), replacing sugar for Truvia (making it EVEN healthier) and I used whole flax instead of ground (making it taste nutty).The result? Unbelievable, and less than 100 calories for three (see Roni's post for the nutritional breakdown, taking into considering it'll be slightly less with no sugar).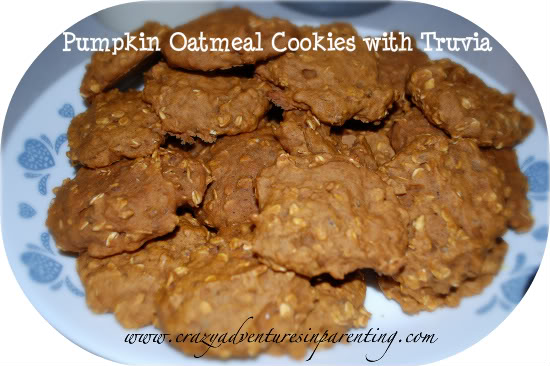 There is no egg, no oil, it's all healthy. Also note that they are VERY filling, so be sure to not shove a bunch in your mouth at once, or be prepared to feel like Santa Claus for a while. Don't ask how I know this. Ahem.
Do you have a pumpkin recipe to share? Please link up your favorites in the links here or in the comments below – let's get one big massive list of awesome pumpkin recipes together in one place – what do you think?
Never miss a thing! Subscribe today for all kinds of crazy parenting fun!