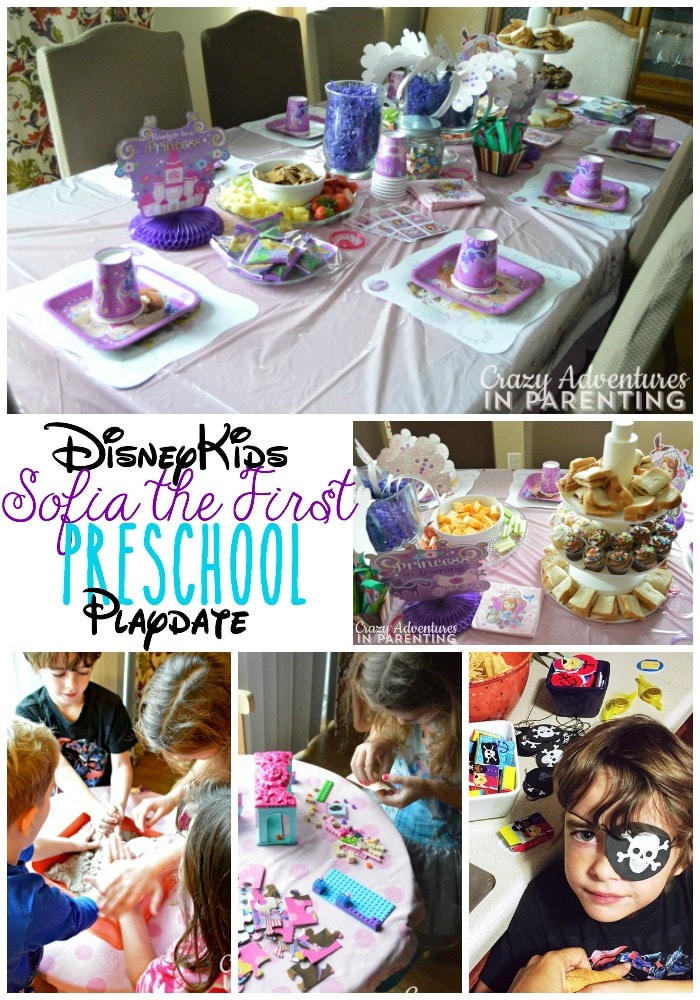 Yesterday, we had the pleasure of inviting a few friends over for a fun Disney Preschool Princess Playdate! Our friends at Walt Disney World Resort and MomSelect sent us a wonderful celebration kit filled with fun stuff to help us pamper and shower our playdate guests with pixie dust! We used everything from the box, including fun purple shredded paper packing material for decorating inside the vases! (Yes, I am THAT mom that decorates vases.)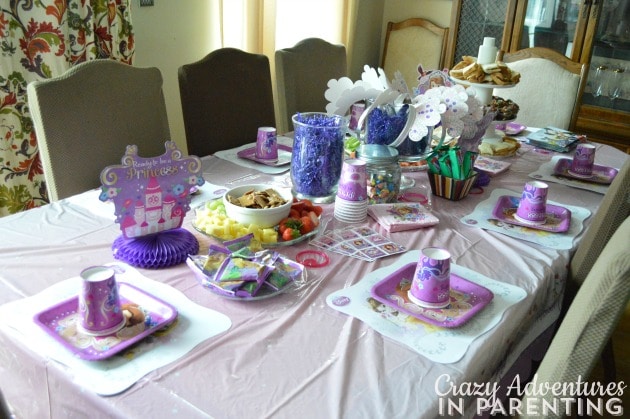 We set out a variety of snacks for our playdate friends and their parents, including some of the wonderful snacks that were sent in the box, like these gluten-free cinnamon-y graham Crunchmaster crackers. These were a HUGE hit, especially paired with fresh fruit!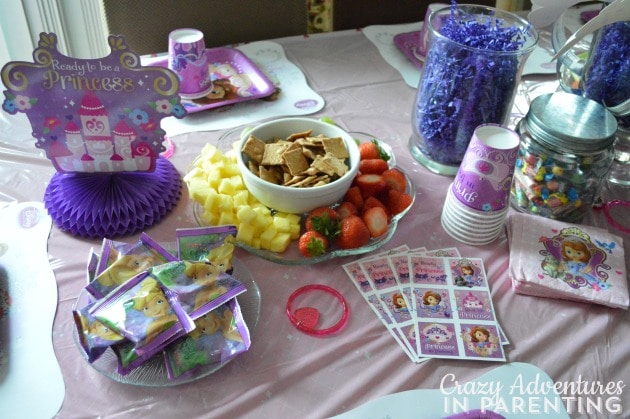 We set out 8 plates and cups on their own princess placemat they could take with them.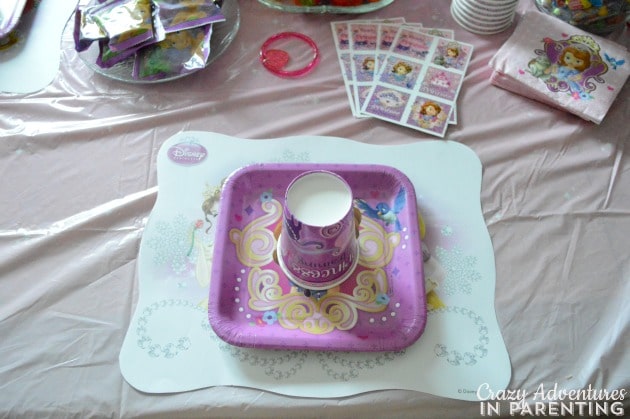 Using the decorative paper in the vases and trifle bowl, we set out the tiaras and other fun snacks and goodies.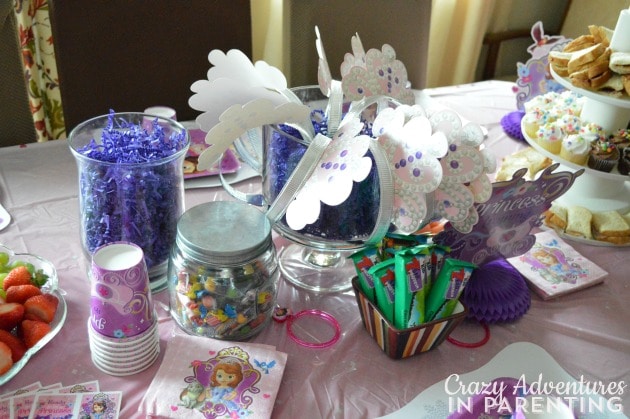 The sandwich and cupcake tower proved to be a huge hit, too! Look at the cute little Sofia centerpieces, too!
I set up a small kids table just perfect for preschool kids size so they could use the dining table for food and play on the smaller table with the fun toys and activities that were sent. Here you see my daughter breaking out the MegaBloks® Barbie set (her love for blocks is strong) along with the Doc McStuffins puzzle.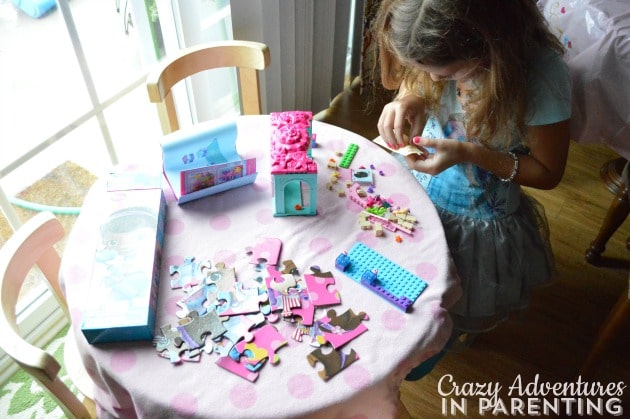 We had Kinetic Sand on the counter until they were ready to try. (And talk about a hit, this was THE PARTY ITEM according to all the kids!!) Kinetic Sand by Spin Master is squeezable sand that doesn't dry out! We originally bought the gold coins for them to "find" in the sand, but they enjoyed eating the chocolate too much to dig for them 🙂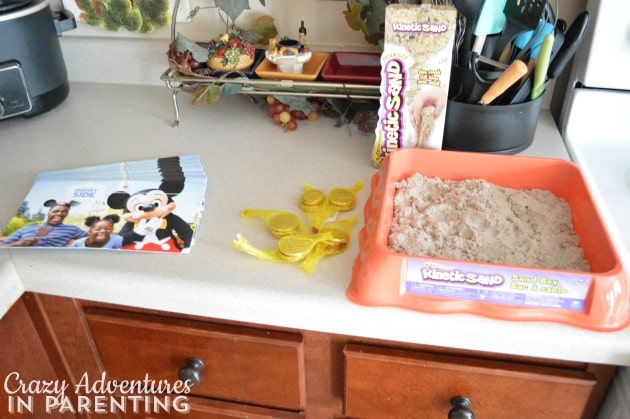 Like I said, the kids LOOOOOOVED the Kinetic Sand. (I have to admit it, it's SO COOL, I loved it, too!)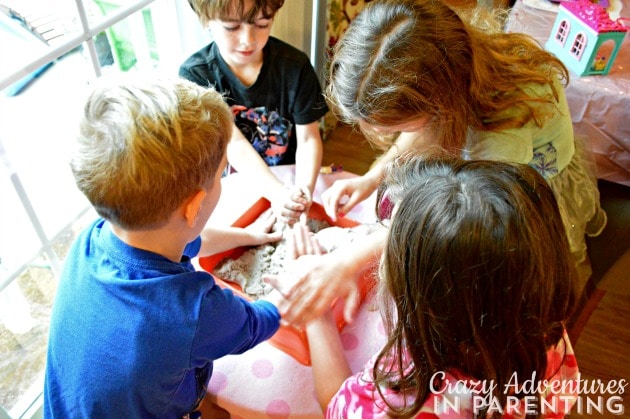 I shared on Instagram how much they loved it. There was plenty to go around for four kids to play.
For the boys, I set up a pirates station so the boys would have something fun to do and have to take home, too.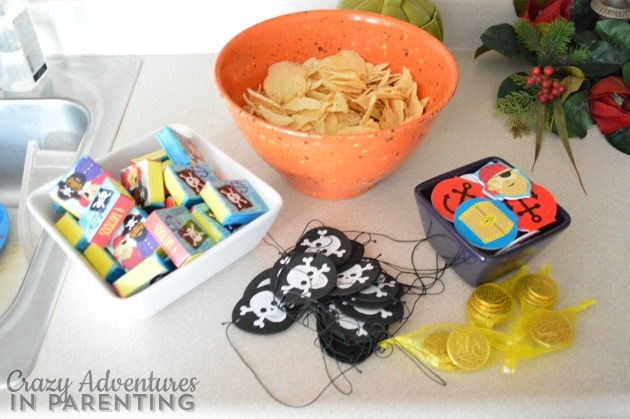 We gave the boys pirate tattoos, eye patches, and pirate notebooks! Here we were applying the tattoos to their hands. Yarrrrr!
Here's Baby V enjoying the MegaBloks before guests arrived and before I set up the kiddie table.
The party spread was perfect for little hands – small sandwiches give it that "tea party" feel for princesses, too.
They also really enjoyed the crafts and coloring pages. We made "fortune tellers" and the kids had fun asking each other to pick a color and number to reveal a Disney character!
For more fun ways to show YOUR Disney Side, visit
DisneySideCelebrations.com
to host your own Disney playdate. It's chock-full of fun games, recipes, and much more! You can follow Disney Parks on
Twitter
and
YouTube
for more pixie dust in your life, too!
Many thanks to the celebration kit sponsors – Walt Disney World, Mega Bloks®, Crunchmaster, Kinetic Sand, CLIF Zbars for kids, and Kelloggs Disney Fairies Fruit Snacks – for sending their products for our kids and guests to try!