The following post is a sponsored conversation written by me on behalf of Horizon Organic. All thoughts, opinions, and baby helpers are mine.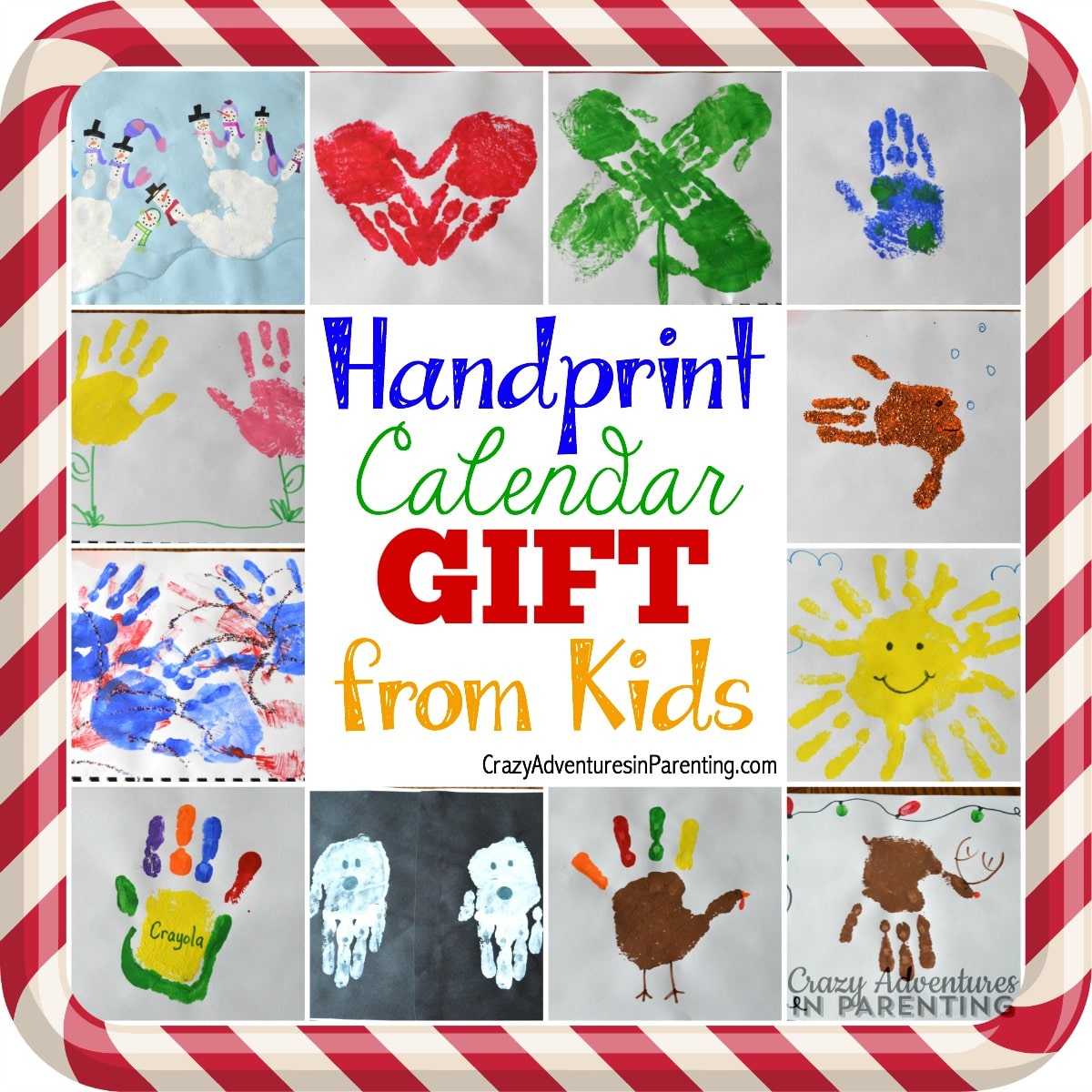 Kids are naturally creative, inquisitive creatures that always want to be involved with things. This isn't any different when it comes to the holidays. They want to help decorate the tree or the house, they want to help pick out presents, to hang stockings, to make the cookies.
It always means so much to get one of their creations from school. The look of pride on their faces from having worked hard on a project or a craft, and the huge teeth-filled grin as they present me with what they've made, I want to bottle that feeling to have forever and ever. This holiday, I want that – I want to get my kids more involved in, not just the gift-giving, but in the gift-making. More than they normally are. Usually, they're involvement starts and ends with a secret trip to the store one-on-one to shop for their siblings. But this year, I want them to CREATE more than BUY. I want to focus more on their creativity and less on material things.
This year, while happily sipping the delicious Horizon egg nog while making gingerbread cookies, we're going to be crafting gifts for others. AND I CAN'T FREAKING WAIT TO GET STARTED! Here's the first one – personalized handprint calendars. I can't believe how wonderfully these turned out!
What you'll need:
Smocks
Several size paintbrushes
Several colored paints
Construction paper
Markers
Sharpies (with different tips)
Glue
Glitter
Newspaper for underneath your painting area
Get your individual papers ready to go, get your paint set out, brushes laid out, and get everyone's sleeves rolled up with smocks on, hair tied back, and get painting!!
For January – snowmen! My absolute favorite! Using white paint on blue paper, and markers for the embellishments, be sure to use a fine-tip sharpie for their faces.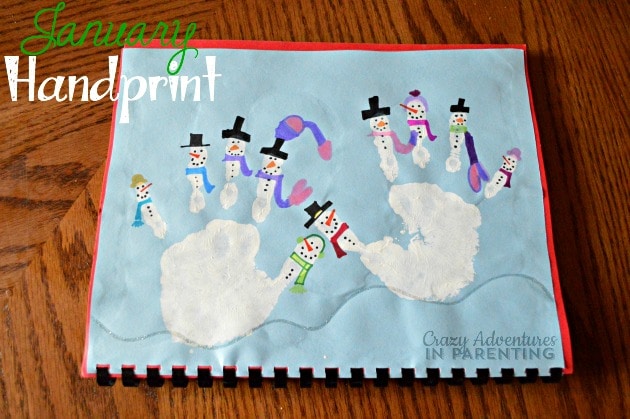 For February – hearts, of course! Using red paint, flip your paper upside down and point the fingers together. You can make smaller hearts using individual fingerprints, too!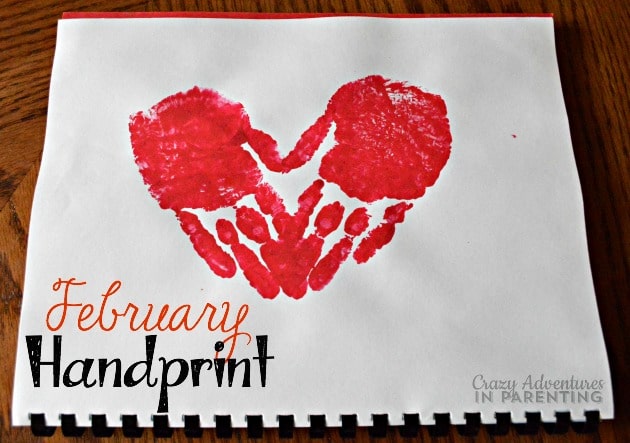 For March – a four leaf clover! Break out the green paint for this handprint, and face all the fingers together to make each of the leaves for the clover. Smaller cloves can be made with fingerprints, and a paintbrush for the stem.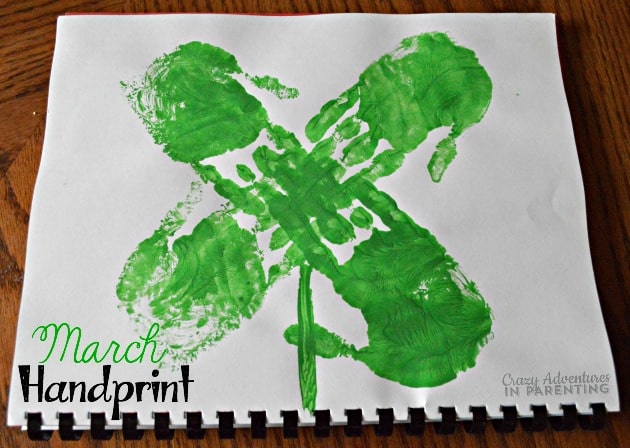 For April – the earth! I love how symbolic this one is, with the whole world being a hand! You can choose to do one hand (as we did) or a whole bunch of hands to form a circle, your choice! Use blue paint but dabs of green for land on the palm!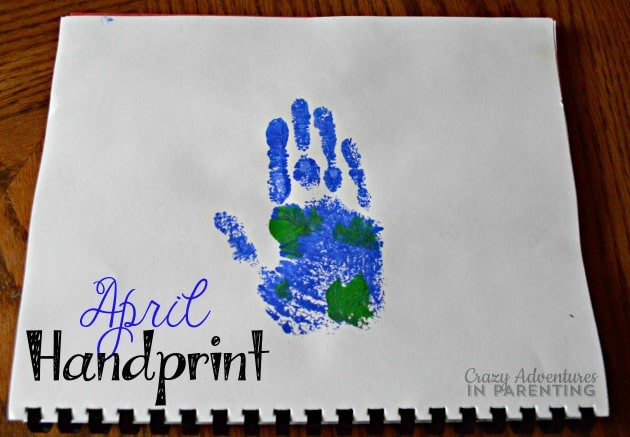 For May – handprint flowers! Pick two colorful paints for your handprint flowers here, and don't forget to use a green marker for the stem and leaves!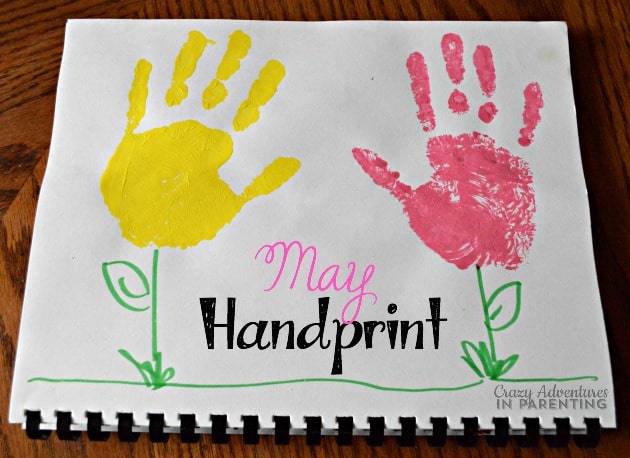 For June – a fish! The sparkles here add a nice touch to make it seem scaly! Draw in bubbles if you wish, or use the tippy-top of their fingers with blue or silver sparkles on top for bubbles!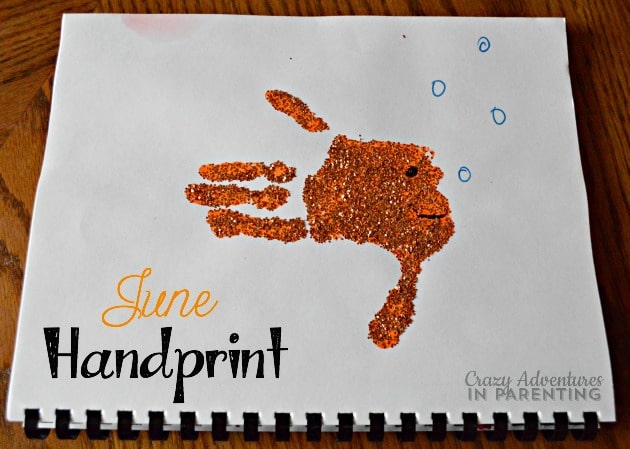 For July – fireworks! Use the handprints to form fireworks with red and green paint, and then allow them to use Elmer's glue with a paint brush (or drizzle, if they have a steady hand) and sprinkle with sparkles!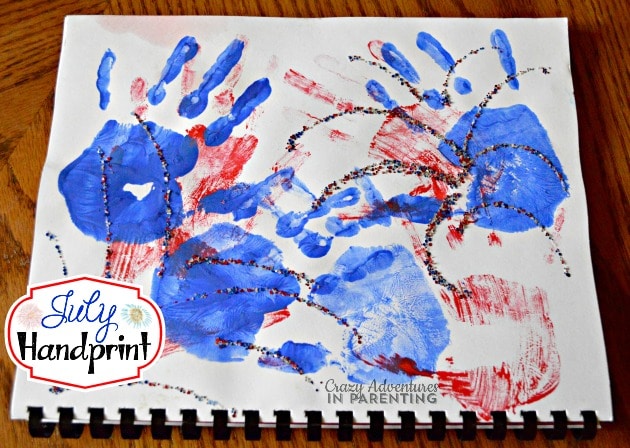 For August – a nice, bright sun! Using yellow paint, put the palms in the center with the fingers as the sun's rays pointing out. You can draw in clouds with a marker if you'd like.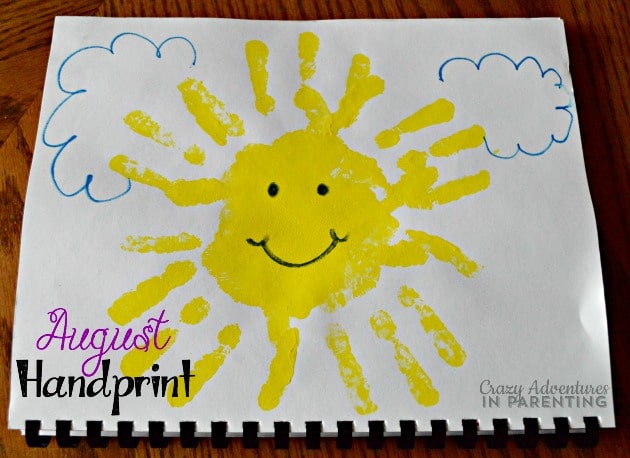 For September – crayons (for back to school)! Using a paintbrush, paint each finger a different color, with the center of the hand yellow and the thumb and edge of the palm green. Look at how great it turned out!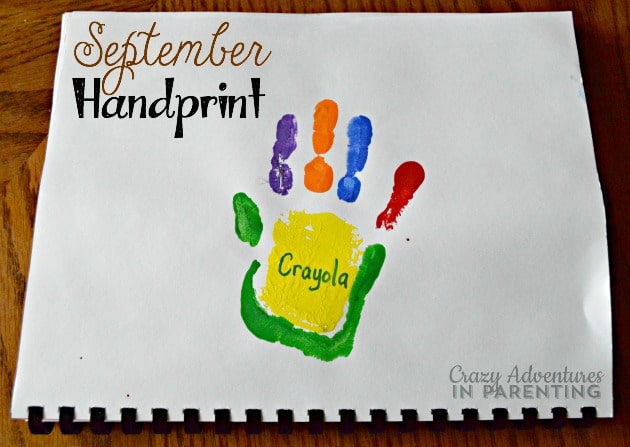 For October – handprint ghosts! Using black construction paper, use white paint for the ghosts, facing them downwards, and a sharpie for the faces after it's dry.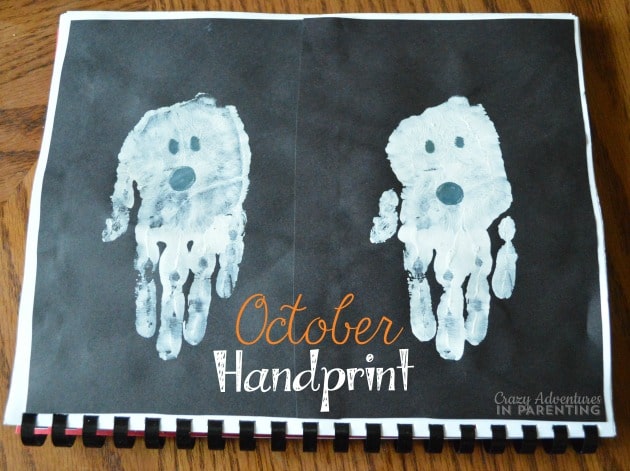 For November – a turkey! Paint the fingers similarly as you did with the crayons, each a different color, and the thumb and palm brown. Use a marker for the embellishments once its dry.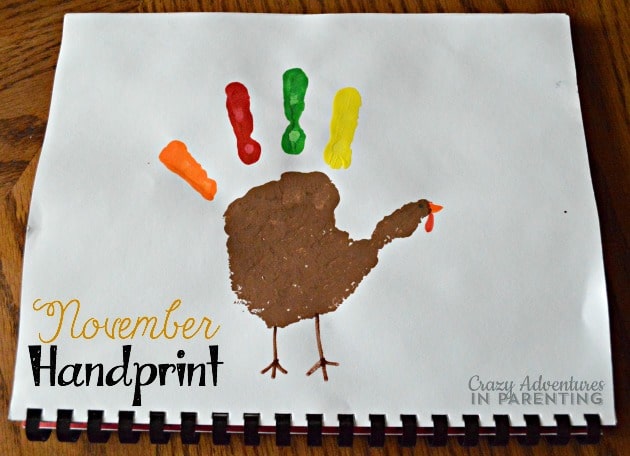 For December – a reindeer and holiday lights! For this one, draw your holiday lights lines first, so that you'll know where to place each thumbprint for the lightbulbs. Then, use the brown paint for the handprint for the reindeer, and finish with a marker for the embellishments when dry.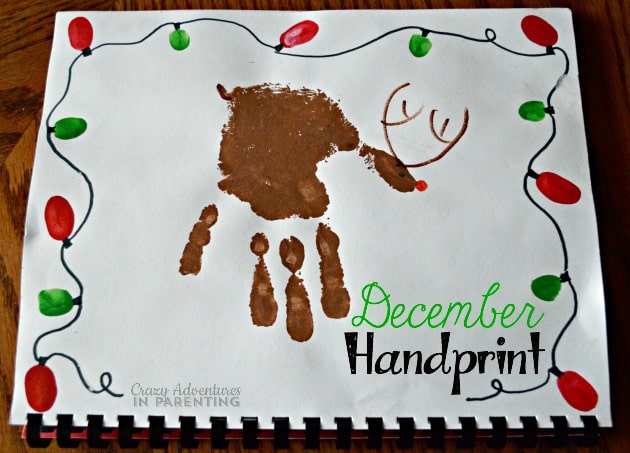 Once all these handprint calendar pages are dry, glue them to back of the previous month's printable calendar pages, but make sure the calendar page is upside down. For January, it'll be attached to the upside down cover. For December's calendar page, it won't be glued to the back of anything. You can choose to design your own calendar pages or find some on the web, like this.
On the cover, you can print or have the kids write in the year. They can glue a recent picture of themselves on there, too, to make it even more personalized. In addition, I like including this handprint poem: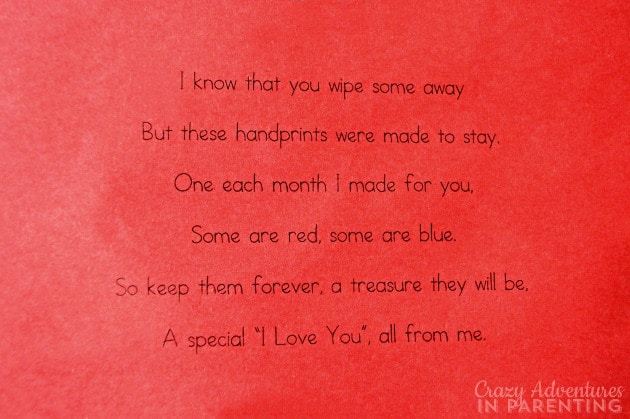 Be sure to write in holidays and important birthdays into the calendar before you wrap it up!
In addition to the Handprint Calendar idea, I've scoured the internet for some amazing homemade holiday gift ideas we'd love to try making that are easy for kids to make. I hope you enjoy this list as much as we're going to!
DIY Crayon Lipgloss. Would this NOT be the CUTEST thing to make with your budding fashionista to give to friends and family? Look at those colors!
Root Beer Float Fudge – HELLO! THIS would be AMAZING to give instead of the traditional fudge!!
Fingerprint Snowmen Luminaries, OMG! I'm a HUGE snowman fanatic, and this is an AMAZING recycled project!
Reindeer hot chocolate will be perfect treat to give classmates for their holiday parties this year, don't you think?
What about miniature apple tarts on decorative plate, like these? They're easier than you think!
How sweet (pun unintended) would it be to receive this DIY sugar scrub as a gift made by your child?
This sweet DIY necklace is made from dollar store finds! Amazing! How wonderful of a gift would this be from your child for a fashionable friend?
This cute Modge Podge Mosaic Vase is easy for kids, because they can not only rip the paper, but paste it themselves! I can see the flower arrangements in them already!
Hold onto your sweet tooth, baby! These candy cane dipped chocolate cookies would be perfect for holiday cookie trading, don't you think?
I am BLOWN AWAY by how simple yet beautiful this hand drawn portrait looks in an embroidery hoop! How sweet would this be for daddy's office or grandma's wall?
Or what about this adorably crafted white chocolate santa mix in a tin? (Look at those hats, omg!)
Boys and girls alike would love to collect rocks to make this cute Wire-Wrapped Rock necklace, don'tcha think?
This DIY snow candle using epsom salt would be a great gift for the candle lovers you know!
Lastly, while I'm a huge advocate for drinking all the Horizon egg nog one possibly can (ahem), don't forget it tastes pretty darn good when you bake with it, too. Try making Rachel's scrumptious Egg Nog Sugar Cookies with your kids. (And don't forget to leave a couple out for Santa!)
I hope some of these ideas inspire you and your family to create some magic of your own at home. I know this holiday, we're going to be nestled up in the warmth of our own home making not just presents, but wonderful memories as well.
Be sure to check visit Horizon Organic for more info on their products, and follow them on Twitter, Facebook, and Pinterest for more yummy ideas for your family treats this holiday.
This conversation is sponsored by Horizon Organic. The opinions and text are all mine.