Looking for a fun school lunch treat or after school snack? Try these Apple Rose Tarts and ask your kids to help you make them, too!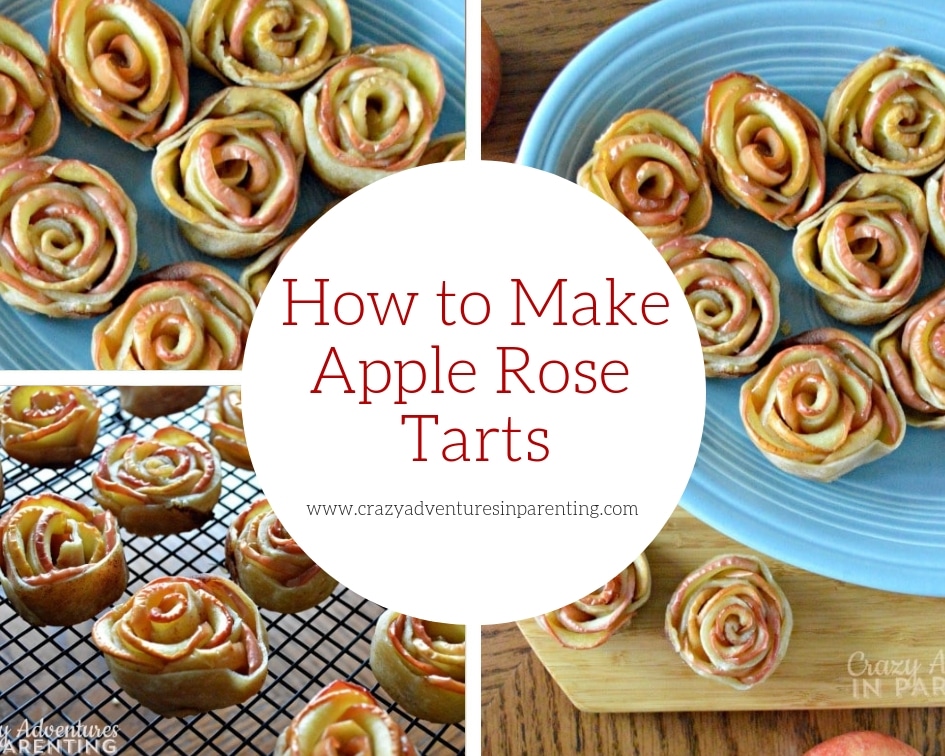 The following post is a sponsored conversation written by me on behalf of Horizon Organic. All thoughts, opinions, and baby helpers are mine.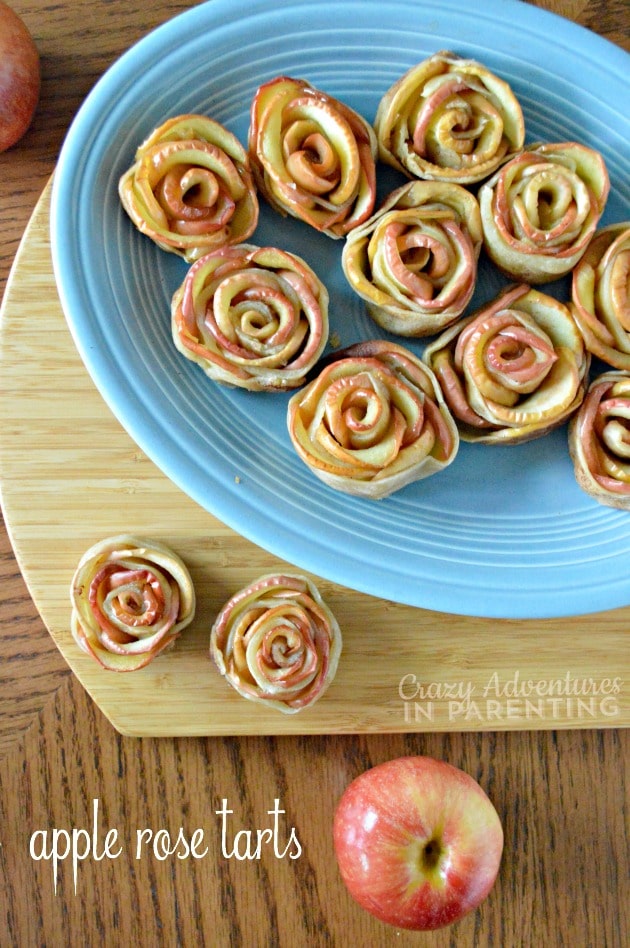 GORGEOUS Apple Rose Tarts for Snacks and School Lunches
I'm a huge advocate for getting kids to help in the kitchen, even at an early age. Have the baby sit in the bouncy while you cook, and give the baby a wooden spoon and bowl to play drums, or a soft silicone spatula to nibble on (if they're teething). Getting them as comfortable as possible with the kitchen and its tools will only help them feel more confident in their culinary abilities. Kids are naturally inquisitive, so let them in on what's happening, and teach them about hot stoves, ovens, and sharp knives, too.
Go ahead, mom (or dad), let them pour in the milk, or add in the flour, or cheese, or stir. I've spoken before many times about the importance of having kids in the kitchen with you. It fosters a love of cooking, and helps teach them independence and about food.
I know I'm going to be doing a lot of one-on-one activities with the baby when all the kids go to school, so I thought about getting the baby involved in helping me make the kids' school lunches and snacks for them. I know she's going to miss them a great deal while they're all at school and she's not, so I thought she might enjoy helping me create something special for them while giving us a little gal-pal one-on-one time in the kitchen. Win-win situation, no? And these Apple Rose Tarts seemed just PERFECT for a little helper's help.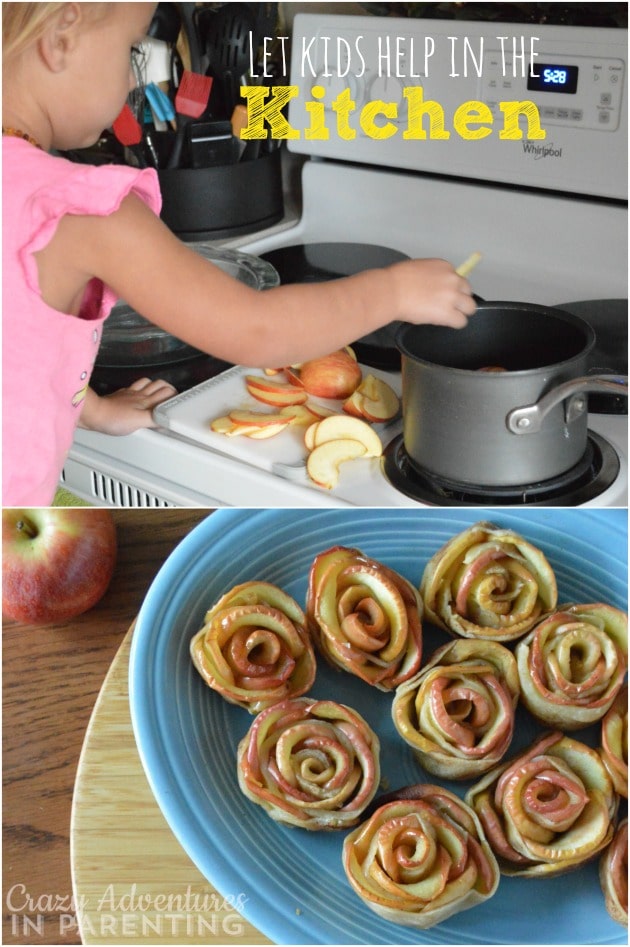 How to Make Apple Rose Tarts
To start, cut, core, and slice your apples.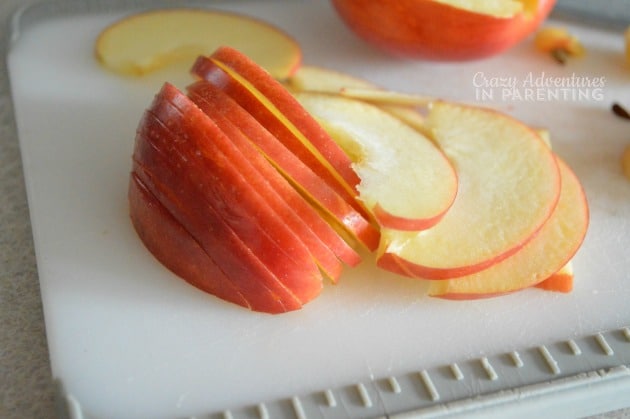 Have your little helper place them in the pan for you, as mine did.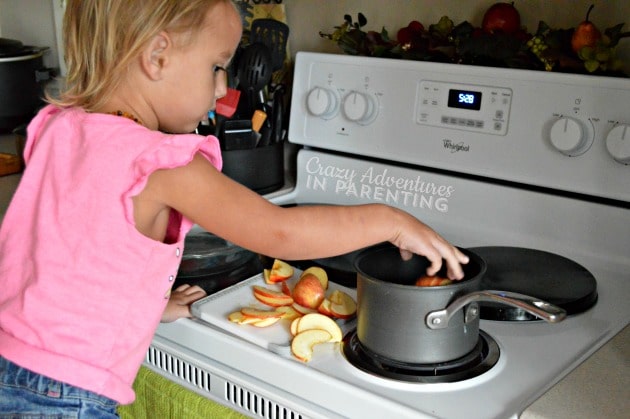 Have your helper add the sugar..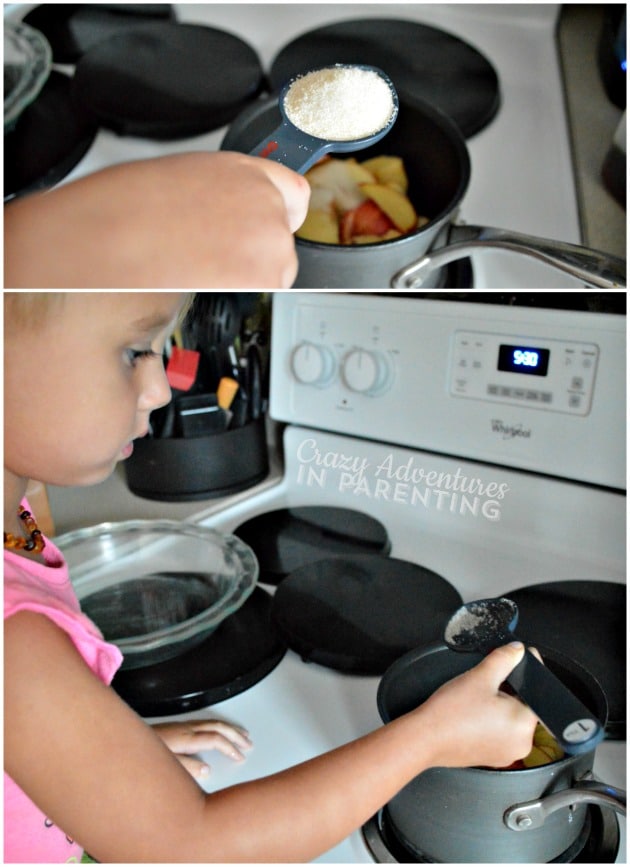 .. and then the honey..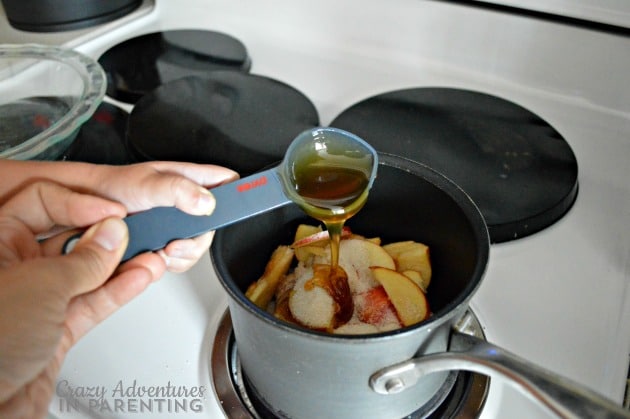 .. while tasting the tablespoon to ensure the honey is good. (And it was.)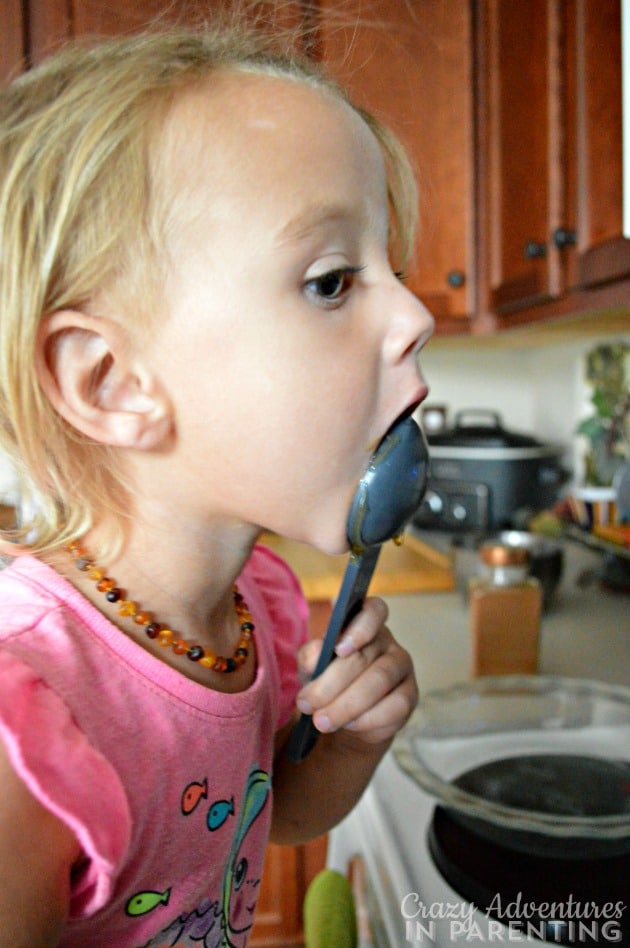 Have your helper add the water to the pan, too.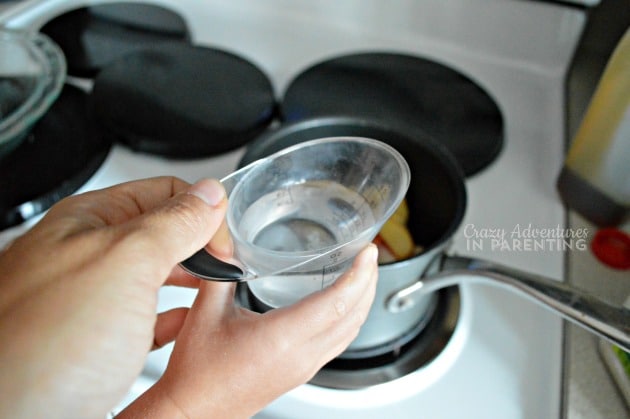 Shift your helper over to the countertop area so you can turn on the stove. While the apples cook, have your helper add butter to the mixing bowl…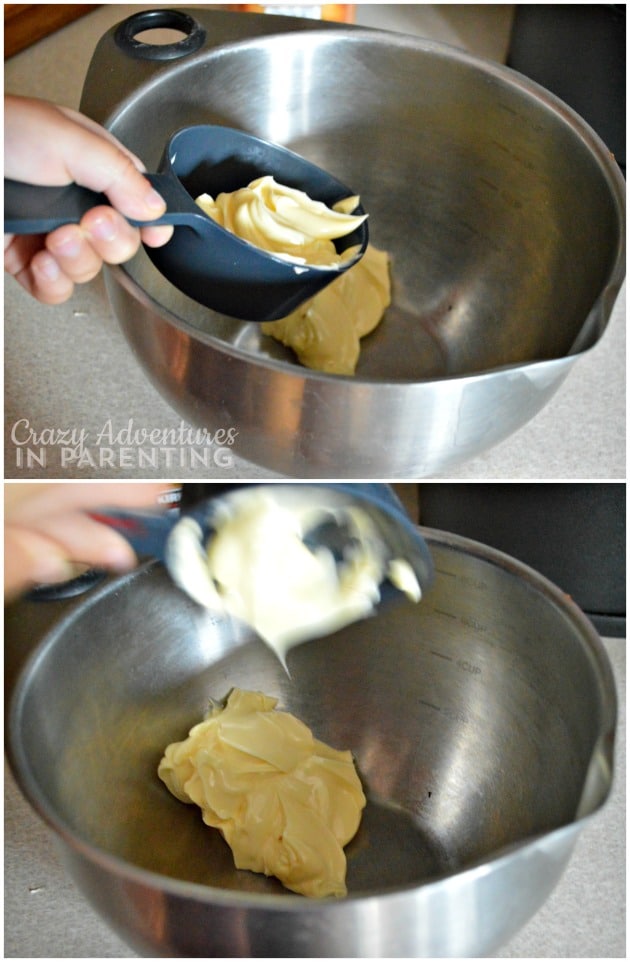 .. and get suspicious when you see she has butter in her hair. (What the heck?)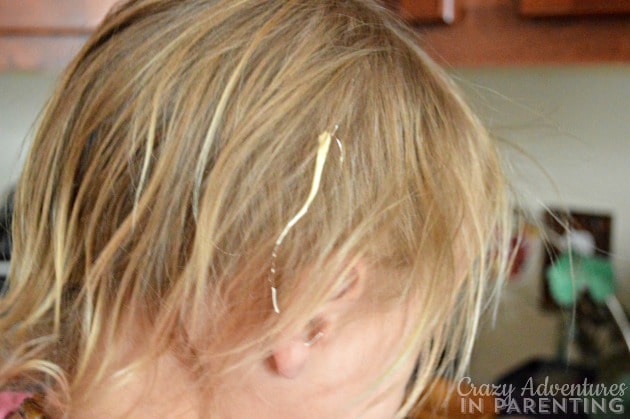 Check the apples and flip them so they all become coated, but be careful not to mash or cut at them, to keep them whole.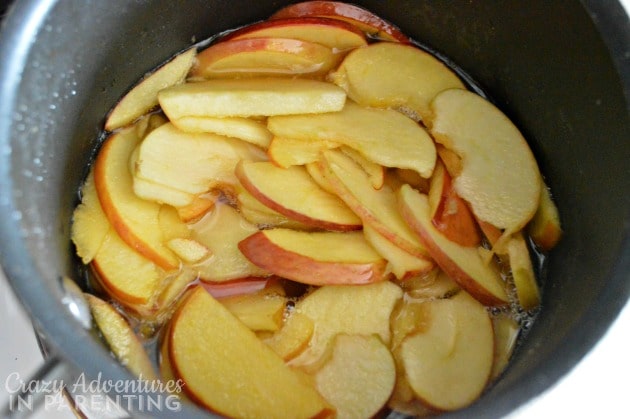 Once cooked, carefully remove the apple slices from the pan onto a plate.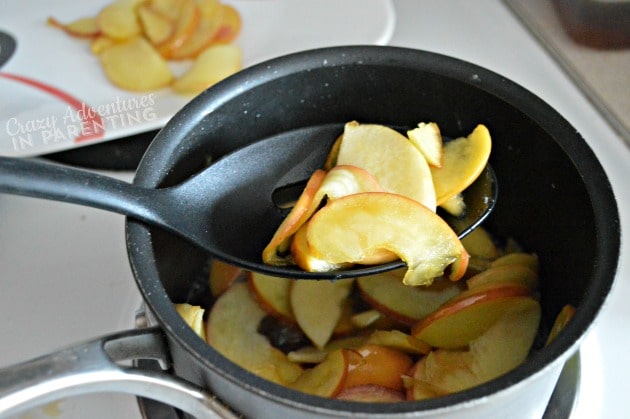 Add the apple water to the butter yourself (so your helper doesn't get hurt), and be sure to take note of a few finger swipes in the butter, hmm…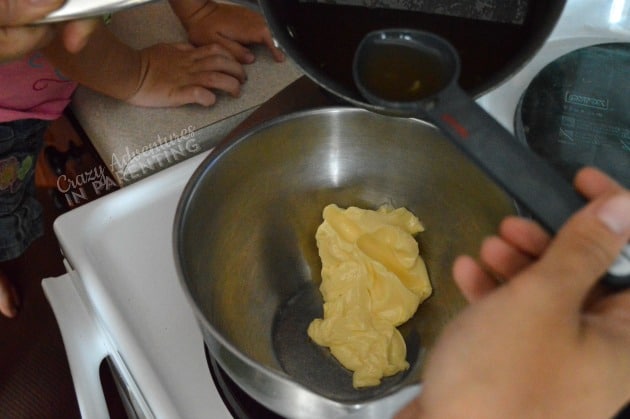 Gently have your helper add in the cake flour.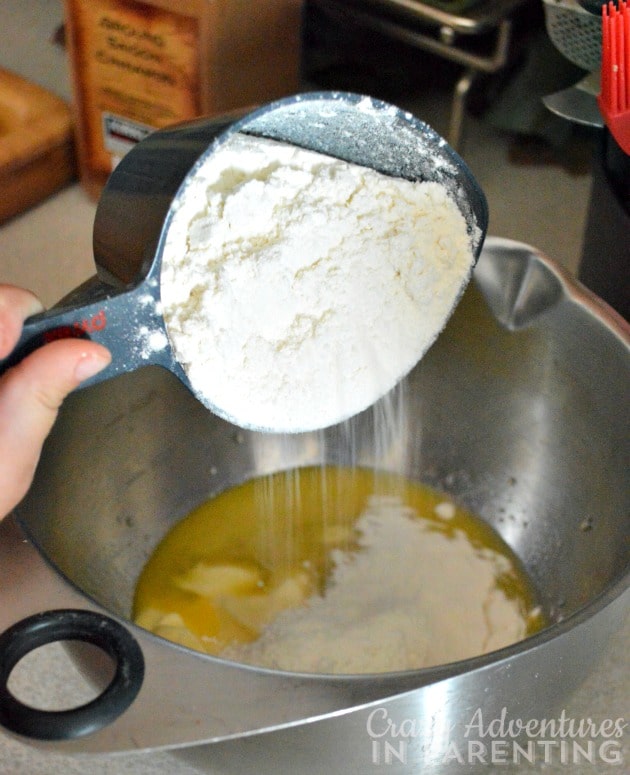 Let your helper have the first few turns at mixing the dough before you need to get serious and mix it yourself.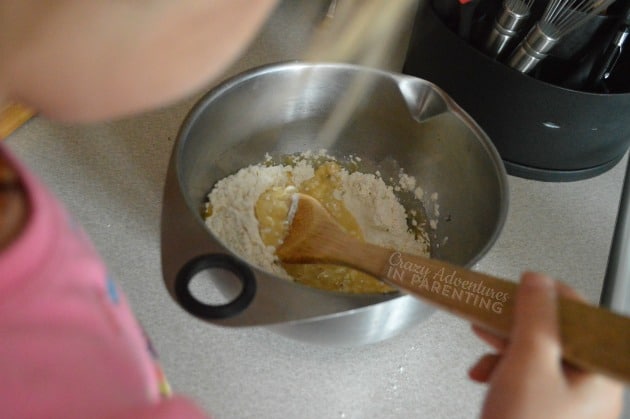 Once together, knead gently (and let your helper get into the action, too) before placing it into a flat surface with cinnamon sprinkled on it.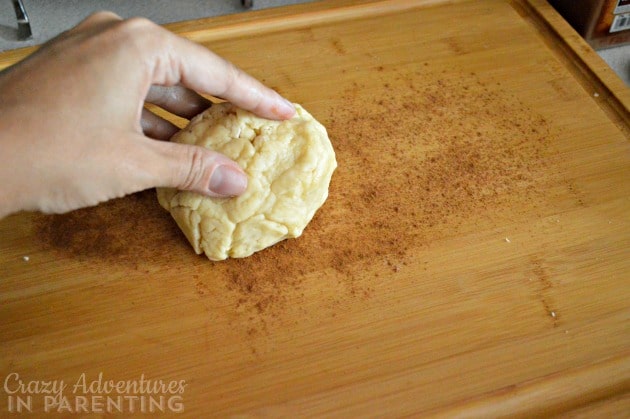 Cut the dough in half, set half aside, roll the remaining dough into a rectangle.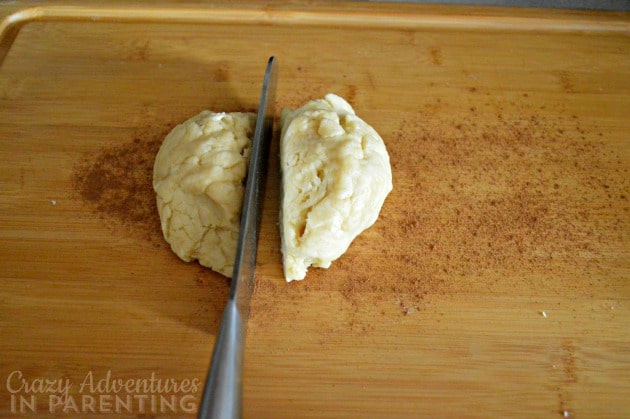 Cut the rectangular dough into six one-inch thick slices.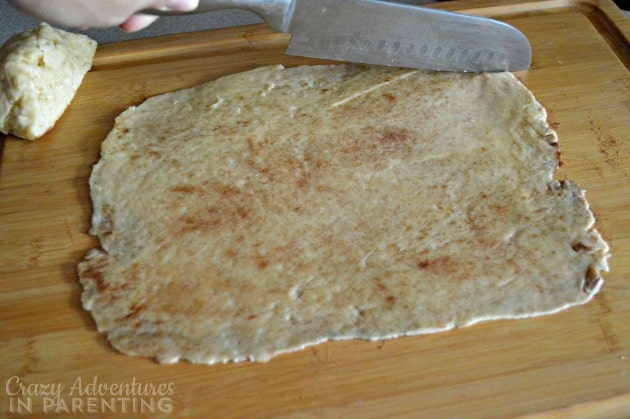 Bring over your cooled apples..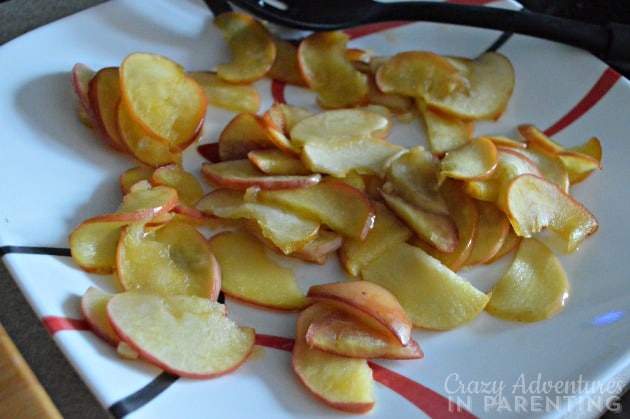 .. and begin to layer the apples onto the dough as shown.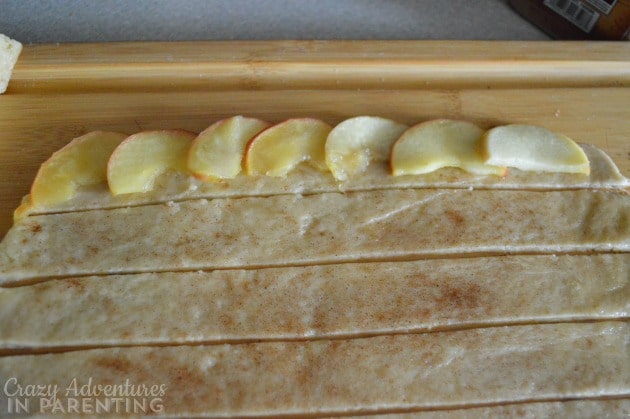 Roll gently from right to left, rolling tightly like a cinnamon roll.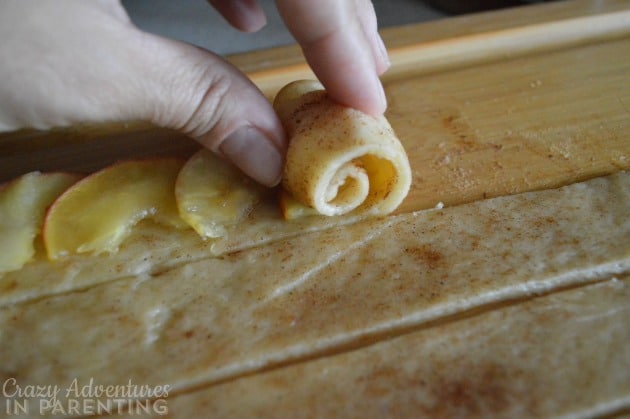 Place it into the sprayed muffin cup and repeat with each dough slice, and with the remaining dough.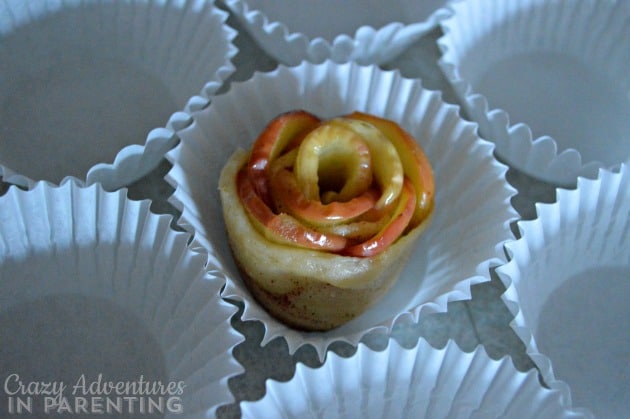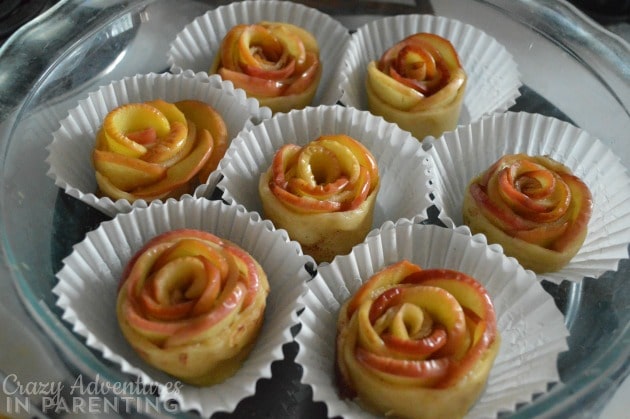 Bake in the oven for 25-30 minutes, checking every so often for doneness. (Dough will be hardened, but shouldn't be crispy. Apples will soften and wilt ever so slightly)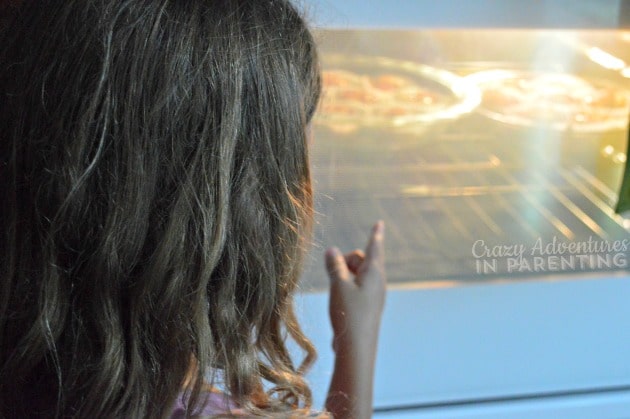 Resist eating them as soon as you remove them, they are far too hot and need to sit on a wire rack to cool. The smells will overwhelm you, but you MUST resist to avoid burning yourself!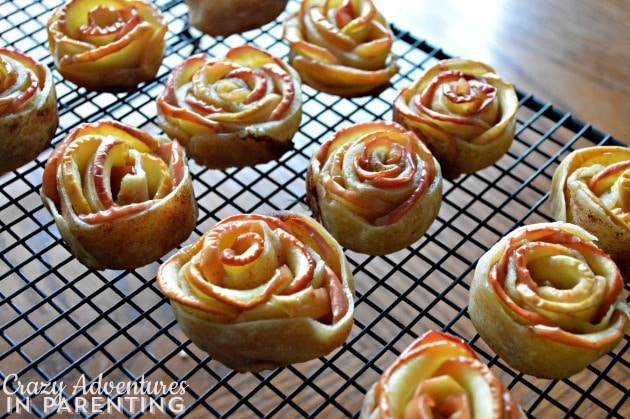 Once cooled off, set onto a plate to serve, either as a snack or to be packed into a school lunch.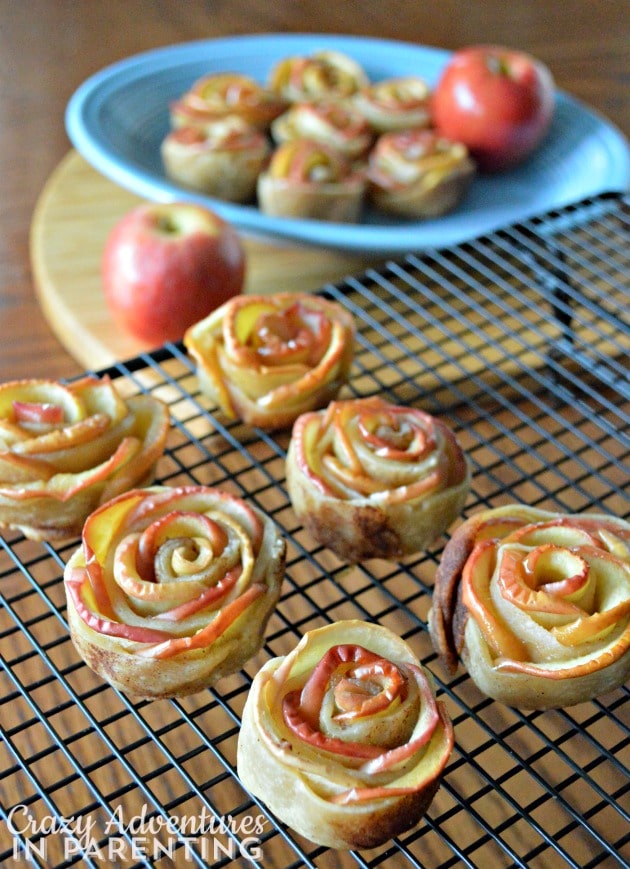 Your helper might want a taste, since she did help you, you'll happily oblige. (After all, it IS hard to resist that baby face.)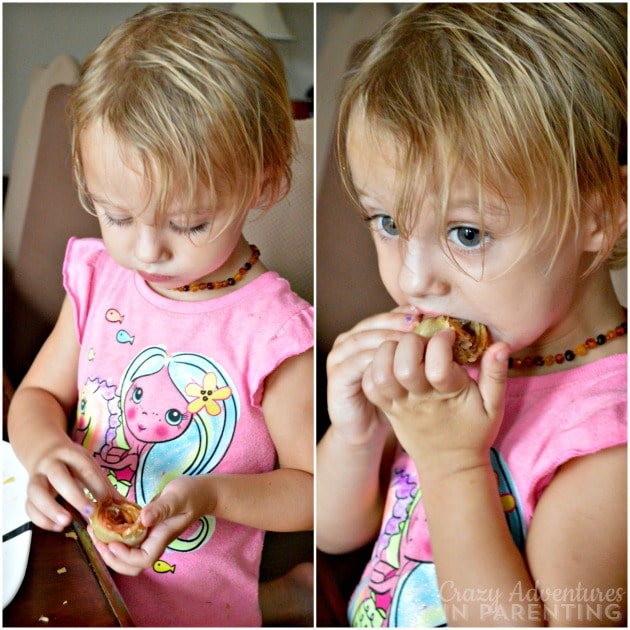 I served this snack to the kids with some glasses of milk and a few of their favorite snacks to nibble on – carrot sticks, string cheeses, and Horizon Organic's new cracker snacks they can't get enough of. They kids couldn't get enough of their healthy treats, and have requested these for their school lunches, too.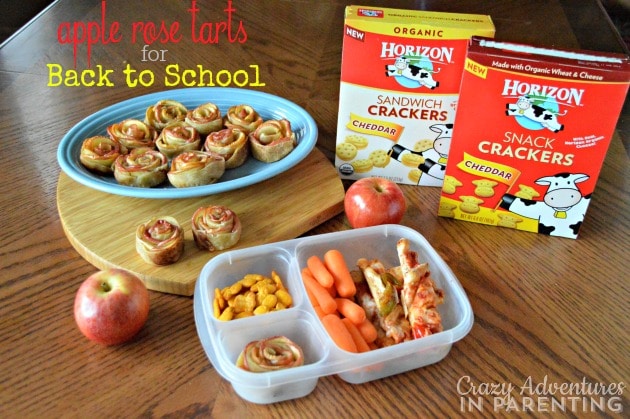 I'm on a mission this year to make fun and new school lunches for the kids, and this one is no exception – not just with the Horizon Organic snacks and chocolate milks, or with the Apple Rose Tarts, but with leftover pizza sliced into sticks to make "pizza sticks." (This helps to make round pizza fit into the school lunch containers a lot easier.)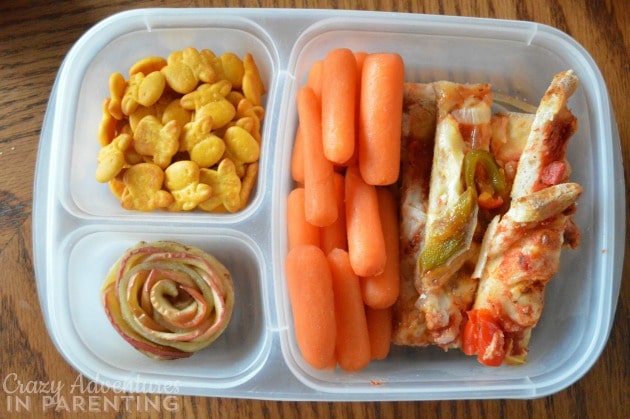 What do you think? Could you pull these off with a couple of kiddos as helpers?

Follow Horizon Organic on Facebook, Twitter, and Pinterest for more fun and healthy recipe ideas.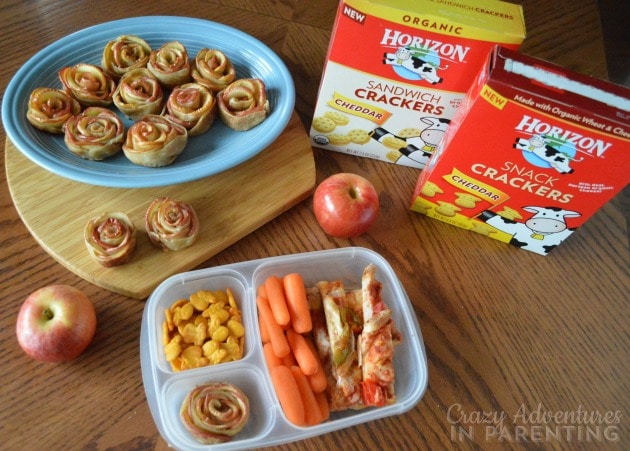 What are you doing for your kids' school lunches this year? Anything fun and new in store for you?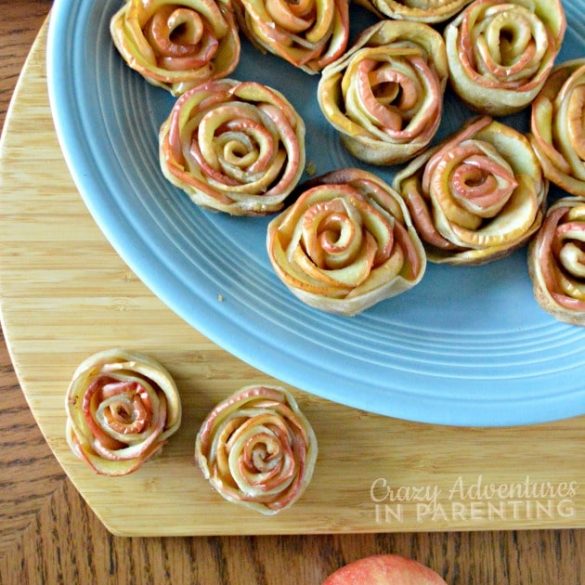 Apple Rose Tarts for Snacks and School Lunches
These small tarts are mini apple pies with tiny sliced apples forming a rose, which make them very portable and easy to eat for school lunches.
Print
Pin
Rate
Ingredients
2-4

apples

depending upon the size, the larger the apple, the less you'll need

3

tbsp

sugar

2

tbsp

raw honey

5

tbsp

water

3/4

stick of butter

1 1/2

cup

of cake flour

more possibly needed for consistency
Instructions
Slice your apple in half, core it, then slice it into thin slices. Repeat until the apples are all cut.

In a medium saucepan, add the apples, sugar, honey, and water, and cook on medium heat 3-5 minutes, lightly turning over the apples, until the apples have softened.

Remove the apples from the saucepan with a slotted spoon onto a plate to cool, but do NOT discard the apple water in the saucepan, you'll need it.

Preheat your oven to 350 degrees.

In a small mixing bowl, add the butter and cake flour to the bowl along with 4 tbsp of the apple water, saving the rest of the water just in case.

Mix and knead the dough until it becomes a ball without being too sticky. If too sticky, add more flour. If too tough, add a little bit more of the apple water.

Sprinkle cinnamon on a flat surface to roll out the dough.

Cut the dough in half and set half aside; sprinkle cinnamon on top of the dough and roll it out into a rectangle.

Cut the dough into 6 even lengthwise slices, approximately one-inch in width.

Place cupcake liners into a pie plate, and spray the bottom of the liner with cooking spray.

Lay the apple slices down with the flat part at the bottom, layering the end over top the first piece, until you reach the end of the slice; roll.

Continue with each slice until the first half of the dough is finished.

Roll out remaining dough and prepare the same way.

Cook in the oven for 25-30 minutes, checking every 10 minutes for doneness.

Remove from oven and set on a wire rack to cool before serving.

Can be refrigerated for up to a week. Reheat by toasting or baking in an oven.
This is a sponsored conversation written by me on behalf of Horizon Organic. The opinions and text are all mine.