"Mommy? Are you doing dishes?!" She calls to me from another room. "WAIT!"
She barrels into the room, hopped up on corn bread from dinner, spinning around looking for her chair. "Don't do anymore dishes without me!"
Finally finding the kid chair in the pantry – the chair she uses as a step-stool – she drags it, hissing the wooden legs against the kitchen linoleum, over to the sink. She commands the soap-filled sponge, setting the water on trickle, and commences scrubbing even the littlest of silverware with such vigor and excitement for the task at hand.
She's always been my pint-sized helper, always wanting to stir the batter, or crack an egg, or mix something. Don't let her blonde hair fool you, she is most certainly a mini-me.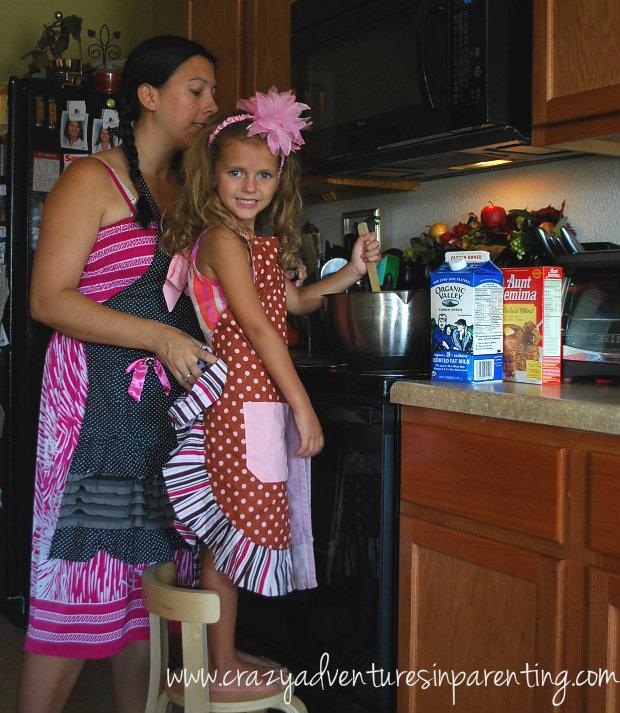 As I stand back, sheepishly smiling through tears at my proud six-year-old dishwasher, I immediately start wondering if I did things like this when I was small, too? I can't recall being this little, not much, anyway. I don't remember helping my mother with the dishes, or cleaning off the table, but I have seen pictures of my wearing oven mitts and washing gloves before, so I imagine myself as her, and what that must have been like.
I do recall a time later in my childhood where I was particularly fond of making things shine. I loooooved cleaning the tiled bathrooms with glass cleaner, making the huge mirror shine, the tiles sparkle. Cleaning the bathroom was my favorite chore. It used to drive me crazy to see the soap scum not come off the glass shower doors, because I wanted them to shine as equally as the tile and mirrors around it.
I also used to love polishing the wood in the house, spraying an old cloth diaper with wood polish, hearing it hiss quietly, foaming on the wood just before I'd wipe it with the towel. My parents had a lot of wood furniture, and I enjoyed using a little elbow grease to buff it all to a pretty shine.
I always think about those Saturday chores as a child, particularly when I take clean off my table, polishing it with my microfiber towel. I enjoy spraying and wiping the food fingerprints off our new table, seeing the light glean from the table as it comes in through the windows. Brings me immediately back to my childhood – I guess I do still like to make things shine, eh?
I look up and see her finishing the last kid-fork, wiping it clean with the sponge, lovingly reaching down and plopping it into the dishwasher. "All done!" She proclaims while slapping her hands together, swishing the excess water off.
It may raise my water bill slightly, and cost me more in dish detergent, but seeing her enjoy doing chores with me (and for me) is one of the best presents I could ever ask for.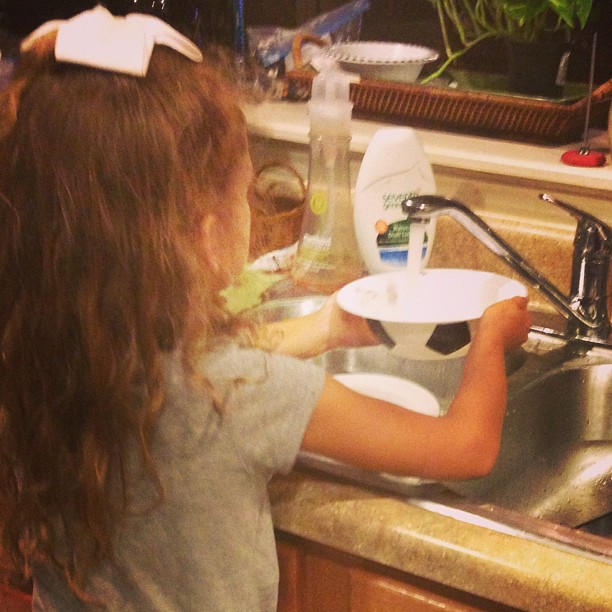 Do any of your children enjoy doing chores? Did you have a favorite chore as a child? Did it carry over into your adulthood?