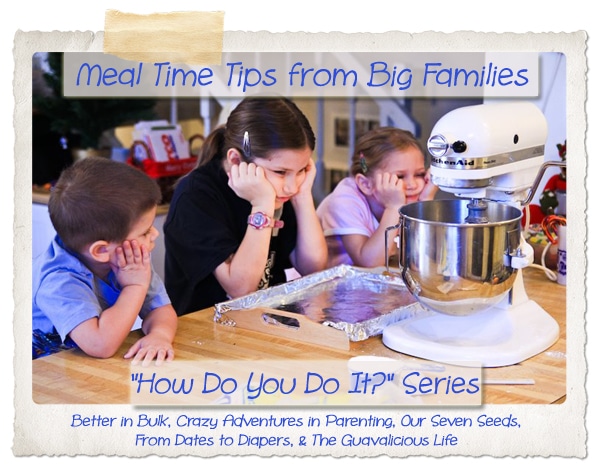 "How do you do it?" Series hosted by Lolli from Better in Bulk, Lisa from Crazy Adventures in Parenting, Christine from From Dates to Diapers, Kadi from Our Seven Seeds, and Kate from The Guavalicious Life.
Join us each week for more tips from moms of big families!
I do my best on this blog to share
big family-worthy recipes
, because, let's face it, everything out there is geared towards a regular family size, and often times we are forced to double it, or scratch the recipe altogether because it ends up being too expensive to make to fit our family's needs.
We do a lot of our cooking from scratch. We take recipes of things we like that we find, converting them to fit our needs, save money, and feed our family.
For example, we don't buy creamed soup, we make it. Nor do we buy alfredo sauce, we make that, too. To save money, we shop at different grocery stores, buy in bulk when we can, and budget accordingly. More on that in an upcoming big families post about grocery shopping, though.
Some of my favorite big families recipes I've shared with you:
Beef Stroganoff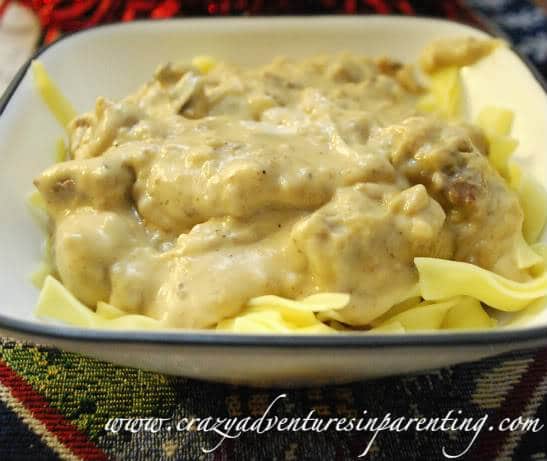 Kid-Friendly Cheeseburger Casserole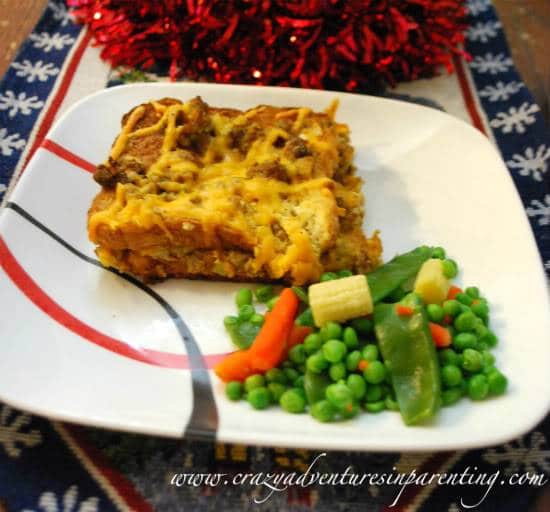 DIY KFC Chicken Nugget Bowl with Homemade Mashed Potatoes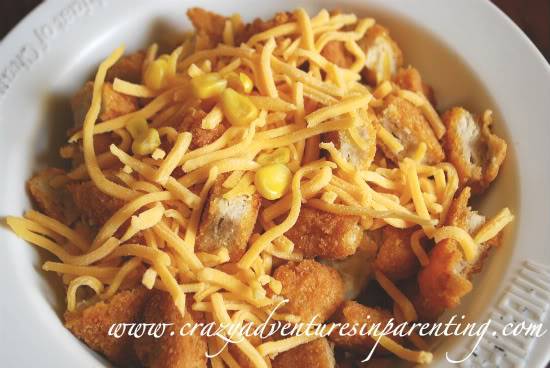 Chicken Pot Pie with a Biscuit Topping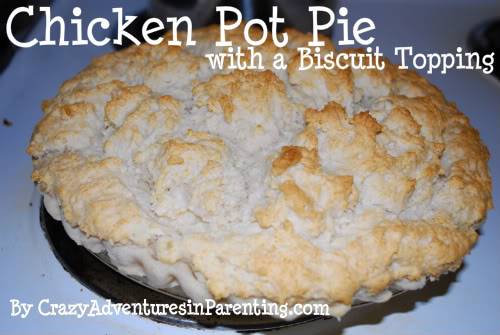 I will be featuring many more (to include a ham and broccoli rice bake and a homemade carbonara within the next couple weeks!)
When it comes to cooking, I encourage the kids to all chip in to help. I believe in getting the kids in the kitchen and getting as comfortable as possible being able to do things for themselves, not only does it help me, but it will help them as they grow older.
My oldest is so comfortable now, often times, she'll help prepare if not take over herself (particularly when my husband is working late and I'm wrangling the littles.) I've spoken about my oldest son helping before, as well as my toddlers, too. I am a firm believer in letting kids help cook in the kitchen. Eventually, when they grow up, I'll feel better about them "leaving the nest" knowing they know how to prepare their own meals and serve others.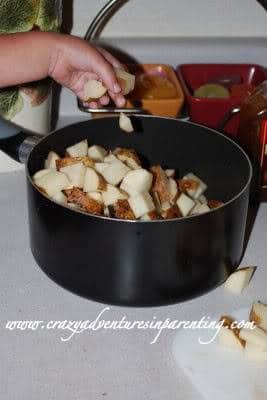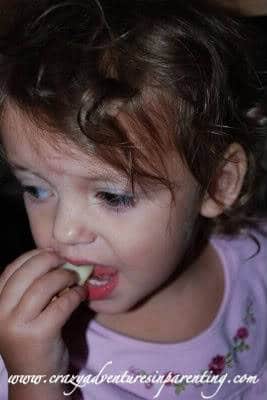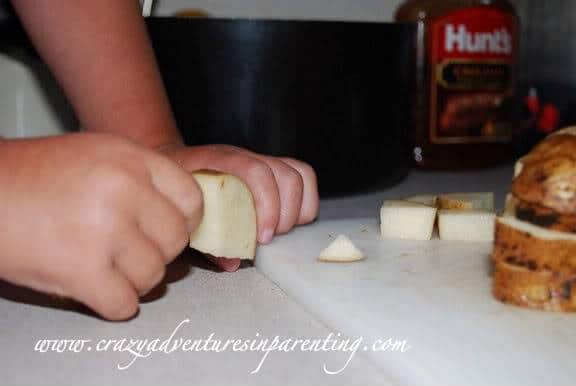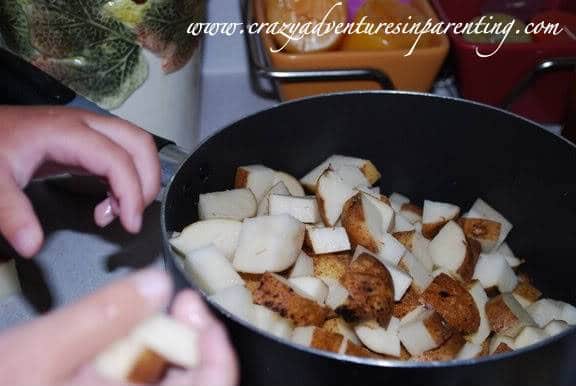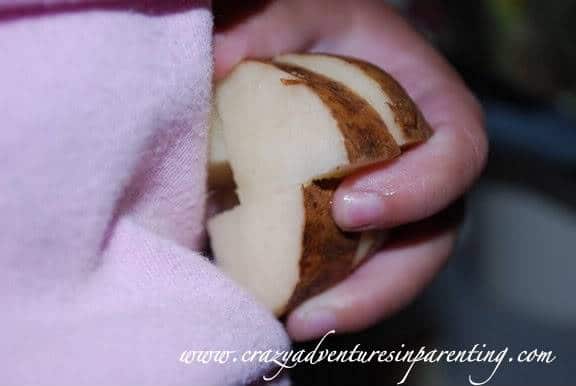 My husband and I run the kitchen in VERY DIFFERENT WAYS, let me say. Ahem. I'm one of those,
clean-as-you-go
, keep the dishwasher empty and load-as-you-go, wipe it all down when you're done, organized food preparer. My husband has really come into his own during our marriage, having come from only preparing boxed meals into creating gourmet meals from scratch (woohoo!), except the man can destroy a kitchen in the process. (But he
has
gotten better in that respect, I must say). My oldest, however, has taken over the
El Kitchen Destructo
title from him, unfortunately. It's why I'm torn sometimes when she offers; do I let her take over cooking and then have to deal with the aftermath, or do I do it myself and risk constant interruption from Baby V?
Right now, it's a toss up of who cooks dinner anymore, depending upon what we're having and what's on our schedule. If it's a soccer or extra-curricular activity night, it's always something easy. We've been known to pack up dinner in storage containers to bring TO the soccer fields. (We were the family eating spaghetti and garlic bread on the sidelines!)
I love to use the crock-pot, I love preparing dinner in the mornings to cook throughout the day and have ready whenever we want at night, that frees me up, too. (Except I think I need a bigger crock pot, we don't have nearly as much leftovers as we used to.)
When I cook, I do my best to ensure there are leftovers, not only to make awesome lunches for the next day, but to make dinner preparation easy one night a week when we have a leftovers night. I like to think of it as eating the best of the previous week's food, whatever you want. (Hence why I want a bigger crock pot!)
Because of how big our family is and how much we prepare every meal, we run the dishwasher AT LEAST twice a day, and generally running it in the morning and after dinner, and we'll only run it when it's full (which isn't hard for our big family).
We all help clean up, as it's part of everyone's chores – my husband and I usually clean up the kitchen while the Teenager empties the dishwasher (if she hadn't already), while Captain Obvious sweeps the kitchen and dining area and Major Spaz cleans off the table. Breaking up the household chores amongst the family helps.
What is your routine for cooking in your home? Do you let the kids help? Do you clean as you go?