It's that time of year again – time to pick out the Douglas Family holiday cards from Minted.com! Can you help me? I couldn't be more excited about working with Minted this year!


As you know, I'm a sucker for Christmas cards with lots of photo options. Last year, we quite narrowly missed out on sending a comic book photo card, and this year it's tied for first, but I'd loooove some input from you, as always 🙂
OMGGGG I want to cry at how adorable and fantastic this is. If we choose it, I almost want to have everyone dress up in super hero costumes for it!
YOU GUYS! They have a Happiness is card! OMG! How could I NOT consider doing this!? How perfect!! AHHH!!!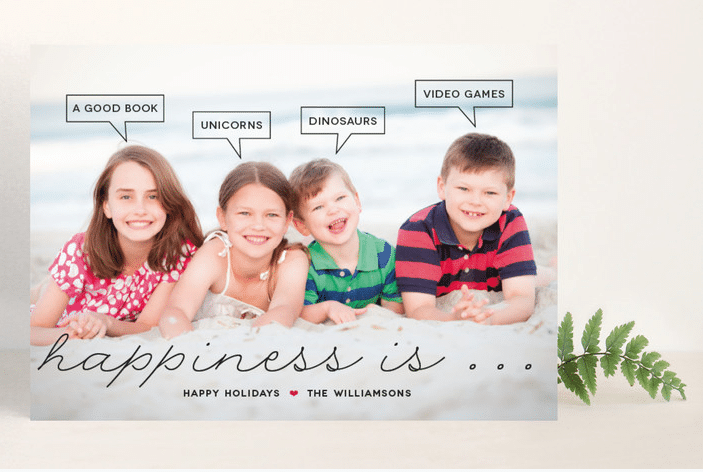 3. Fun Facts
Considering our move, I thought this would be REALLY cute way to update everyone on our year's travels, y'know? Plus, I've always wanted to do one of these newsletter-y type cards that updates far away friends what we've been up to on the card.
Oh gosh, I fell HARD for how sweet and artistic this card is, how it pieces together moments from your year and shapes it into a tree. They have one close to this one in the shape of a heart, it's a toss up for me on these two designs.
I love how this features favorite moments from the year on the card. It's just so pretty, isn't it?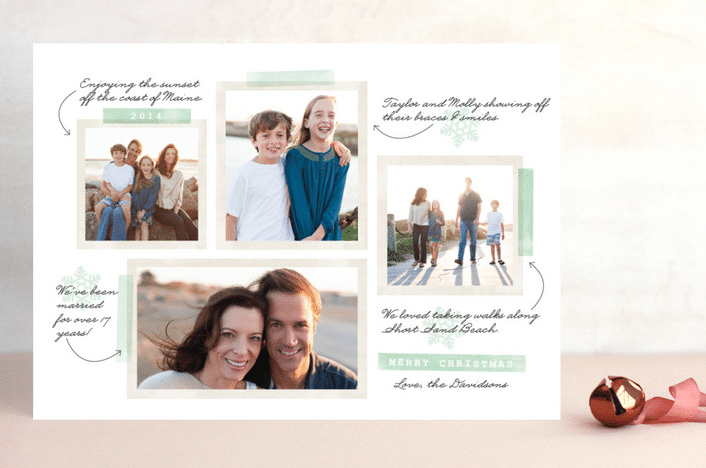 Isn't their stuff AMAZING? I super-de-duper love Minted.com for so many reasons and their spectacular selection, and I am really excited to try their holiday photo cards this year, especially with their amazing selection of Foil-Pressed Cards, Booklette™ Cards, Ornament Cards and Minibook™ Cards! Plus, they have Non-Photo Cards, Holiday Postcards, Petite Holiday Cards, and even Corporate Holiday Cards.
They have crazy cool features available, such as custom printed envelopes with free recipient addressing (for a limited time)! You mean, I don't have to hand address these myself? No hand cramps? WAY AWESOME! : And, if you sign up for emails, you get free shipping on your first purchase!
So, which do you think I should choose? And which one is perfect for YOU?