Make a little homemade fudge for these wonderfully sumptuous Gourmet Fudge Crispy Rice Treats.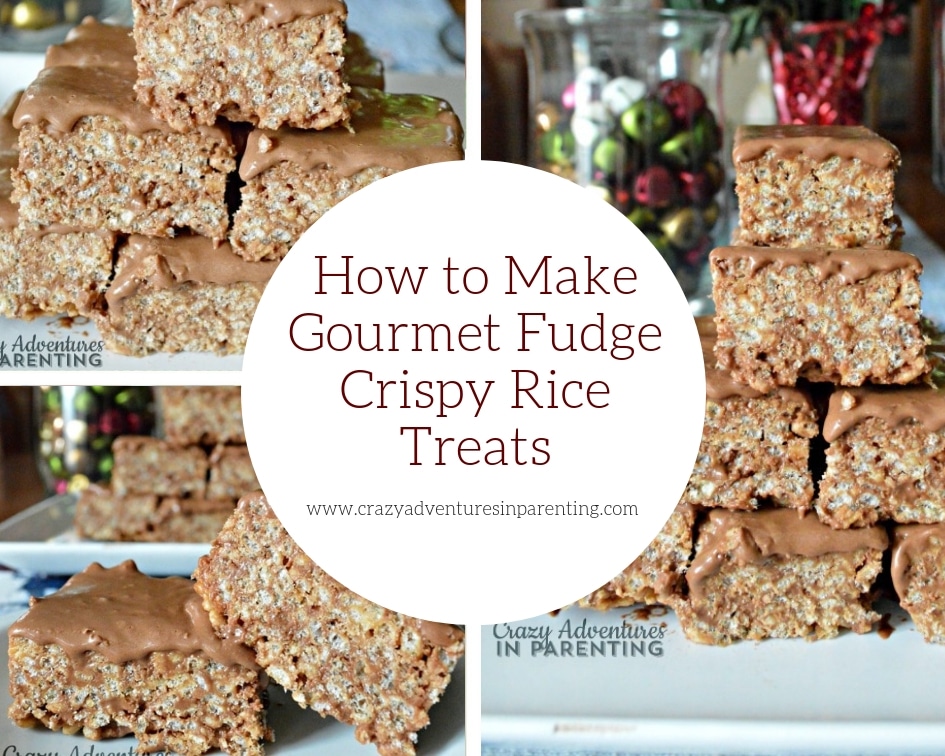 This conversation is sponsored by Silk. The opinions and recipe are all mine.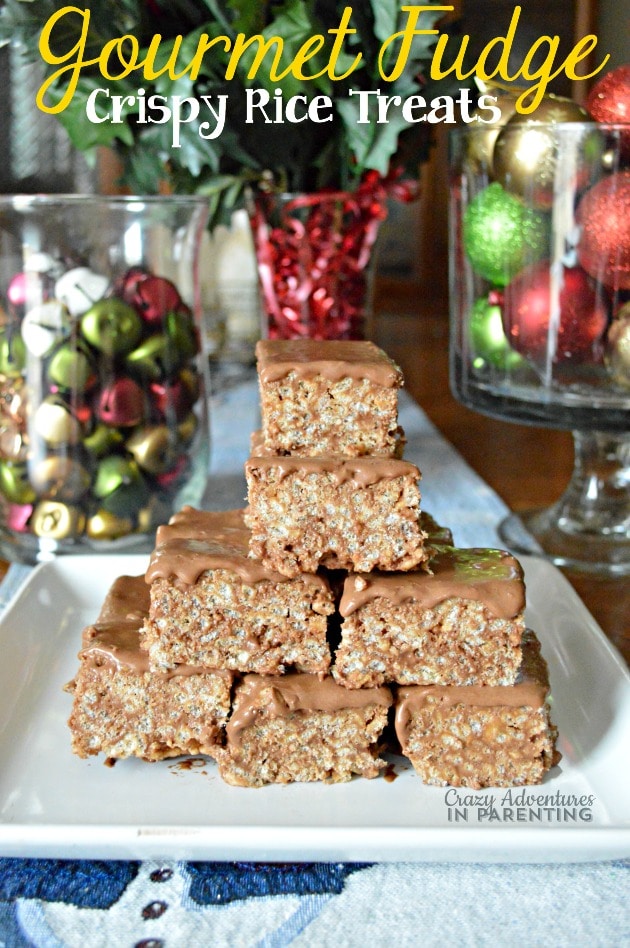 Gourmet Fudge Crispy Rice Treats
The holidays are my most favorite time of year. It's the time for secretly shopping for loved ones, lovely hand-written notes and cards to friends and family, getting together with smiles, gifts, and goodies in hand, all while celebrating over egg nog, baked treats, and heartily cooked meals.
This holiday, I want to bake to my heart's content. I love giving gifts from the kitchen almost as much as the wrapped ones under the tree. I even love baking in the kitchen with my littles to give to others. What better way to show someone you love them but to let them help you show love to others?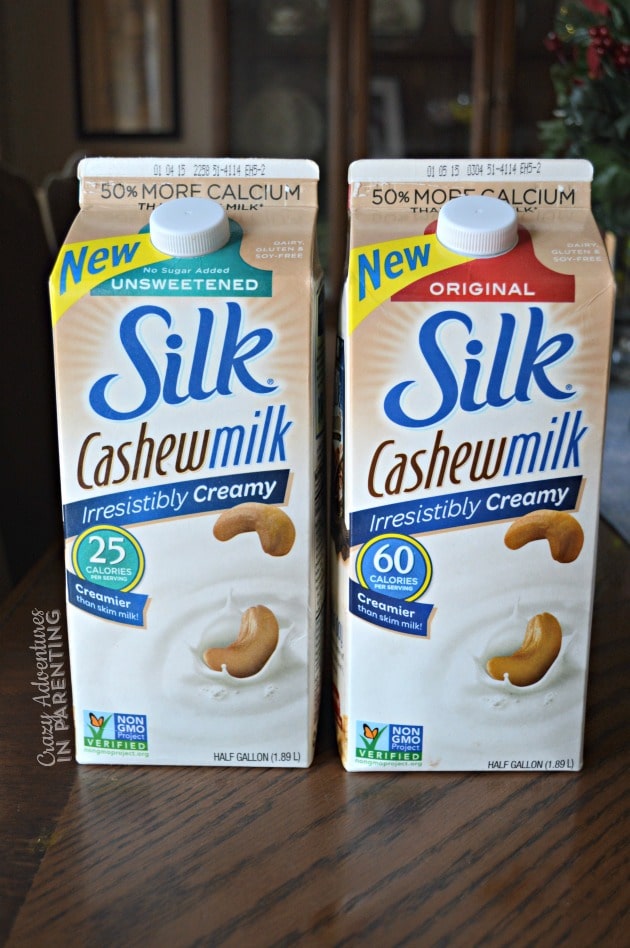 This year, Silk sent me some Silk Cashewmilk to try, and immediately I wanted to try my hand at creating real, old-fashioned fudge with it – a fudge that didn't lack on taste with the dreamy hint of cashew. When the original fudge didn't set too well for me, even in the fridge, I turned it into an opportunity – how many times can you say you've had real, old-fashioned fudge in a recipe before? Why not take something usually ordinary, and make it extraordinary for your friends and loved ones? That's when I got inspired and decided to make Gourmet Fudge Crispy Rice Treats. YES YES YES!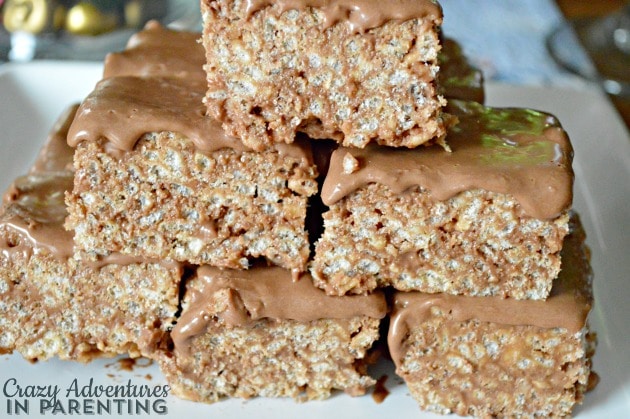 Silk's Cashewmilk is creamier than regular milk, which made my fudge super creamy and delectable on its own. Like, lick-it-off-the-spoon, drizzle-it-over-ice-cream, kind of good. But, once paired with the ever popular crispy rice treat, MIND BLOWN. I mean, this might be the over-the-top best crispy rice treat in the world! Imagine that nutty cashew flavor infused into that chocolatey fudge, mmm!
Now, this is a semi-labor-intensive recipe – not over the top, mind you, but it has a lot of steps that are WELL WORTH the end result, I promise. Roll up your sleeves, friends. This recipe is one of those 'special occasion recipes' you're gonna be reaching for again and again!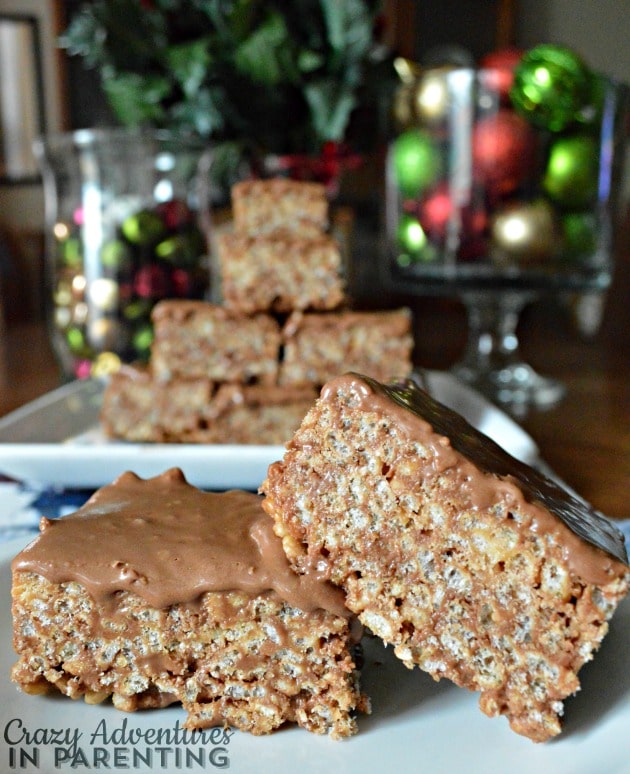 How to Make Gourmet Fudge Crispy Rice Treats
Begin by combining and mixing the first four fudge ingredients in a medium saucepan first before turning the pan onto medium heat.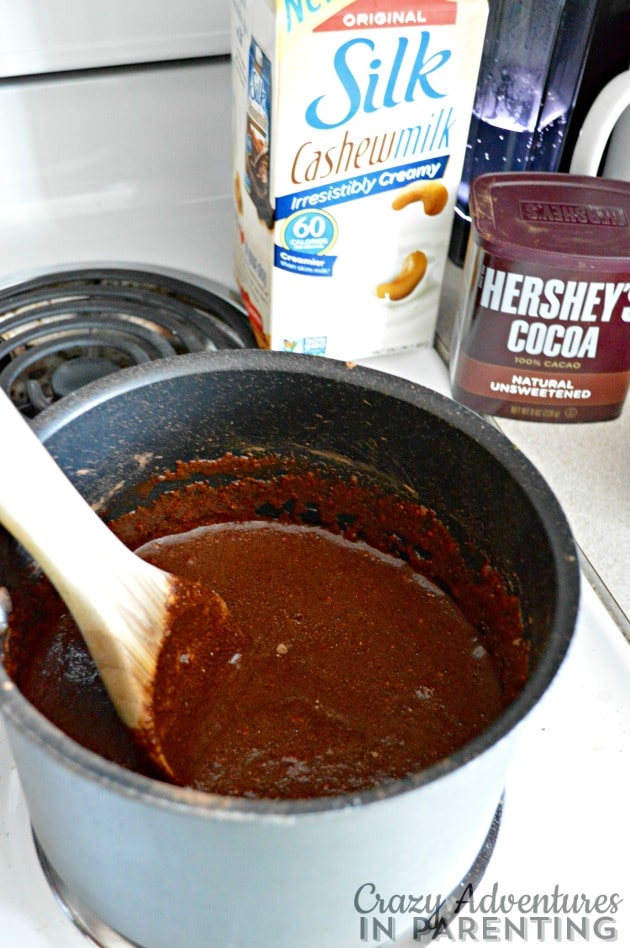 Heat and stir regularly, to dissolve all the ingredients. (See the difference?)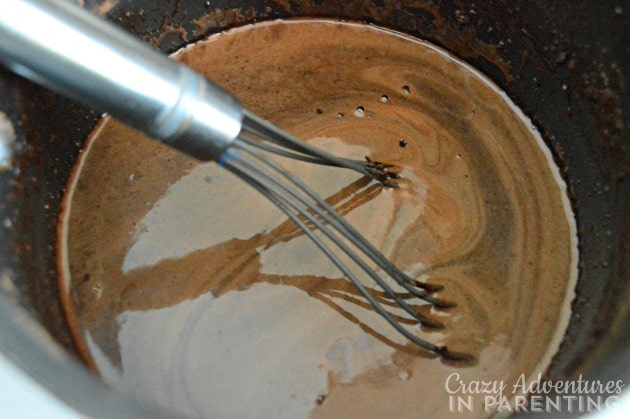 You have to get it to boil, so stir occasionally to avoid scorching, and insert a candy thermometer to keep an eye on the temperature.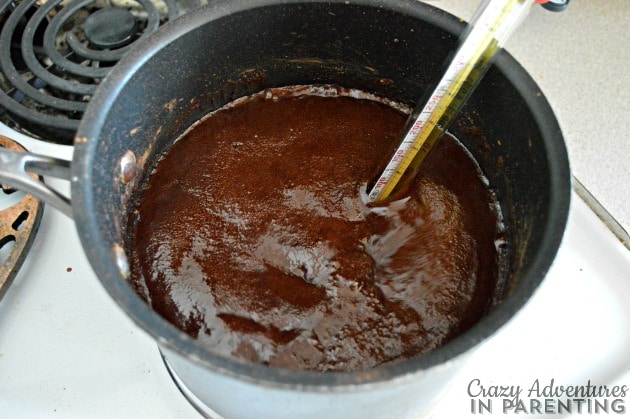 Once it gets to boiling, turn it down to medium-low and do not stir it anymore. Watch it to see when it gets to 235 degrees.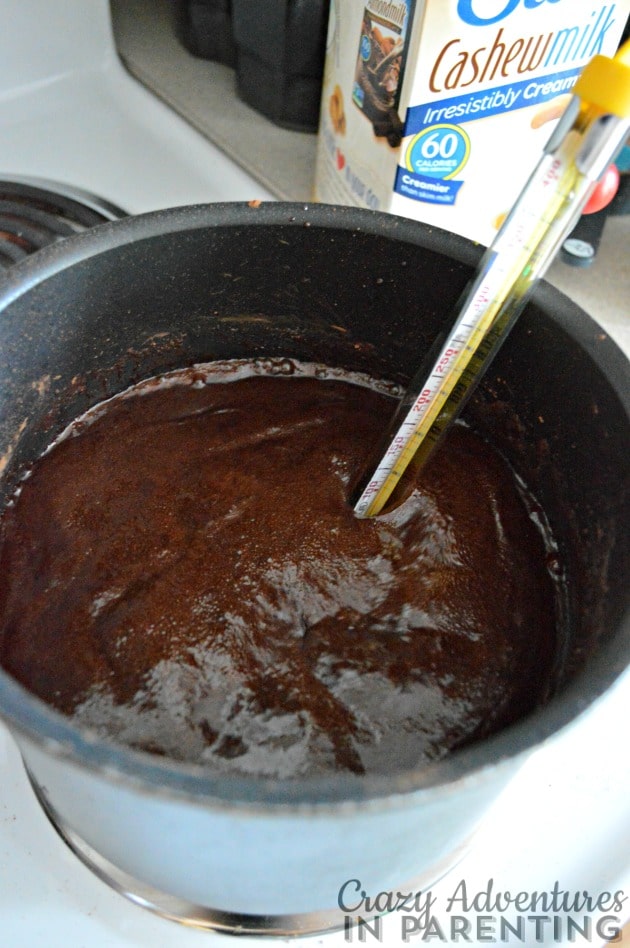 My handy-dandy candy thermometer has it marked off on there as "soft ball," which is what it should look like if you get to that temperature and drizzle a tiny bit into a glass of cold water (which is how you can tell if it's done if you don't have a candy thermometer, like I do).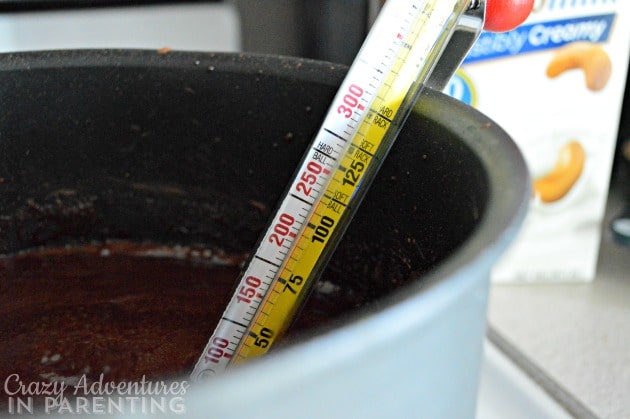 Remove from the heat and into a sink with cold water. Place the hot pan gently into the water without splashing, and leave the thermometer in the fudge to track when it gets to 115 degrees Fahrenheit.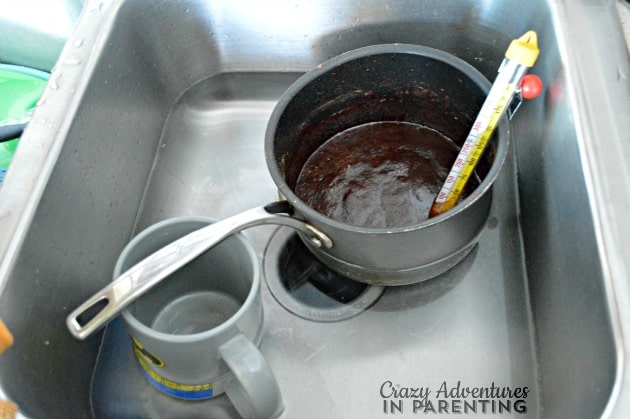 Once cooled to that temperature, you can now add the butter and vanilla and whip it (trying NOT to sing Devo's "Whip It" in my head as I said that…). Once those are well mixed with a whisk (I'd say around 2 or so minutes together), move to a larger mixing bowl and add in the confectioner's sugar, one cup at a time, and remaining fudge ingredients, and beat with a mixer.

Once all combined and lighter, more flufflier than before, set aside and start the marshmallow/peanut butter mixture on the stove in a small pan.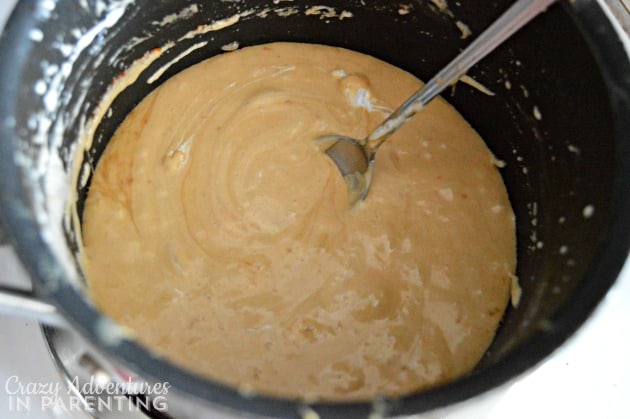 Pour the cereal into a large mixing bowl, and add the marshmallow mixture once fully melted.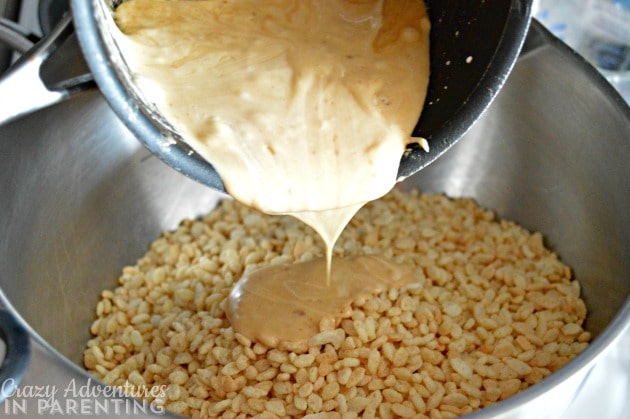 Pour some of the fudge into a measuring cup (for easier pouring).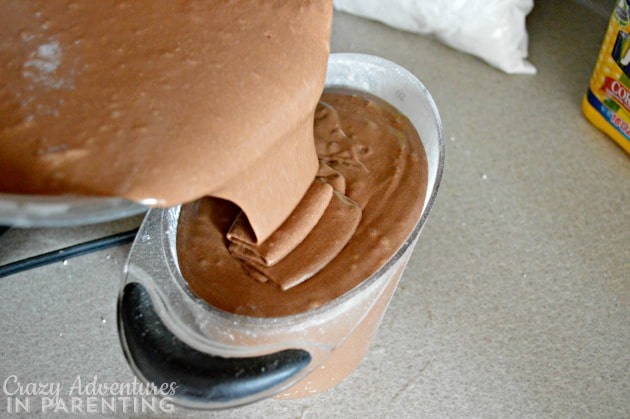 Pour fudge into the cereal – I used about a cup initially, adding a little more here and there until it's coated well.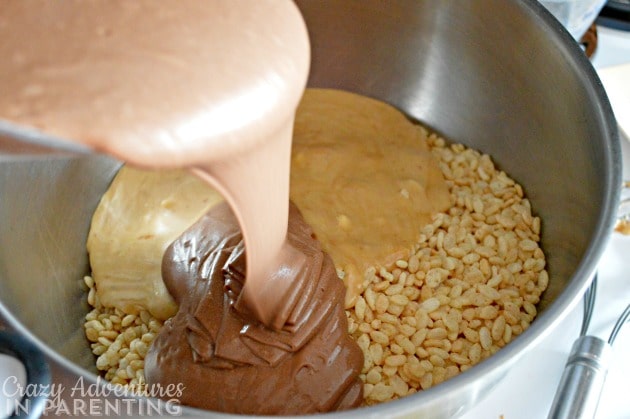 Mix until well combined, and each kernel of cereal is coated with the marshmallow fudge mixture. Pour half of the mixture into a sprayed 13×9 baking pan.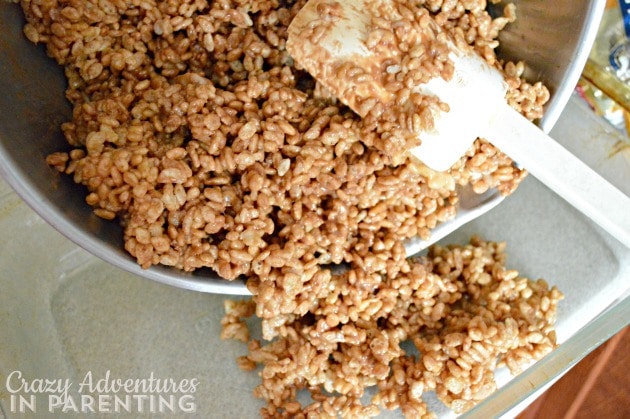 Flatten it out with a spoon or spatula, pressing as hard as you can to eliminate any gaps. (I show you my roller method here.) Once flattened, pour about a cup of fudge onto the cereal mixture, spreading like icing with a spoon until even and coated.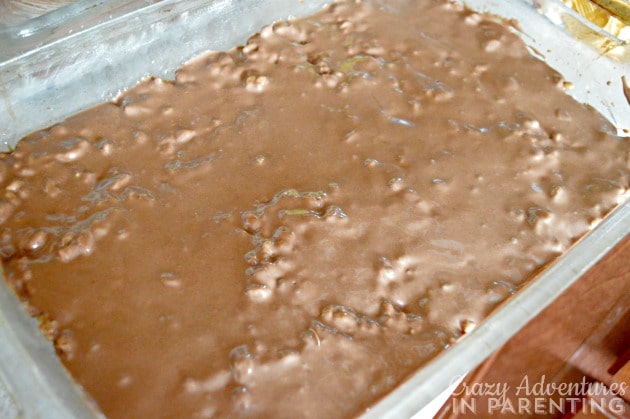 Place the remaining half of the cereal mixture on top, pressing until flat as possible.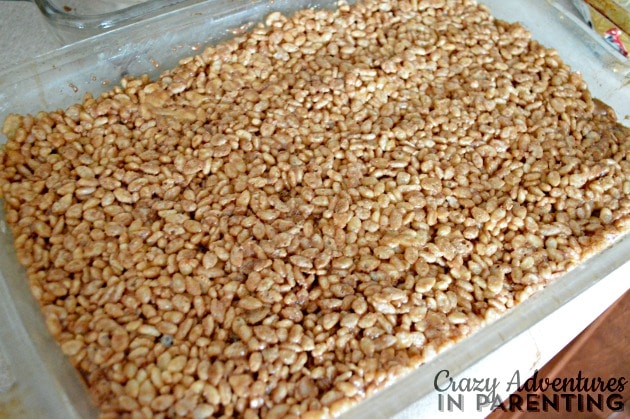 Pour another cup of fudge or so on top, spreading it to all corners evenly. Place plastic wrap on it and store it in the fridge to help it set and make it easier to cut into squares.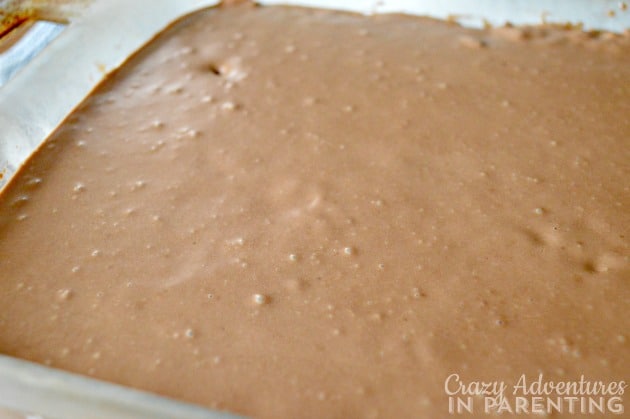 Get out a large, sharp knife, and start dividing in half until you've made even squares (or as even as possible). I made about 20.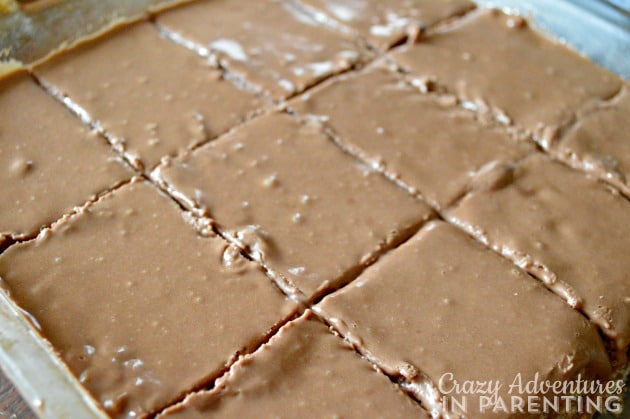 Once sliced – serve! (Or box it in a tin to give to someone.) Don't forget to have one for yourself, too!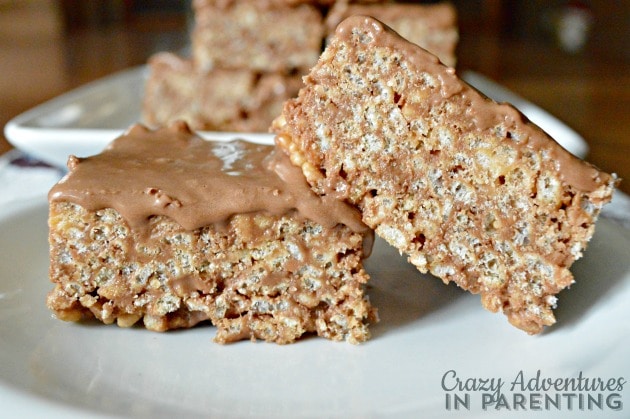 Can you imagine opening a tin of this as a gift? Oh yessss!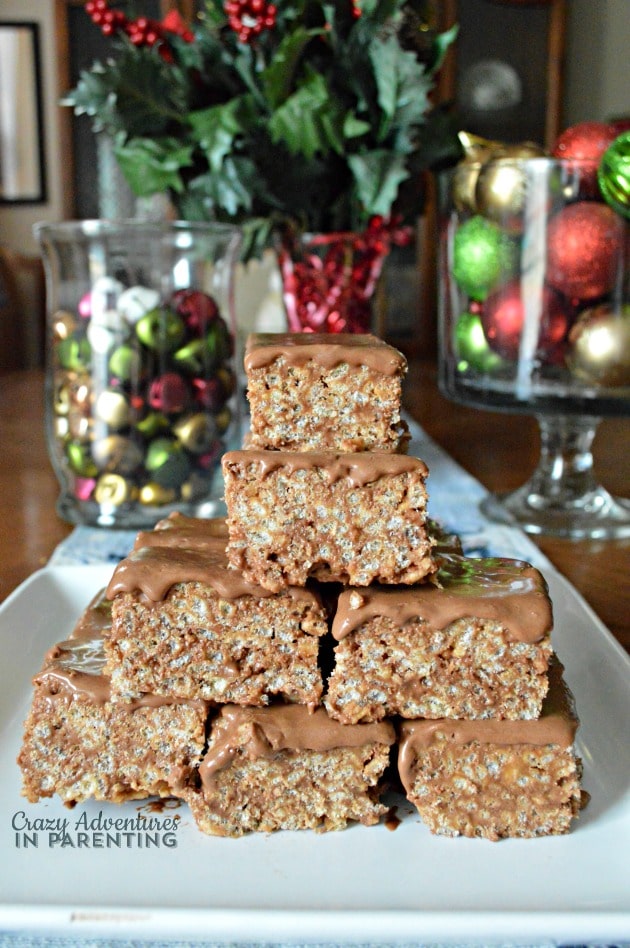 I'm really pleased with how the Cashewmilk helped flavor the fudge. I also think that fudge is as creamy as it is because of it. Can't you just taste it?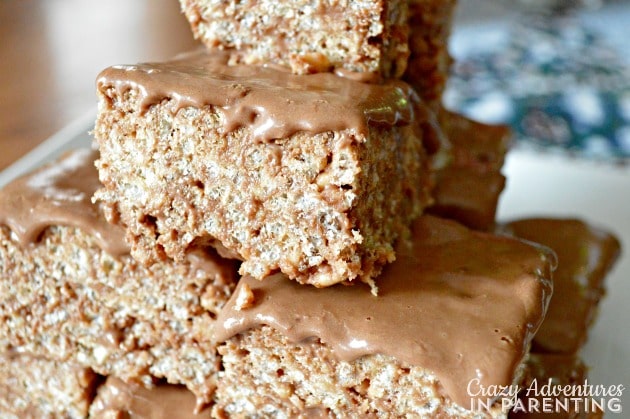 I chose to use peanut butter, but you could use any nut butter you wanted to. Personally, I just love the pairing of cashews with peanuts myself, and I think they worked really well here.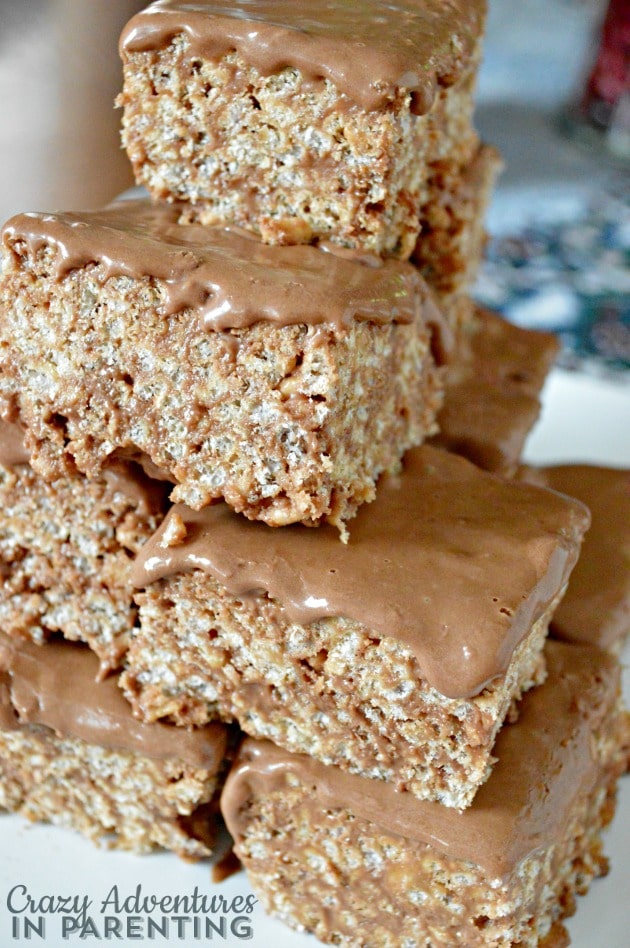 This incredible fudge was so dreamy (and plentiful), I still have some left over so that I can frost these Cake Mix Cookies that I made with Cashewmilk, too! (Recipe coming soon!)
If you're looking for something delicious without a lot of calories, Silk Cashewmilk has 50% more calcium than dairy milk and only 60 calories per serving, and comes in both Original and Unsweetened. Want to try Silk Cashewmilk for yourself? Sign up for their Silk eNewsletter to get an instant coupon! Be sure to follow them on Facebook, Twitter, and Pinterest, too!
What do you think, what would you use Silk Cashewmilk for?

Here's the full recipe and ingredients for you to recreate this gourmet fudge crispy treats recipe for yourself!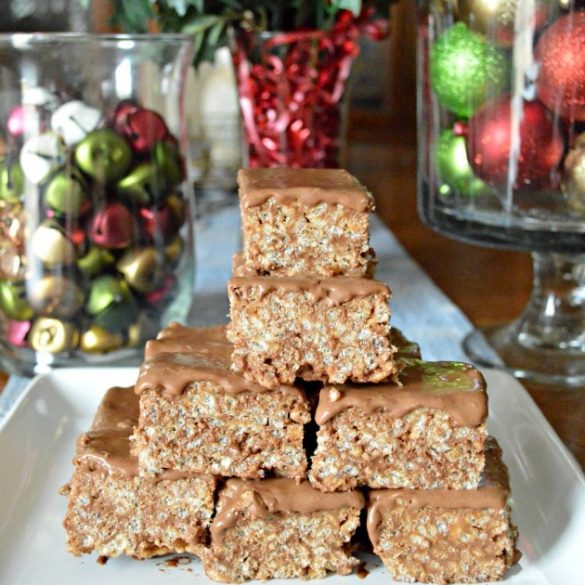 Ingredients
Crispy Rice Treats
1 7

oz

marshmallows

2-3

teaspoons

of butter

2

teaspoons

peanut butter or nut butter of your choice

8

cups

of crispy rice cereal
Instructions
For the fudge:
In a medium saucepan, measure out and add the sugar, cocoa, salt, and Cashewmilk; whisk to blend the ingredients together (there may be a few lumps that'll melt away as it heats up).

Heat the pan on medium and bring the ingredients to a boil slowly, stirring regularly (watch for graininess due to over-stirring); keep your heat as low as possible to avoid scorching.

Once boiling, reduce heat to medium-low and simmer, do not stir, until it reaches 235 degrees Fahrenheit using a candy thermometer. (If you don't have a candy thermometer, you can go old-school by doing the "soft ball test." Drizzle a tiny bit of fudge in a glass of ice water – if it forms a soft, pliable ball, then it's done. It should flatten between your fingers if it's the right consistency.)

Remove from the heat; cool to 115 degrees (or, if you don't have a thermometer, when you can touch the pan without it hurting you).

Stir in butter and vanilla, and beat for a couple minutes, until smooth; set aside until fully cooled on counter, about 20-30 minutes.
Fudge preparation once cooled:
Beat in the confectioners sugar, cream of tartar, and vanilla and beat on medium to high for a couple minutes.
Crispy Rice Treats:
Spray a 13×9 baking pan with cooking spray; set aside.

In a large bowl, measure out the crispy rice cereal and set aside.

In a small saucepan, add the butter, marshmallow, and nut butter over medium heat; mix until melted and well blended.

Pour marshmallow mixture into the large bowl with 2/3 cup of the fudge mixture, mixing fast and well with a rubber spatula. Add 1/4 cup of fudge at a time, as needed, to coat all the cereal.

Pour half the cereal mixture into the pan, and press down tightly.

Add about a cup or more of fudge to the top of the cereal, and spread with a large spoon until covered.

Add the remaining cereal mixture on top of the fudge, spread evenly, mash down tightly.

Add another cup or more of fudge on top, spreading with a large spoon to frost the entire top evenly.

Cover with plastic wrap and place in the freezer for about 30 minutes to an hour to set (makes it easier to cut into squares).

Once set, cut into square and wrap individually, place in a tin to give, or serve!

Note: The fudge topping will begin to soften once it's out of the freezer, and act more like frosting.
Notes
You can add in your extras into this fudge just before you pour the fudge into the cooling pan. Chopped nuts work wonderfully, and keep it healthy, you can even swirl in a little nut butter, too. But, if you feel like dazzling it up a bit, M&Ms, mini marshmallows, chopped candy canes, or topping with red and green sprinkles are pretty festive, too.