This post is sponsored by FitFluential LLC on behalf of Blendtec.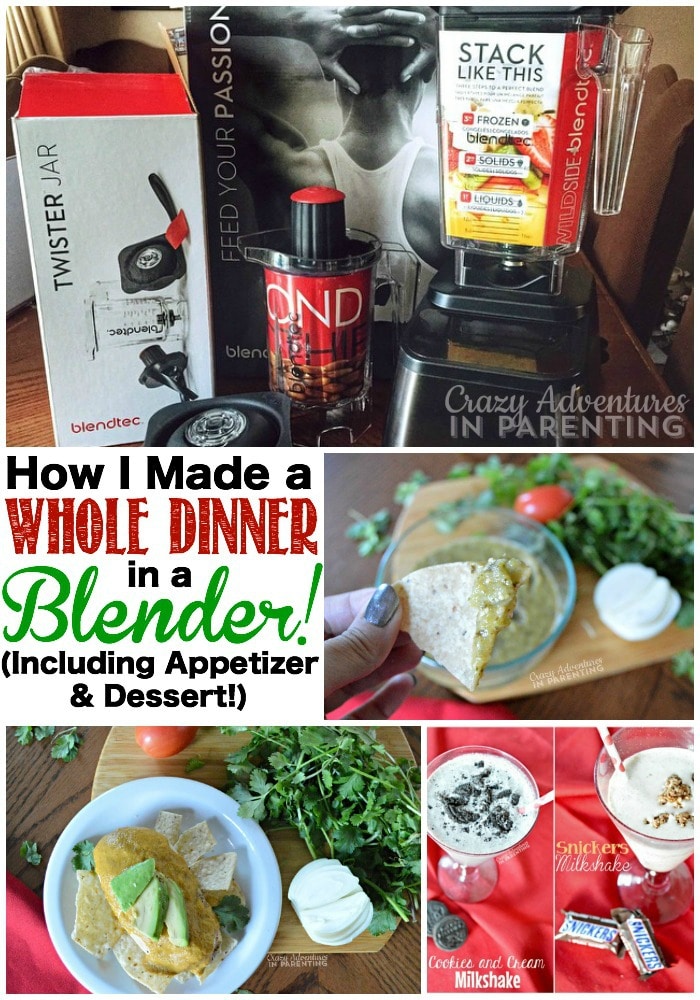 Deconstructed Chicken Tortilla Soup Recipe
You guys. YOU GUYYYYYSSSS!! I can nearly contain my excitement over this delicious new appliance that is gracing our kitchen right now. I. seriously. can't. even. with how ridiculously easy it is to plop ingredients into this thing and then POOF! make a several-course dinner without even cleaning the dang thing.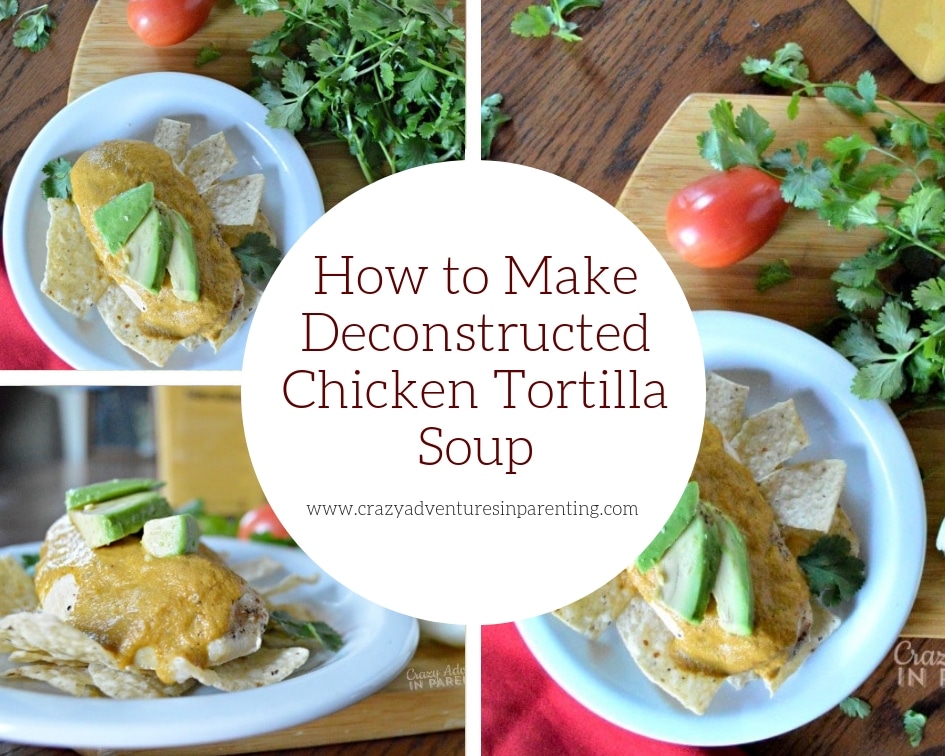 Yes, you just heard that correctly – a several course dinner, multiple blends, and I didn't clean it. IT. CLEANS. ITSELF. Look!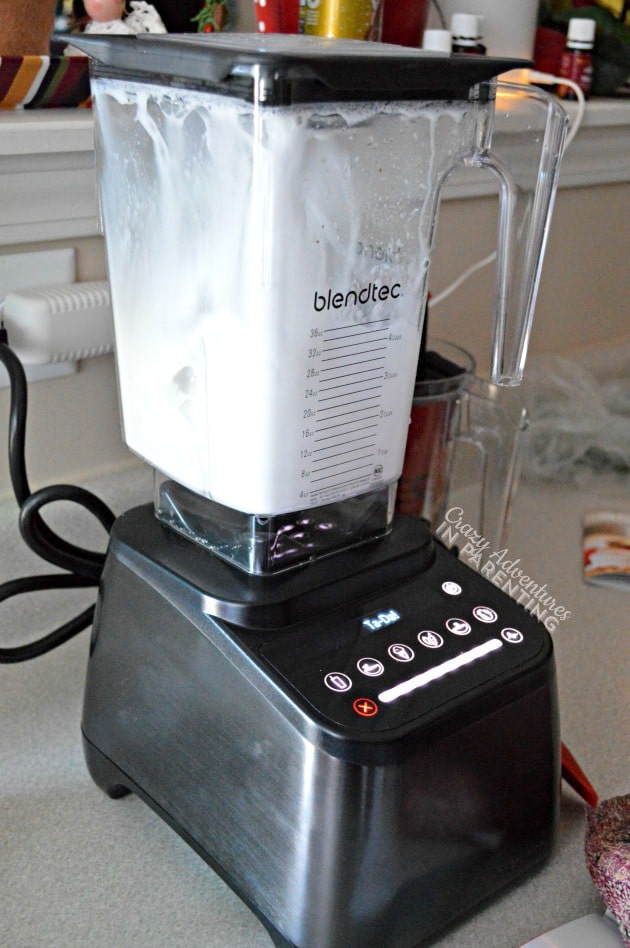 ASDFJKLHWERIWERKDFWE!! Are you squealing? Because I am squealing! It really is THAT easy!
As the chicken breasts cooked in the oven for our special dinner, we started things off by preparing this wonderful tomatillo salsa as an appetizer (recipe coming soon).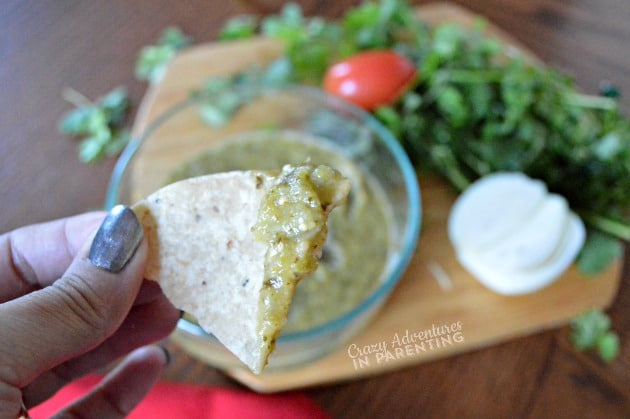 Looks crazy good, right? It came out PERFECT, too! Then, we decided, instead of making a Blendtec version of our awesome Chicken Tortilla Soup, we'd alter Blendtec's recipe and deconstruct it a bit, using the soup as a sauce instead. AND IT WAS AMAAAAAAAZING! And, as if we weren't aiming high enough for an appetizer AND dinner, we decided to make dessert, too! OH YES WE DID! For dessert, we made cookie and candy homemade milkshakes using the Blendtec Twister Jar (those recipes are also coming soon).
Our entire dinner from appetizer to dessert was made with the Blendtec! Can you BELIEVE IT?! I almost couldn't, either!
The fact is, this Blendtec Designer 725 has the most advanced blending technology out there, using SmartBlend technology to sense and identify potential problems that could interfere with the perfect blend, and then tells users (like me) how to fix them. It has a multi-speed pulse with 100-speed touch slider that helps craft blends with the touch of your finger. (Yes, it's touch screen!) It even tells you (yup, it totally tells you!) which speed to use for stirring, chopping, mixing, blending, pureeing, and more.
And if that wasn't enough, it REWARDS you for your blends! The Designer 725 tracks your blends, then displays reward codes at certain milestones! You take these codes and redeem them online for recipe books, gift cards, kitchen utensils, discounts, and more!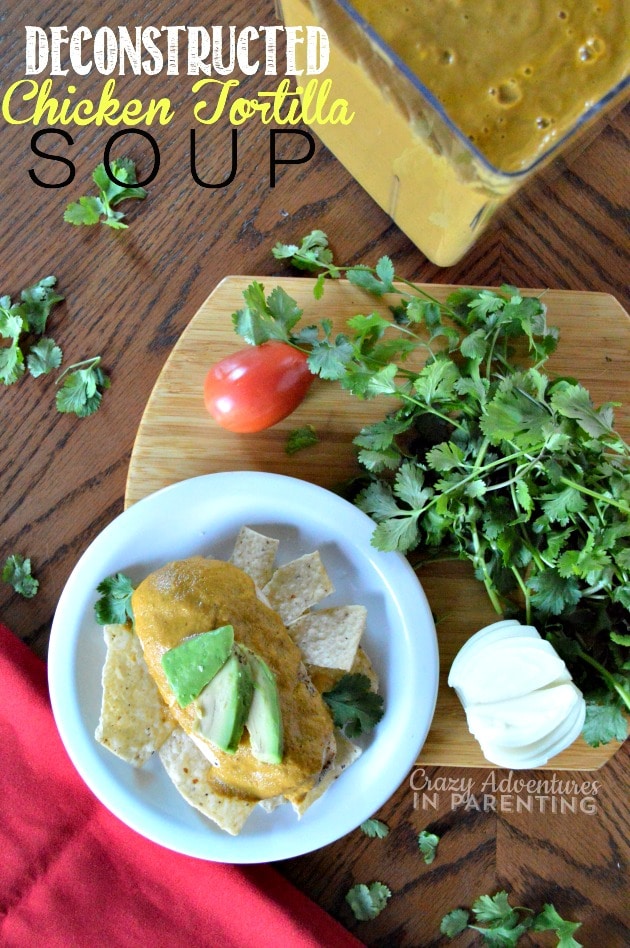 How to Make Deconstructed Chicken Tortilla Soup Recipe
This beautiful piece of machinery has inspired us to blend ALL THE THINGS, including our multi-course meal. Here's how we made our entree, the Deconstructed Chicken Tortilla Soup:
Start by adding most of your ingredients into the Blendtec WildSide Jar.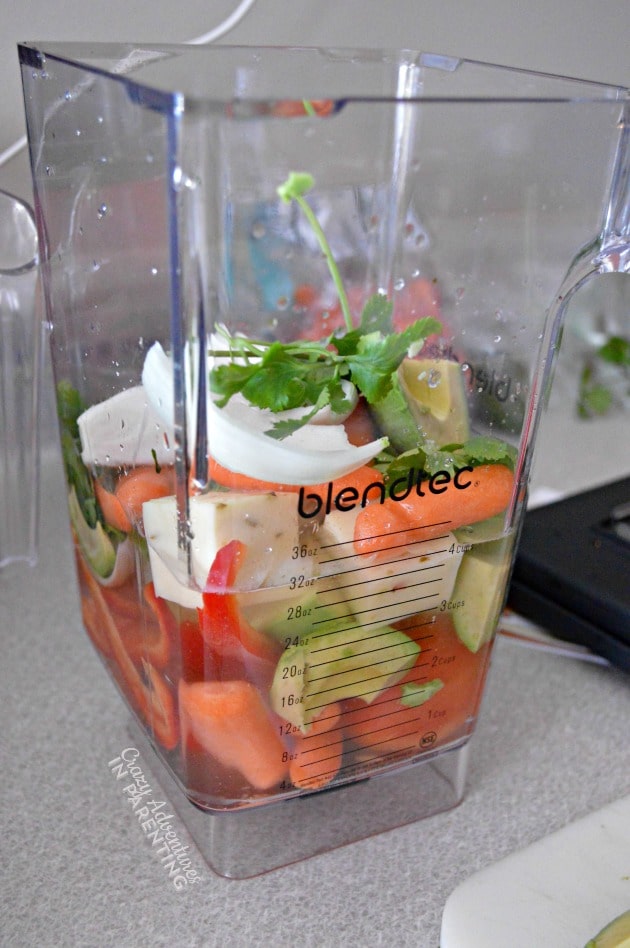 Yes, even those chunks of cheese! Gosh, doesn't it already look good?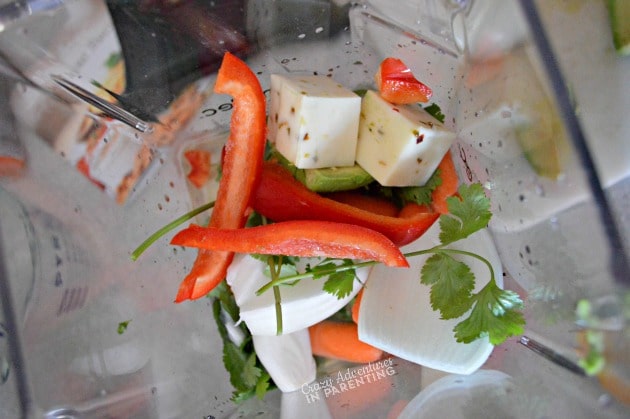 Then, BLEND! I mean, can you STAND how easy this is? Look at 'er go!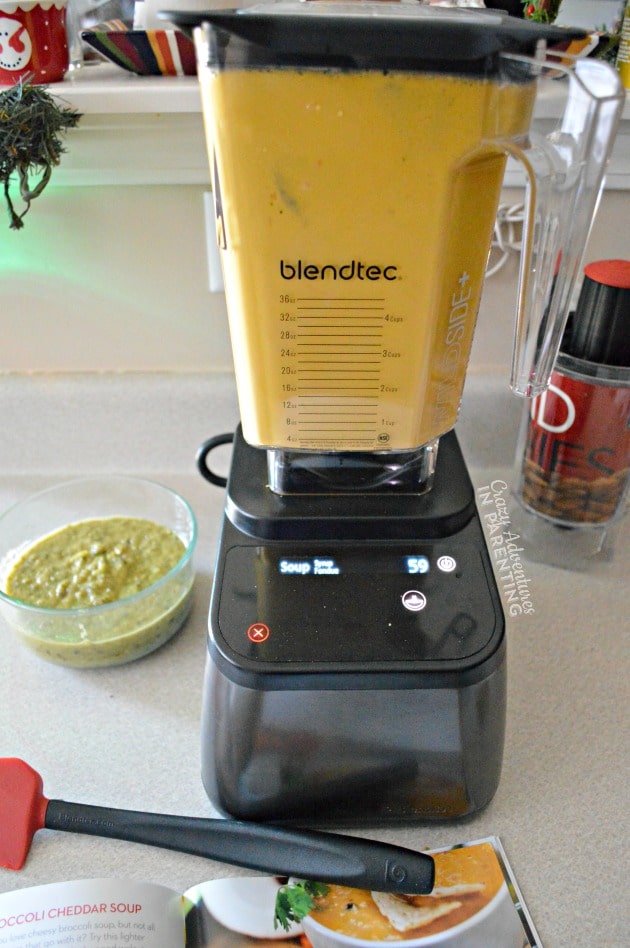 Baby V was FASCINATED watching all those things get pulverized and simultaneously heated.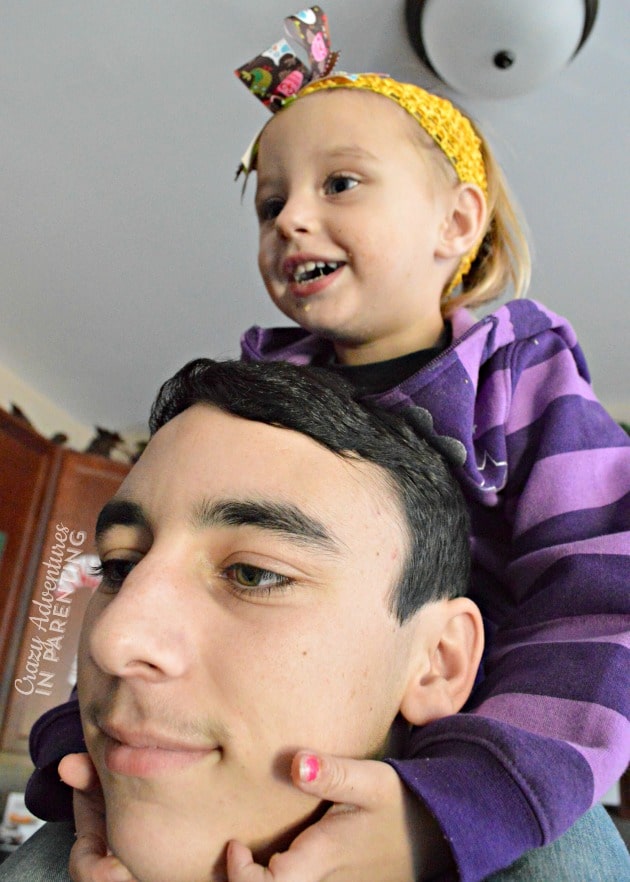 Once done, we popped open that top and just admired our (and by our, I mean, Blendtec's) handiwork. Can you BELIEVE IT?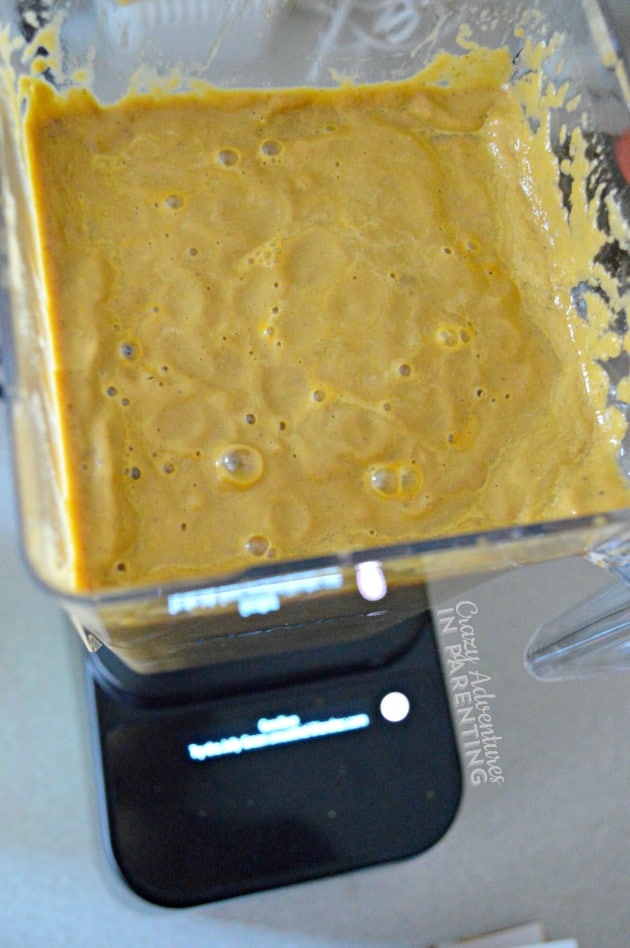 Ladle some of this deliciousness onto your cooked and well-seasoned chicken breast, set on a bed of tortilla chips, and add a little cilantro and sliced avocado on top for garnish. Isn't it GORGEOUS?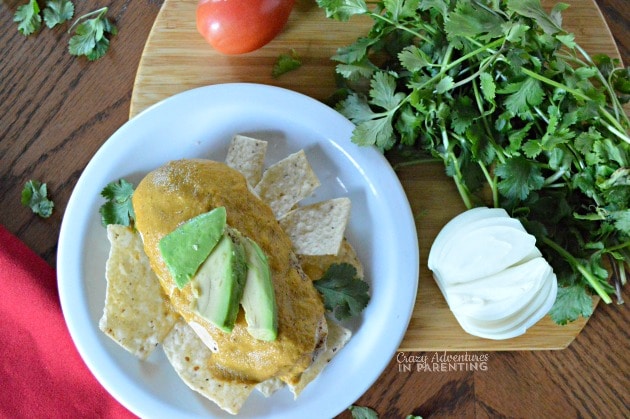 We made such huge chicken breasts for this, I couldn't even finish the whole thing! That crunch on those tortilla chips was spectacular, I tell ya.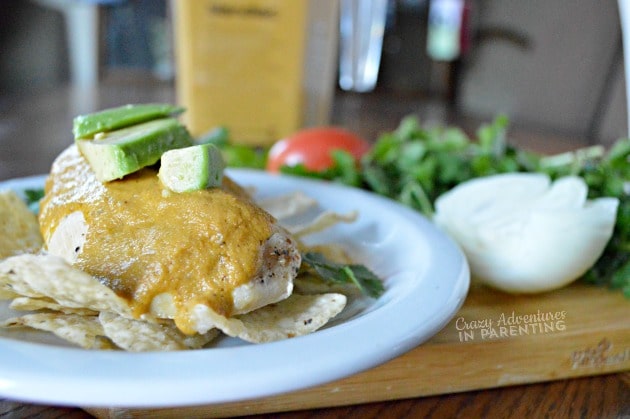 Even though we made it thick (more like a gravy), I have to tell you, this was a pretty fantastic-tasting soup for lunch with the leftovers. And, if you don't want to serve it like we did, you could EASILY have added a little chicken AND tortilla chips at the end, to be rough-chopped into the soup as you normally would serve.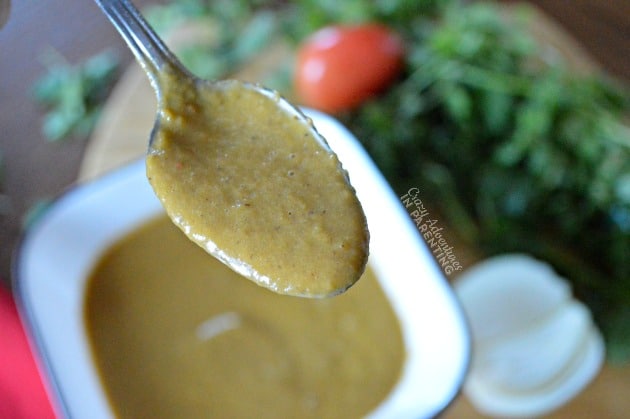 Here's a little sneak peek at the wonderful desserts we created with the Blendtec after it cleaned itself again (squee!!) after the kids chose their ingredients. These were made in the Blendtec Twister Jar: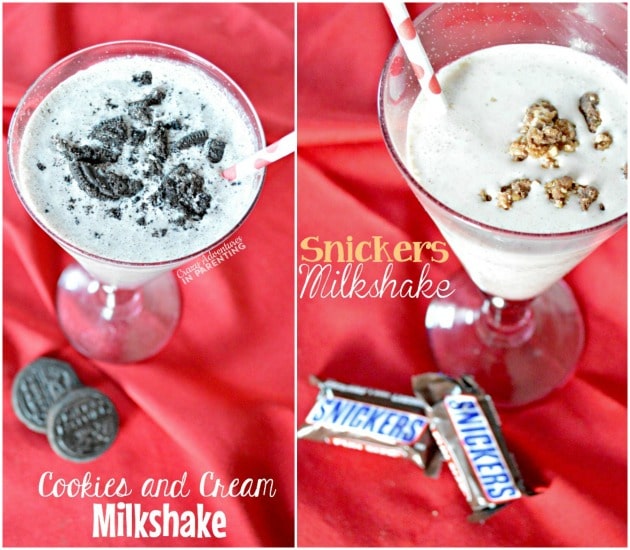 This Blendtec impresses me to no end. When I made something for the first time, it congratulated me for our first blend! Look at my cute little award!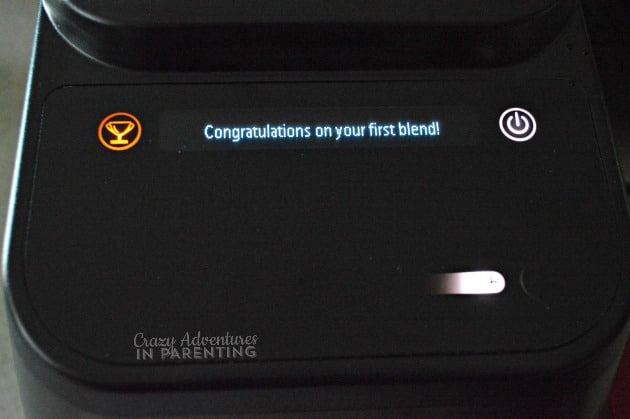 I promise you, this blender is so much more than just a blender, and it's worth every penny to blend, juice, mix, chop, cream, and then clean itself to boot. (One less thing to worry about cleaning up after itself *glares at children*) If you're looking to get healthy in 2015, or to replace your beaten up blender, or even save space on the counter by combining a few appliances, consider the Blendtec to help make 2015 and every year a healthy one. Follow their fun-loving social media accounts on Facebook, Twitter, Instagram, YouTube, Google+, and Pinterest for more delicious Blendtec recipe ideas, healthy tips, and Blendtec lovin' from their adorably attentive staff.
Have you ever tried making an entire meal in a blender before?

Here's how to make it for yourself: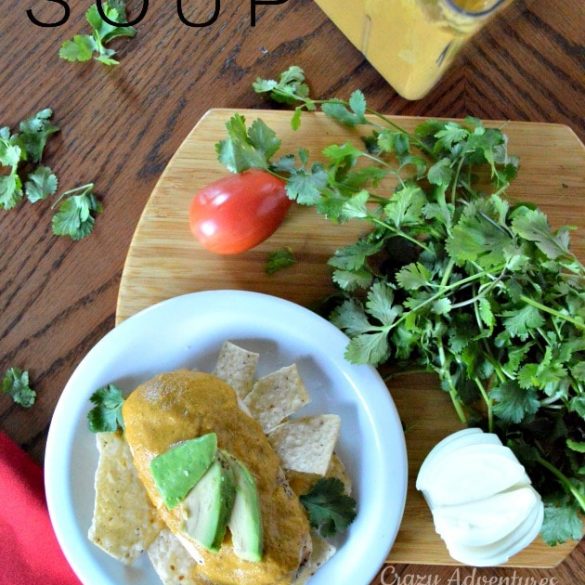 Deconstructed Chicken Tortilla Soup
This deconstructed dish really brings out the flavor of the soup, accentuating the chicken breast. Best if served over rice and tortilla chips.
Print
Pin
Rate
Ingredients
2

cups

water

4

Roma tomatoes

10

baby carrots

1/2

onion

1/2

red bell pepper

4

oz

pepper jack cheese

2

teaspoons

no-salt seasoning

1

tbsp

minced garlic

1/2

can of black beans

1/2

can diced tomatoes with chilis

1

cup

frozen corn

fresh ground sea salt and pepper to taste

1

avocado

optional
Instructions
Preheat oven to 400 degrees.

Season chicken generously in a sprayed 9×13 baking dish.

Cook for 30-45 minutes, until chicken reaches 165 degrees.

Once chicken is finished, place all ingredients (except for chicken and avocado) into the Blendtec blender, in order listed, and secure lid.

Select "Soups" or "Hot soup" button. (If you don't have a "Soups" or "Hot Soup" cycle/button, blend at high speed for 90-180 seconds, blending longer for hotter soup.)

Plate your chicken onto the dinner plate and ladle the soup mixture over top each chicken breast.

Garnish with some leftover fresh cilantro and slices of avocado
This post is sponsored by FitFluential LLC on behalf of Blendtec.