Oh my. Friends, gather round, because this is way too easy to not partake in with the fam. Because WHO DOESN'T want to pair ice cream with some crushed up cookie or candy loveliness and grind that into the awesomest combination of frozen-y goodness possible?
Pair your favorite cookie + favorite ice cream flavor + milk + Blendtec = AMAAAAZING. Who needs a restaurant-made shake anyway? Your favorite flavors together taste better anyway, and it's quicker. Money saved, gas saved, and don't even have to leave the house? Done and done.
Ever since I got this Blendtec for review, I can't stop blending things. The kids ask for these all the time. I mean, how can I not oblige? I know it's not exactly summer milkshake weather, but it's FUN!
To make your own, start by chopping your favorite treat in the Blendtec on pulse. You'll want to get those cookie or candy bits nice and crumbled as a topping. Shown below is a chocolate sandwich cookie that took not even two seconds to pulverize.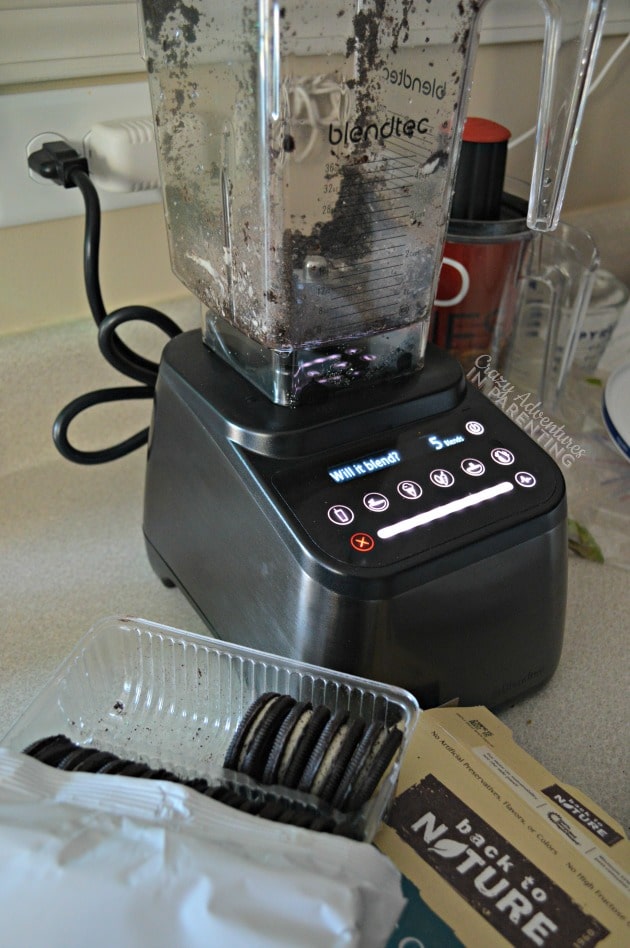 Add in one or two of your favorite treats into the Twister Jar with your favorite ice cream flavor along with milk. Get your favorite milkshake glass ready on the sidelines, it's almost game time.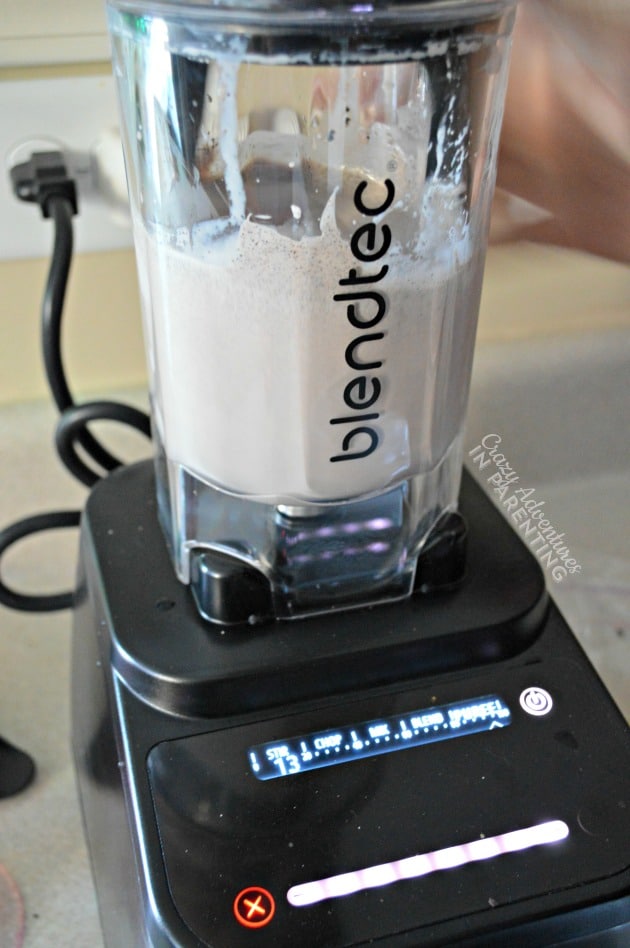 Pour, and sprinkle some of that crumbled goodness on top. Slap a straw into that badboy and enjoy. every. last. sip. of. awesome.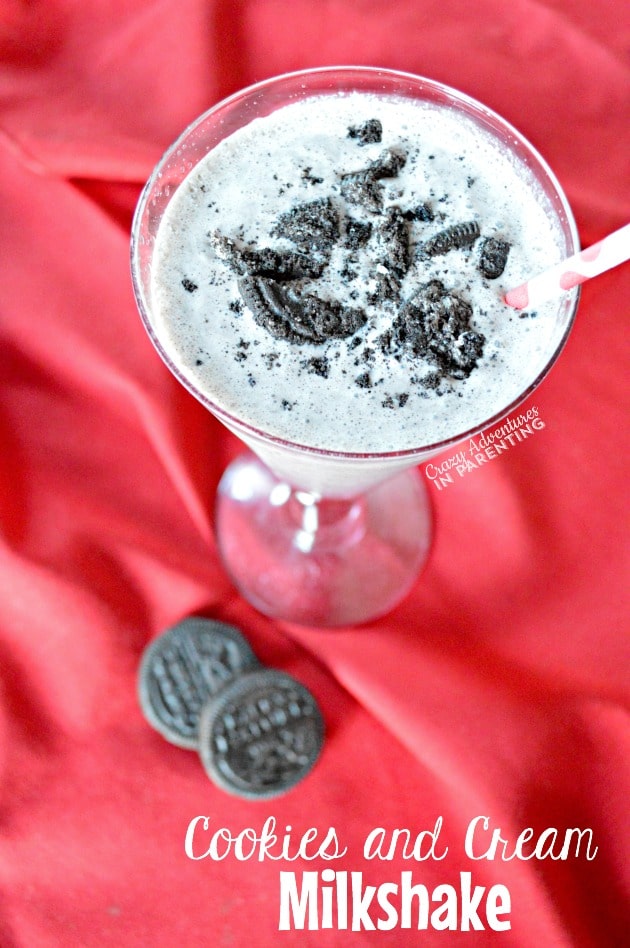 I can't EVEN begin to tell you how amazing these were. So much better than anything you could get in a restaurant – you have full control of your ingredients, and can add, subtract, and enjoy anytime. Heck, add a shot or two of your favorite liquor, and make these boozy. CAN YOU IMAGINE!? *dies*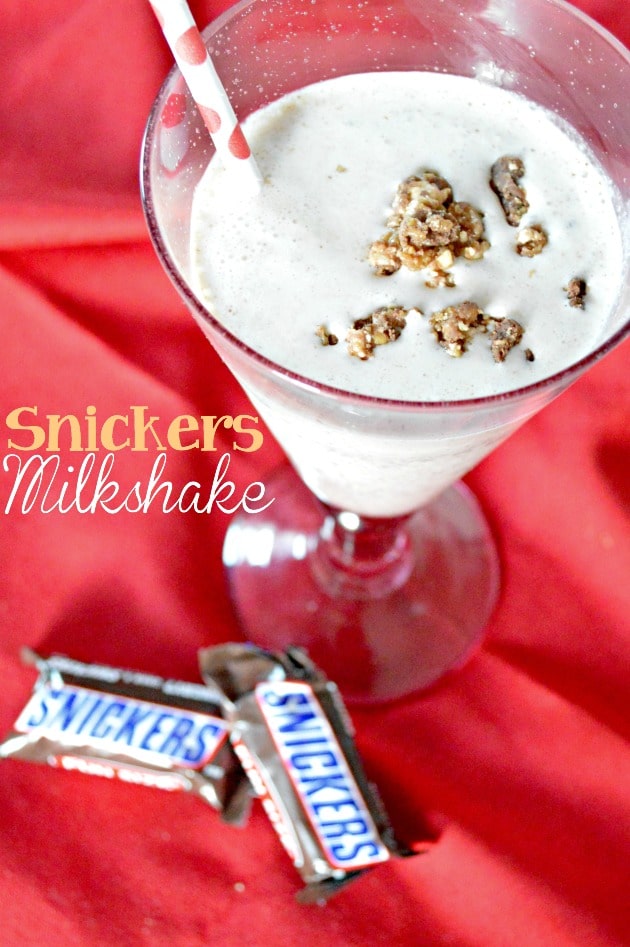 Cookie and Candy Milkshake Recipes in the Blendtec
These fun treats are made with your favorite cookies or candies featuring your favorite ice cream flavor and made from the comfort of your own home. Who needs the restaurant milkshakes, anyway?
Ingredients
Your favorite cookies or candies
Your favorite ice cream flavor
Milk
Instructions
Take one cookie or piece of candy and pulse in the Blendtec until pulverized; set aside in a bowl as the topping.
Take another cookie or candy piece and place in the Twister Jar with 2-3 scoops of your favorite ice cream flavor with 1 cup of milk.
Blend until well combined.
Pour; sprinkle topping over top and serve immediately.
What's your favorite milkshake? We're looking to try some new varieties!
Disclosure: This dish was prepared in my Blendtec Designer 725, a product that was sent to me to try, and I am so freaking in love with it,  I want to blend ALL THE THINGS with it! So, beware, because I'm going to be creating many more Blendtec recipes! I hope you enjoy!
Current Blendtec recipes:
Deconstructed Chicken Tortilla Soup