It was the tiniest piece of paper attached to his report card, a cut-out form letter that read "Your child will be receiving an award on Wednesday, February 11th. Please join us in the cafeteria for the awards assembly at 9:30am."
He'd only been absent once this quarter, so I knew he was getting a "Faithful Attendance" award. (I kept them home on the day it iced, I didn't feel comfortable with just a two hour delay.) He was SO excited – he'd missed out on getting this award last quarter when he'd had dental work for an abscessed tooth and stayed home (you have to have less than three absences in a quarter for this award and he had four.)
He couldn't wait to get on stage, and his award was first! My husband and I sat among all the parents, grinning and snapping pictures furiously. When he sat after that award, with "Perfect Attendance" up next, we wondered whether to send my husband on his way to work, because the paper had read "an award" and we'd both thought he'd just be getting that one. My husband opted to stay, "just in case."
And then they started calling out names for "Outstanding Math." I fumbled a little with my phone when I heard it – his name. "OH MY GOSH, BABE!" and there he was, mouth agape, late to receive his second award because he wasn't sure he believed it. It was pure joy that beamed out of that boy as he took the award from the guidance counselor and made way to the stage a second time. You could see him saying, mouth wide open in shock, "I GOT TWO!" and I just wanted to break down in tears right there.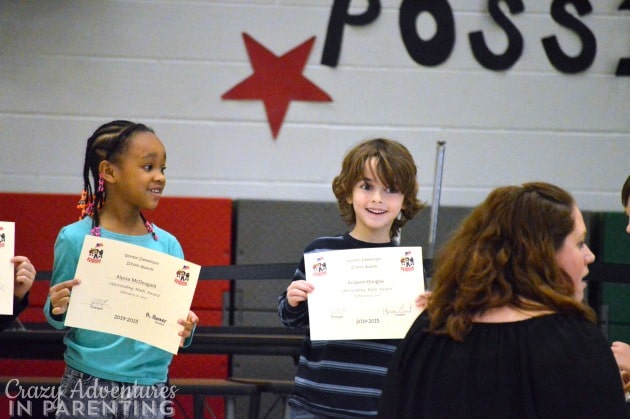 He cheered his little friends on, too. When he wasn't standing there completely in shock about his second award, he'd cheer and say "YOU GOT TWO, TOO!" to his little friends with a smile when they joined him on stage. He didn't realize you could get TWO, he was seriously enamored with just having one, but TWO?
Oh, the joy, friends. These are his first awards, and we'll never forget his face or reaction, ever.