I've partnered with JOHNSON'S® Baby as an ambassador.
My husband readily admits that he's not the best at "doing hair." I'm the hair-doer in this household, whether it's a lattice braid, heart-shaped braid, or other "Hair Experiment." My husband celebrates when he does a ponytail (it's kind-of adorable). While he might not style hair the best, he's the "bestest" at brushing their hair after bath time. It's a special daddy-daughter bonding time between him and the girls – one we knew would be almost irreplaceable when he deployed.
Until big brother stepped in to temporarily fill dad's role on "hair duty."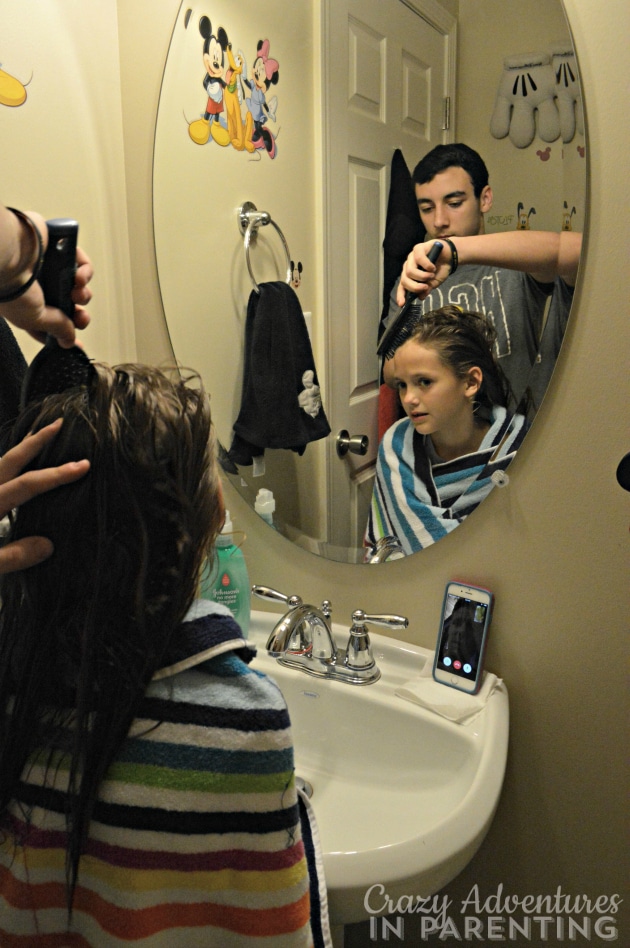 Big brother has been doing a great job filling in for dad during his absence. In fact, because of the way my husband's unit is working "over there," sometimes my husband's able to "be there" on FaceTime while they're doing hair, so it's still like he's there doing it himself, even if he isn't.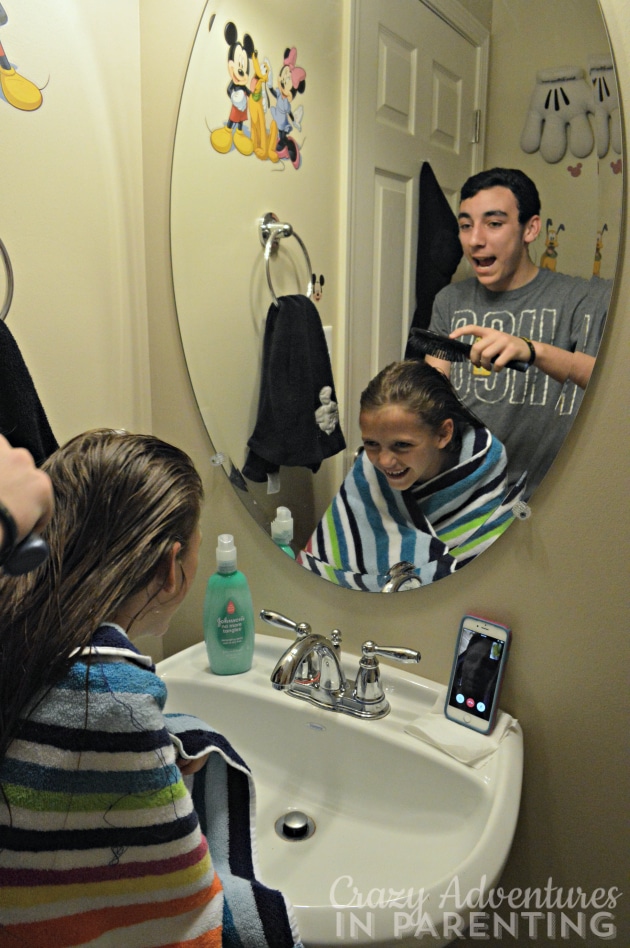 We're doing our best to fill the gaps with Big Brother wherever Dad would normally be, I know it's helped during this deployment transition. Since the girls are definitely "daddy's girls," having their oldest brother jump in like this has helped them feel more protected and secure while daddy's away. We didn't want them to miss that bonding moment, and now, with the help of technology, even though he's thousands of miles away, they don't have to.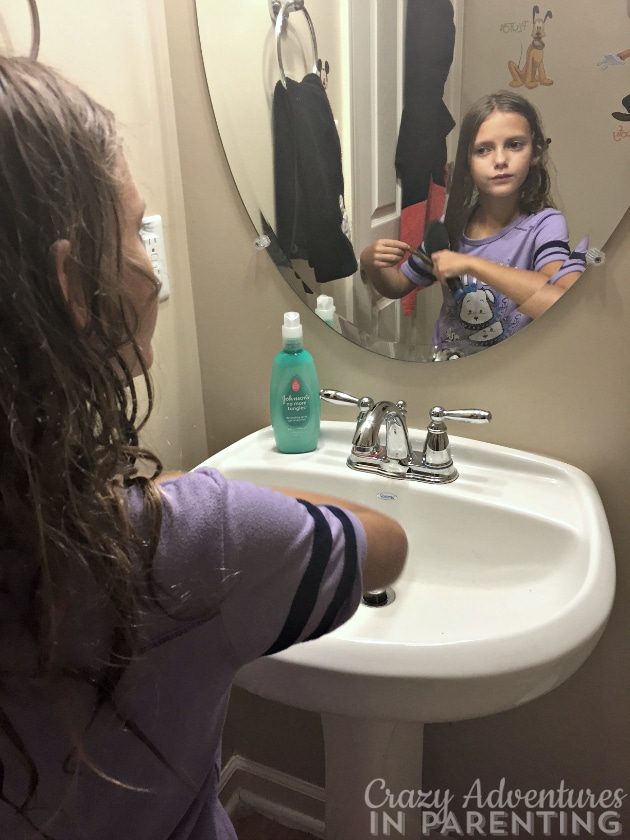 My daughter has always adored the NO MORE TANGLES® products, especially with her long, curly hair. It's so thick, the tangles are inevitable! She's used the Shampoo and Conditioner for some time, but the NO MORE TANGLES® products leave her hair touchably soft after she sprays it, she even rewets her hair before school (to fix her curls) and sprays it again.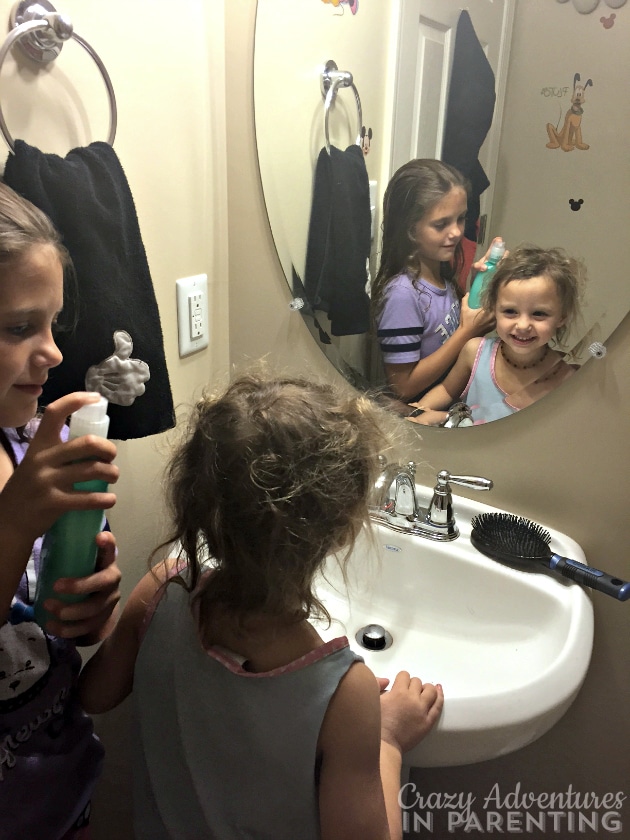 This addiction is now spreading to the youngest, who loves getting her "hair done," too, especially now that her hair is gotten longer, and the tangles have begun (see the crazy-haired picture above). Baby V has enjoyed getting into the "hair do-ing" spirit, too, and loves getting her hair sprayed, whether by dad, big brother, or her sister. She is just as eager to brush and get her hair done in the mornings and after bath time as her big sissy is.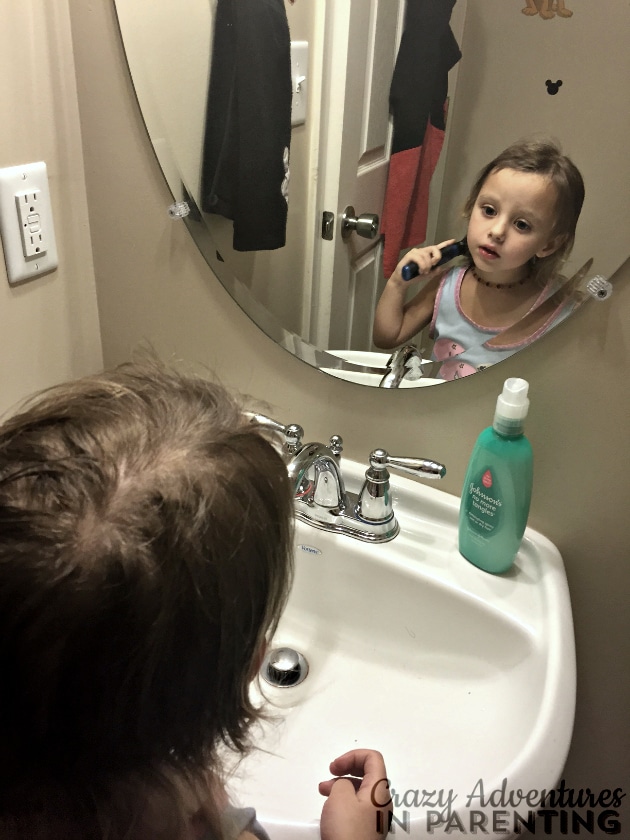 Dear Husband,

I know how you miss all of us, spending time with us, and the little things we do together, including the hair-doing. All of us here want you to know how much we miss you terribly, too, but we're doing alright. Big brother's doing his best to help, and we're eager to having you back on "hair brushing duty" and in our arms again just as soon as you're done doing you're all important Army duty "over there."

Love always,

Mom, Big Brother, and The Girls xo
Does your husband "do hair" with the girls? What else does "daddy do" to bond with your children?