Chocolate on Valentine's Day isn't the only thing you can serve – dish up these wonderful Strawberry Shortcake Pudding Cookies to your love this year! These pudding cookies are adorably perfect with Strawberry Shortcake M&Ms adorning them, giving them the sweetest and most perfect Valentine's decoration.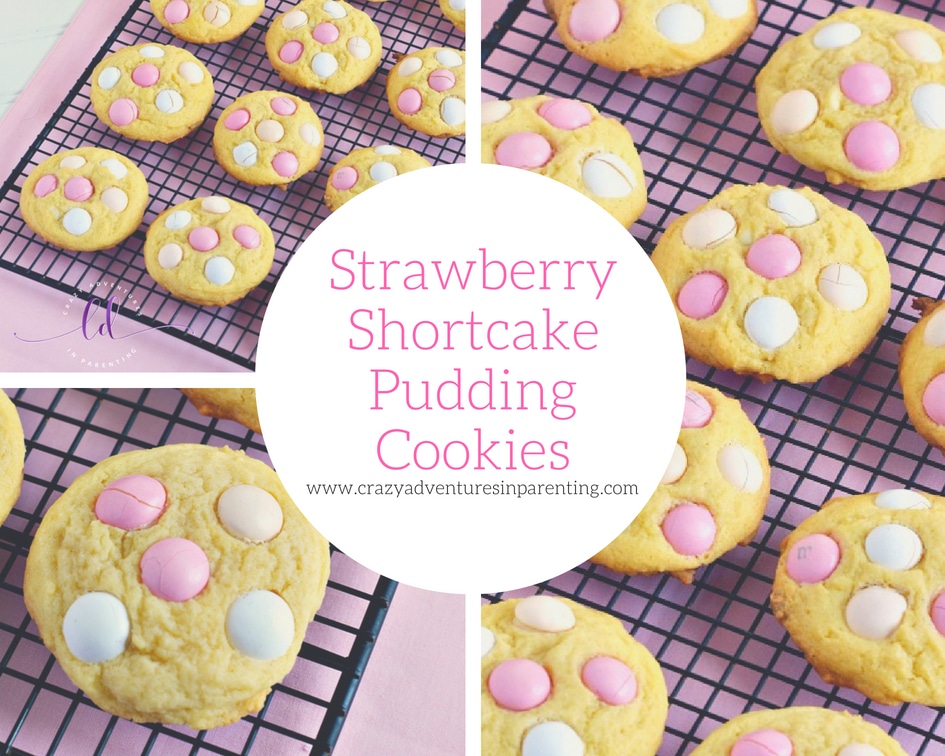 Some people think that Valentine's Day is all about chocolate. Chocolate this or chocolate that. Don't ge the wrong, I loooove me some chocolate, baby (loooove with a capital "L"). But what about cookies? Valentine's Day cookies, y'all! Nothing says love more than baking something for someone you love from the heart – there's always a little bit of lovin' in anything that gets kneaded, rolled out, and baked to perfection, am I right? And these Strawberry Shortcake Pudding Cookies are the perfectly soft and chewy cookie for your loved one on Valentine's Day (or, y'know, any day).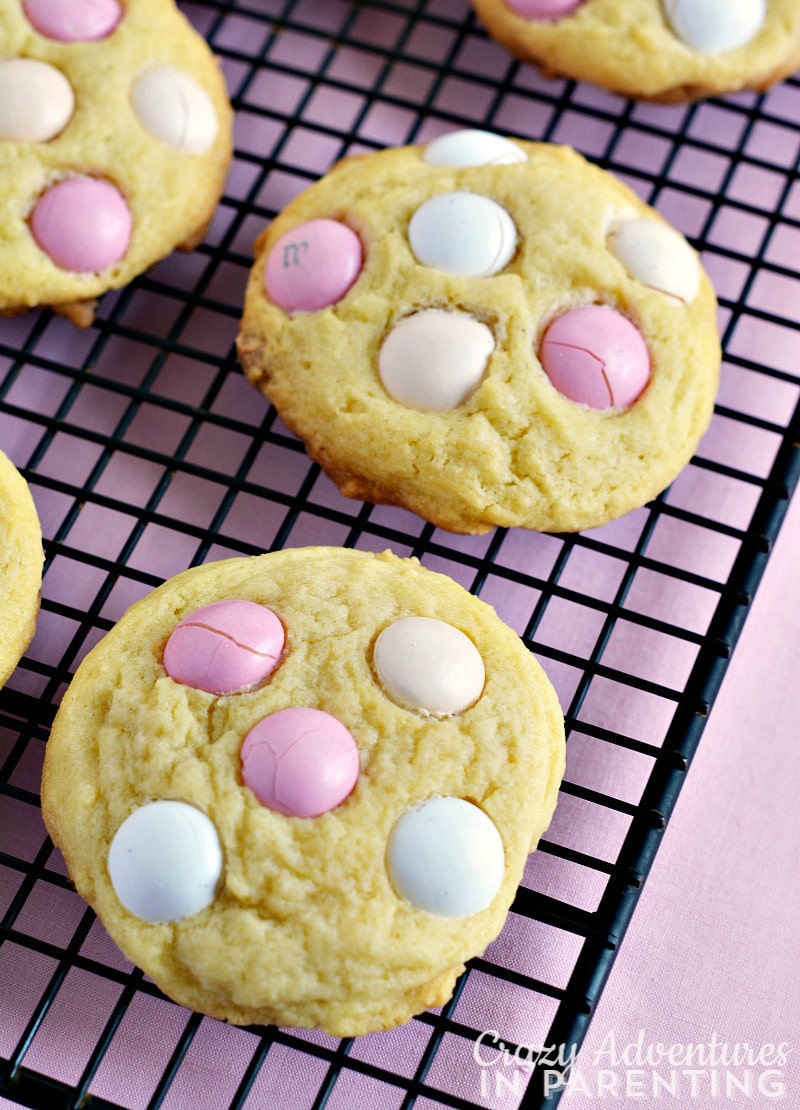 Serve up a plate of these, still slightly warm, in front of your love on your special day, and you'll see heart-eyes immediately, just like the emoji. 😍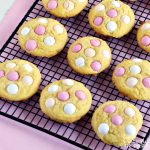 Ingredients
1 cup butter, room temperature

1 cup powdered sugar

1 teaspoon vanilla extract

2 eggs

2-1/4 cups all purpose flour

1-3.4oz box french vanilla instant pudding mix

1 teaspoon baking soda

½ white chocolate morsels

1 package Strawberry Shortcake flavored M&Ms candies (found at Target)
Instructions
In the bowl of an electric mixer, beat butter, powdered sugar, and vanilla until light and fluffy.
Add eggs gently, one at a time, whisking until combined.
If your electric mixer has a paddle attachment, add it and turn the mixer on low and slowly add the flour, pudding mix and baking soda. (If not, use your regular mixer attachment on low and add ingredients slowly.) Mix until combined.
Add white chocolate morsels and hand-stir until well combined.
Refrigerate dough for 30 minutes.
Pre-heat oven to 375 degrees F.
Line a baking sheet with parchment paper.
Use a medium sized cookie scoop to scoop out the dough into balls, spacing them about 2 inches apart on the baking sheet.
Press the M&Ms candies randomly on top of the cookie dough balls, 5-6 M&Ms each cookie.
Bake for 10-12 minutes, until golden brown on the edges.
Cool for 1 minute on the baking sheet then transfer to a wire rack to cool for 30 more minutes.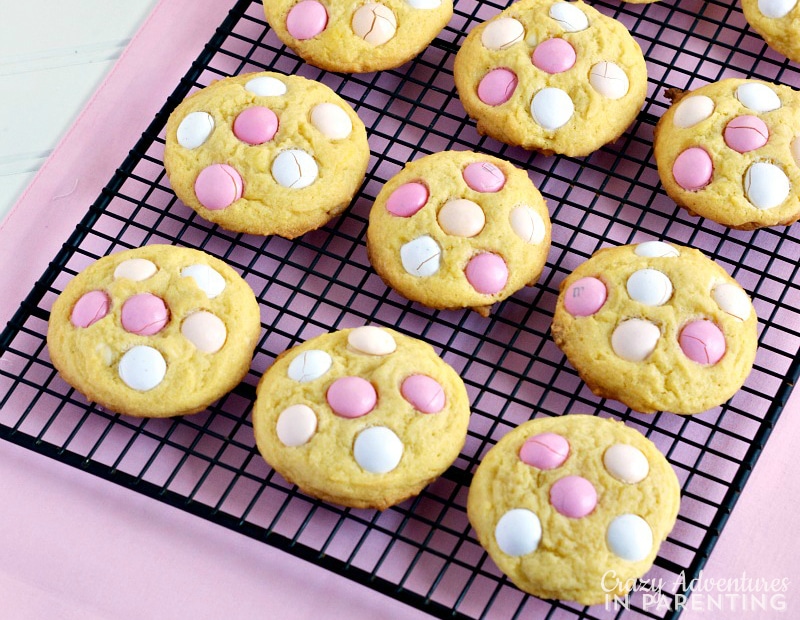 Doesn't that just sound easy-peasy? You can easily make it with your children, you know?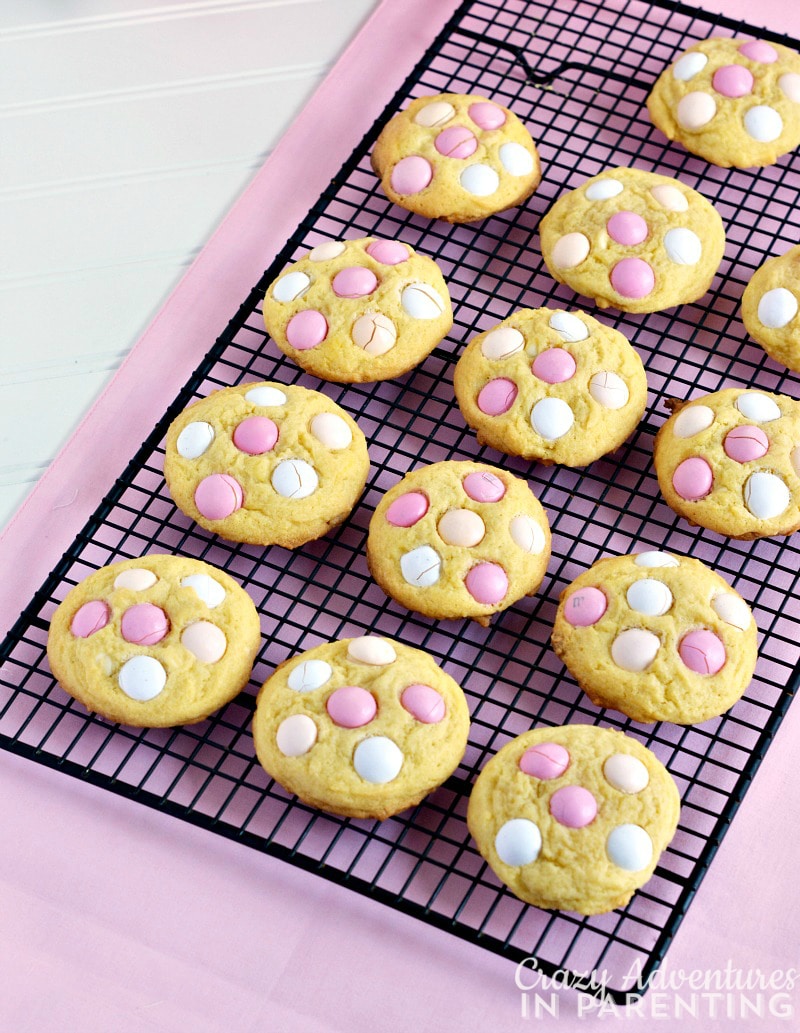 Don't worry about snacking on some M&Ms while you make this, either. It makes baking these just a little bit sweeter, dontcha think?