This Oil Slick Slime recipe is an easy slime recipe to make made with Liquid Starch and no Borax. Want to find out how to make oil slick slime that your kids will LOVE to play with? Check it out below!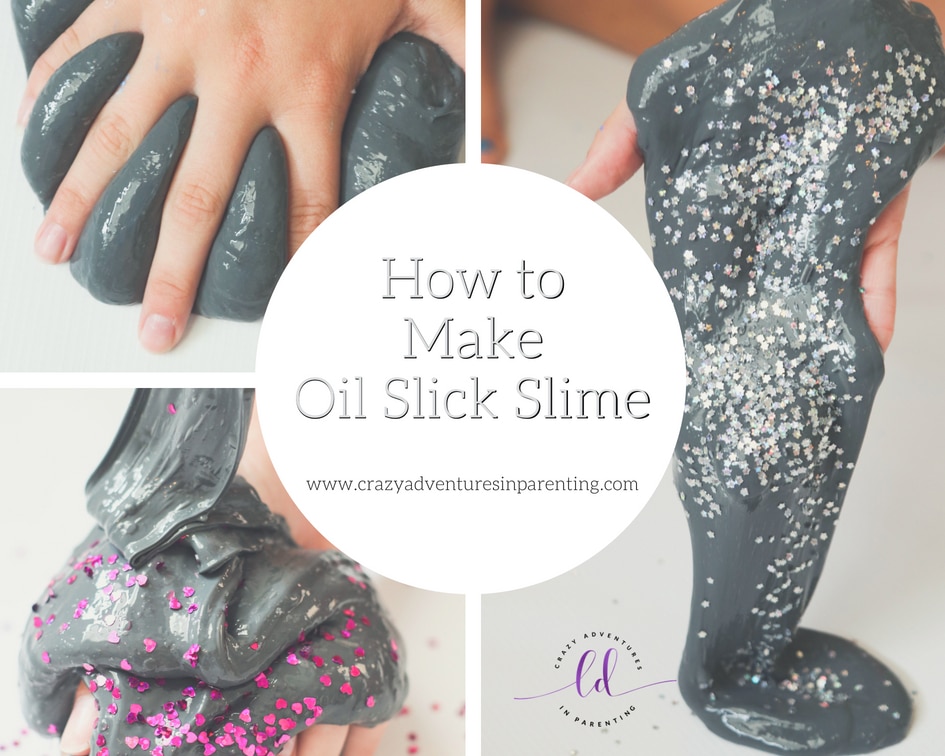 How to Make Oil Slick Slime
This gorgeously black slime recipe is a super fun one because of all the things you can add to it! Use it plain or add glitter or more, this is an easy slime recipe to make for kids! This oil slick slime recipe is simple one for children to make, stretch, and play with or without glitter!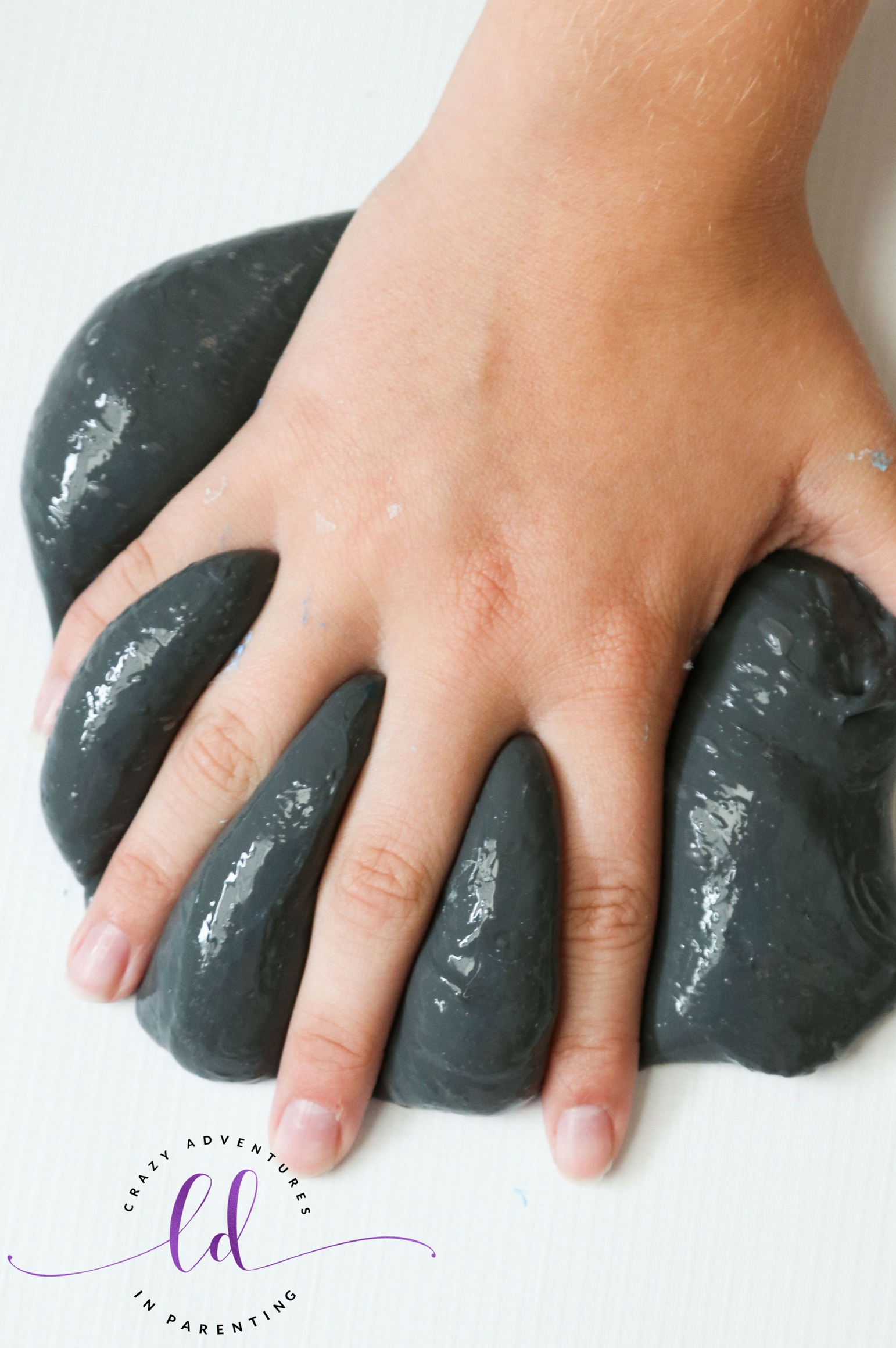 To create this oil slick slime recipe, we used regular white school glue. We buy it by the gallon online so we have plenty of slime-making materials around the house 🙂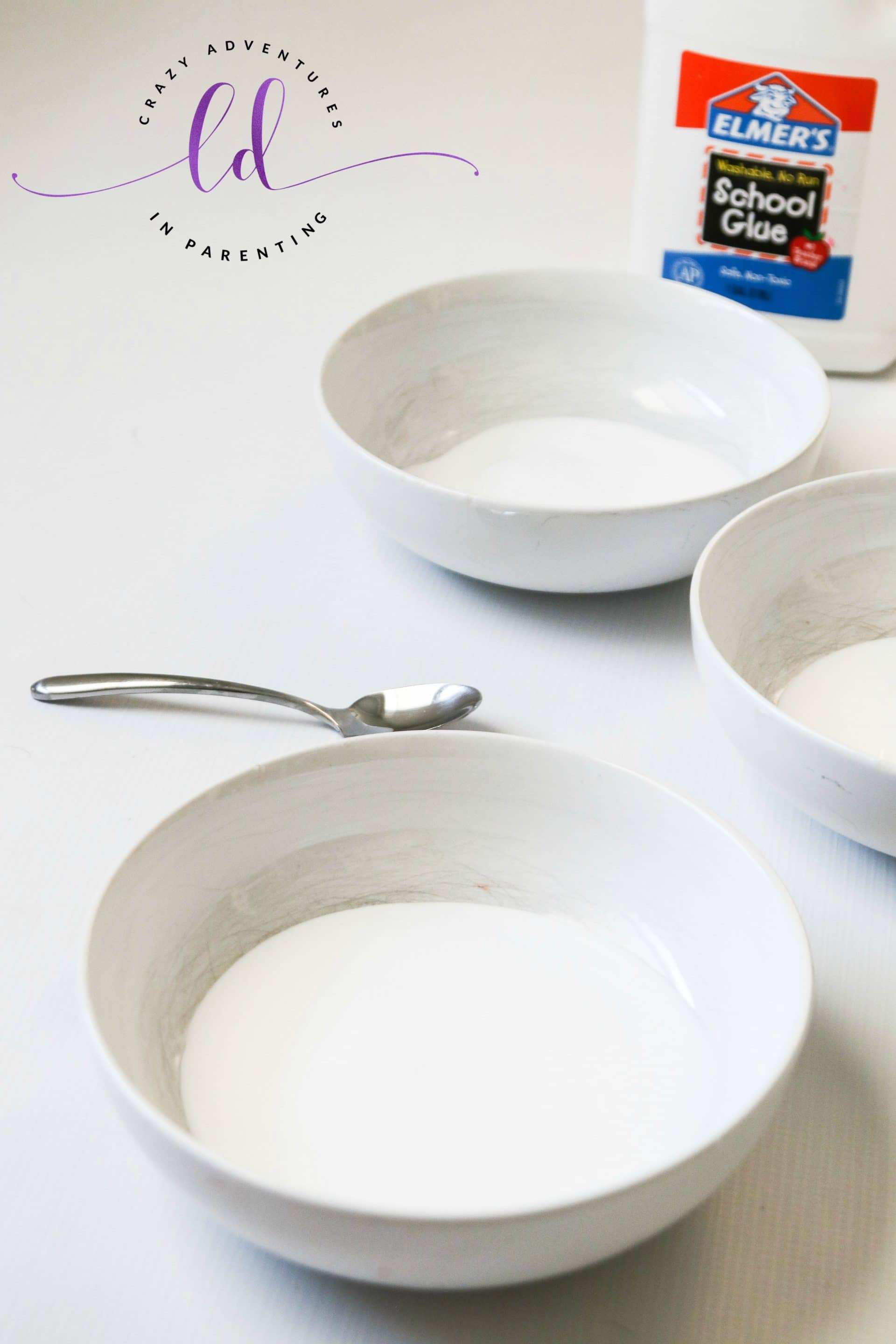 When it comes to making slime recipes with glitter, clear glue is usually imperative, because glitter generally gets "lost" in white glue (since it's not clear/see-through). However, in this slime recipe, clear glue is unneeded, as the color is so dense, it won't get lost. The glitter is illuminated by it!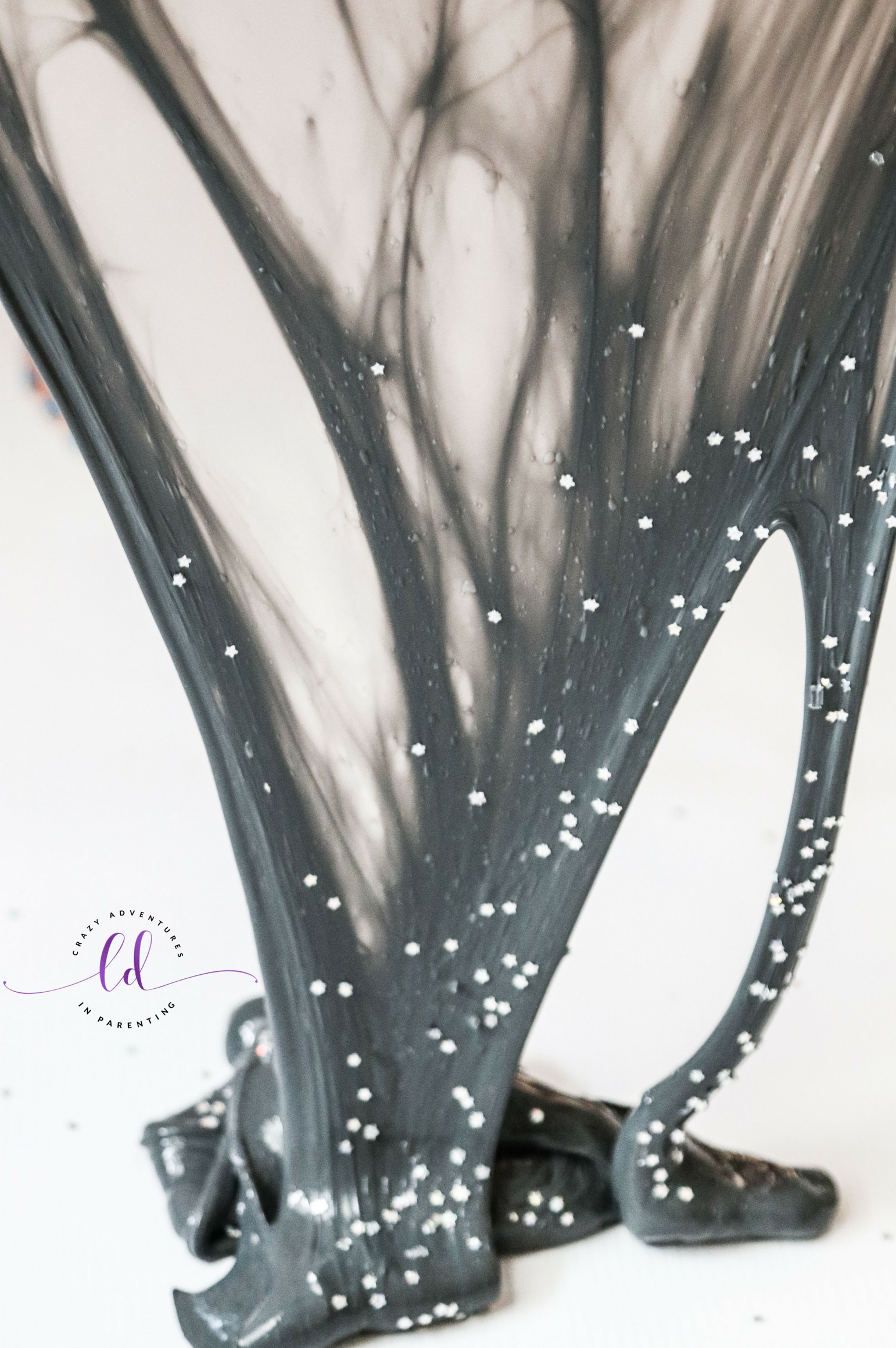 Borax-Free Slime Recipe
This is a borax-free slime recipe, too! Safe for kids, this easy black slime recipe uses Liquid Starch (not spray starch, mind you, they are two different products) with the white school glue.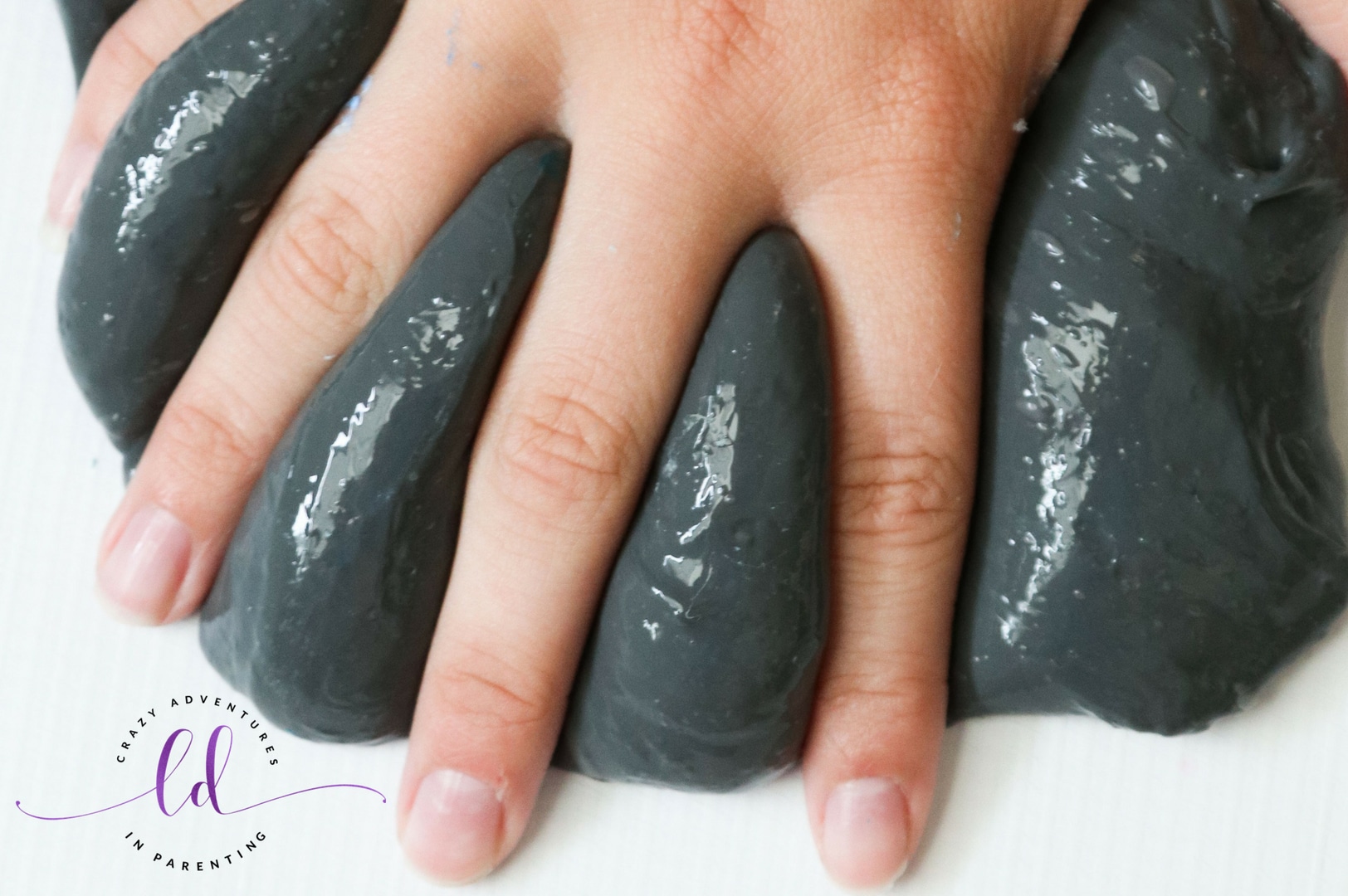 Oil Slick Slime Recipe with Liquid Starch
Keep in mind, all slime recipes should be monitored while creating, even if their ingredients are harmless. Creating slime is kind of like a science experiment and it should be monitored as such, especially when working with smaller children. Also, should you accidentally get any on your clothing or carpet, vinegar will save you 🙂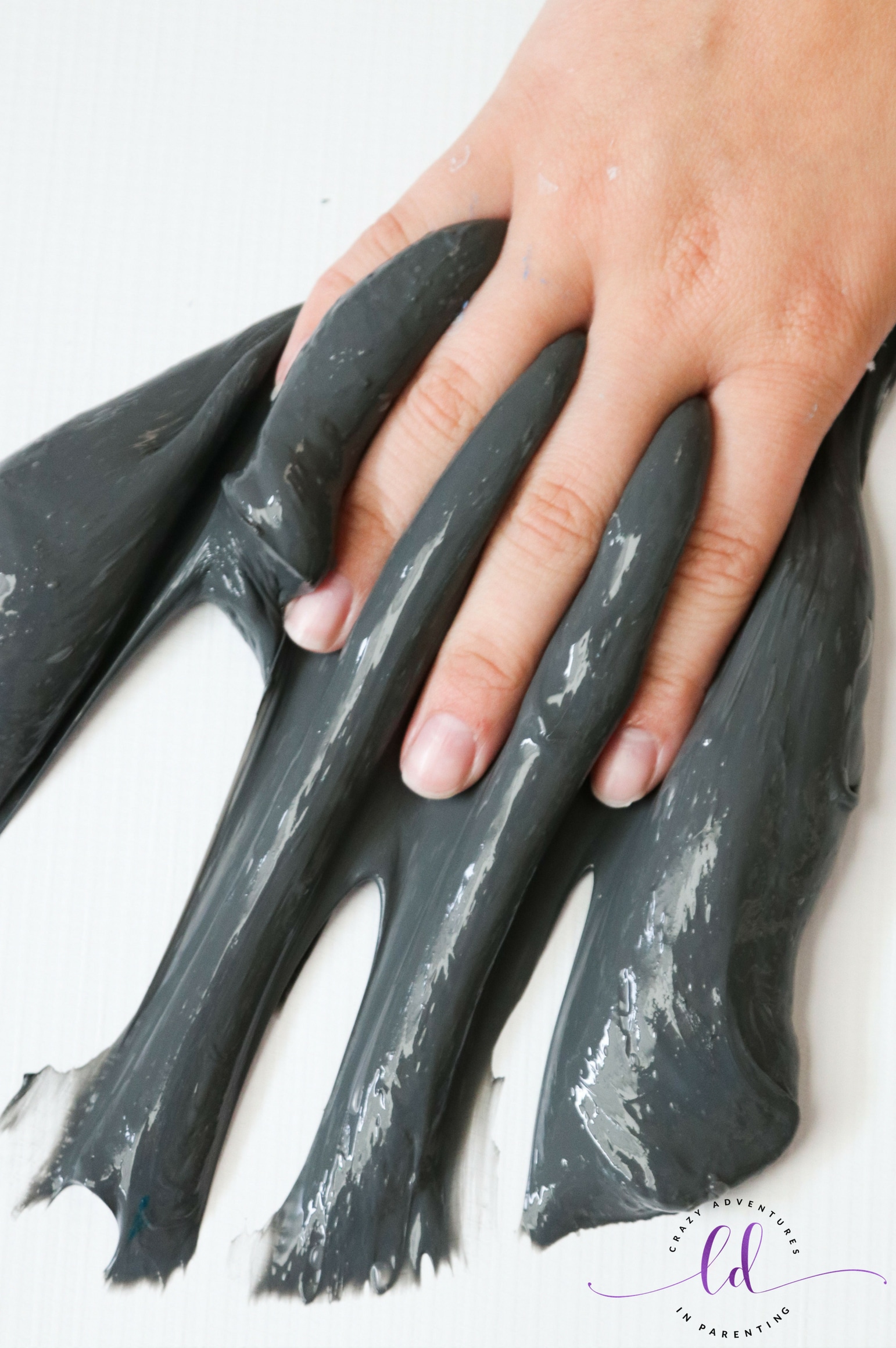 Oil Slick Slime Recipe Supplies
White school glue
Liquid Starch
Gray acrylic paint and black acrylic paint (we use DecoArt because the colors come out so well)
Glitter or confetti of your choice (optional) – We like silver glitter stars, pink confetti hearts, and white confetti stars.
Glass bowl or a plastic container and spoon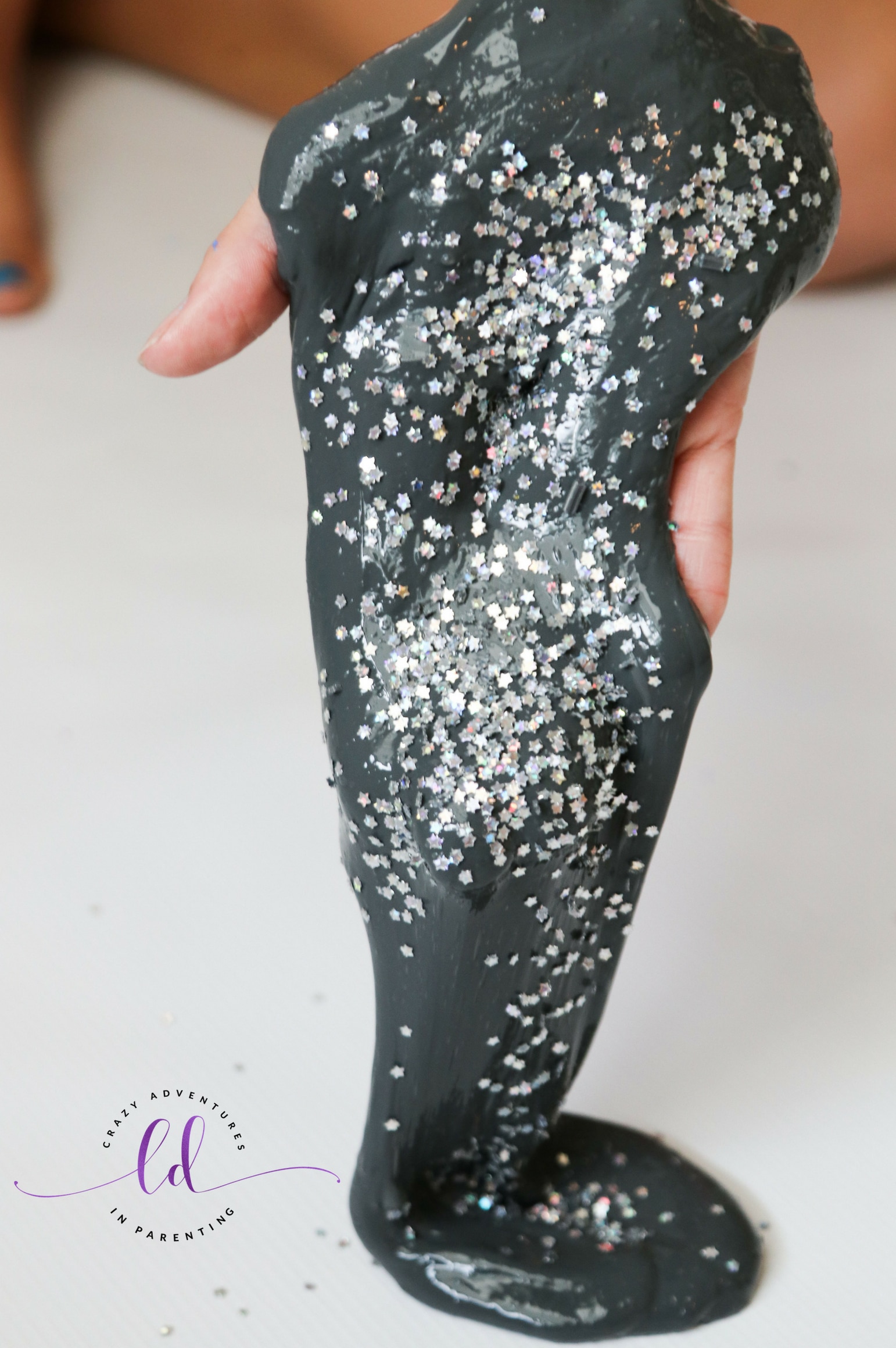 To make your slime, start off with about 1/3 cup of liquid starch in 1/2 cup of glue in a bowl or container. Once it's the consistency you want, add in equal amounts of the paint at first, stirring to get the color throughout. Add however much gray or black to get it to be the color you desire. Take it out of your bowl or container, and sprinkle onto the slime the optional glitter. And then? Have a blast!!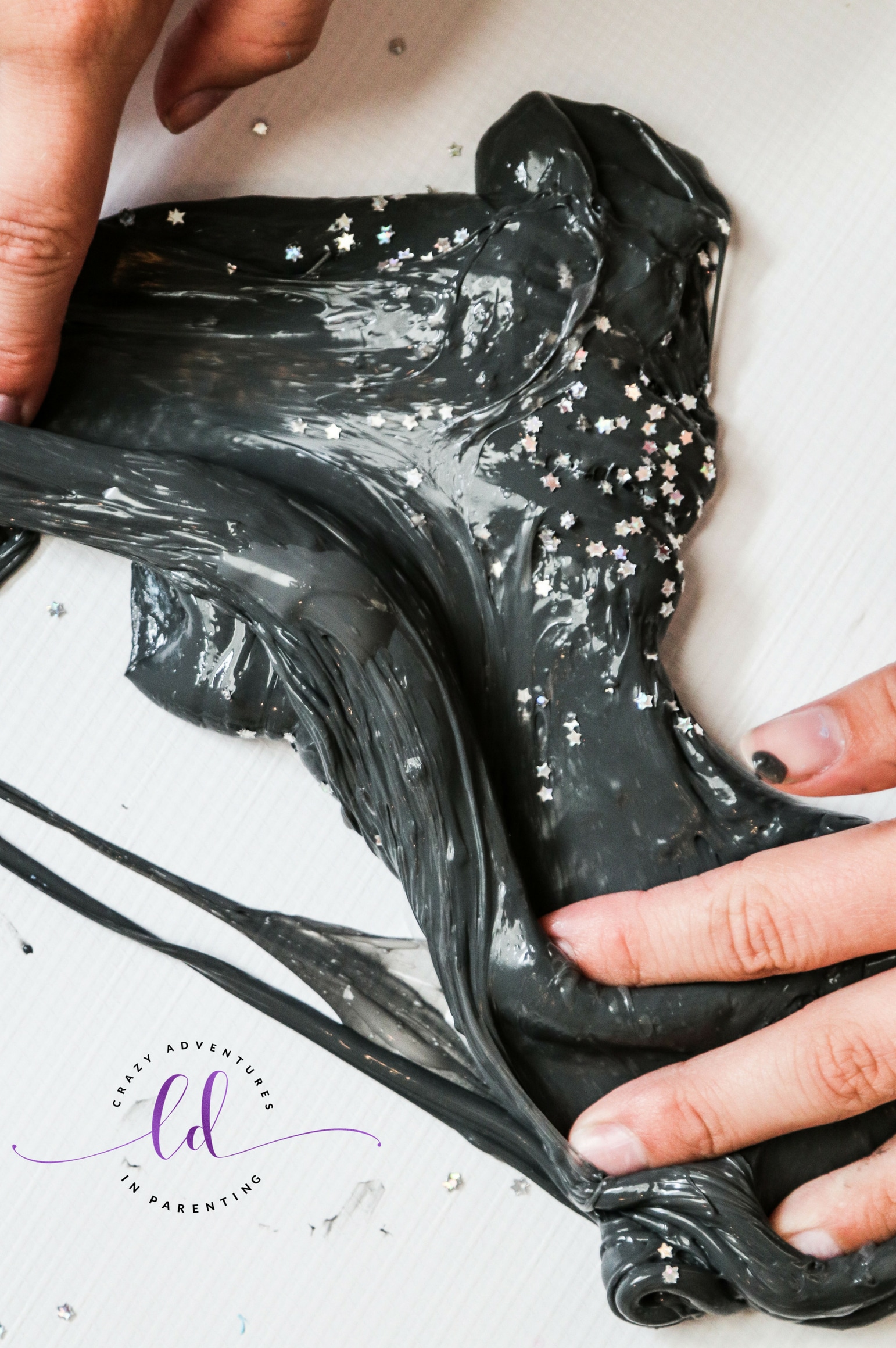 It really does look like the night sky slime when you use stars!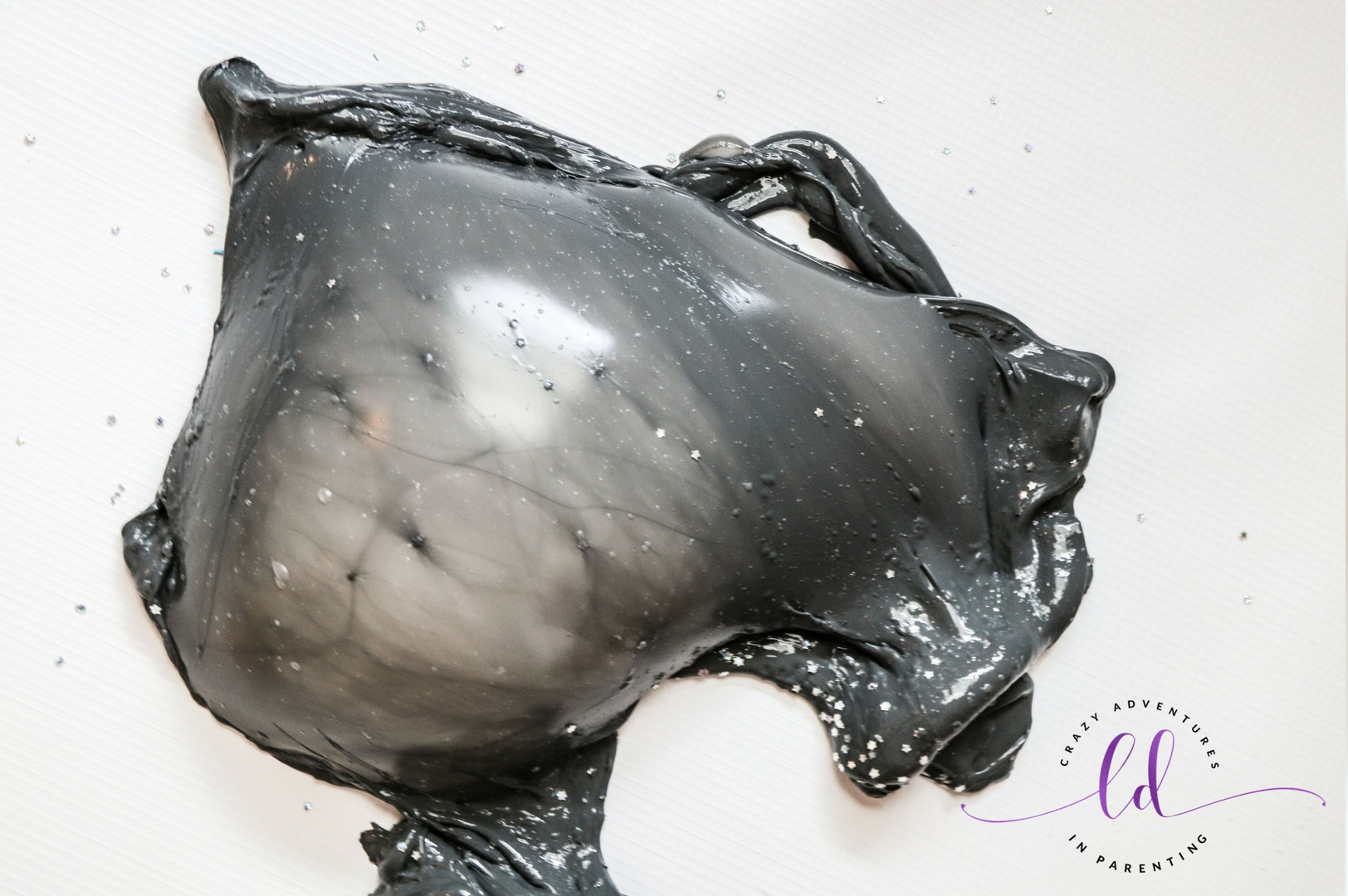 Making bubbles is SO FUN with this slime! Gets GREAT stretch!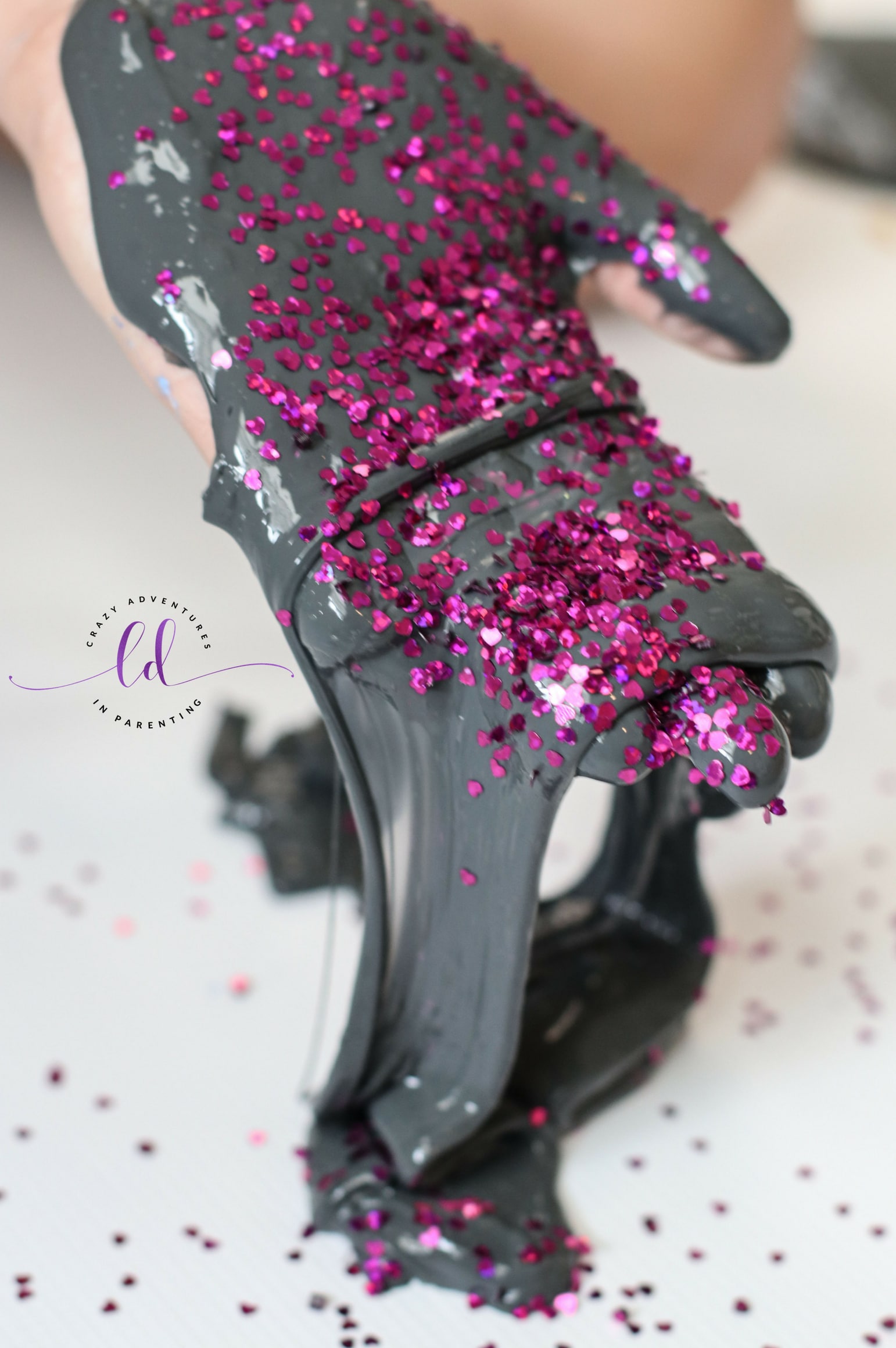 Pink hearts illuminate wonderfully with this slime recipe!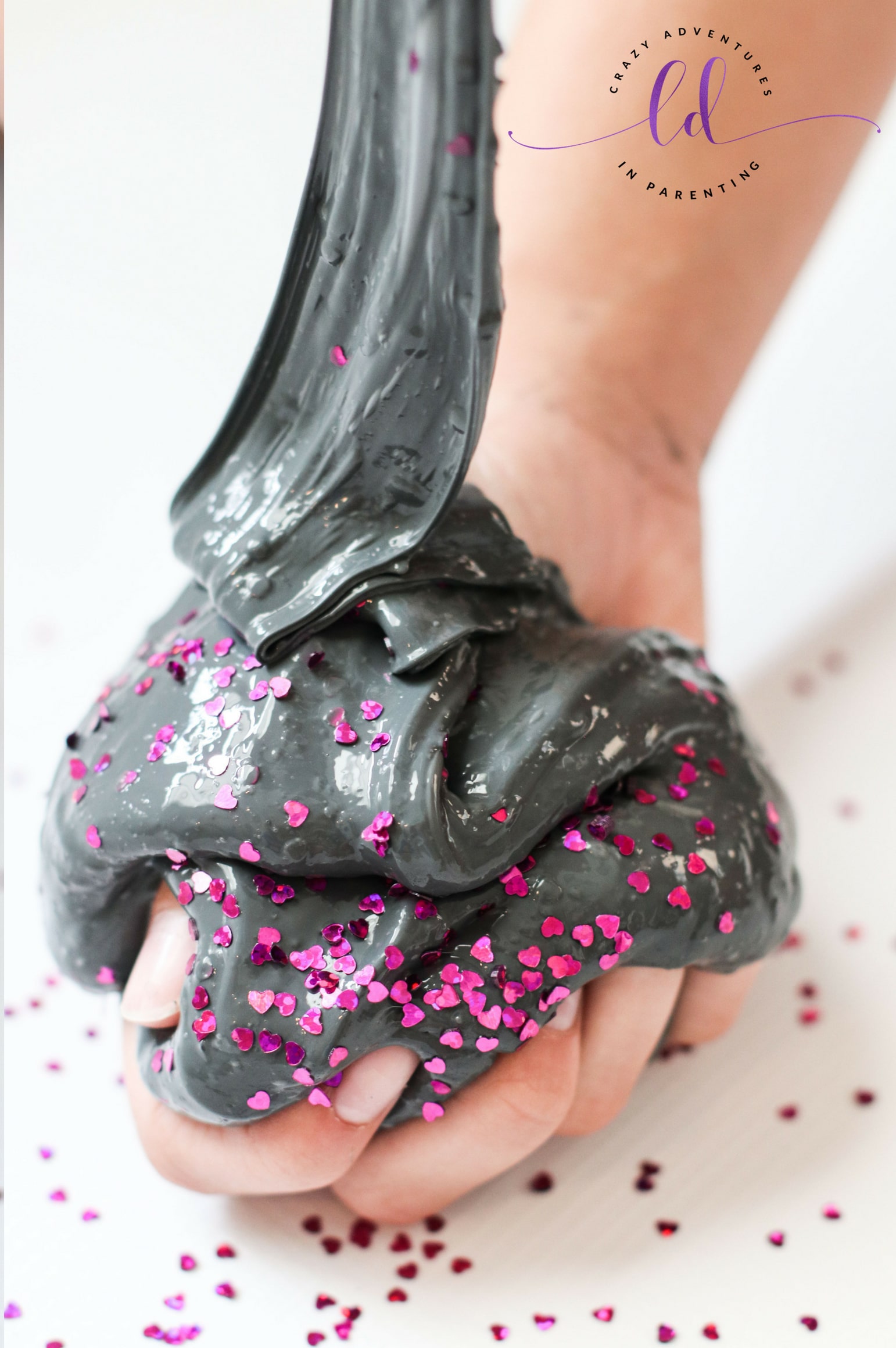 Isn't it just gorgeous? Imagine it with blue confetti stars! Or iridescent confetti stars! Or rainbow confetti!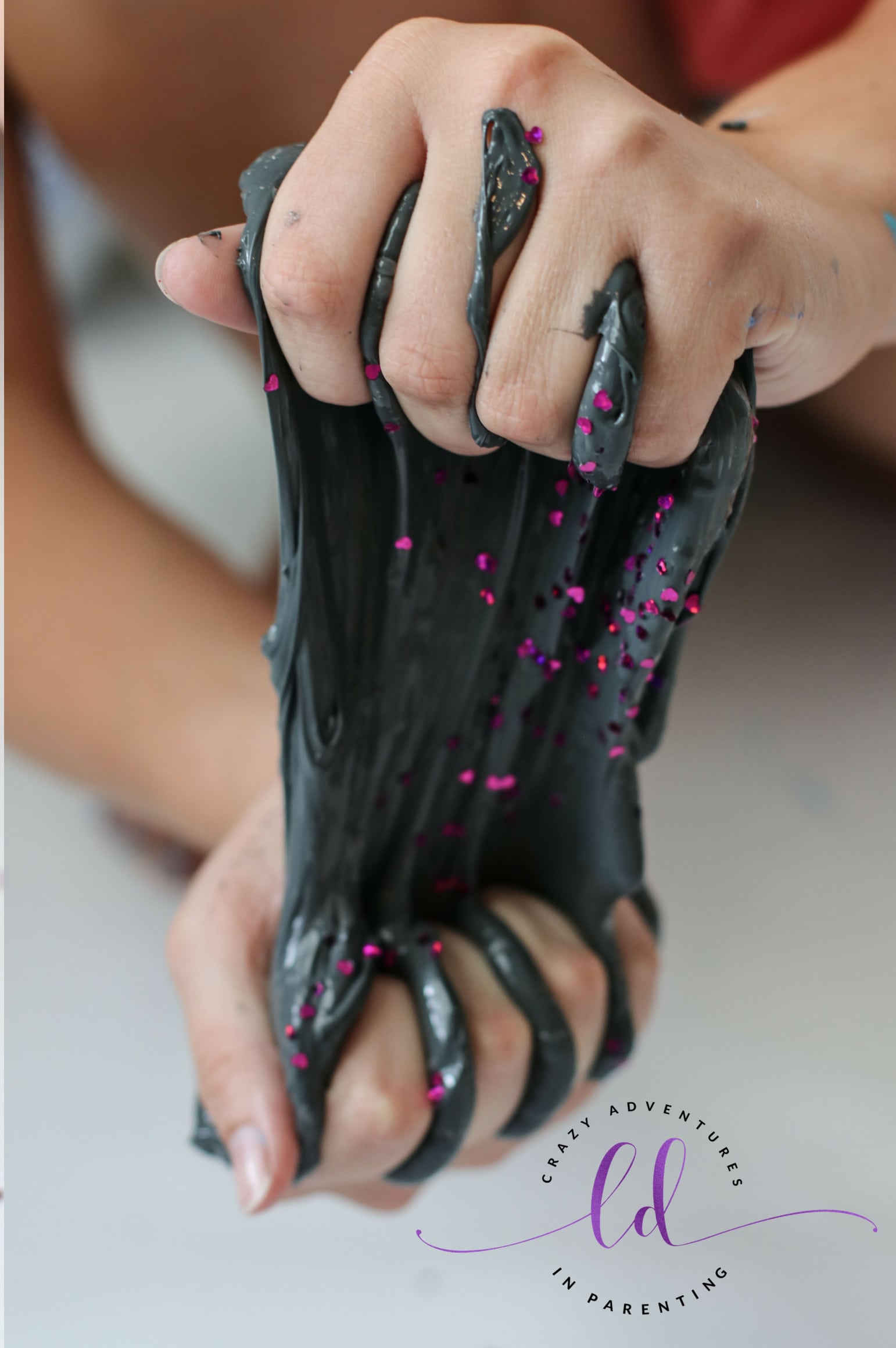 Isn't this such a fun slime recipe to make? Be sure to check out my other slime recipes today! And have loads of fun making slime with your children!