Looking for how to make yogurt whipped cream? Check out this yogurt whipped cream recipe made with Oikos Triple Zero yogurt!
This is a sponsored conversation written by me on behalf of Dannon® Oikos® Greek Yogurt and Danimals® Kids Smoothies.
The opinions and text are all mine.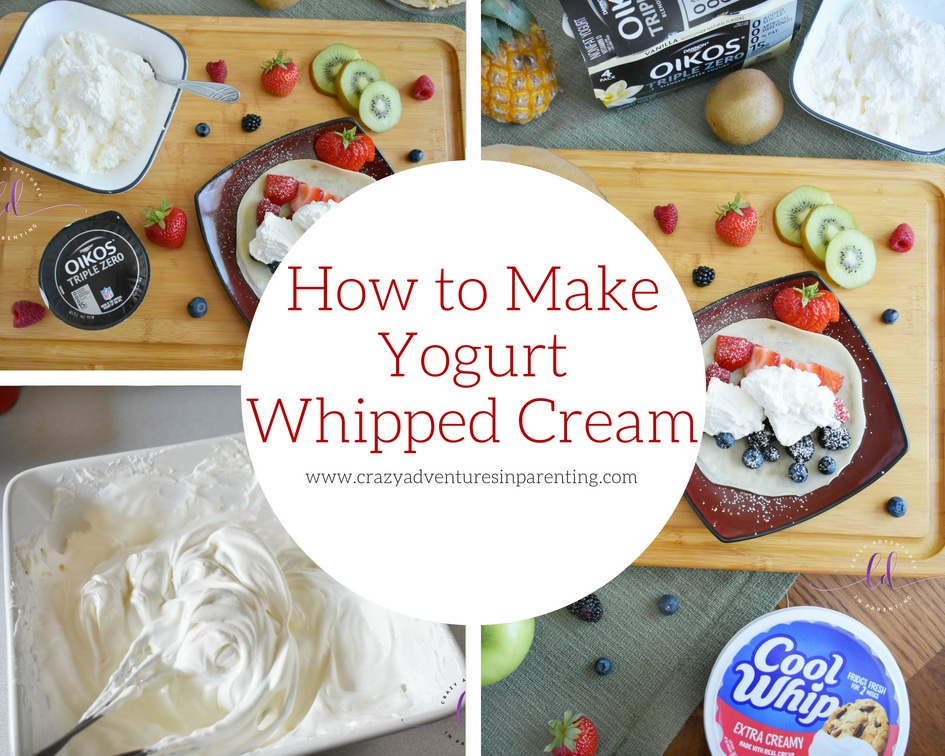 We are huge yogurt lovers in this household! Whether it's for a smoothies, smoothie bowls, or more, we are all about that delicious protein and probiotics! I love adding yogurt into recipes to add easy protein, too! Muffins, pancakes and so much more! To celebrate our first day off after our return to school, we planned a special breakfast of fruit-filled crepes and decided to use Dannon® Oikos® Triple Zero yogurt to make delicious yogurt whipped cream for the filling!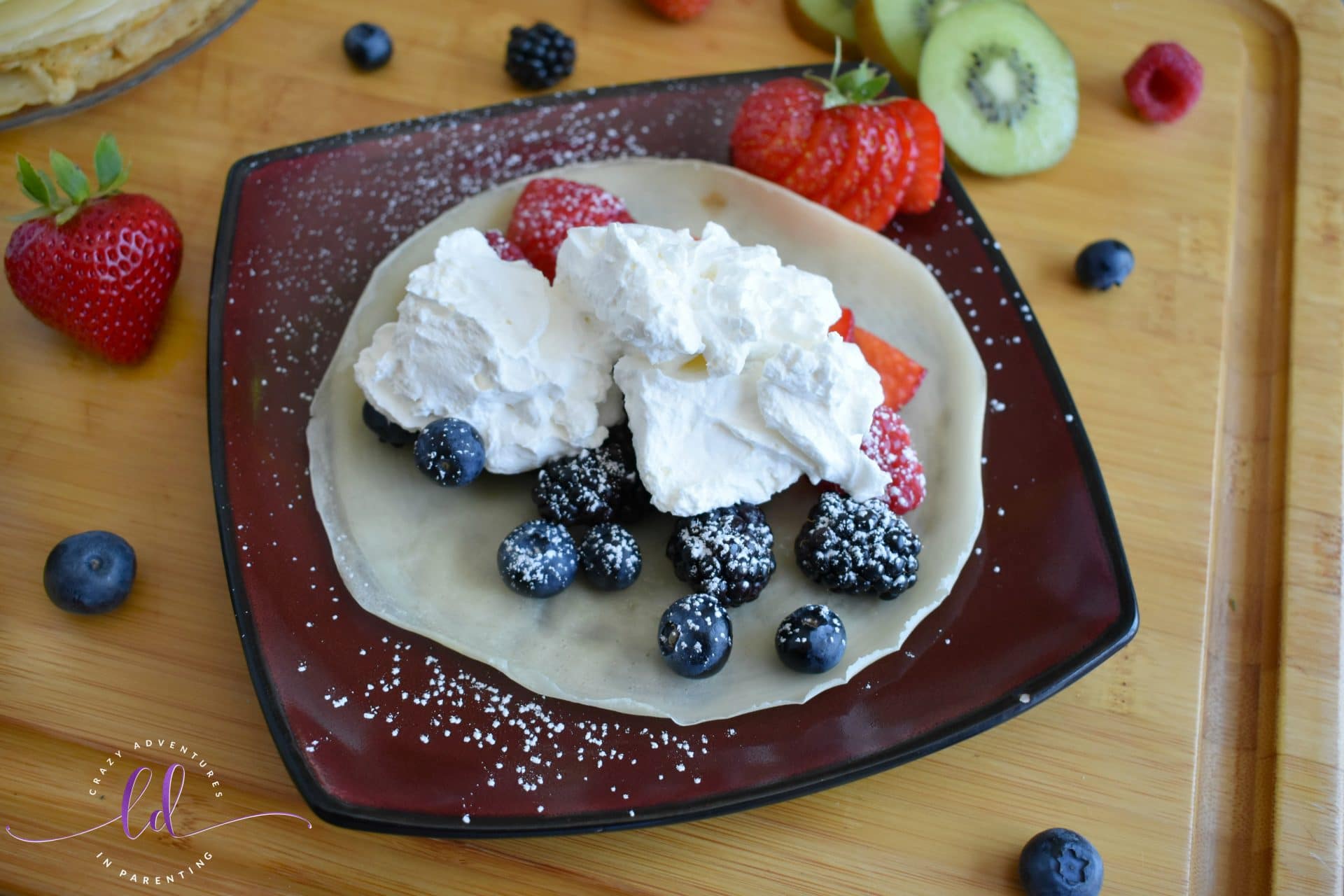 Being back to school means getting back to all our routines for the school year. We always encourage healthy snacking, but we use their homework time to help feed their minds as well as their bodies. Every one of my family members have different tastes as far as what types of yogurt they enjoy, though. For instance, my youngest enjoys drinking  Danimals® smoothies. Those are her "favey-fave" she says.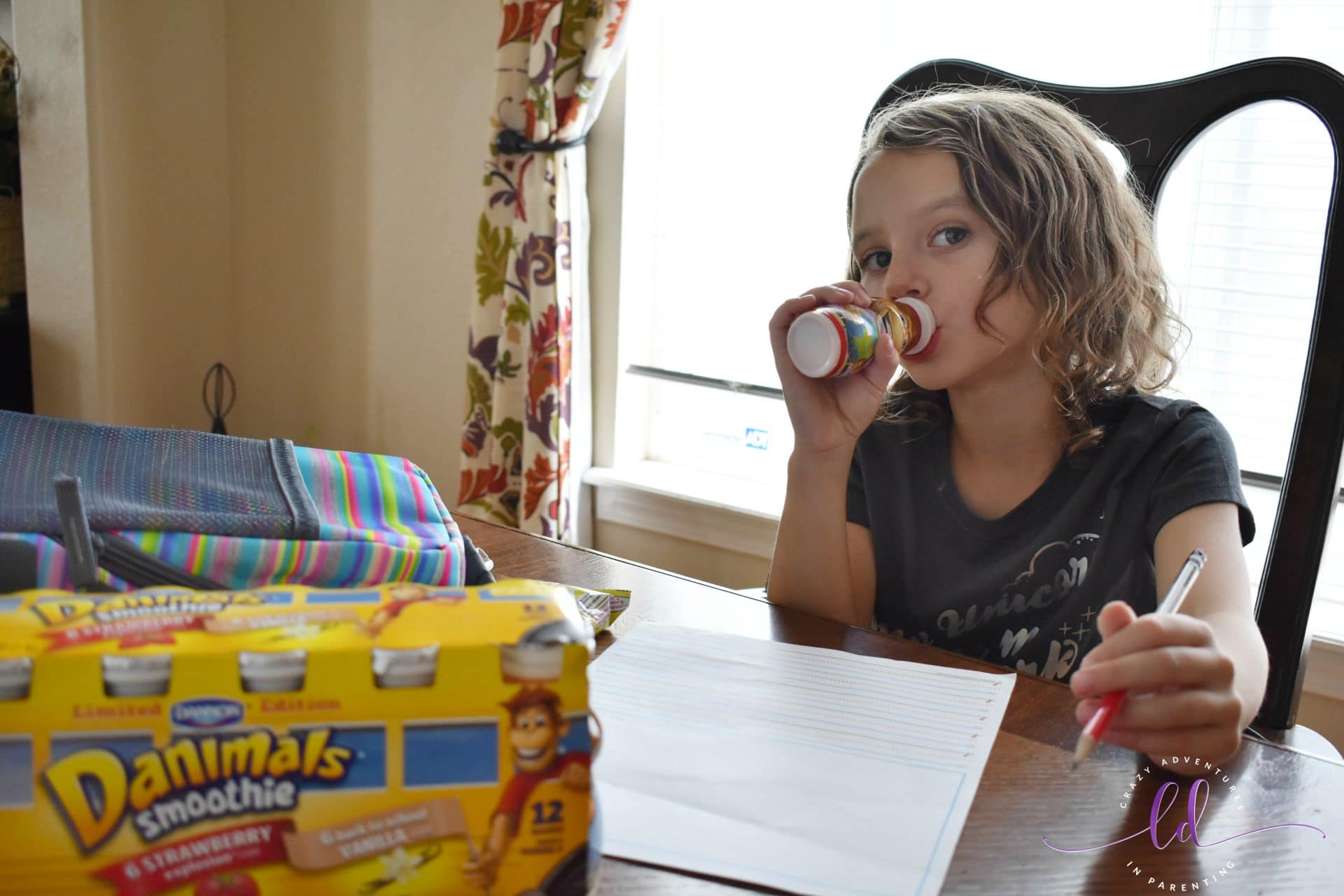 Like, really really her "favey-fave" lol Look at that yogurt face, can you say no to that?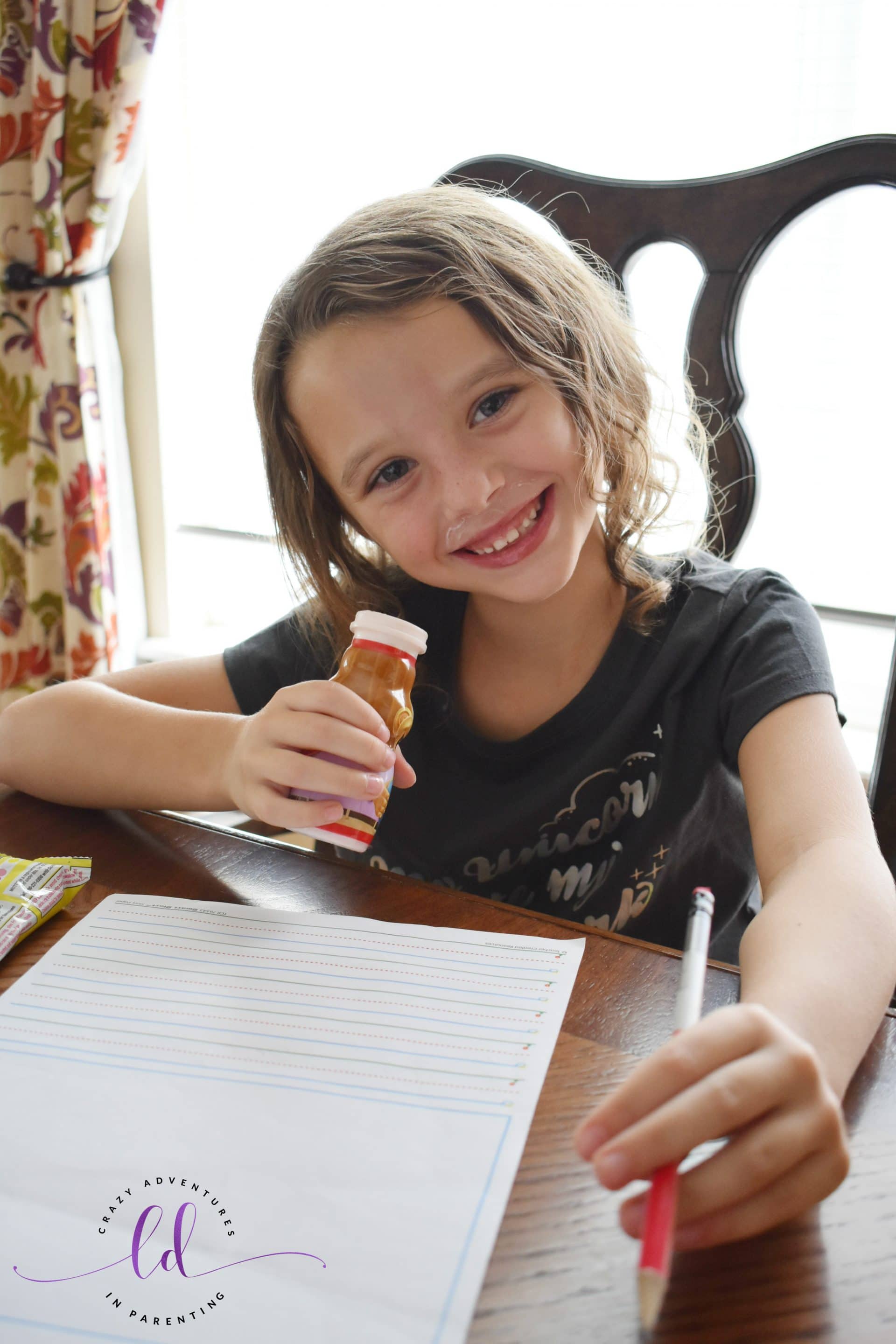 Whether it's a yogurt cup or pouch, every single one of us is all about it in this household! Healthy snacking FTW!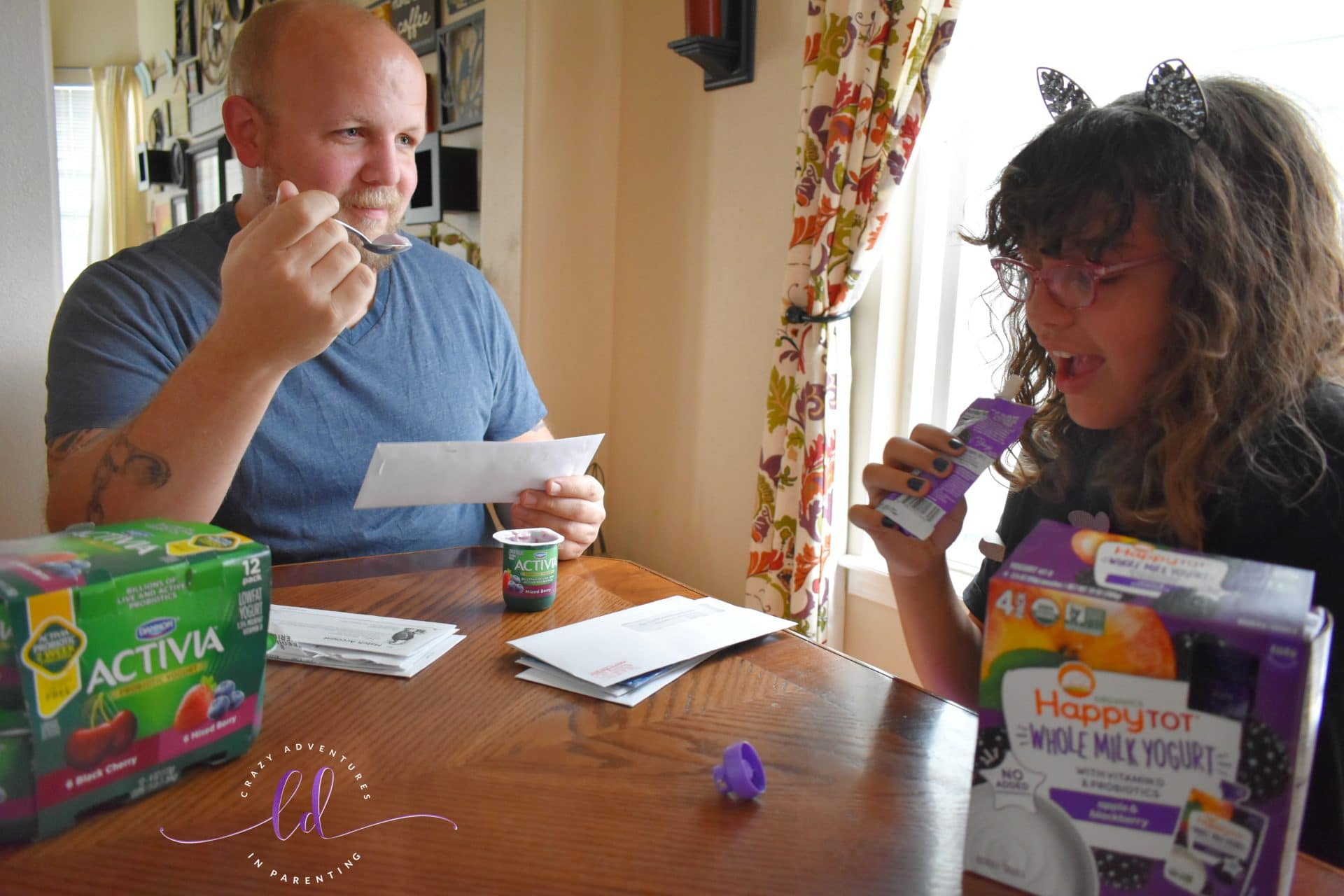 Yogurt pouches are extremely easy to pack for school lunches, if you're looking for a little lunchbox inspiration. I couldn't resist letting her drink a Happy Family yogurt pouch while she packed the rest of her lunch before school.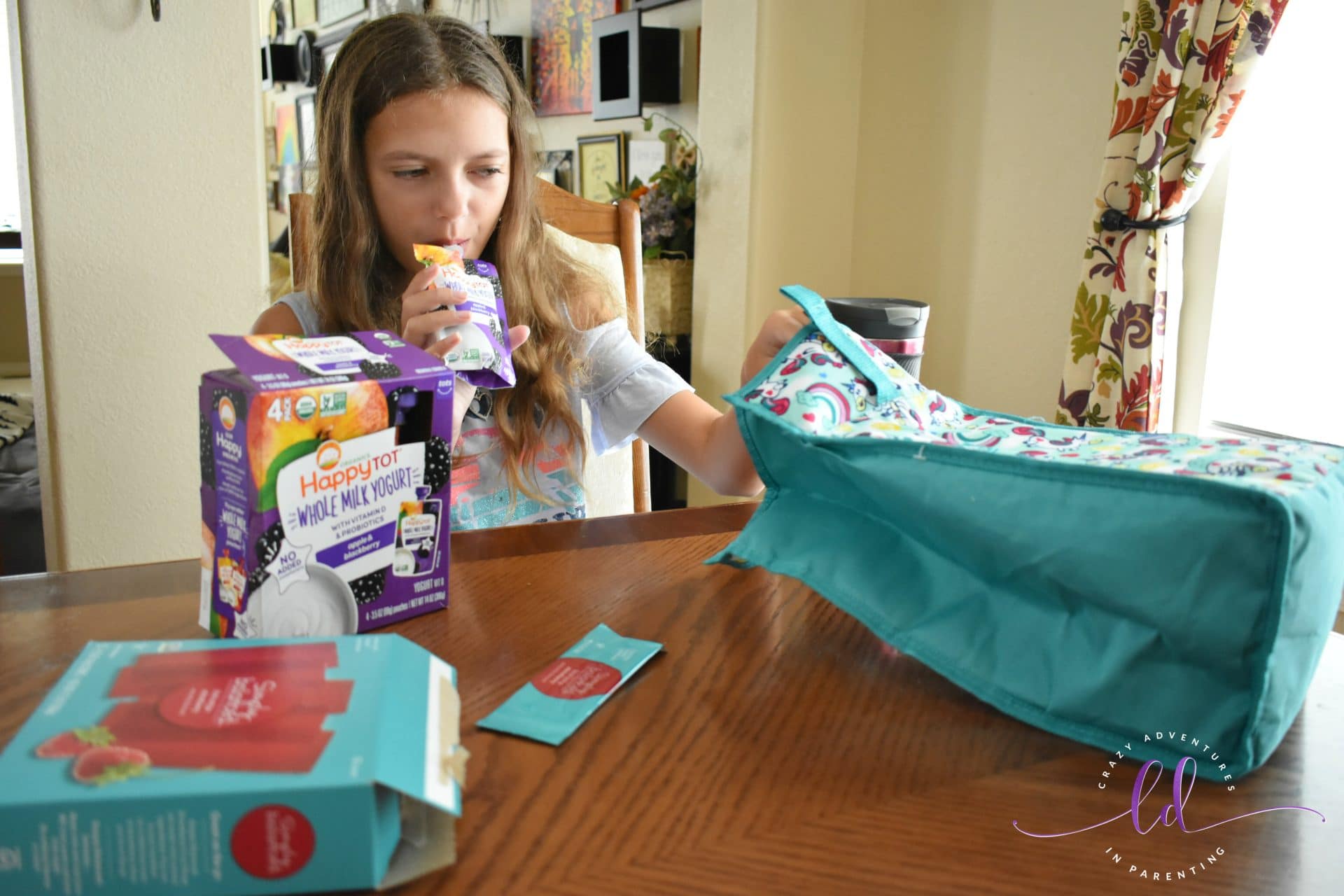 Or enjoying one while lounging in the pool after school, too.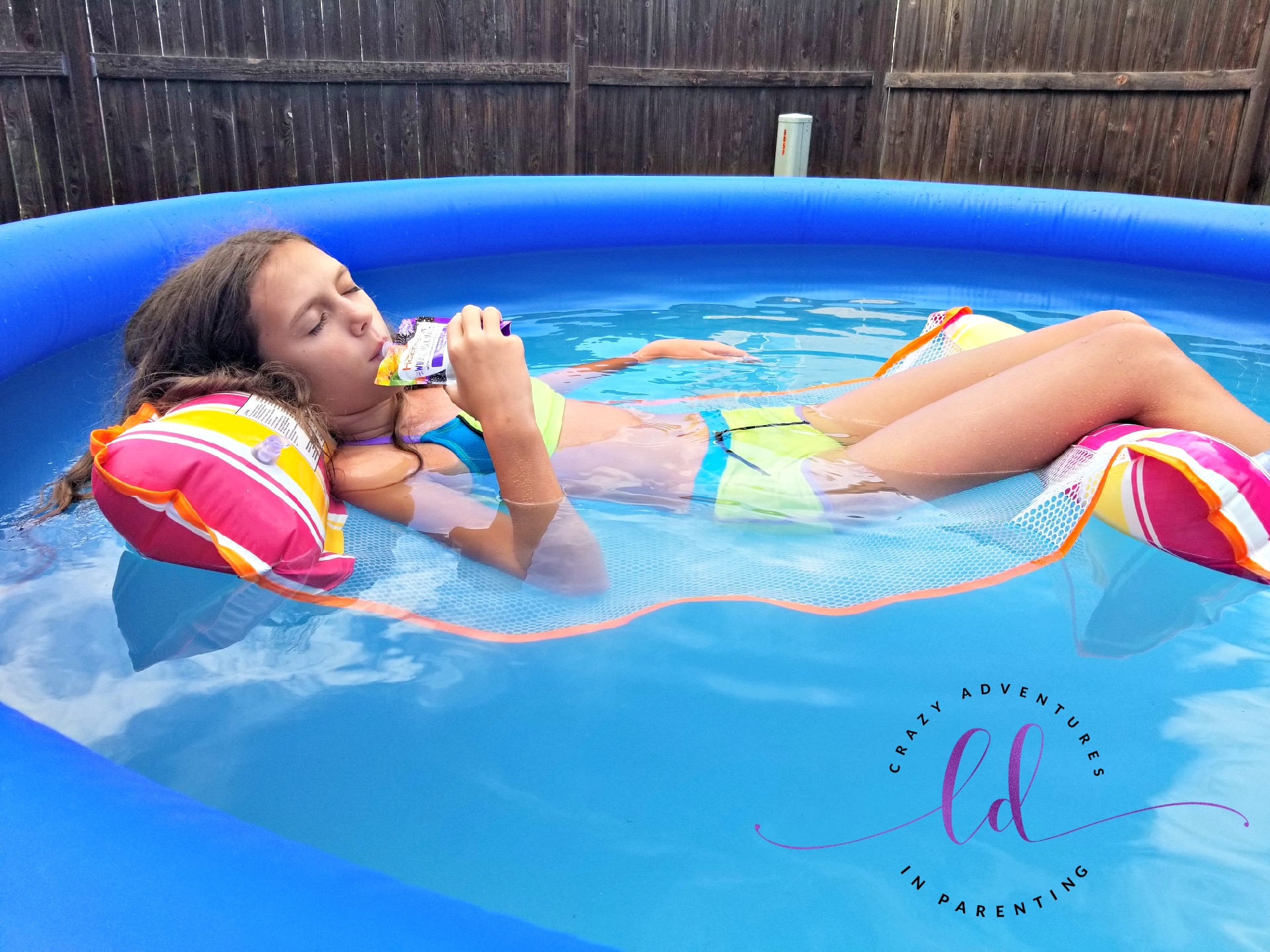 Personally, I love coming up with inventive ways to help make my kids' school lunches rock! With the help of all of these yogurt brands found at Target, along with some fun and tasty additions (like as Market Pantry cubed cheese, Simply Balanced Fruit Strips, or Kind bran clusters), you can really jazz up your kids' lunchboxes, snacks, and breakfasts with a variety of yogurt choices!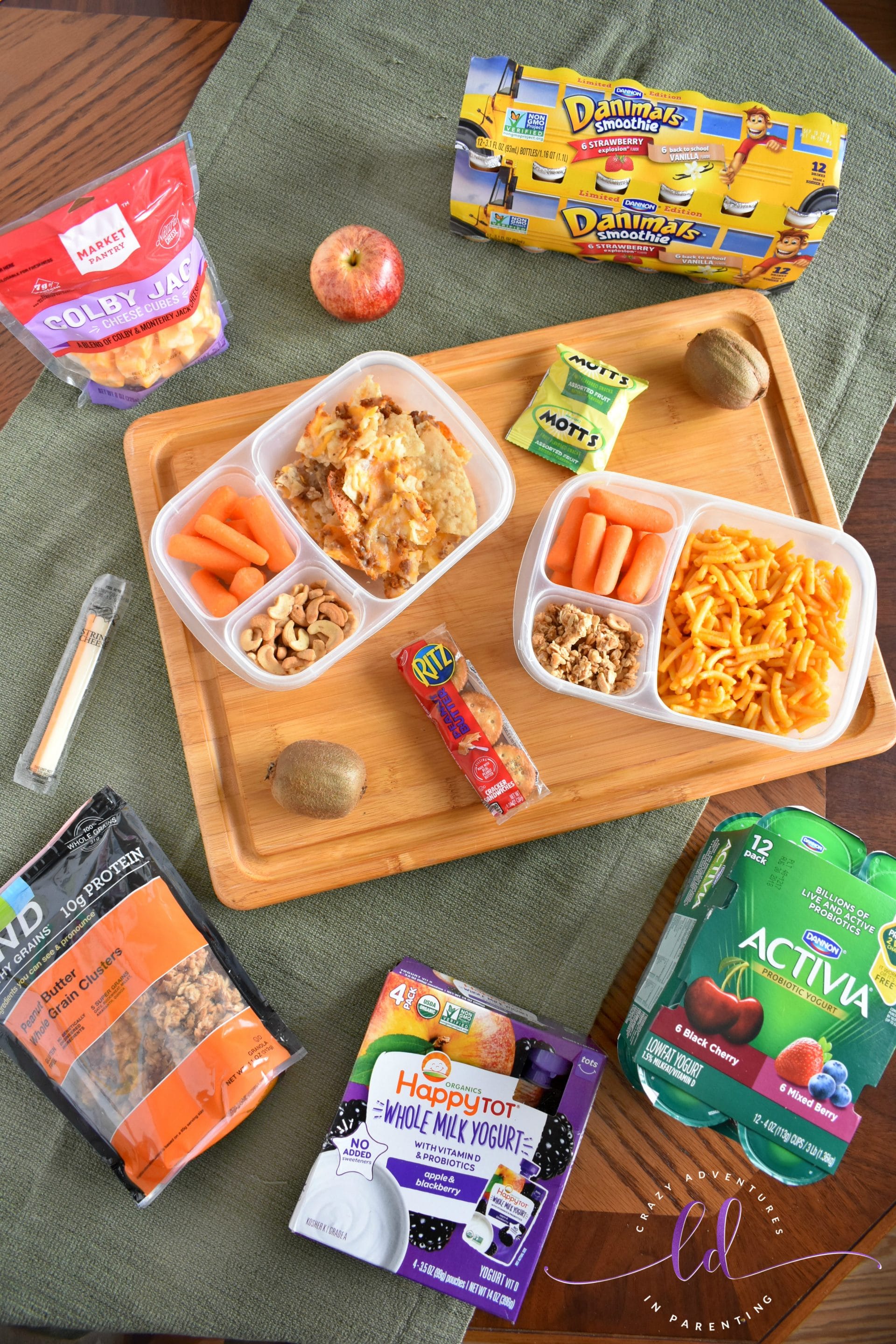 I got the idea to make yogurt whipped cream while picking up groceries at Target to make our special crepe breakfast. I totally took advantage of the yogurt sale they had going on! Danimals, Oikos, Happy Family, and Activia were all on sale! Be sure to check out the Target app to save on select yogurts with Cartwheel!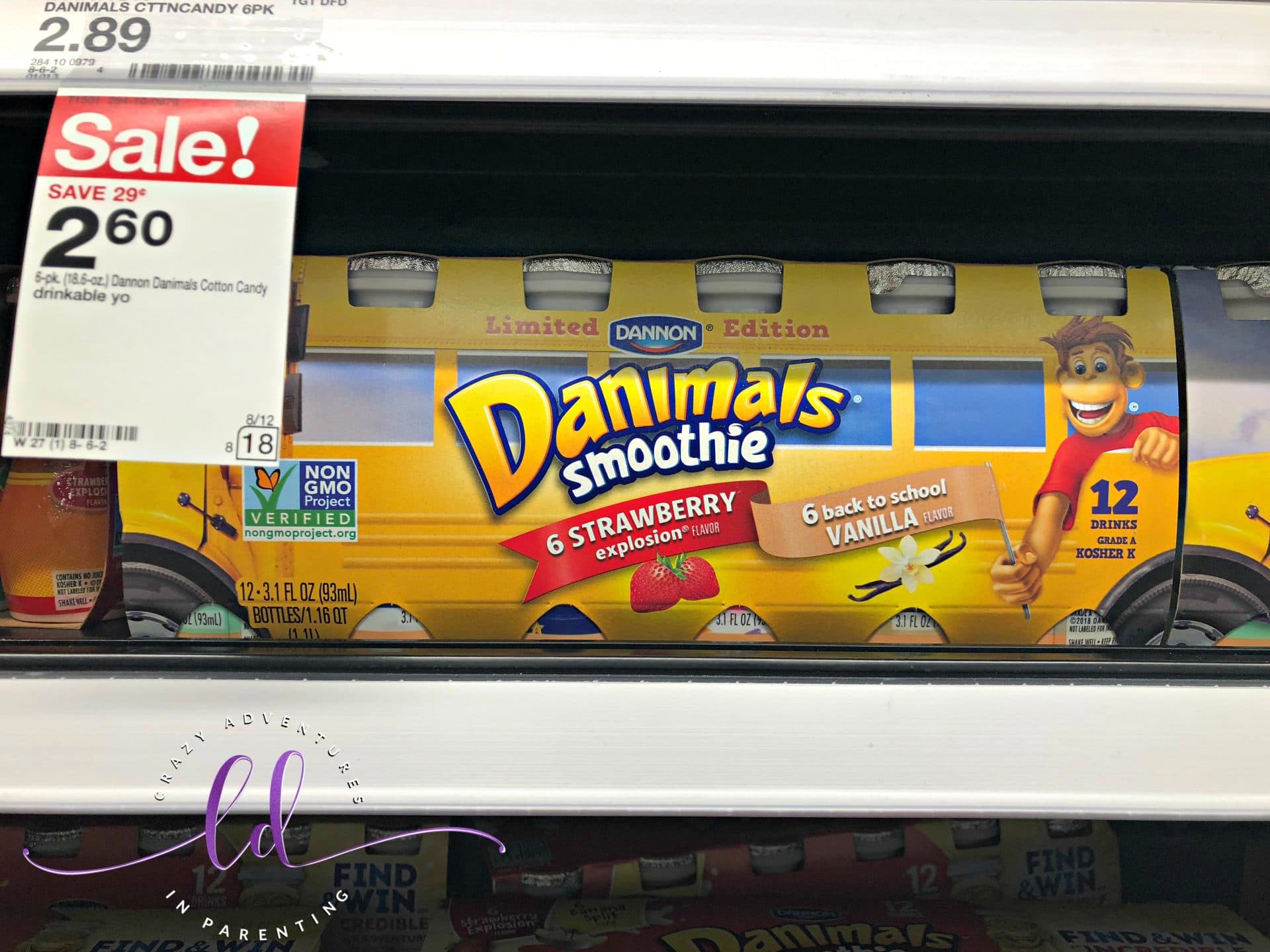 Initially, I had intended on adding the Oikos Triple Zero yogurt simply as a filling with our chosen fresh fruit or Nutella, but infusing yogurt into the whipped cream? That sounded like a ridiculously tasty idea, so I just ran with it, and man am I ever glad I did!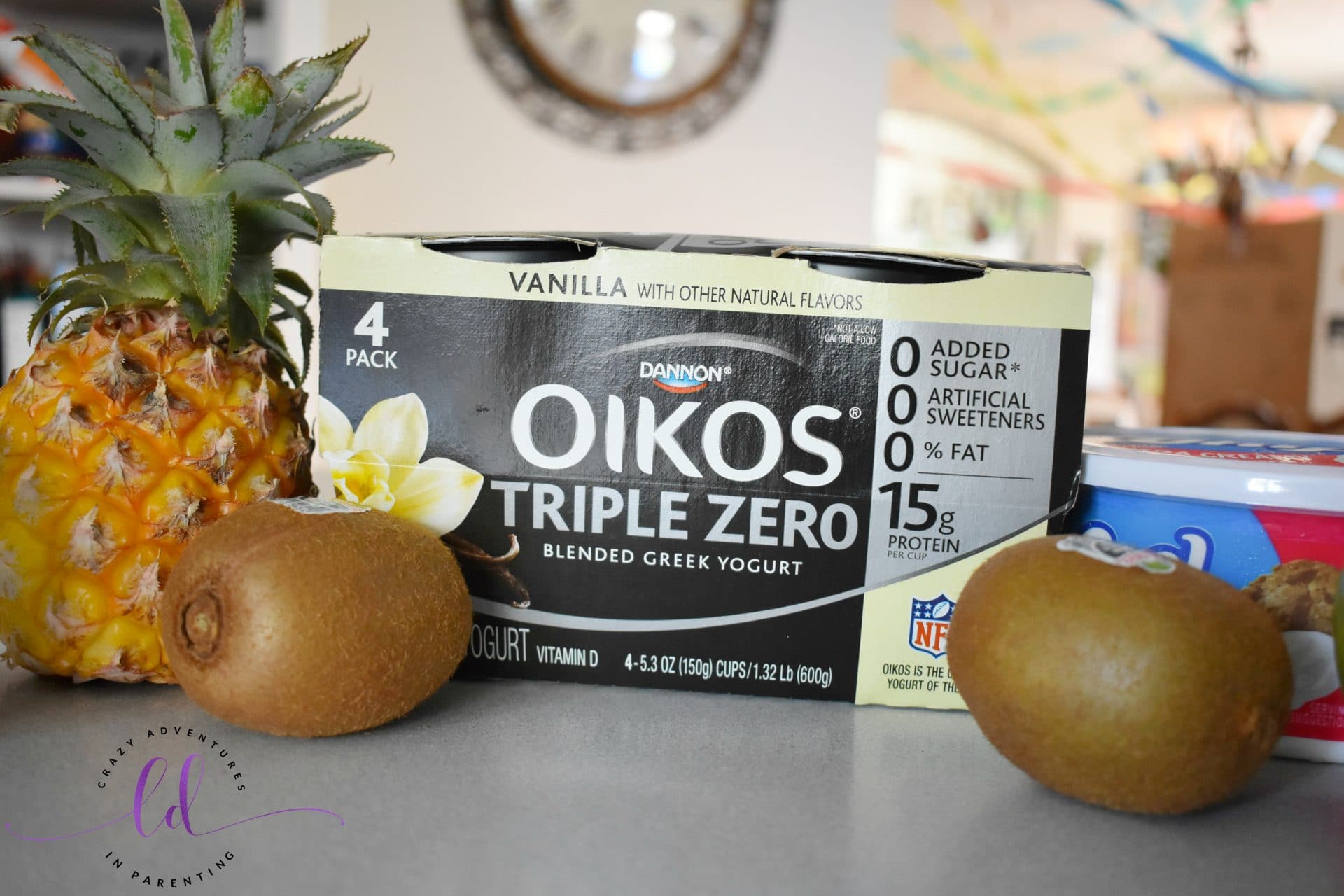 Our crepe making adventures were hugely successful! My daughter is quite the baker and we're teaching her to cook every chance we get. This was her first crepe experience, not just in making them but in eating them! She's seen them made on her cooking shows and was really excited to make them herself!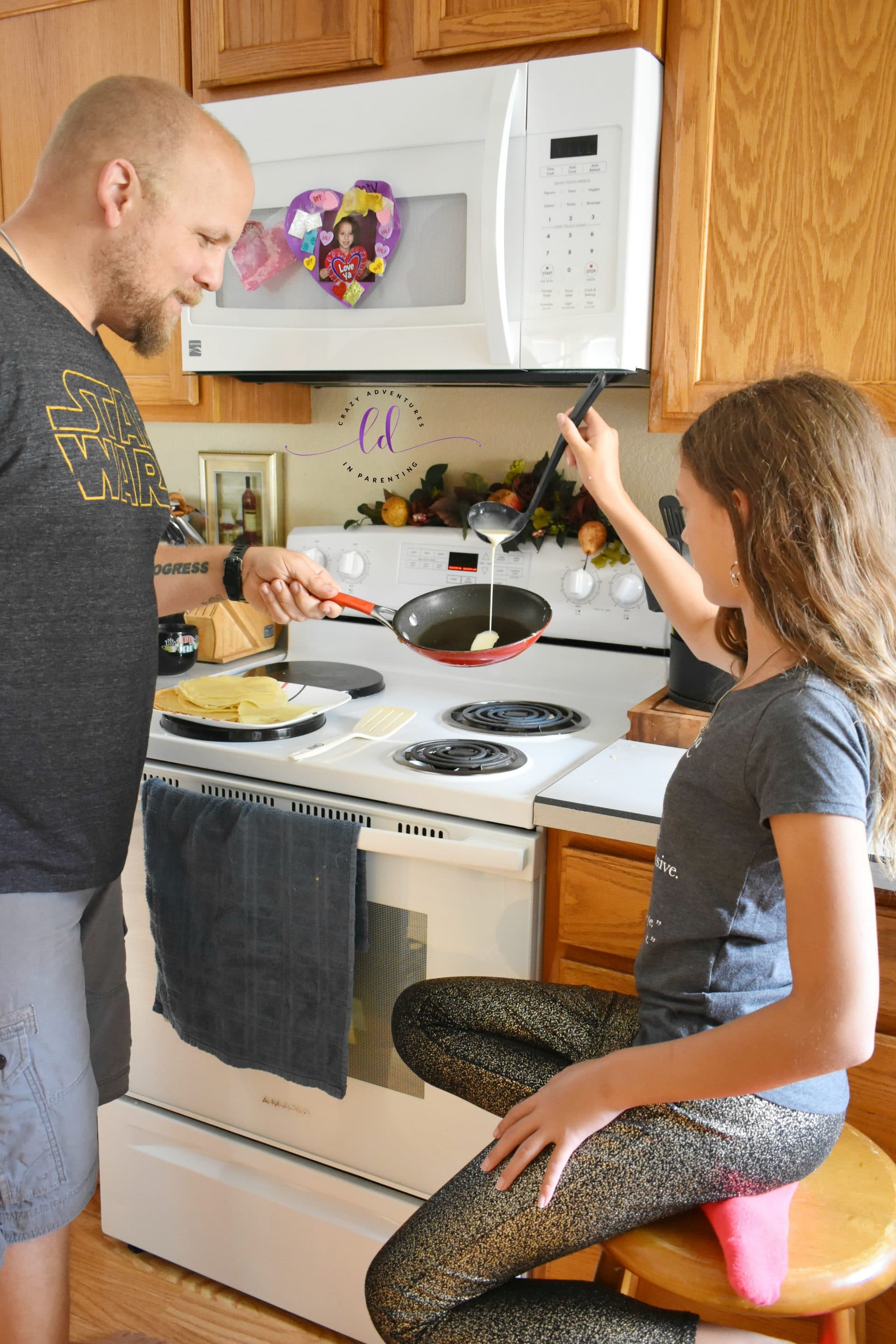 Making Yogurt Whipped Cream with Oikos Triple Zero Vanilla Yogurt
Once they were almost to the end of our crepe batter, that's when I started to create the yogurt whipped cream. I put the store-bought whipped cream in a bowl to start. (You can certainly make your own whipped cream from scratch, but in this instance, I wanted to buy it ready-made this time.)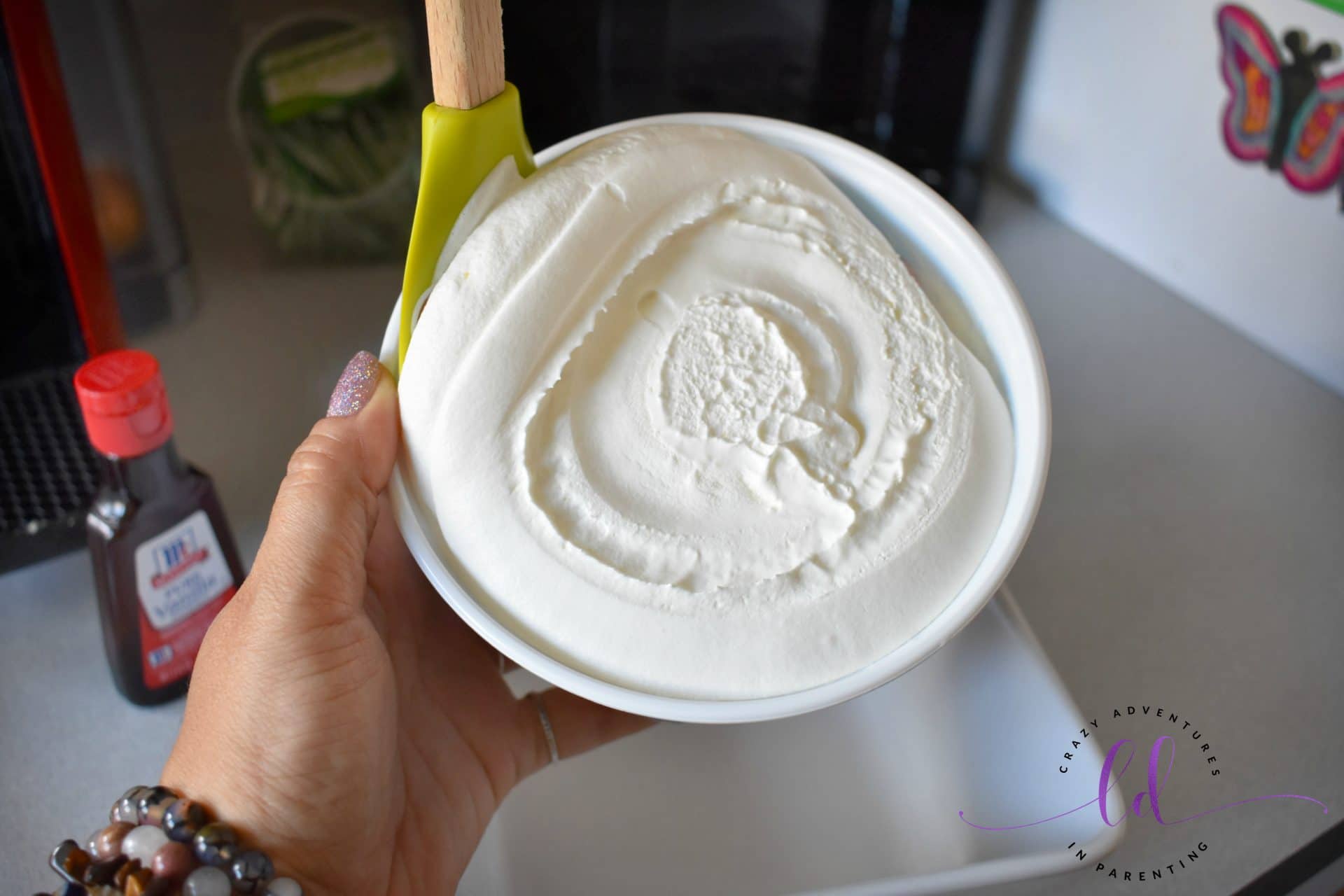 I then added a container of Oikos Triple Zero vanilla yogurt to the whipped cream and mixed it well.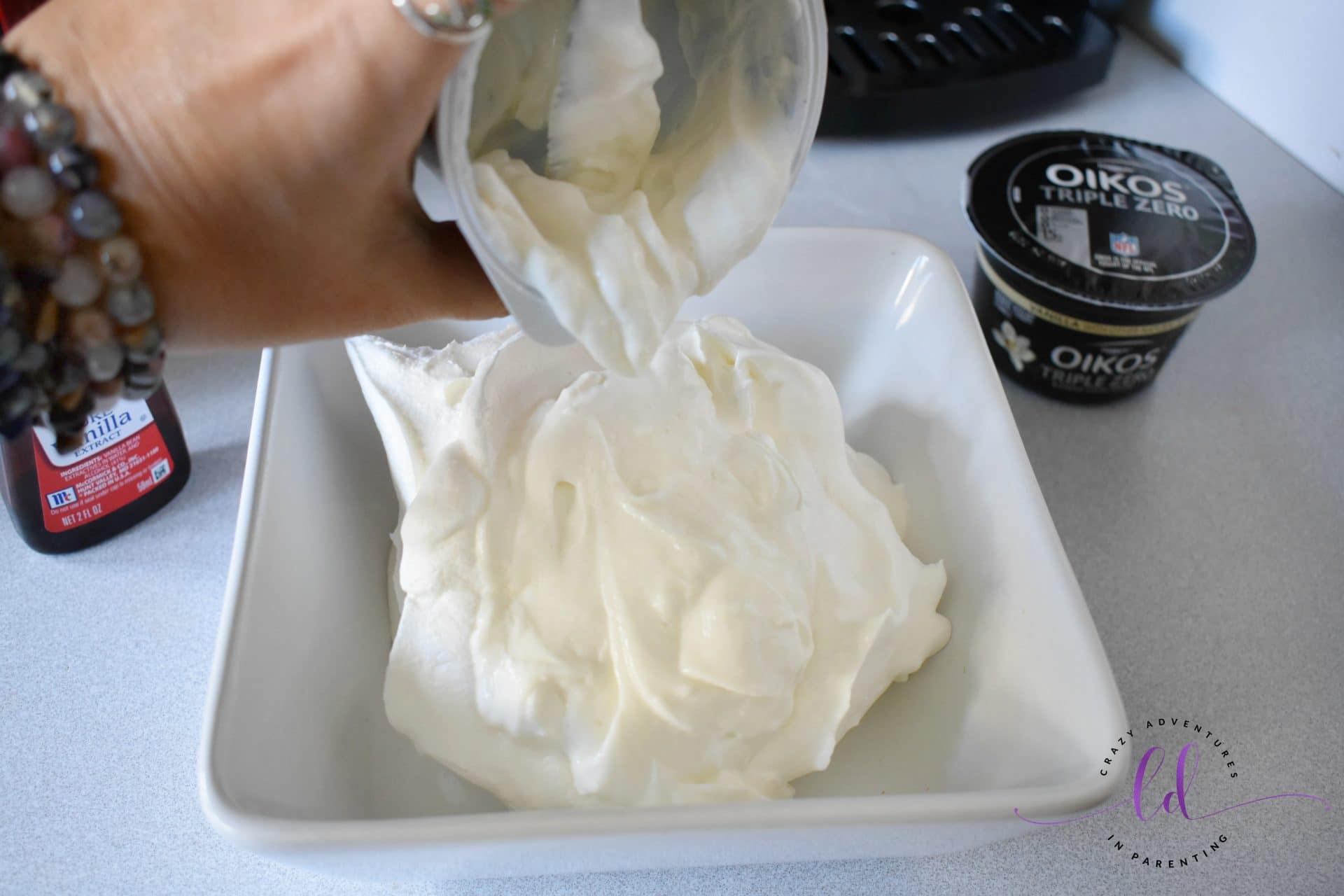 And even though the Oikos Triple Zero vanilla yogurt was plenty vanilla enough, I decided to add a little vanilla extra to it to jazz it up a bit more and make it even more decadent.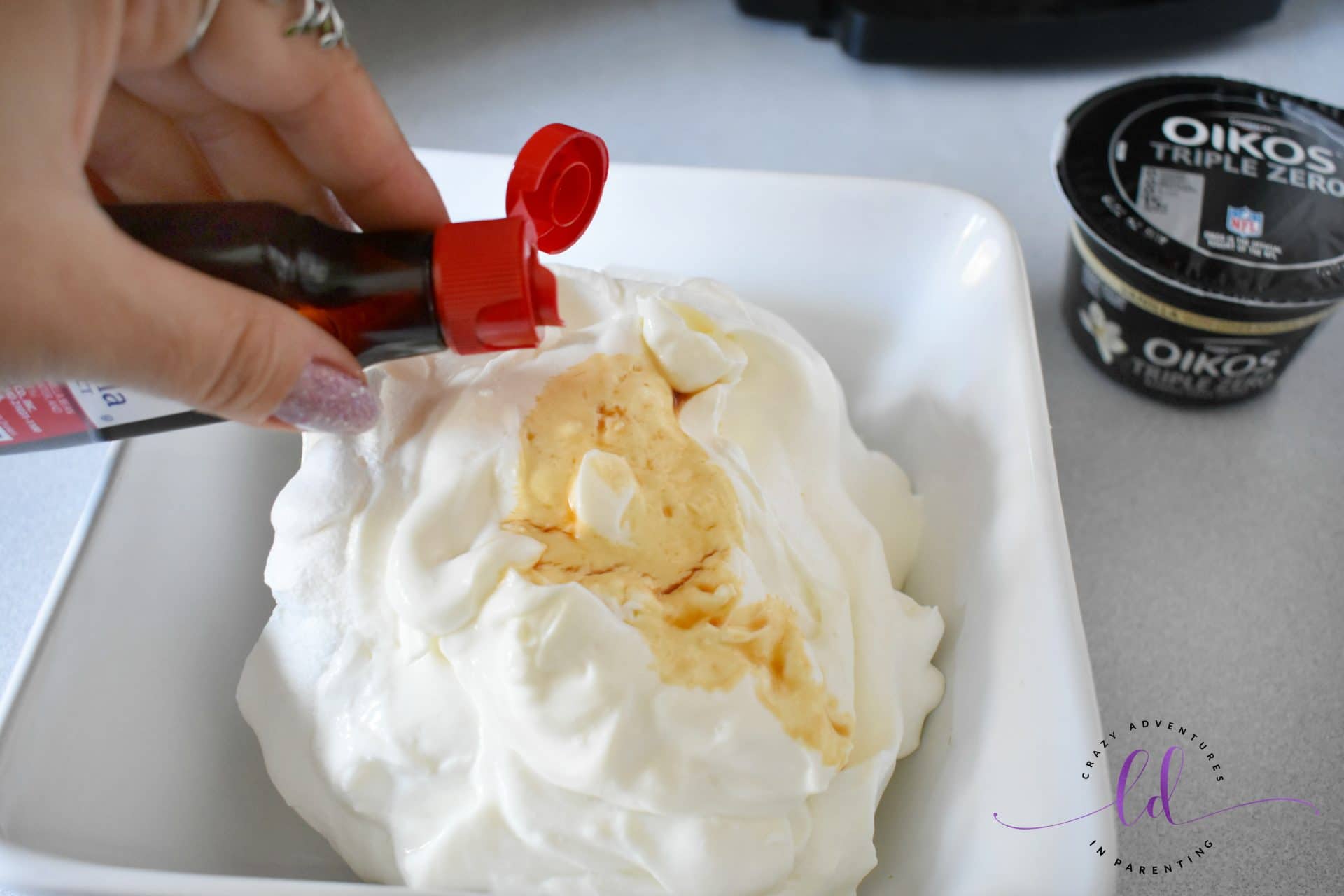 Using a whisk, I blended and whipped everything together as they finished the rest of the crepes behind me. Doesn't this look awesome? It tastes just as good as it looks!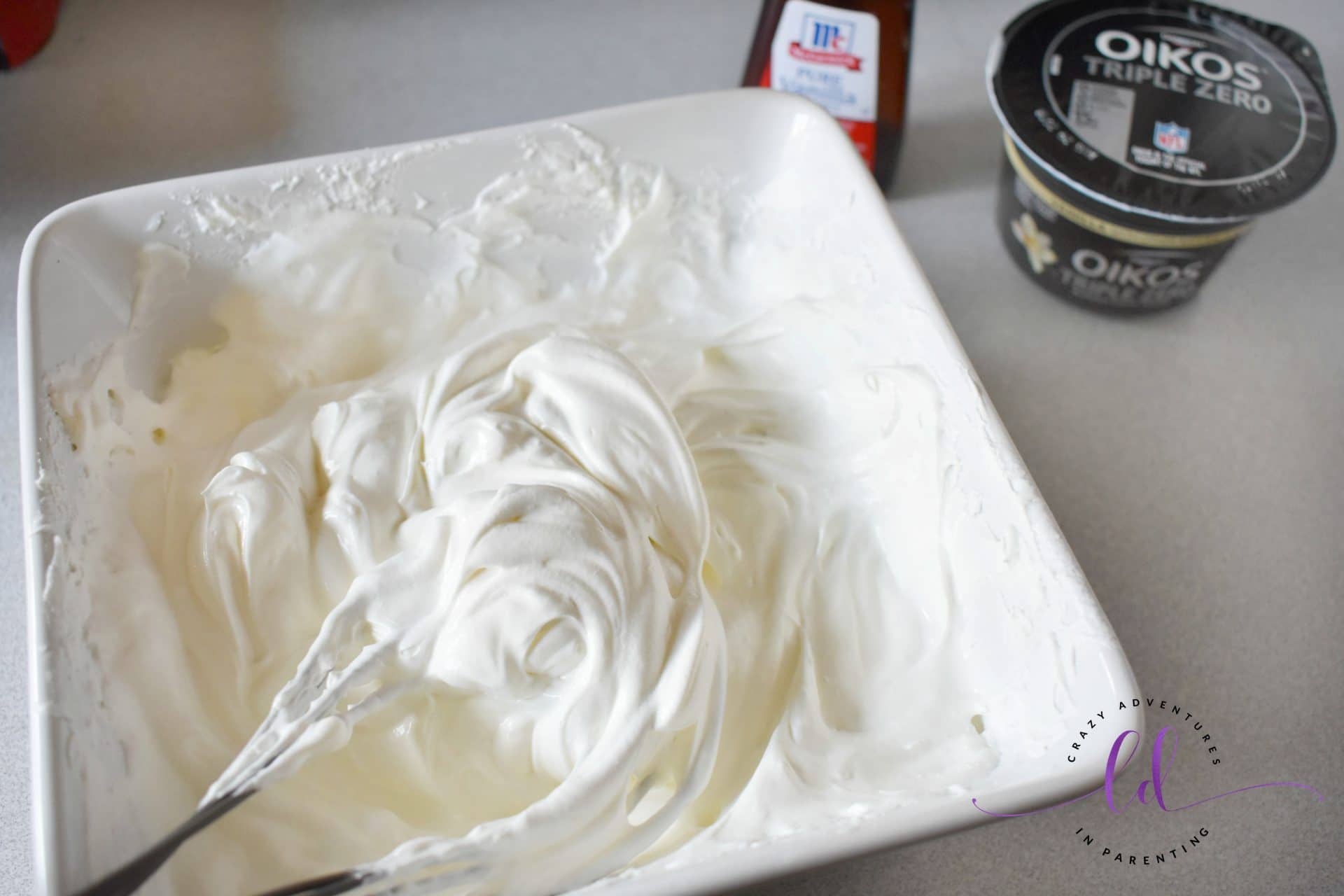 Once the crepes were plated and finished and the fruit was sliced and ready to go, we were ready to dig into this special back to school breakfast! The family was literally beating down the kitchen door waiting impatiently for this feast. And man oh man, was this ever fantastic!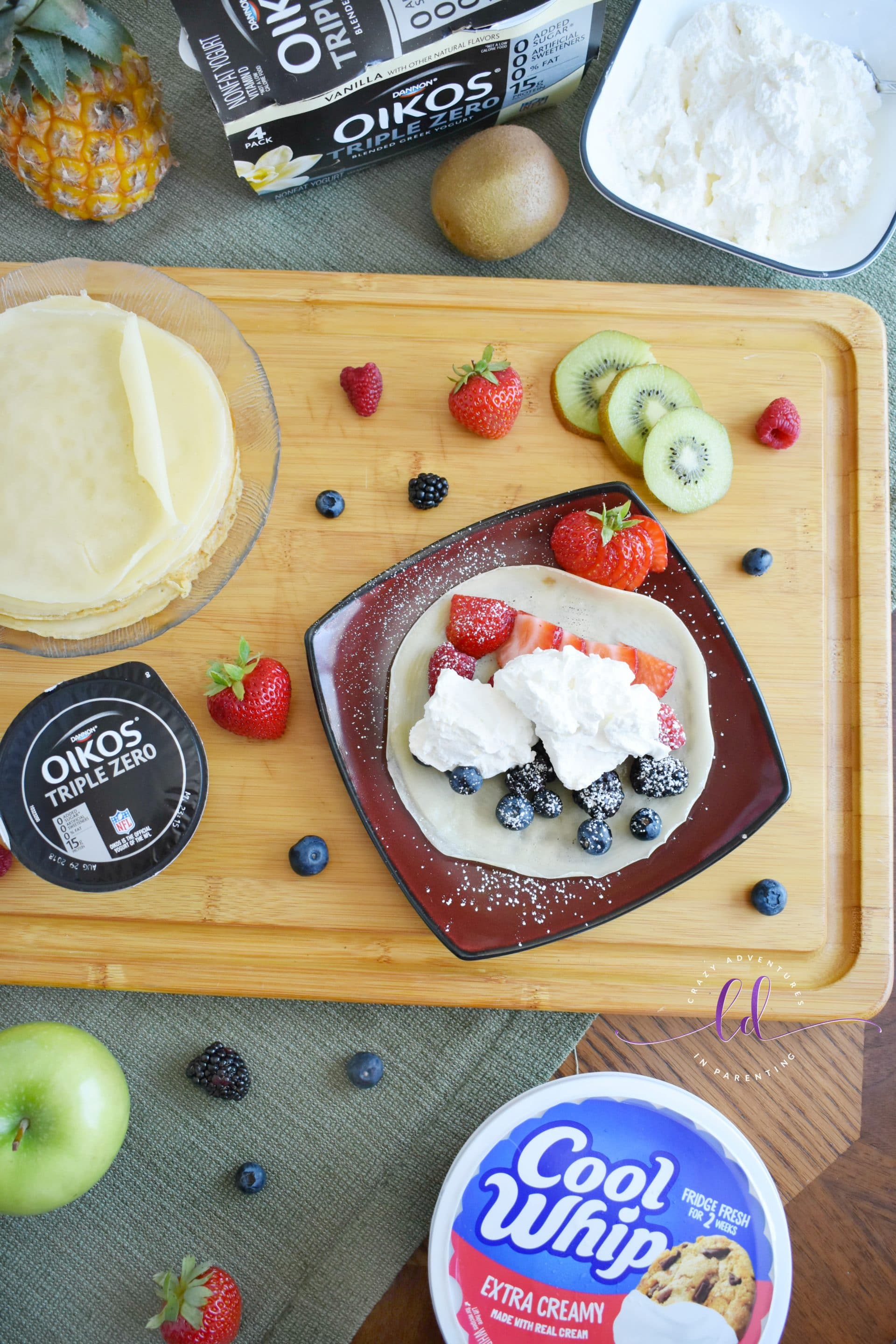 Adding greek yogurt like this was such an easy way to elevate the original idea of using a simple whipped cream on anything, really! Why not add a dollop of this protein-packed yogurt whipped cream on pancakes, waffles, or french toast!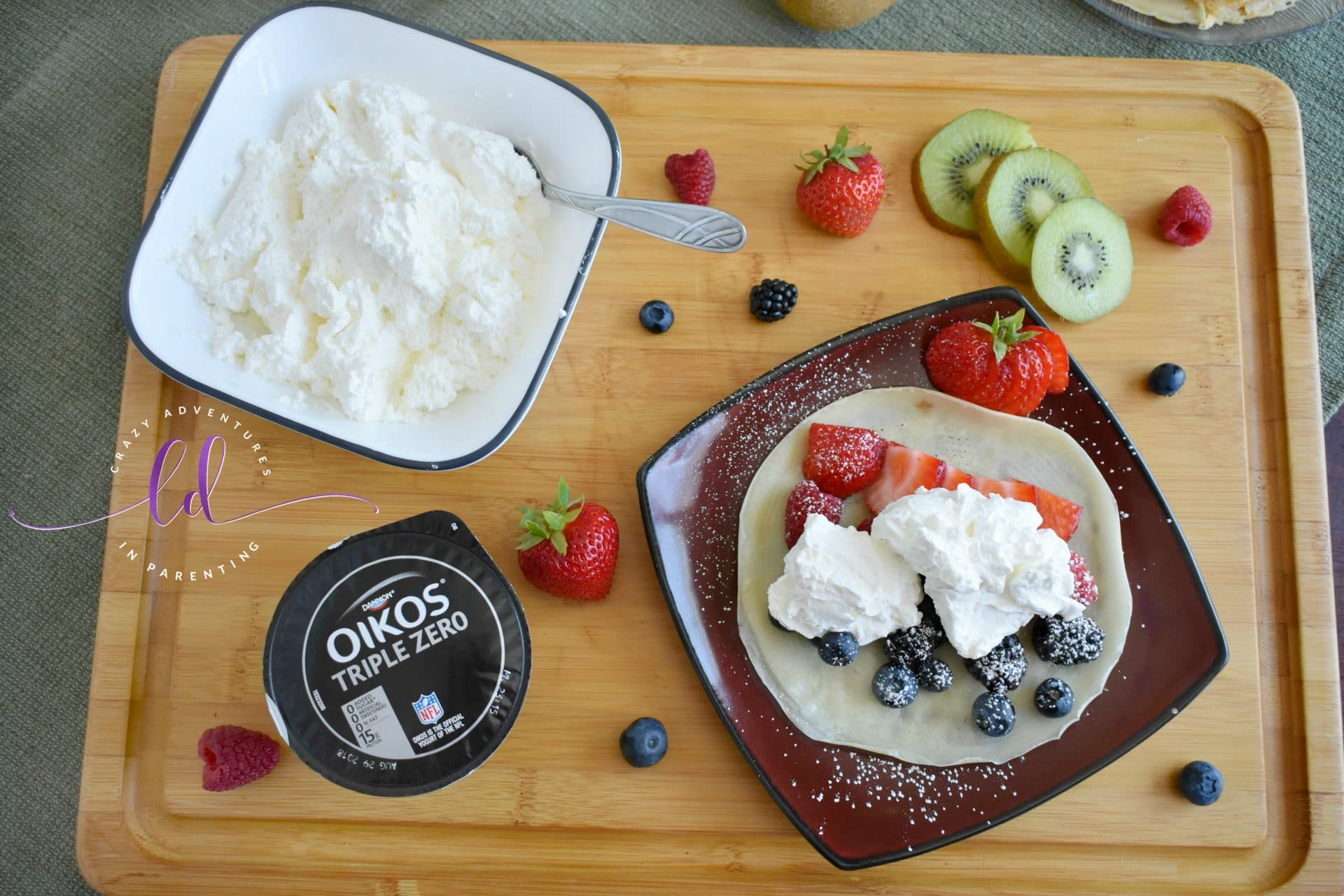 Even just using it as a dip for fruit! You can't go wrong with this!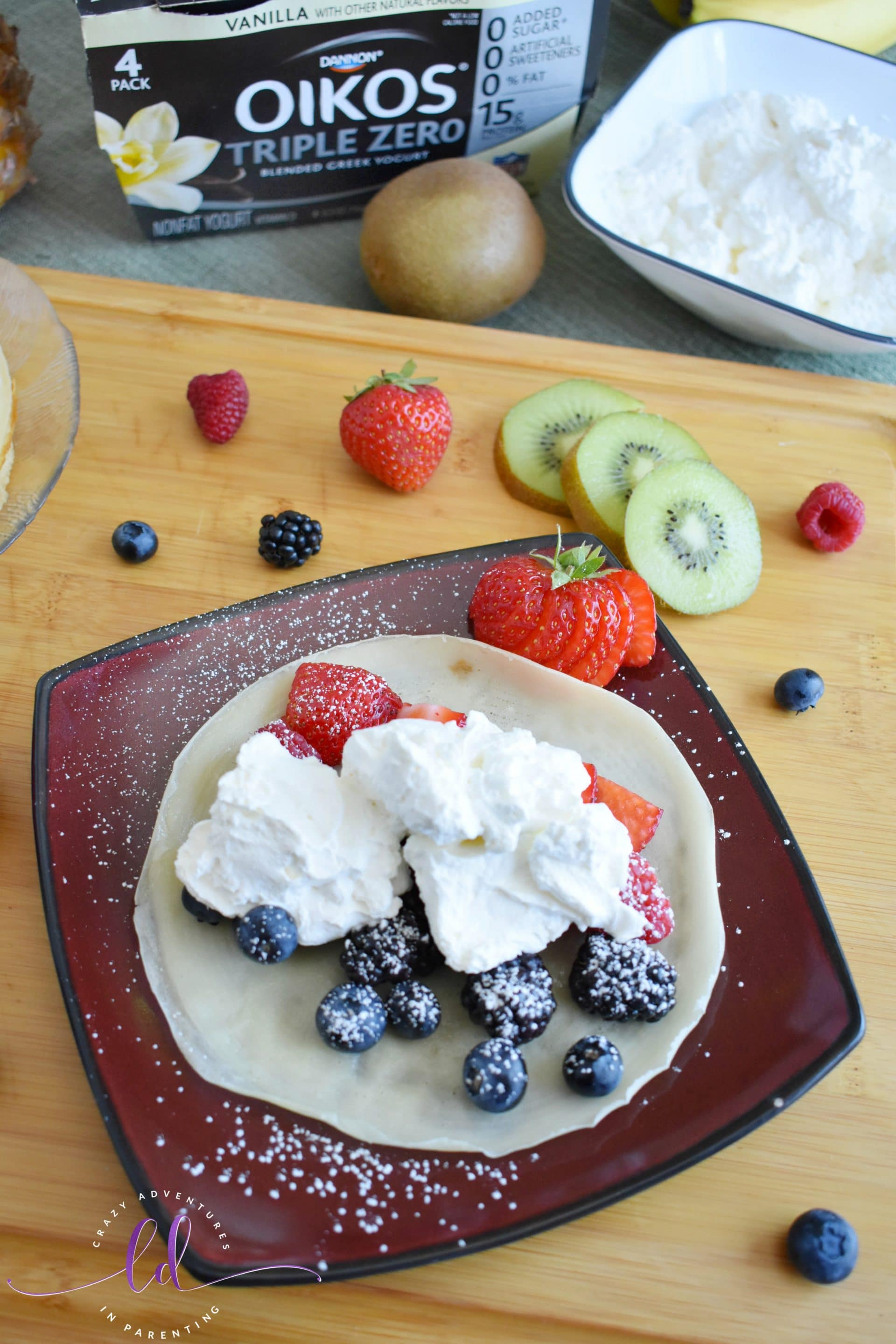 All the kids were getting yelled at for dipping their fingers in the bowl, with or without fruit!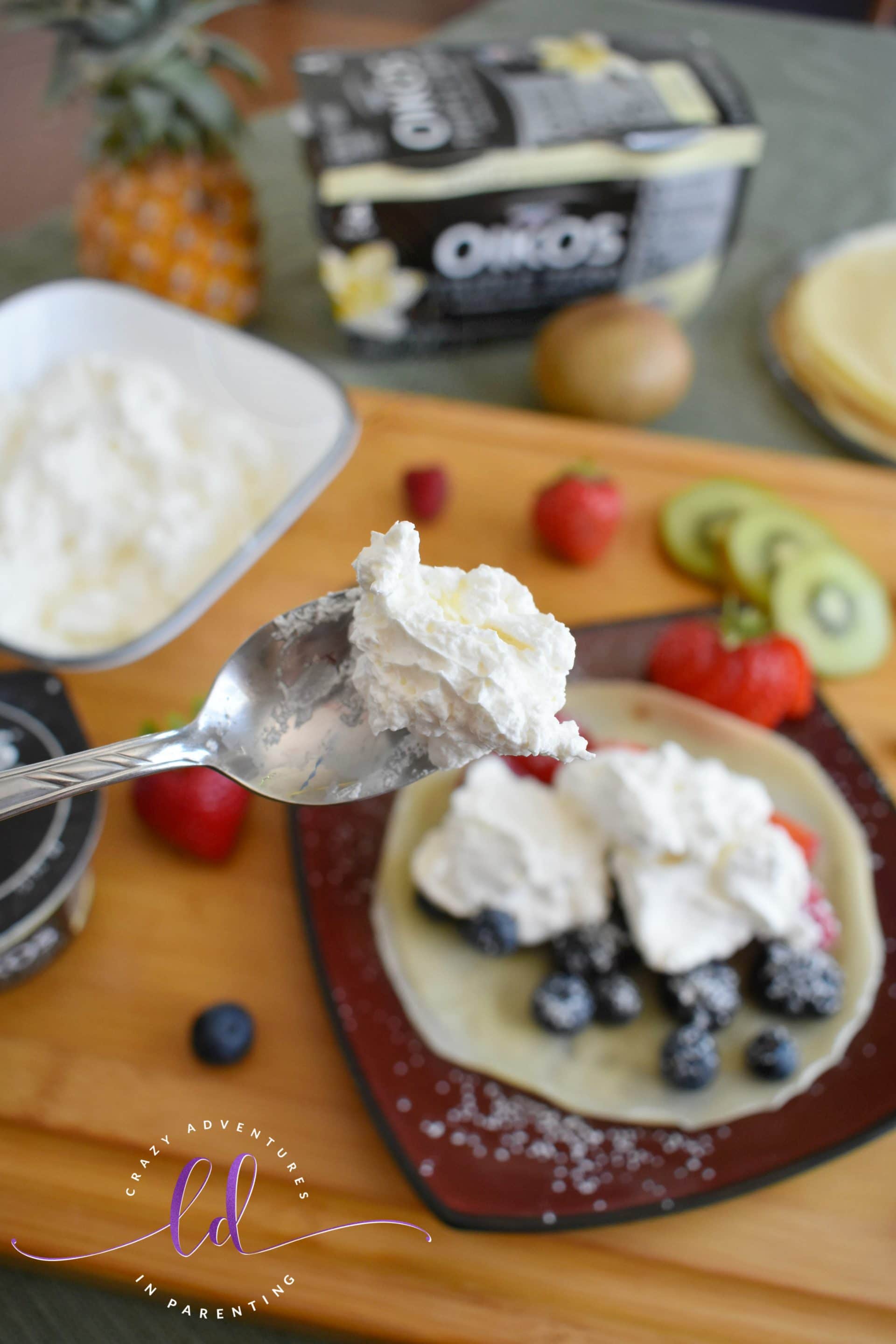 Yogurt Whipped Cream for Crepes
If you're looking to add a little depth to a dish that requires whipped cream, try this yogurt-infused whipped cream as an alternative! Pie topping, anyone?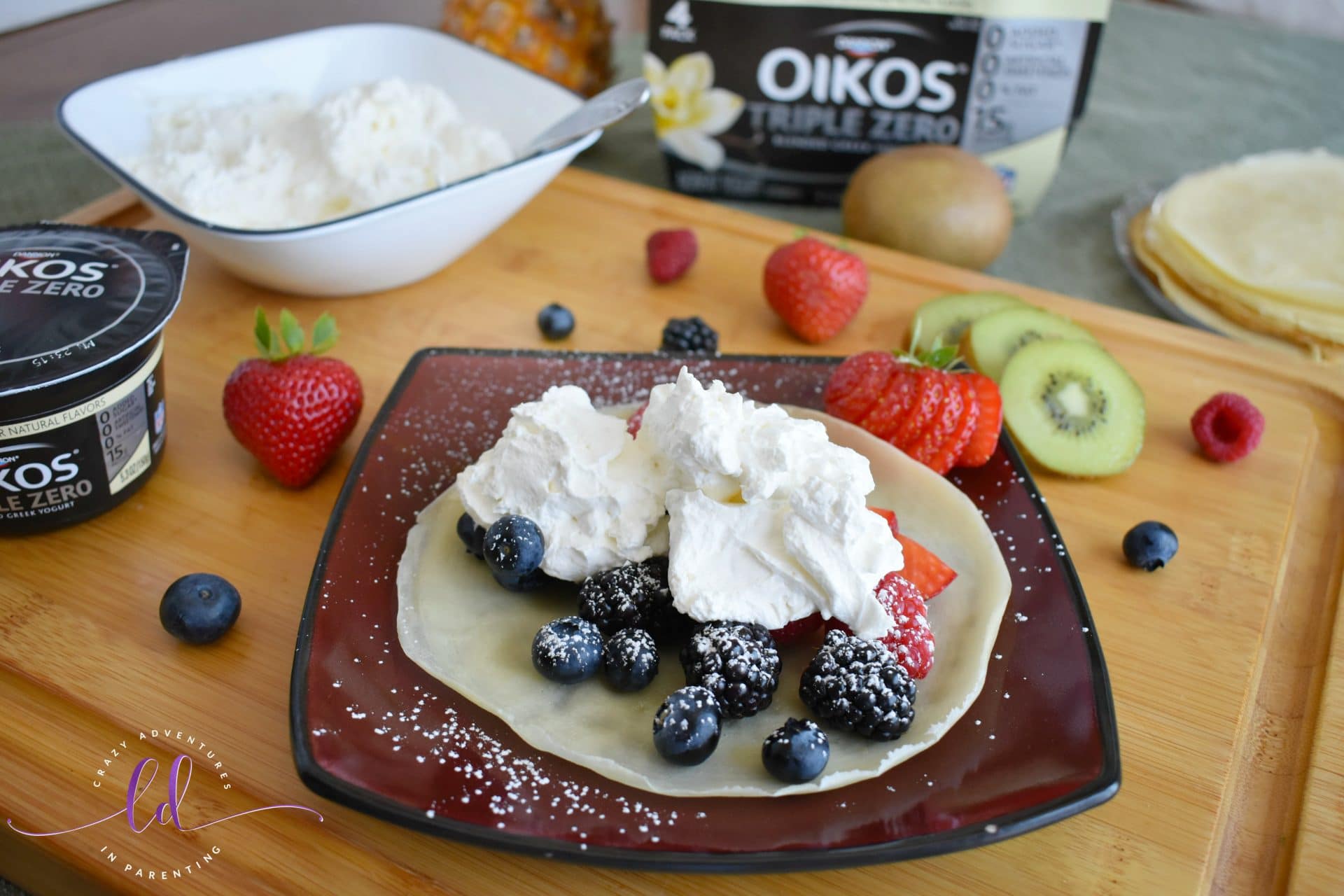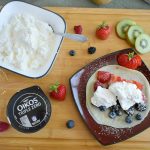 Ingredients
1 container of Dannon Oikos Triple Zero Yogurt

1 container of whipped cream

1 teaspoon of vanilla extract
Instructions
Add the whipped cream to a mixing bowl.
Add the container of yogurt to the whipped cream and mix well.
Once well combined, add in the vanilla extract and beat until the mixture is light, fluffy, and well mixed.
Serve, or refrigerate until ready to serve; can be prepared in advanced and stored in the fridge for up to 3 days.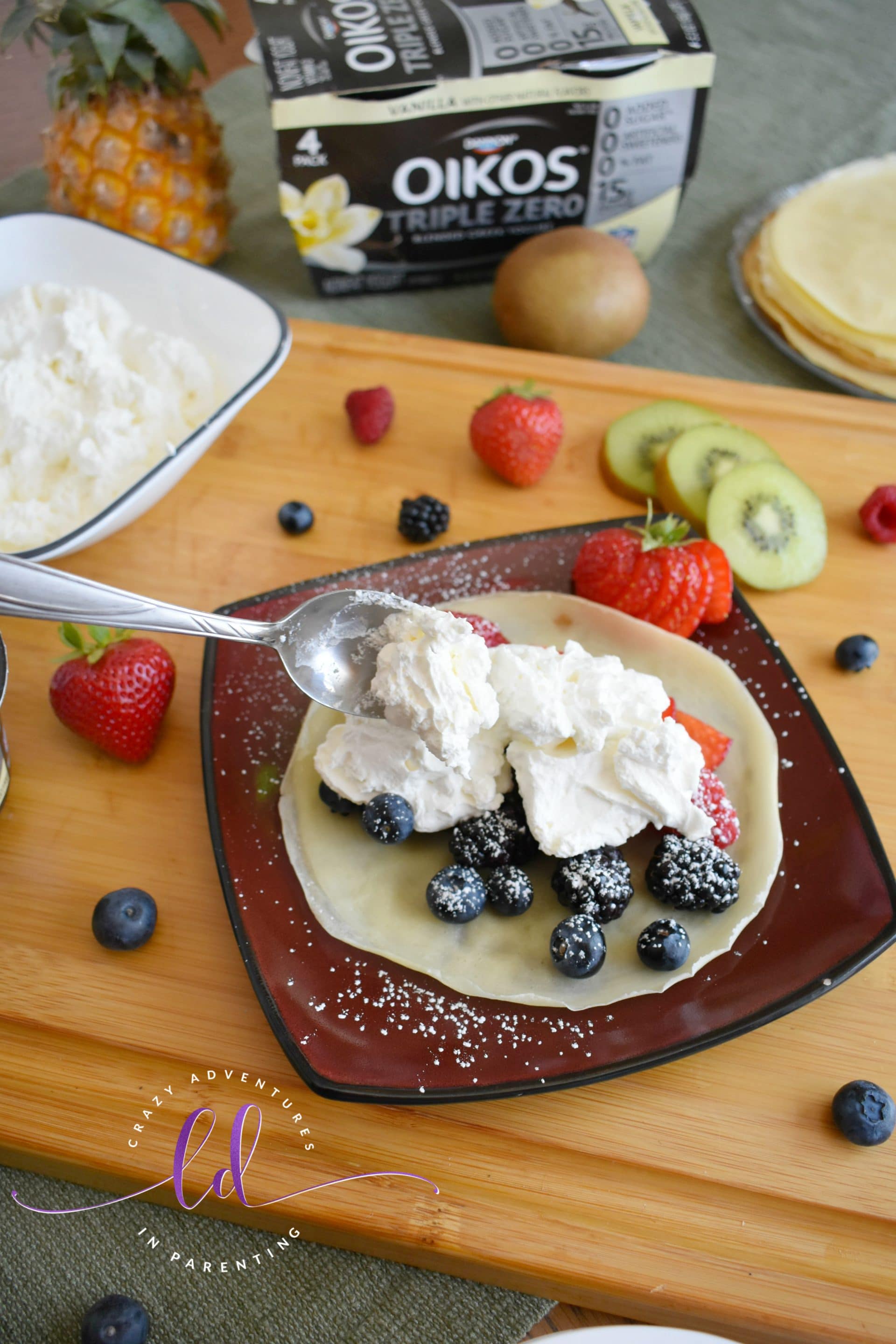 What would you serve with this yogurt whipped cream recipe? Be sure to check out the Target app for Cartwheel deals on these yummy yogurt brands!

This is a sponsored conversation written by me on behalf of Dannon® Oikos® Greek Yogurt and Danimals® Kids Smoothies. The opinions and text are all mine.