If you're looking for a fun and different holiday recipe, check out these candy covered Santa Belt Oreos perfect for holiday parties and get togethers!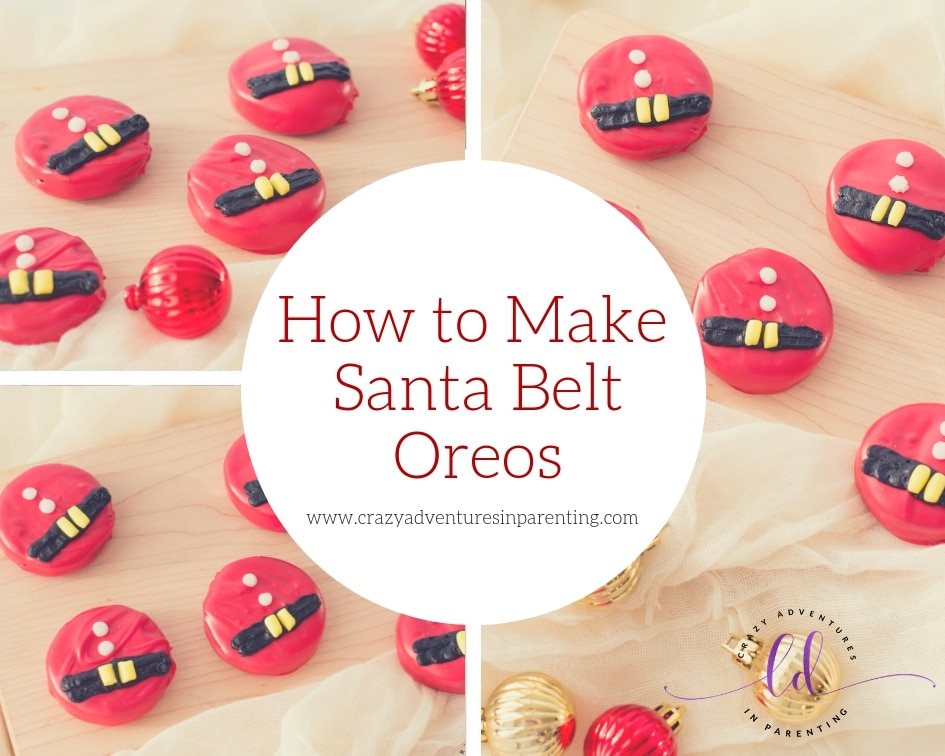 Santa Belt Oreos
Make these jolly ol' Santa Belt Oreo Cookies for your next cookie exchange, holiday party or event! These are sure to wow guests and delight the kids! Who doesn't love a good ol' candy coated Oreo like this? These are so much fun for kids to help with, too!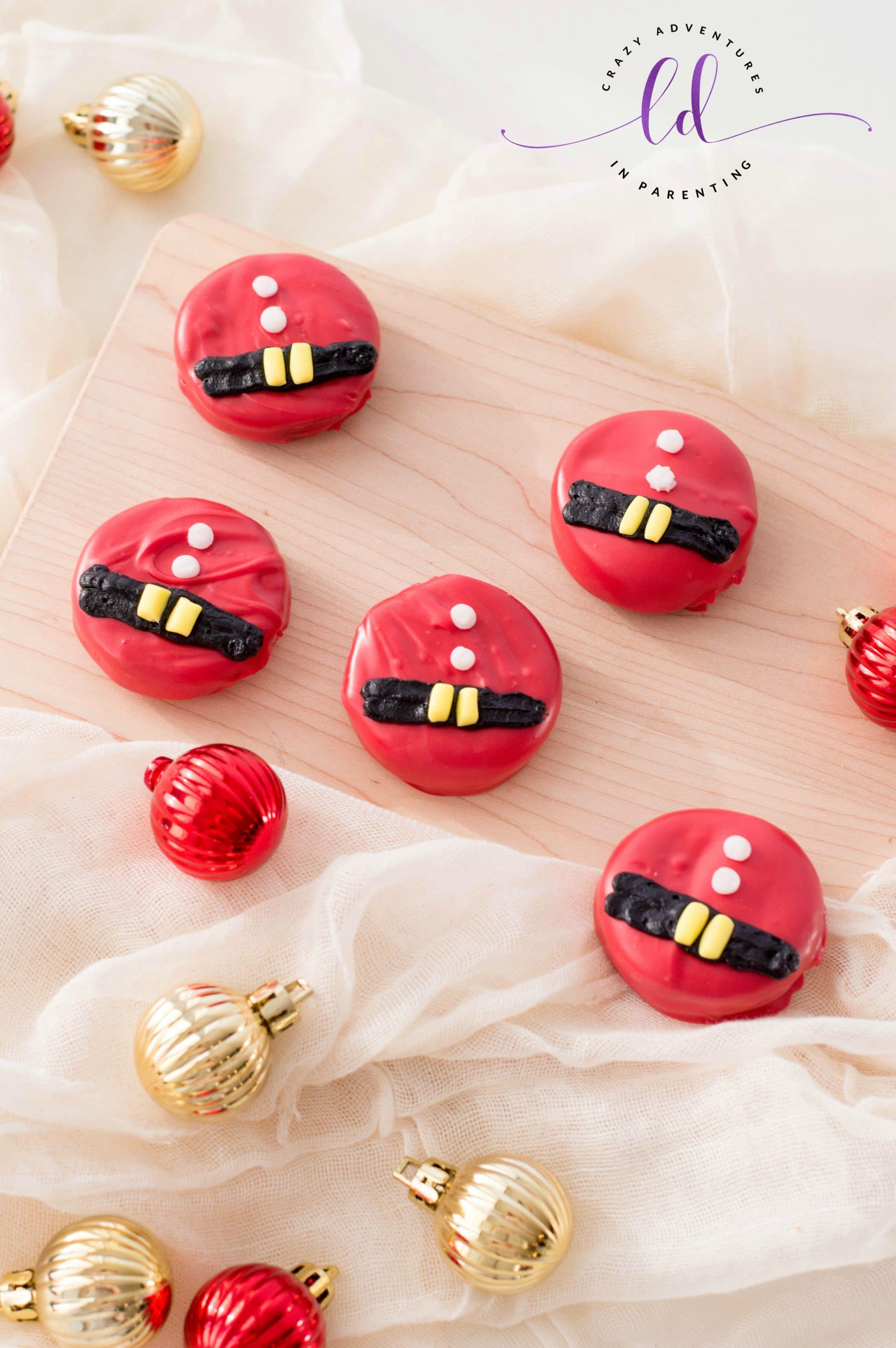 Oreo Santa Belt Cookies
Consider covering your work surface with parchment paper when you let the kids help, it'll save you the messy clean up at the end! You can cover your entire table or work surface with it! Parchment paper is your best friend when it comes to baking with littles! Use it for them and then use those reusable silicone baking mats when baking! 😉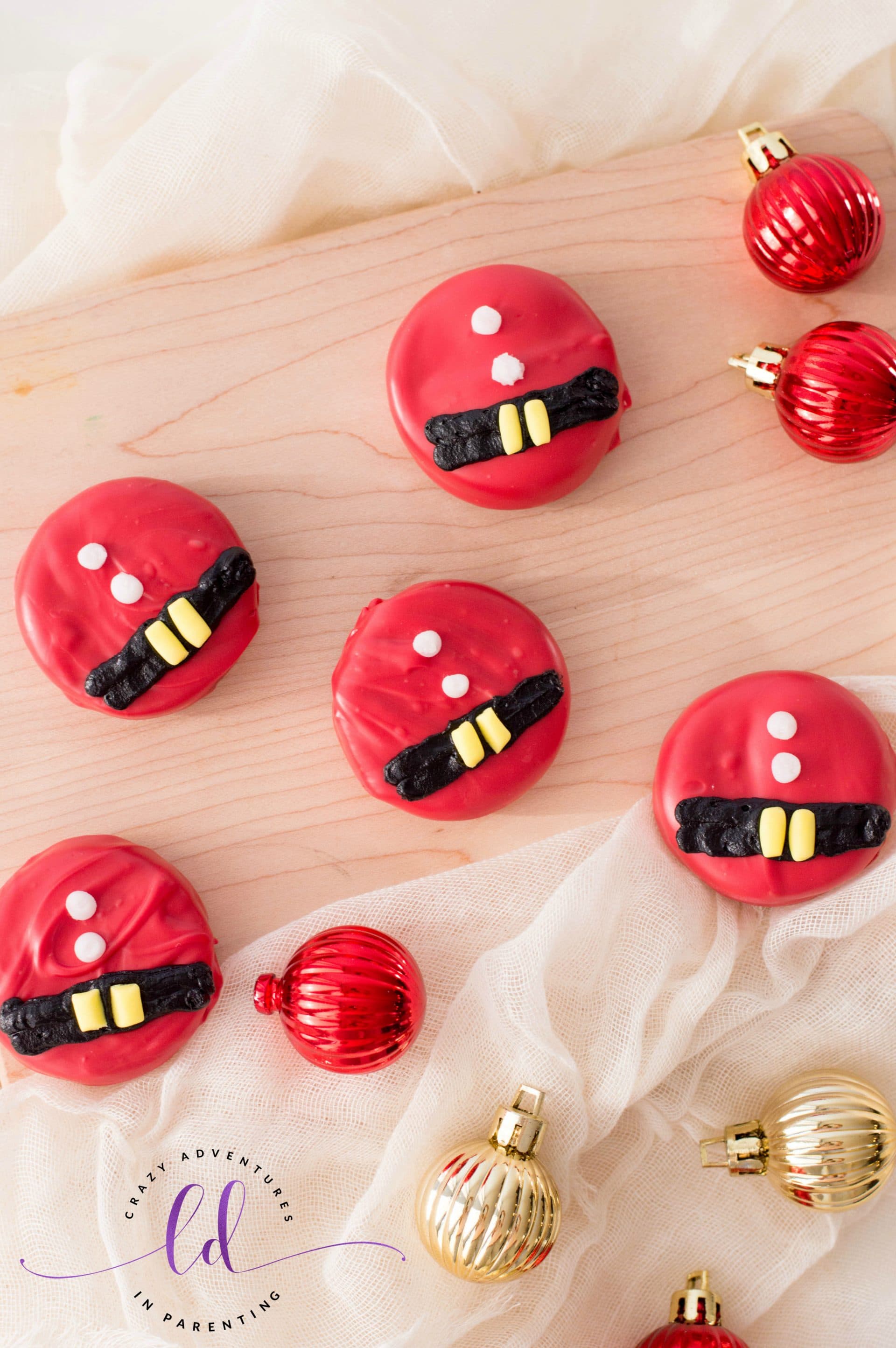 Santa's Belt Oreo Cookies
These look pretty impressive on a platter for entertaining, but could also be placed individually in cellophane baking bags and given out at class parties with a shimmery twist tie or decorative twine and cute note attached!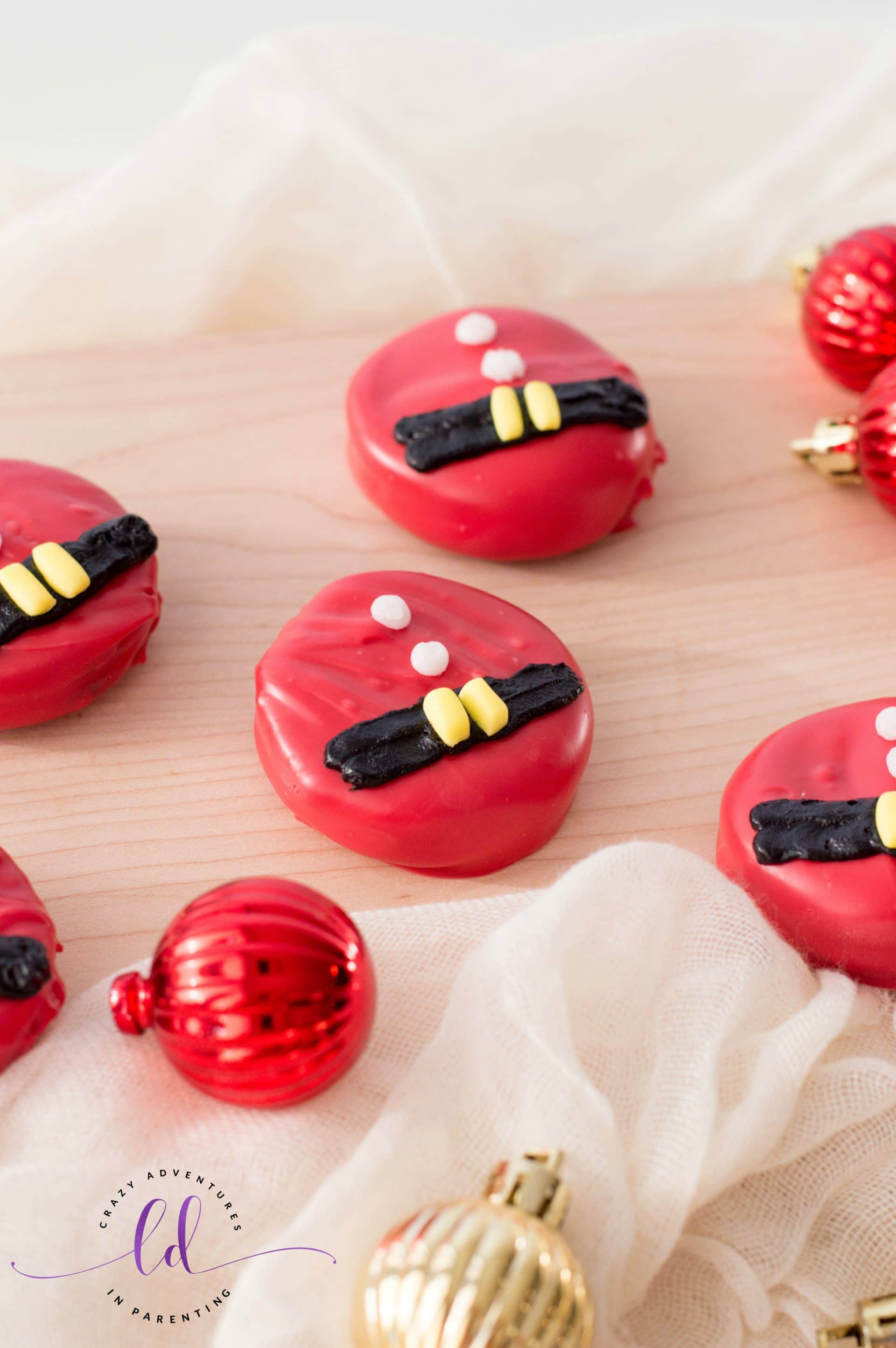 How to Make Santa Belt Oreos
For this fun holiday recipe, you will need the following supplies: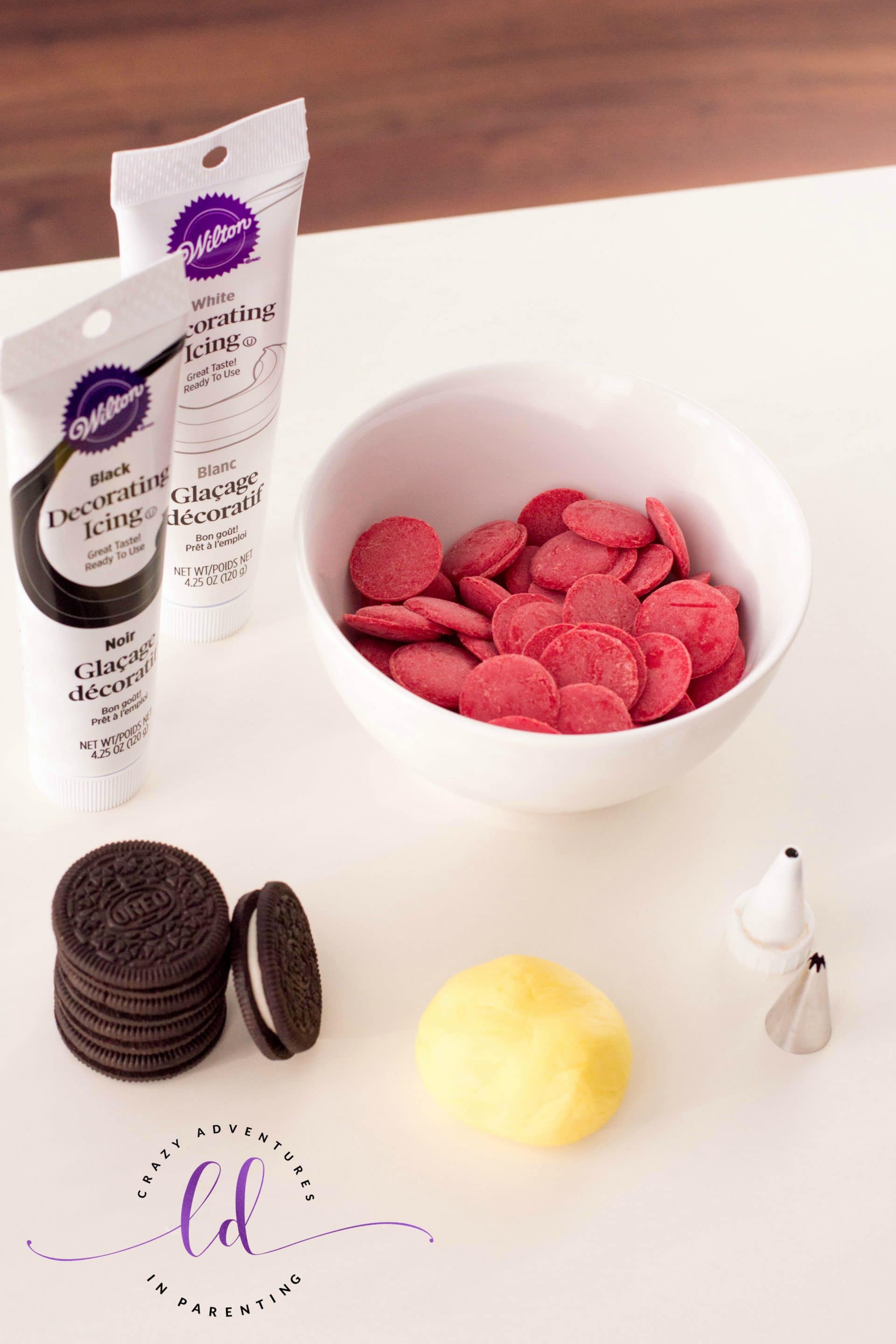 Melt your red candy melts with coconut oil slowly in a double boiler or microwave. (I prefer the microwave, less things to wash later!) Immediately start dipping your cookies into the melted candy using a fork, set them on wax or parchment paper.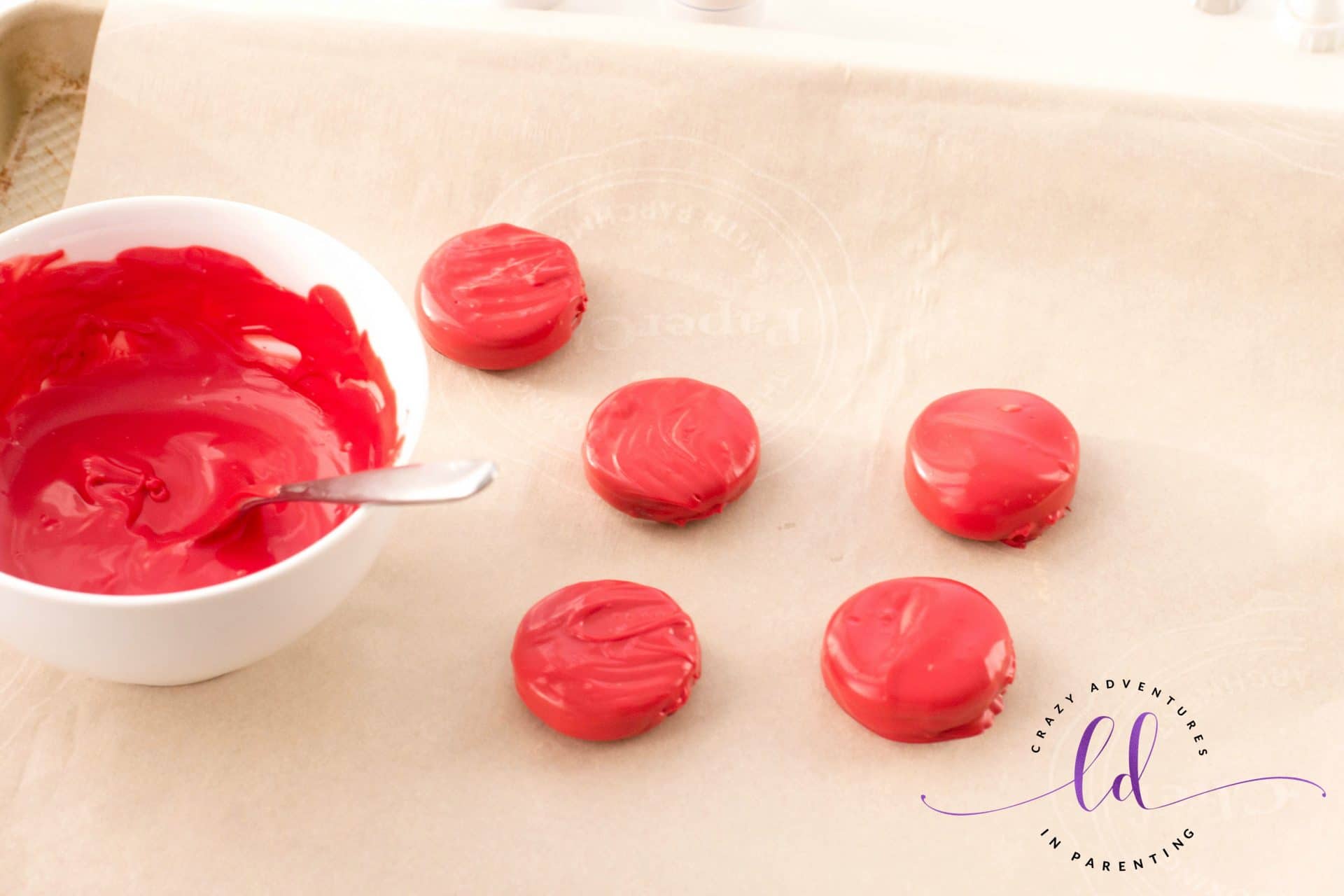 Set the cookies aside to cool completely and harden so they can be decorated further.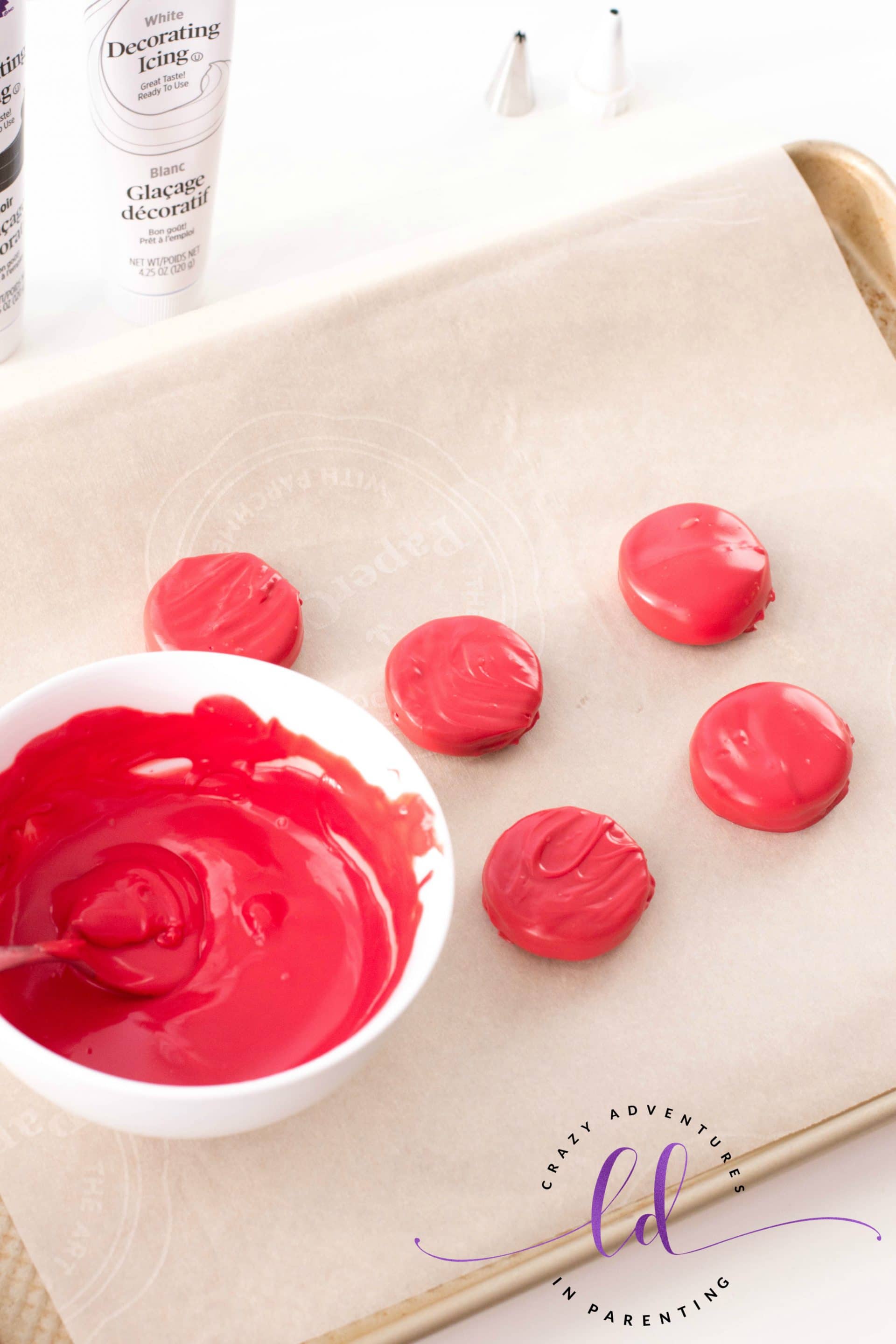 Once ready, use the black decorating frosting to draw on Santa's belt.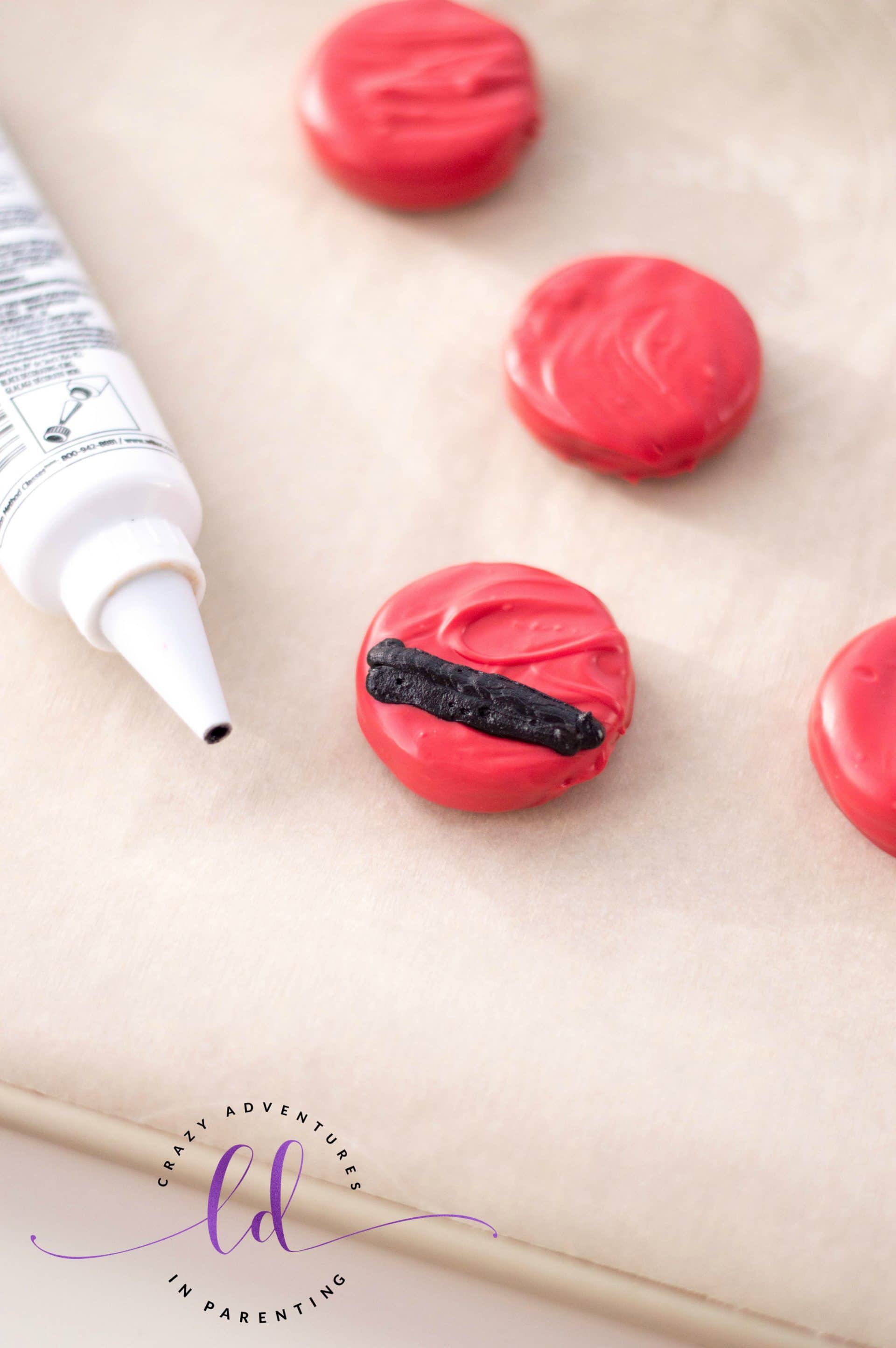 Using the yellow fondant, cut into tiny squares or rectangles and place on the belt in the center as the belt's hardware.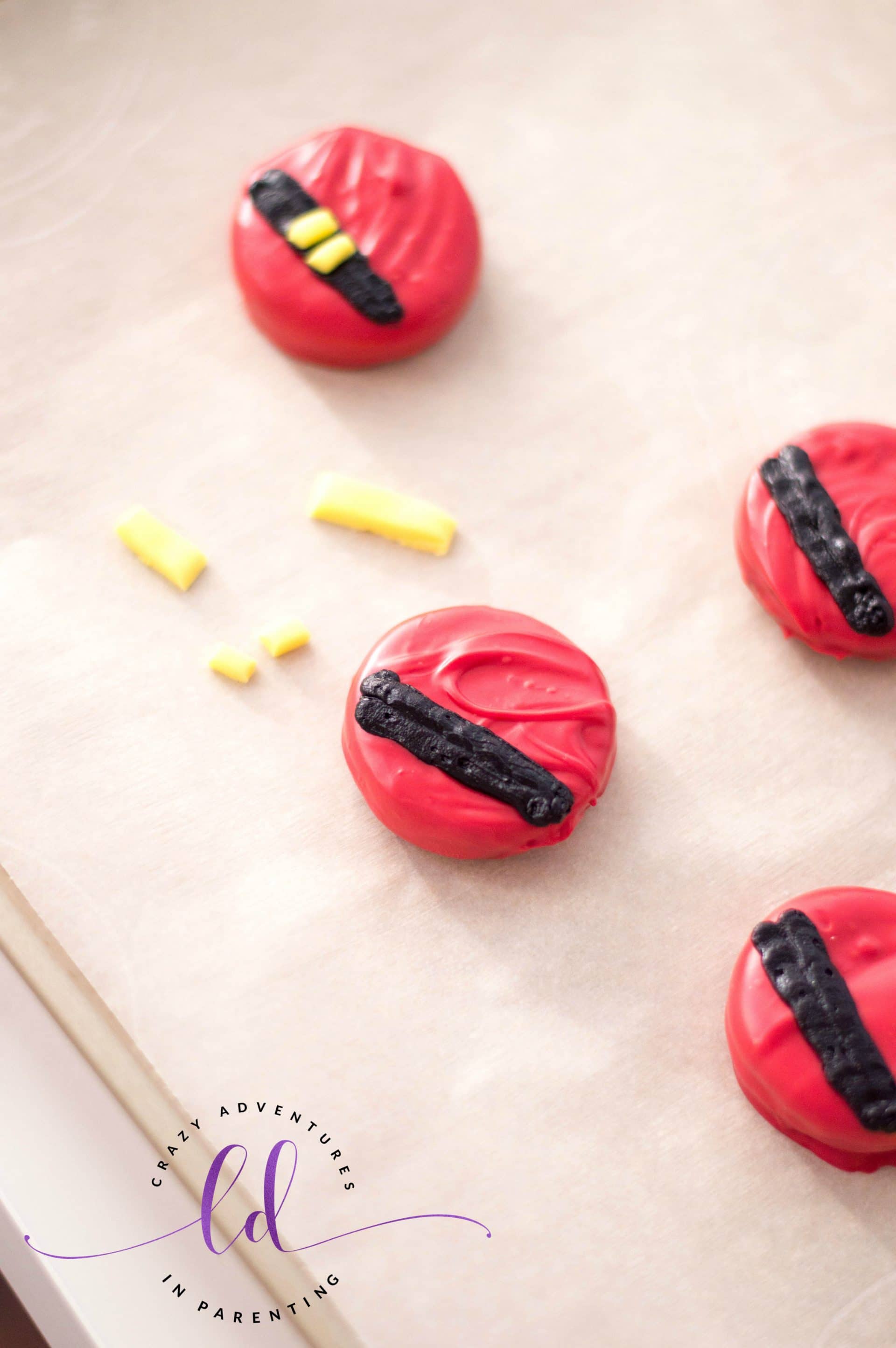 Dot two white frosting buttons onto each cookie above the belt. Let everything set and dry before serving! Aren't these so adorable?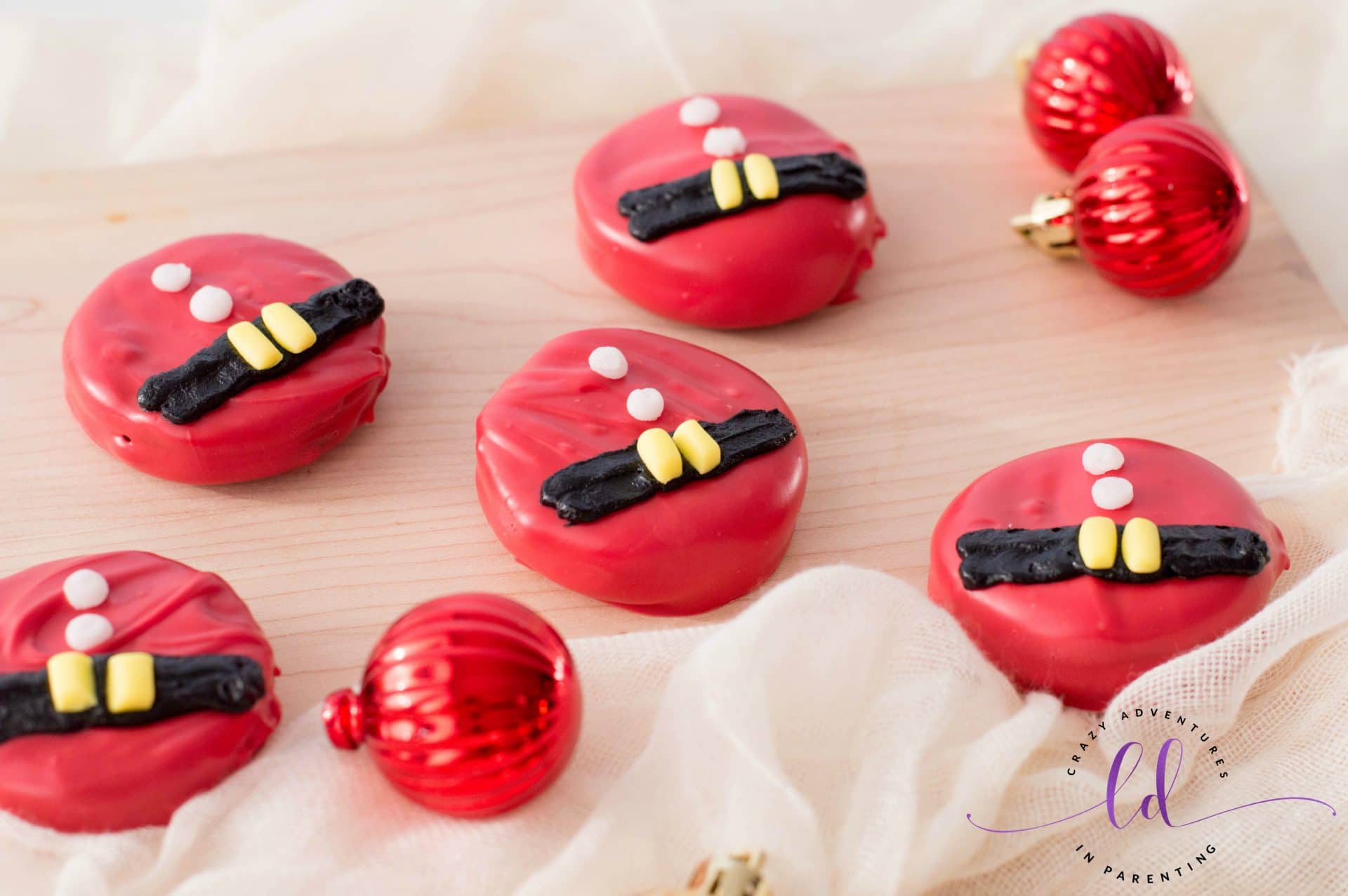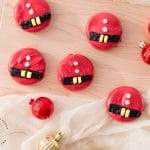 Instructions
Line a baking sheet with wax paper and set aside.
In a microwave-safe bowl, microwave candy melts and coconut oil in 30-second intervals until completely melted.
With the help of a fork, dip each Oreo cookie into the candy and place gently on lined baking sheet.
Let the cookies set for at least 15 minutes.
Once everything is set and dry, pipe out one strip of black icing on the bottom portion of each cookie. This will act as Santa's belt.
Roll out your yellow fondant sphere and cut mini pieces.
Place two on the center of each "belt." This will act as the belt's hardware.
With the white frosting, pipe out two buttons on each cookie.
Happy holidays!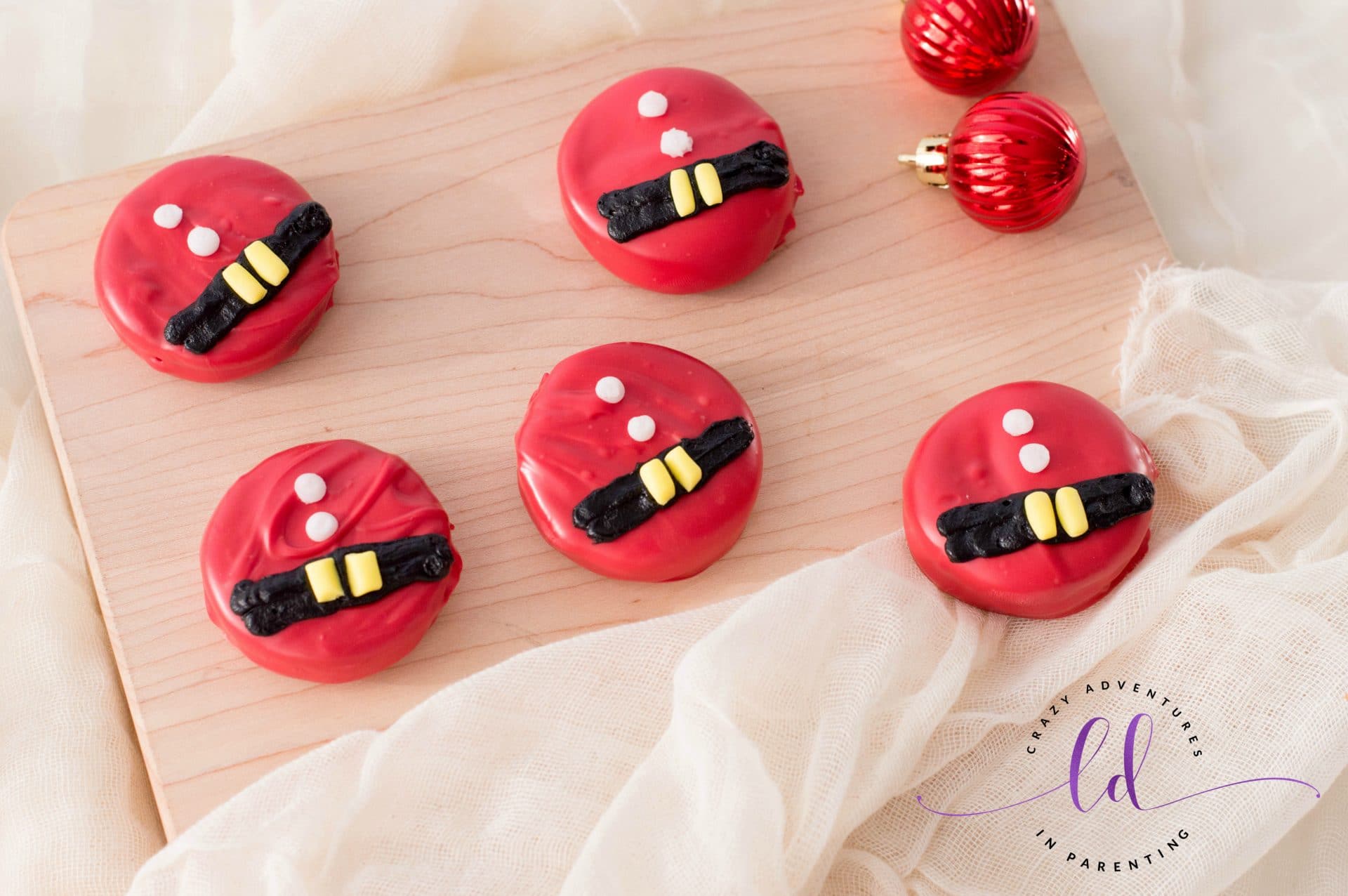 If you're in the holiday spirit and looking for more holiday dessert recipes, check out my selection as well as my full recipe index on entertaining recipes, Christmas recipes, and more!