Learn how to make and decorate these fun and easy Unicorn Cookies with sparkly unicorn horns on top with this easy Unicorn Cookies Recipe for birthdays and parties! So much fun for the kids!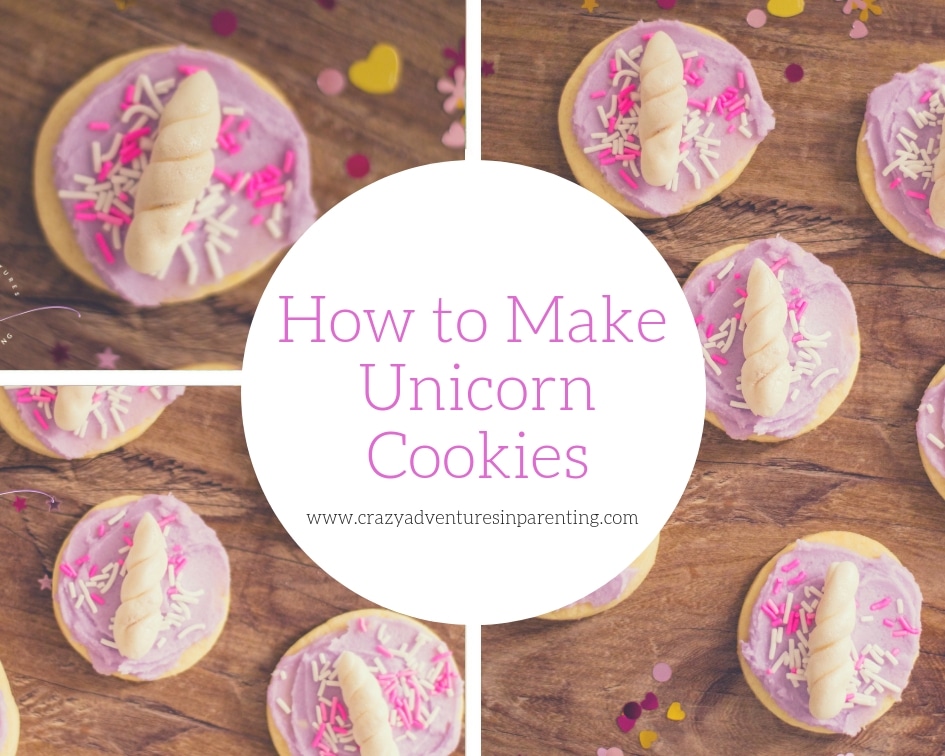 Unicorn Cookies Recipe
I probably should apologize for all the unicorn recipes lately, but CAN YOU BLAME ME? Unicorns are IT right now (honestly, I think they always were) and I can't get enough. I know I should say my "kids" can't get enough, but for really real, unicorns are bomb, and I want to be one when I grow up. I worshipped them as a kid with  my Lisa Frank stuff and I am stupidly excited to share this obsession with my kiddos! Look at these Unicorn Cookies!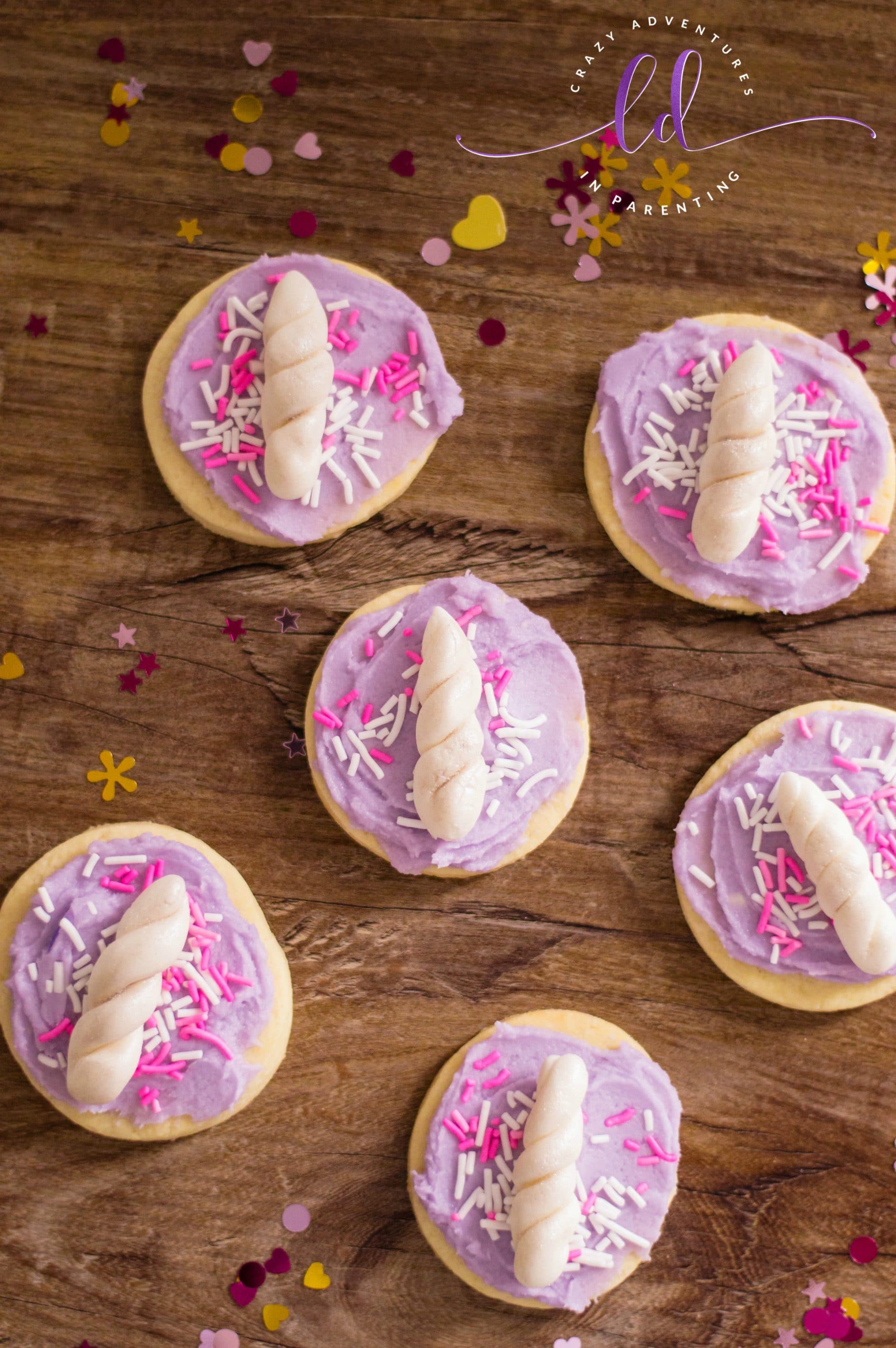 Easy Unicorn Cookies Recipe
Grab your kids, your friends, your neighbors! This homemade cookie recipe is perfectly paired with homemade buttercream frosting and a fondant unicorn horn. Sprinkles or no, these cookies will make any occasion a fun one!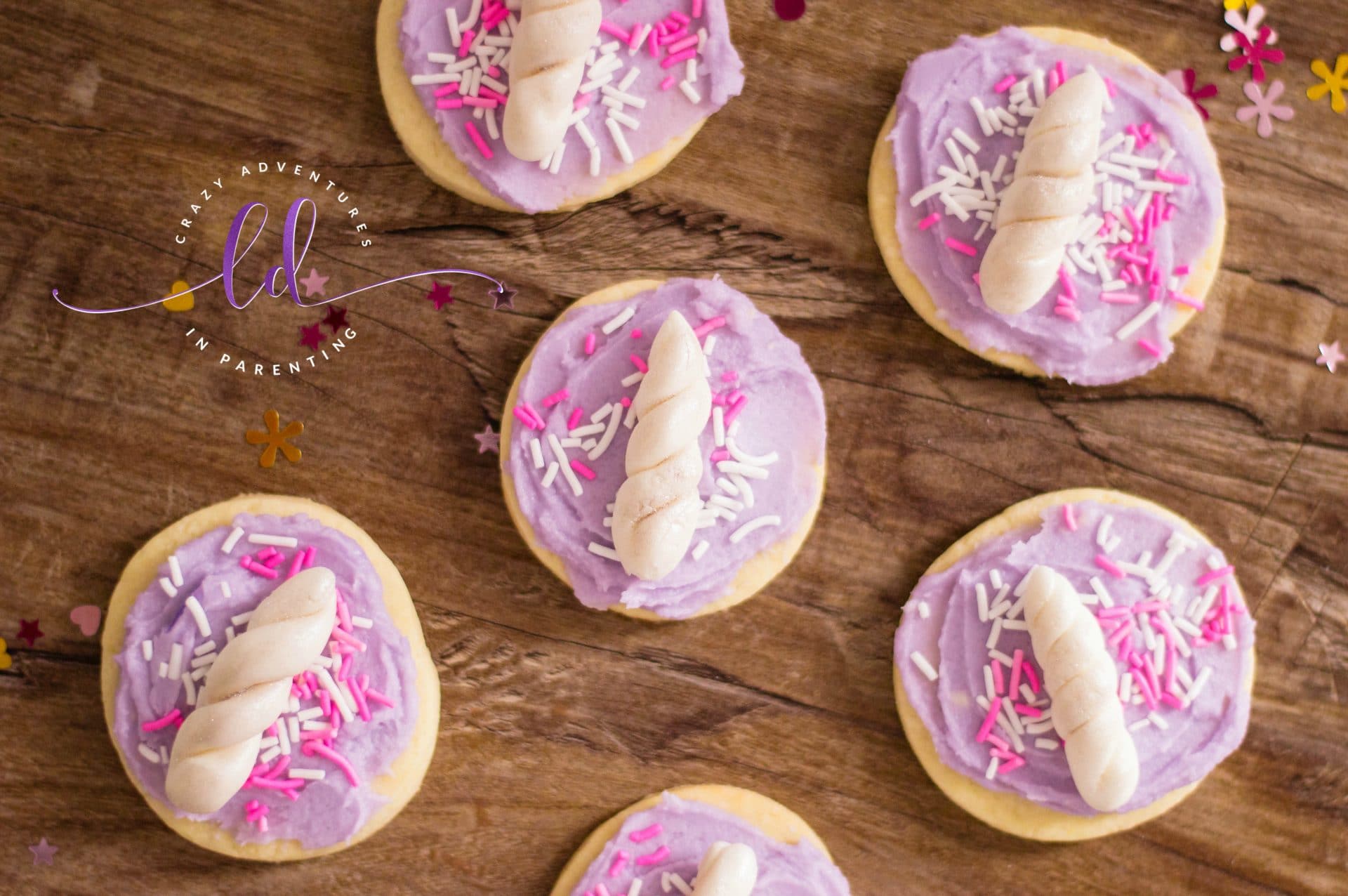 Unicorn Cookies for a Unicorn Party
Is your little unicorn obsessed kiddo wanting to have a unicorn party? These unicorn cookies would be magical if served during the event, don't you think?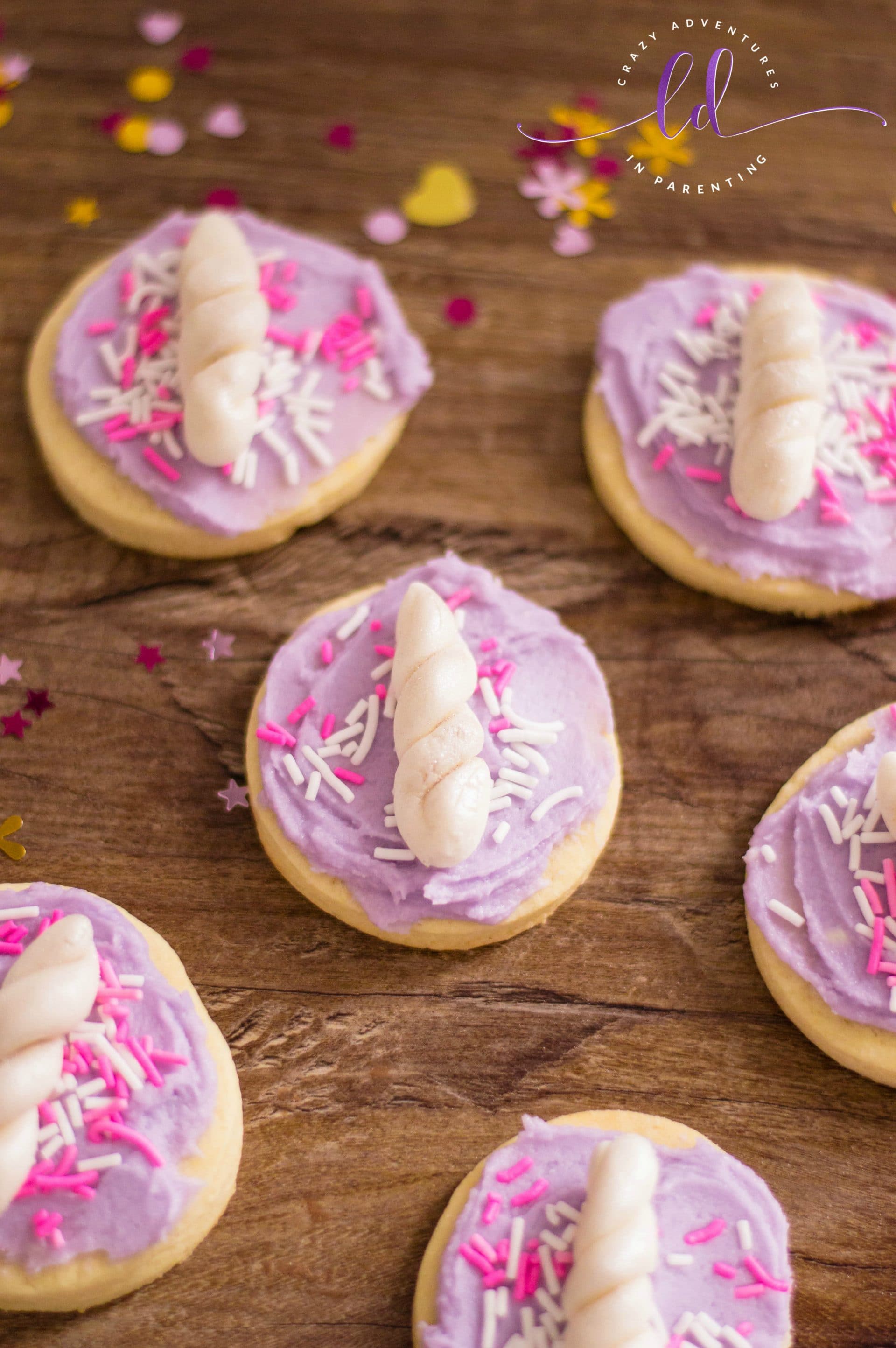 Sparkly Unicorn Cookies Recipe
Yes, do you see? The unicorn horns sparkle! And yes, they're edible! Edible silver food dust is a THING and it's HERE and it makes your fun unicorn desserts like these sparkle! YES! Let's goooo!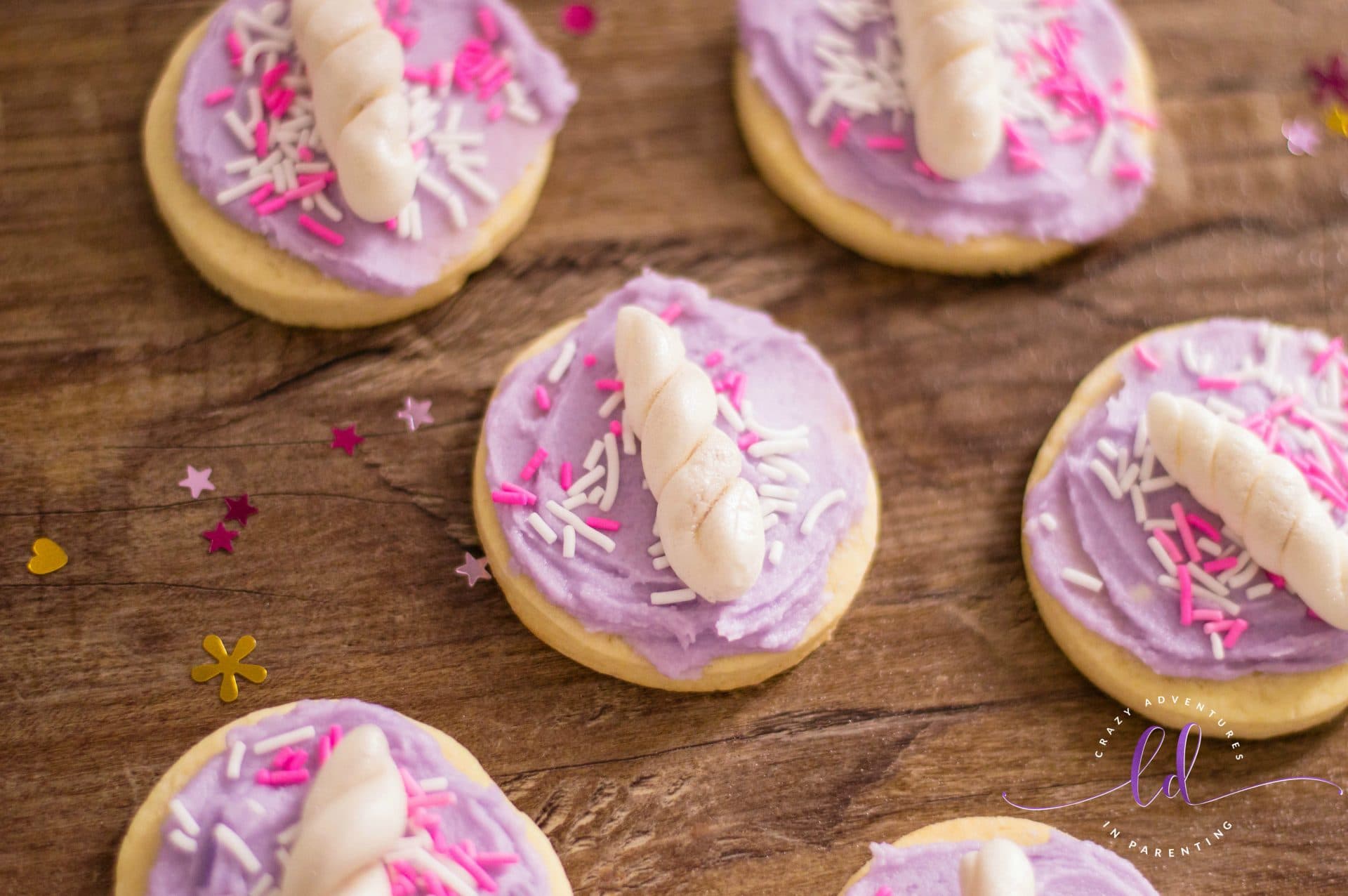 How to Make Unicorn Cookies
For this magical cookie recipe, you're going to start off by getting all your ingredients ready, preparing your cookies (as per the full recipe below) to include chilling the dough before baking, baking, then cooling the cookies while you prepare the frosting and fondant horns.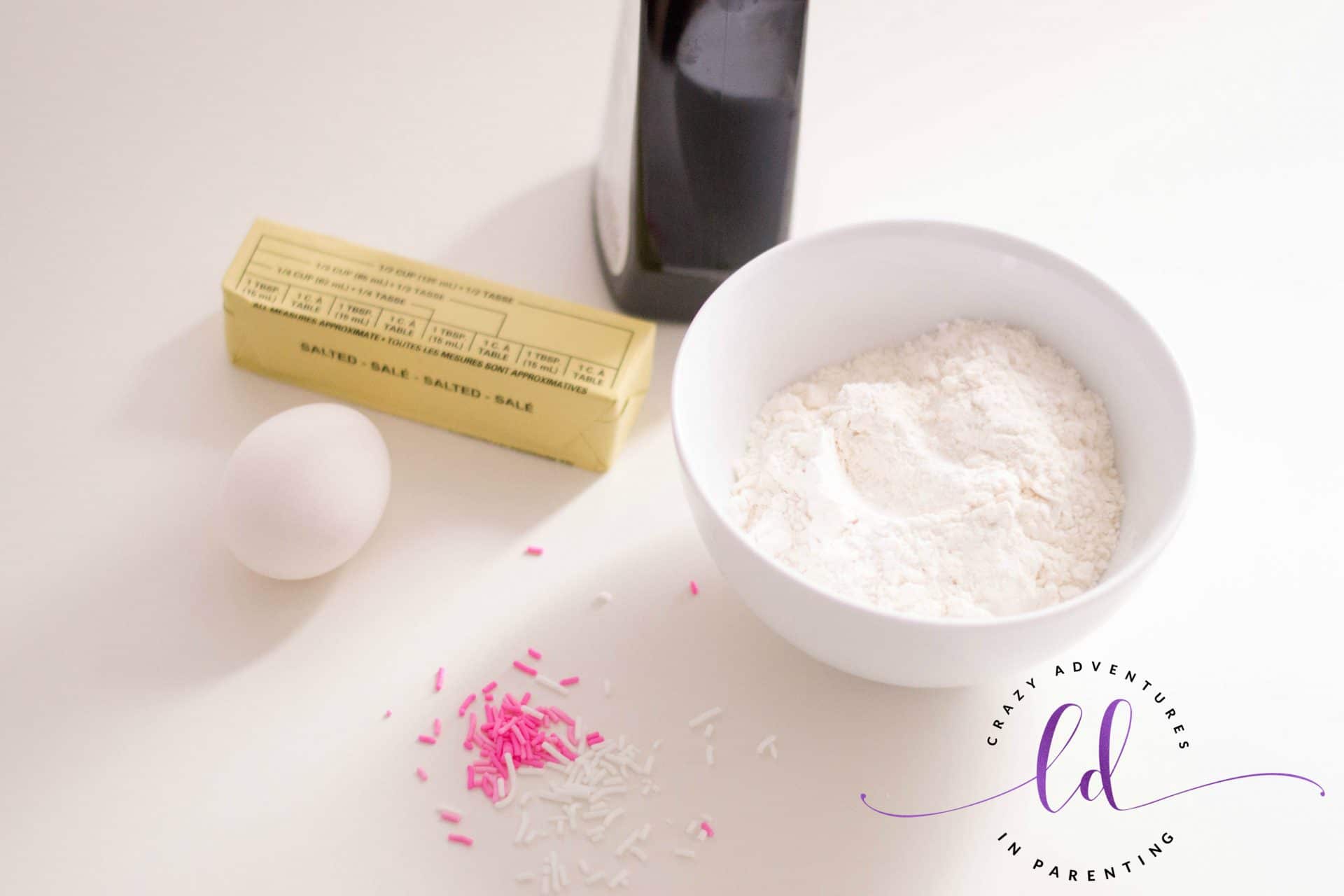 Roll your white fondant into 1-inch spheres. Roll each sphere into long strips (about 3-4 inches long) then fold slightly. Start wrapping both ends and twist, forming your unicorn horn as shown.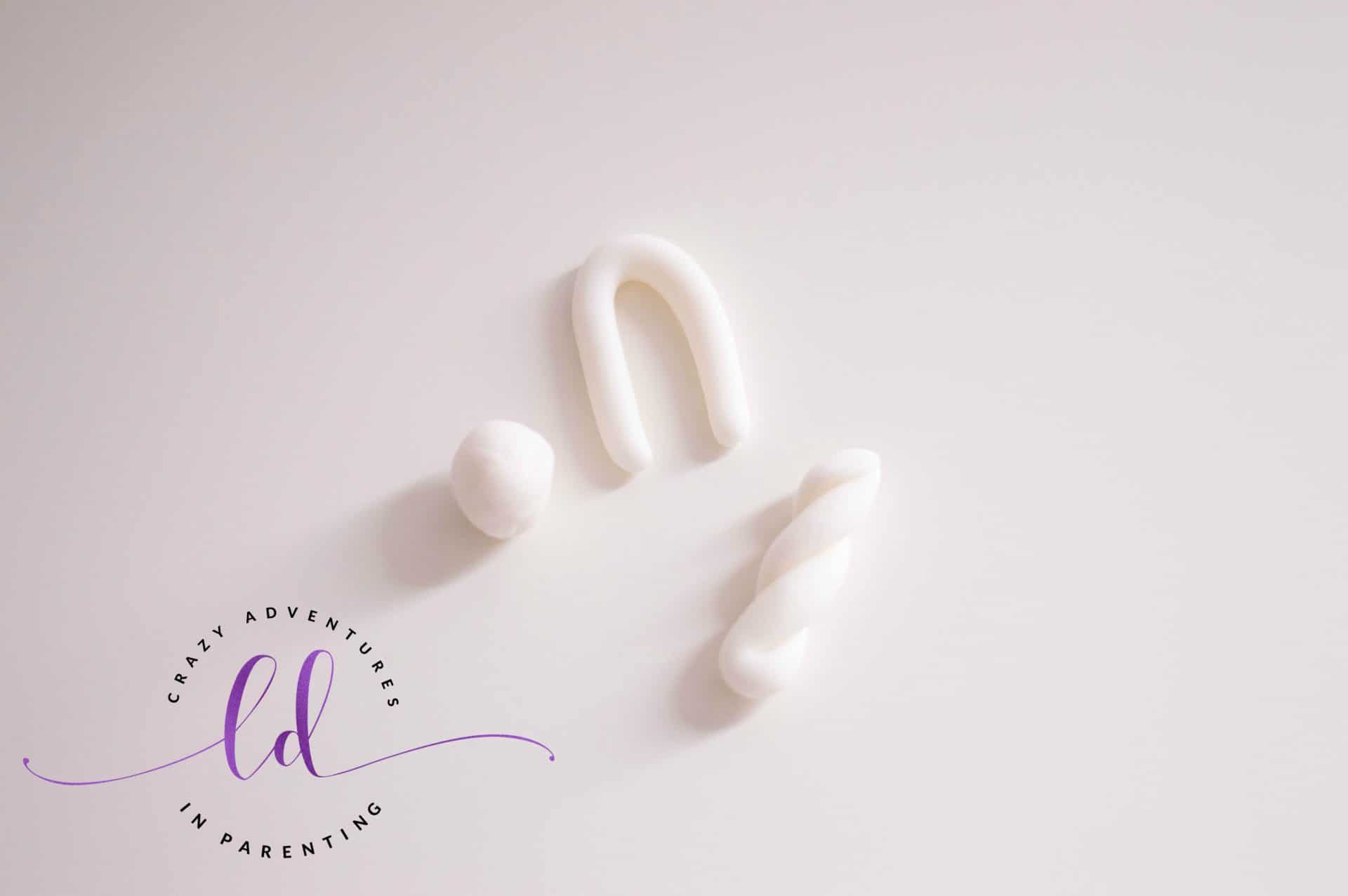 Prepare your buttercream icing with violet gel food coloring until it's well combined, frost your cooled cookies. Sprinkle with sprinkles.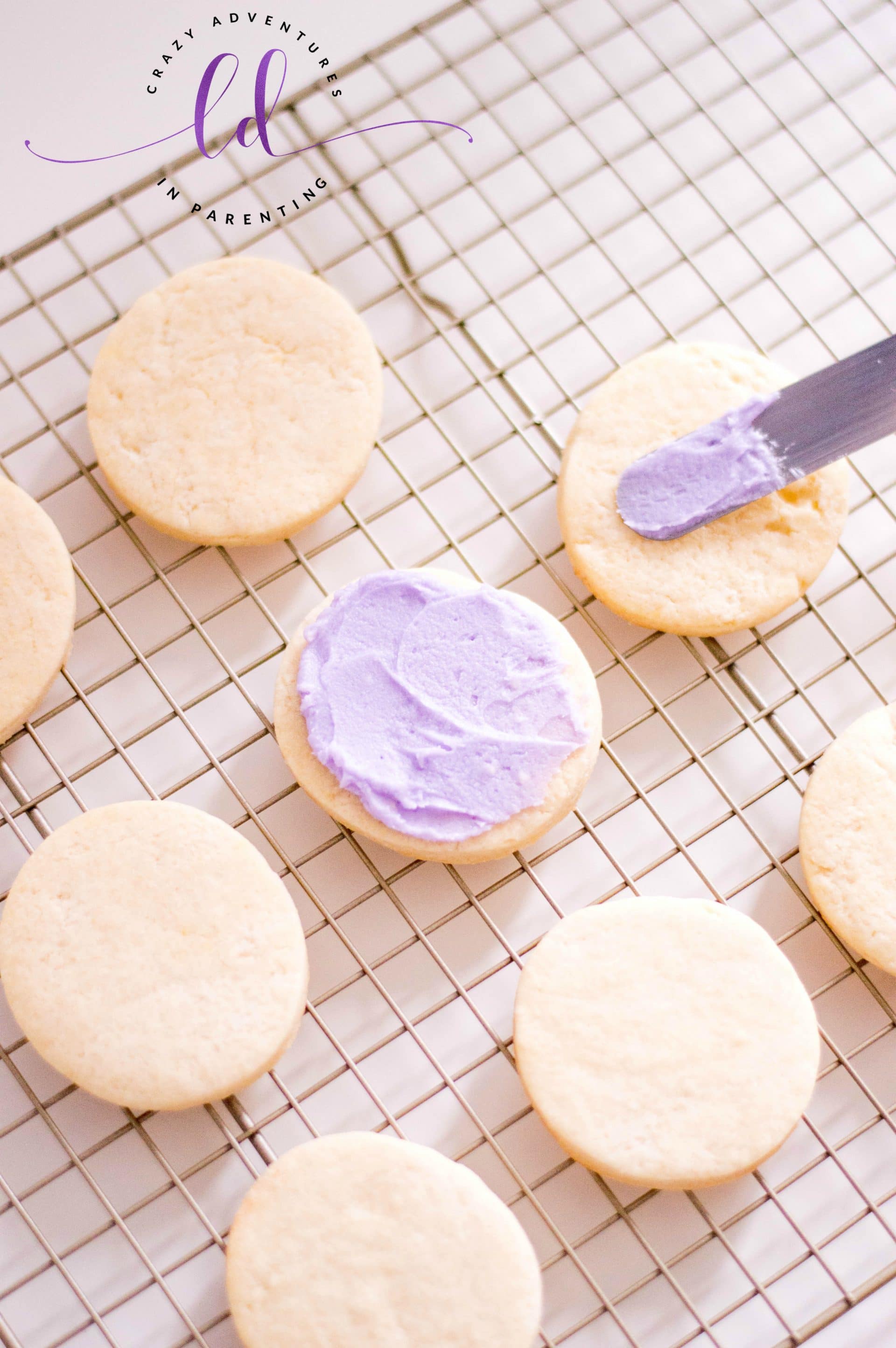 On a plate, using a paintbrush, brush your edible silver dust onto your unicorn horns.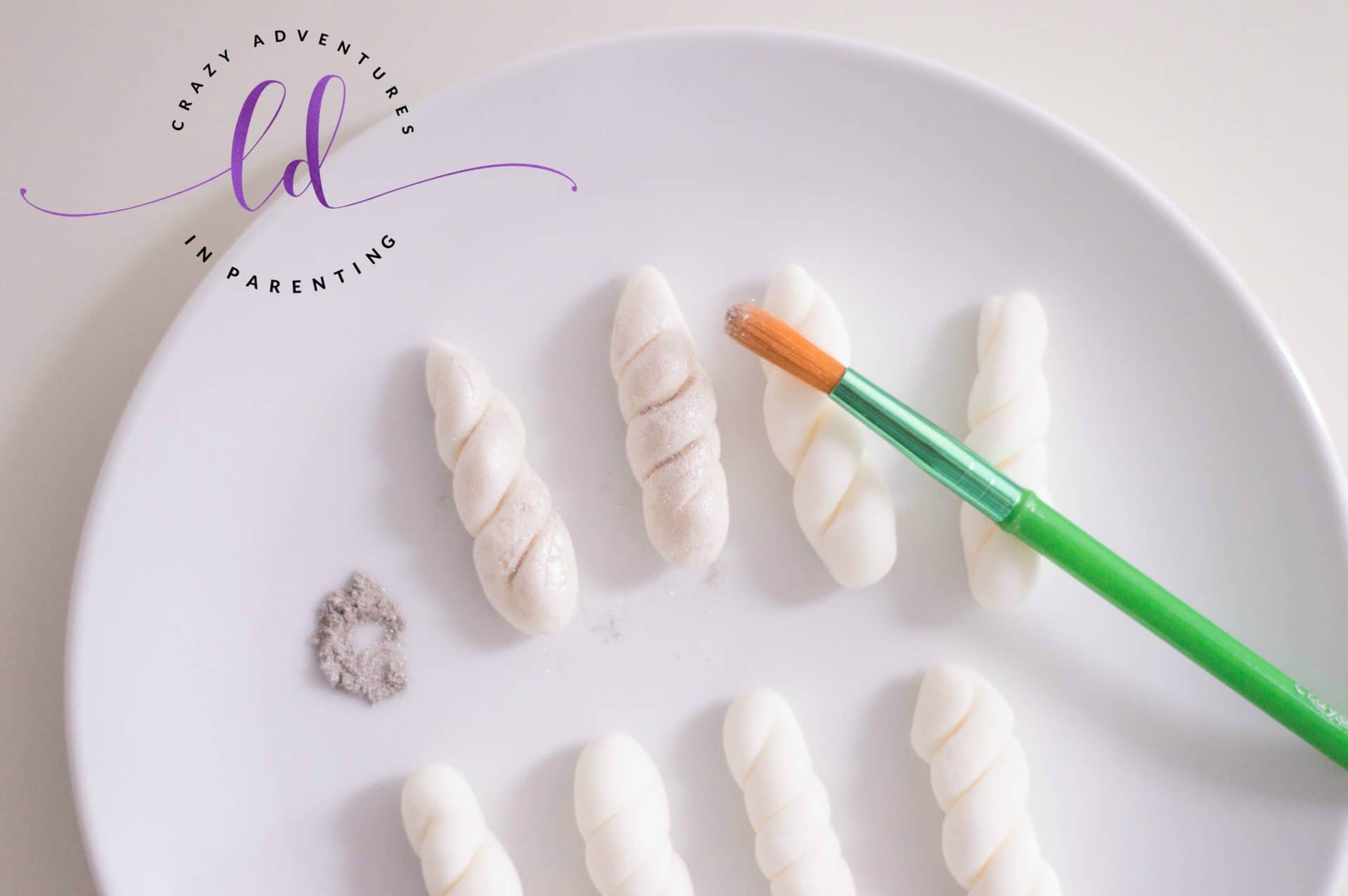 Place your silver dusted unicorn horn onto your frosted and sprinkled cookie and TA-DA! Look at that perfection! It's just so special, isn't it?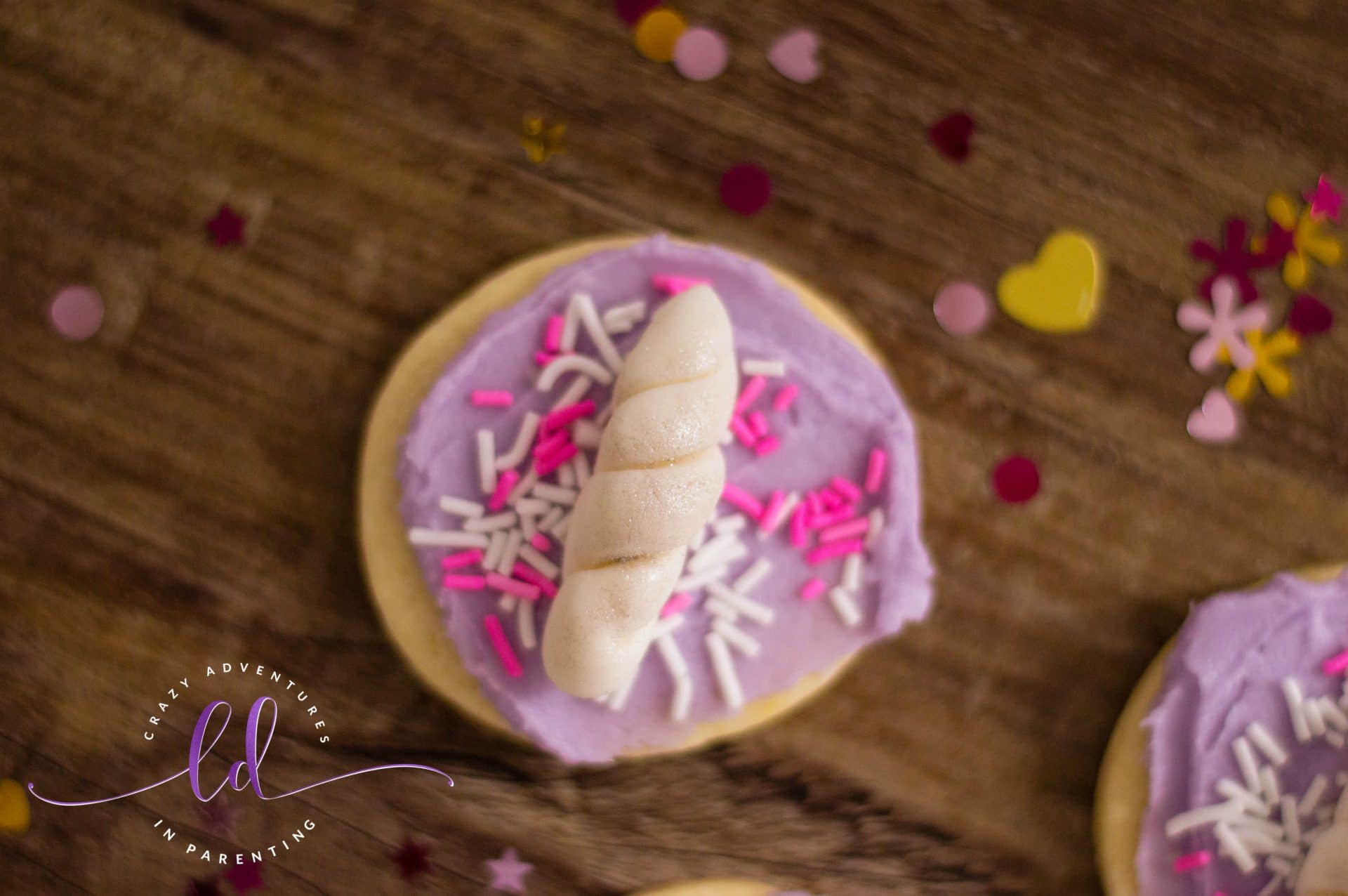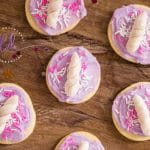 Ingredients
For the cookies:

1 ¾ cup flour

¼ tsp baking powder

Pinch salt

1 stick butter, softened

1 large egg

½ cup granulated sugar

1 tsp vanilla extract

To decorate:

1 stick butter, softened

2 cups icing sugar

2 tbsp milk

Violet gel food coloring

4 oz. white fondant.

Silver food dust

Sprinkles
Instructions
To make the cookies:
Sift dry ingredients (flour, baking powder, salt) in one bowl
With an electric mixer, beat butter, egg, sugar and vanilla on medium speed. Slowly add dry ingredients and mix until cookie dough forms.
Form a cookie dough sphere and wrap it with plastic. Refrigerate for one hour.
Remove from fridge and let sit for 5 minutes.
Preheat oven to 325 degrees and line a baking sheet with parchment paper.
Roll cookie dough on a floured surface. Cut into circles with a cookie cutter.
Place each cookie on a lined baking sheet, about an inch apart. Bake for 12-14 minutes and cool on a wire rack.
To decorate:
Beat butter, icing sugar and milk with an electric mixer (starting on the lowest speed, making your way up to the highest). These ingredients will make up your buttercream frosting.
Tint the buttercream with violet gel food coloring and mix until buttercream is completely colored.
Roll white fondant into 1-inch spheres. Roll each sphere into long strips (about 3-4 inches long) then fold slightly. Start wrapping both ends and twist: this will form your unicorn horn.
Brush with silver food dust.

With an offset spatula, frost each cookie. Top with sprinkles and one fondant horn.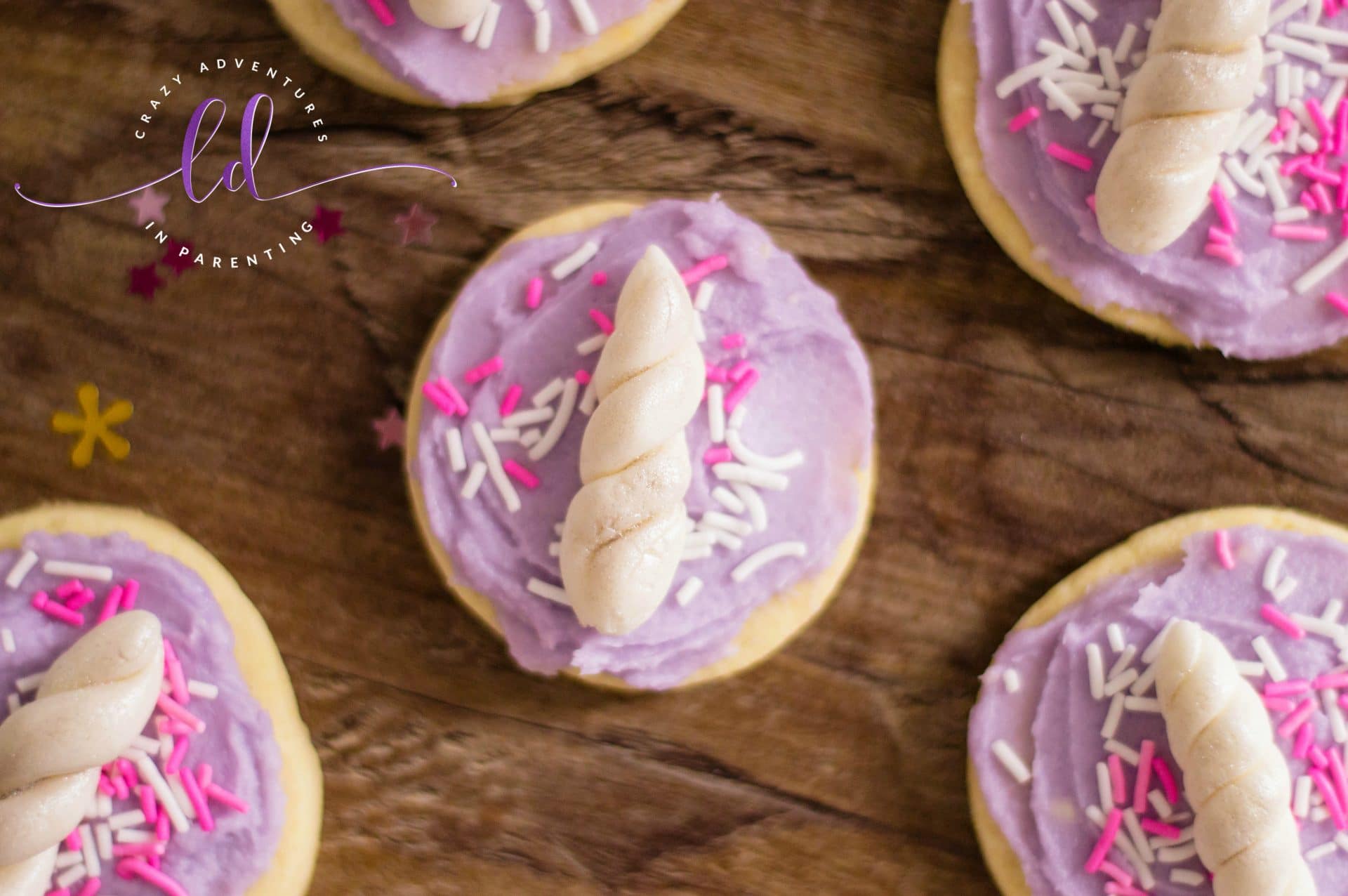 Aren't these fantastic? I have TONS more unicorn-inspired posts like this, too! Peruse to your unicorn-lovin' heart's content! I hope you enjoy them as much as we do!