Have you accidentally almost set fire to your backyard by grilling on a dirty grill? Fear no more with Goo Gone Grill and Grate Cleaner!
This is a sponsored post by Goo Gone. All opinions are my own.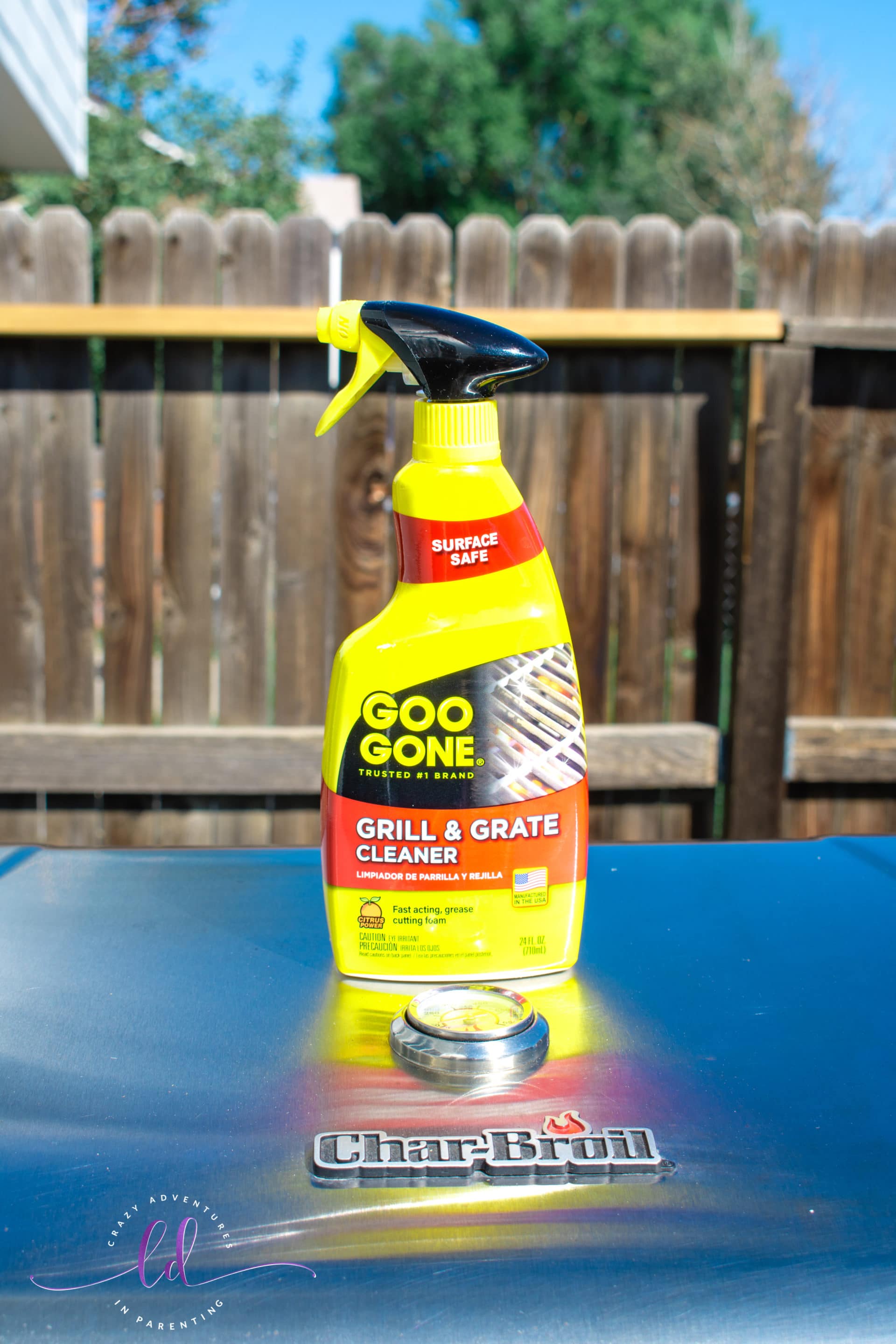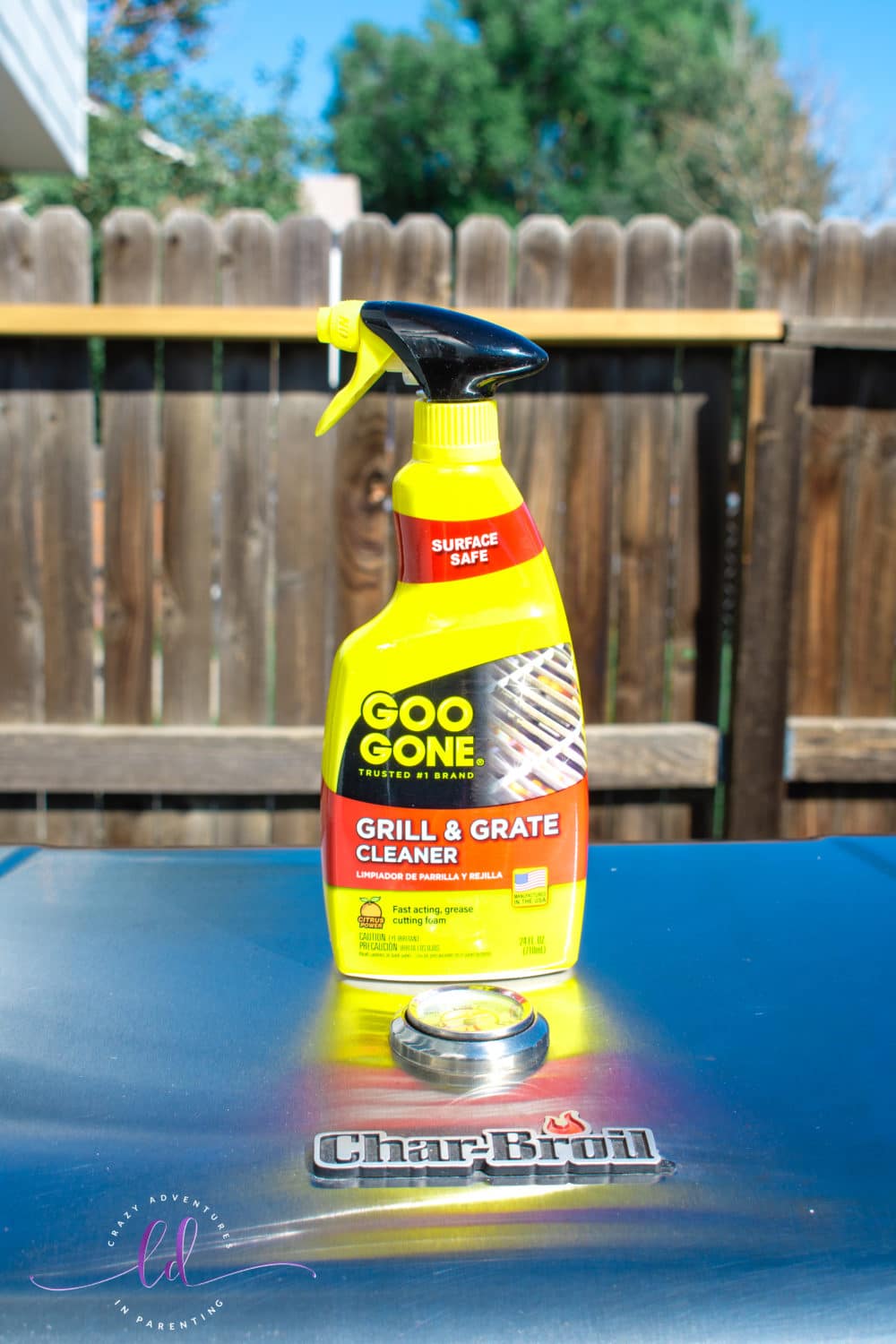 Adventures with Goo Gone Grill and Grate Cleaner
Oh, friends. I would love to continue to regale you with countless stories of meals gone right *points to recipe index* but every so often, even with the best intentions in mind, dinners don't come out so perfectly. In fact, sometimes they can practically explode on you, catch fire, or become ruined. Sometimes, it ends up being an emergency take-out kind of night. The first (of many) Grillcidents™ happened in San Antonio. I was unintentionally sending smoke signals to everyone in the neighborhood. Keepin' it real for ya, friends.
The second (documented) occurrence (ahemmmm) happened in North Carolina. After finding a grill-friendly rotisserie thing that turns meat on the grill (so they said, ahem), we thought we'd try making homemade rotisserie chicken! If by "rotisserie chicken" you mean CHARRED ON THE OUTSIDE, RAW ON THE INSIDE! Blerg! Needless to say, it was a pizza night for us.
No one plans for it, but it happens. Our poor grill never knew what hit it. The chicken drumsticks we had lovingly covered in seasoning to grill for dinner just caught fire. HUGE FLAMES, loads of smoke. It wasn't pretty. I was going to shoot this recipe, too! This wasn't my first rodeo! But this caught fire and FAST! We needed reinforcements. Cue Goo Gone Grill and Grate Cleaner! *insert super hero music here*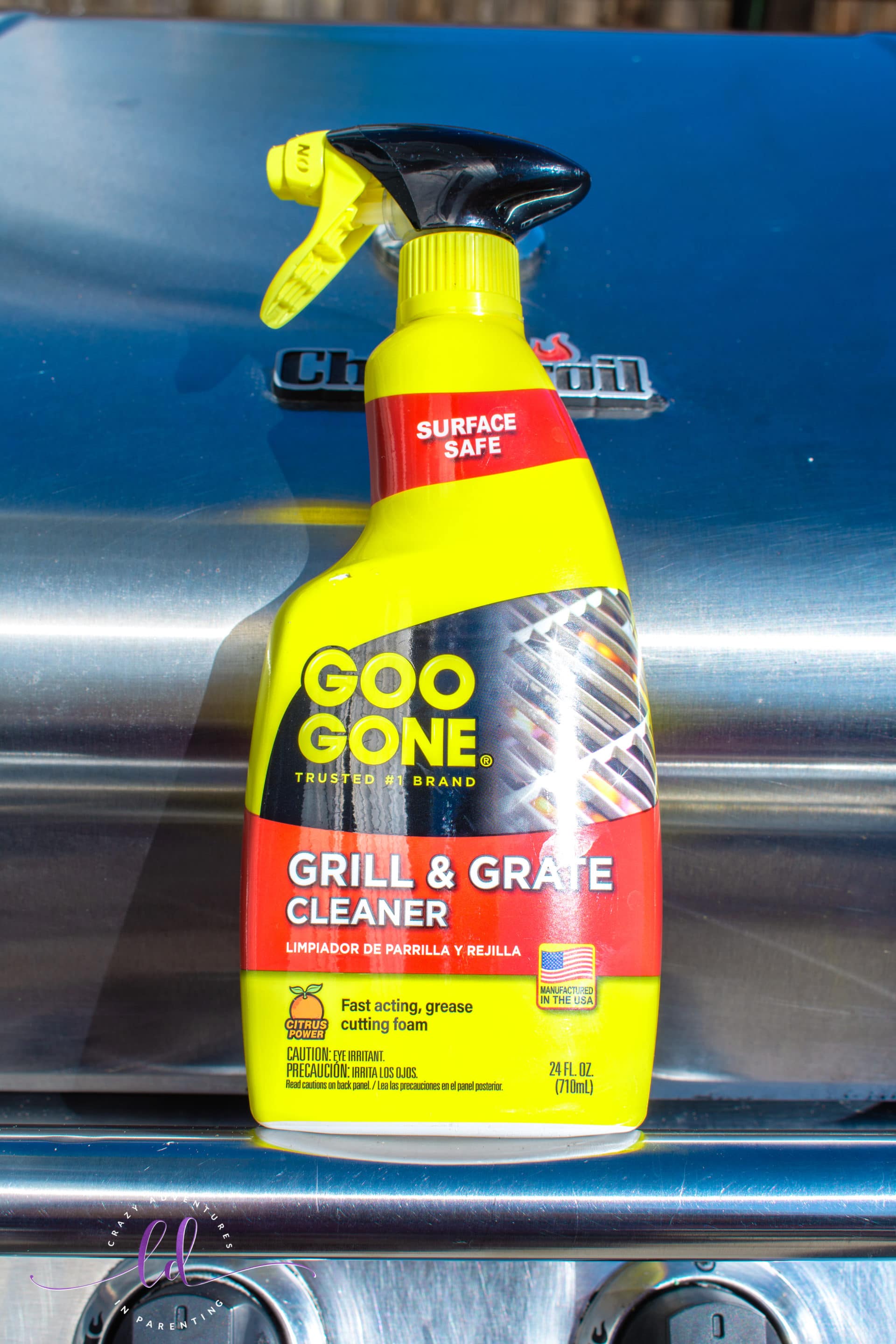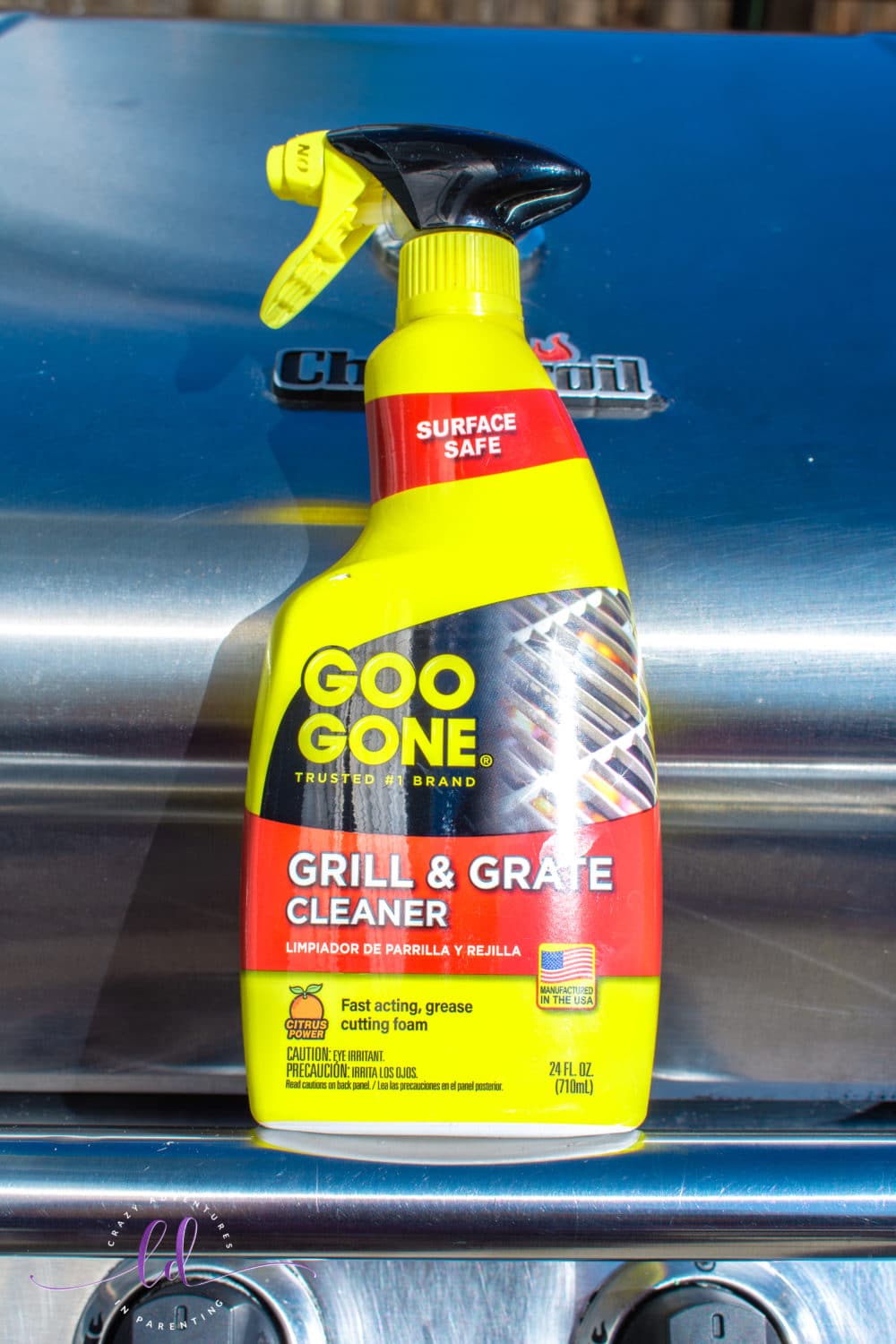 While we were emptying the grease catch, we didn't realize why it was filling up so quickly. The inside of the grill had become completely caked with leftover grease from the myriad of foods we'd been preparing. Other than cleaning the grease catch and scraping leftover food off the grill grates, I had never realized you had to do much more than that? I mean, I didn't realize the reason for the flare-ups is because we hadn't cleaned it! I knew you should clean ovens, but grills? For real? Ugh. I feel so silly, but grateful I have the proper tools in my grill cleaning arsenal now.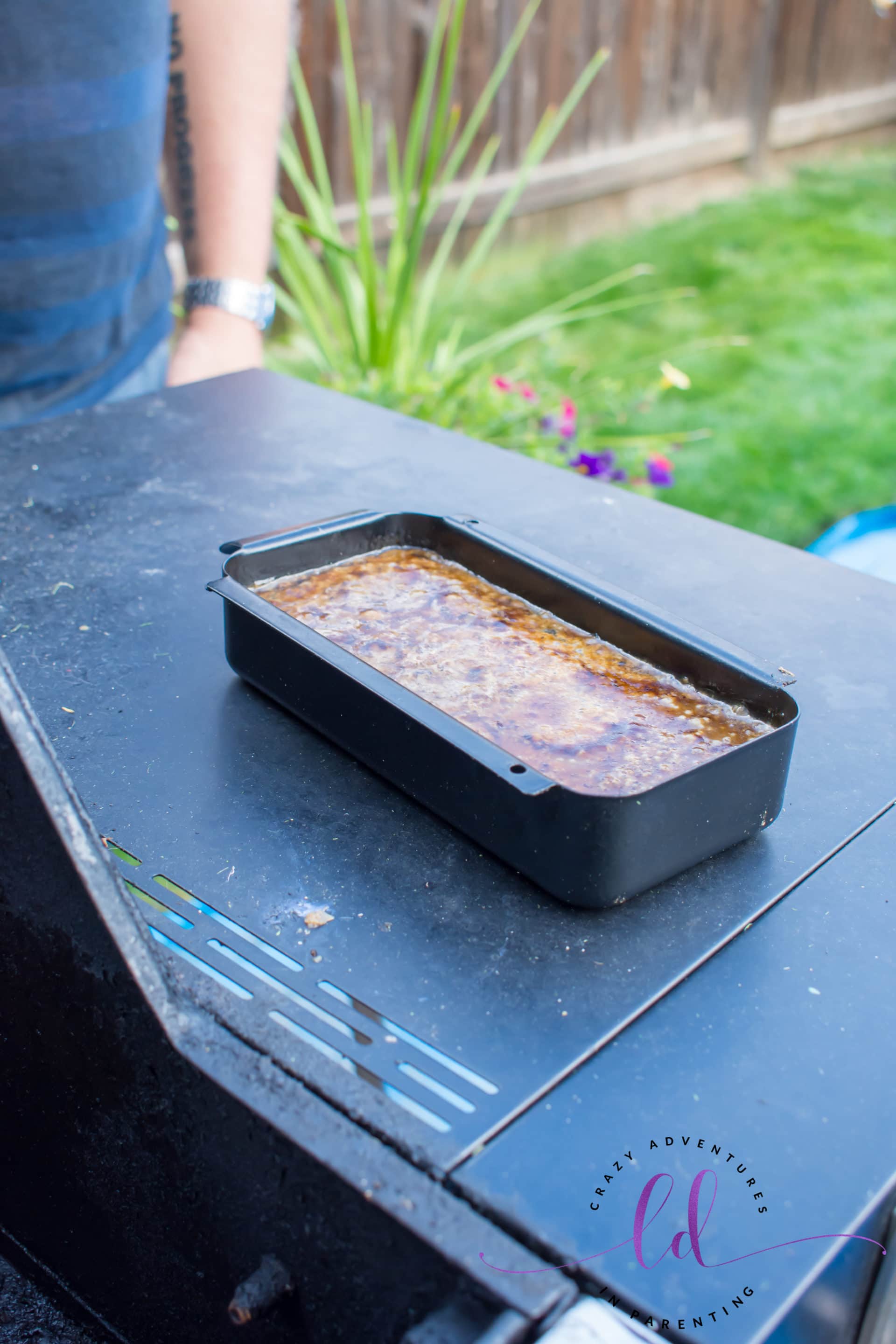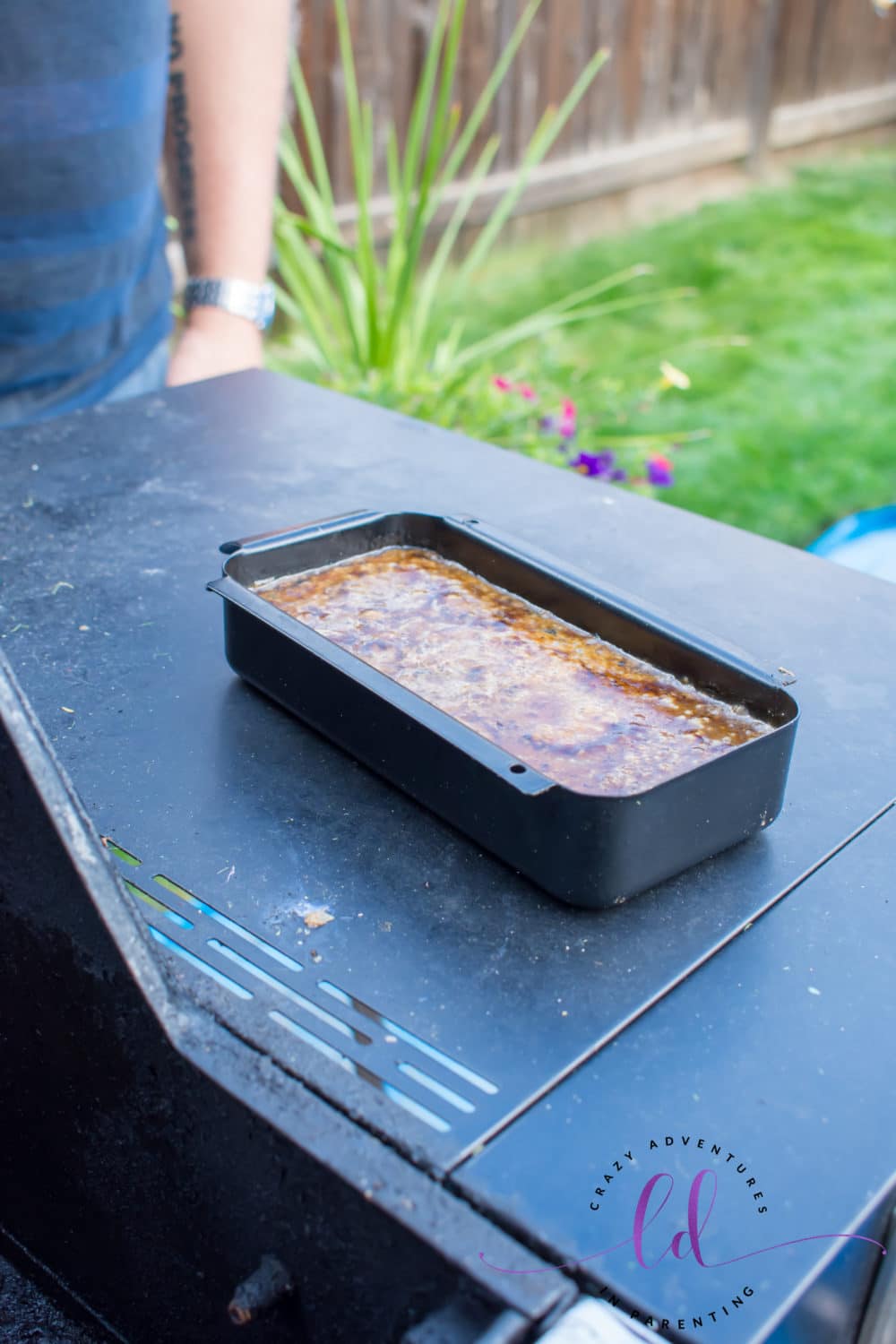 Before Using Goo Gone Grill and Grate Cleaner
Oh my gosh, you guys. I'm embarrassed to share these "before" images with you. Before Goo Gone Grill and Grate Cleaner swooped in to save the day (more like foamed, but whatevs), our grill was GROSS. From the outside, you could see leftover grime from whoknowswhatwehadlast. The inside was chock-full of nightmare-fuel.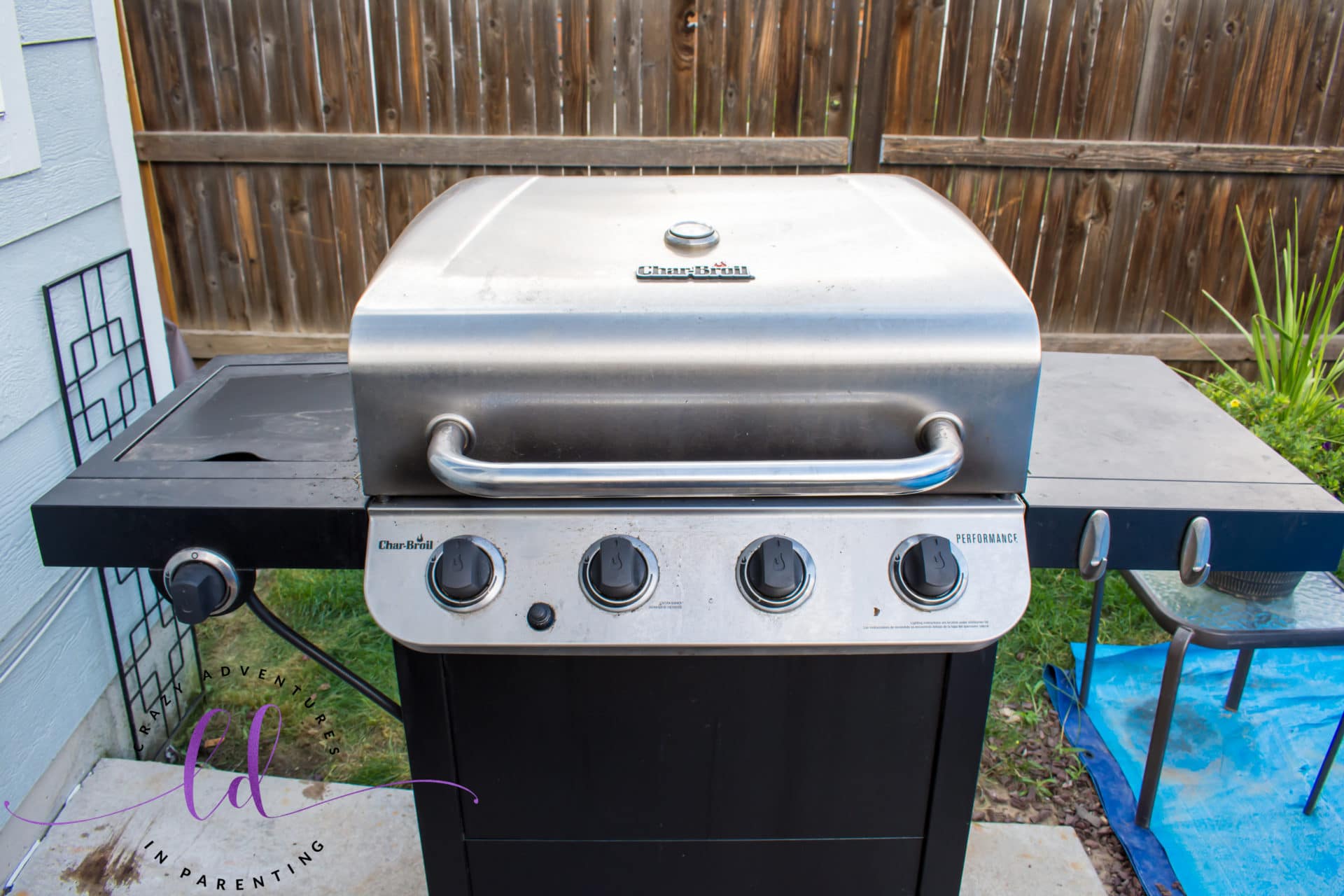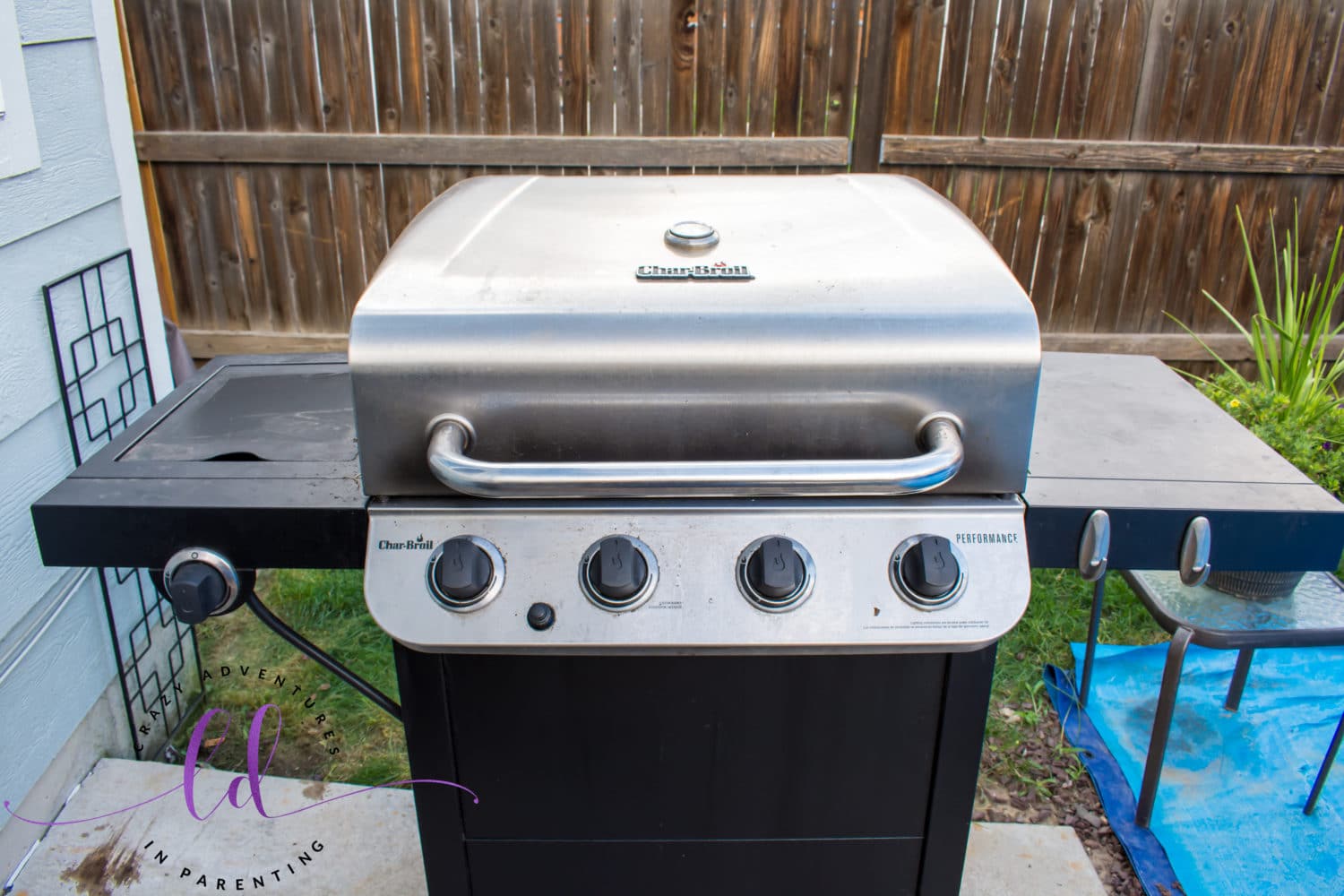 *Gasps* I don't want to get any closer to show you what horribleness is down there, but I will. For the sake of humanity and for everyone who needs to know, yikes!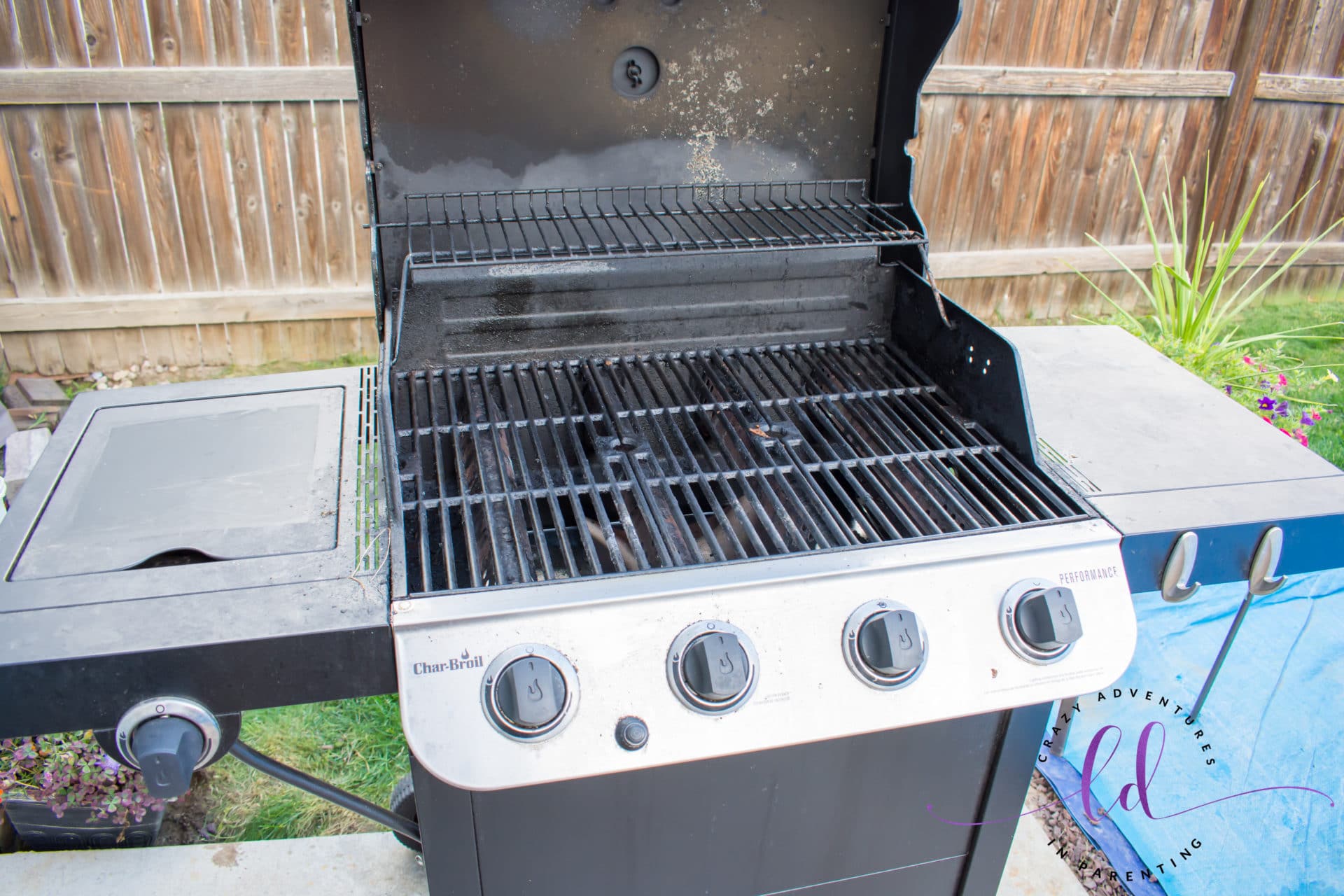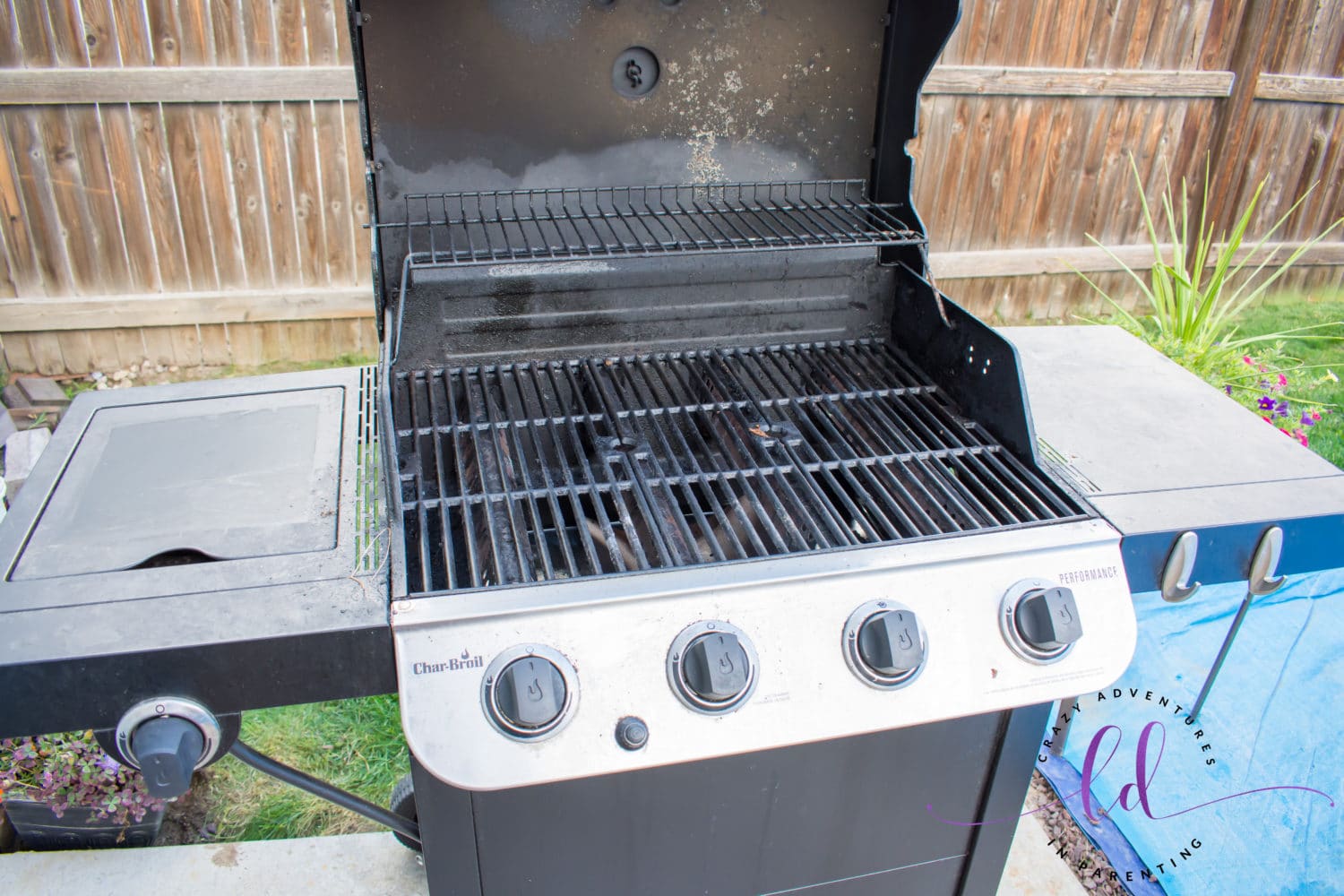 Oh my gosh, you guys! Why are grills so gross? It's like a horror movie. I can't look away, but it's bad. Really bad.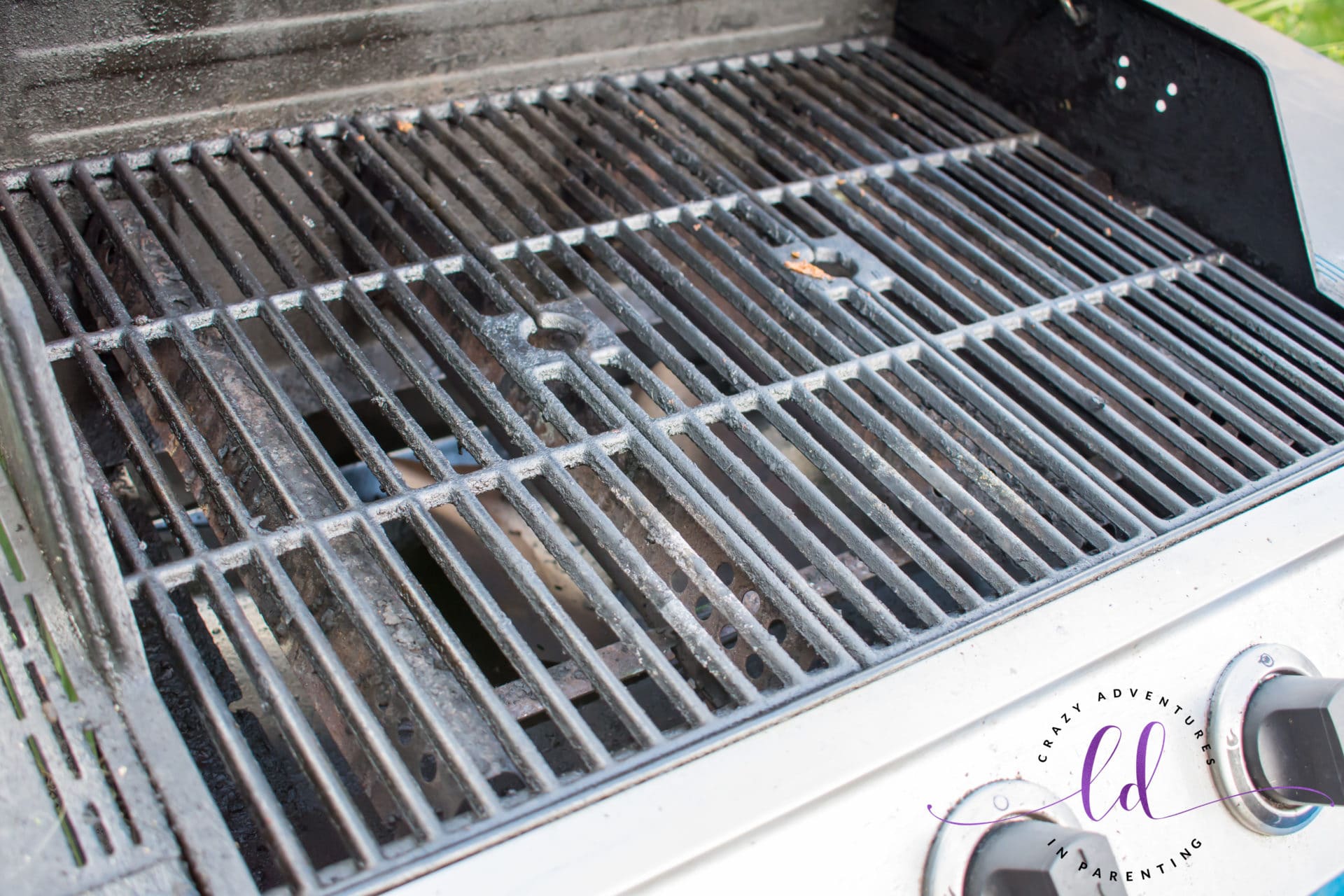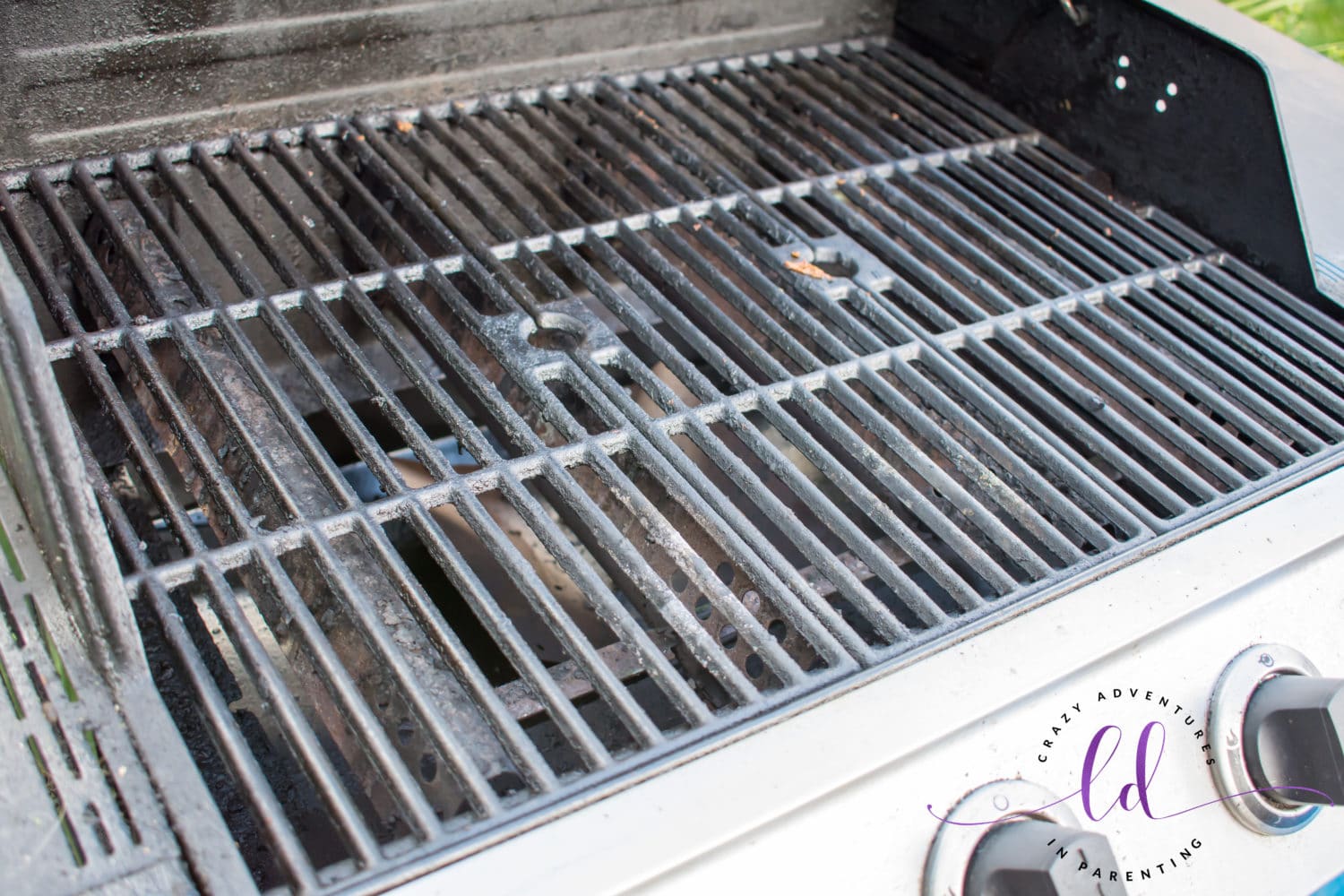 Shield your eyes! The horror! Gahhhh!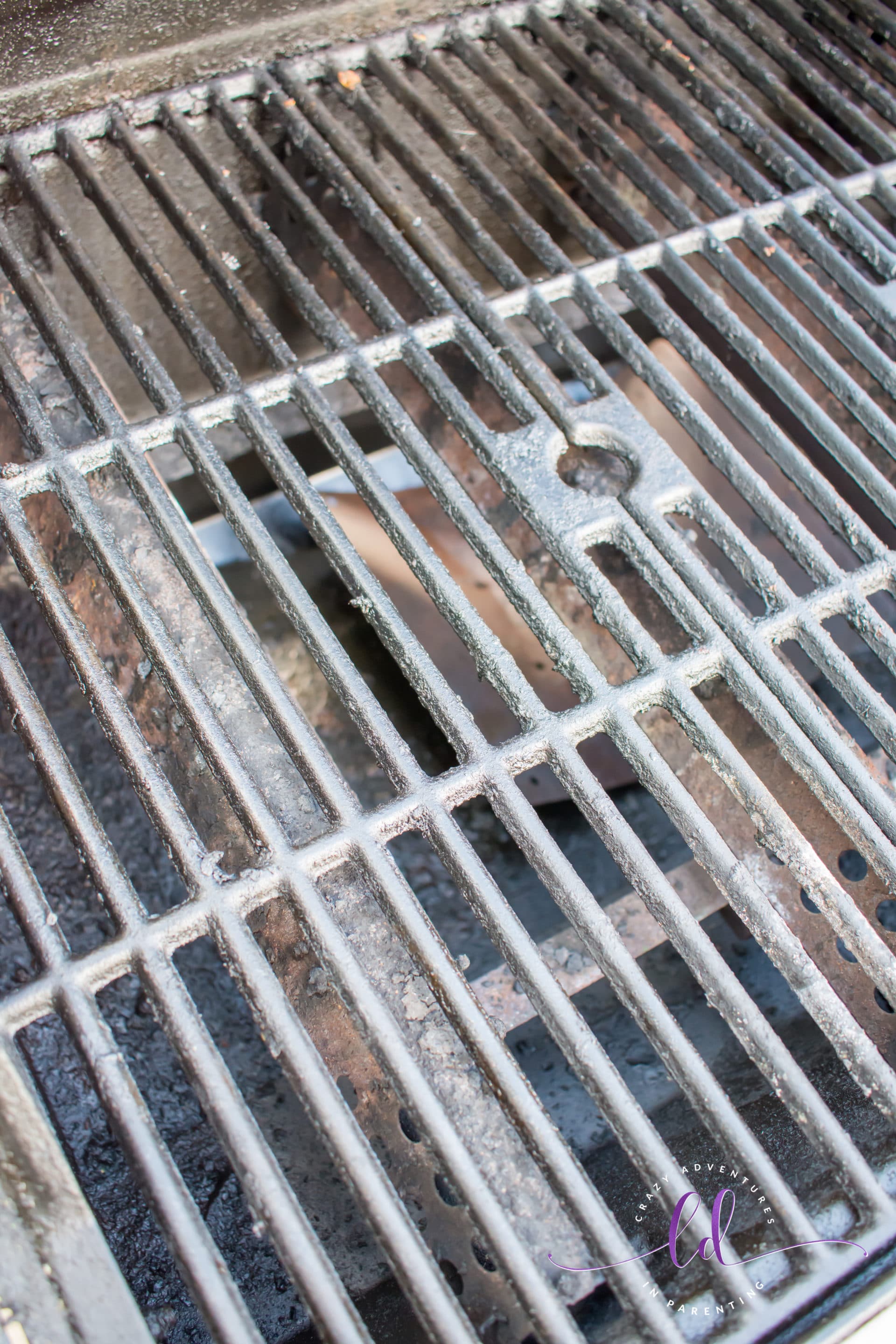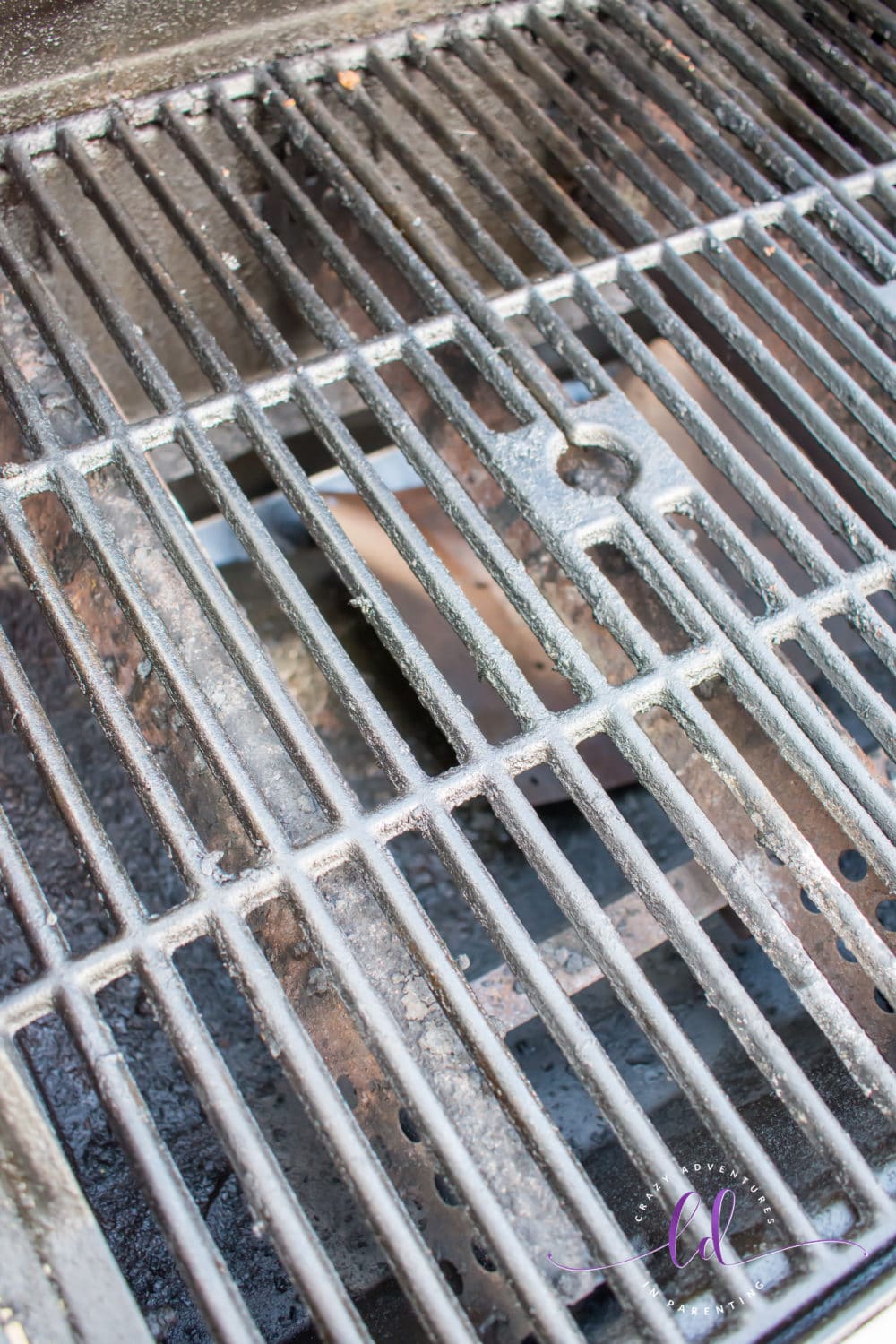 I mean, I had NO idea we had layers upon layers of gunk caked up on the insides like that. I was a fool, to be honest. I thought it all dripped into the drip pan? Or ignited with the fire, and it was just ash. I had no idea that was all grease! It was.. horrible. And so, I took the grates off, put them on newspaper, and started shooting up my grill with the foamy goodness aka Goo Gone Grill and Grate Cleaner.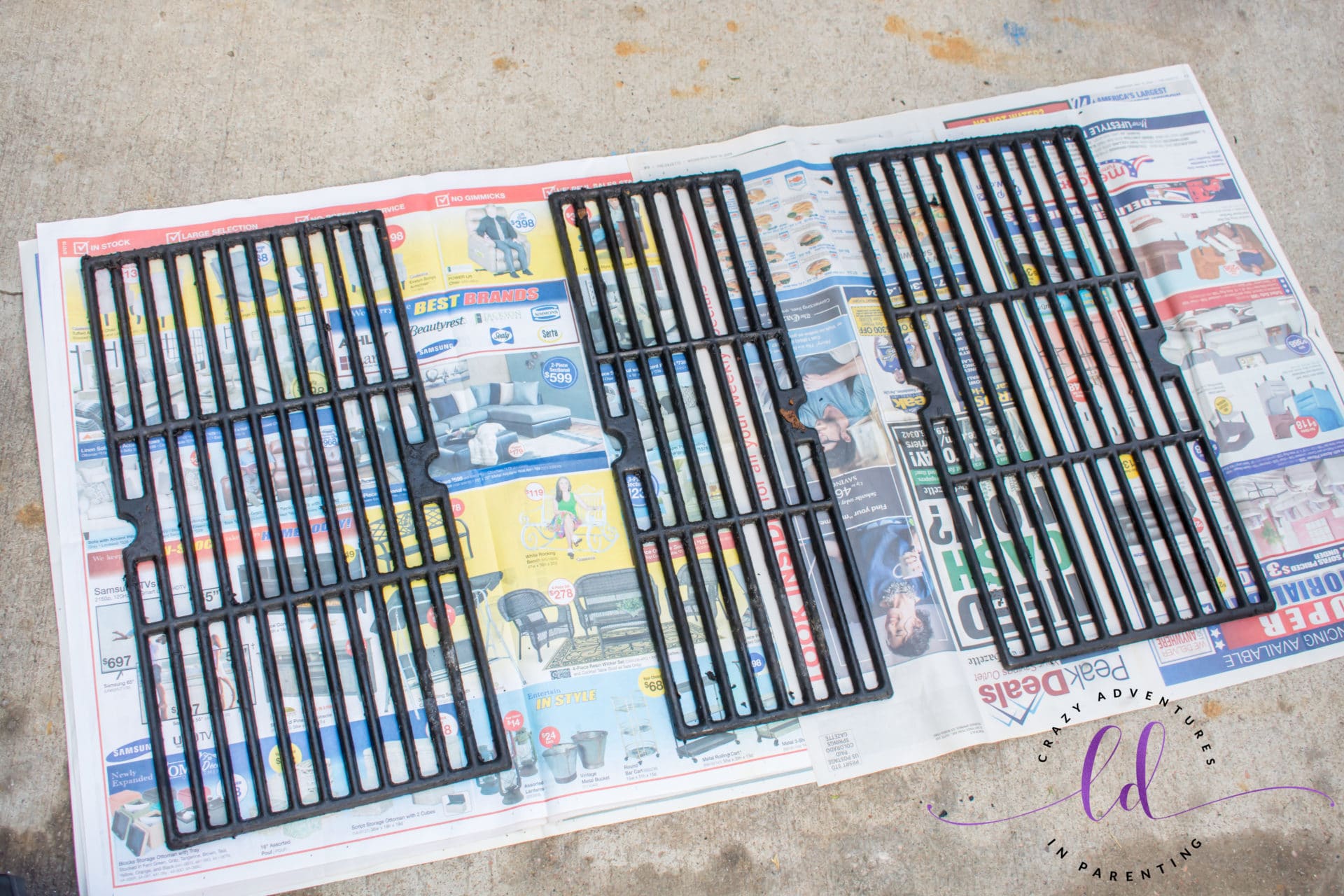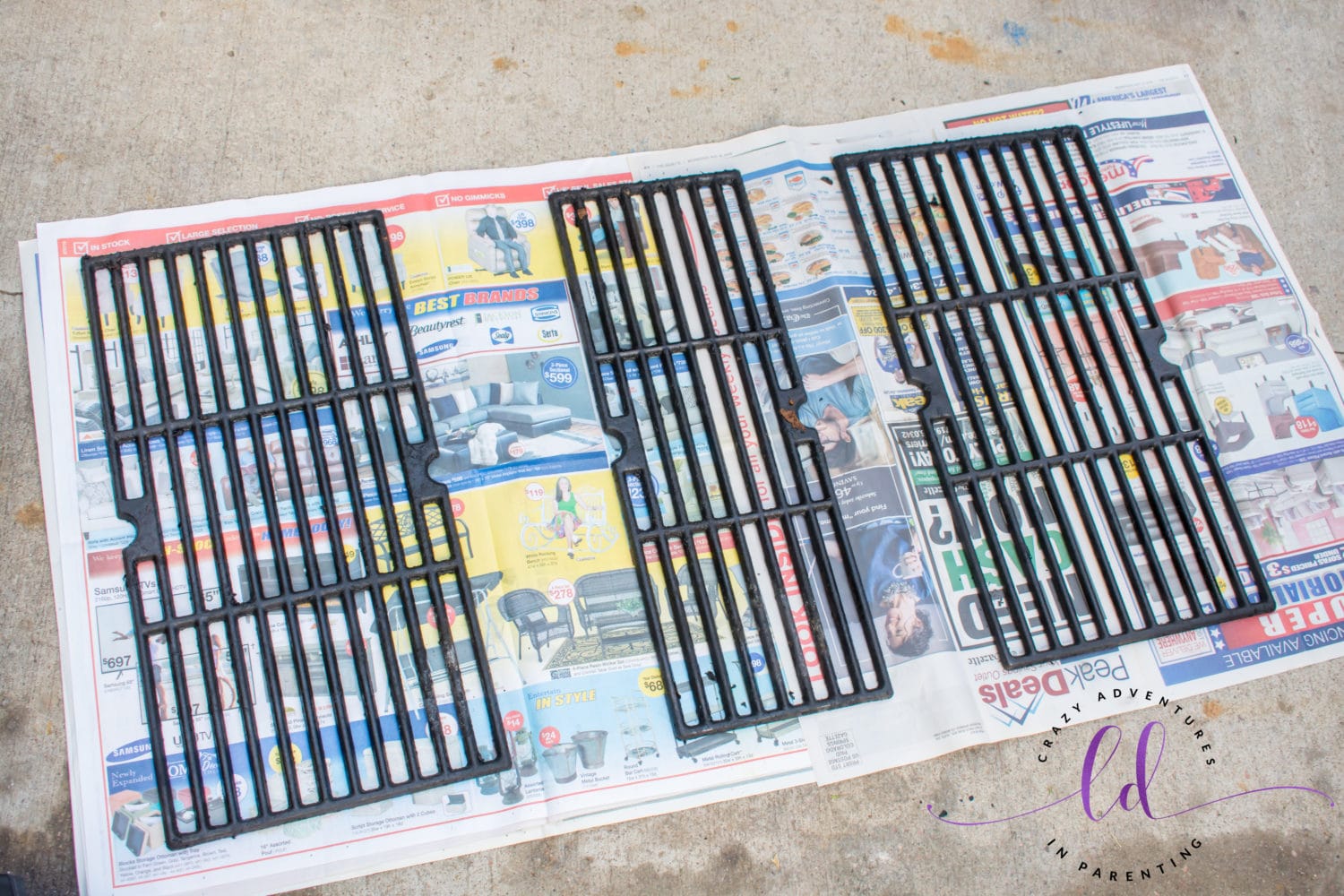 Look at this! Just moving the grates to the newspaper, and I got gunky. Ew.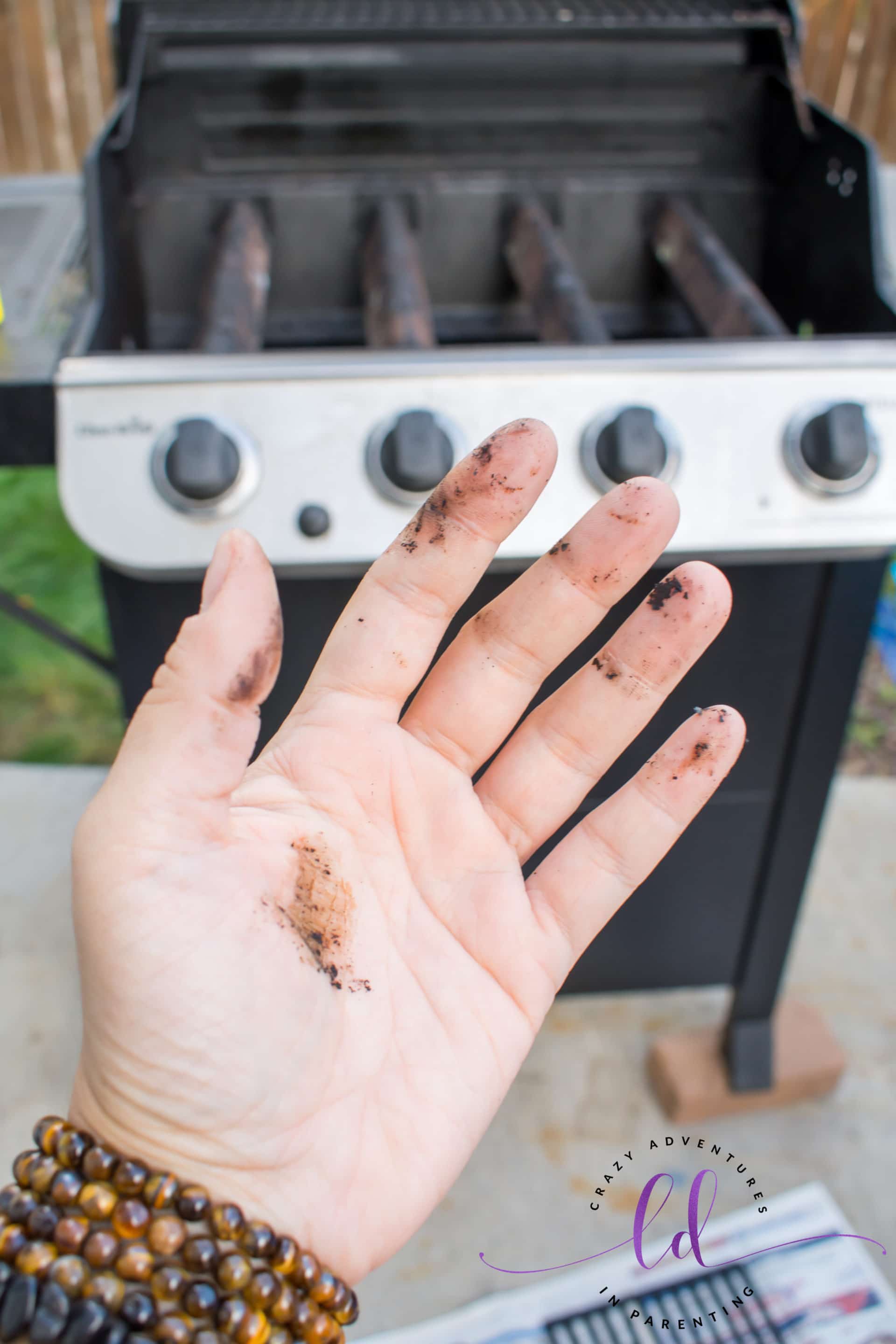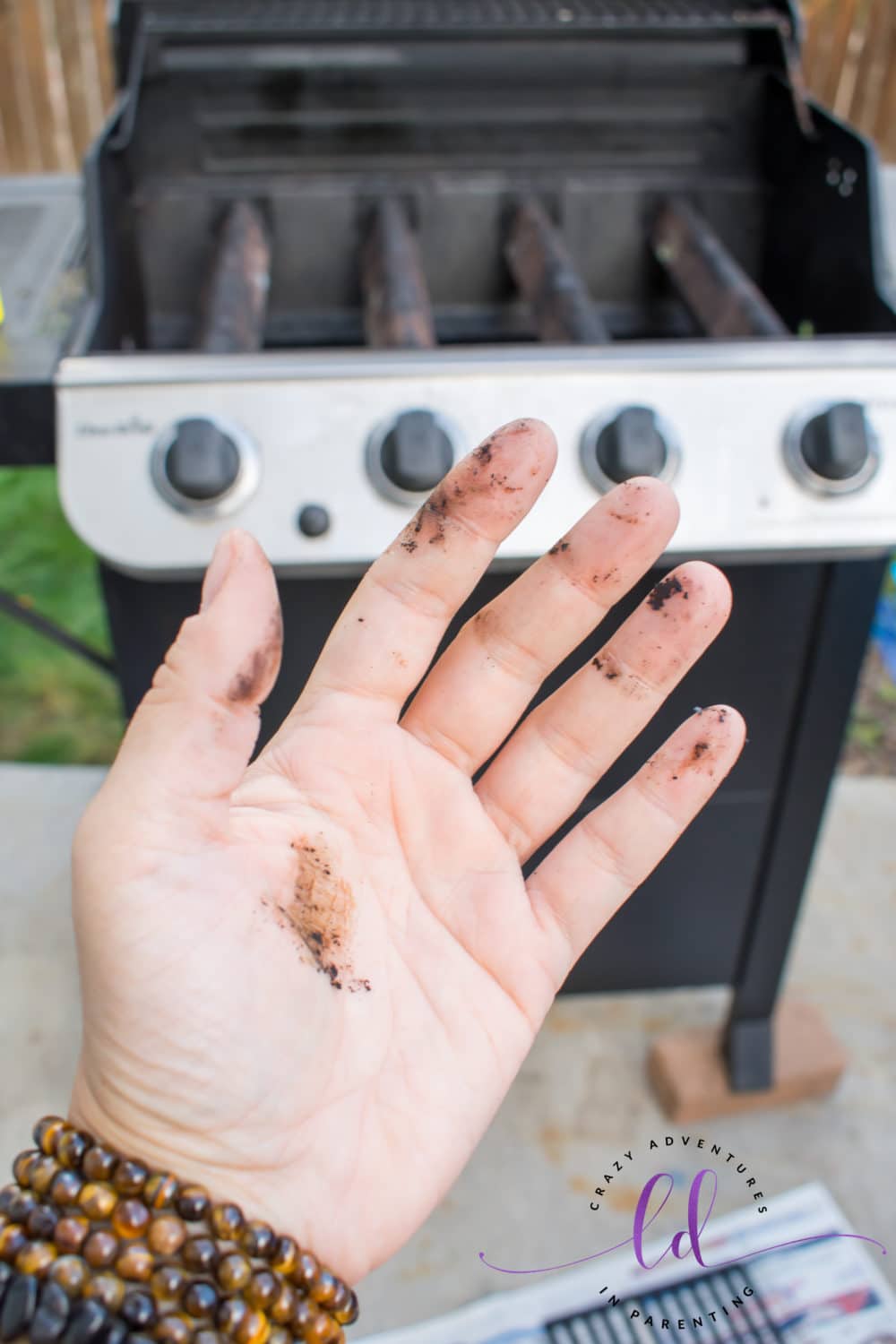 How to Use Goo Gone Grill and Grate Cleaner
After testing an inconspicuous area on the grill as per the directions, we really got after it, man. We covered that beast. Spraying the foam was very satisfying, cuz it got to WORK, man. Sprayed what felt like FOREVER. On every crevice, every speck of grease got hit. No mercy, man.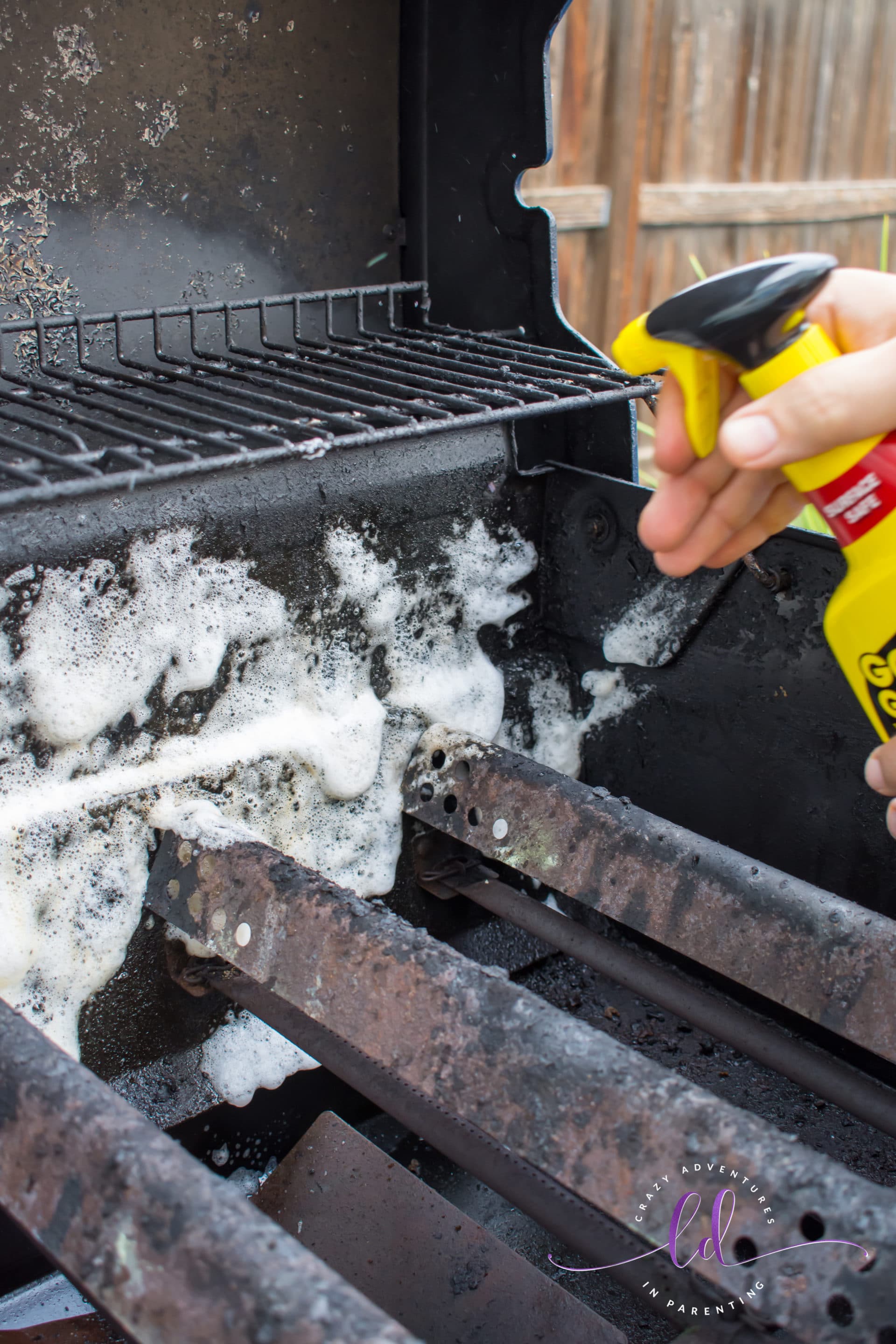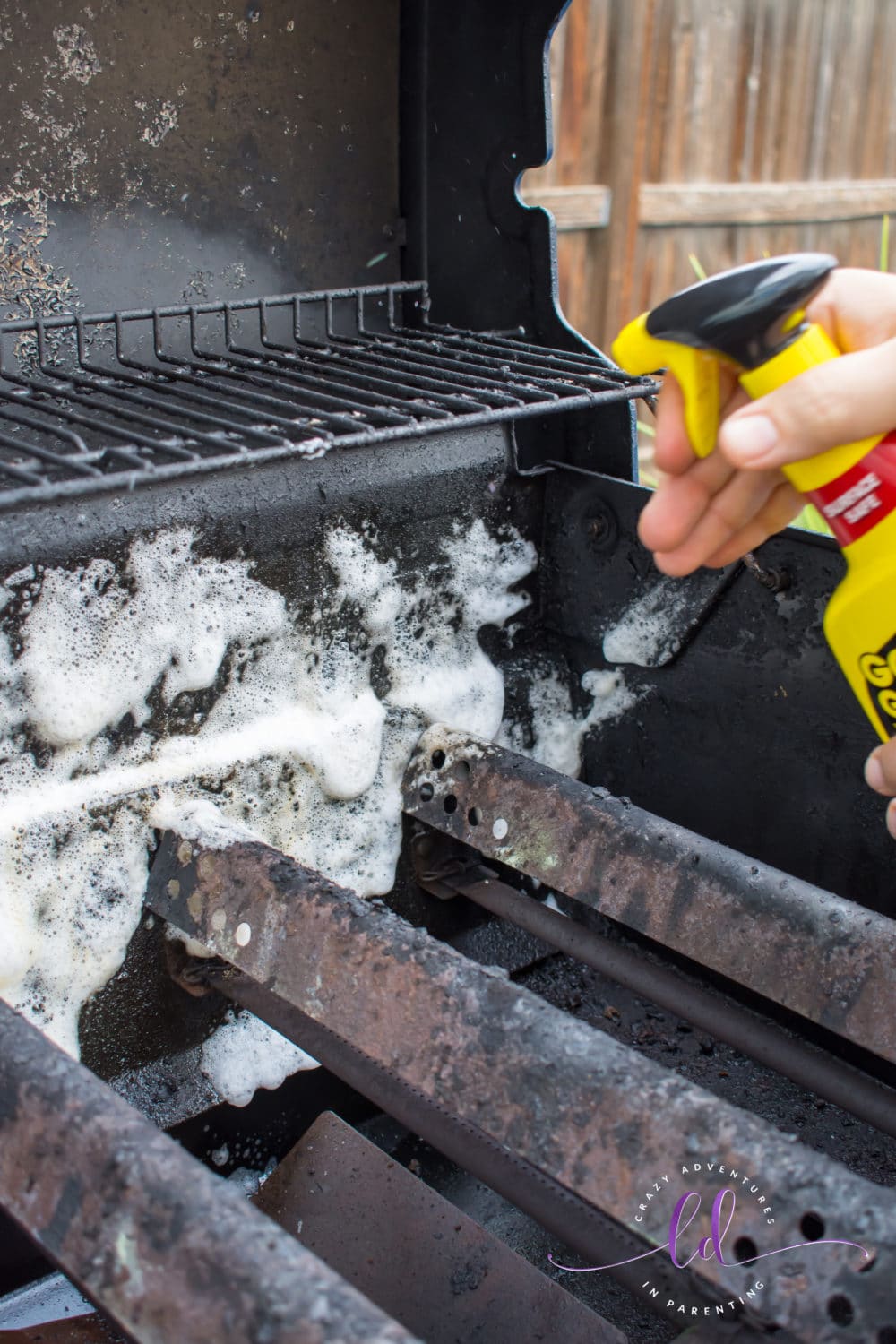 We just kept shooting up our grill like crazy people. Coated every surface that needed it and then some. And then covered it some more, we had two years worth of yuck that needed to be cleaned, you know?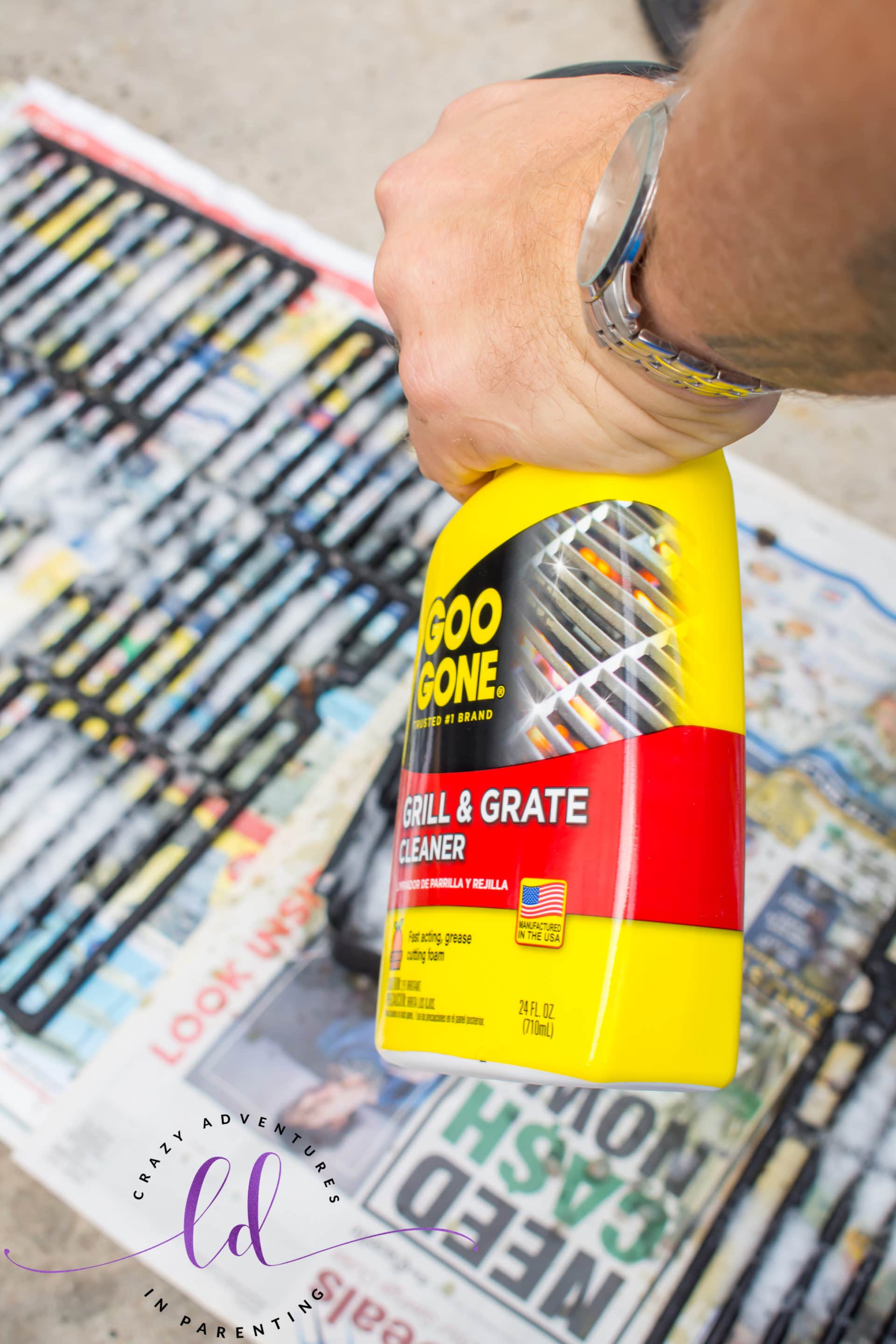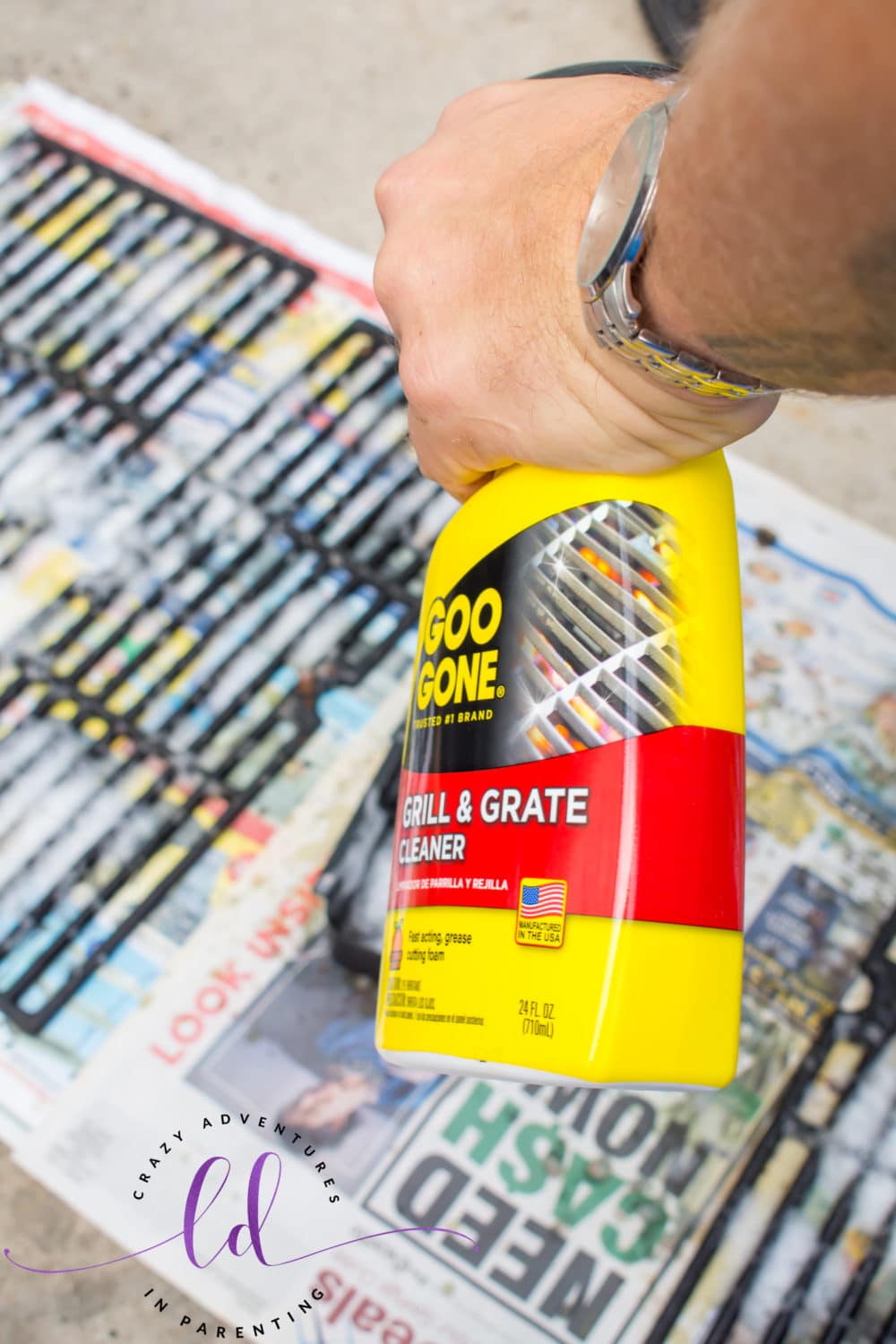 Once we sprayed Goo Gone Grill and Grate Cleaner on it, we could see it IMMEDIATELY tearing into the grease with it's little foamy magic bubbling and kicking all kinds of grease hiney. It went to WORK, friends. We got to sit back and watch the foam go to TOWN on all parts of our grill (save for the pilot light, electrical connections, switches, heating elements, and thermometer – you don't want to spray those). It was grime central, friends.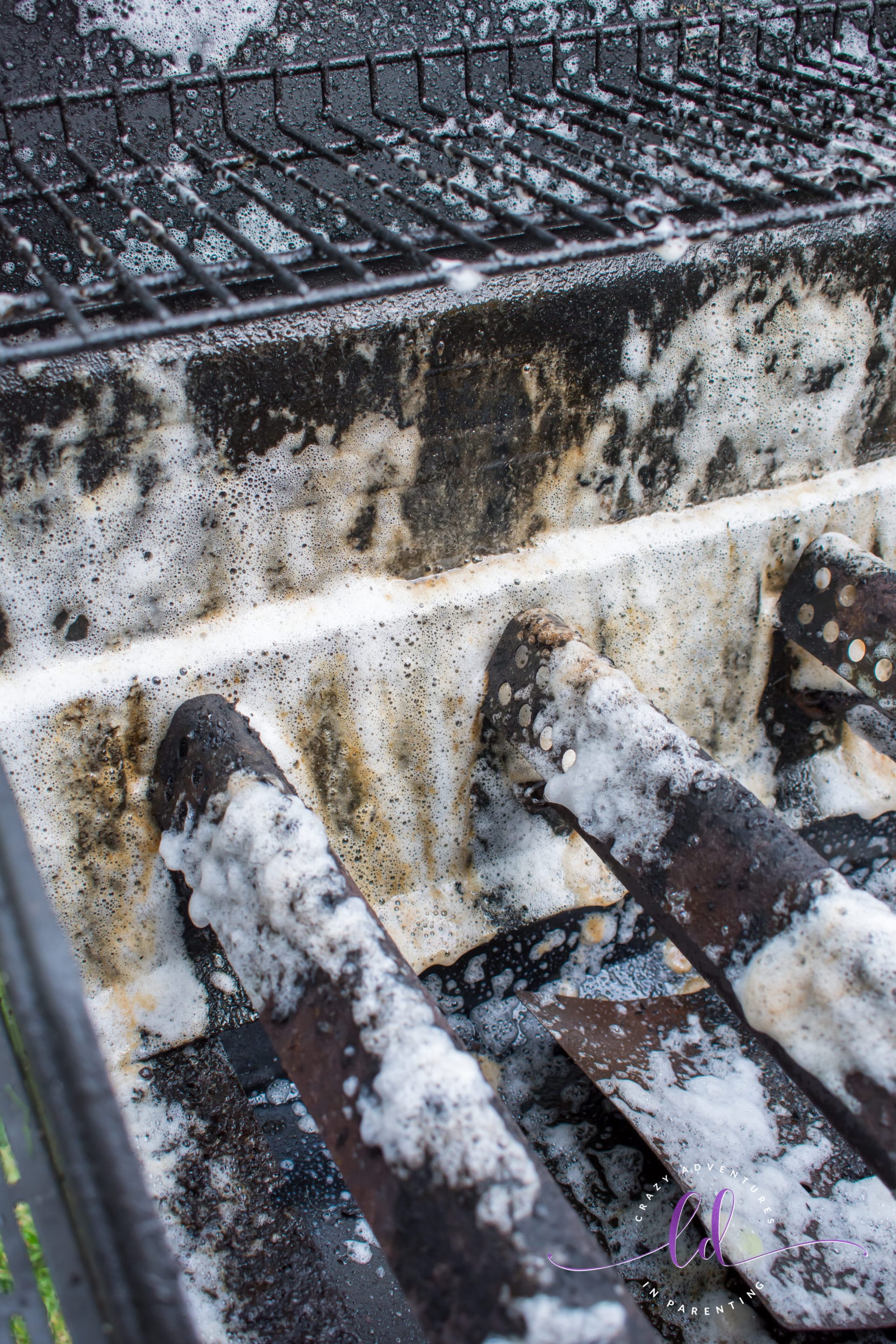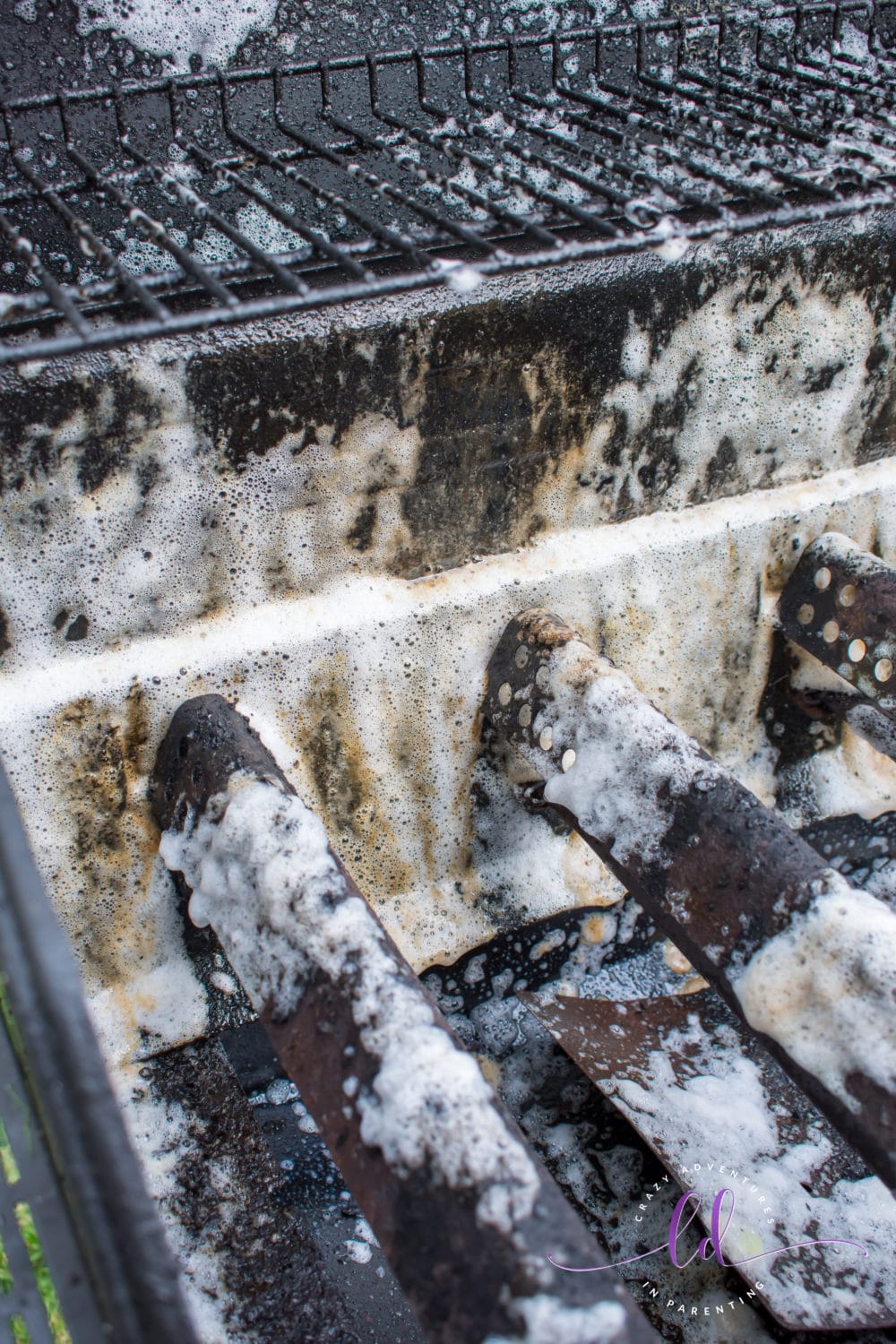 As I finished spraying the grates, I turned my attention towards the already sprayed grill and found this – the grease being melted off the grill by the cleaner. Amazing, man! (And gross. LOL) We weren't even done yet and the foam was already hard at work! Woot!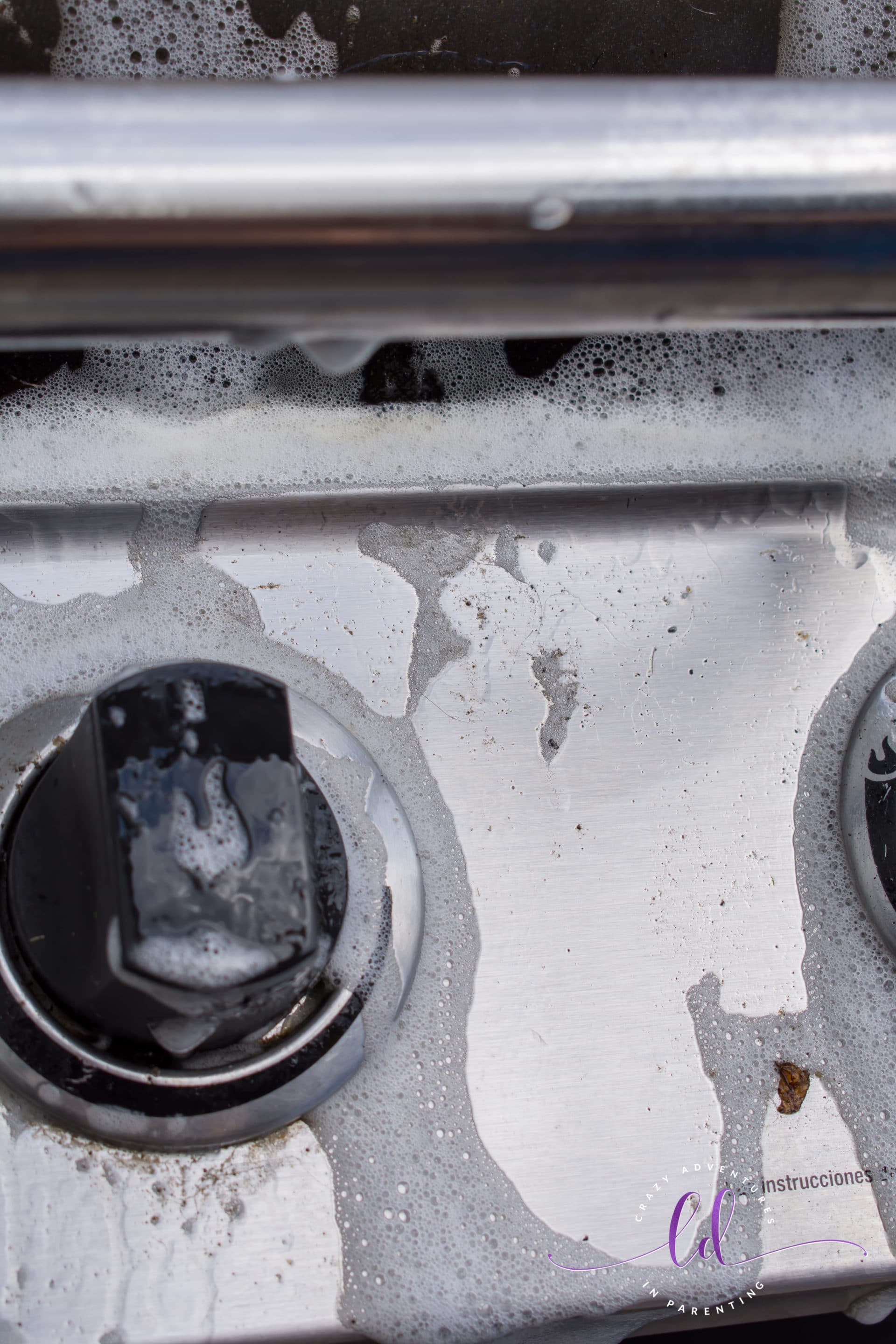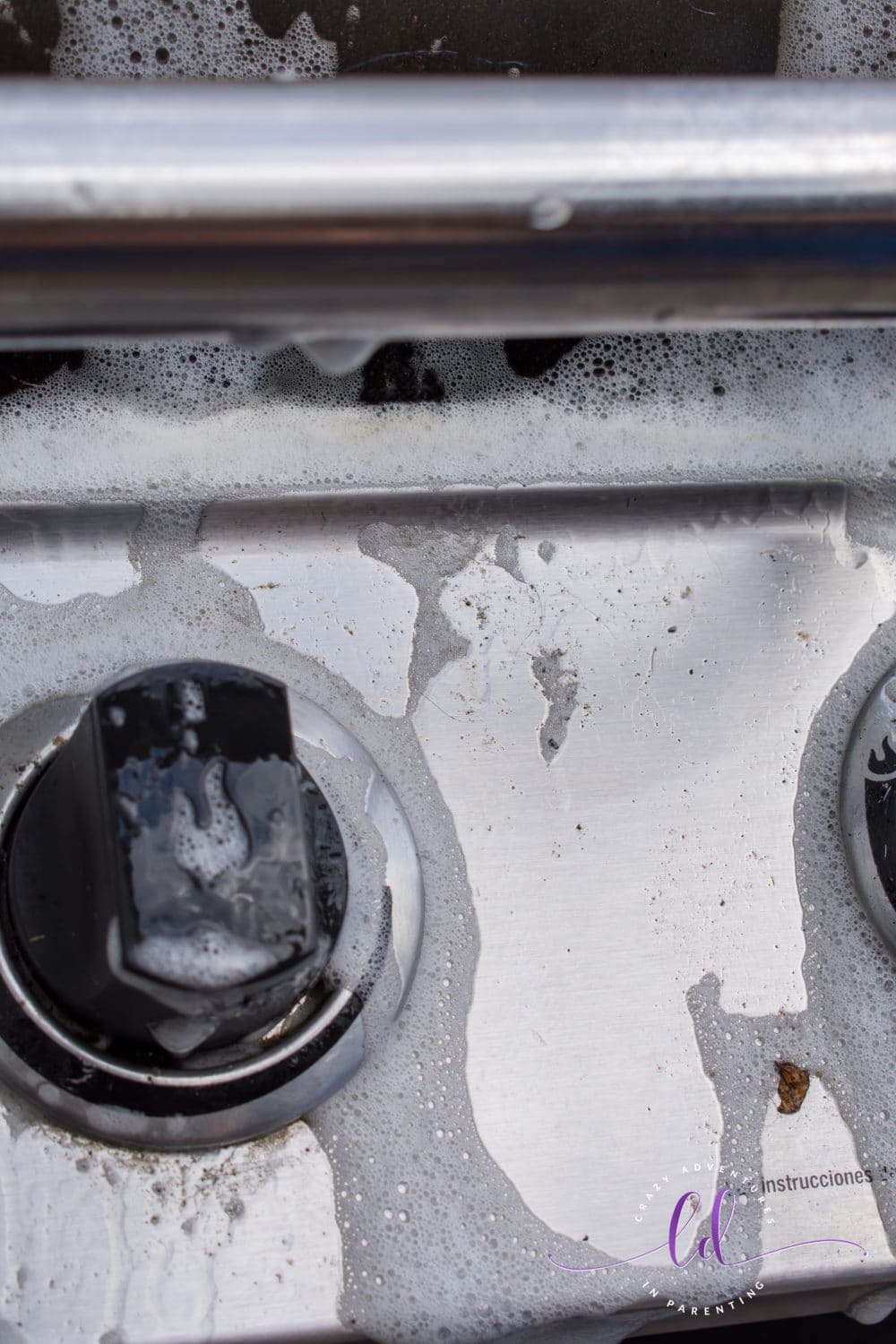 That continued onto everything. The grease was no match for this foam, I tell ya. It would just melt, drip, and ooze off the grill.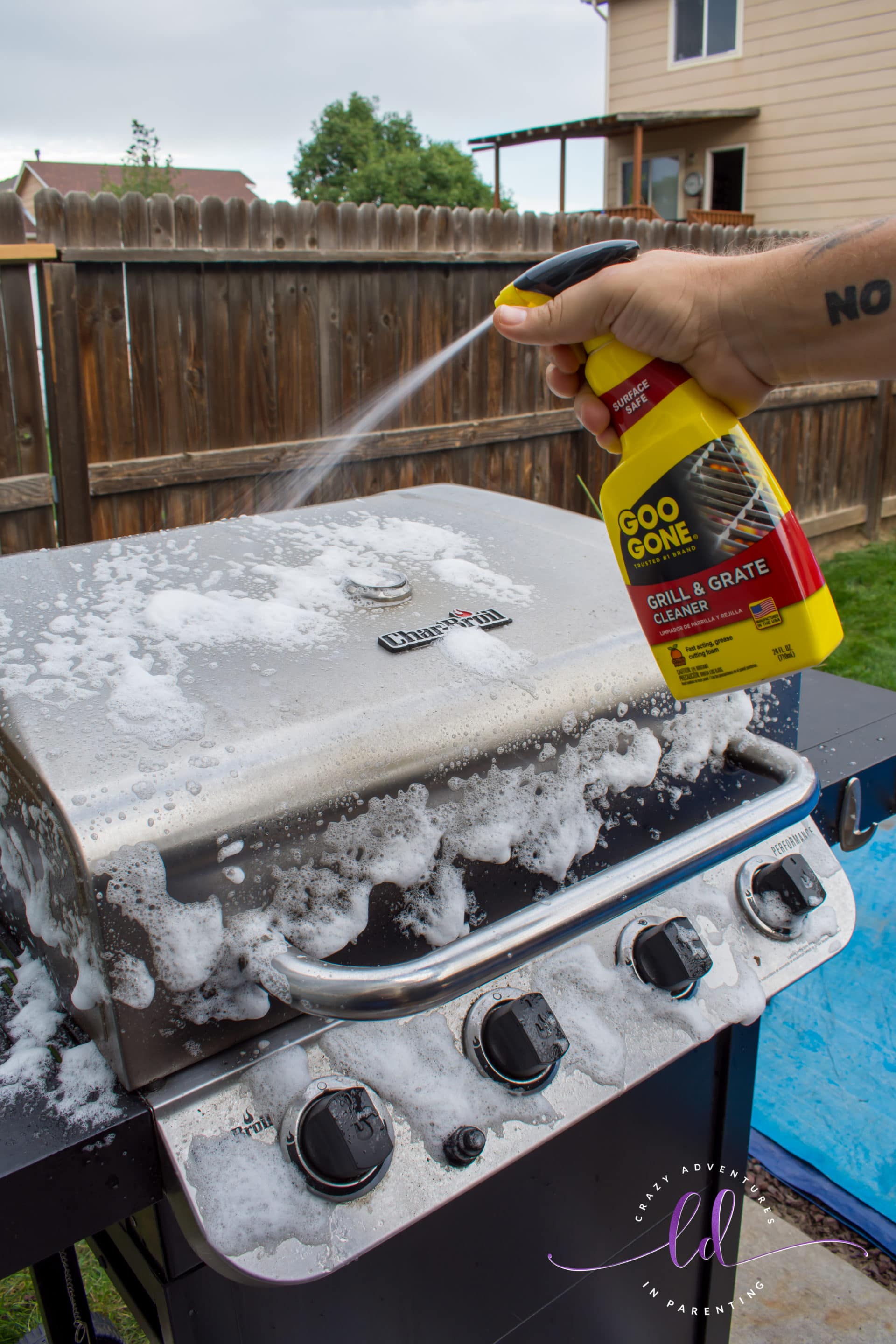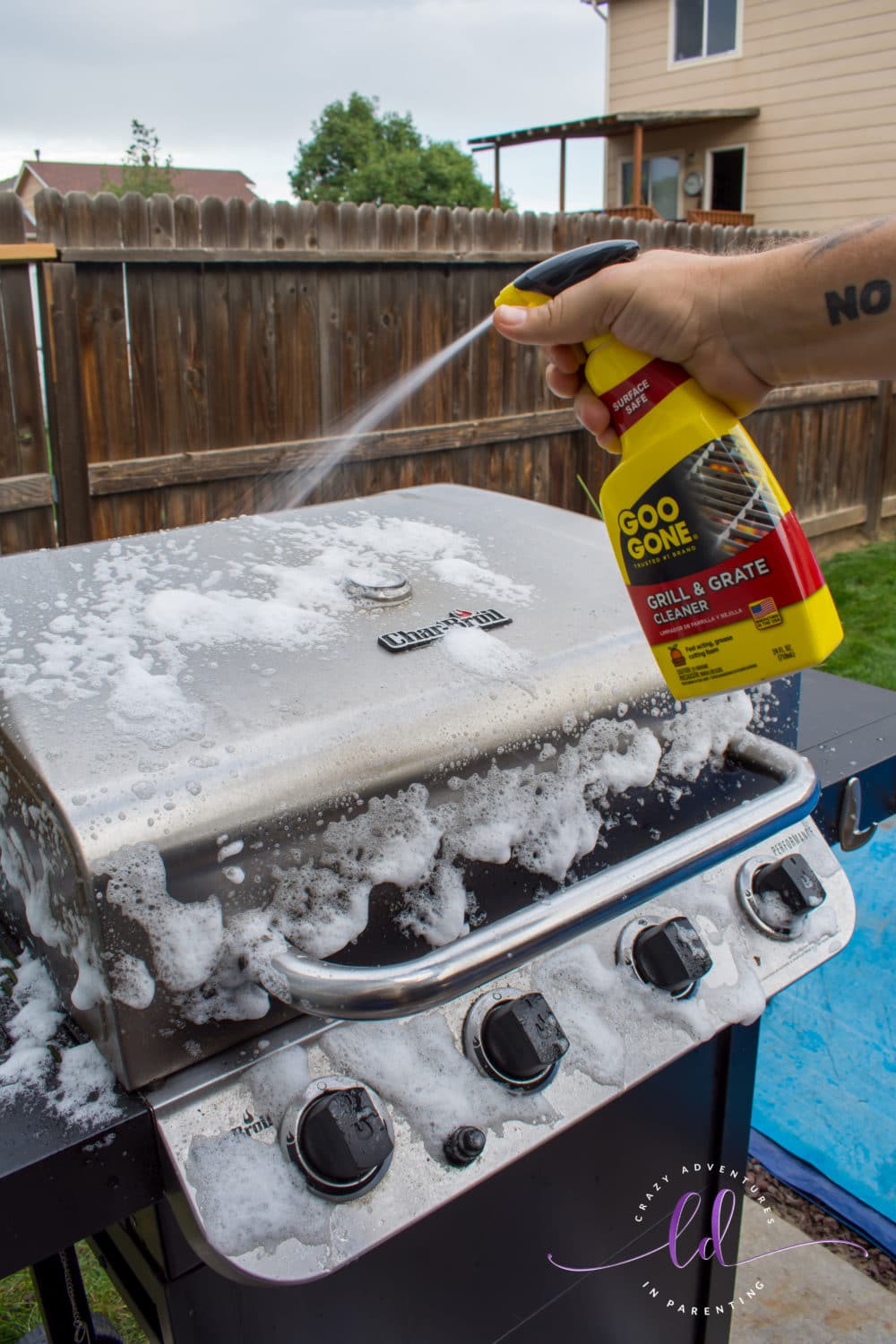 Once finished, spraying and letting it sit (the directions recommend you let the foam sit for anywhere between 2 and 10 minutes), we scrubbed. The directions say to use a soft cloth or brush, we used a combo of both – a sponge with a scrubby end. Brian scrubbed all kinds of disgustingness with that thing! Not all heroes wear capes, you know.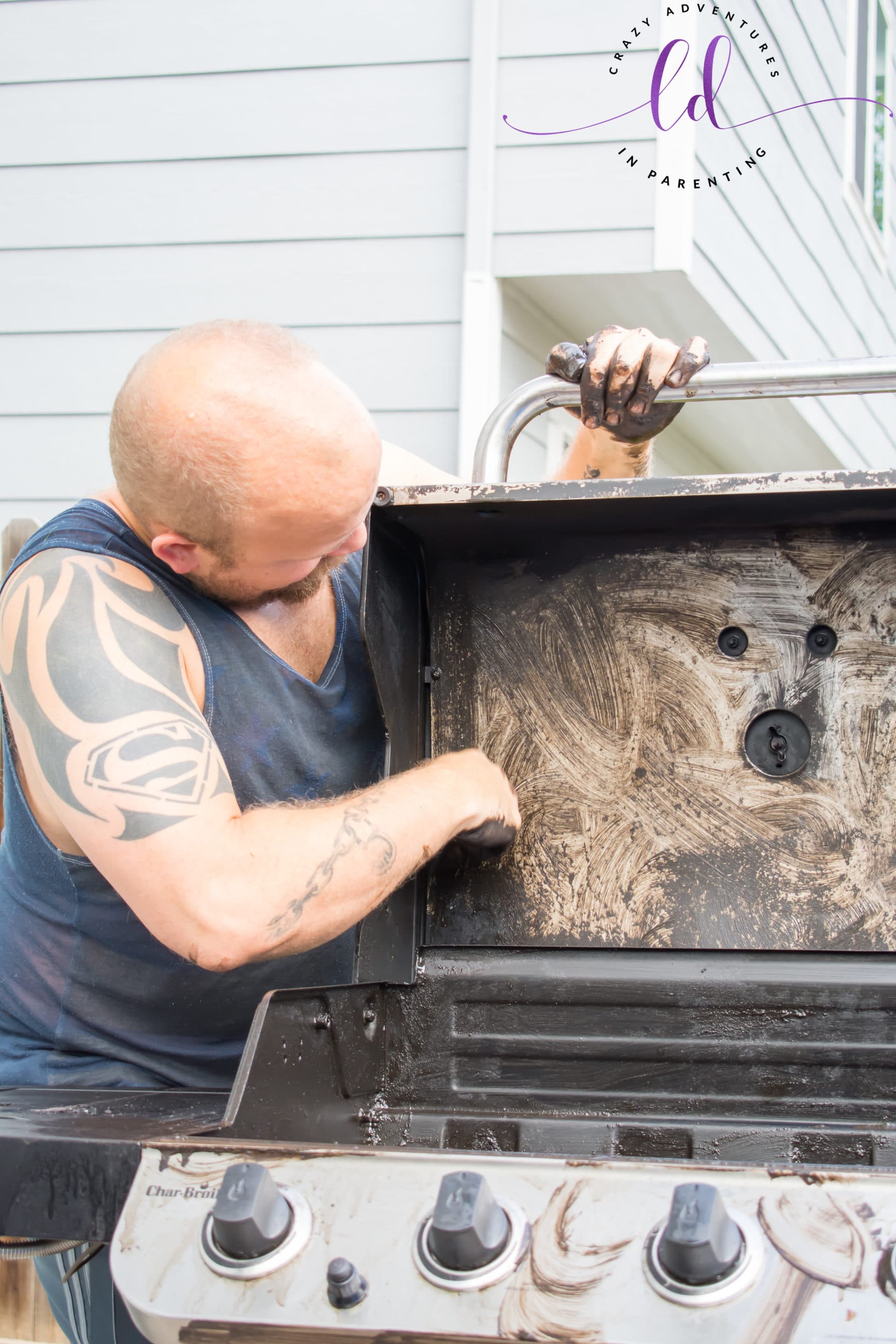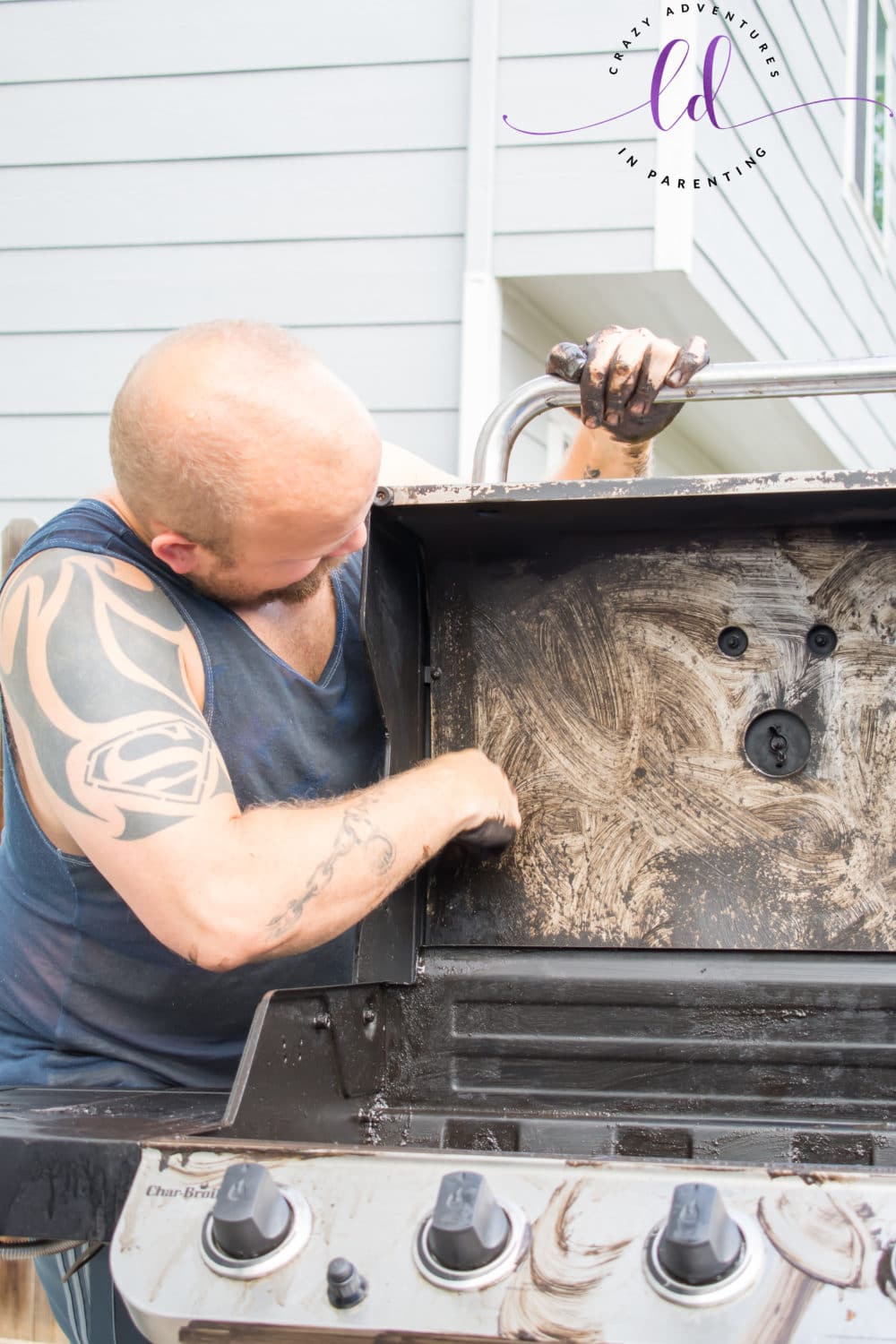 We couldn't believe the amount of sludge that came off our grill! It simply wiped away, too! That foam killed it! (Still gross LOL)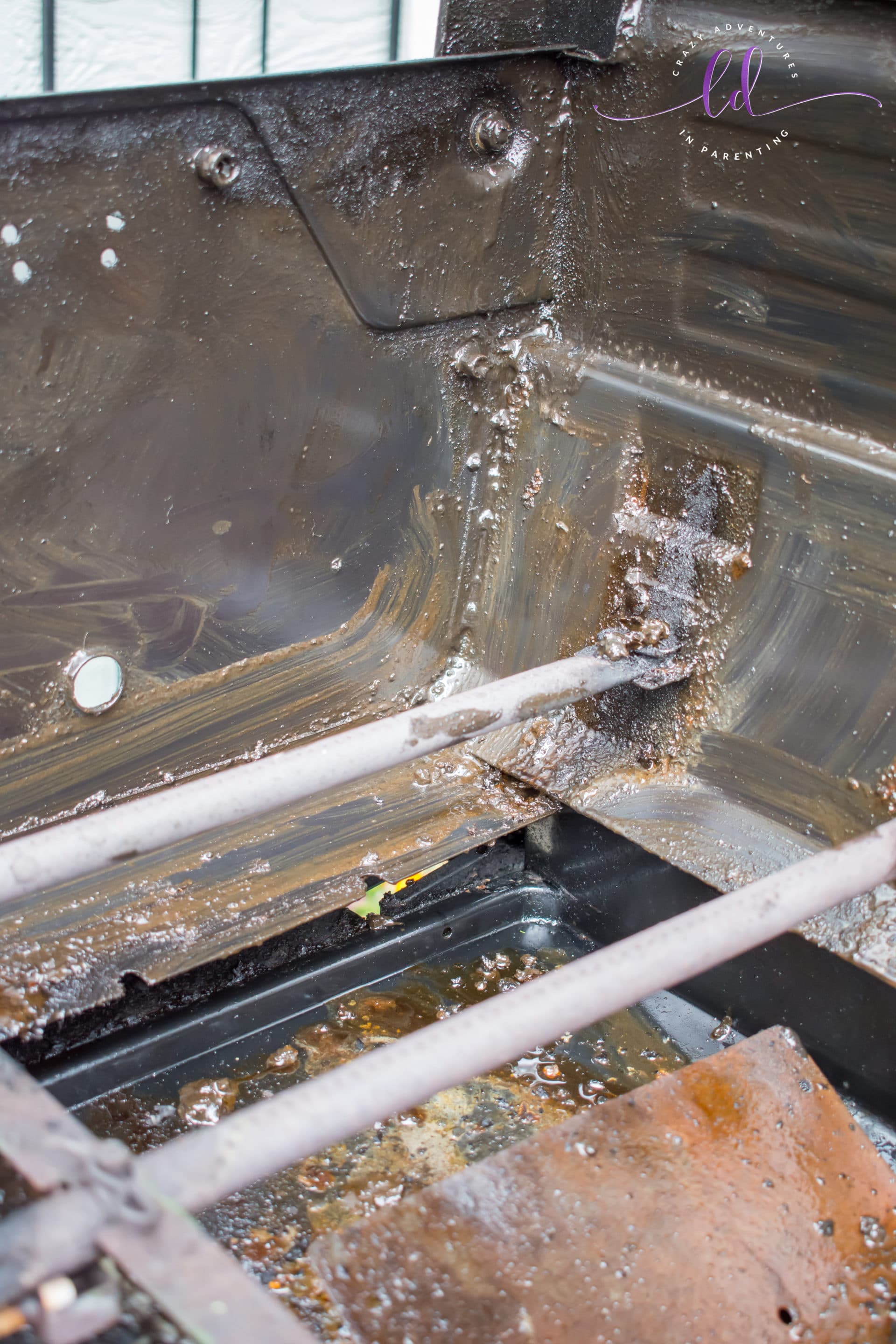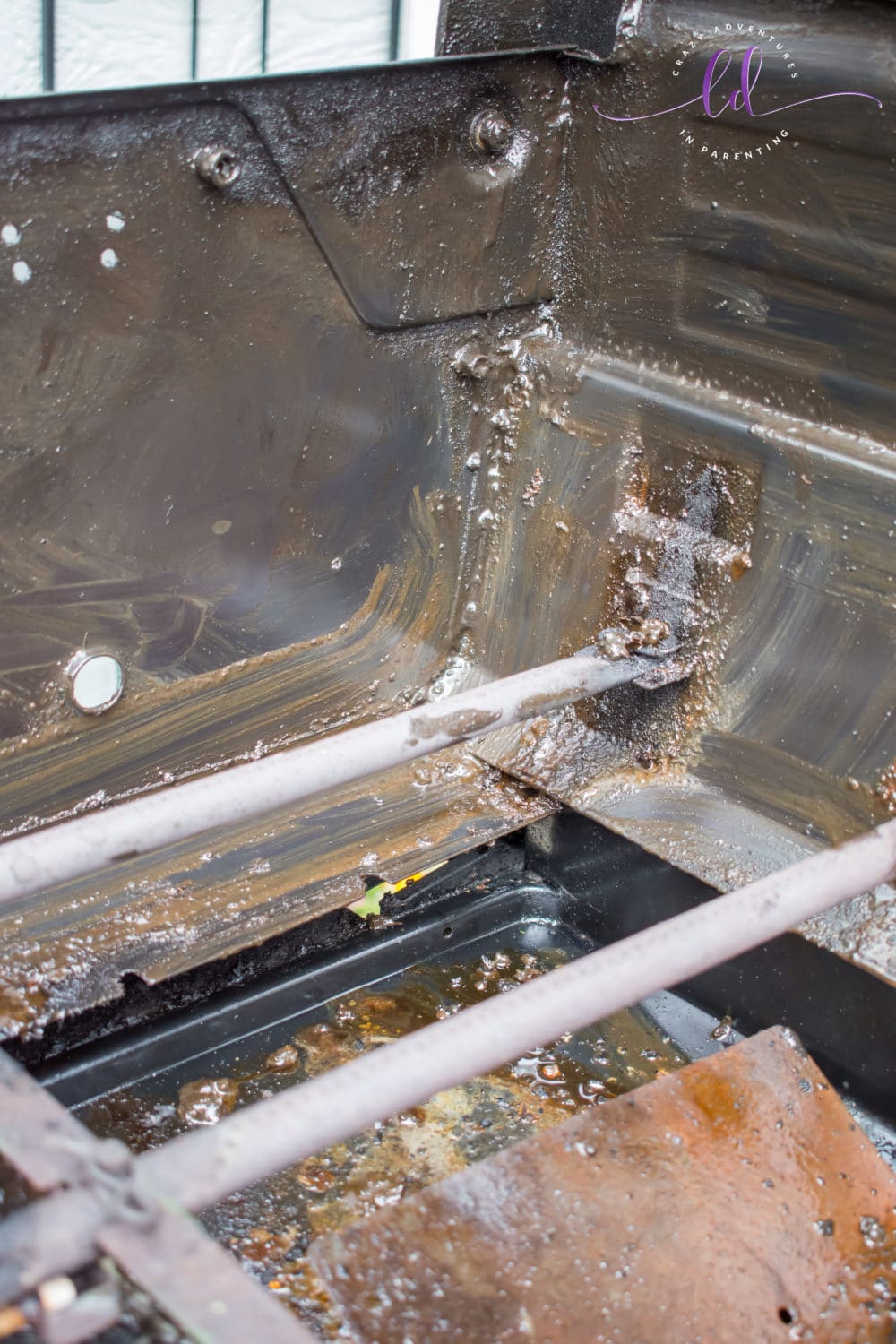 Brian had so much gunk on his hands, we decided to be "cute" and stamp paper with his handprints. Gross and hilarious and gross again. LOL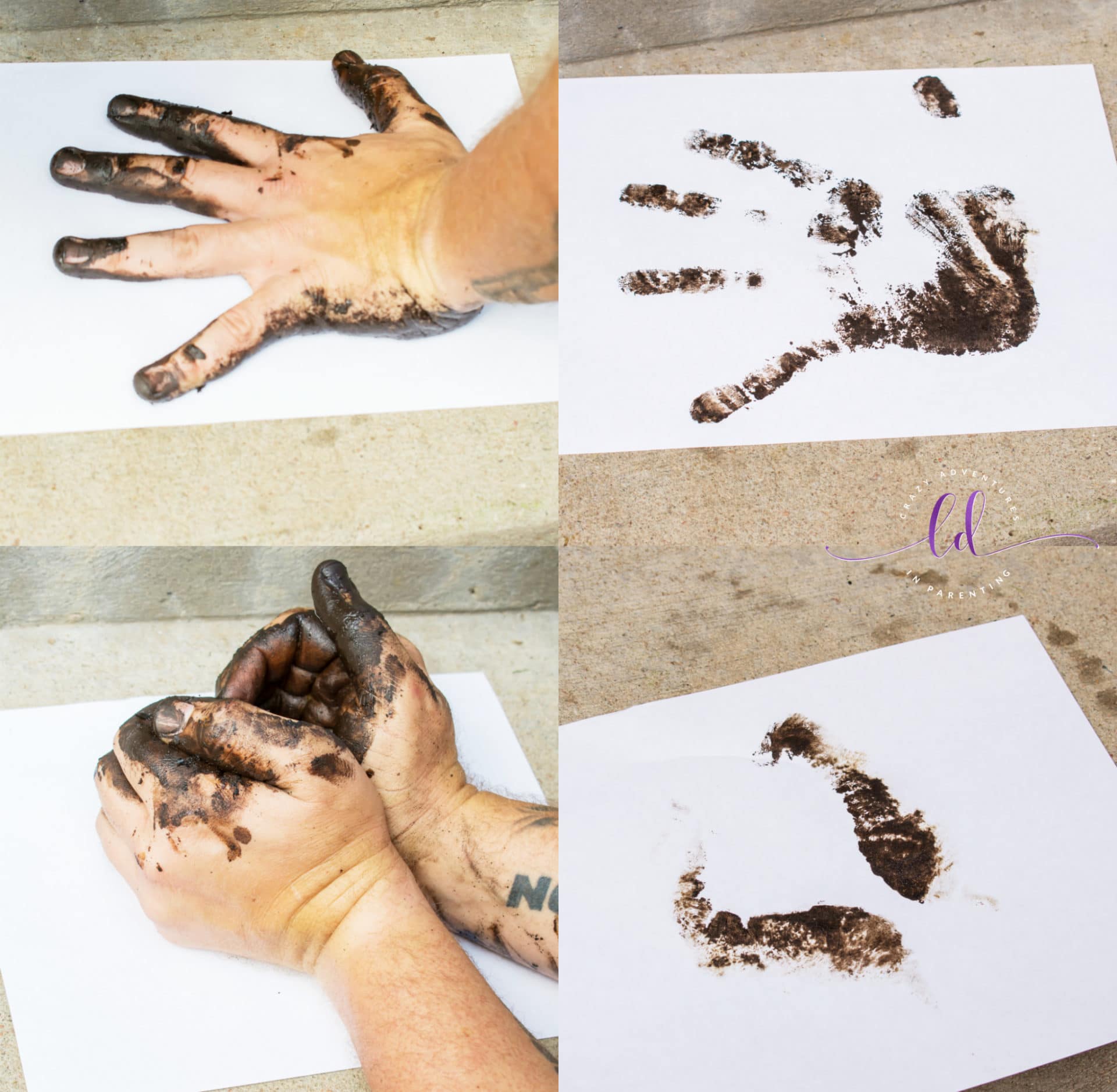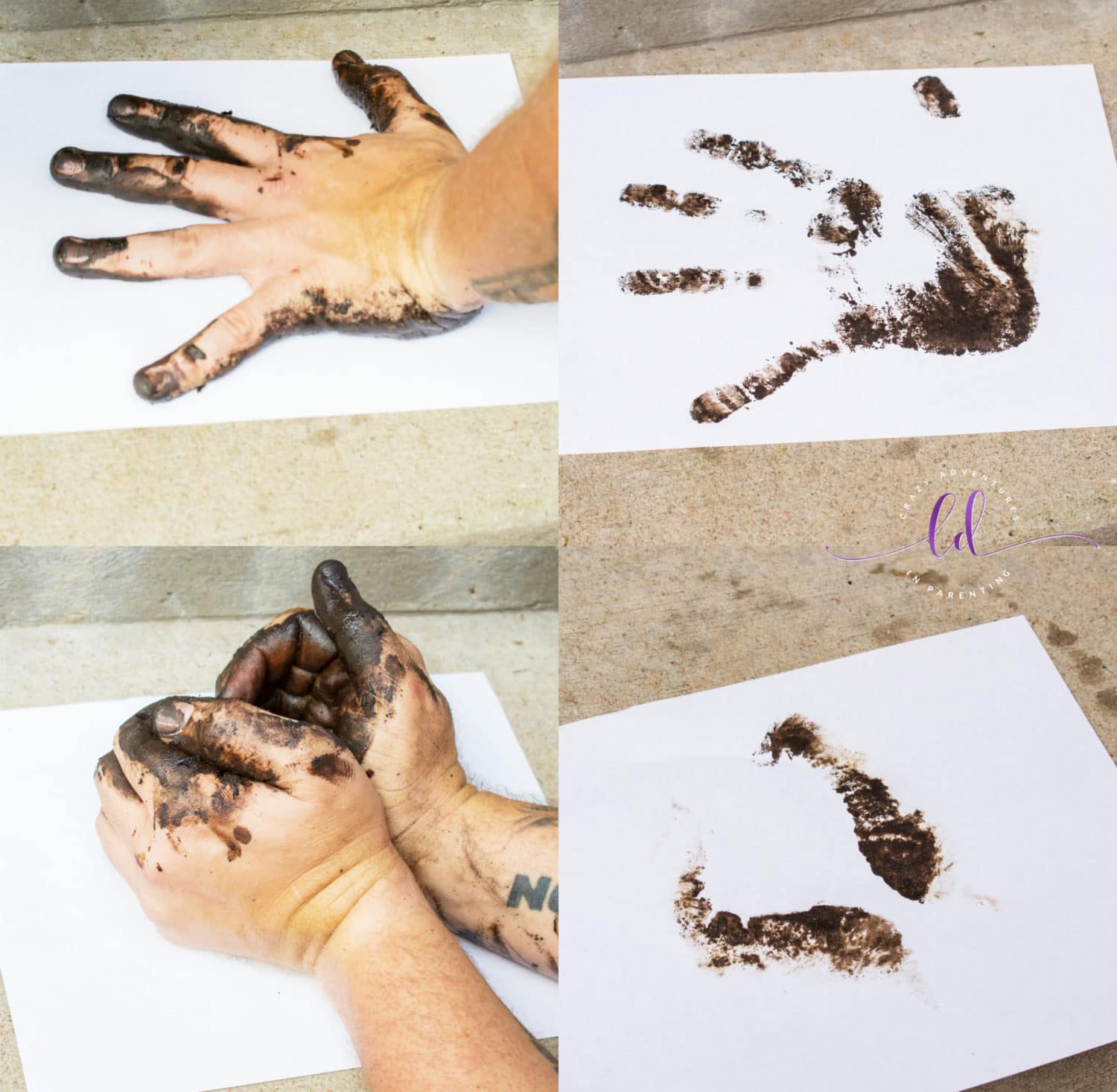 Then came the time to rinse all this grossness off. We had a lot of caked on gunk (as you saw), a lot of gunk as a result, and it all had to be rinsed off. We broke out the hose, and went to town! I could see the great changes as we rinsed!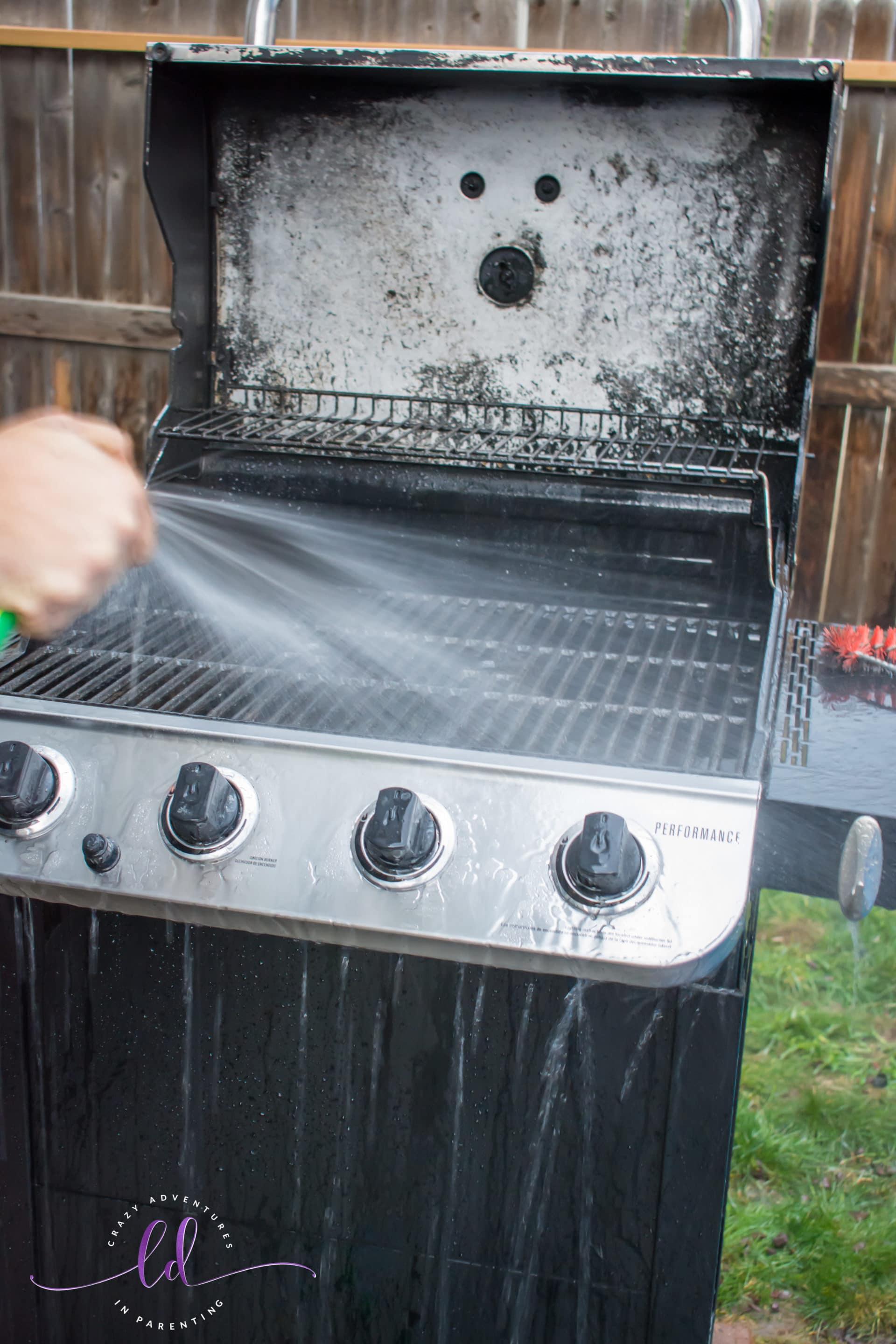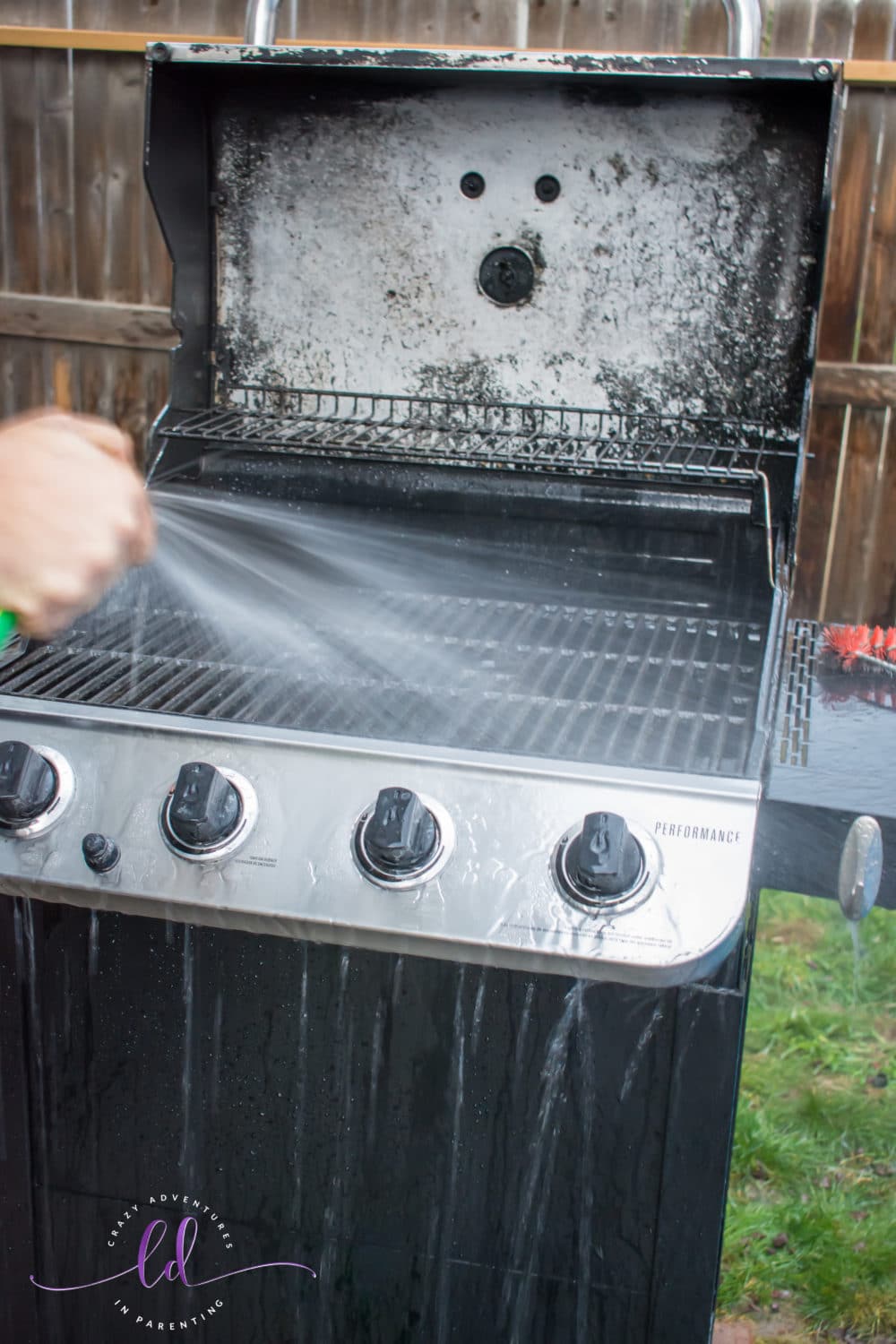 After Using Goo Gone Grill and Grate Cleaner
I'm mortified by how much we had accumulated in there. It's been TWO YEARS since we got this grill for the new house. Surely we couldn't have accumulated this much? And yet we did. All the burgers, sausages, seafood, steaks, and more, all charred and greasy remnants kicking around in there, accumulating into a powder keg of sorts.. and I had no idea. I'm so grateful Goo Gone Grill and Grate Cleaner exists! Look at these results after usage, man! Whoa mama!!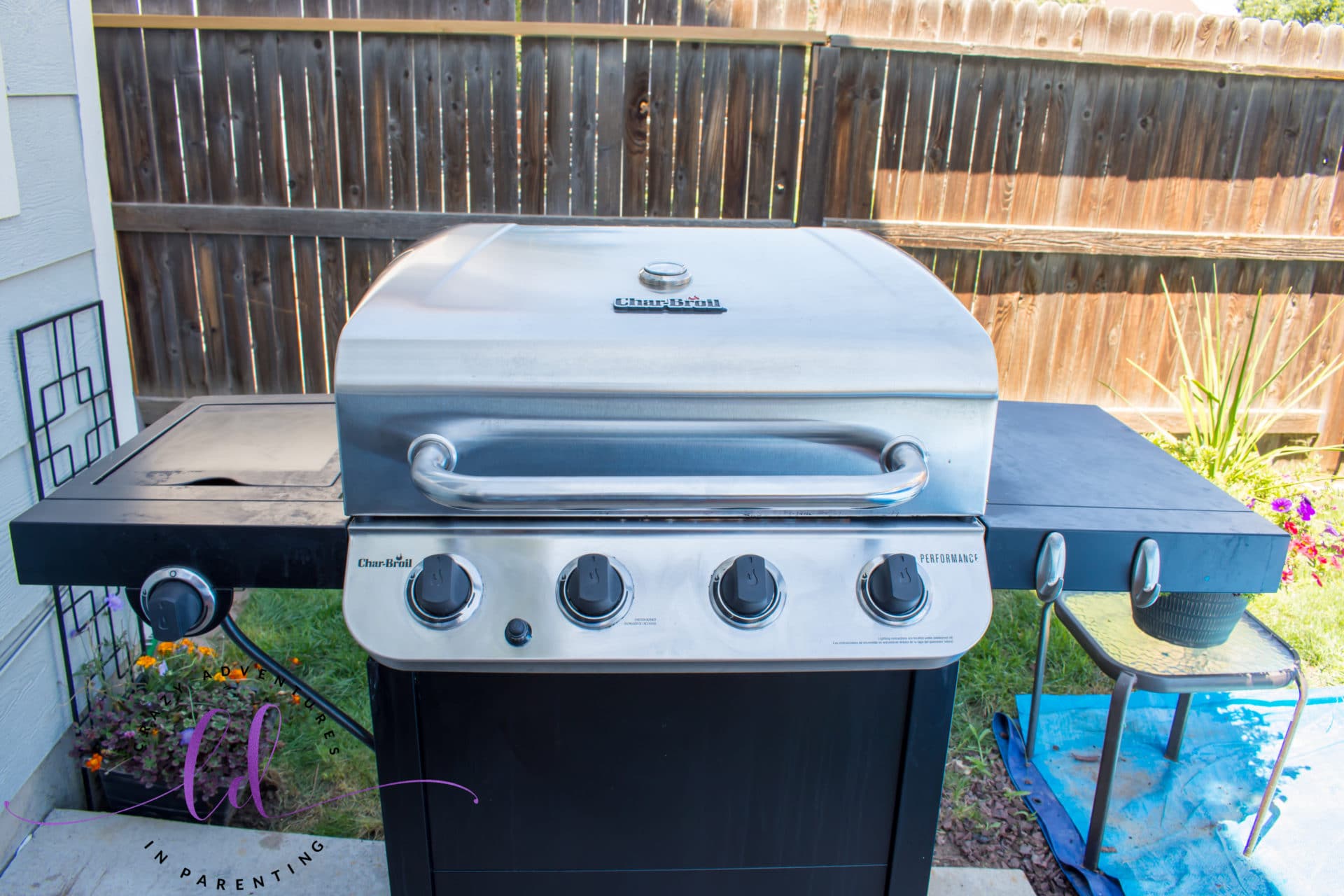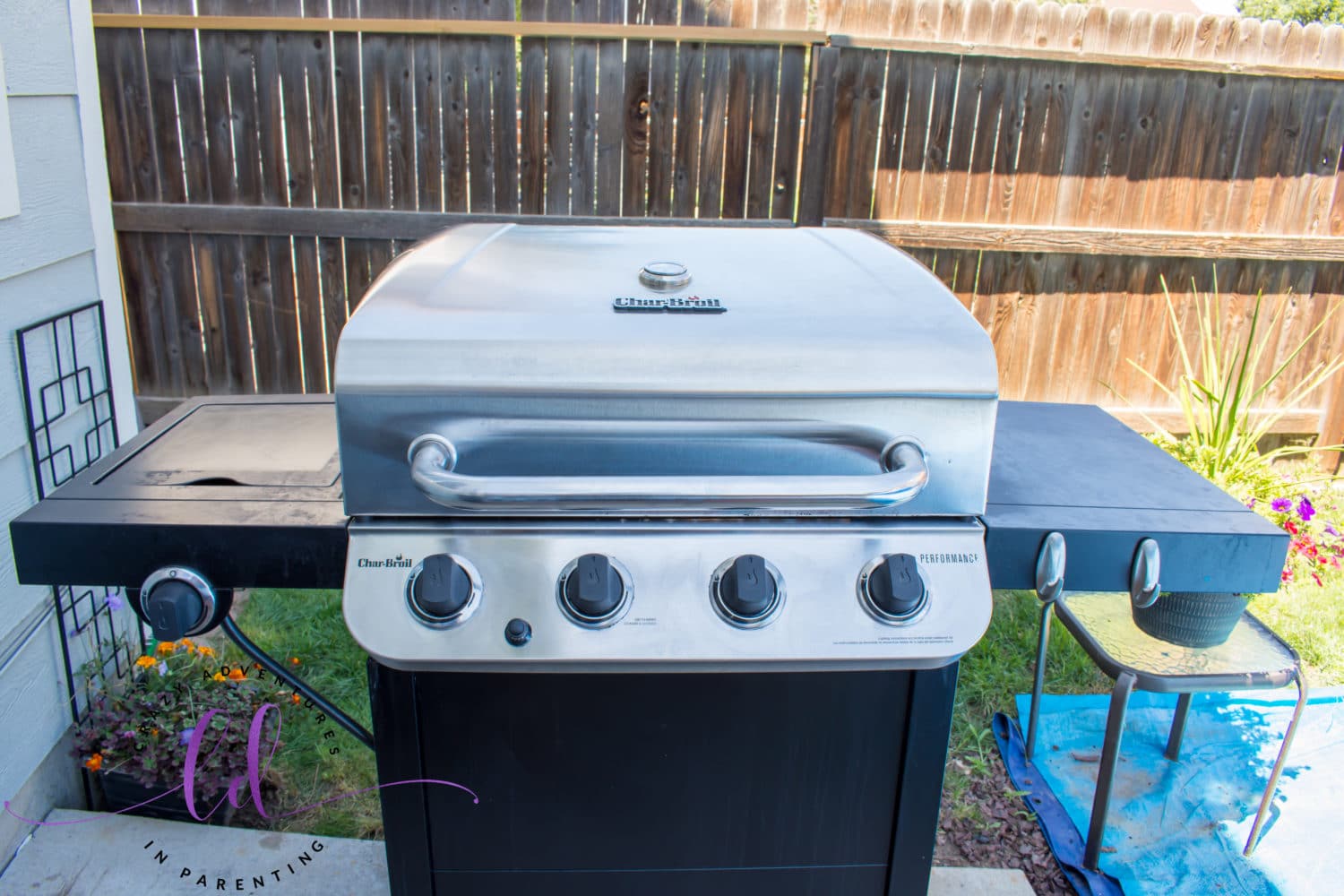 Look at this! It's amazing!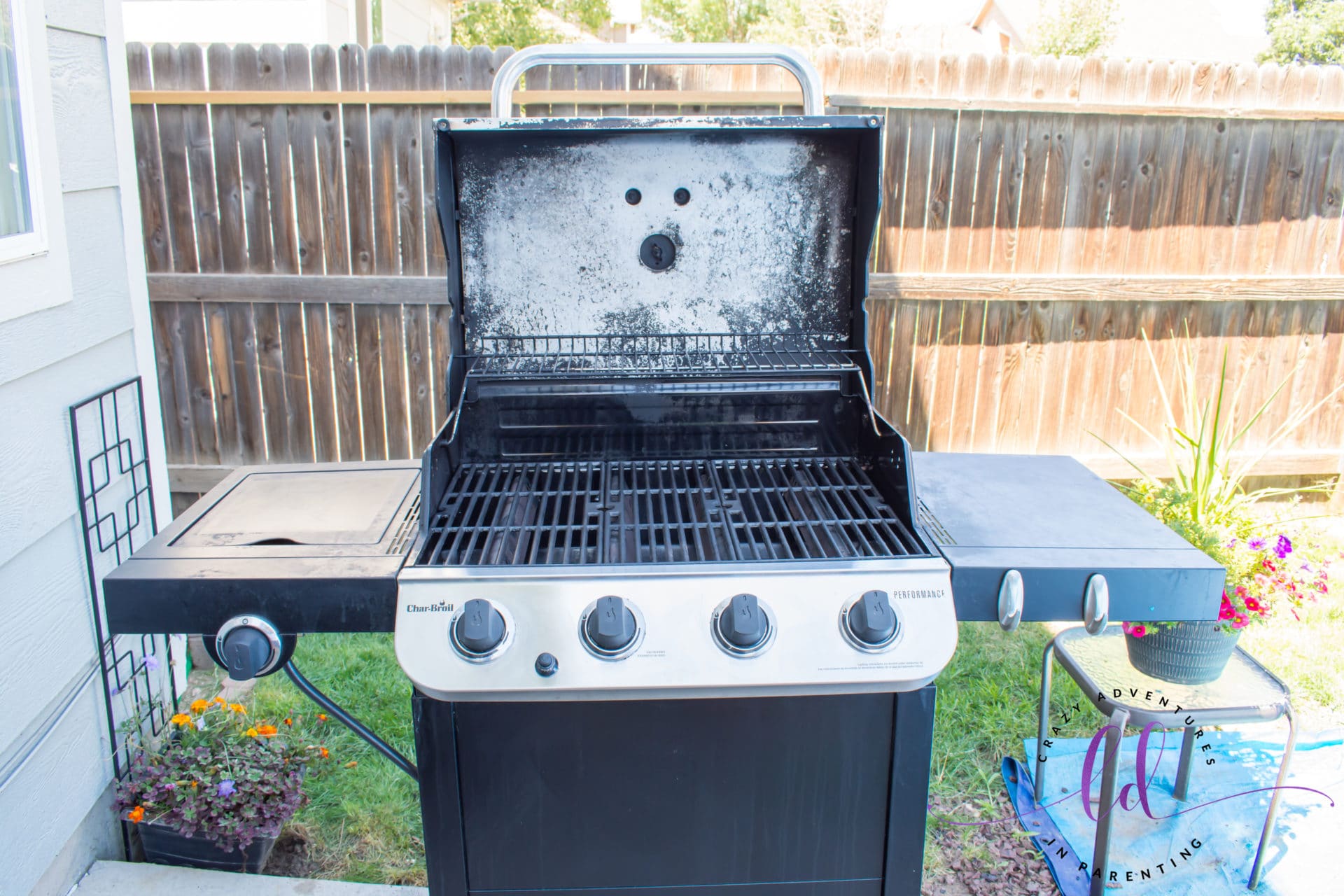 Want your mind to be blown? Check out these before and afters!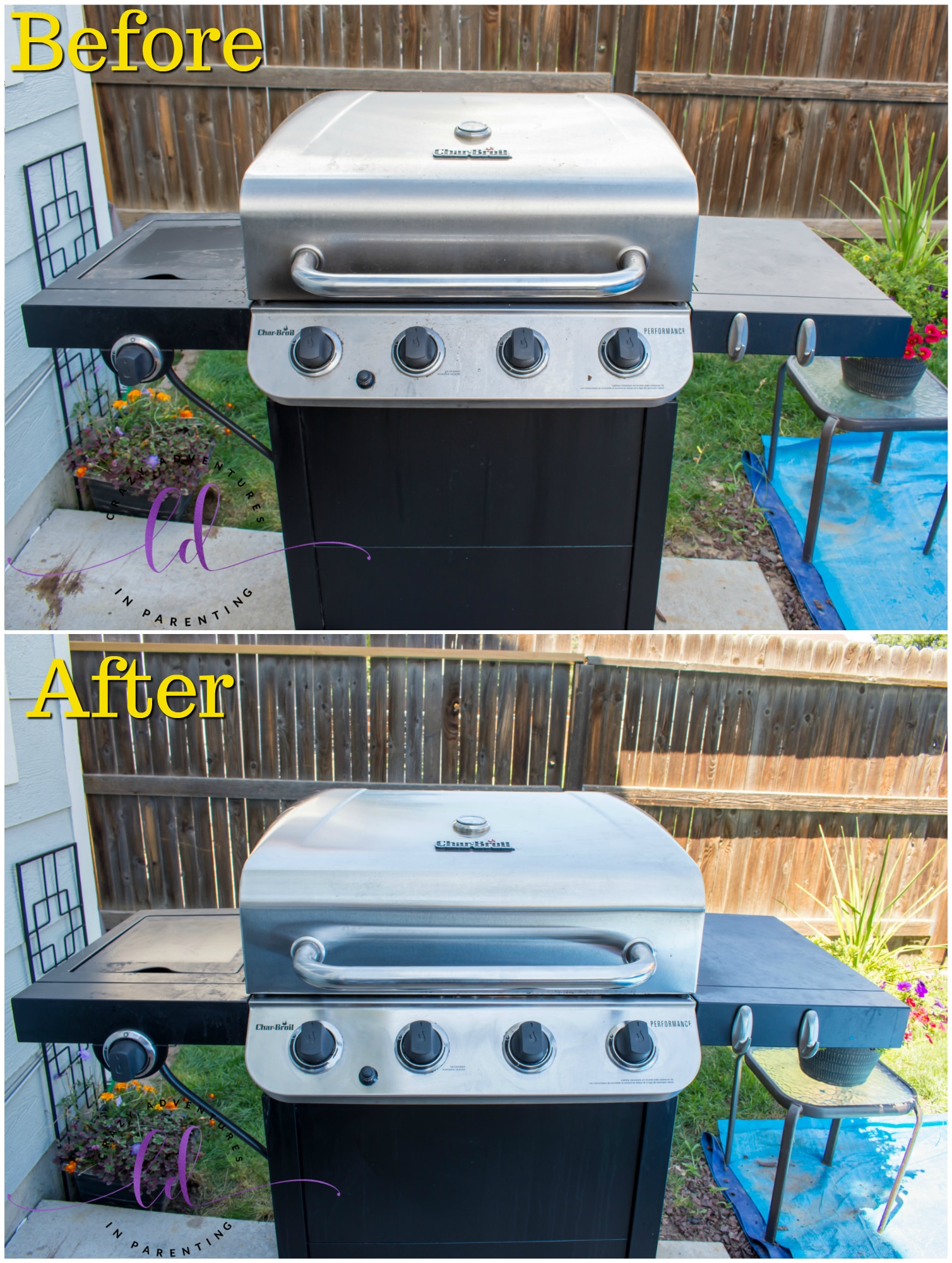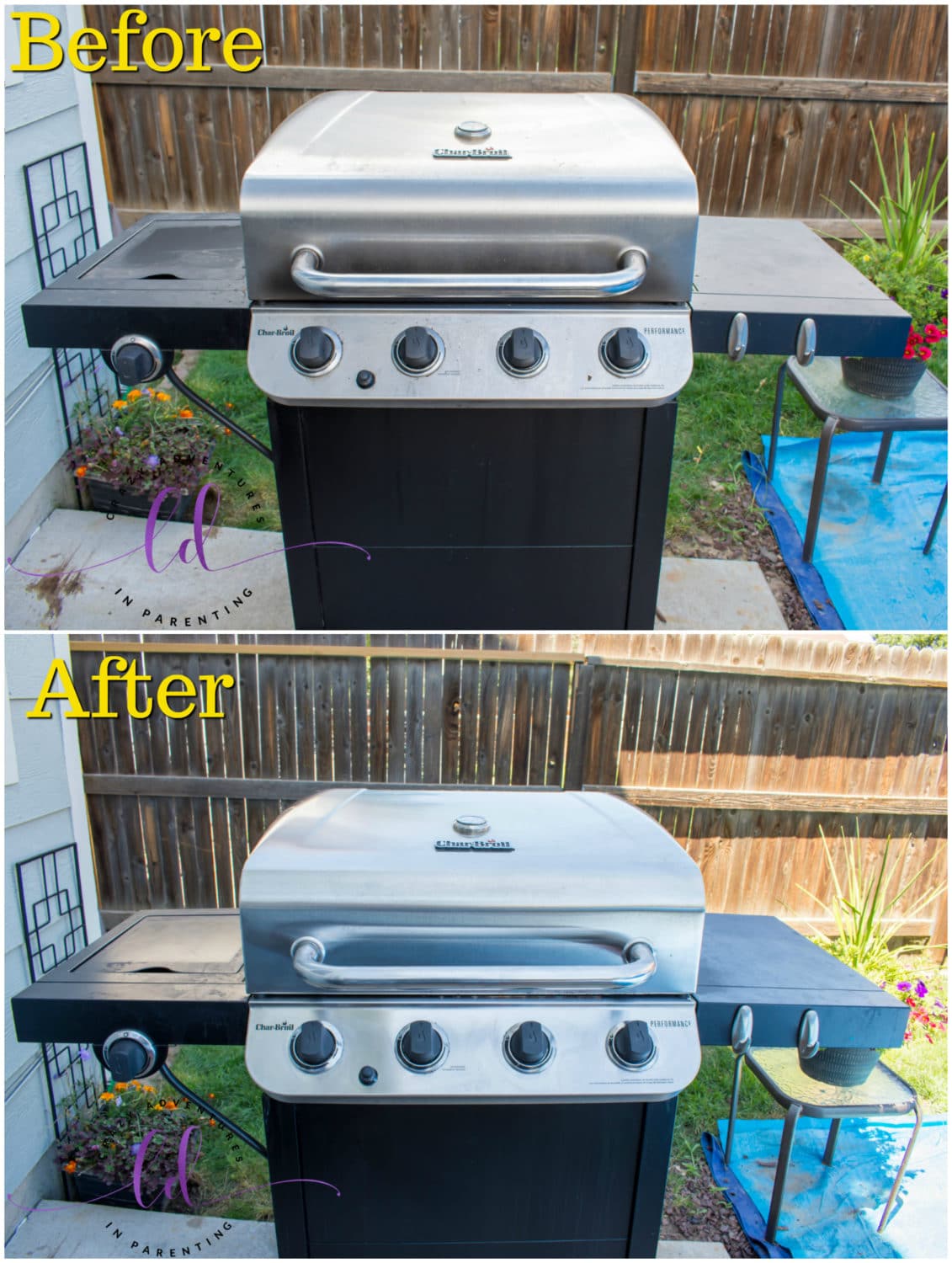 Can you believe the shine on this? I didn't even realize how much grime we had on the OUTSIDE until it was clean! Holy moly!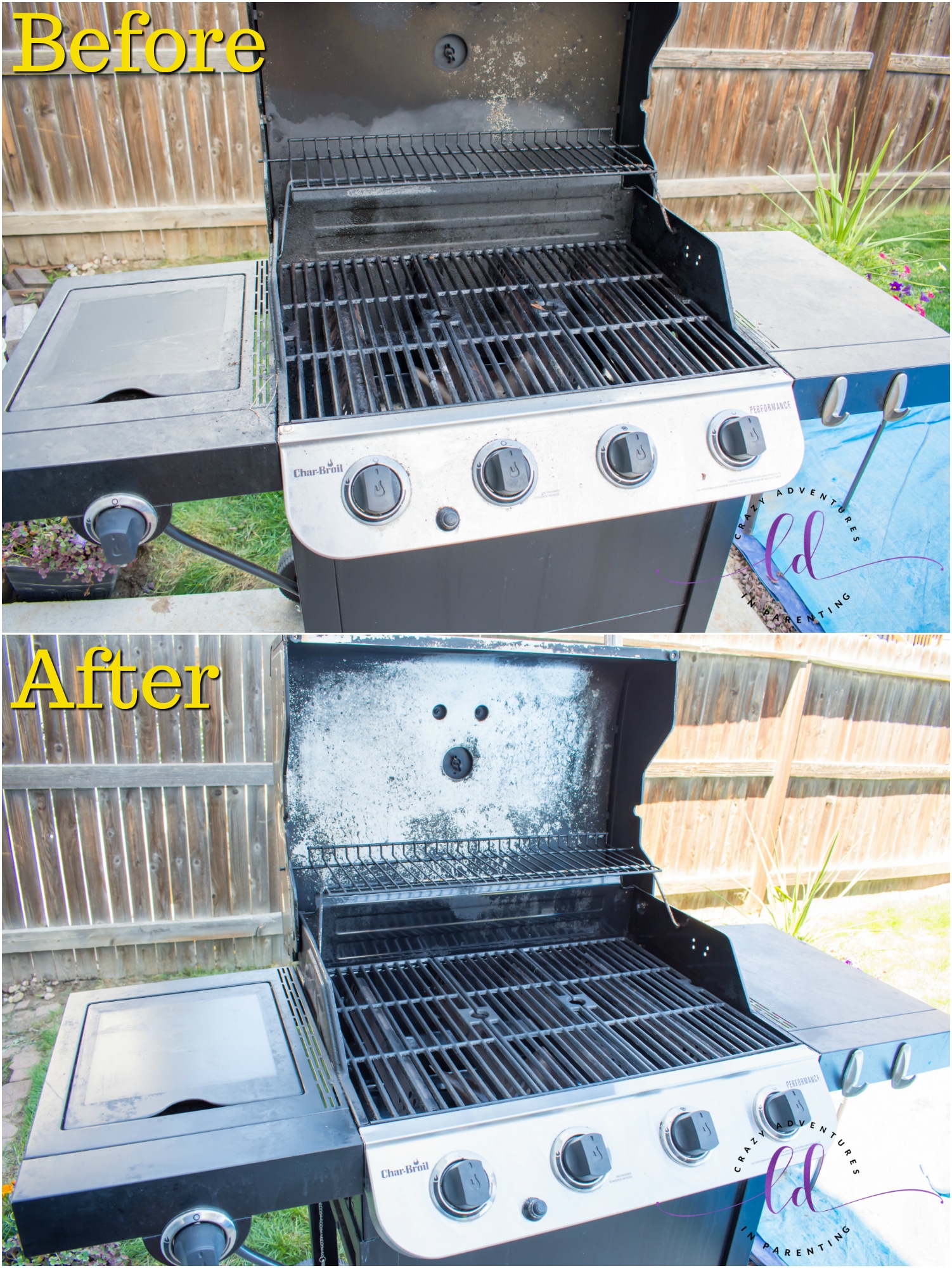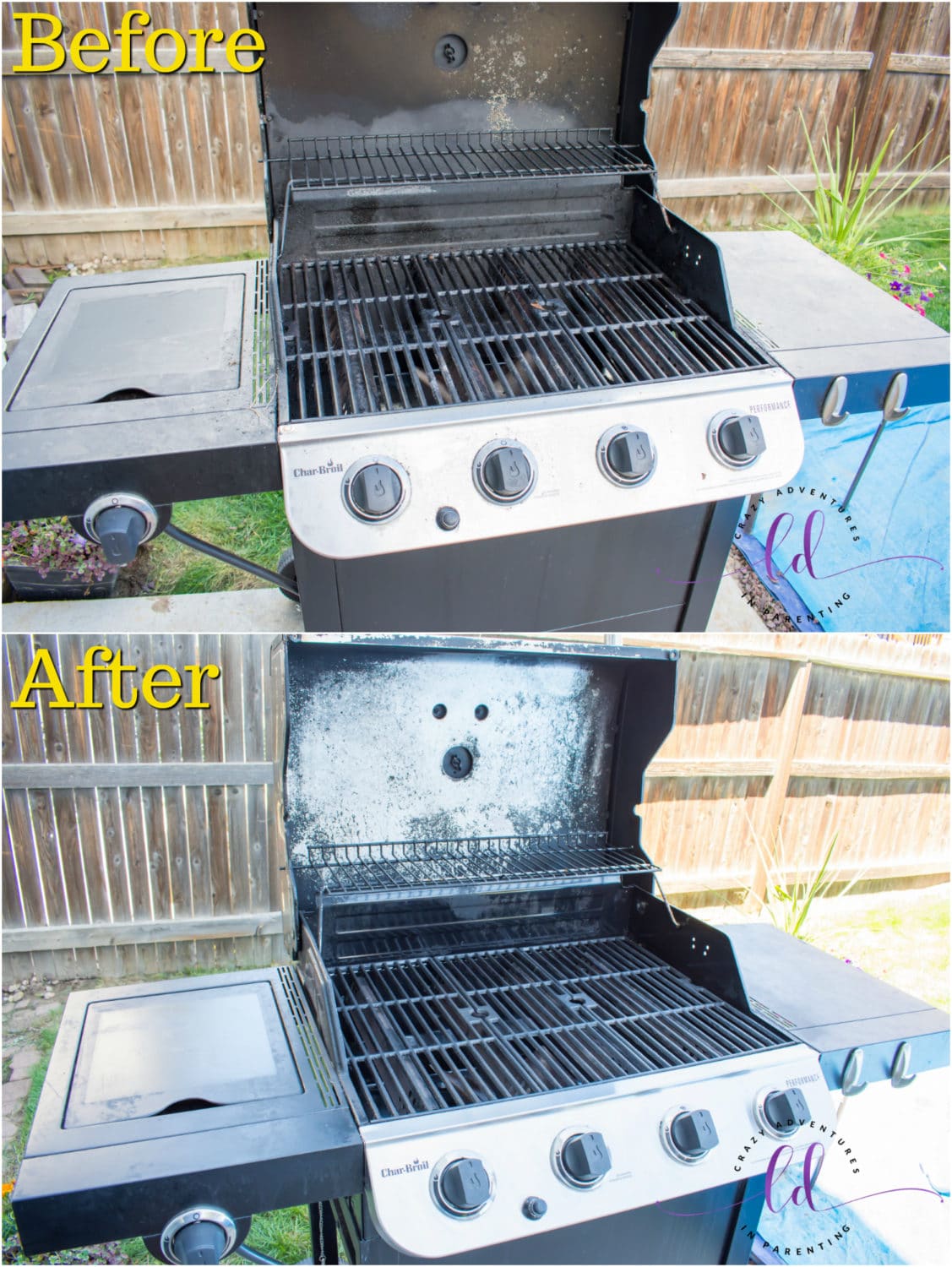 Now that we've used this product, I can't unsee the "face" in the grill's lid. It looks just as shocked as we were as to how clean it is, haha!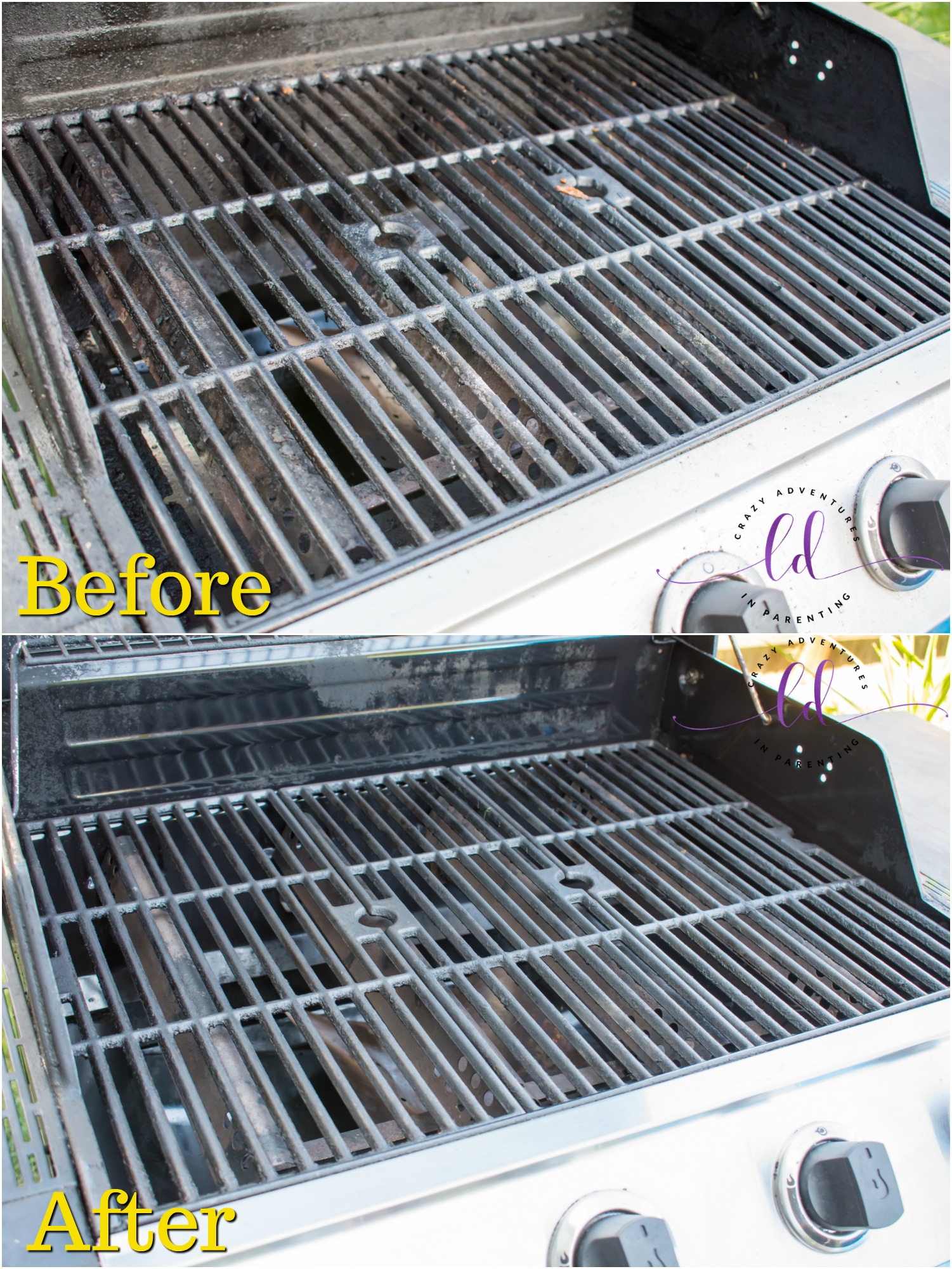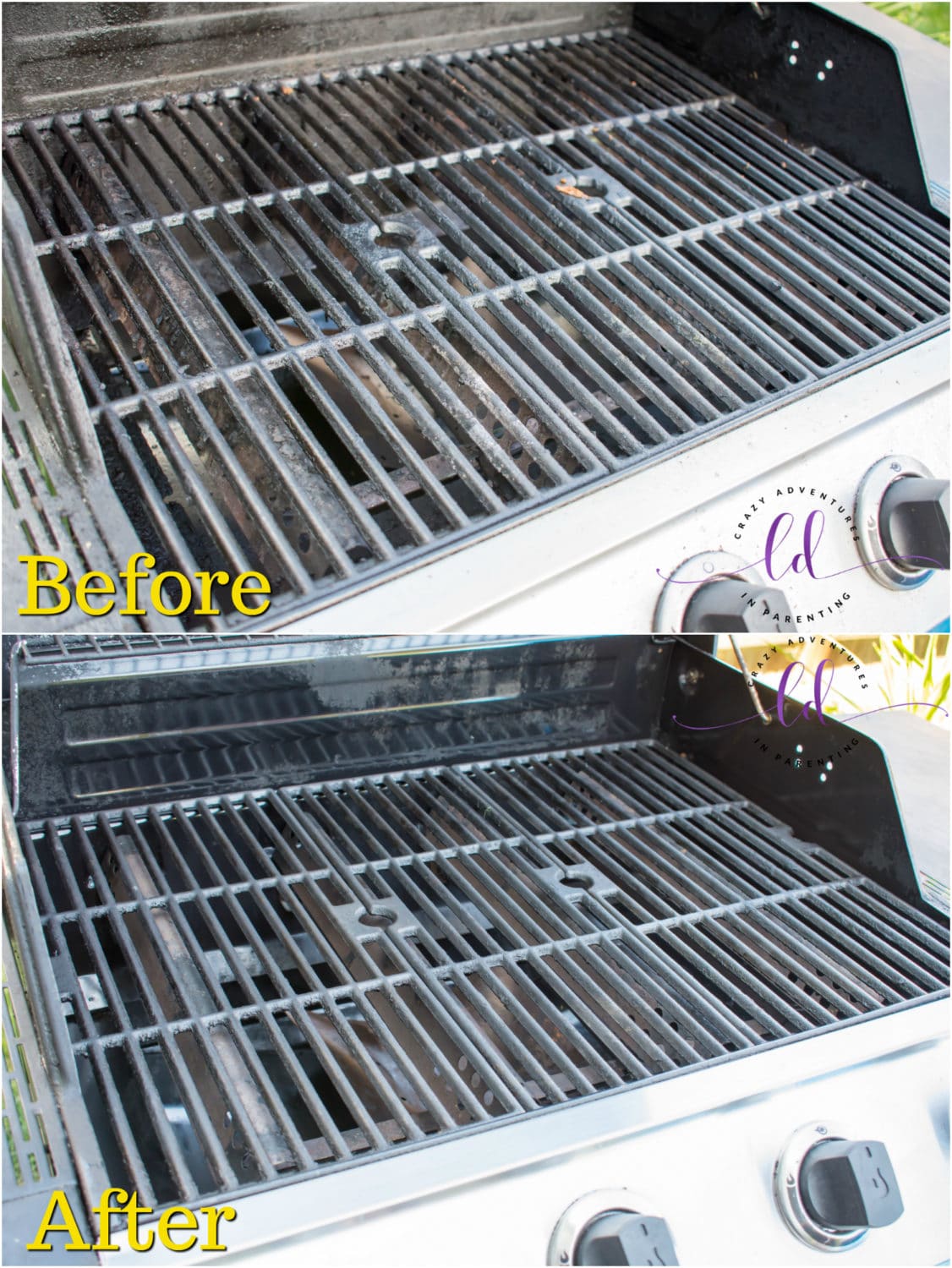 Doesn't that look amazing?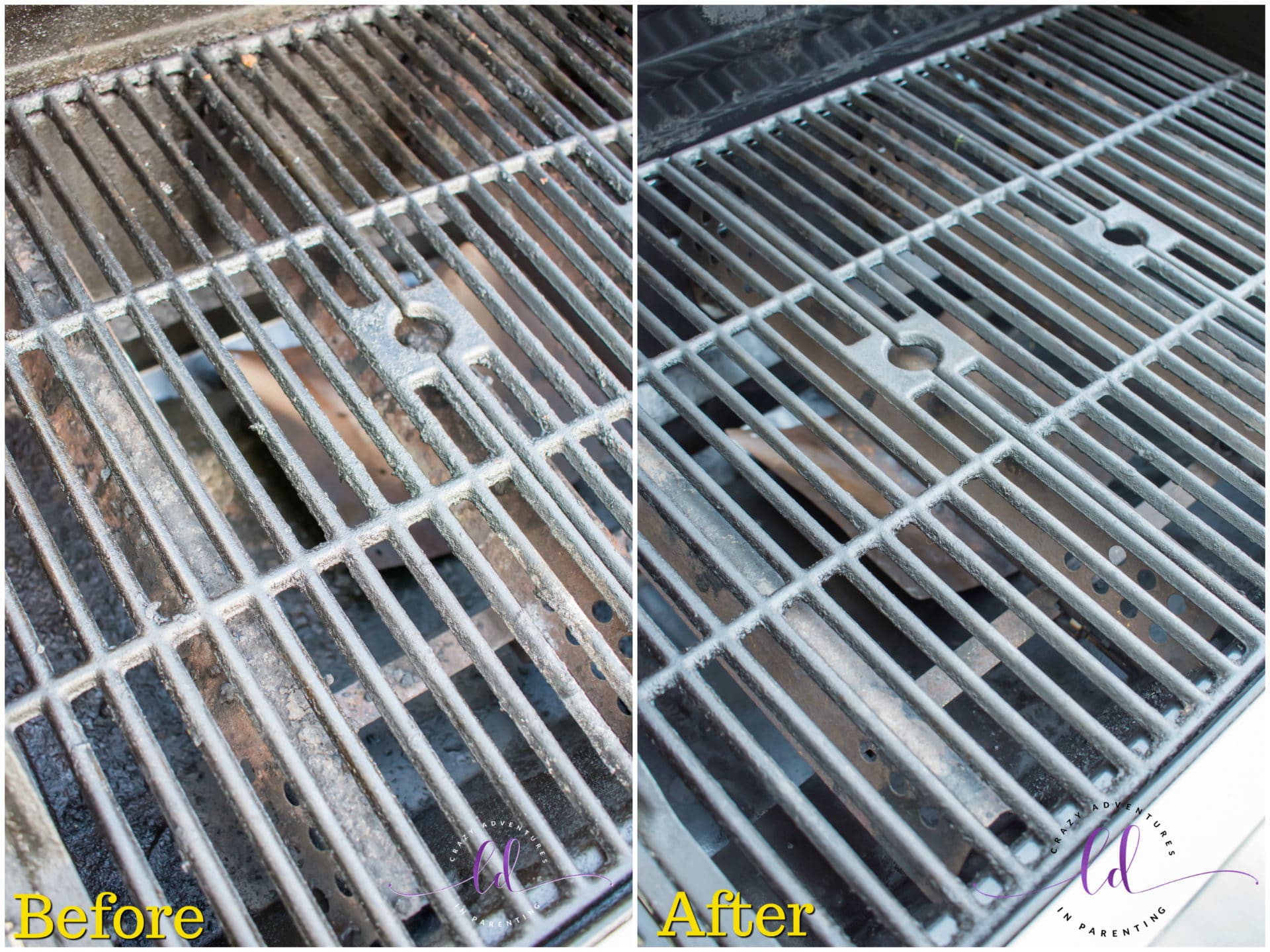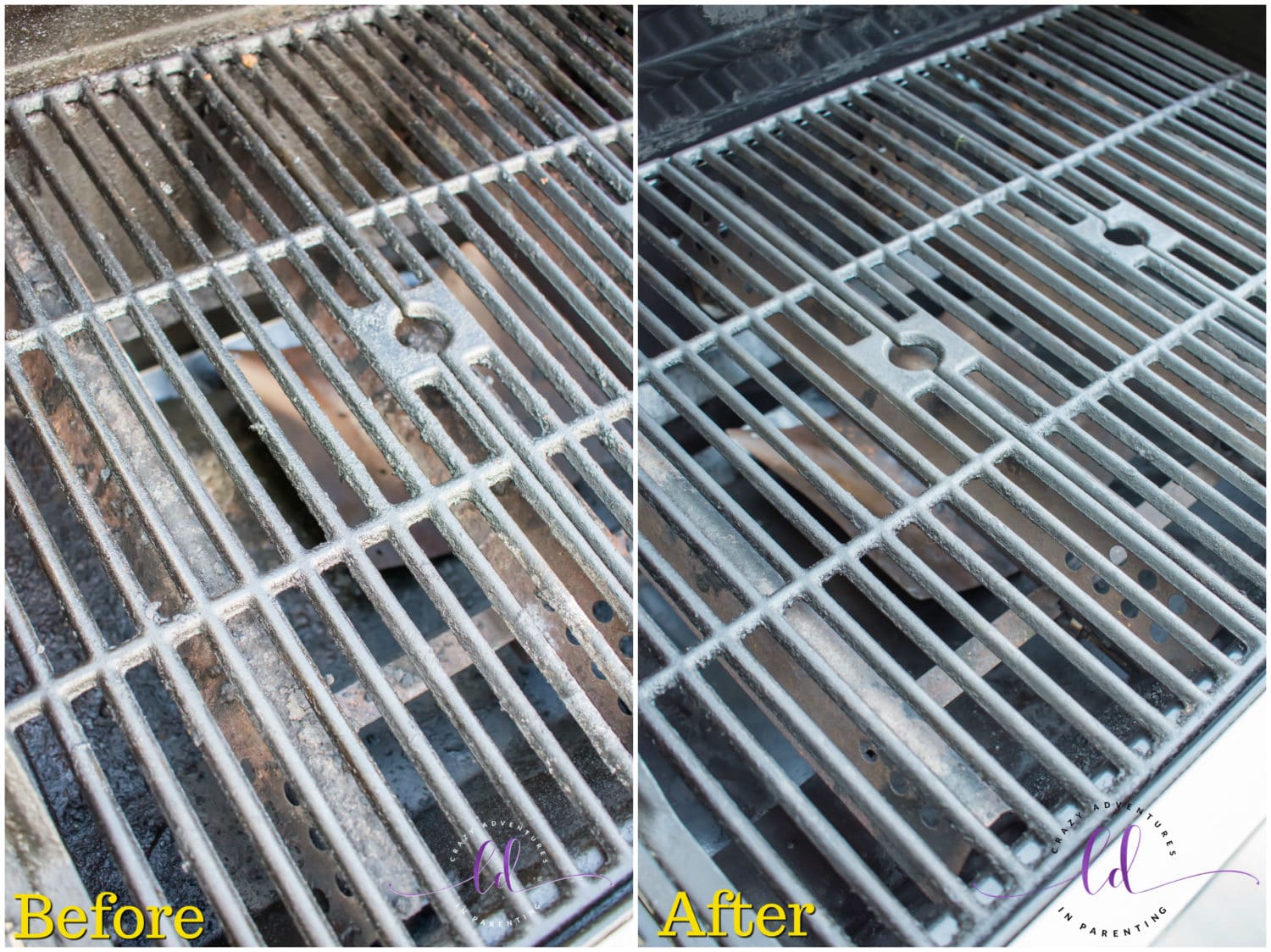 I still can't believe it. Our grill is so sparkly now!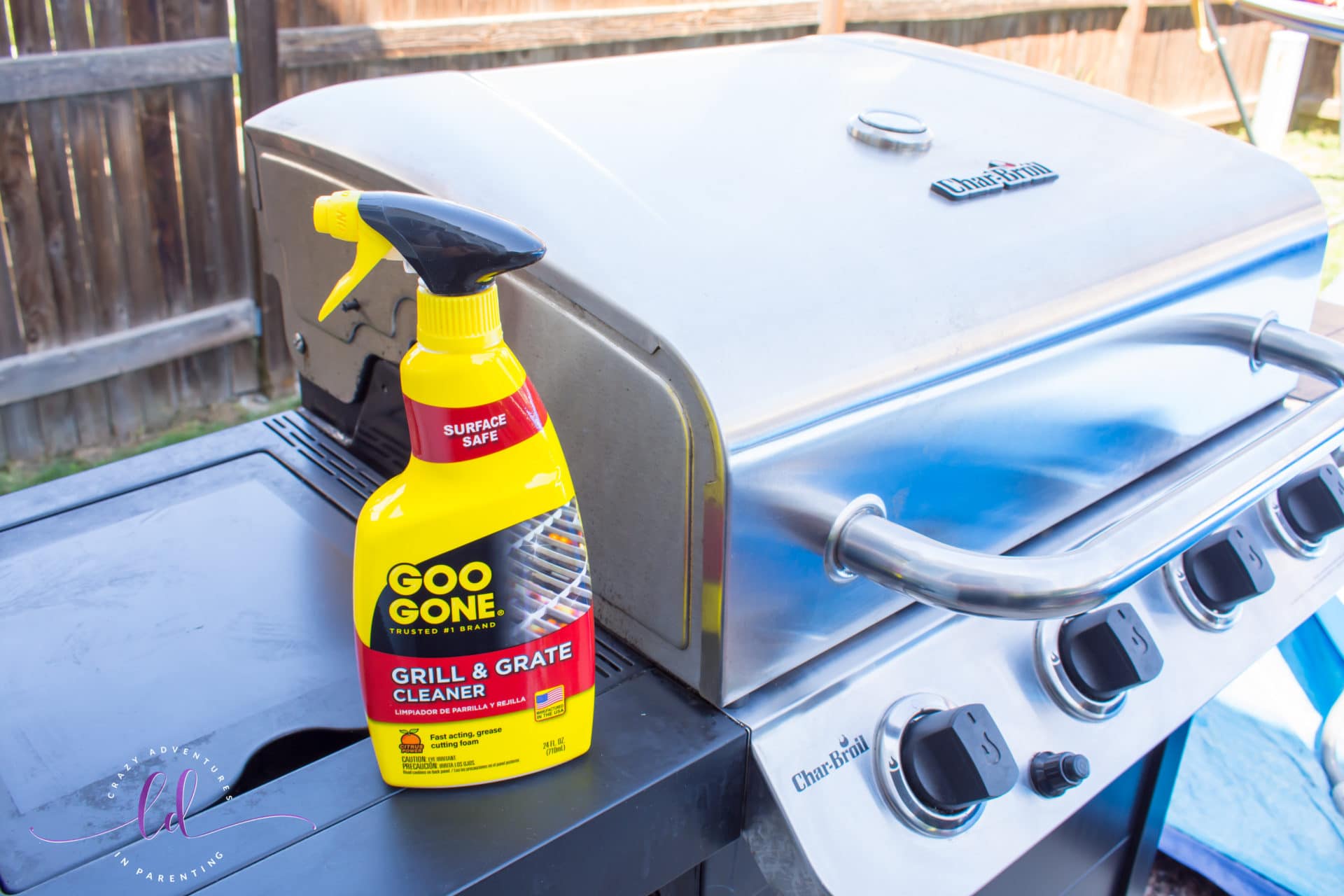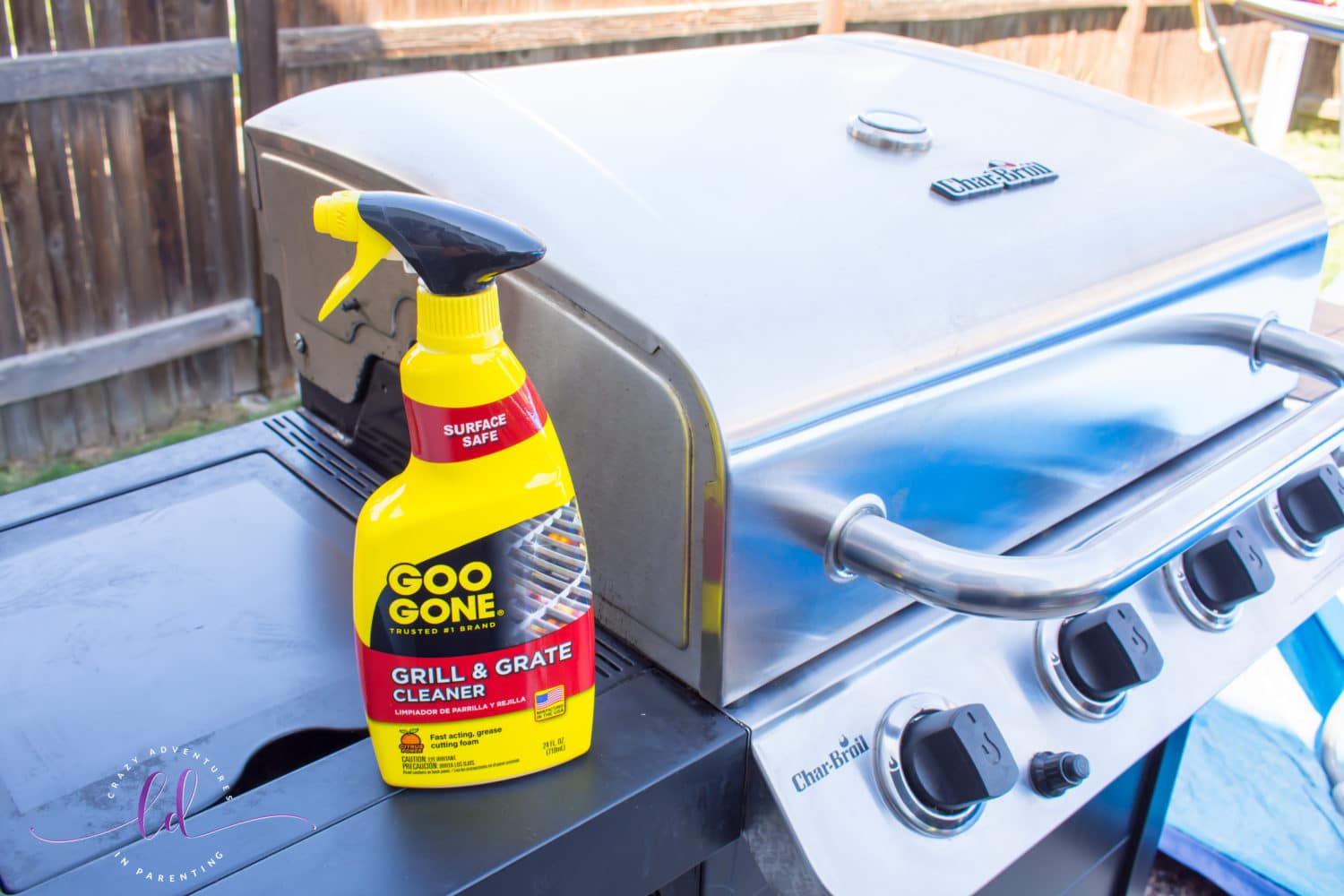 Need a little grease-killing magic to happen to your grill? Goo Gone Grill and Grate Cleaner is available at Amazon, Walmart, Kroger, Bed Bath & Beyond, and GooGone.com!