If this is your first time reading and you're wondering what To-Do Tuesday is all about, click to check out the first post to find out more.
Oh, and if you wouldn't mind, could you answer the poll I have over there on the right, inquiring about how you like to comment on posts? I'd greatly appreciate it 🙂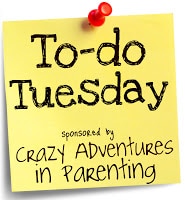 It feels like I just started this last week, and yet, here we are in week 7. This week was a difficult one, I will admit it, it wasn't easy with all the soccer games we had. I had written that there were 8, there were actually 7 last week. Yes, SEVEN GAMES because we had make-up games due to rain the previous week. Holy moly people, that was a lot of soccer to cram into a week!
But, my favorite occurred yesterday – we had the parents vs. kids game yesterday (which I will talk more about in another post) 🙂 Tonight it's my oldest's last game of the season, while my 9-year-old has his parents vs. kids game that I'm gonna miss, dangit! (I love playing them!) My 8-year-old may or may not have a practice at all this week, let alone parents vs. kids, but all of them have a tournament on Saturday. Games. All. Day. Long. Oh, let's not forget Wednesday is boy scouts, too. And if we didn't have tournaments, we'd be at the Pinewood Derby race on Saturday, racing my son's car. Schwoo, can we say busy momma?
How did I get to talkin' all about my wacky schedule? Not sure.
Anyway, back to the main point, with all my crazy scheduling stuff aside; I brushed a lot of my want to-do list stuff off that was in excess of the must to-dos, like laundry, cleaning, etc. But now that I'm gonna be adding fitness to the must to-do list, it's going to be even harder. I will break it down to attempting to do one or two of the want to-do a week, I think. It will help. Did I lose you? I hope not LOL Read on, you'll understand my babble 🙂
So, for week 7, I'm once again, trying something a little different. For those of you participating, what style of lists are working best for you? During my first four weeks, I broke my chores up by days. Week 5 I used that awesome chart thing, which didn't work out (and I really wish it would have). Last week I went back to the 'norm' but I need something more. So this week, I'm dividing up my to-do's into groups- Want To Do, Must Do, Would Like To Do. Perhaps a little priority might help me succeed moreso.
Must Do


(This is stuff on the list every week)

Grocery shop

Work Out at least 15-30 minutes a day

Weekly cleaning

Bathrooms – tuesday
Bedrooms – wednesday
Kitchen – thursday
Living room/side room – friday
Dining room – saturday
out front – tuesday
out back – wednesday
van – thursday

Blogging:

Respond to emails every day
Respond to comments everyday
Clean out reader every day
Write posts:

Post about working out. This week, take and post before picture, and finish up fitness post
post about frames project
indent tutorial
tagline contest
this weeks post for H2B@H
this week's post for TypeAMom
post new contests
Vlog for NewBaby.com
start posting queued reviews here
Tackle It Tuesday/Blissfully Domestic
other posts in queue

Want To Do
(This is stuff that will get done first, if all my Must To Do stuff is done)
Finish letter for housing w/ pictures
Find local photographer for family picture
Finish sewing Dora outfit, start other sewing projects?

Would Like To Do
(This is stuff that will get done after all Must To Do and Want To Do is done, that will remain on the 'back burner', if you will)
Go through boxes of daughter's things she wishes to get rid of
Once above is done, sort and donate clothing
Yard sale or sell remainders via web stuff in boxes
Take bedspread & hubby's suit to cleaners
Mail packages
I formatted my list a little differently this week. Would you like to know how? Stay tuned for another tutorial post on how to indent your posts, and what the differences are.
Would you like to join us this week for To-Do Tuesday? I promise making these lists aren't difficult! Start with a few things, and proceed into full-blown Type-A lists, like me, when you're ready to, that is, IF you're ready to.
Just so you know, you can join us at anytime, it doesn't have to be on Tuesdays – the list will go up every Tuesday for you to link to, but you can make your list and link to us at any point in the week!
Remember, with "To-Do Tuesday", we're attacking our to-do lists each week, blogging about our lists and what we've got going on, and sharing it with each other to help keep each other accountable. Everyone should come back here to link up in the Mister Linky as the central "To-Do Tuesday Hub" so we can visit who's participating and offer encouragement to each other throughout the week. Don't forget to add the "To-Do Tuesday" button to your post, linking back to this post!
Let's continue to cross items off our list as we go and help support each other in completing our lists! Don't forget my useful HTML tutorial on how to effectively "cross-out" or "check off" your items on your to-do list!

Never miss a post! Subscribe here for all kinds of crazy parenting fun!