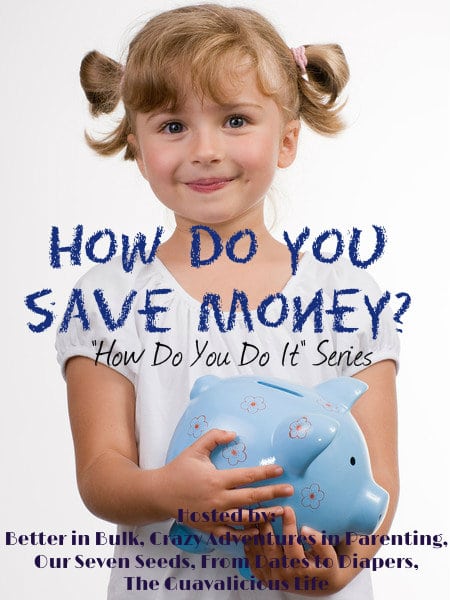 "How do you do it?" Series hosted by Lolli from Better in Bulk, Lisa from Crazy Adventures in Parenting, Christine from From Dates to Diapers, Kadi from Our Seven Seeds, and Kate from The Guavalicious Life.
Join us each week for more tips from moms of big families!
---
We get this question all the time. "How can you afford to have so many kids?"
With having a veritable soccer team living in-house, there's going to be a hefty expense attached. It's amazing how fast they grow out of their clothes, how much food they can pack into their teeny tiny bodies, and holy heck, the laundry, the dishes, the school supplies! Ha! We are quite grateful that my husband is military, with a regular paycheck and a steady-paying job with medical benefits we can count on. We realize not everyone is that lucky, and for that, we are grateful.
But, because he's military, unless he's promoted or receives a pay raise, that paycheck is the same monthly. No bonuses, or overtime. It's wonderful to know the number every month that'll be coming in, but there are times where extra expenses are incurred, and we just have to tighten our belts to ensure it all gets paid accordingly, and be creative with what we've got.
Speaking of paycheck – this might shock you – but we only get paid once a month. This was a setting my husband had with the military well before I met him, and we've gone along with it ever since. It's not the "normal" military thing (normally, military folks get paid on the 1st and the 15th being paid). I find getting paid once a month makes us work harder to maintain our budget even more-so, knowing that money only comes once a month, y'know? I pay most of the bills around the first of the month, and others as we get them, budgeting the rest for what we need (food, gas, etc).
Being military, we have access to the on-post commissary (a discounted grocery store), along with the PX (which stands for Post Exchange, the on-post department store), both of which we can shop at a discounted price and tax free. That most certainly helps us save money.
The commissary offers "case-lot" sales multiple times a year, which gives us the opportunity to buy in bulk at a deeper discounted rate (the military's version of Costco or Sam's Club.) The PX also offers many specials, as well as layaway, along with a super-discounted end-of-season clearance sale that makes my heart SING with the kind of discounted items I can find.
I don't just shop at the commissary and PX, though, I do my best to find bargains everywhere we go. I look at flyers and weekly circulars, clip coupons, and do a lot of research before purchasing things we need, particularly big ticket items. I once scored my son's birthday present (a leather jacket) for $6 marked down from $70 at Macy's.
As far as bills go, I'm paying off what credit card bills we have left one-by-one, cleaning up our credit (ahem, we were young and foolish once) while creating a financial plan for our future. We bundle our satellite, phone and internet services, which also saves us money, as well as choosing to subscribe to Netflix instead of expensive satellite movie packages.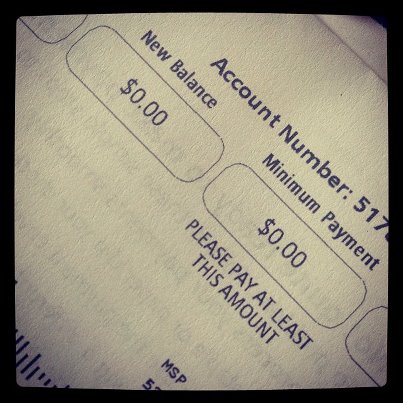 Speaking of movies, we avoid going to the movies at all, unless it's the on-post inexpensive movie theater, or dollar movies. Generally, we wait until they're on Netflix or Redbox, though. Also, we bring our own popcorn and snacks instead of purchasing those there. We love bowling (on discounted or free days), love going to the park to play (which is free), and we utilize military discounts to do other fun things, like skating or amusement parks.
As far as furniture purchases and things to outfit our home, we buy mattresses new (which is always recommended, given you never know a mattresses history), and usually all others used, particularly wood items. Besides, I like owning things that have a history, plus, it fits with our reuse/recycle philosophy. We're even delving into making our own stuff with DIY furniture projects (we made the guest bed/day bed upstairs in our kids' playroom).
We also buy our cars used, since cars depreciate so quickly once purchased, although we might lease a new vehicle upcoming. We're going to be discussing that much more at length in another upcoming "How Do You Do It" post about our vehicle size and how we don't drive a bus or fit our kids in like a clown car. (Or do we?) Heh.
Our kids do play sports, and that can become costly if we don't plan it properly, so we shop sales for sports clothes and shoes, keeping cleats and clothing until they have been worn out or ruined, handing them down kid after kid, much like we do clothing.
In order to ensure we don't overspend on food, we choose to clip coupons, shop more than one supermarket, make at home instead of eat out, bulk purchase, and go meatless a couple times a week. But I'll share more about our food shopping excursions in greater detail in another "How Do You Do It" post soon.
What ways do you save money for your family? Do you so some of what we do, too? Or do you have other methods to trimming your budget? I'd love to hear what you do!