In searching for summer fun awesomeness on Pinterest, I came across this adorable post idea for "Sponge Bombs." (Not Sponge Bob, which I inadvertently say EVERY. FREAKING. TIME.) Sponge Bombs are essentially cut-up colorful kitchen sponges, zip-tied together* in the middle, and moistened to become wet sponge "balls" to throw and play tag with. Sounds spectacularly awesome, am I right? I thought so, too!
*Edit – I'm told you can use "ouchless" hair elastics (like these) to make these, too!
I was probably a little too excited about sending my husband to the store for sponges and zip ties for this Sponge Bomb tutorial, but my fun, craft-making self just couldn't help it. Like a kid at Christmas, I barely could contain myself when he returned home. "SPONGES AND ZIP TIES, YAY!" (I know, it's okay to shake your head, I truly am a dork.)
There I was, ripping open the packaging, with scissors in hand, only to discover the author of the above linked post didn't really go into any specifics whatsoever about how to make the craft. D'oh!
So, after a few minutes of thinking/planning, and figuring it out myself, I decided to share MY WAY with you, in case you wanted to make some summertime fun for your kids, too! Here's my handy-dandy tutorial on how to make Sponge Bombs, step-by-step.
Sponge Bombs Tutorial
What you'll need:
How to Make Sponge Bombs for the Kids
Cut each sponge length-wise in half at first, to make each of the cuts even.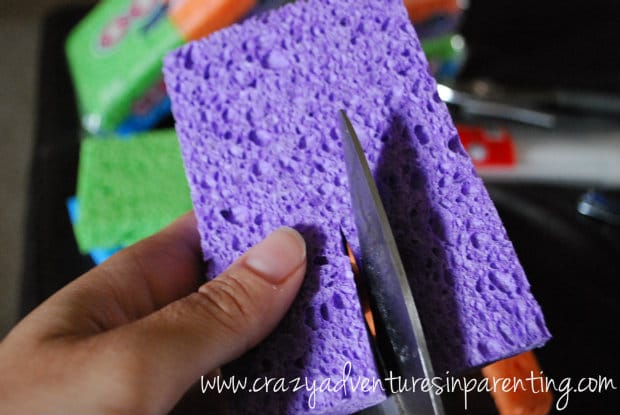 Then trim each half in half once more, making four equal long pieces per sponge. Continue until the entire package is cut up. You will make sixteen pieces per package.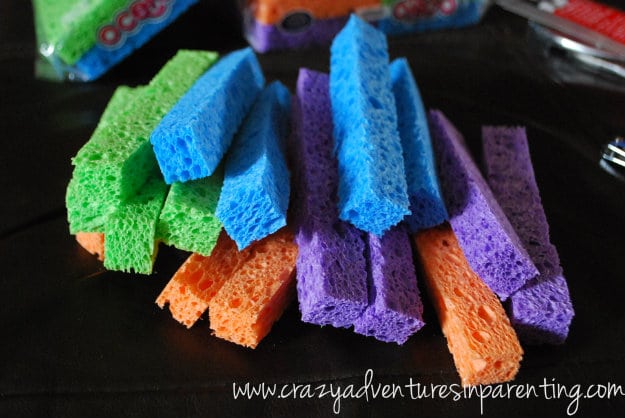 Take two per color (if you want a multi-colored bomb, like we did), hold them together, making sure they are even, and cinch your hand around the middle. You need eight pieces for each bomb.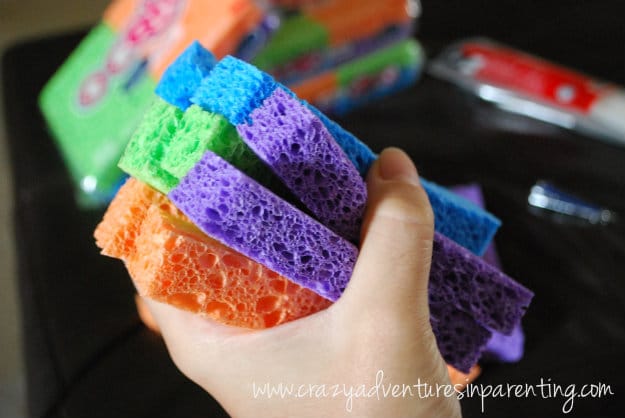 Taking a zip-tie, fasten them together in the middle. You want them to be as even on both sides as possible (or maybe it's the perfectionist in me).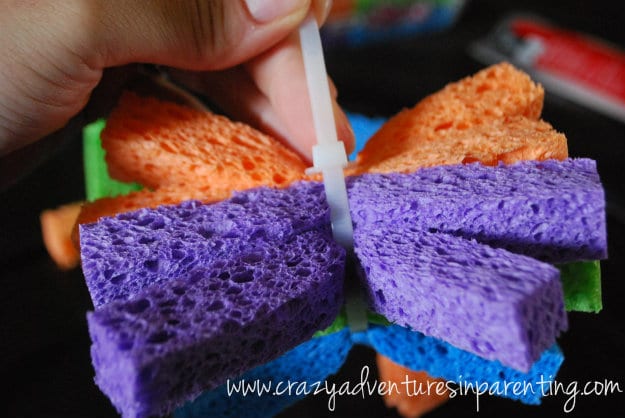 Tighten the zip-tie as tight as possible by using the pliers to grip, and pull until you can't click anymore. Carefully snip as close to the lock as possible with scissors, being careful not to cut the sponges.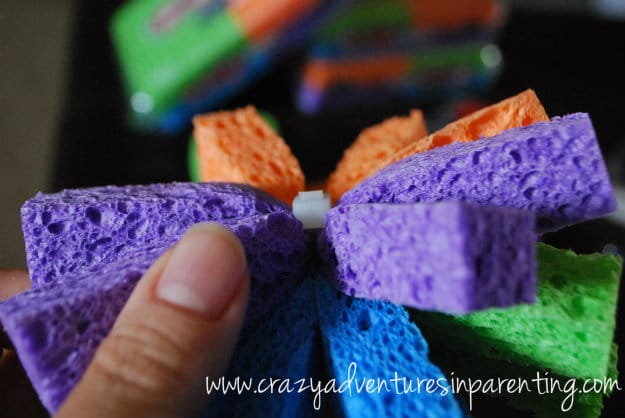 You will be left with a little sharp tab that you will need to use nail clippers to trim off. (Have them handy for later, too, in case there are still sharp edges. We did our best but had to trim again.)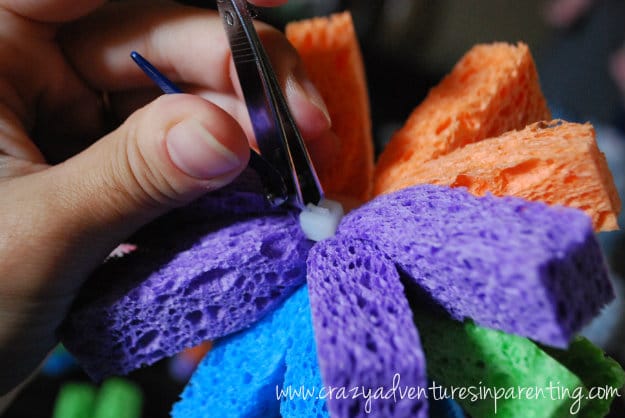 Fluff it a little, and WA-LA! Your first sponge bomb is done!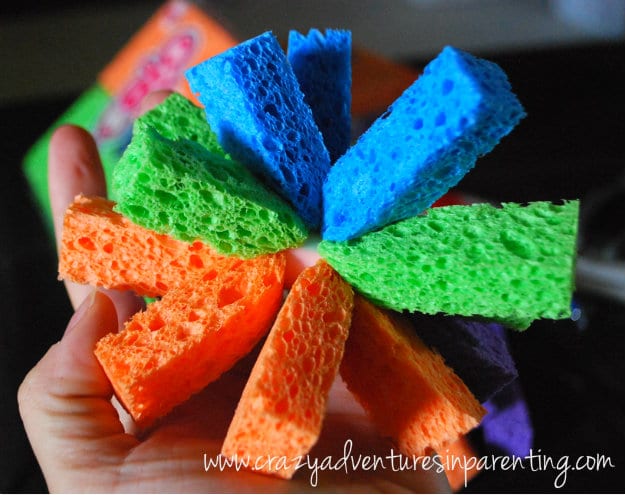 Once you've cut, sorted, tied, clamped and trimmed each bomb, get 'em wet and hand them to the kids, you are ready to play!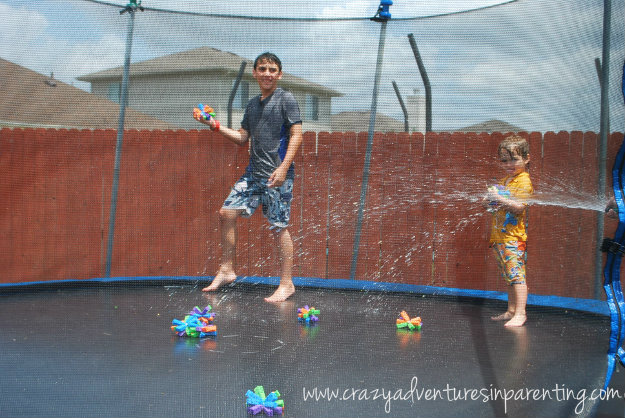 We chose to use 'em on the trampoline, so there wasn't much chasing after sponge bombs that missed (yay for trampoline nets)!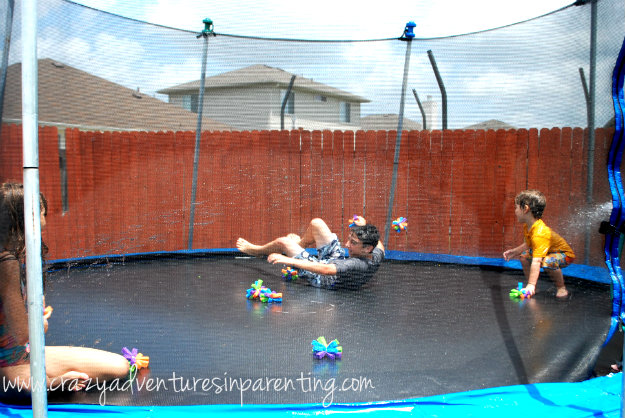 Oh, it was GAME ON, friends! So much fun!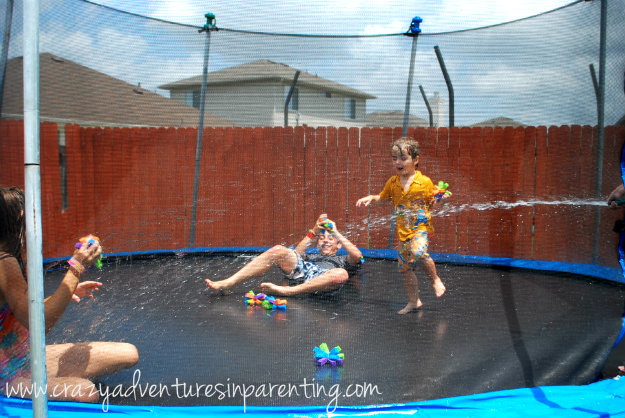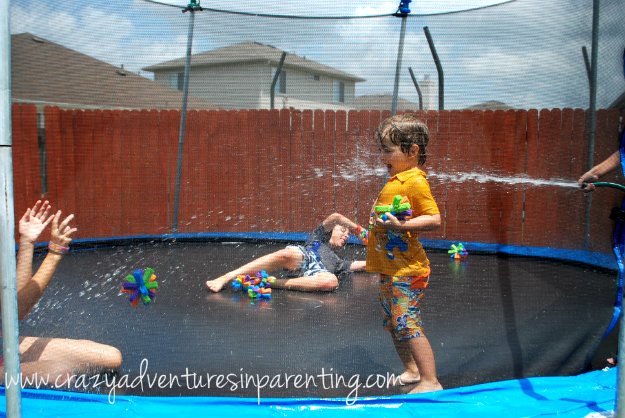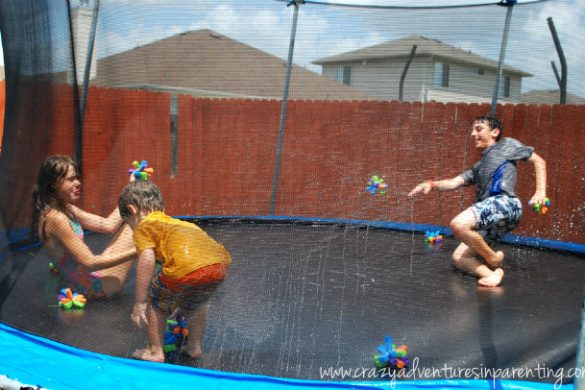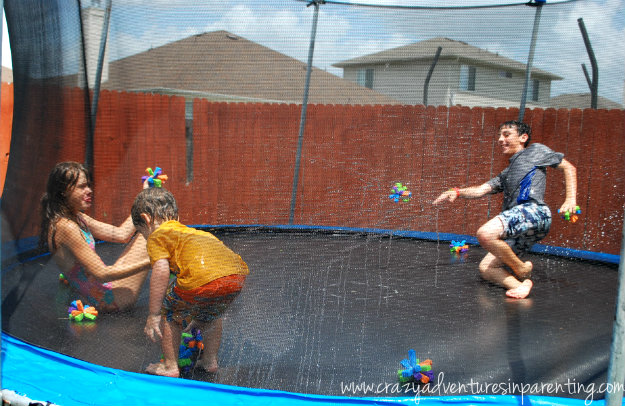 What do you think of this Sponge Bomb tutorial? Cool, huh? (Literally!) Stay tuned for more awesome summer fun crafts with the kids, both indoors and outdoors, yay!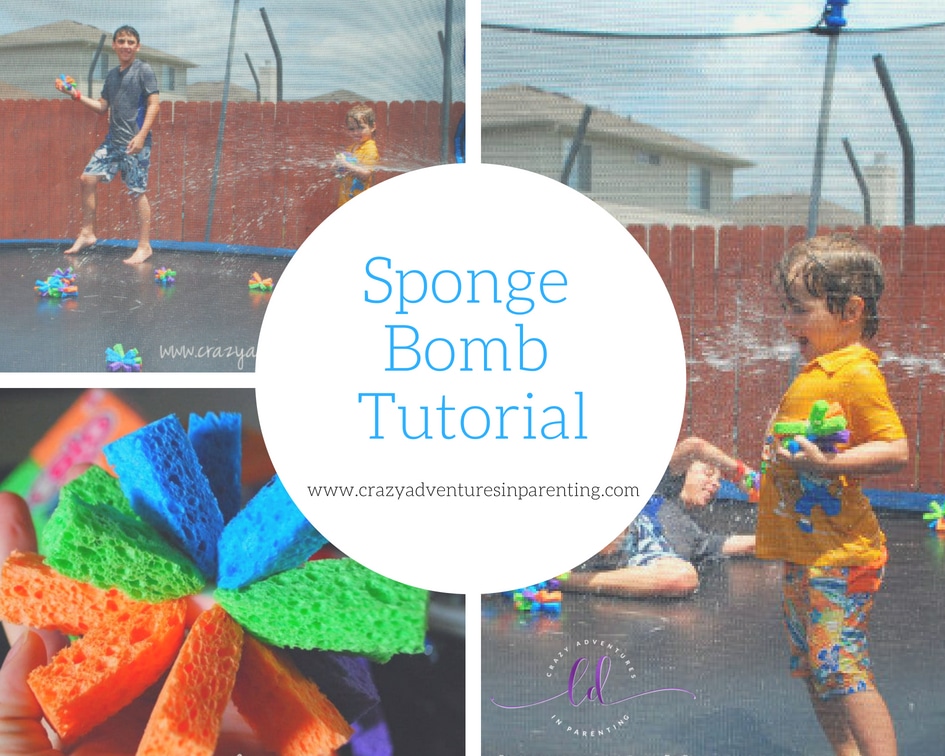 What are YOU doing this summer to stay cool with the kids?
For more fun in the sun summer fun ideas, check out these posts:
Summer Boredom Busters – Water Fun
Summer Boredom Busters – Get Creative
Summer Break Tips
Fun Things To Do With Kids During Summer Vacation