If school hasn't gotten out for the summer yet, it will soon. One of the most dreaded phrases our kids can say is "I'm bored".
I will tell you, my children have stopped saying that (except for my oldest, who apparently can't get out of her own way). I have ALWAYS found that saying absolutely ridiculous. Not only are there plenty of toys, games, books, puzzles, crayons and the like for them to do inside, there are skates, skateboards, scooters, bikes along with pools, hoses and sprinklers outside for them to do. Let's not forget our trampoline, too.
But to be honest, if I ever heard those words out of my kids' mouths, I'd probably give them a chore to do, like laundry, unloading the dishwasher, or vacuuming. They know better than to not use their little noggins like that with me 😉
However, there are times when someone is sick and so you can't leave the house, or it's raining outside or the weather is otherwise bad. In instances like these, T.V. and video games are pretty tempting, but it won't help them burn off energy, and eventually everyone will get stir crazy being cooped up all day. I'd really like to leave T.V or video games as an absolute last resort, unless you plan a family movie date, with popcorn, or do a family video game olympics, of sorts, playing all sorts of games against each other.
In moderation, of course. All summer, not-so-much.
Our family's sure-fire boredom busters for summer are all over the spectrum of things to do. From baking to crafts to "field" trips and so much more. I'm going to be sharing these every so often, I hope you enjoy them! And should you decide to try any of these, please come back and tell me how well they worked for you!
Summer Boredom Buster #1:
Water.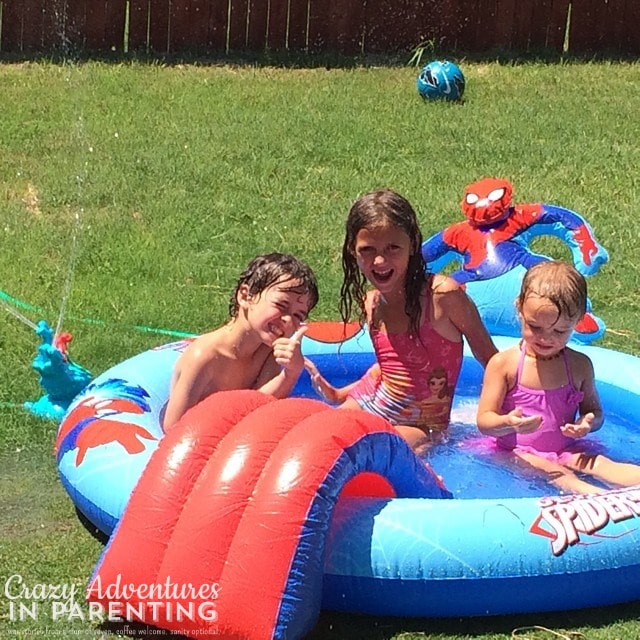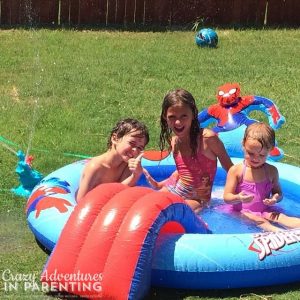 I know you're probably ready to throw something at the screen at me or something, wanting to knock me over asking me WHAT!?! WATER?!? What ABOUT water? HUH!?
But think about it – kids. are. FASCINATED with water.
You can set out a pool out back? They're loving it.
Get a sprinkler? Loving it.
Wash the car? Loving it.
Tell them to get on their bathing suits and splash around in the bathtub for a while? Loving it!
Anything you want to do that involves water is going to be a hit with the kids. Let me repeat, anything you want to do:
-Get out that old collection of balloons from the last party that didn't all get used, fill 'em up, have a water balloon fight!
-Fill up some recyclables and help the little ones water your plants using them.
-Is it raining? Take those recyclables and place them outside to collect water to water the plants later!
-Again, use those recyclables and have a relay race, who can fill them up the fastest!
-Water obstacle course, anyone? Who can do it the fastest while soaking wet? Or while getting wet?
-Did you see what I did recently, having my children fly by running and jumping through the sprinkler?
-If it's raining but not thundering or lightning, send your kids outside to play in the rain, really, it's okay! Go have them get all kinds of crazy wet, playing in the rain is something everyone should experience! Heck, even grab some soap, soap up the car, and let the rain wash away the soap for you (nice water-saver, eh?)
The fun is never-ending when water is involved. Some of my other favorites, if you've got the accessories are:
*Slip and Slide (whether you own one or make your own with a tarp and a little dish soap!)
*Water paints
*Water table (as in, the sand and water table variety)
*Water guns (with either guns or spray-bottles)
*Water Tag (using sponges)
*Washing their outdoor toys (it involves water, the kids will want in on the action, I promise!)
*Bubbles (dish soap and water!)
What are some fun games your children can play using water and everyday things in the house?

Read more: Summer Boredom Buster 2 – Get Creative
Never miss a post! Subscribe here for all kinds of crazy parenting fun!