This was a weird week, friends. This was my first week NOT posting everyday what we did, and somehow that screwed up SO MUCH for me. I completely forgot to take pictures of Thursday's "Taco Macaroni" school lunch, and Monday's pictures were craptastic.
What the hey?
The good news is, we started using new lunchboxes this week. We got a four-pack of color-coded containers from EasyLunchBoxes.com. So pleased to use these, they have worked marvelously for us so far.
Here was our lunch menu for the week:
The pictures of the spinach and artichoke grilled cheeses were awful. Like super-fantastically, so-weirdly-bright-and-awful-and-eww that I just can't share them with you. I couldn't even edit them to make them look halfway decent, they were that bad. I have no idea what happened.
So, pretend this is a picture of awesomely tasting spinach and artichoke grilled cheese right here, okay?
The chicken taquitos pictures, however, came out beaaaaaauuutifully. Check it!
And the taquitos tasted as good as they looked. (Recipe to follow shortly.) We're loving the new "Mini Dippers" from EasyLunchBoxes.com. The salsa dip we packed for them fit so well inside the container!
The barbecue pulled chicken sandwiches were leftovers from dinner, and they kept well for the kids the next day. We wrapped the buns in plastic so they'd stay fresh. The kids devoured them!
Breakfast for lunch went over HUGE for my kindergartner. Between the french toast, and cereal of her choice, with a muffin and granola bar, it might have seemed a bit carb-laden, but that day she actually almost ate her entire lunch and did NOT come home starved as she normally does. (She's my toughie this year, trying to get her to eat and eat healthy and in the allotted lunch time frame. Not easy!)
Today's lunch – pizza grilled cheese! I made pizza bread last night for dinner, and planned to make more "toppings" (or should I say, "fillings") to make grilled sandwiches for the kids' lunches today. The older ones got two per child, plus some fruit and yogurt, too. Can't wait to hear how they liked it!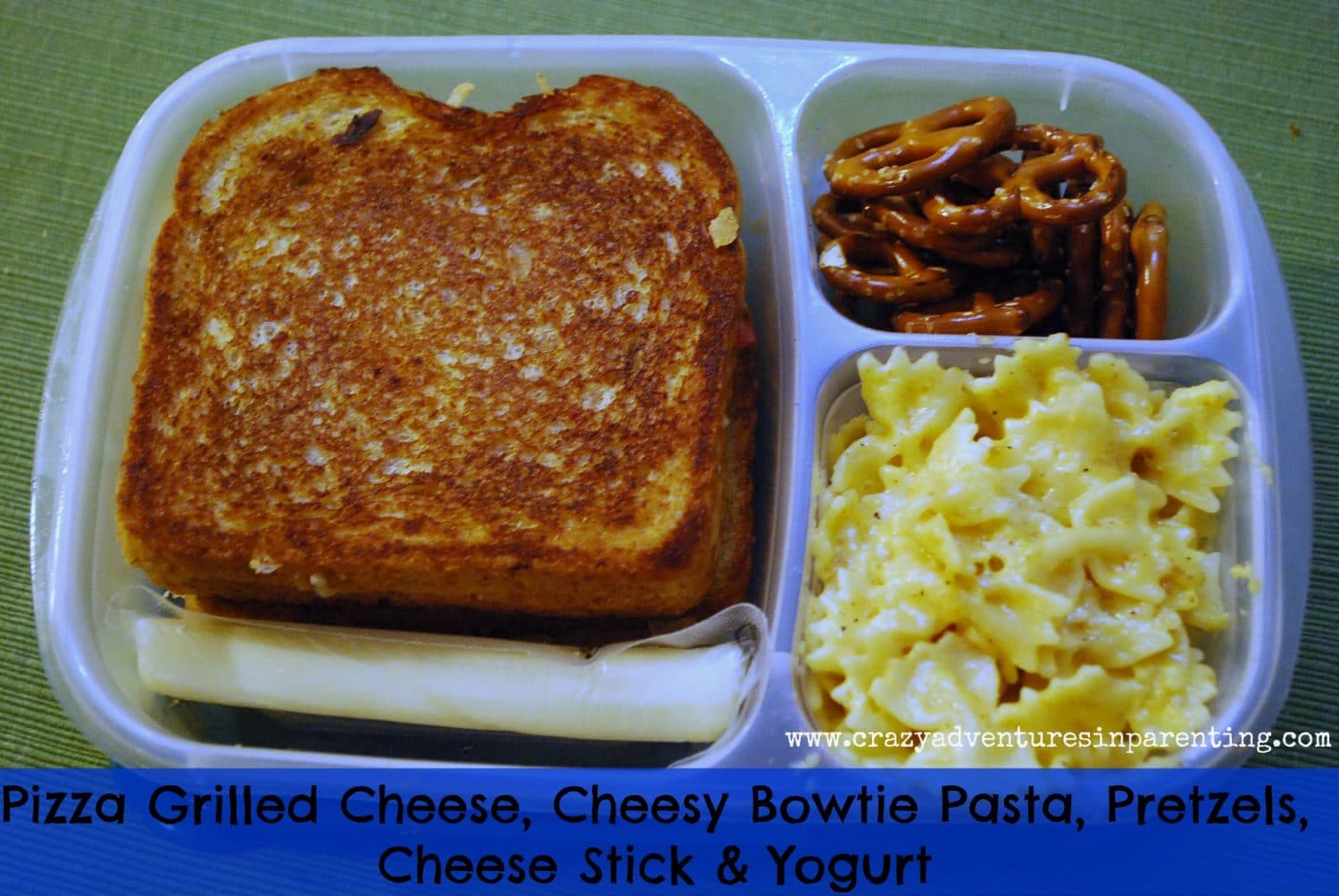 What did you prepare for your kids for school this week? Have you tried any of the school lunches I've shared yet? Don't forget to bookmark my main Operation Awesome School Lunch page!
EasyLunchBoxes kindly sent me some of their products to use to make our fancy lunches.
Their generosity has not influenced my love for them.