Valentine's Day is just around the corner and it's time to get into the spirit! Decorating for Valentine's Day doesn't have to be expensive or difficult – you can easily create a beautiful and festive atmosphere with some simple valentines decor. Whether you are on a budget or just lack time, these easy Valentine's decorating ideas will help make your home look like Cupid himself has been here!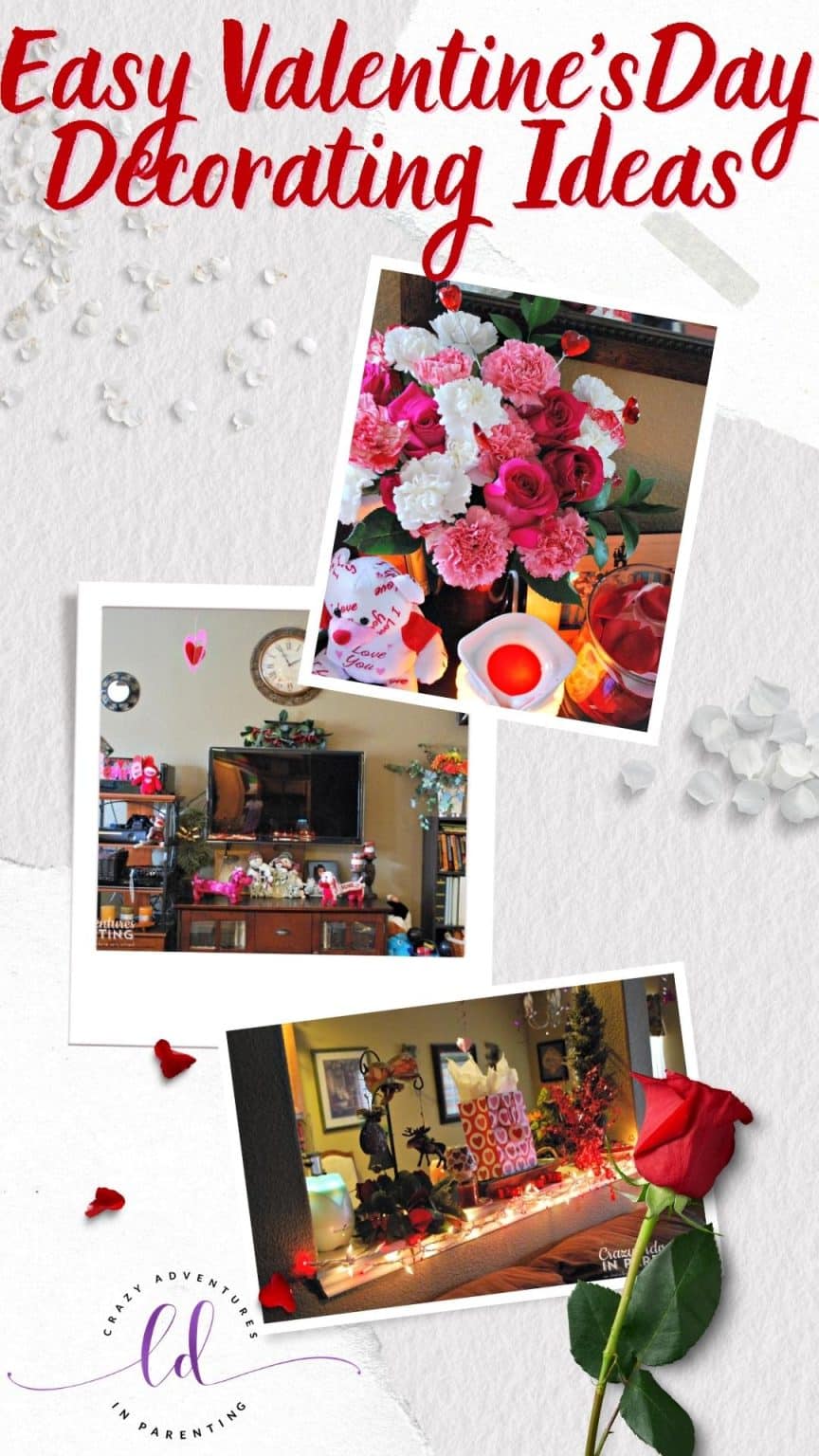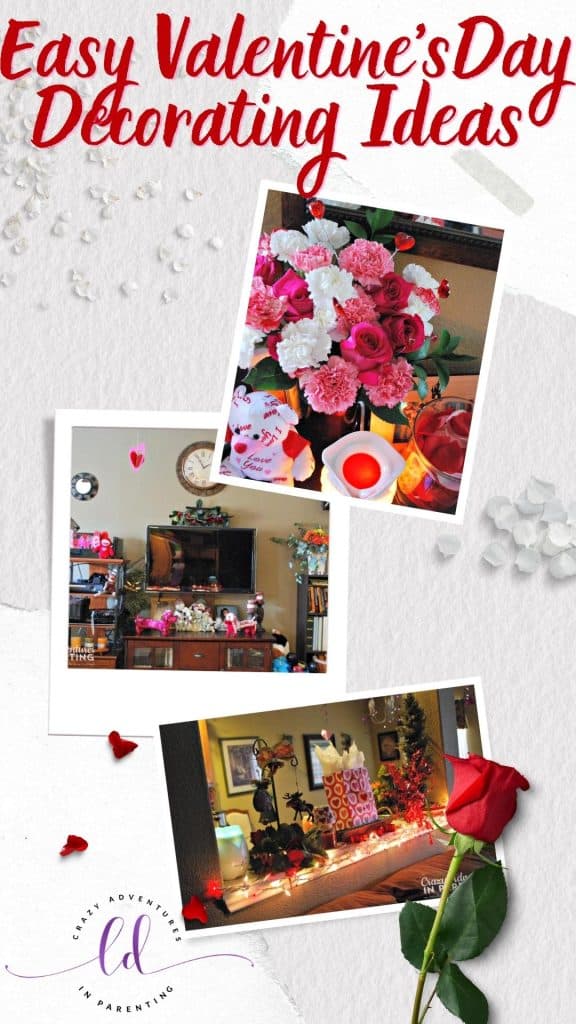 The second the Christmas stuff comes down, the Valentine's stuff goes up. Without fail, my kids always ask me, "Why do we decorate for every holiday?"
"Because it's fun, kids."
And it is! Some people enjoy the house looking suddenly less cluttered, more organized and clean without the Christmas/holiday stuff up, but not me, man! I think the house suddenly appears empty, and decorating for Valentine's helps fill that void. Plus, we're already in the garage getting the empty Christmas boxes to pack away, so I grab the Valentine's stuff to put it up immediately. Easy peasy.
For me, I want uncomplicated. I don't want too many moving parts, I want stuff that's easy to go up and come down, but looks cute and festive. I get most of my Valentine's decorating supplies from Target, Walmart, Walgreens, The Dollar Store, and some from Home Interiors, of course.
I came across these fantastic, alternating red and white string lights and I had to use them here. (You might recognize this area as always being lit, we light up shelf for Halloween and Christmas, too.) Combined with some fun Valentine's tchotchkes, this is always a fun and festive spot in my living room.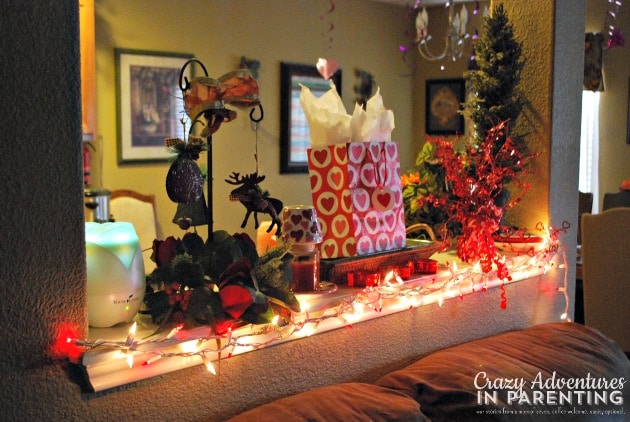 Opposite the wall above is my television area. I hung some sweet hanging hearts I found at Walgreens last year, and decorated with some cute Valentine's stuffed animals (that the baby loves to play with).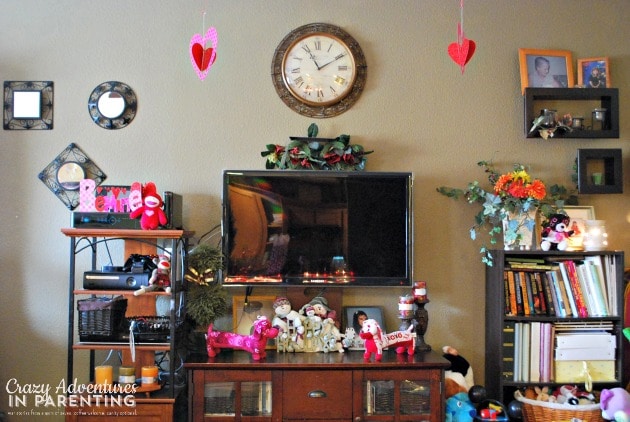 This sign was also found at Walgreens with this adorable monkey we've had for a while now.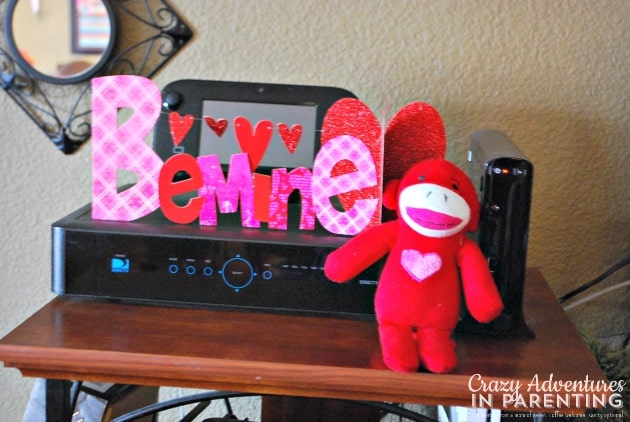 I love using old vases and filling them with whatever is convenient and holiday-related for easy holiday decorating. In this case, I got some fake rose petals in two colors, and alternated them in the vase, placing them on this entryway shelf, along with a few other tchotchkes and decorations.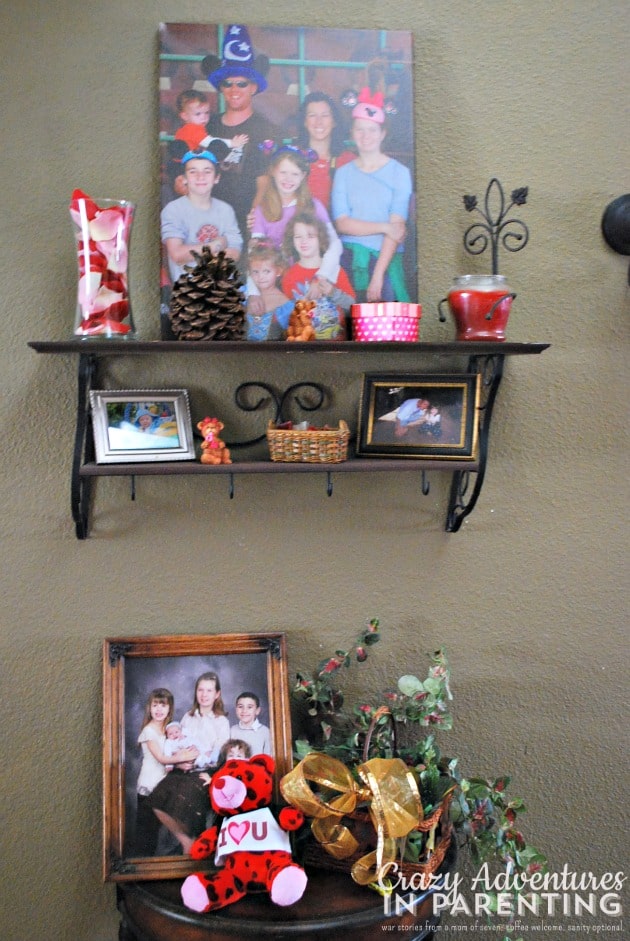 This heart-shaped wreath was also found at Walgreens and hangs on our front door to welcome everyone with some adorable Disney window clings.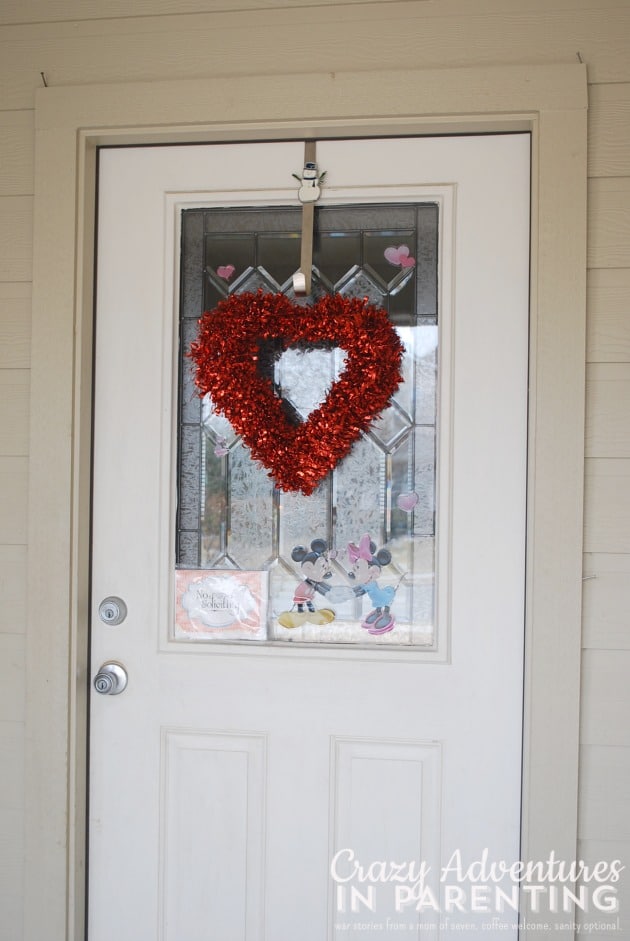 My first grader's handmade holiday calendar present to us was this calendar she made with her handprints for every month. I love this month's handprint, isn't it great?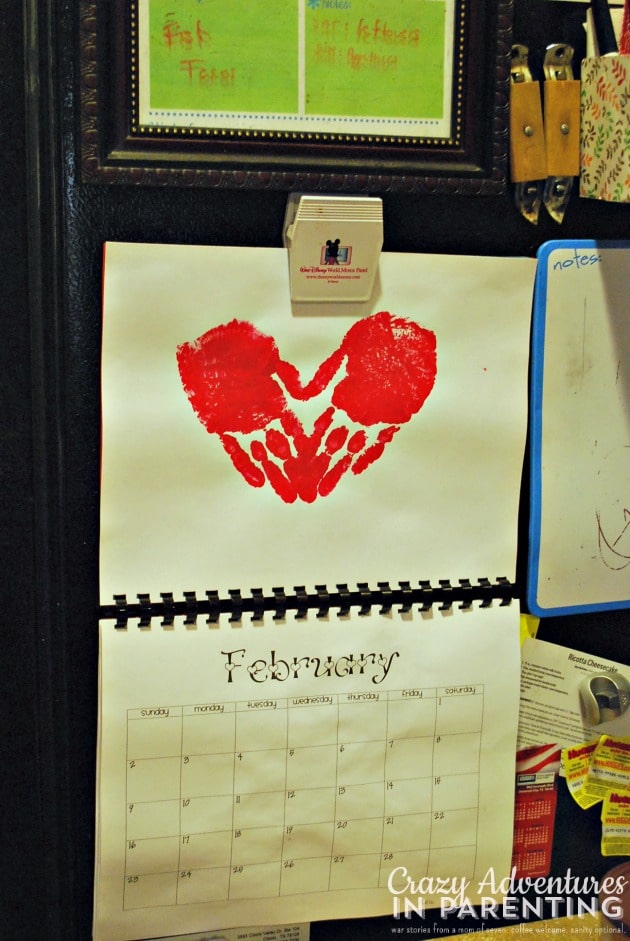 Here's the close-up – I wish I would've thought of this and started from birth every year for every kiddo – what a cool scrapbook item that would make, huh?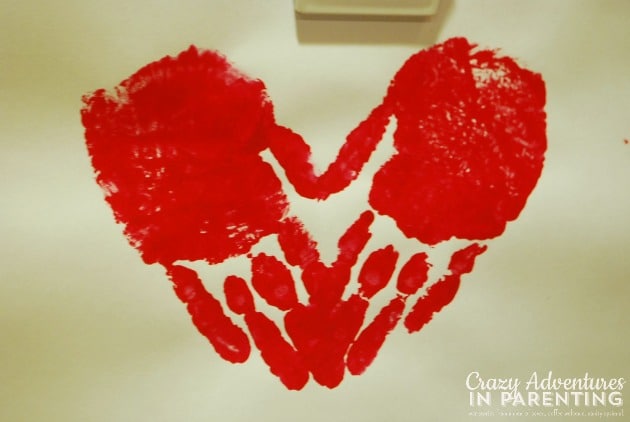 I love that this is one of the first things you focus your eyes on when you walk in my house, even if it is all the way at the back of the house. The wreath is also from Walgreens, the rose petals were added to an old, large vase, the heart basket and heart rocks were an old purchase from Michael's way back when, as were the rose petals. The gorgeous flower arrangement sent to me from Proflowers rounds it out beautifully, don't you think?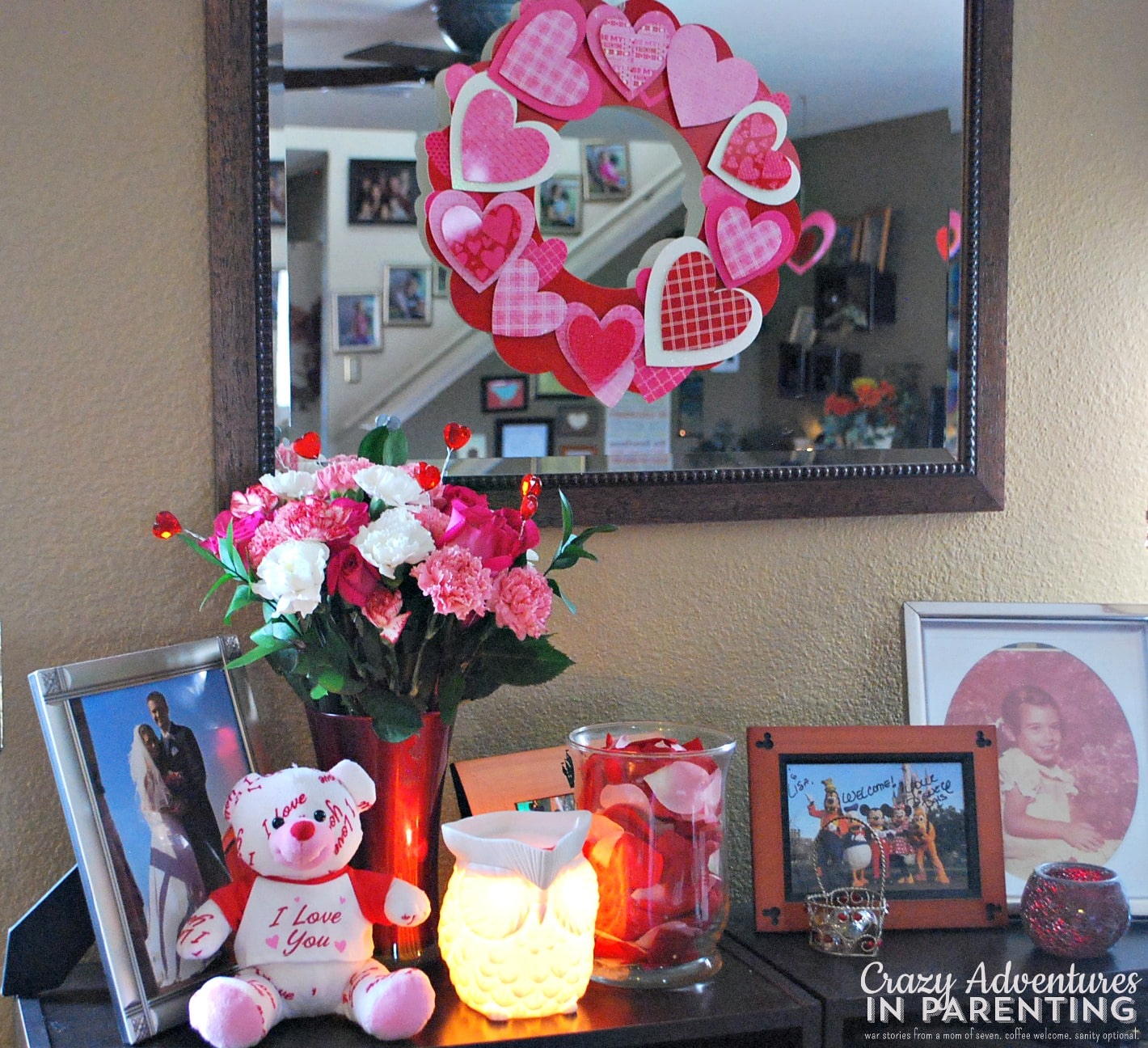 This Proflowers arrangement is perfection with the adorable heart-shaped gems adorning the carnations and roses. (By the way, if you're interested in purchasing for yourself or a loved one, it's called "Premium Lots of Love" and it's GORGEOUS in person!)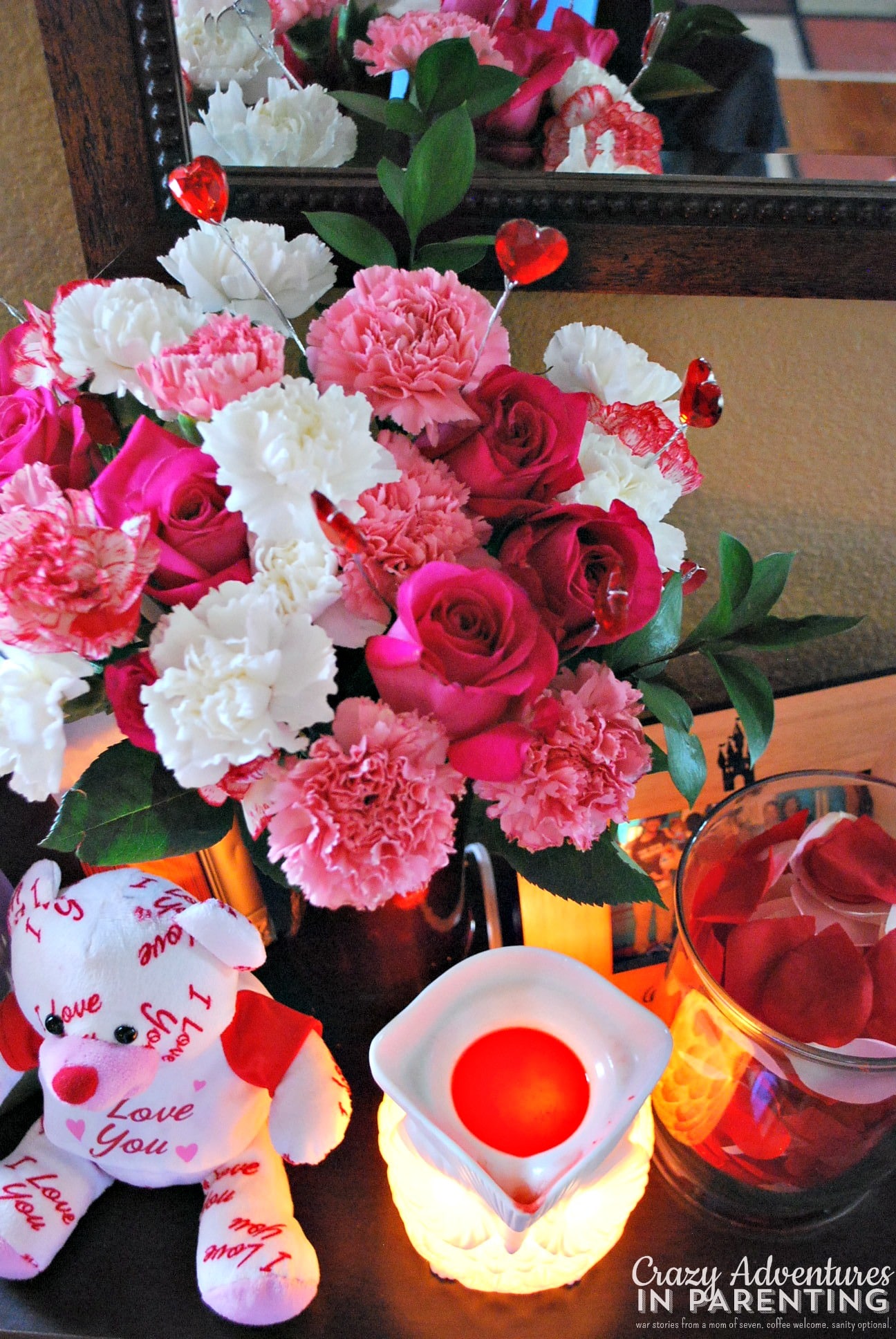 There's just something about fresh flowers, am I right? These really round out the decorations nicely, don't you think?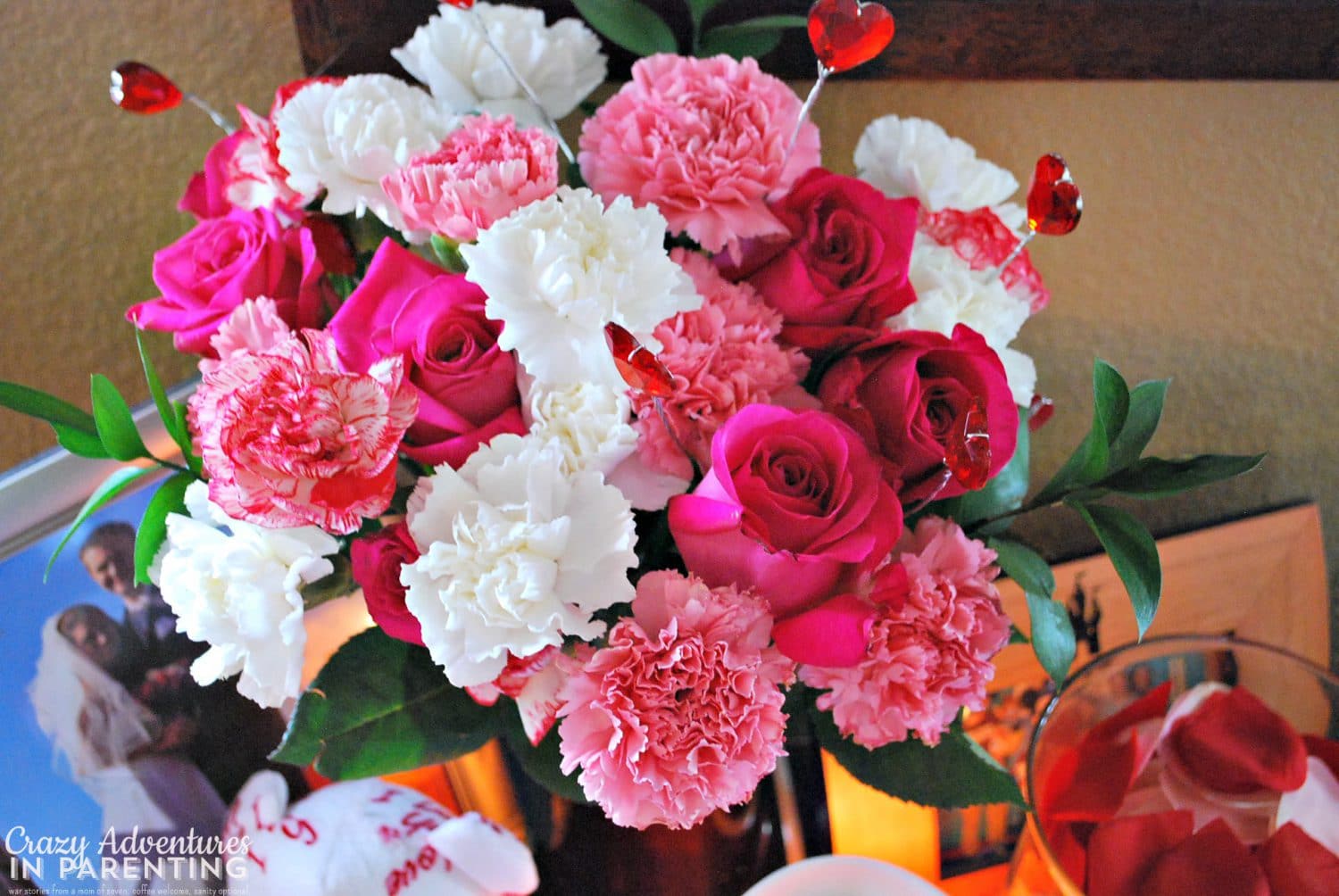 Do you decorate for Valentine's Day, too?