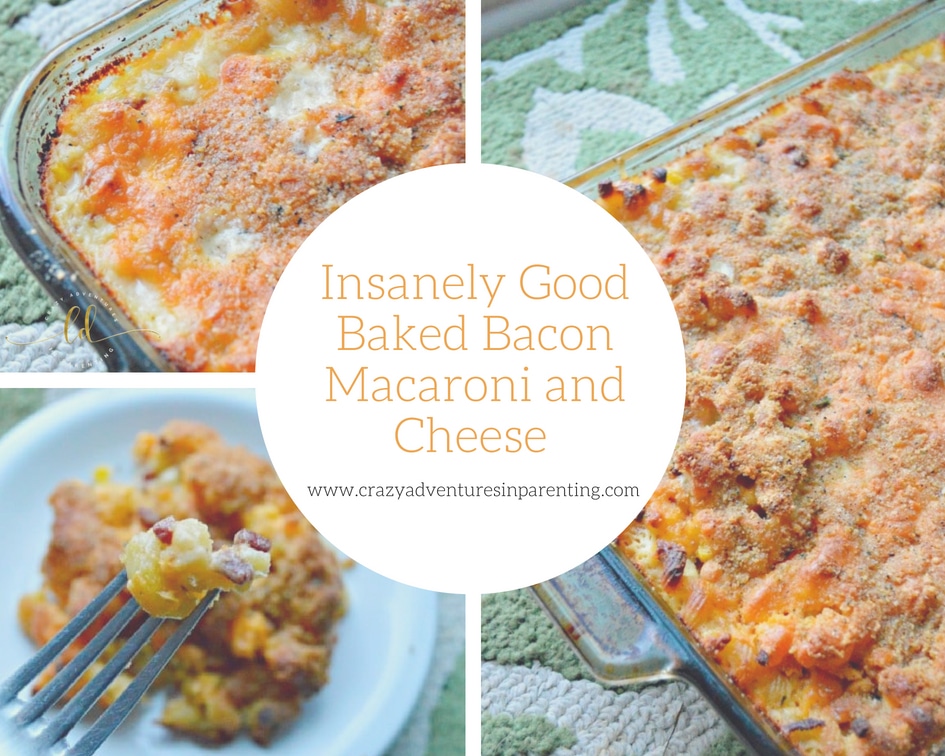 This baked bacon macaroni and cheese is like nothing you've ever tried before, but something you'll never want to go without eating again!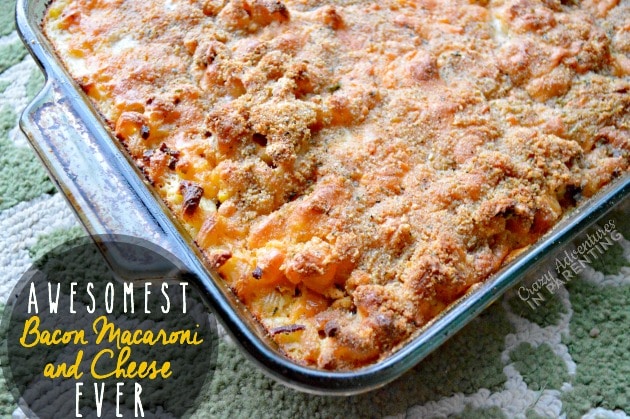 Insanely Good Baked Bacon Macaroni and Cheese That's Out of This World!
First of all, let me be the first to admit, this is my HUSBAND's creation, and this recipe is not for the faint of heart. I promise you, if you love macaroni and cheese, and bacon, and making things that make your family salute or bow to you, you will want to bookmark and pin this baked bacon macaroni and cheese recipe to make STAT. It is THAT good, friends. Just editing these images for this post made me crave it all over again, it's insane.
And delicious. And like no other pasta dish you've ever made before.
Strap on your seat belts, friends. Let's ride!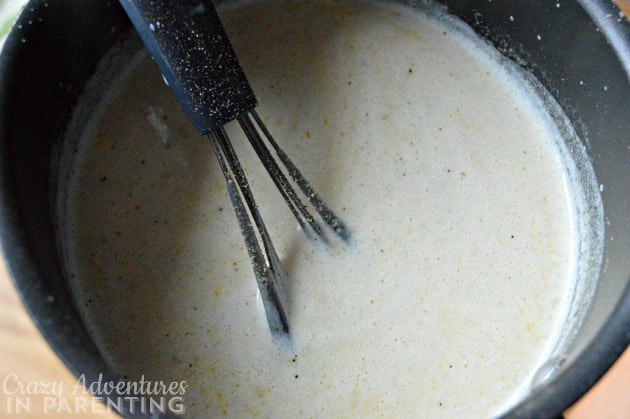 Once you've started your creamed sauce, break out the cheeses and shred 'em.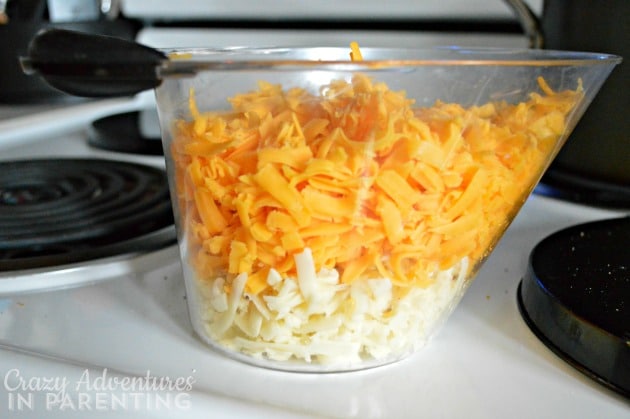 Add the cheeses to the sauce, blend well.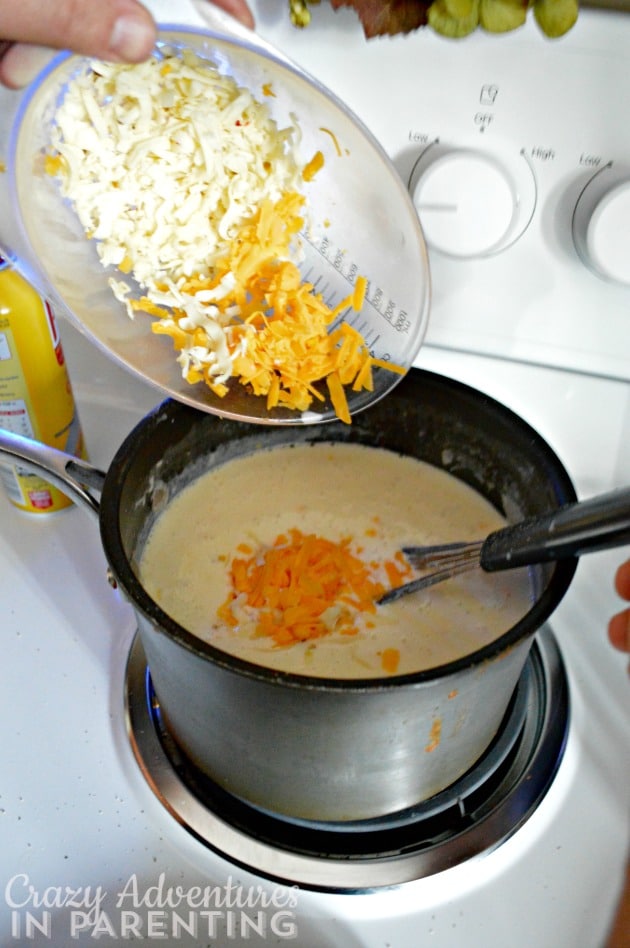 Do you see how velvety it looks already? My goodness!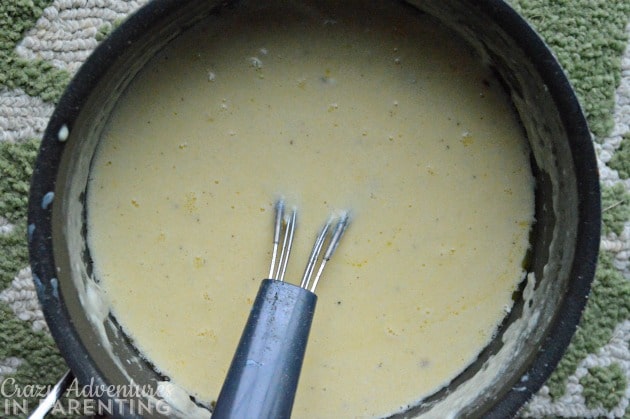 Now here's where you're going to freak out – add in the raw macaroni. No boiling it beforehand. (Yes, I swear!)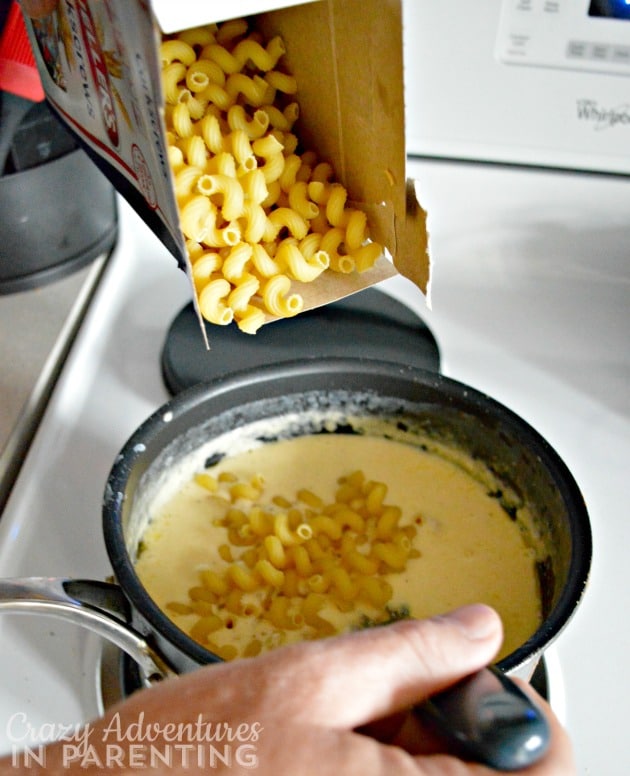 Now, go pick up your jaws and mix the macaroni around in the sauce reeeeally well. Try not to freak out, I promise it's gonna be gooood!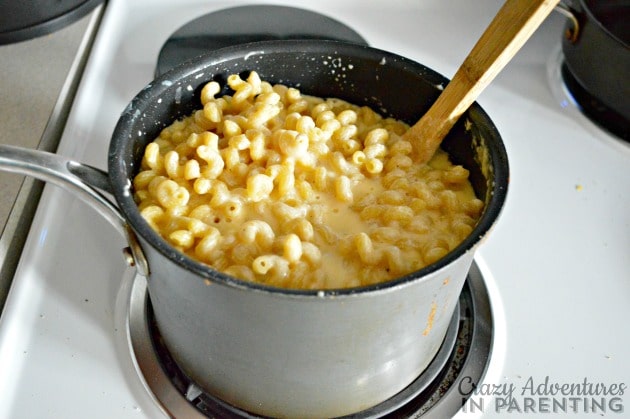 Add in some frozen kernel corn and stir it around real nice.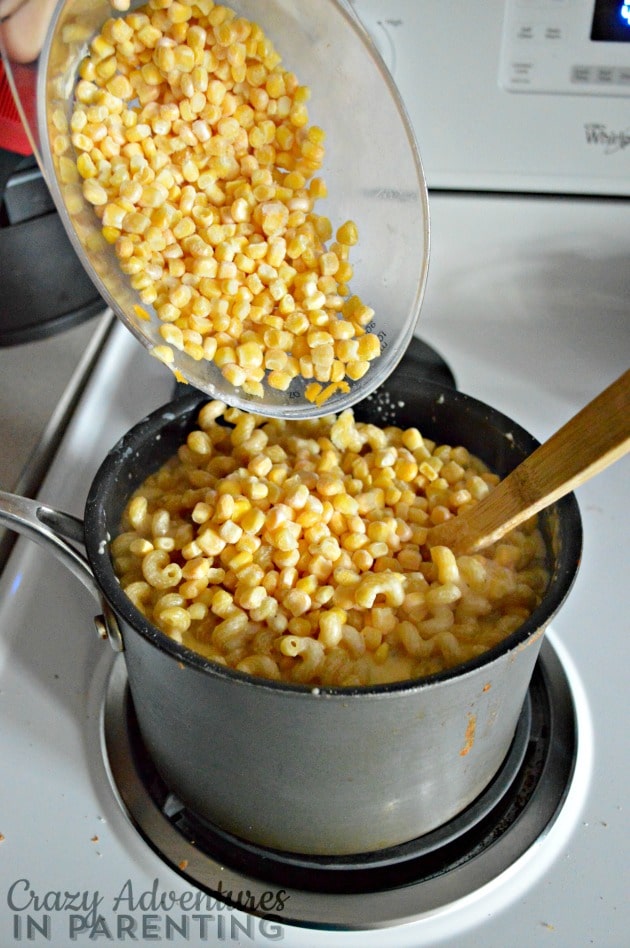 G'head, add in that crumbled bacon. We cheated and bought the pre-crumbled kind instead of doing it ourselves (it tasted real good, too).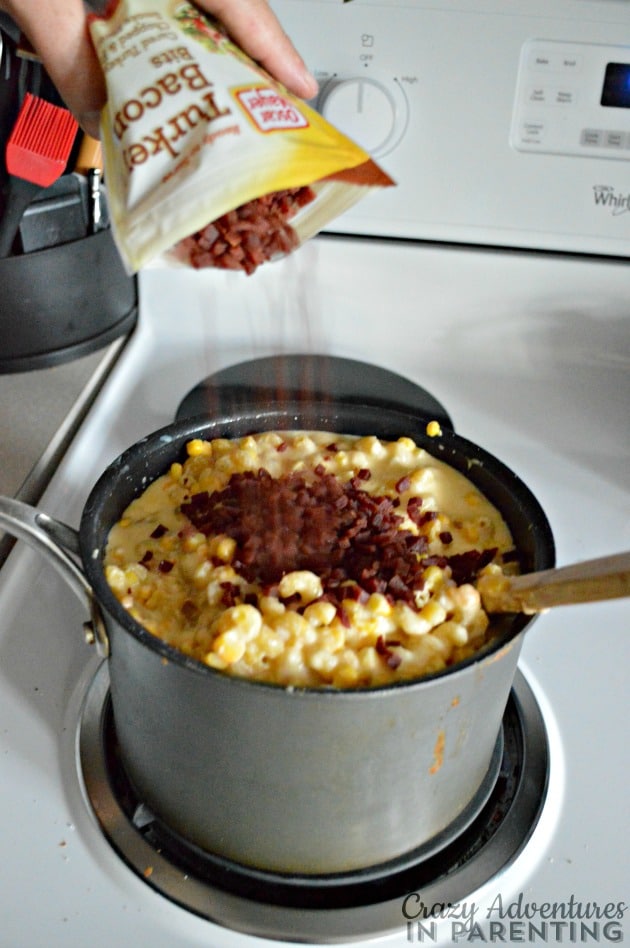 Blend it altogether. Try not to salivate (I know it's hard).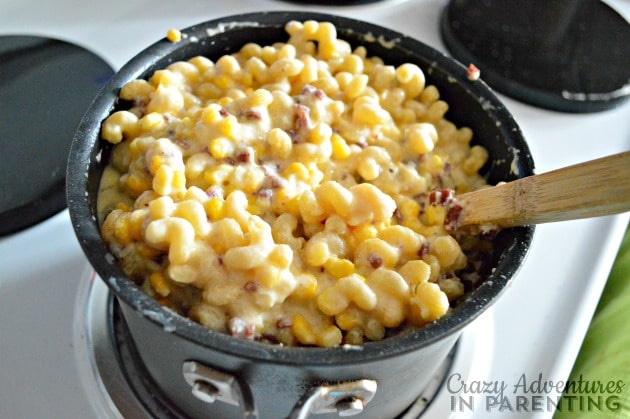 Add the macaroni to your sprayed baking pan and add extra bacon on top (yes!); stir around to mix in the extra bacon.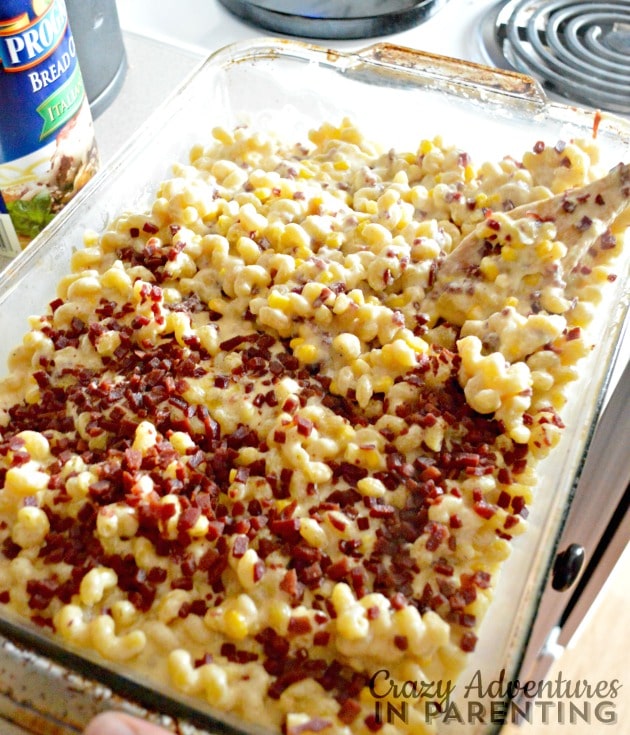 Add more of the jack cheese on top.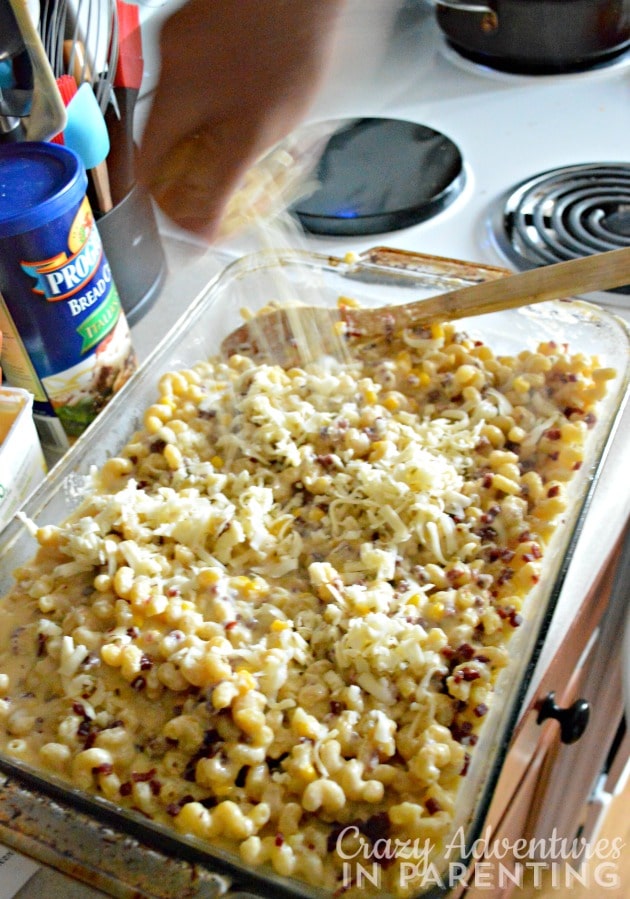 Then, add more cheddar cheese on top, too.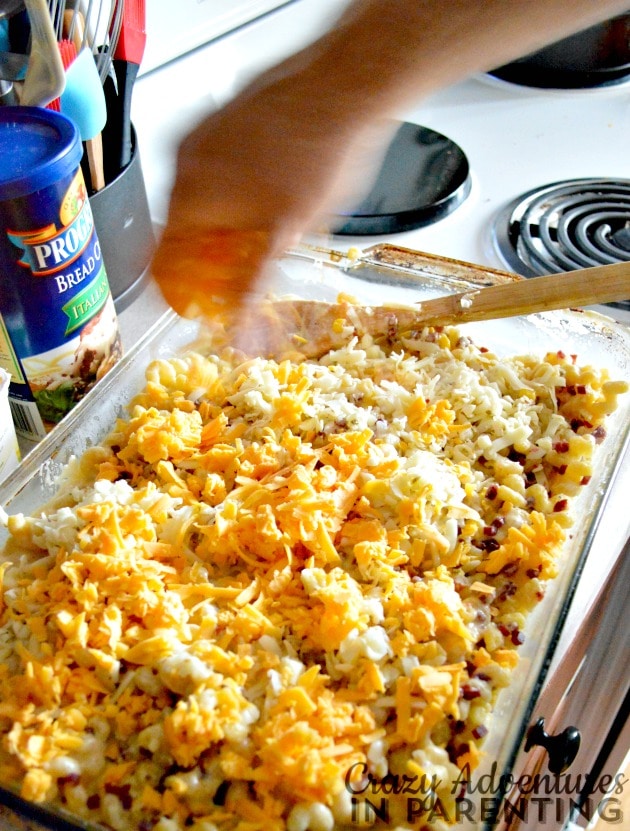 Finally, add parmesan on top, shaking generously.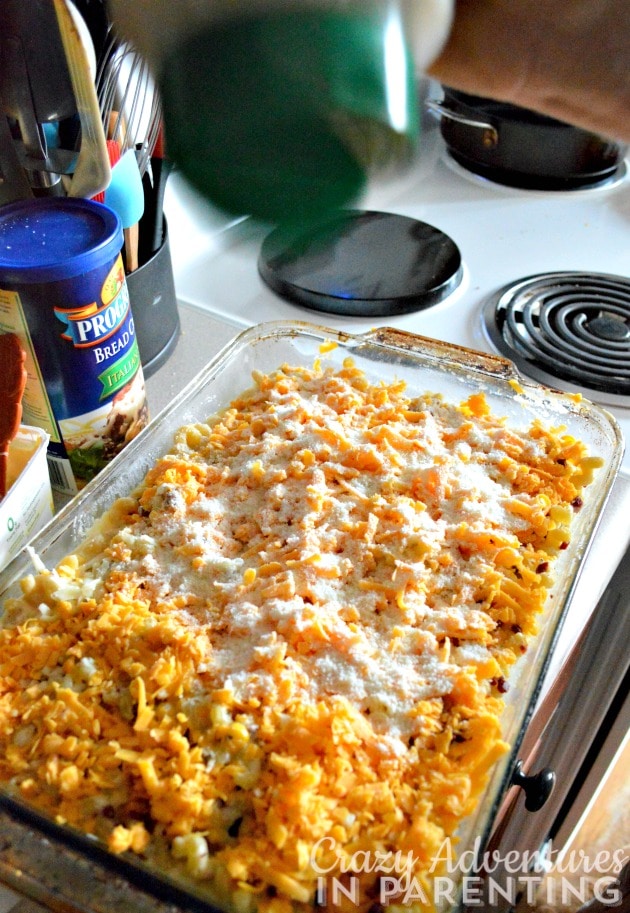 Top it all off with a nice helping of seasoned bread crumbs and season with a little salt and pepper.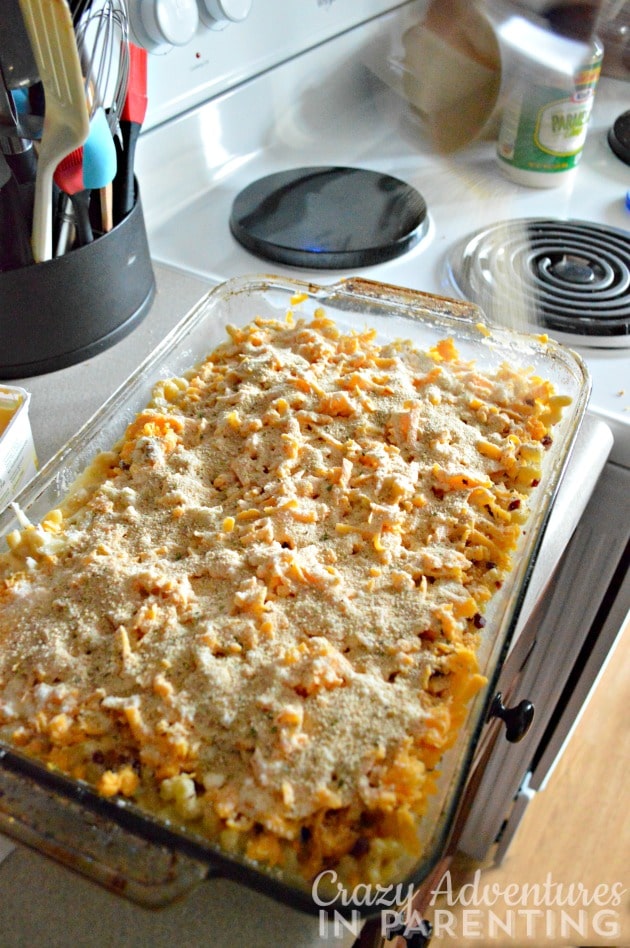 Bake in the oven and try not to watch it the entire 20 minutes, but do pay attention to the color. Pull it out when it's beautiful and golden brown.
Like this. Mmm!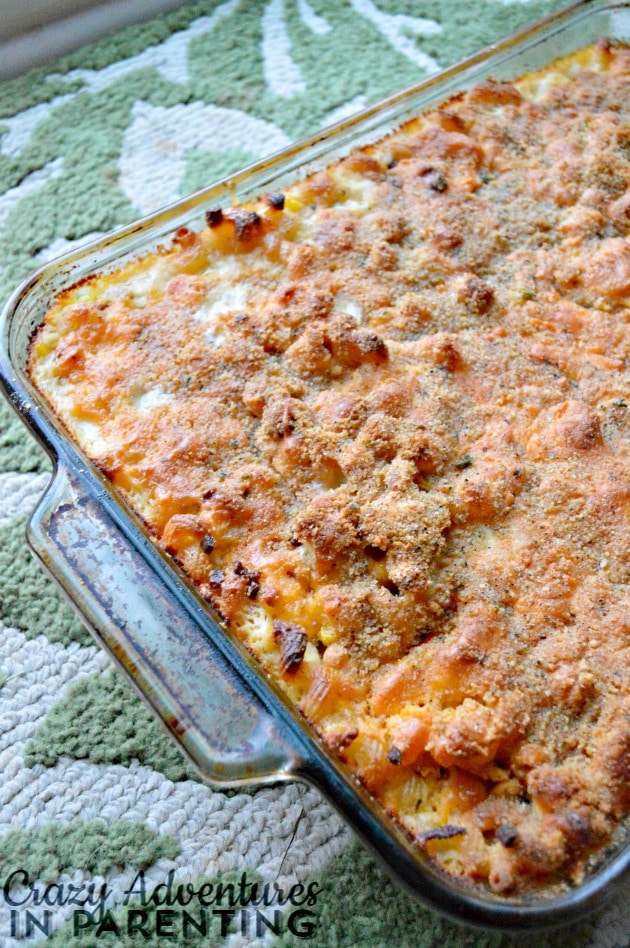 Look at the crisp on it there, my gosh! I can taste it, it is SO good.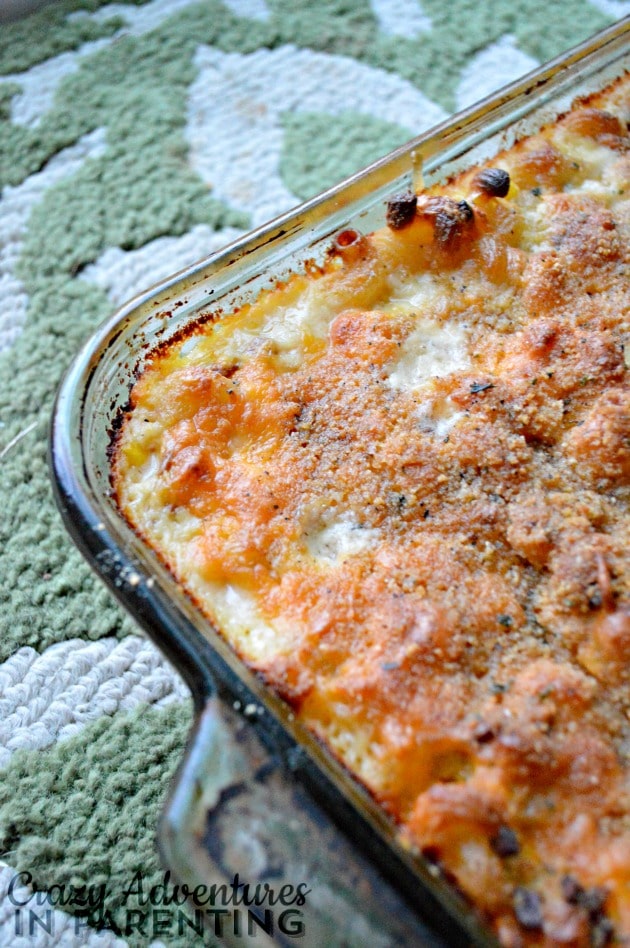 Try to let it cool before you devour it, though. You don't want to burn your mouth rushing! Savor it, friends. Every last bite.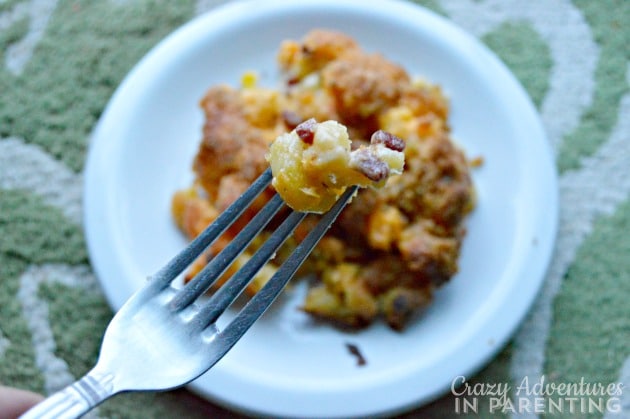 Make this baked bacon macaroni and cheese for those you love. Make it for a special occasion, or even on a night when nothing special's happening, because as soon as you make this dish? Something special's happening! Be sure to pin it here!

I really hope you and your family enjoy my husband's dish. Didn't he do a MARVELOUS job with it? He's TOTALLY hired.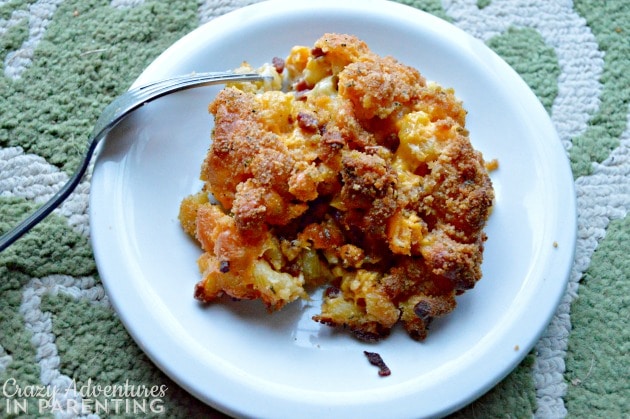 If you enjoy this recipe, check out these!
Instant Pot Queso Macaroni and Cheese Recipe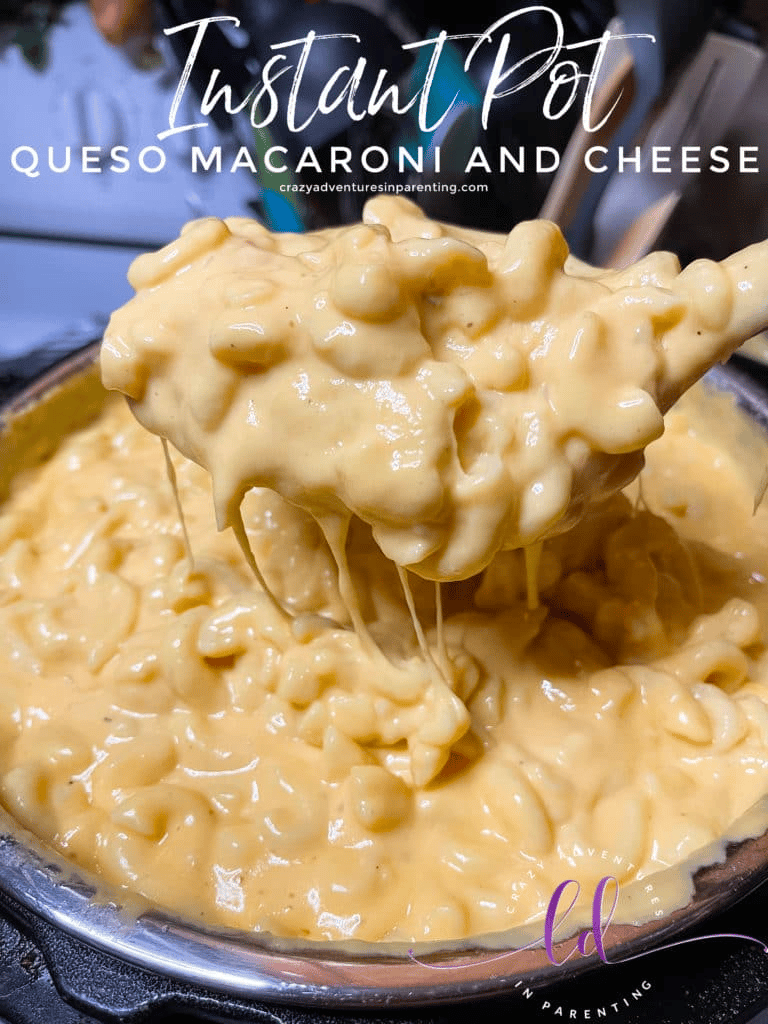 Jalapeño Popper Mac and Cheese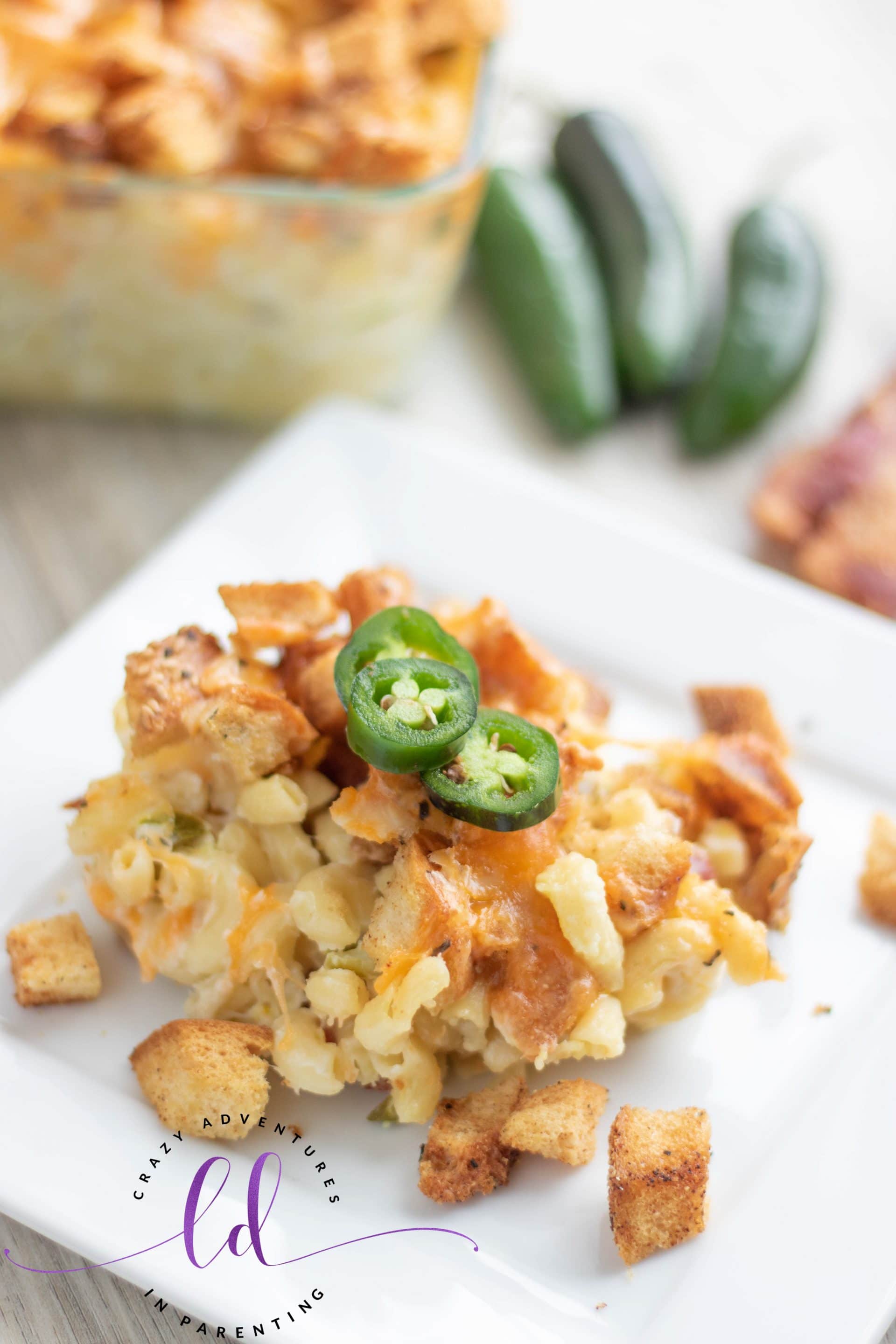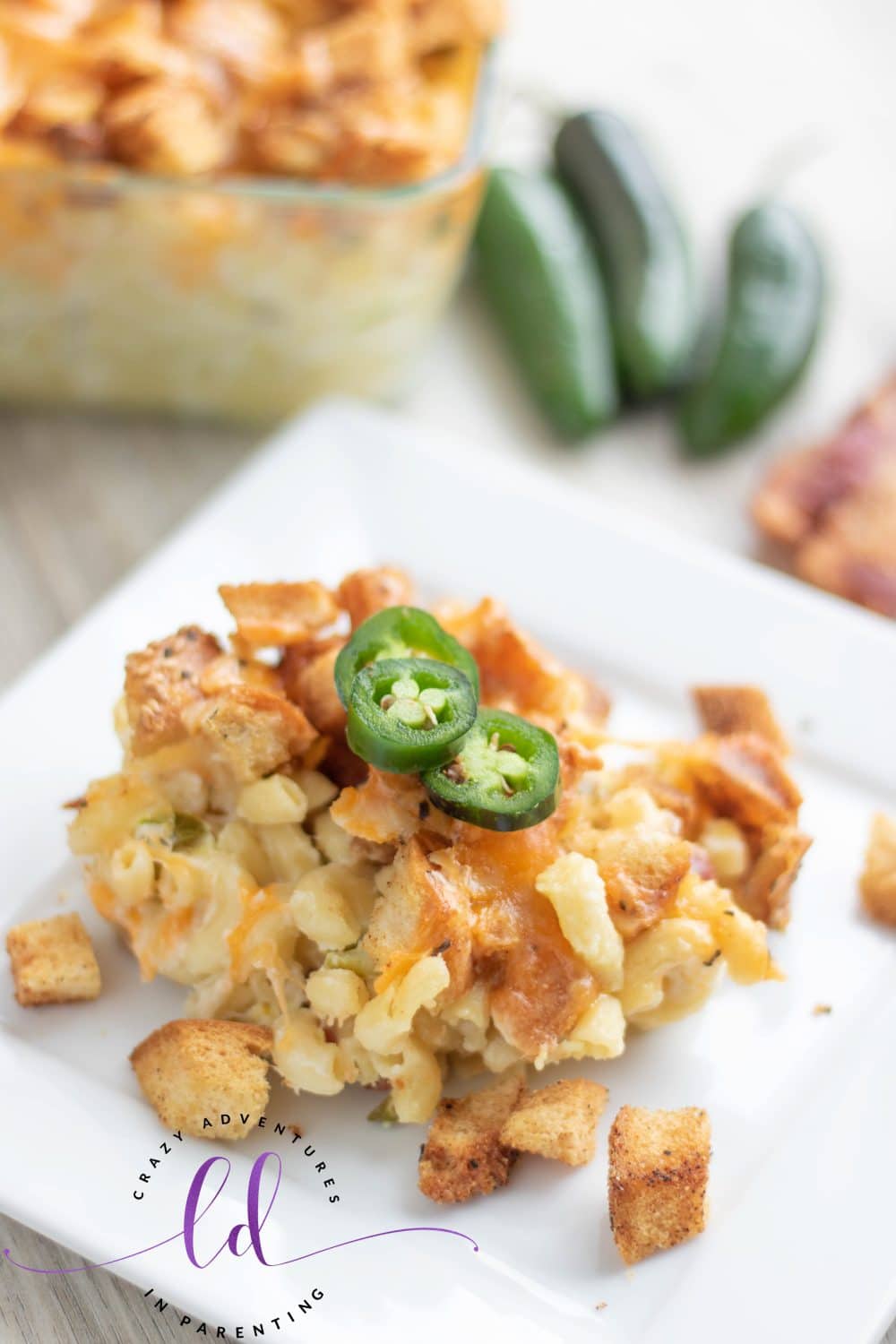 Easy Instant Pot Taco Macaroni Recipe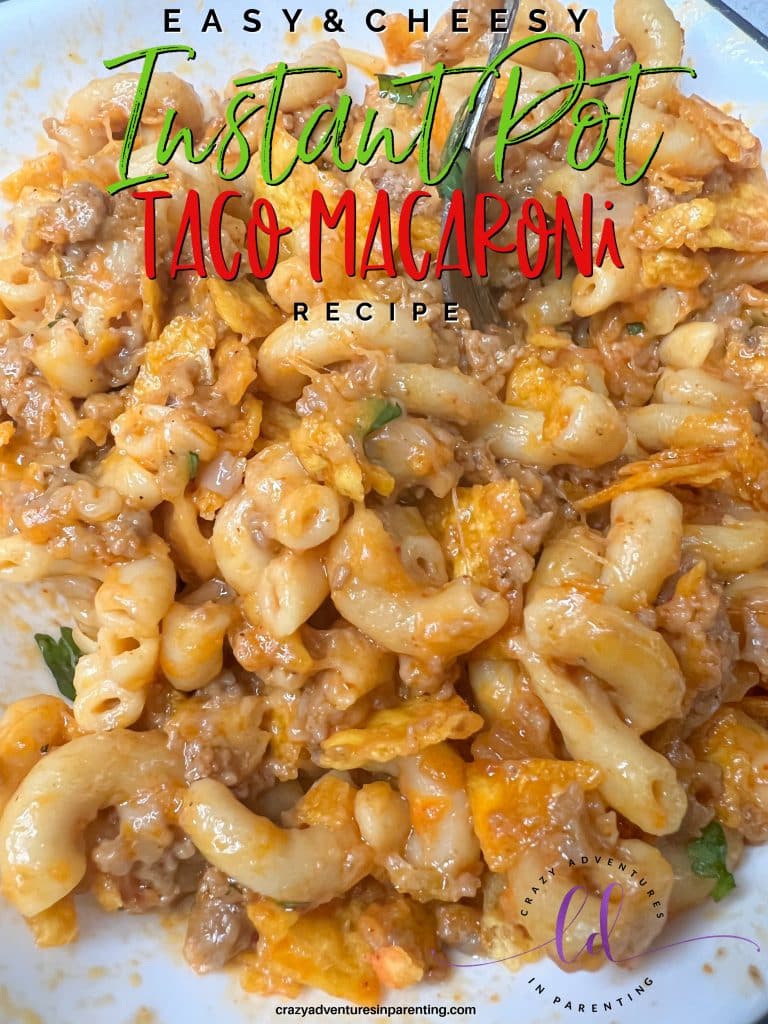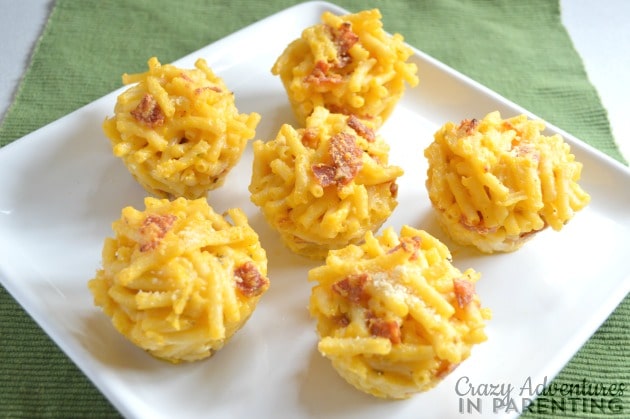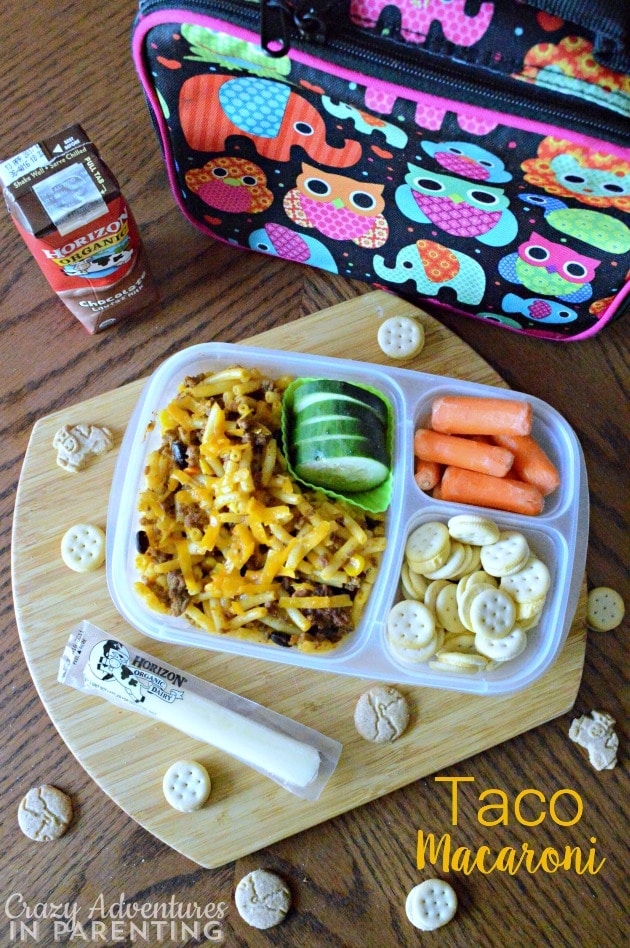 CRAVING MORE CRAFTS AND DELICIOUS RECIPES? Subscribe to my newsletter and follow along on Pinterest, Facebook, YouTube, and Instagram for all the latest updates!
Sign up below to receive my newsletter filled with delicious recipes, fun crafts, and family adventures straight into your inbox:
If you love this Insanely Good Baked Bacon Macaroni and Cheese recipe as much as we do, please leave me a 5-star review below and help me share this recipe on Facebook and Pinterest! If you do make the recipe, I hope you'll share that you tried it on Pinterest! I love it SO MUCH when readers share their feedback! 🙂
Here's the full recipe for you: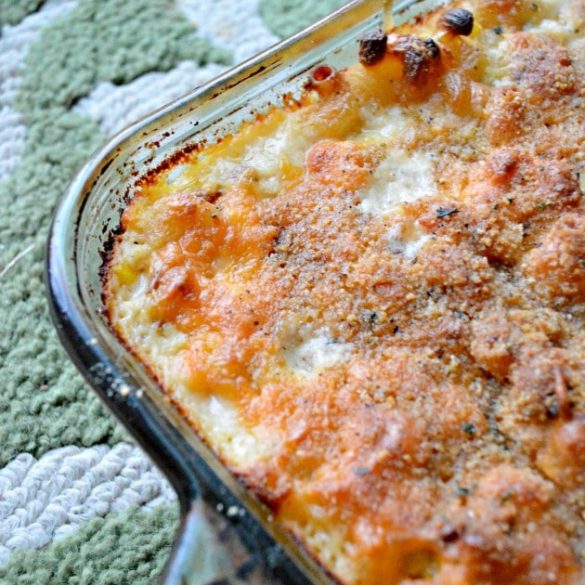 Insanely Good Baked Bacon Macaroni and Cheese That's Out of This World!
This baked bacon macaroni and cheese is like nothing you've ever tried before, but something you'll never want to go without eating again!
Print
Pin
Rate
Ingredients
6

tablespoons

butter

6

tablespoons

flour

6

cups

milk

1½

boxes

macaroni

we used corkscrews

2

cups

frozen kernel corn

2

packages

turkey bacon

chopped. Or, as we used, pre-made bags

2 10

oz

blocks of cheddar

shredded

1 10

oz

block of pepper jack cheese

can use monterrey jack instead, shredded

package

grated parmesan cheese

package

seasoned bread crumbs

fresh ground salt and pepper
Instructions
Preheat oven to 400 degrees.

In a large saucepan, melt the butter.

Once the butter is melted and beginning to bubble, whisk in the flour until it forms a paste (like a roux).

Whisk the milk into the flour/butter mixture.

Heat this mixture over medium-heat until it begins to thicken.

Whisk in two cups of cheddar and one cup of Monterrey jack cheese, along with salt and pepper.

Once the sauce is heated through, mix in the macaroni; blend well.

Add into the pot the kernel corn; again mix well.

Add in 1 cup of the chopped turkey bacon.

Pour mixture into a sprayed 13×9 baking dish; top with the remaining cheddar and pepper jack cheese.

Layer on top the parmesan cheese, then the bread crumbs, followed by the fresh-ground salt and pepper over the macaroni.

Bake for about 20 minutes or until it is golden brown.