The following post is sponsored by FitFluential LLC on behalf of Polar.
As soon as I forayed into the heart rate monitor realm a couple years back, I purchased a Polar FT60 after asking several fitness friends for recommendations. I'd done my homework, I knew it was designed for fitness enthusiasts, runners and active sport participants like me. I wanted to be able to track everything I was doing, even swimming, it's waterproof! I loved and wore it so much, last year I actually had a pretty wicked tan line from wearing it all the time while swimming, biking, running, walking – e-v-e-r-y-w-h-e-r-e. The tan line was so bad, I had to wear it, even when I didn't want to. (Like during celebrity interviews. Ahem.)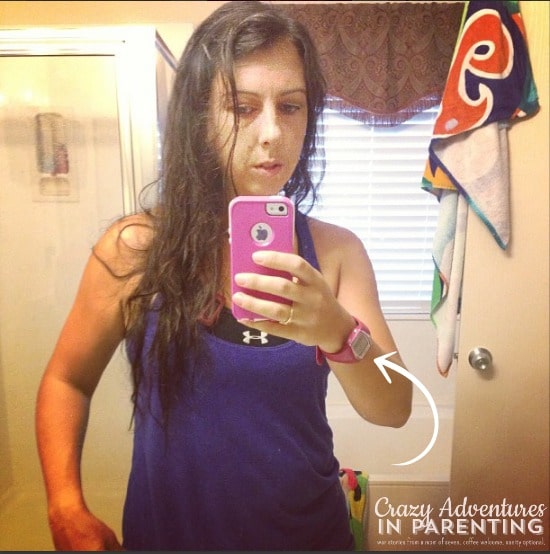 The FT60 comes with the Polar H1 Heart Rate Sensor. Equipped with this awesome heart rate monitor in my arsenal, there's no guessing how much you're burning, or using calculators – it goes by your height, weight, and heart rate. Whatever your activity level, it gauges it all to tell you how many calories your burned, so now you REALLY know exactly what you're doing, and how many calories you're torching with each exercise.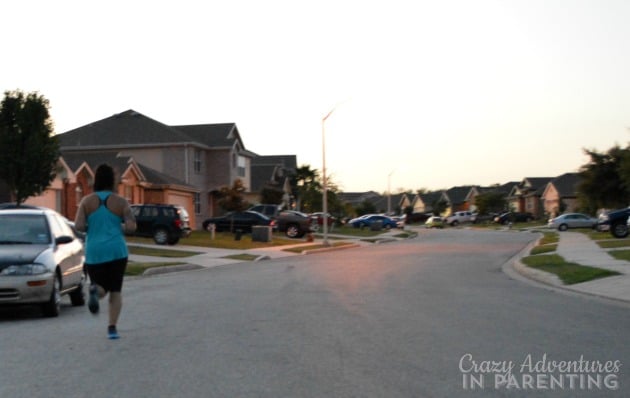 This newer version of FT60 only seemingly has a color change, but the functionality is all seemingly the same to me. Easy to wear, easy to track with a push or two of a button to start just the way I like it.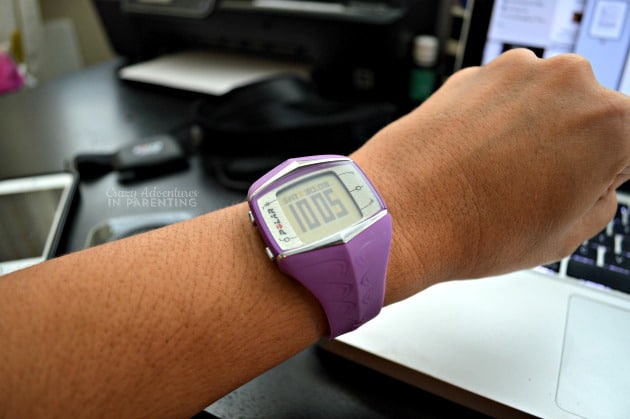 With another click or two of a button, you can access your training files and data for the last 100 training sessions. I like that it breaks it down for me, tells me not only the duration of my workouts, but my zones (1, 2, and 3) for heart rate intensity, fat calories burned, and much more.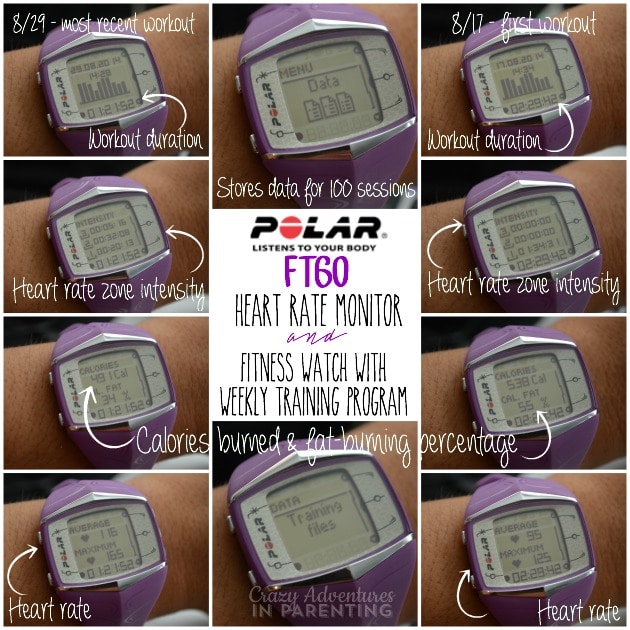 By pairing the FT60 with the Polar Flowlink, you can see all your training files and data on polarpersonaltrainer.com now. And it's so simple! Just plug in the FlowLink, place the watch on the circle, and go!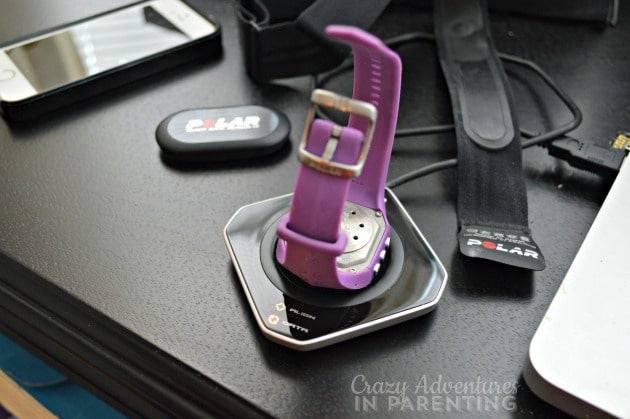 The first time I used Flowlink, it immediately accessed and transmitted all 10 trainings onto the Polar Personal Trainer website.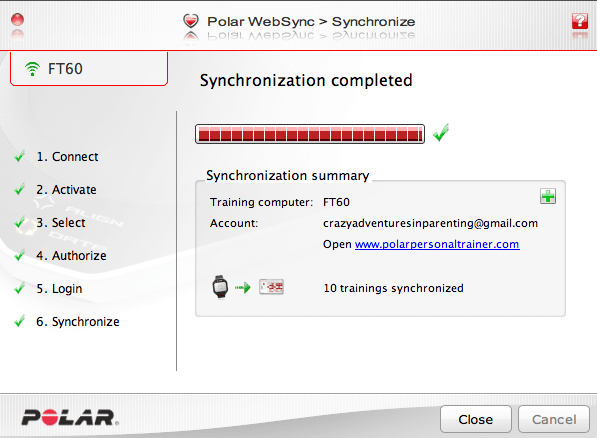 Here's a screenshot of what my training files look like in the Polar Personal Trainer dashboard – everything stored in my FT60 is now uploaded! Boom!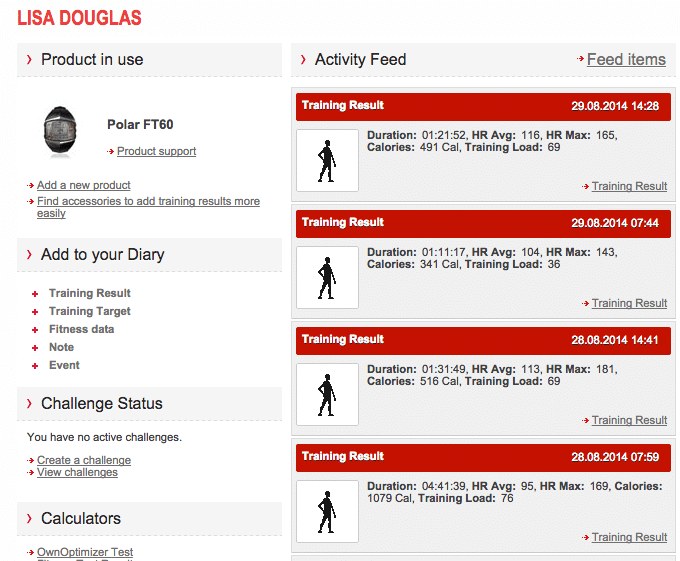 When I click on a specific workout, it goes into detail about how and what I did.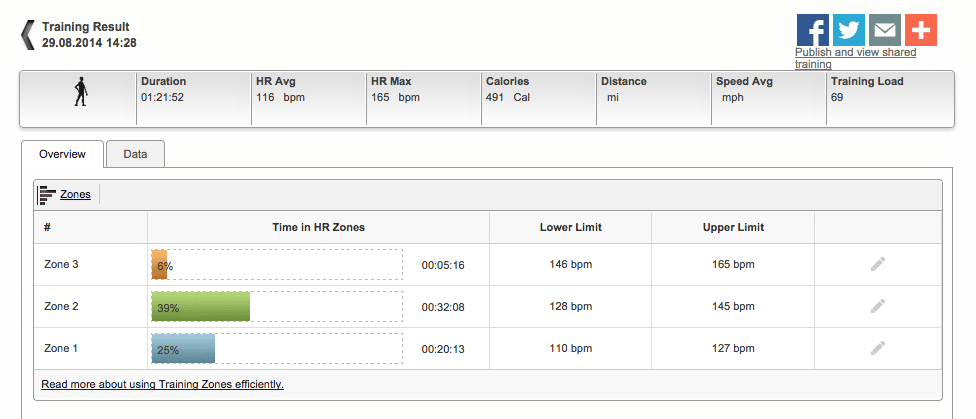 I adore this training calendar format, especially for a data, spreadsheet, and calendar nerd like me! It shows the breakdown of workouts week by week, day by day, even broken down further into blocks based on the time of the day!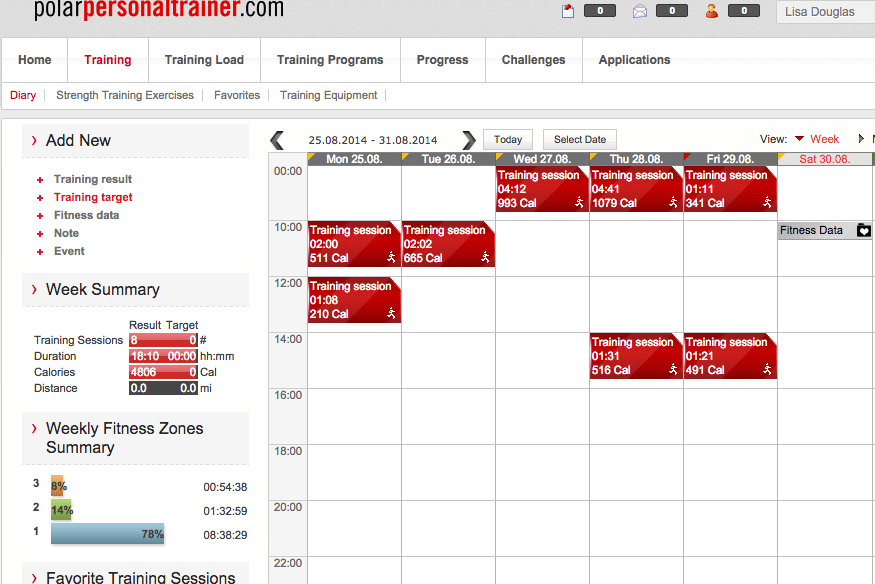 You'll notice it says "Distance 0.0 mi" on there – that's because I don't have the G1 GPS sensor (my husband does with his Polar). If I had that additional accessory connected, it would also read distance and sync that data as well. The Polar can also be synced with the S1 foot pod for those who want to track their stride, too. Crazy awesome, right?
The one aspect of this watch I have yet to delve into yet, in all my years of using the FT60, is the Polar STAR Training Program. It uses your personal exercise habits to provide you weekly feedback and updated goals based on what you wish to achieve (fitness level or specific goal). You choose a training plan or challenge on polarpersonaltrainer.com, and the Star Training Program shows users how hard and how much they need to train to reach their goals. It helps keep you motivated all week every week using their personal guidance program right there in the watch. I'm going to be looking into that real soon, because I want to improve my fitness level, especially since I'm going to be starting half-marathon training soon.
More awesome Smart Coaching Features:
Pre Training
Training plans and challenges on polarpersonaltrainer.com


During Training
STAR Training Program:


OwnZone: Knowing the right intensity to improve fitness can be a challenge. OwnZone adjusts a user's heart rate training zone to perfectly match their body's current physiological condition. By using OwnZone, users can be sure they're training at an intensity that improves their aerobic fitness.
Smart Calories: Calculates the number of calories expended during a training session based on weight, height, age, gender, individual maximum heart rate (HRmax) and how hard a user is training.
After Training & Long-Term Training Analysis
Training Load: This feature within polarpersonaltrainer.com displays a color- coded graph of a user's cumulative training load, notifying a person when he or she has recovered enough for the next session, and accurately predicting training developments to prevent overtraining. This data also provides intelligence to modify training sessions as necessary
Fitness Test: This feature gets a measure of users' current fitness level in just five minutes. By regularly comparing test results, users can see what progress they are making and how their fitness is improving over time.

Do you use a heart rate monitor when you work out? If you're interested in purchasing the Polar FT60 for yourself, I'm SO pleased to offer you a 10% off discount code good until October 11th 2014. The code is: FitPolarFT60 (and is case sensitive). If you don't have one, I encourage you – try the Polar FT60!