This post was sponsored by Ling Ling, all opinions expressed in my post are my own.
Shuffle here, shuffle there. The life of a work-at-home mom never ends, especially living here in Colorado Springs. We live so close to each of the schools here, there are no buses, so I drive… alllll the kids. To all the schools. Which leaves me little-to-no time during the day to work and do what I need to do. I'm looking to shave off time in every way that I can. With meals, that means making easy-to-make meals at night, with minimal ingredients, but I want little to no processing, you know? Health is still important to me, even though I don't have a lot of time. That's why I couldn't be more pleased to have found Ling Ling asia-inspired entrees and appetizers. Talk about convenience without sacrificing quality!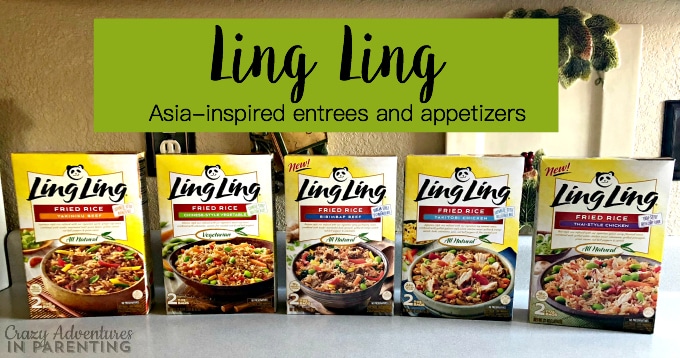 I couldn't be more impressed with this line of dinners! Do you know what a lifesaver this is for a busy mom like me? I can choose how quickly I want to heat and eat my on-the-go lunch or dinner when our schedule's busting at the seams. I can choose to sauté or microwave my meal, both are equally easy and tasty! Sautéing Ling Ling Fried Rice dishes provides a crispier texture whereas microwaving provides a more moist texture. I prefer not only the crispness of the rice, but the flavors when sautéing, but on the days I can't stand over the stove, I can still enjoy these while I'm busy doing what I need to while they cook!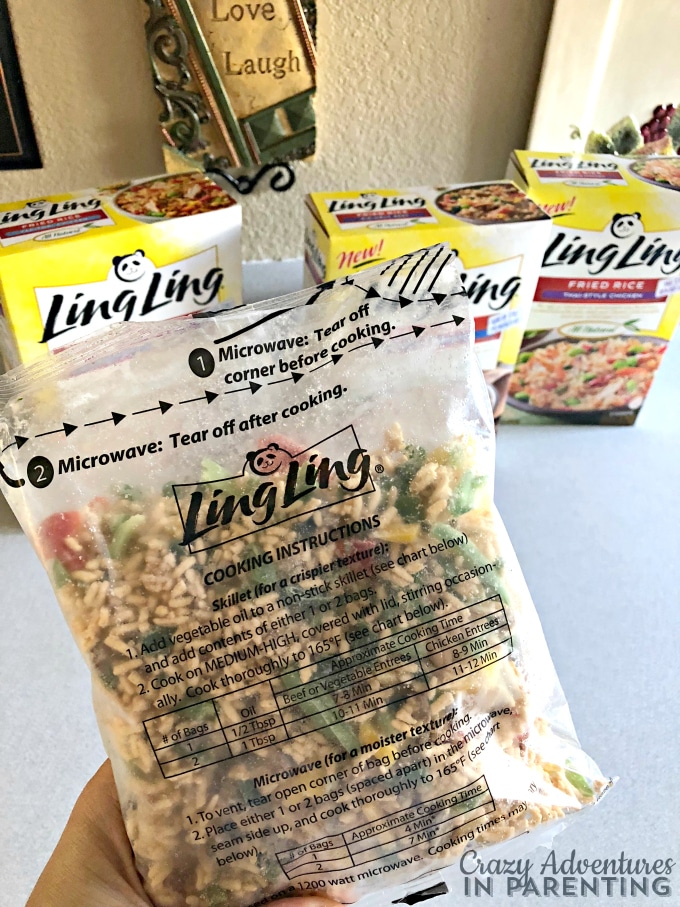 I've got to be honest, here – I'm totally blown away by Ling Ling, I don't think I'm ever going do Asian take-out again. Why would I? Not only are these an excellent deal at our local Walmart (check your store's availability here), they taste BETTER! Not only that, they're better for you, too, because they're all-natural! You can't get all-natural in a take out place like this! Ling Ling wanted authenticity and traveled the Asian continent to collect recipes from China, Japan, Korea, and Thailand, all so can you experience the best of each region in their dishes. With every bite I take, I feel transported directly to Asia!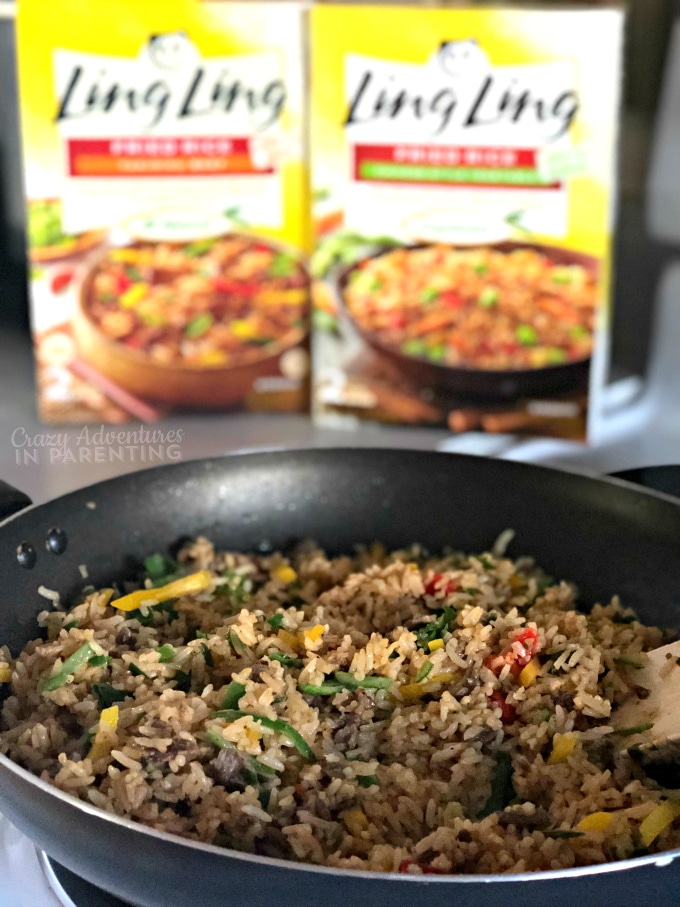 My favorite Ling Ling entrees to date are Yakiniku Beef and Chinese-Style Vegetable (which I prepared for myself but shared with my vegetarian teen, who adored it). Next meal on deck for me to try is Yakitori Chicken, I can't wait! Ling Ling's line of Fried Rice offers unique dishes based on pure and authentic Asian inspired recipes from Japan and China. My family has requested we try their Authentic Asian style noodles next – Drunken Noodles and Yakisoba Noodles. CanNOT wait!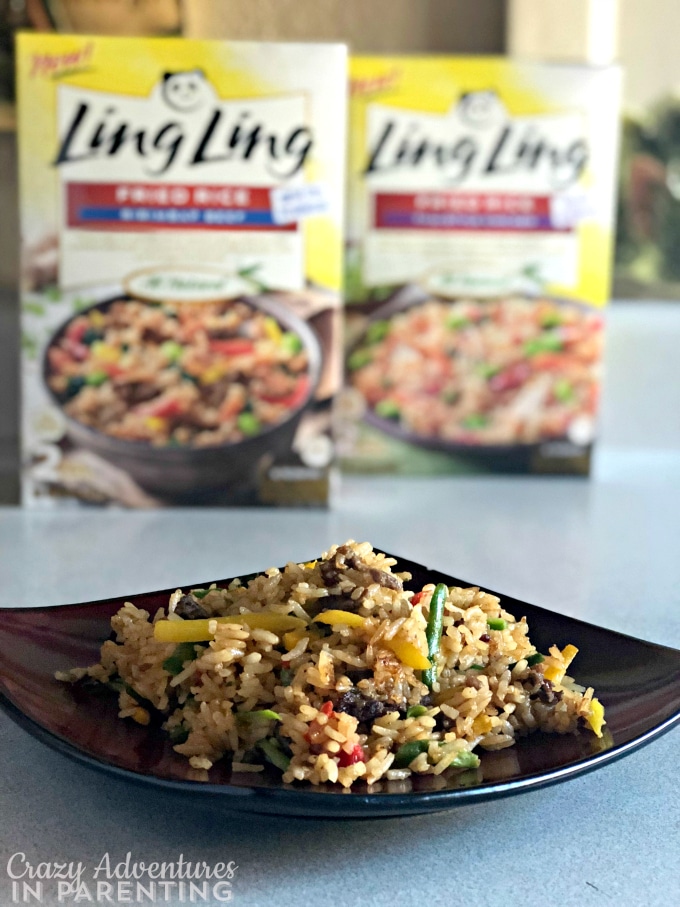 In less time than it takes for my coffee to finish brewing, I had a delicious meal ready to eat with delicious sauces, succulent proteins, and tasty vegetables so I could keep going with my hectic schedule. No vegetables to cut up, no beef or chicken to chop, season, and marinade, or rice to boil, it was all prepped, ready to heat in whatever manner I desired. It's almost feels like having a private chef! My daughter couldn't resist sharing with me during one of our busy on-the-go nights with her extra-curricular activities.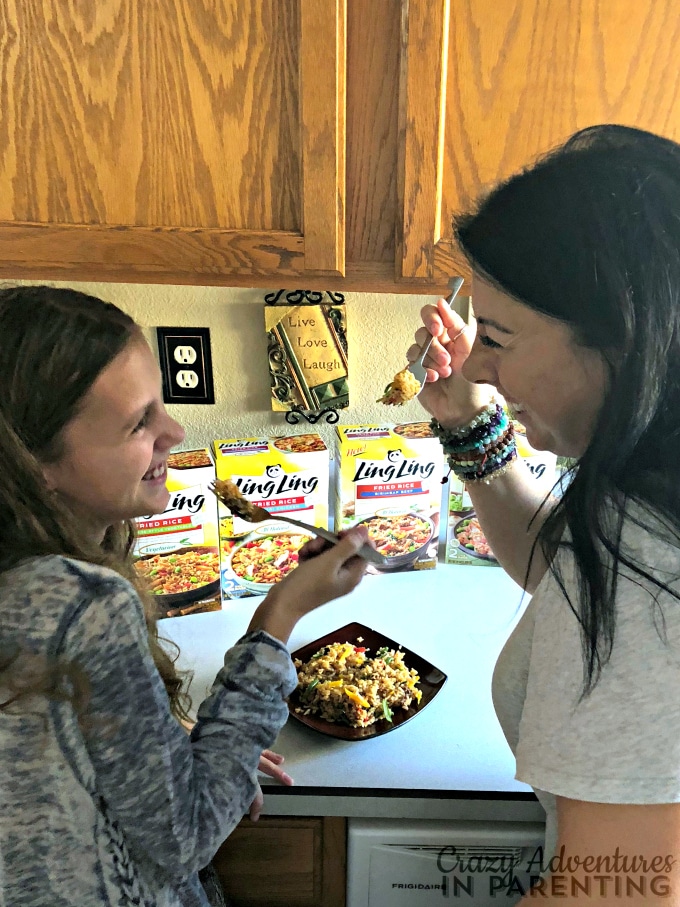 And by "sharing," I mean, she took my plate. Haha, I had to make more! That little stinker! But who can resist that sweet face, she's so cute!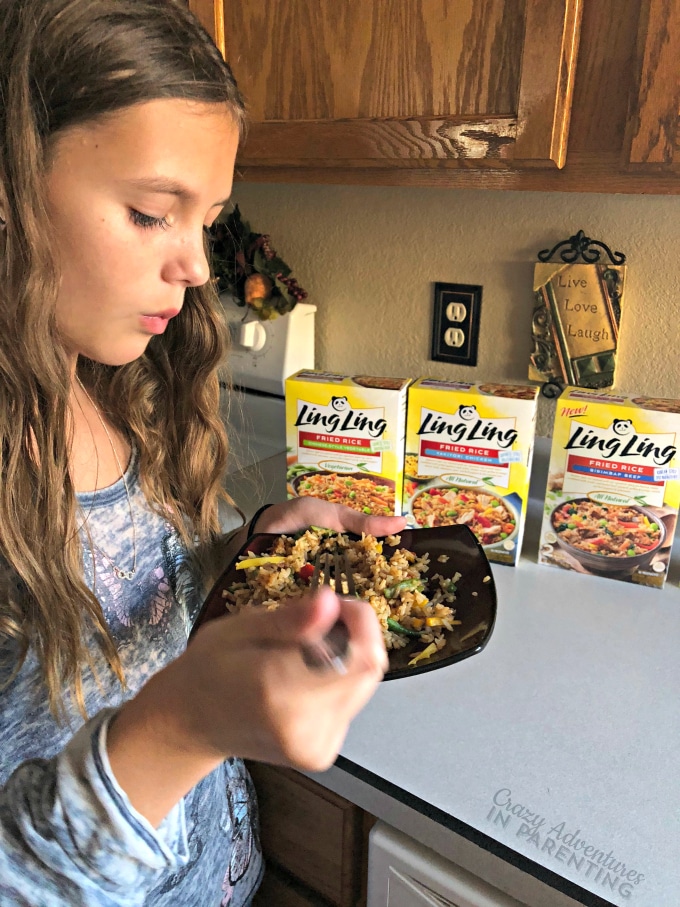 We're all about the Fried Rice currently in this house, especially paired with my Saucy Asian Meatballs Recipe, but Ling Ling is well-known for their potstickers, made with delectable chicken or pork, prepared with tender vegetables expertly combined in a mouthwatering dumpling wrapper. (Is your mouth watering yet?) And, to polish it off perfectly, each variety comes with a Ling Ling signature dipping sauce.
Save on your next purchase of Ling Ling products with this $2 off ONE Ling Ling Entree or Appetizer coupon good for 20oz. or more. And, check out the Ling Ling Giveaway where I-C will randomly select winners from all program entries and will facilitate fulfillment of the winning prizes (5)! Good luck!Ling Ling Asian Kitchen Giveaway (Phase 3)
What do you think about Ling Ling products? How might Ling Ling Asian Food fit into your family's lifestyle?