Learn how to make this adorable Unicorn Bark Recipe with magical unicorn horns on top!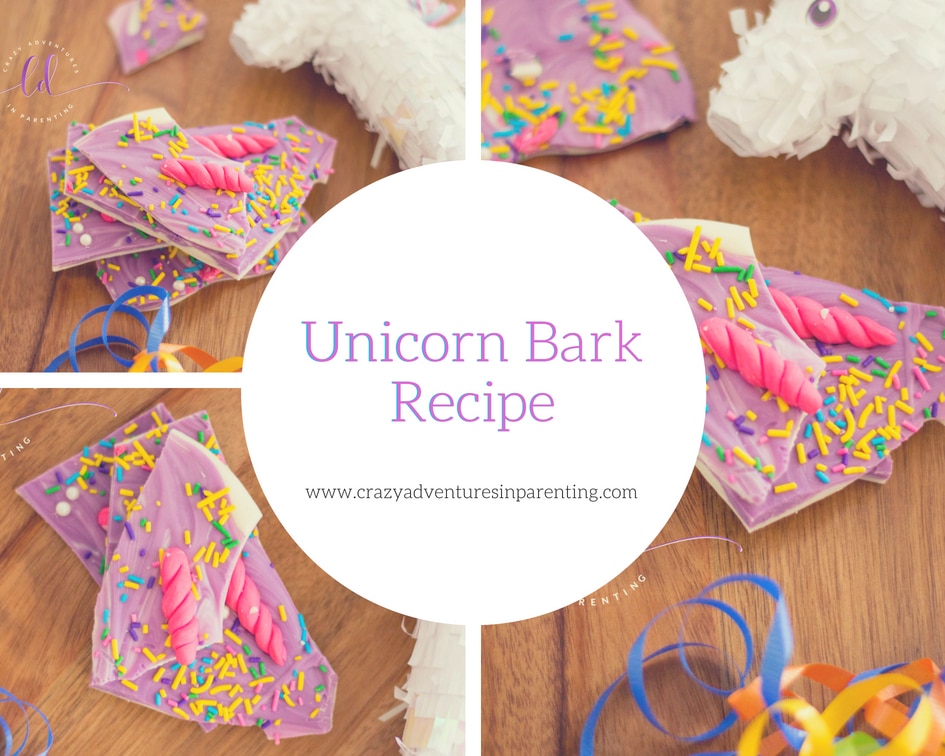 Unicorn Bark Recipe
If you couldn't tell already, I am in a unicorn kind of MOOD, man! Between this unicorn pancakes recipe, unicorn smoothie bowl recipe, and more unicorn recipes on deck, I'm sure you could already tell. 😏 But seriously, it's like reliving my childhood with Lisa Frank stuff and unicorn errythang everywhere at all times. Sticker books. Garbage pail kids. Jelly shoes. L.A. Gear. Z Cavaricci. Reliving my childhood one unicorn at a time. That could be my new tagline, whaddyathink?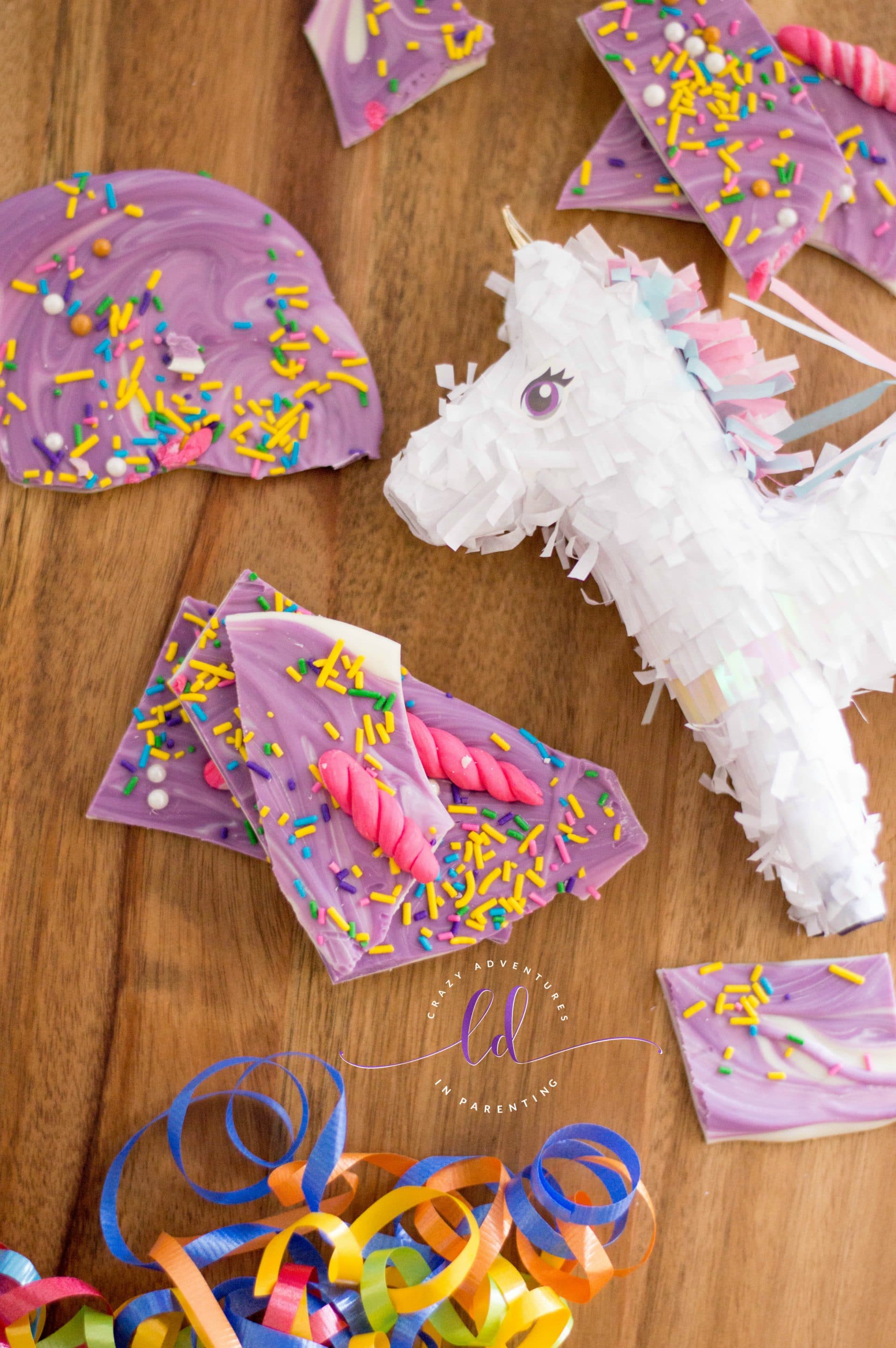 Fun Unicorn Bark Recipe
These are so easy to make with your kids, too! Beautiful recipes don't have to be complicated, and this is one of those fantastically easy recipes for kids!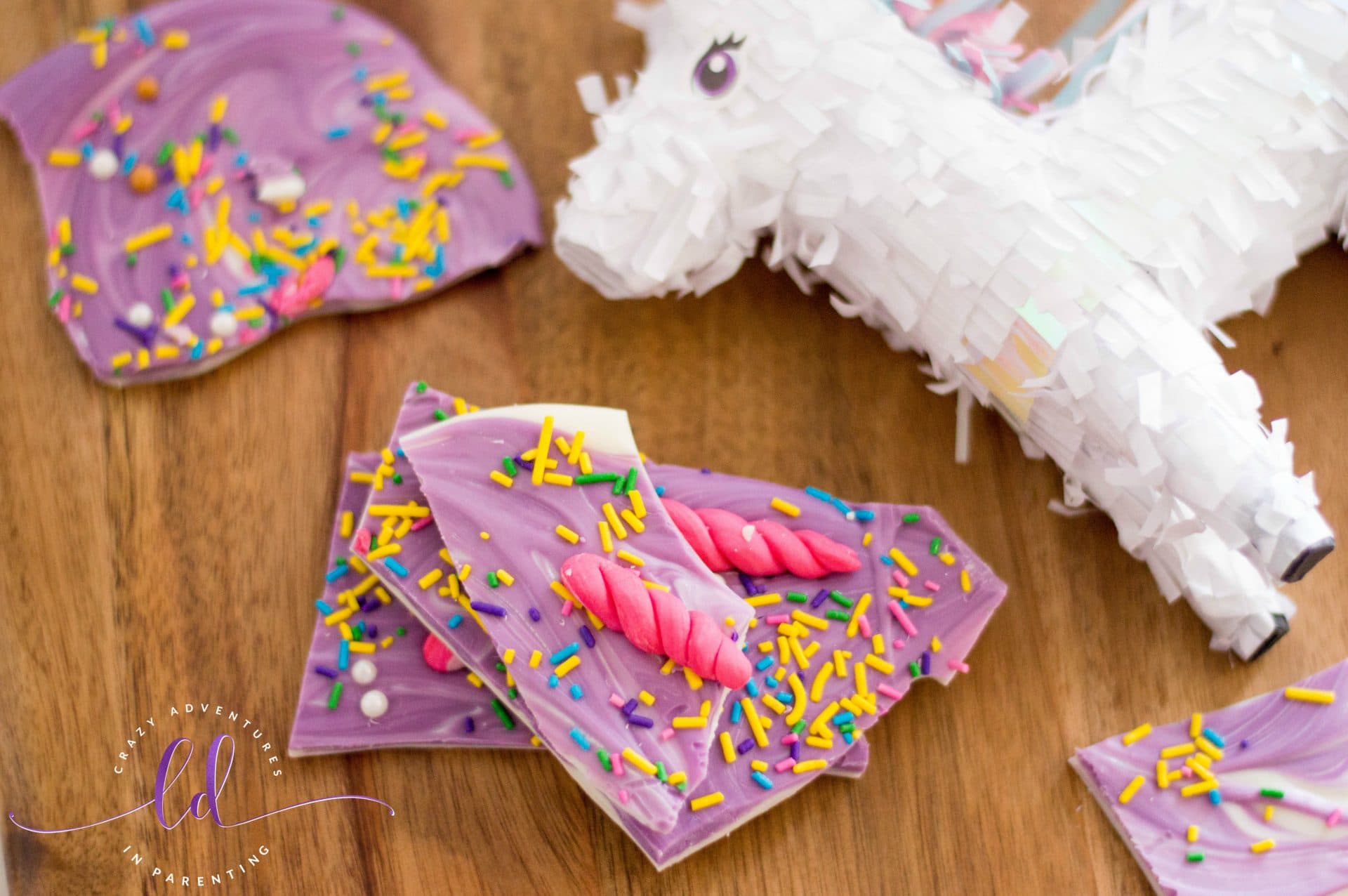 How to Make Unicorn Bark
Let's get your unicorn bark ingredients readyyyy!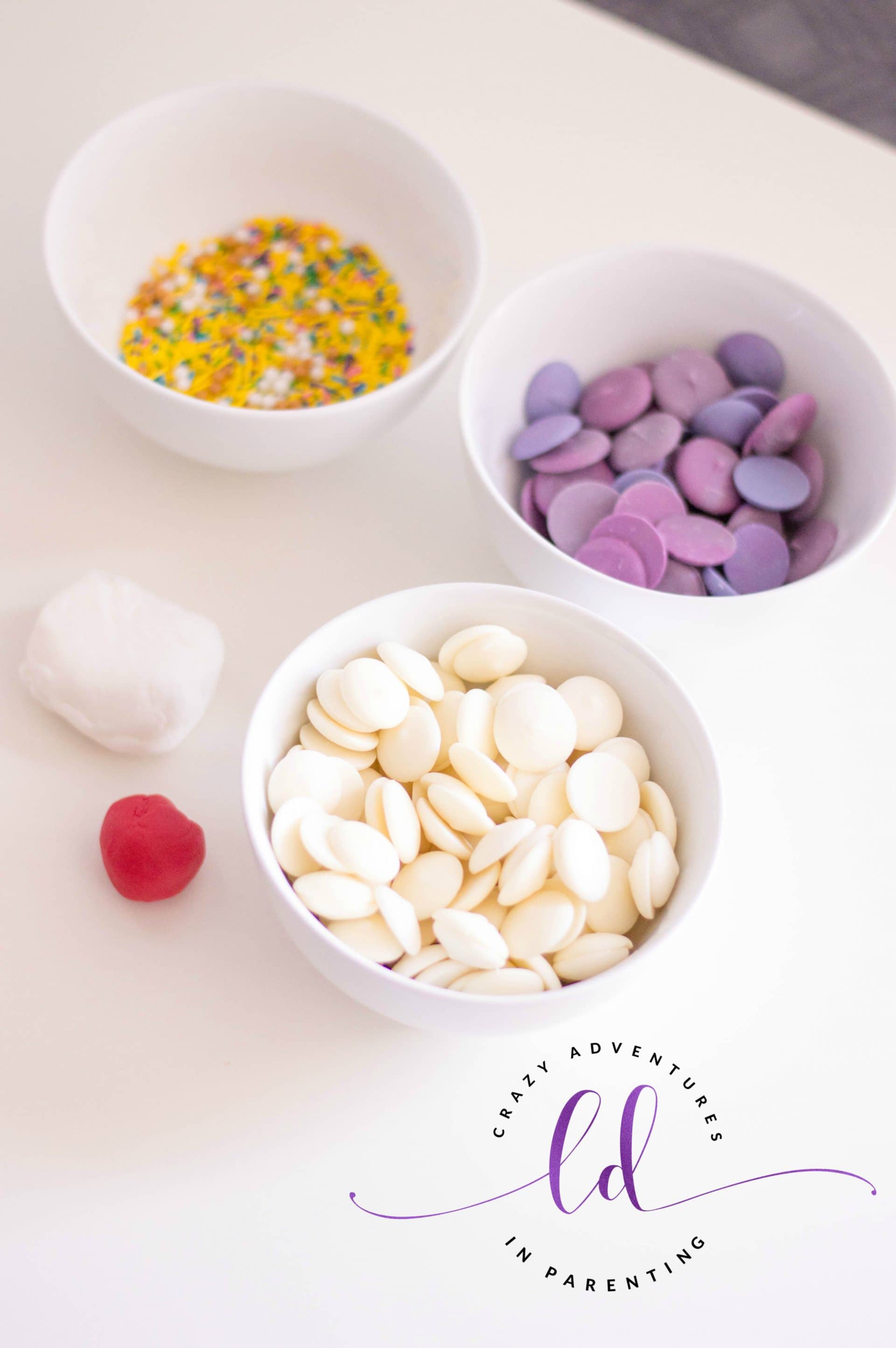 Easy Unicorn Bark Recipe
Ready made fondant is magic to me. I am so horrifically bad at attempting to make it myself, which you could do if you don't suck at making it like I do, but still. Ready made is the way to go with such an easy recipe as this unicorn bark is to make, especially considering you don't need a ton of fondant to make the horns, you know?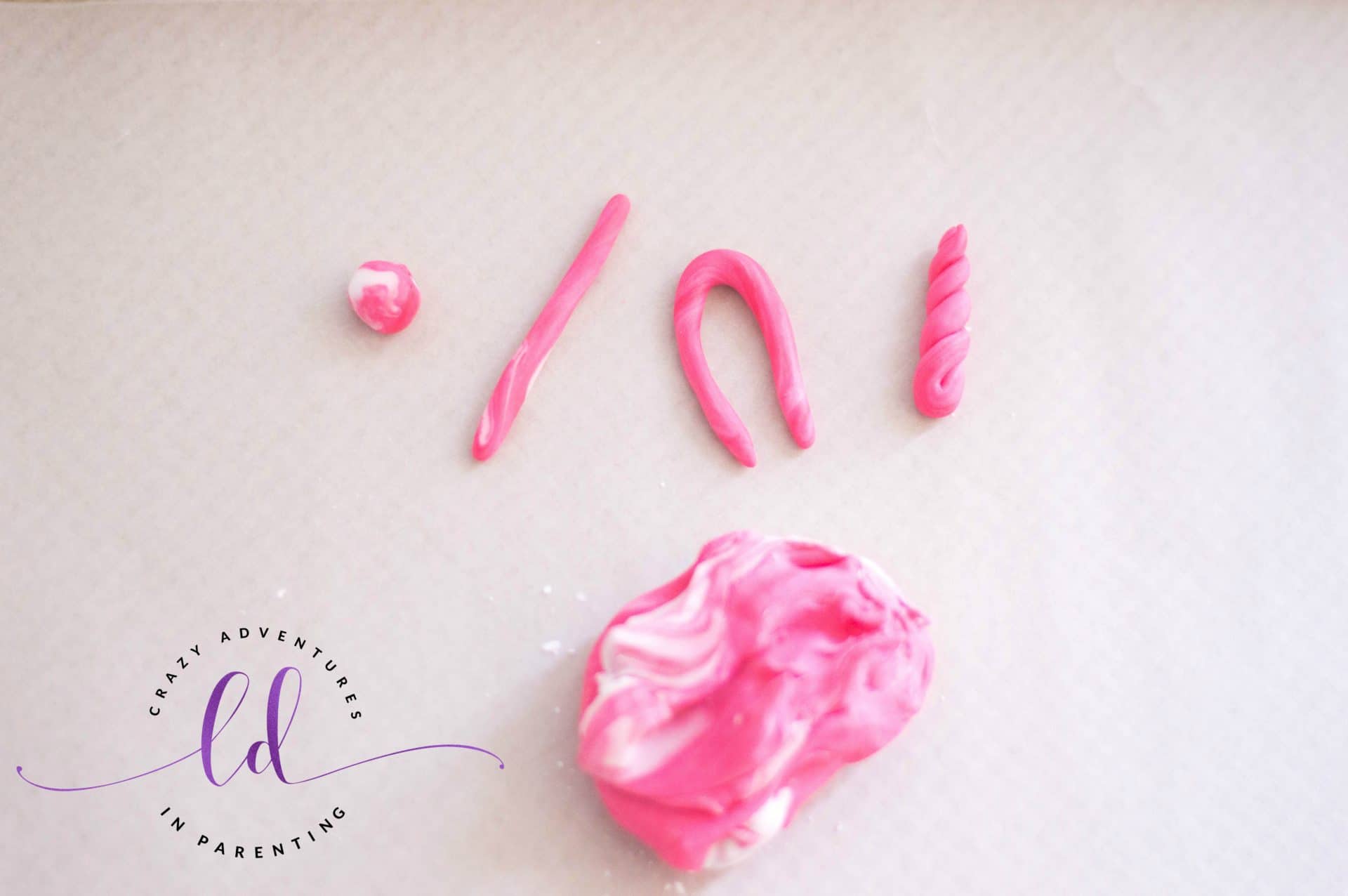 Swirl the two colors of fondant together to make a marbled affect, then begin taking small pieces to form the unicorn horns. Fondant is like edible play doh – get the kids involved! It's so much fun!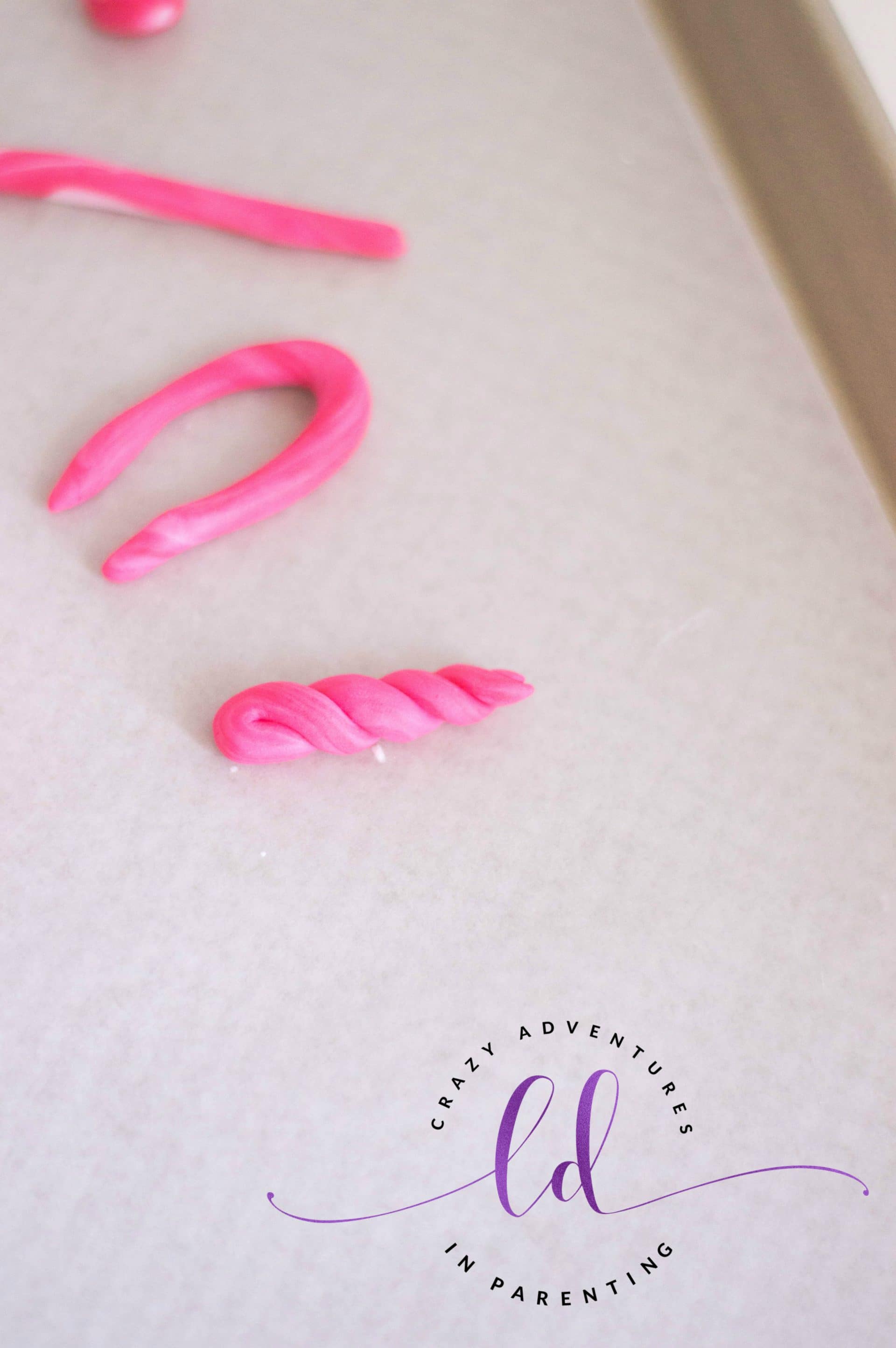 Melt both candy melts in the microwave first with coconut oil, spreading the white candy melts first on your wax paper lined baking sheet, then swirl in the purple candy melts with a fork. Top immediately with rainbow sprinkles and unicorn horns while still warm, then cool for 30 minutes in the fridge.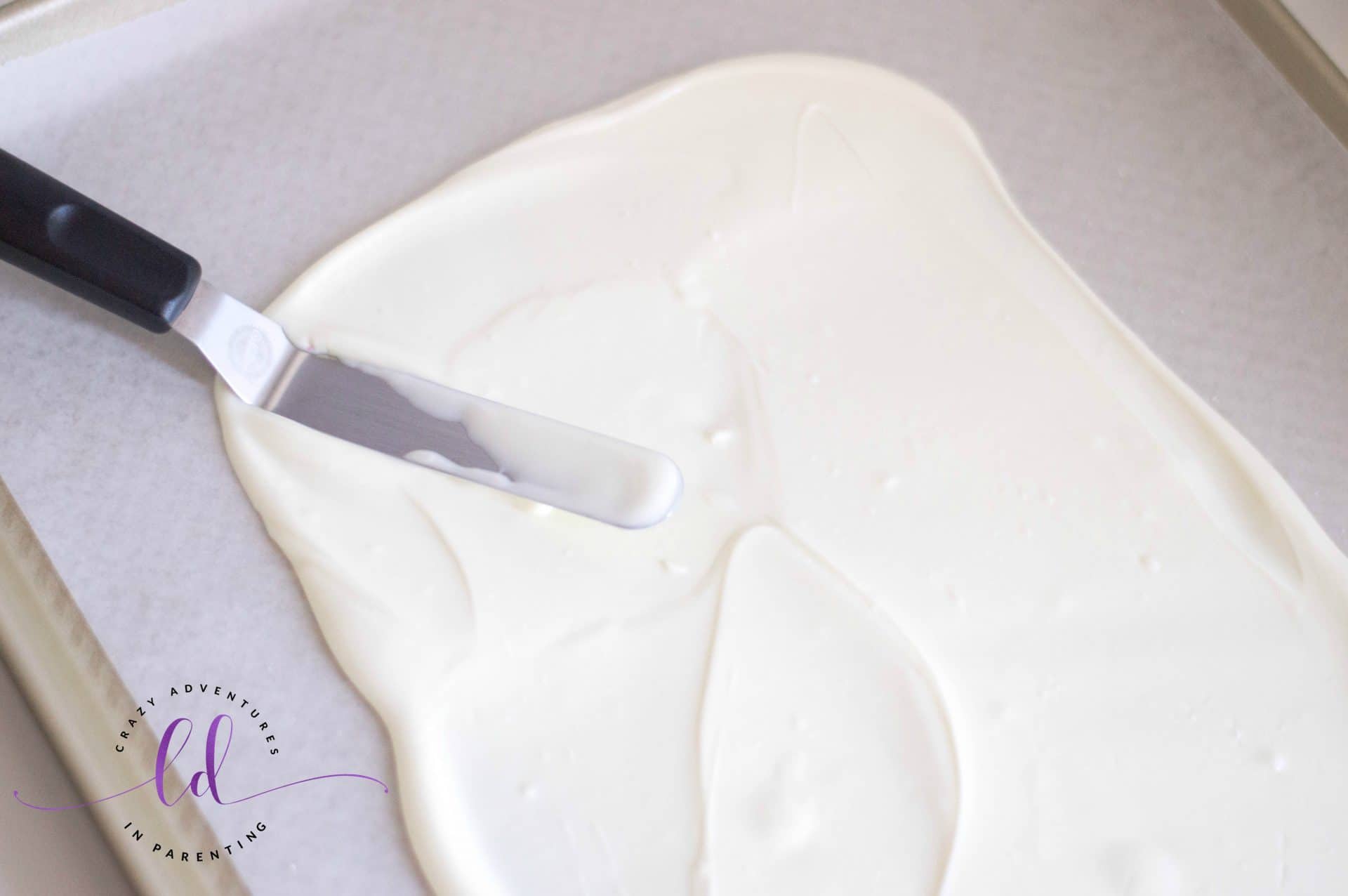 Once fully cooled and set, break them apart in 1-2 inch pieces, and ENJOY!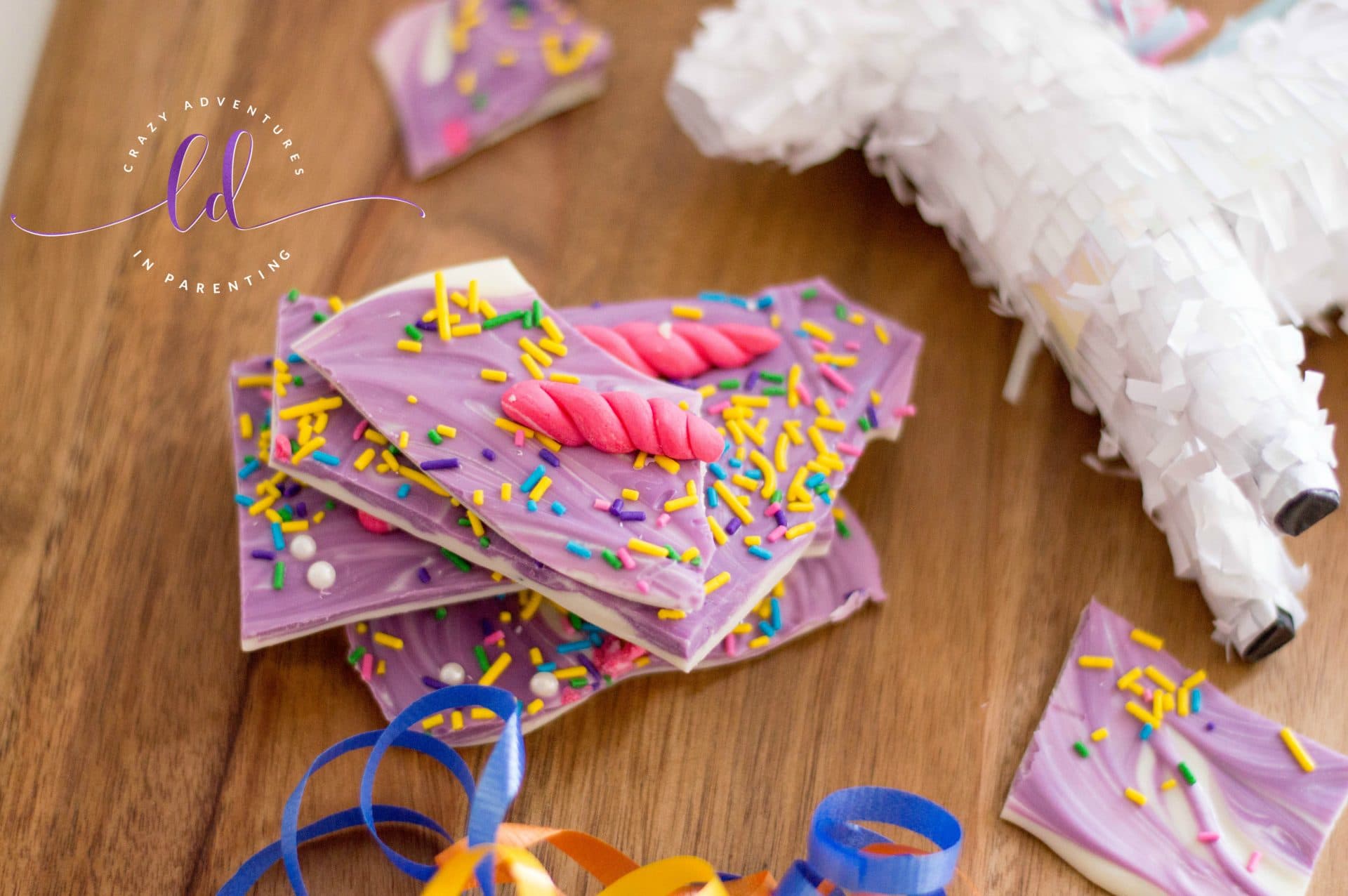 Will you just look at that?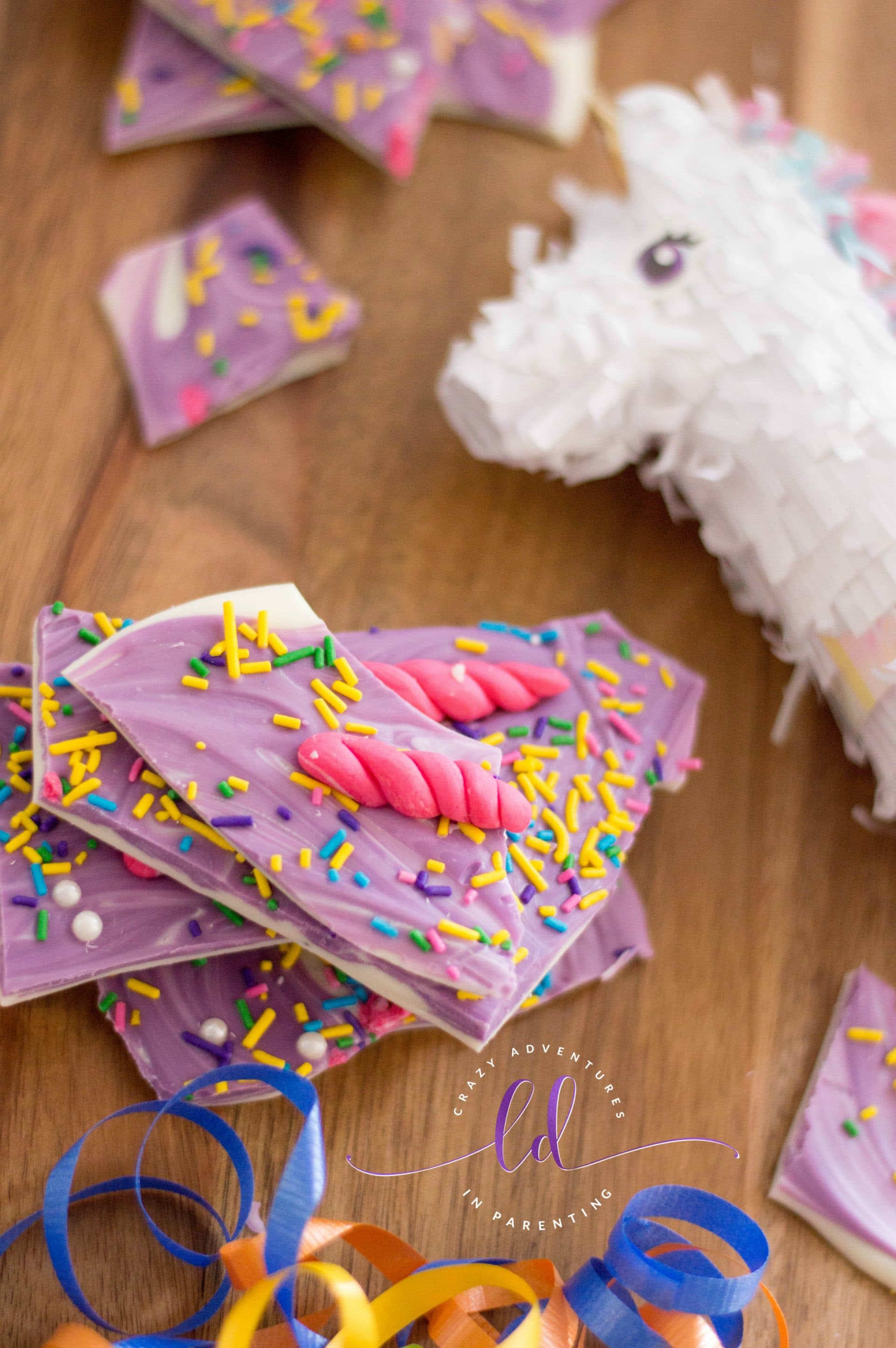 That sweet and delicious creation. You can get really crazy with it with different sprinkles choices, too!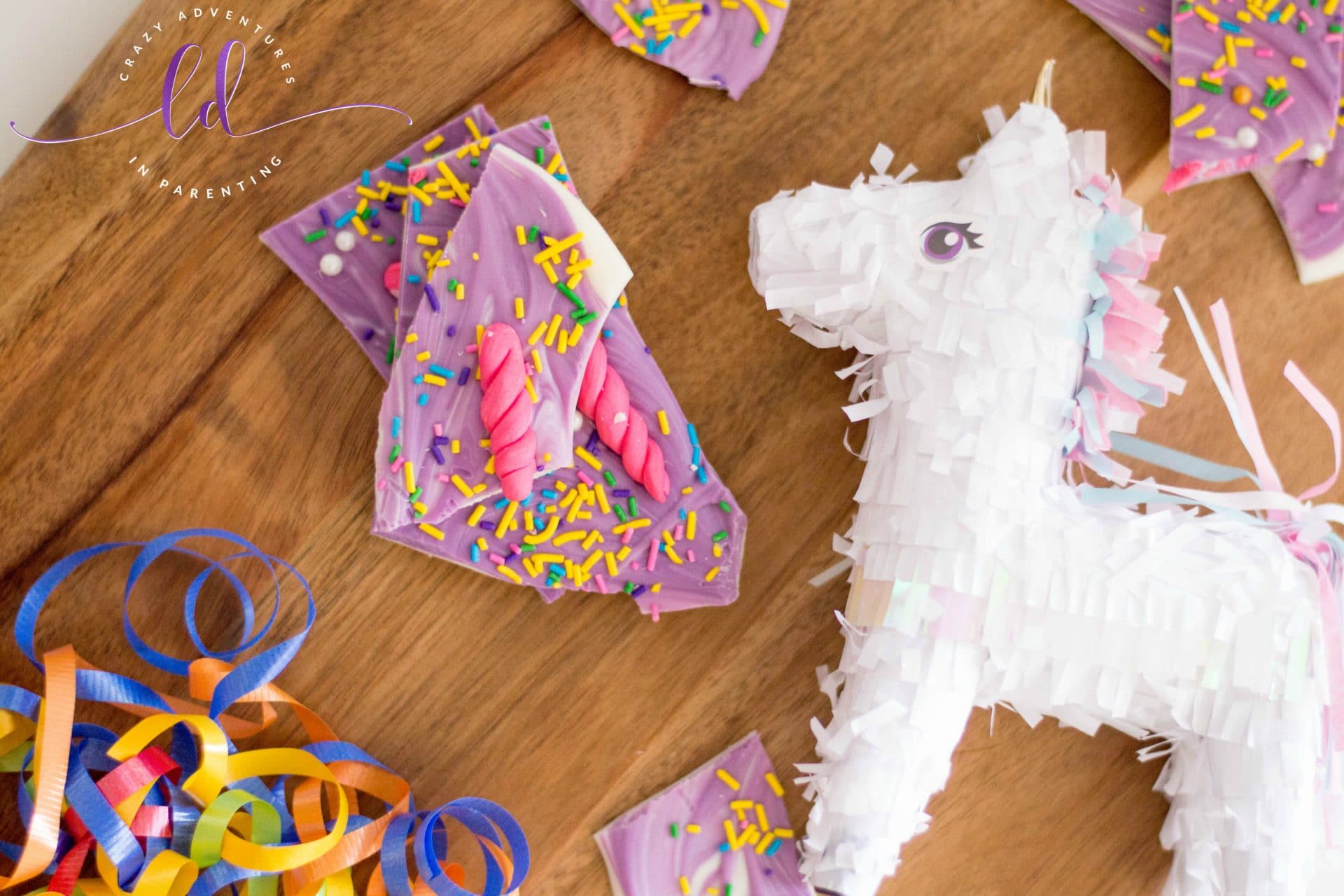 There's even edible glitter you add to these for a little extra sparkle!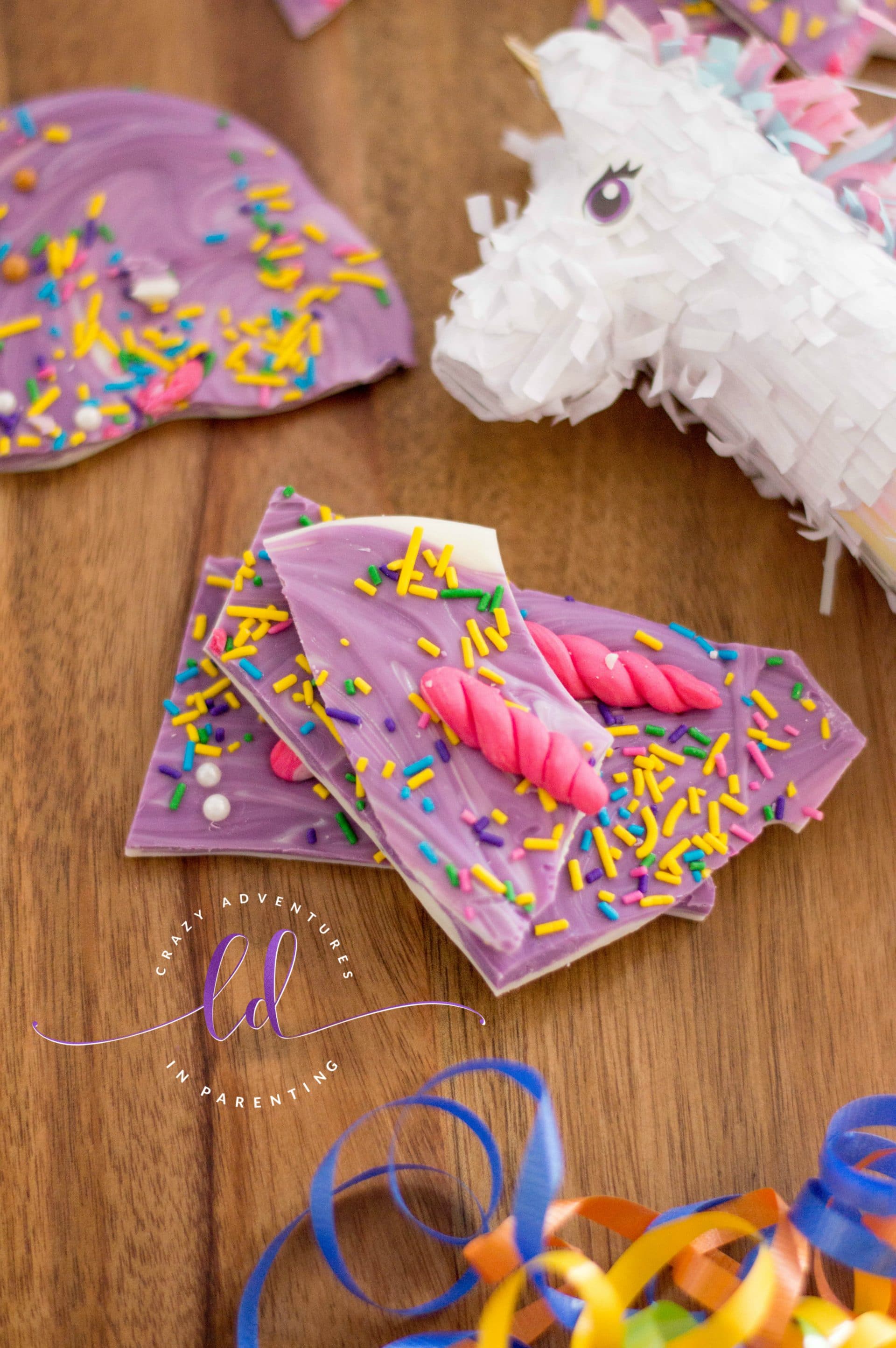 Aren't these ridiculously adorable? If you're a huge unicorn fan like I am, check out my other unicorn-inspired posts, like this Unicorn Smoothie Bowl or my Unicorn Pancakes Recipe!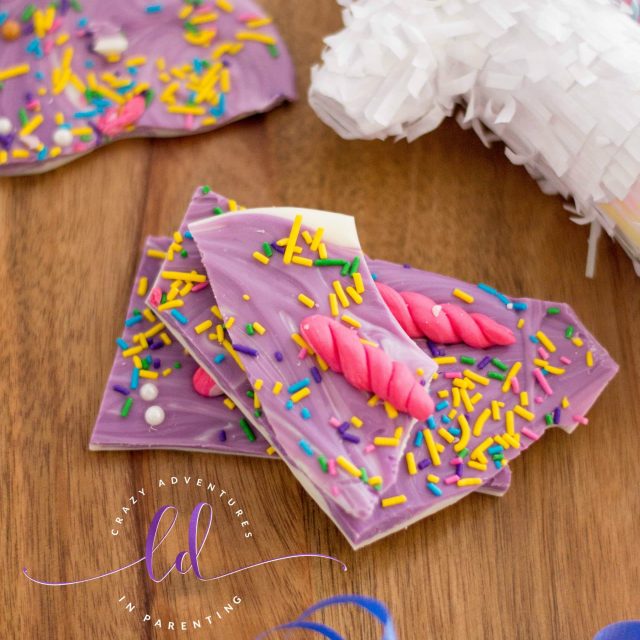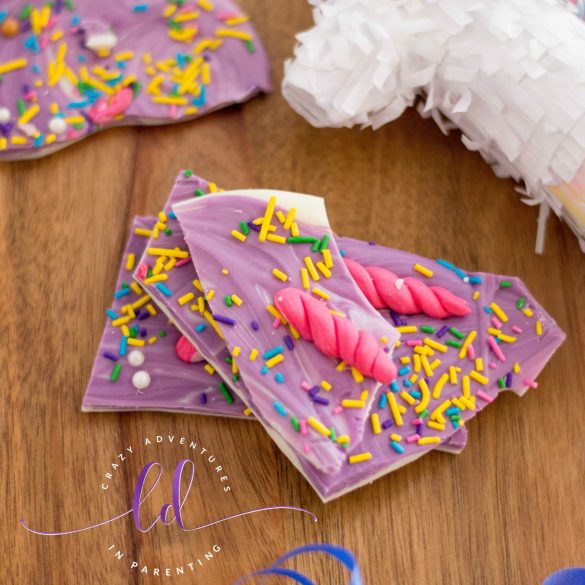 Unicorn Bark Recipe
Learn how to make this adorable Unicorn Bark Recipe with magical unicorn horns on top!
Print
Pin
Rate
Instructions
Cover your fingers in cornstarch, as well as your clean working surface (this will avoid any sticky messes).

Fold both

fondant

colors and knead together, creating a pink-marbled look and roll 12-15 fondant spheres, about ¼ of an inch in diameter.

Roll each sphere into a long strip, about 1 inch in length.

Slightly fold over your strip and start twisting. Once you reach the end of the twist, pinch the tip – this will act as your unicorn horn.

Gently place your fondant creations on your lined baking sheet.

Microwave in thirty-second intervals until completely melted. Mix and pour into your lined pan.

Microwave in thirty-second intervals until completely melted and pour over your melted white chocolate.

Use a fork to blend the white candy and the purple candy to create a marbled look, and have fun with it!.

Top your warm bark with

sprinkles

and your fondant horns.

Let it cool and set in the refrigerator for at least 30 minutes.

Break off into pieces to serve and enjoy!