We paired that buffalo wing flavor with our well-known knock-off Chili's Chicken Bacon Ranch Recipe to create these spicy and flavorful Buffalo Chicken Bacon Ranch Quesadillas recipe!
This post may contain affiliate links which means we receive a small commission at no cost to you when you make a purchase. As an Amazon Associate I earn from qualifying purchases.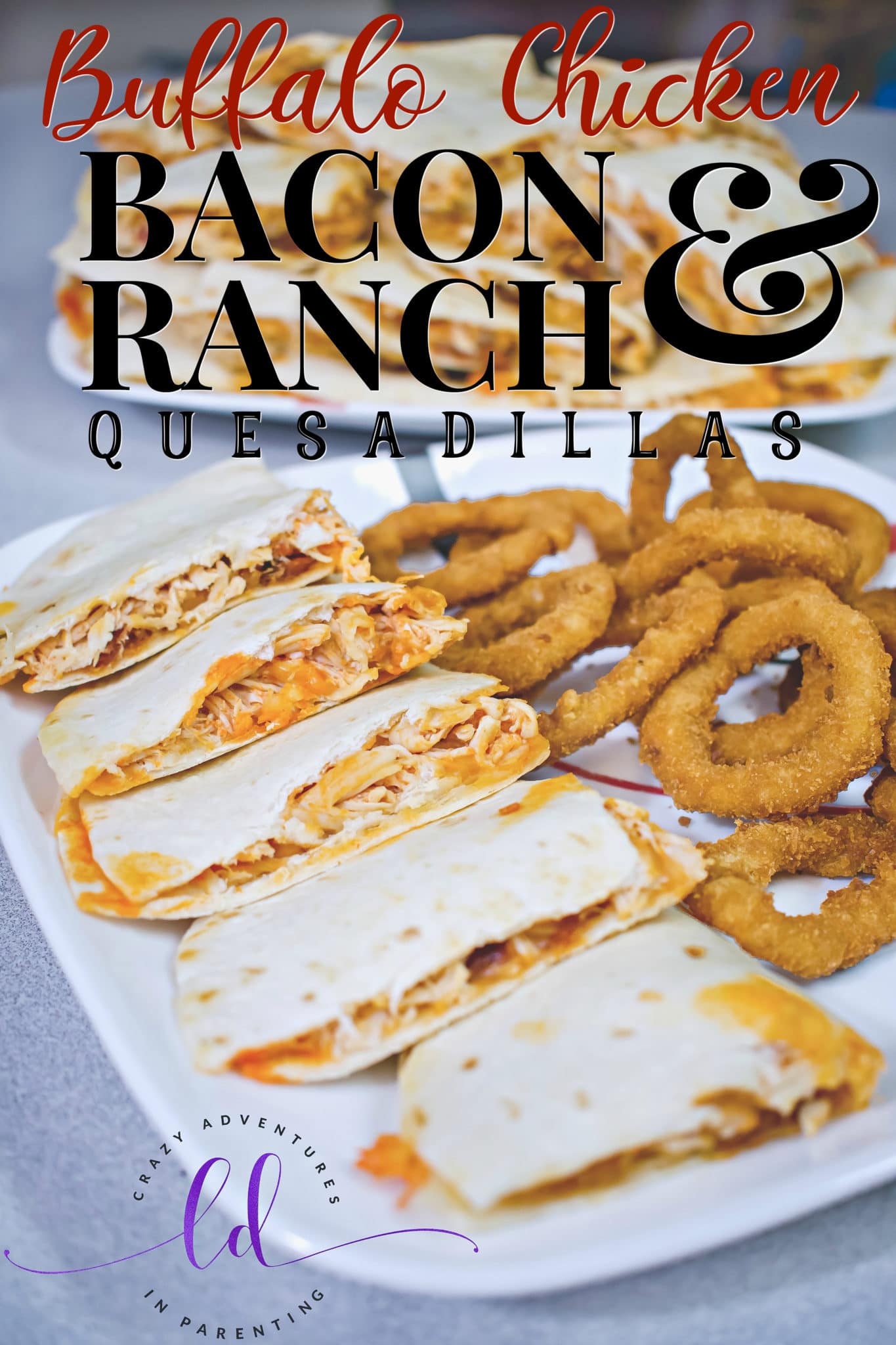 Buffalo Chicken Bacon Ranch Quesadillas
Every time I bite into a chicken bacon ranch quesadilla, I am simultaneously filled with joy and inspiration! Joy because they taste crazy delicious and I want to eat ALL OF THEM every time, and inspiration because I'm always inspired to make these in new and inventive ways because I can't get enough!
At first, I experimented with creating Jalapeño Chicken Bacon Ranch Quesadillas, which came out incredibly well! This time, we went ahead and brought the heat (literally) with these Buffalo Chicken Bacon Ranch Quesadillas! All that tasty goodness all wrapped up into these delicious triangles of awesome, this recipe is definitely being added to our family's dinner line-up!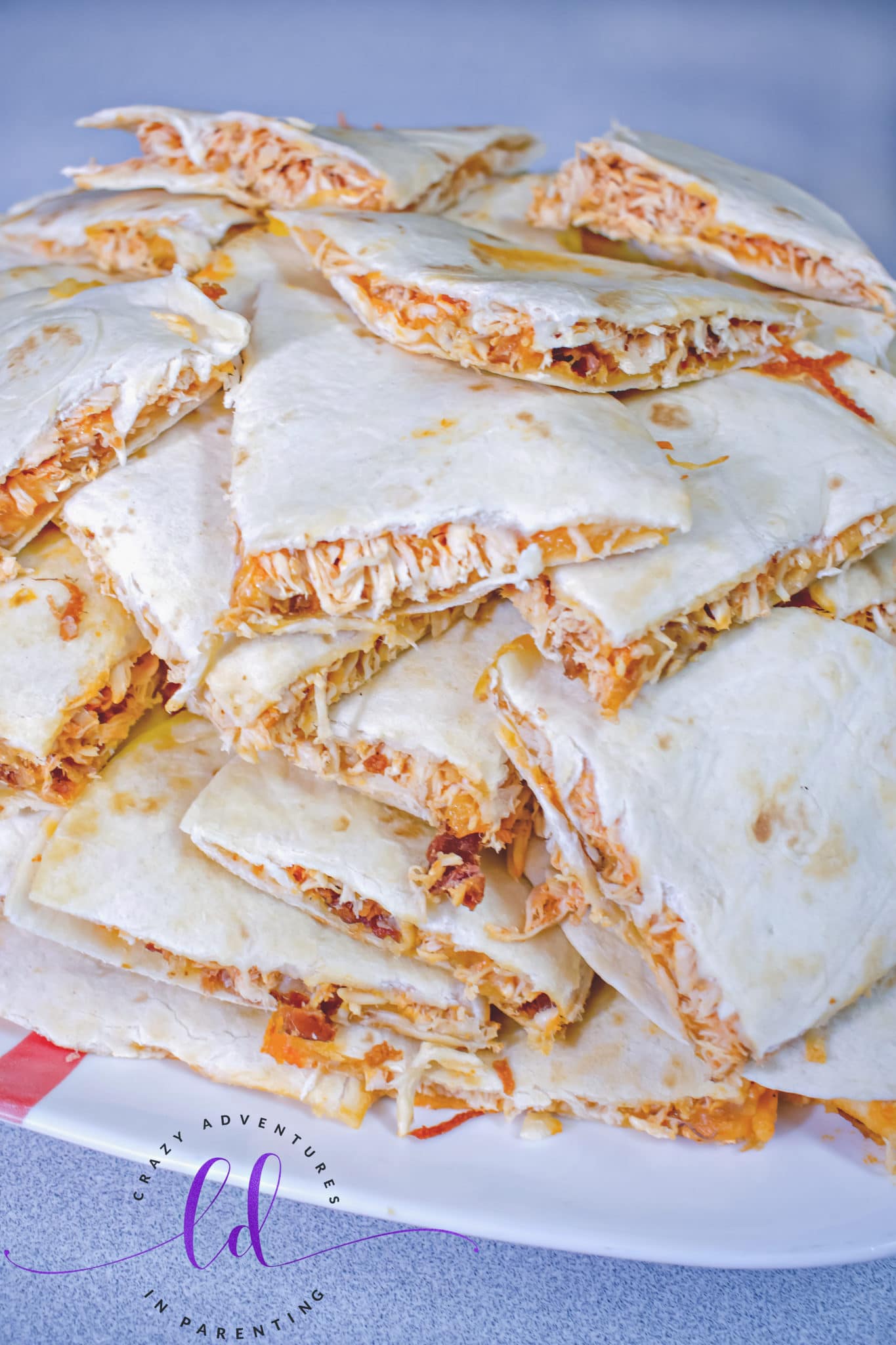 Where Can I Find The Actual Recipe Card?
If you'd rather skip all of my cooking tips, important information for this recipe, and similar recipe ideas – and get straight to the easy Buffalo Chicken Bacon Ranch Quesadillas recipe, just scroll down to the bottom, where you'll find a printable recipe card.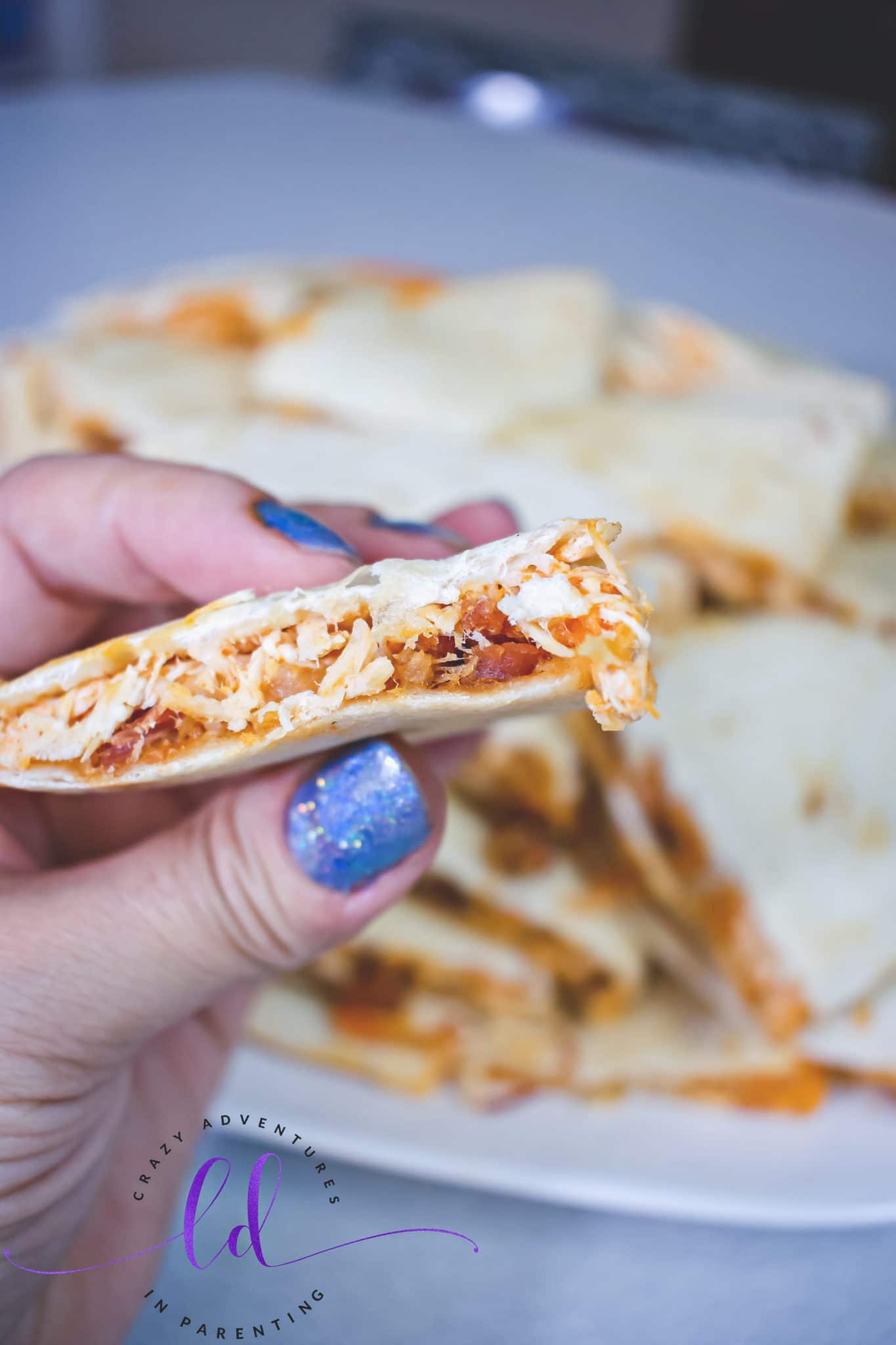 Can These Buffalo Chicken Quesadillas Be Made Ahead of Time?
Absolutely can! This easy dinner recipe is a simple one to make in advance for dinner or in bulk to freeze and heat for another time! It also makes a fantastic starter! If you're entertaining guests or hosting a Superbowl party or something, these cook up really easy and serve beautifully when served as an appetizer!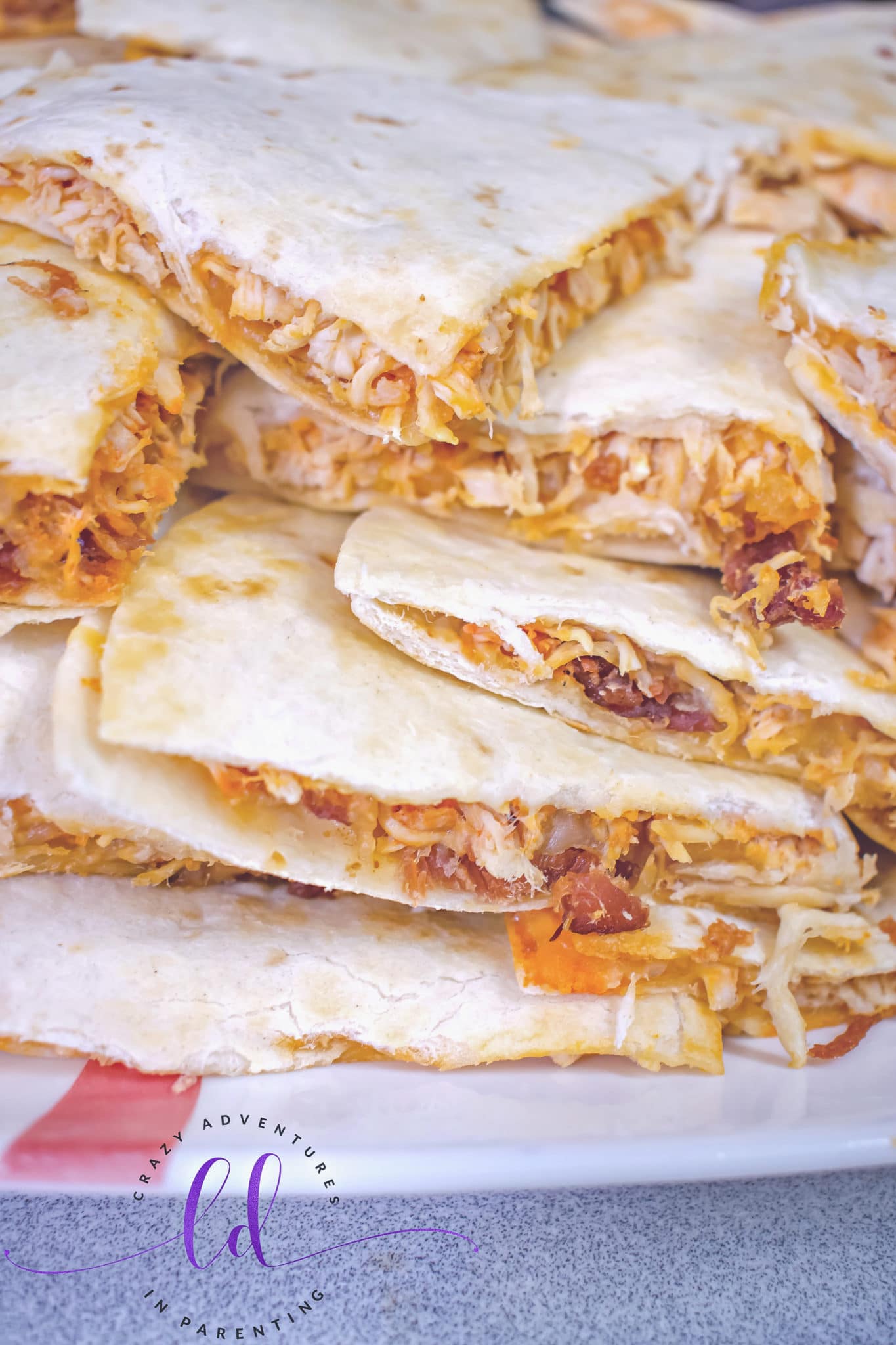 Ingredients Needed to Make Buffalo Chicken Bacon Ranch Quesadillas
To make this easy dinner recipe, you will need the following ingredients:
Keep in mind, all of the ingredient amounts you'll need are in the printable recipe card below.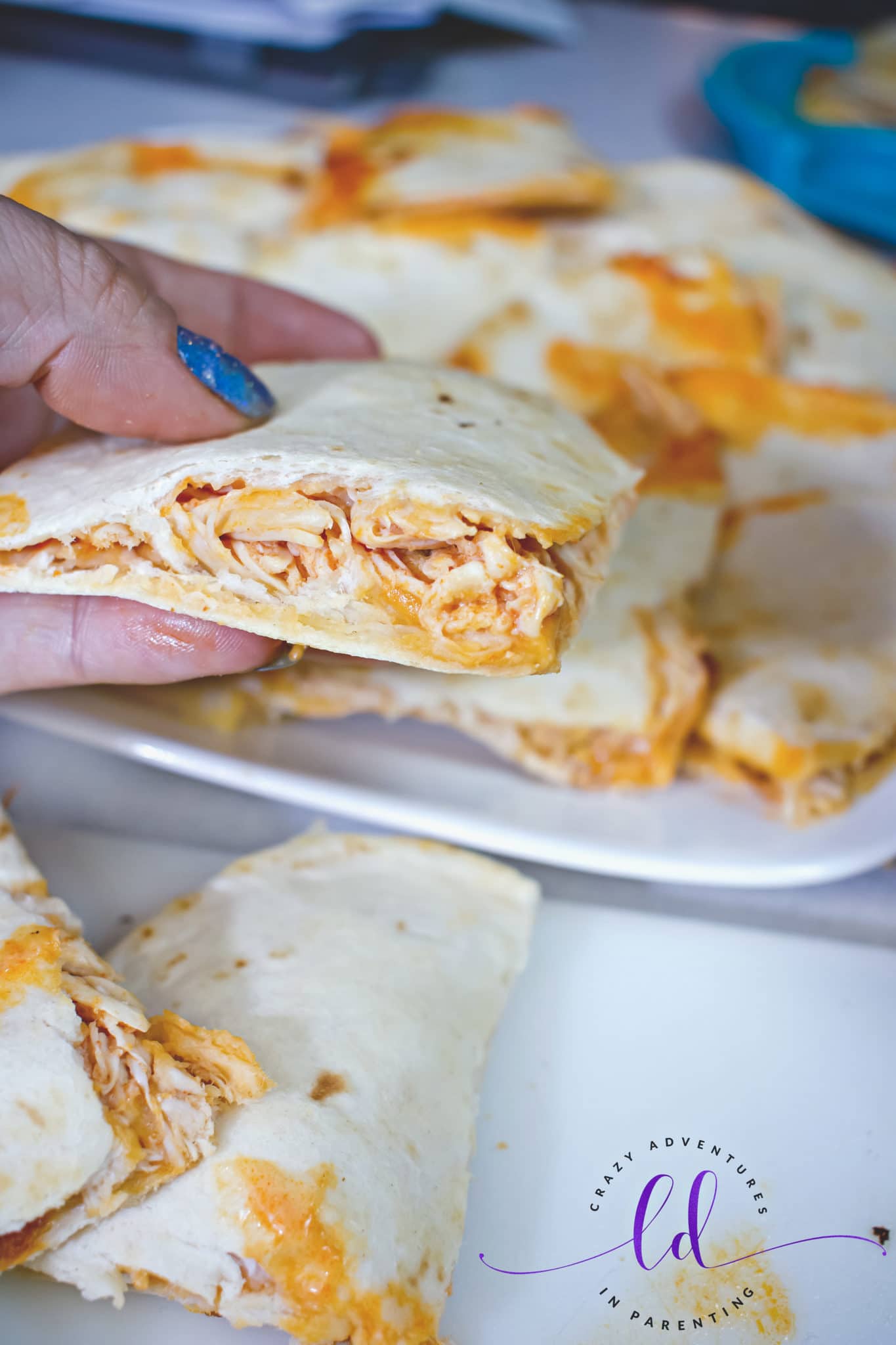 Equipment Needed to Make Buffalo Chicken Bacon Ranch Quesadillas
You will need the following kitchen tools and equipment to make this buffalo chicken quesadillas recipe: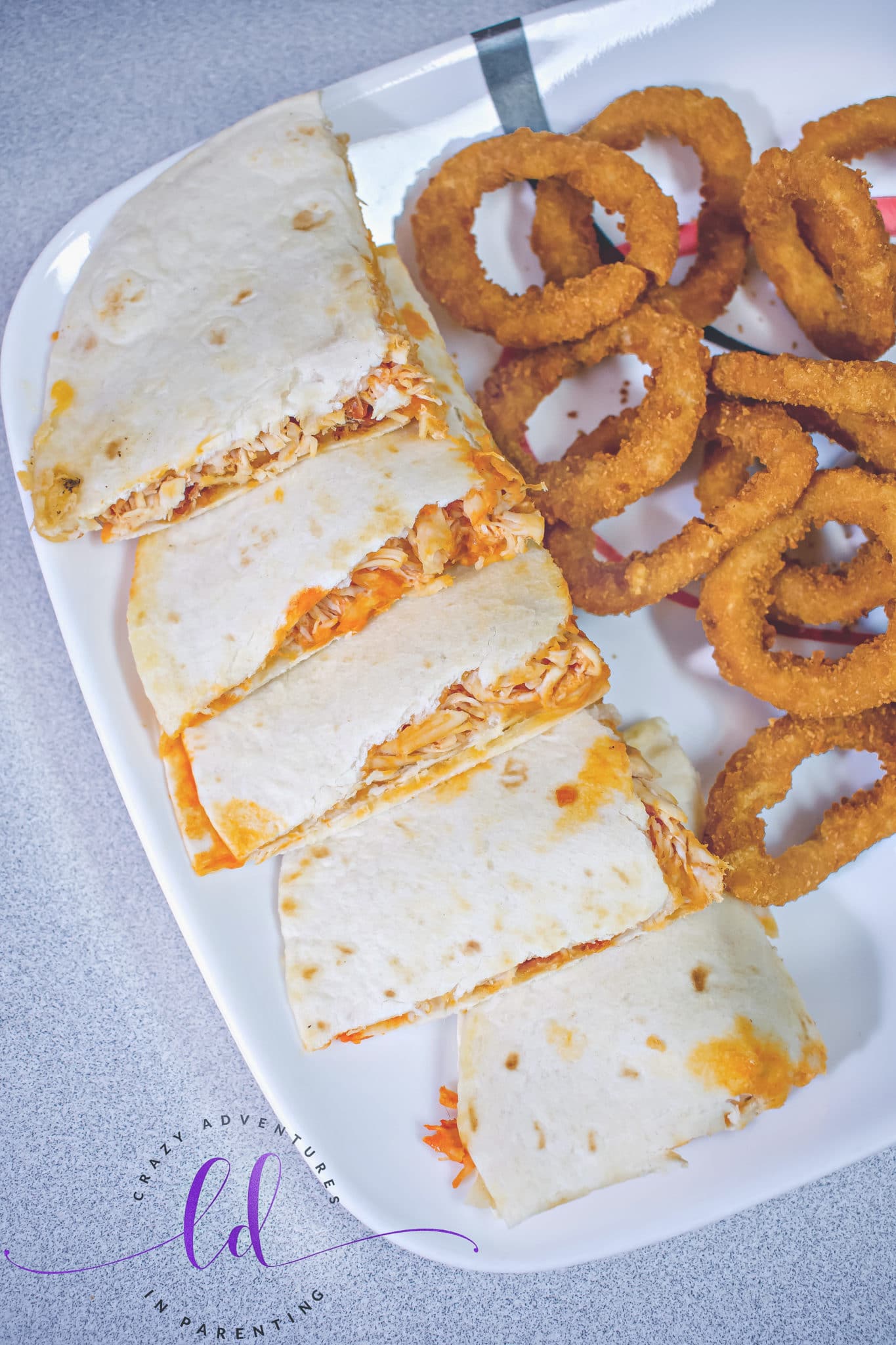 How to Make Buffalo Chicken Bacon Ranch Quesadillas
Boil your chicken breasts in a saucepan until cooked thoroughly and chicken is completely white throughout and the temperature reaches 165 degrees. (If you opted to use a rotisserie chicken instead of breasts, skip the next couple steps.)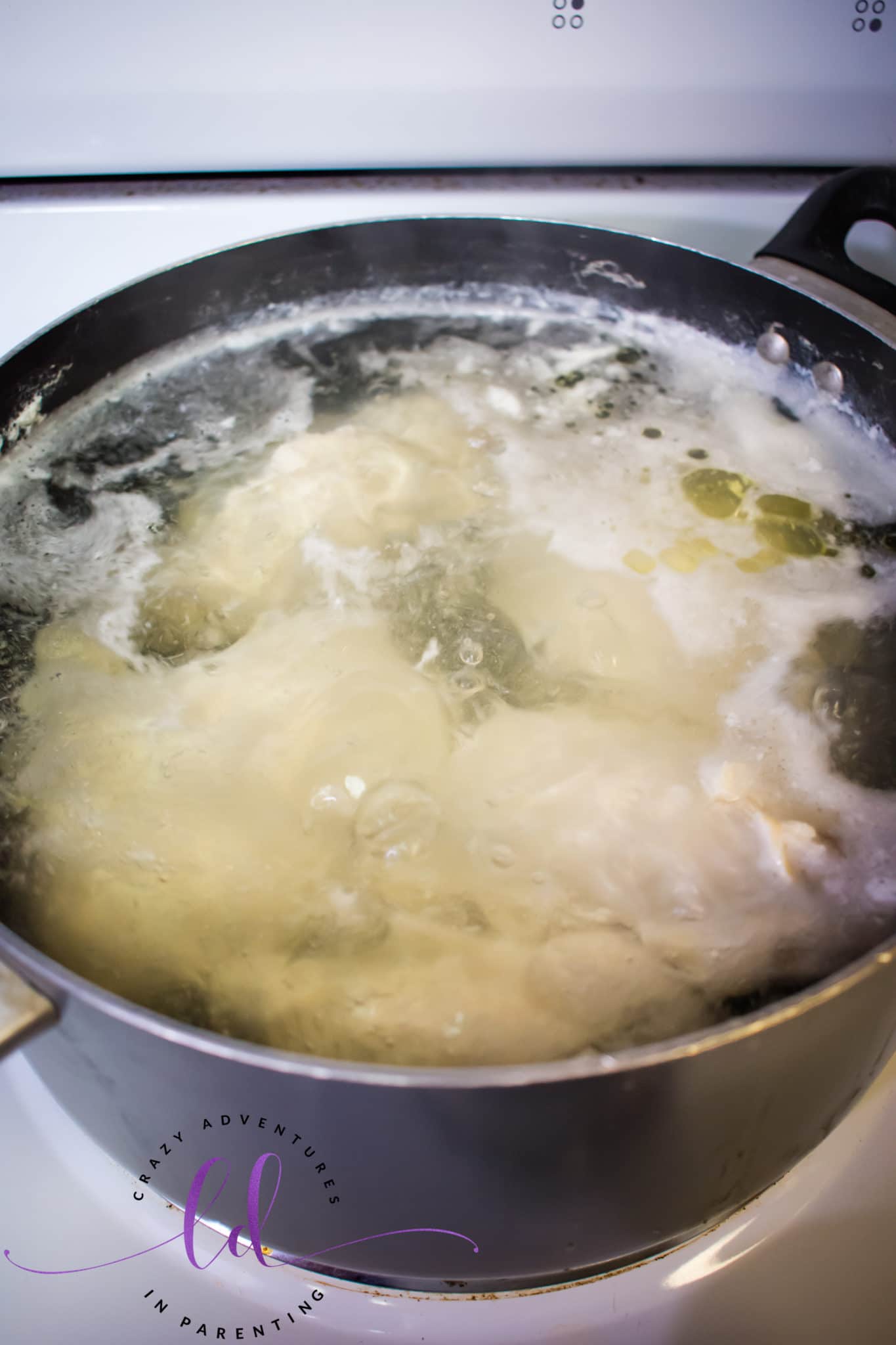 Once chicken is cooked thoroughly, roughly cut the cooked breasts into squares to make it easier to be chopped in the blender.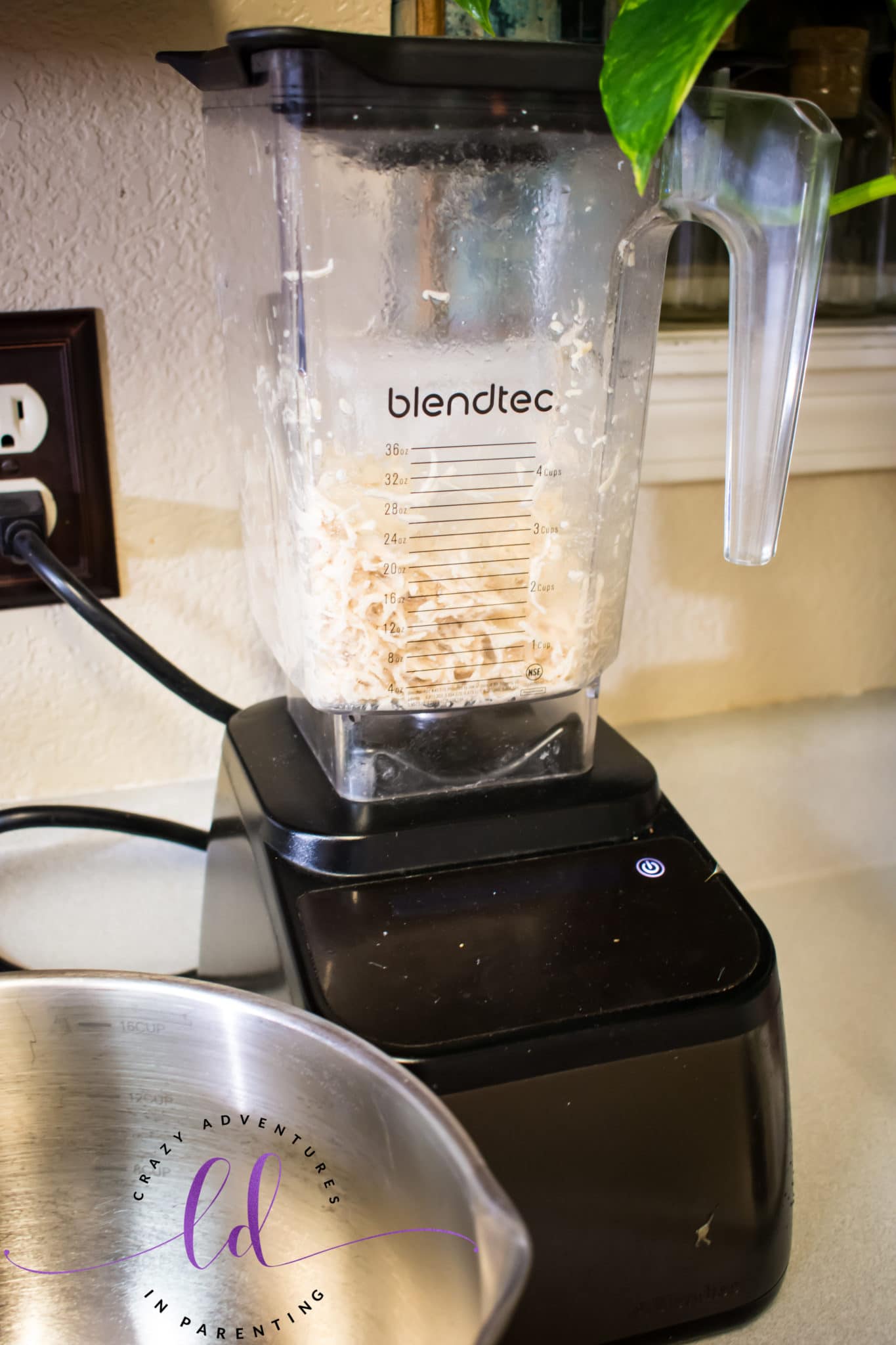 Pulverize the chicken until it's shredded nicely. Place shredded chicken into a large mixing bowl as you shred more chicken.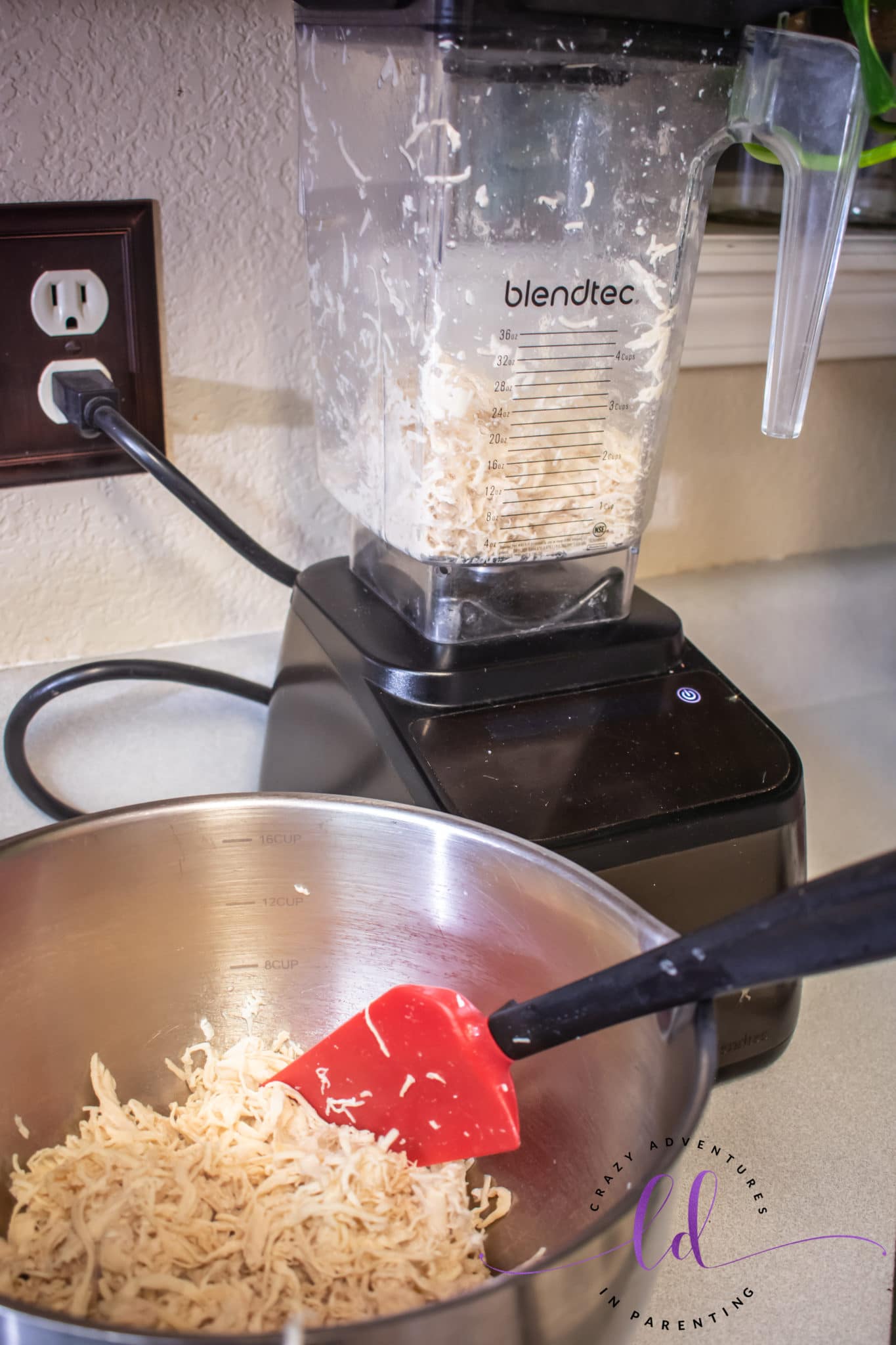 Once all the chicken has been shredded, start adding buffalo sauce and preferred seasonings to the bowl.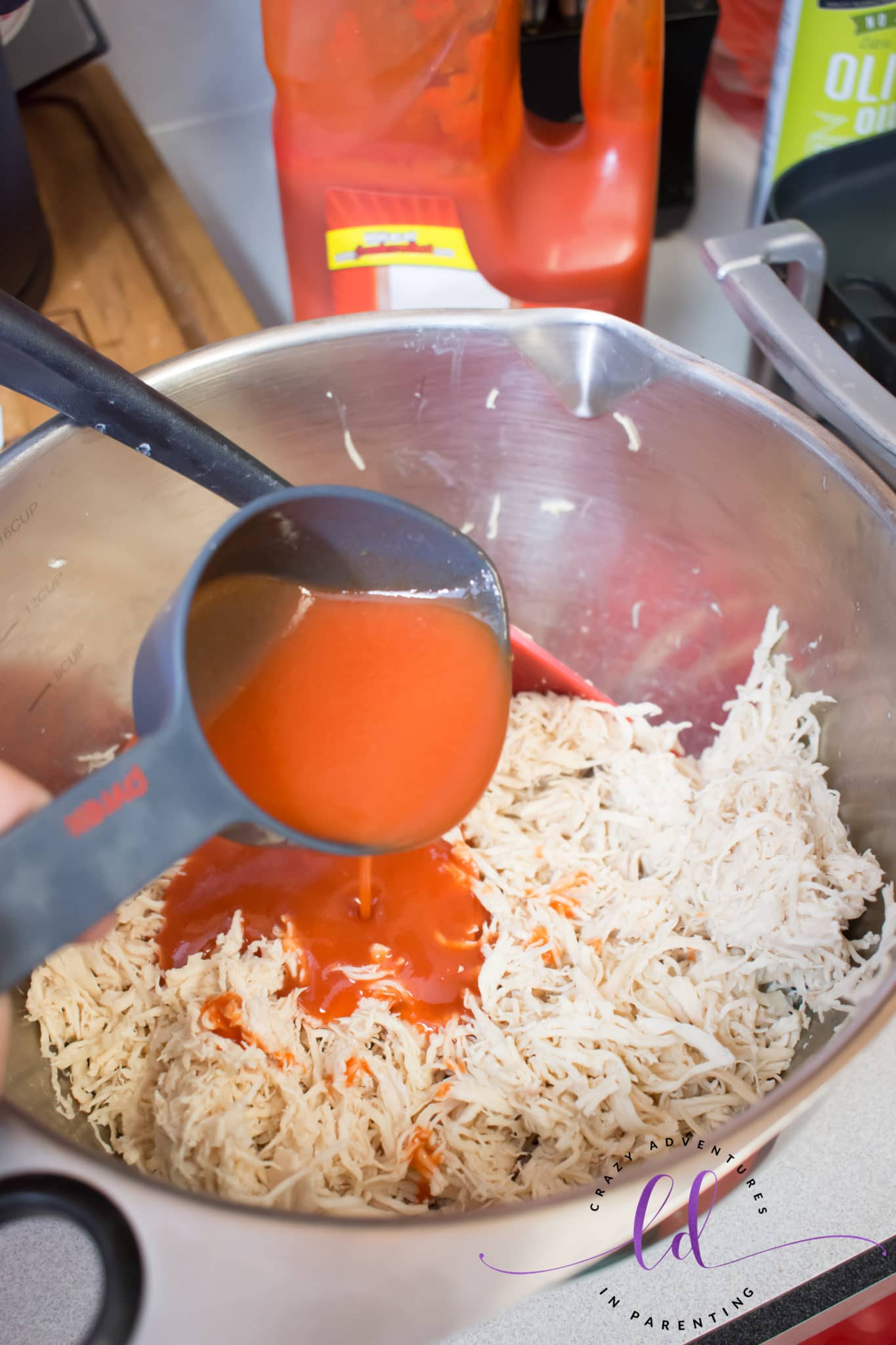 Coat and toss chicken using a rubber spatula until the chicken mixture is covered thoroughly while seasoning to taste. Set bowl temporarily aside.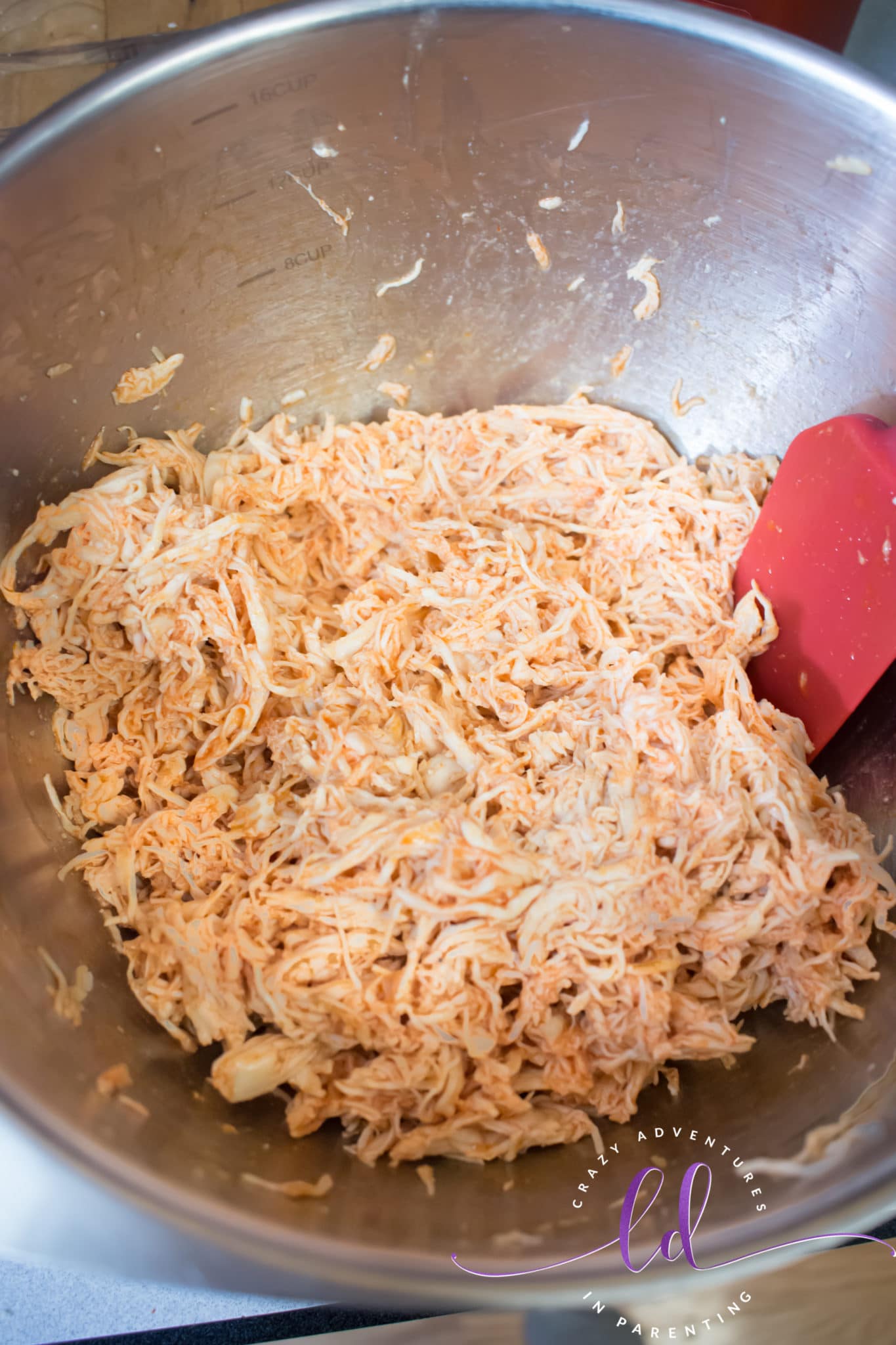 Heat up your griddle or large skillet over medium heat and spray it thoroughly with cooking spray.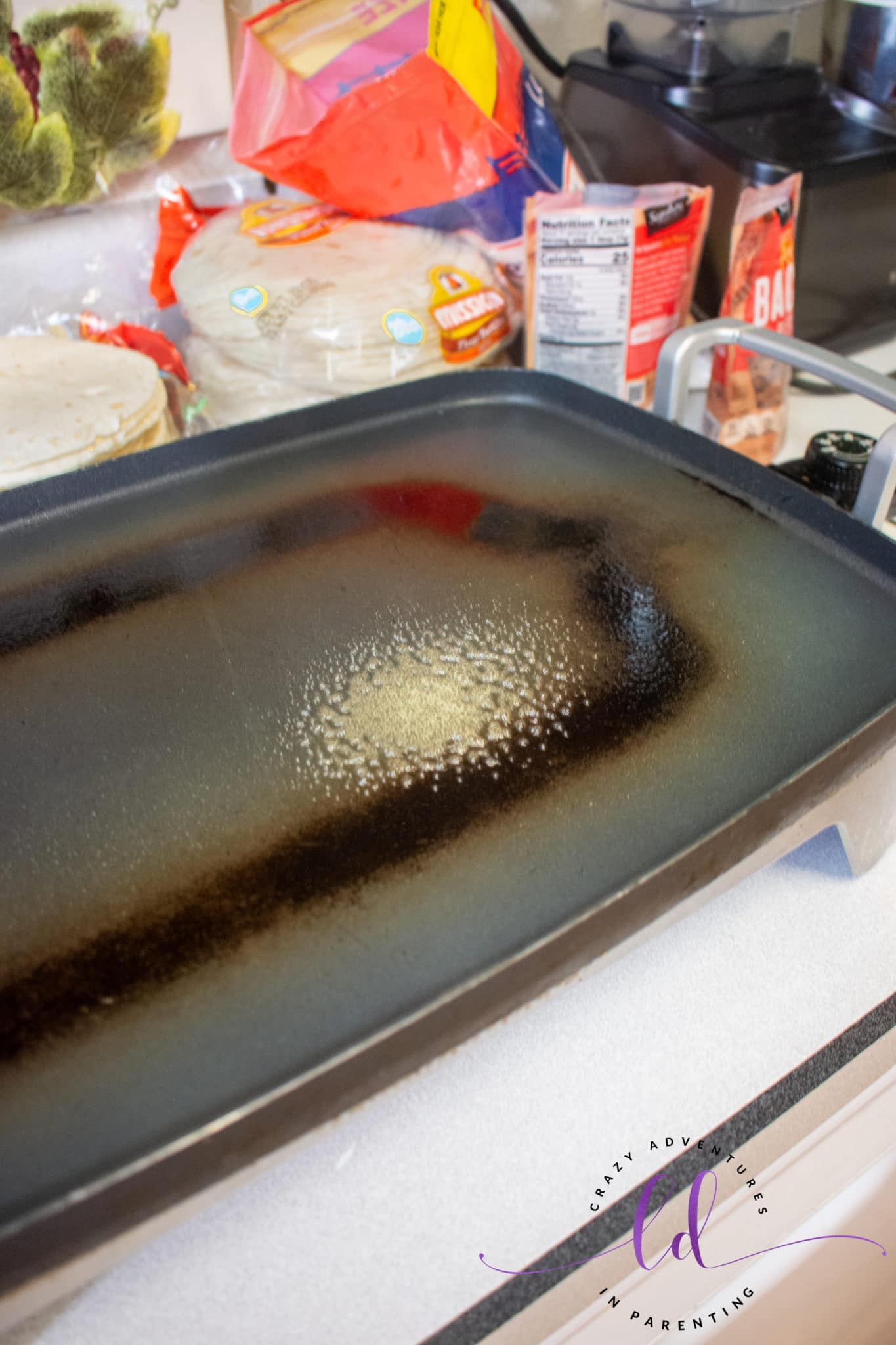 Place your first tortillas on the heated and sprayed surface of the griddle.
Carefully add dollops or tablespoons of ranch onto the tortillas.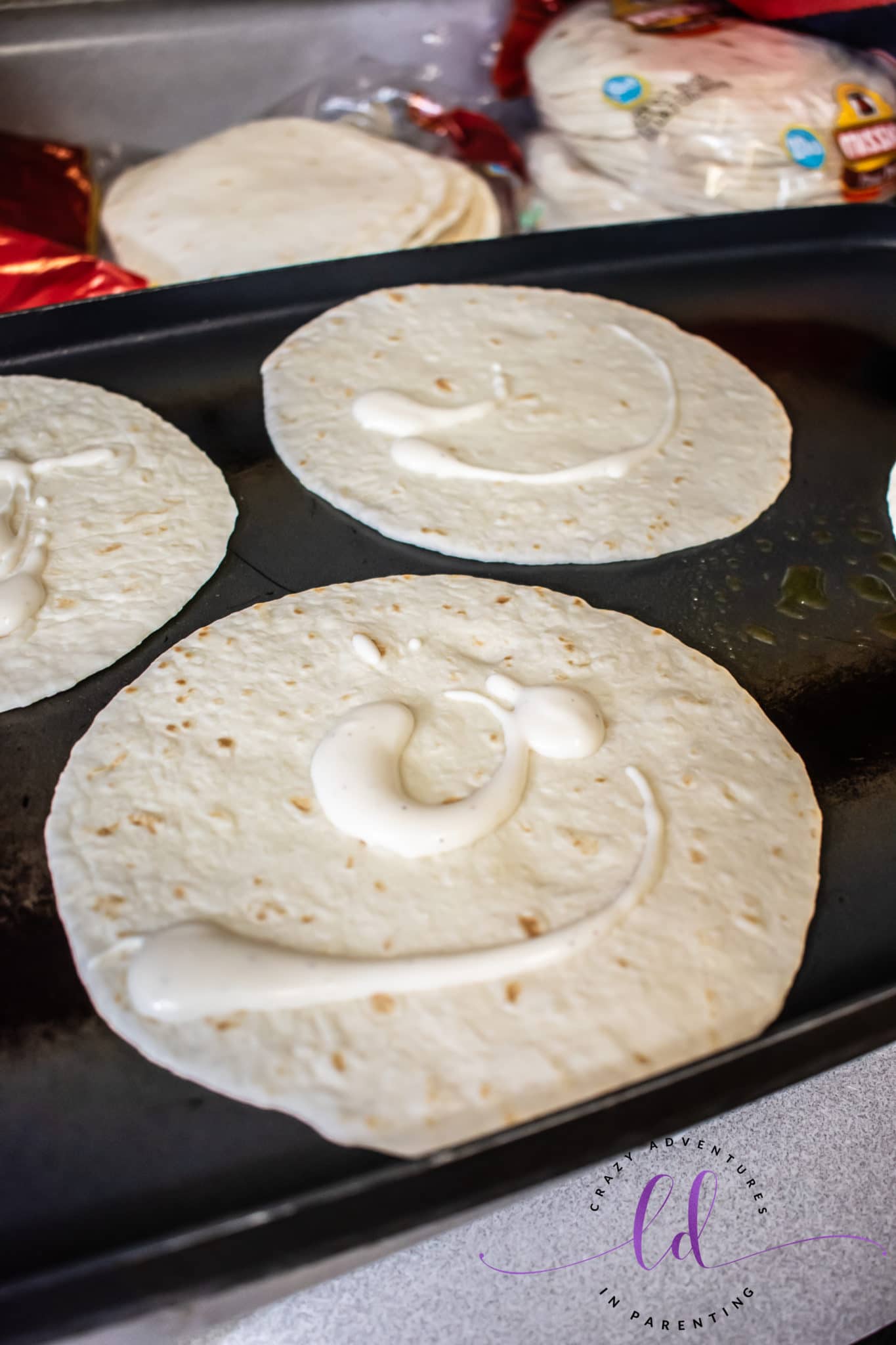 Baste with a basting brush to fully cover the surface of the tortillas.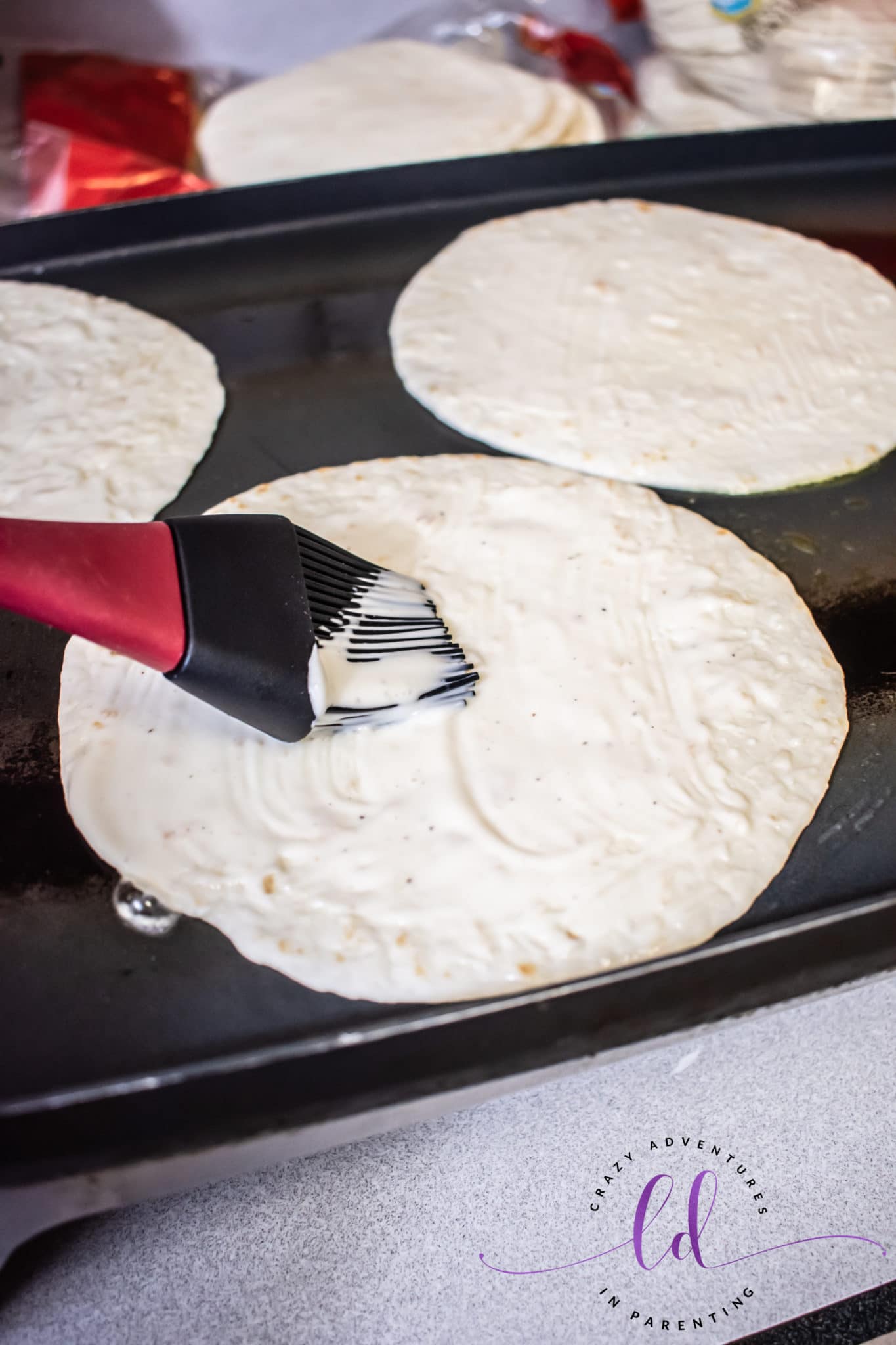 Add your shredded and seasoned buffalo chicken by the forkful to the tortillas basted with ranch dressing. The ranch acts like a "glue" of sorts to get the chicken to stay!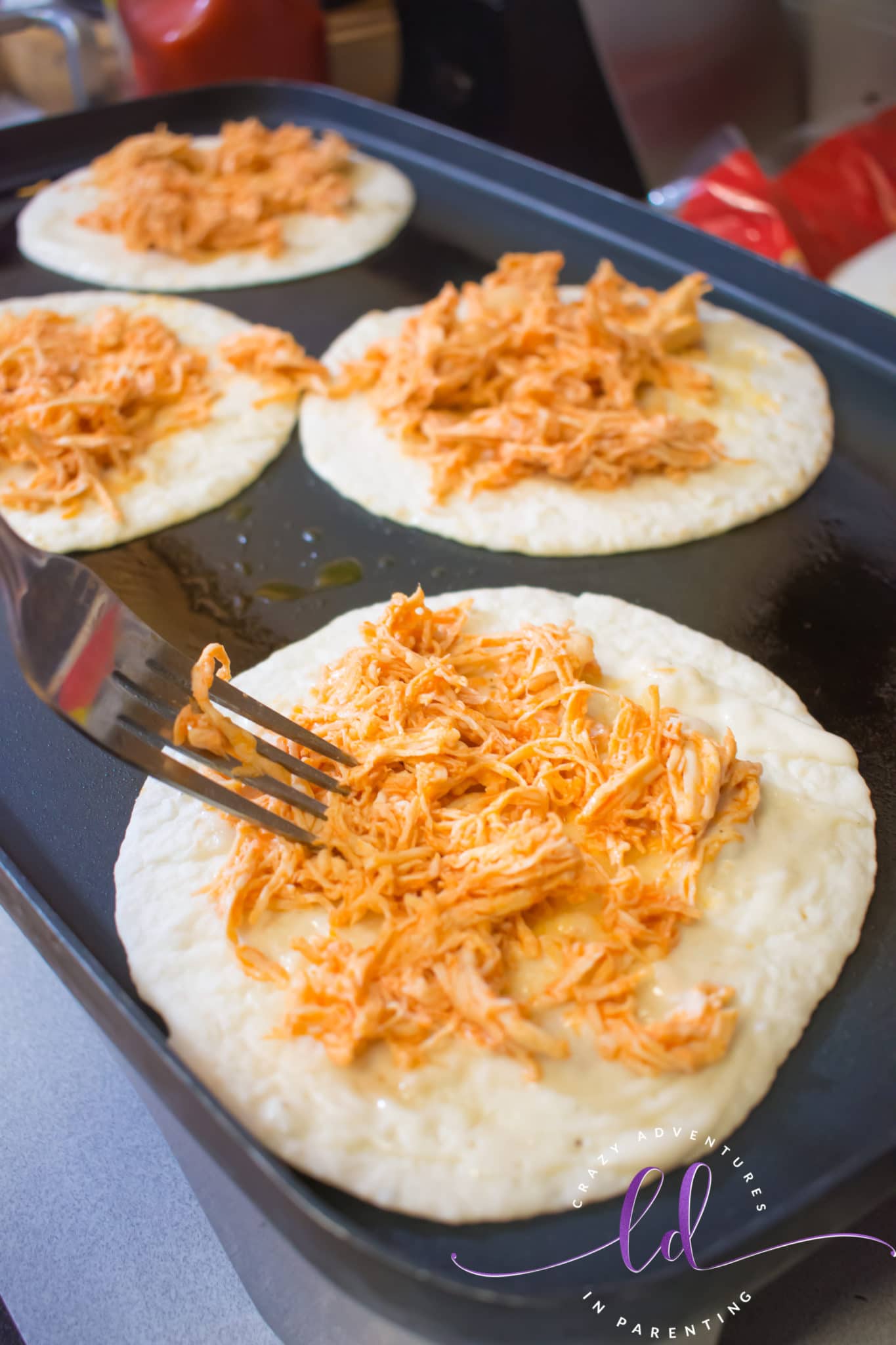 Generously add shredded cheese over top the shredded buffalo chicken. The cheese will be what "glues" the top tortilla onto the mixture!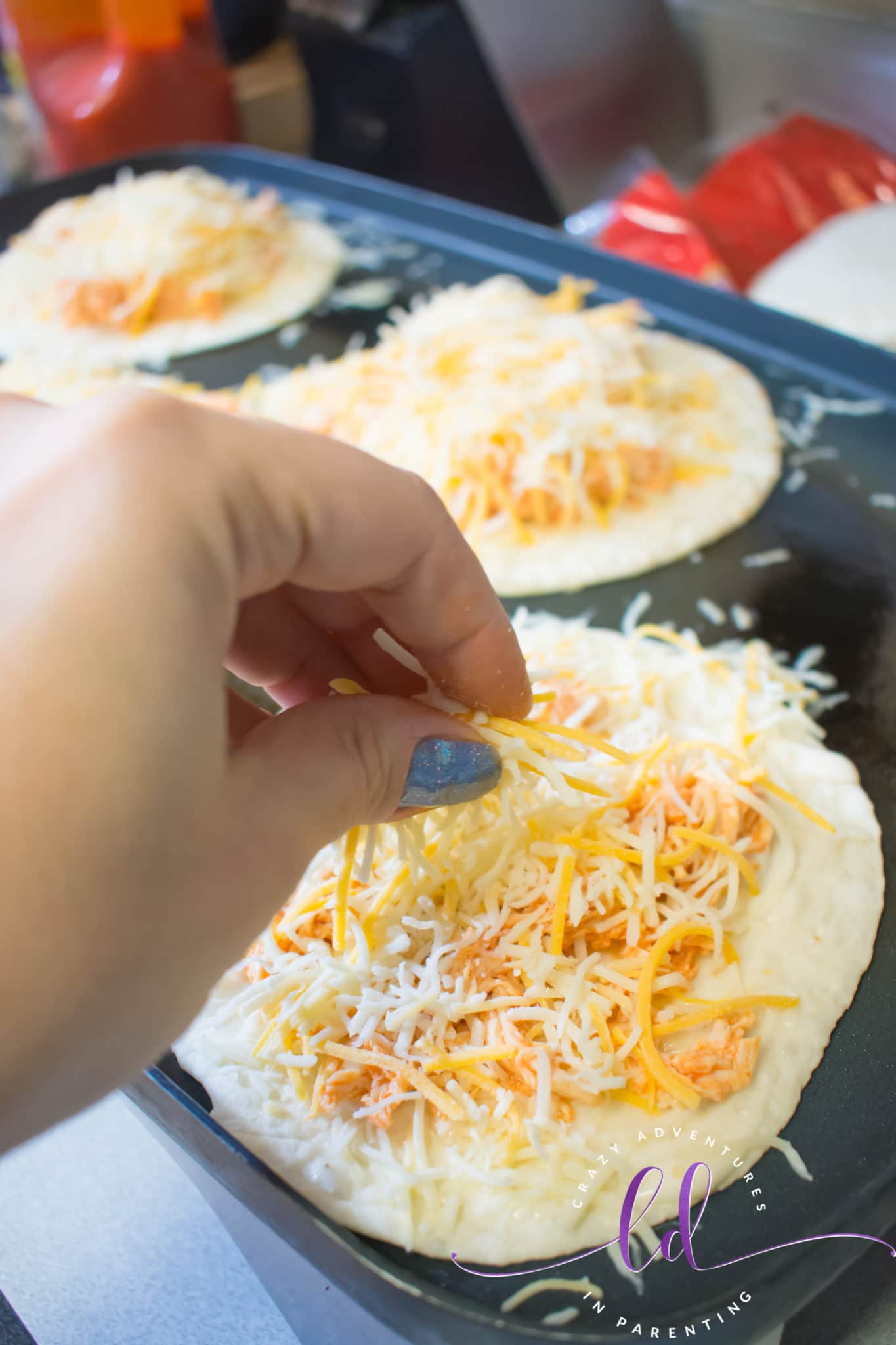 Add crumbled bacon to the top of the shredded cheese.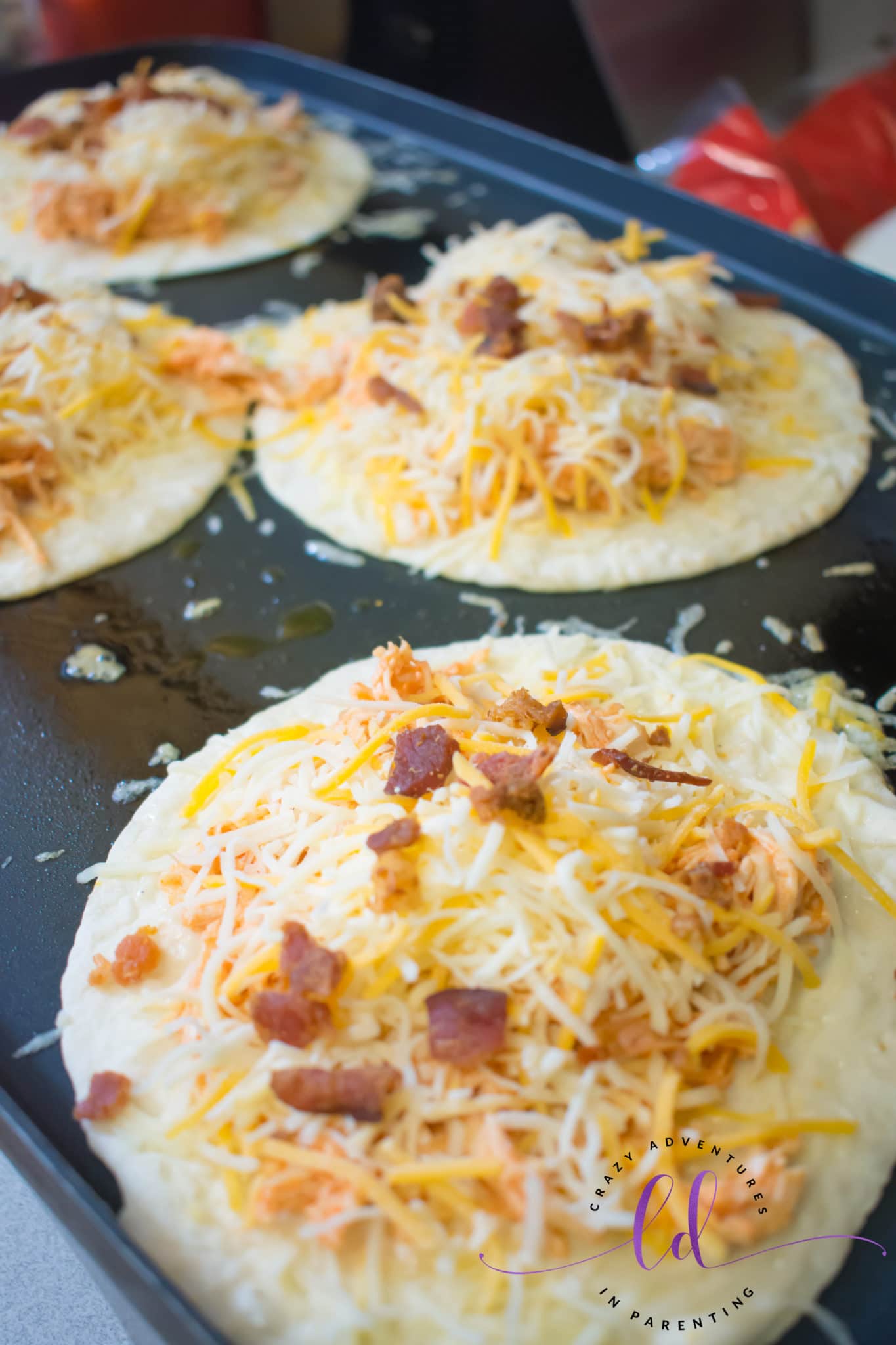 Using your basting brush, brush ranch onto the tortillas you will place on top and place on top.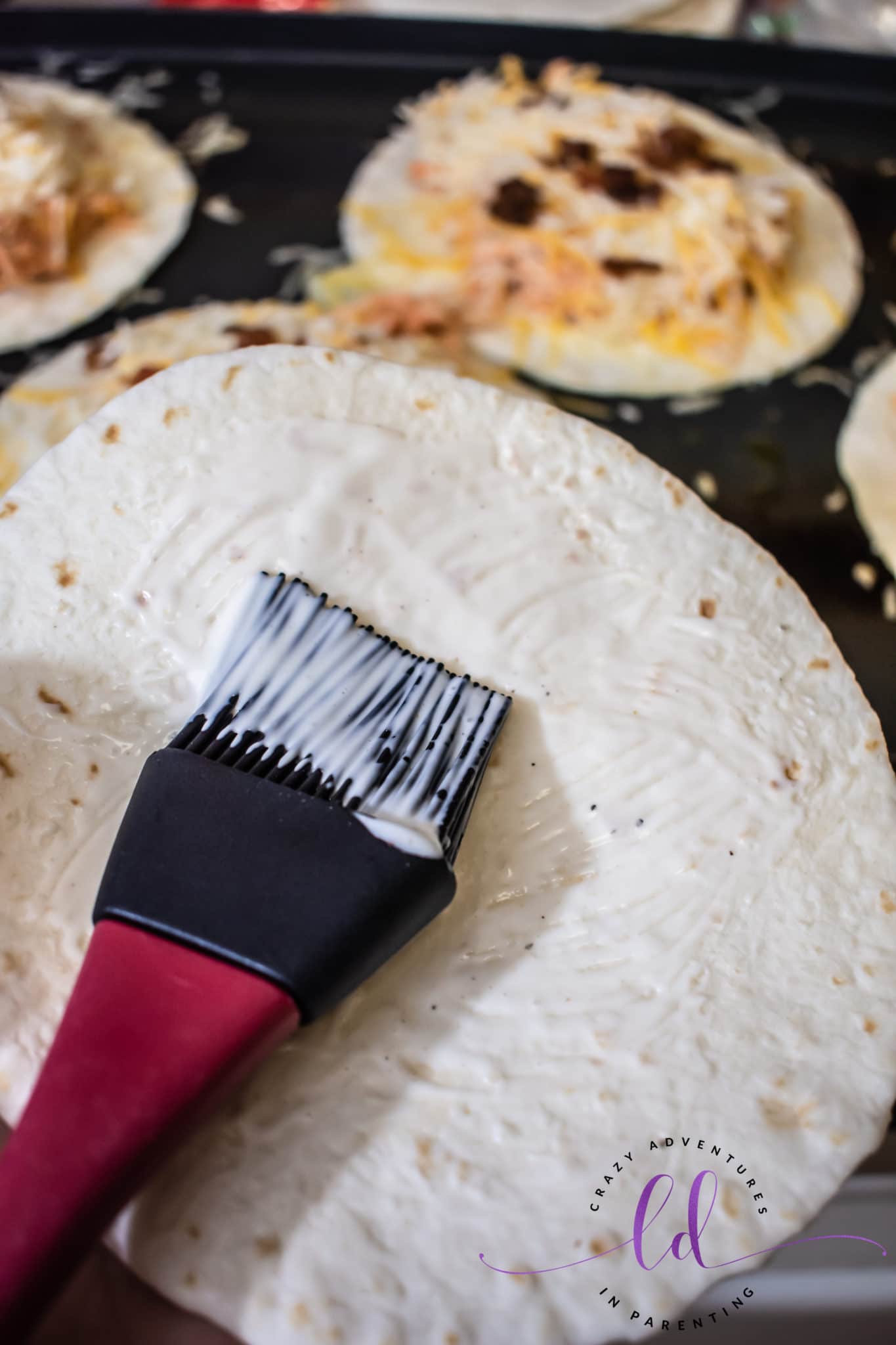 Press gently to press all the ingredients together.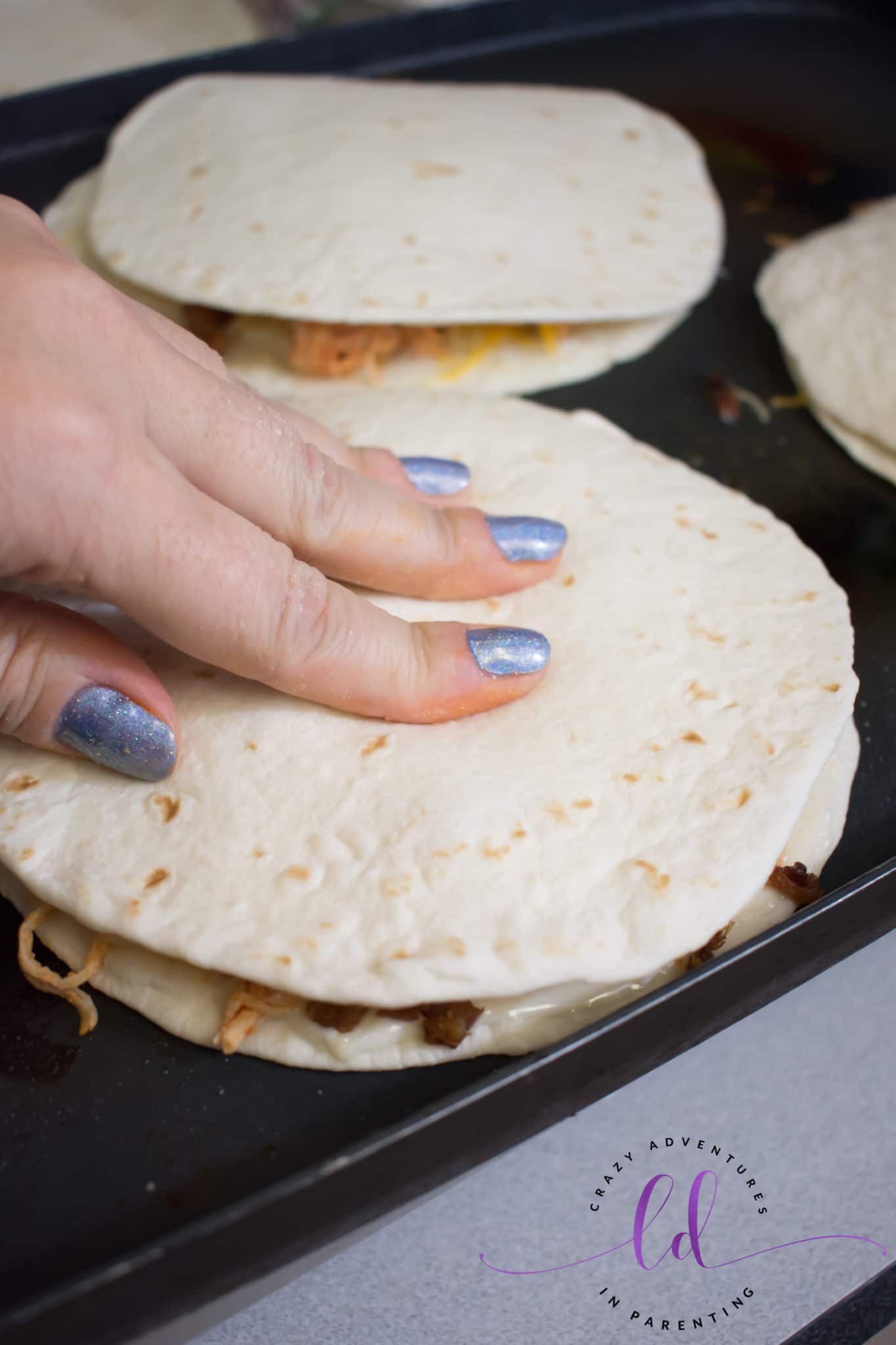 Now it's time to flip! Flip those babies over gently using a flat spatula. You will see golden brown deliciousness, yesss! Almost there, friends!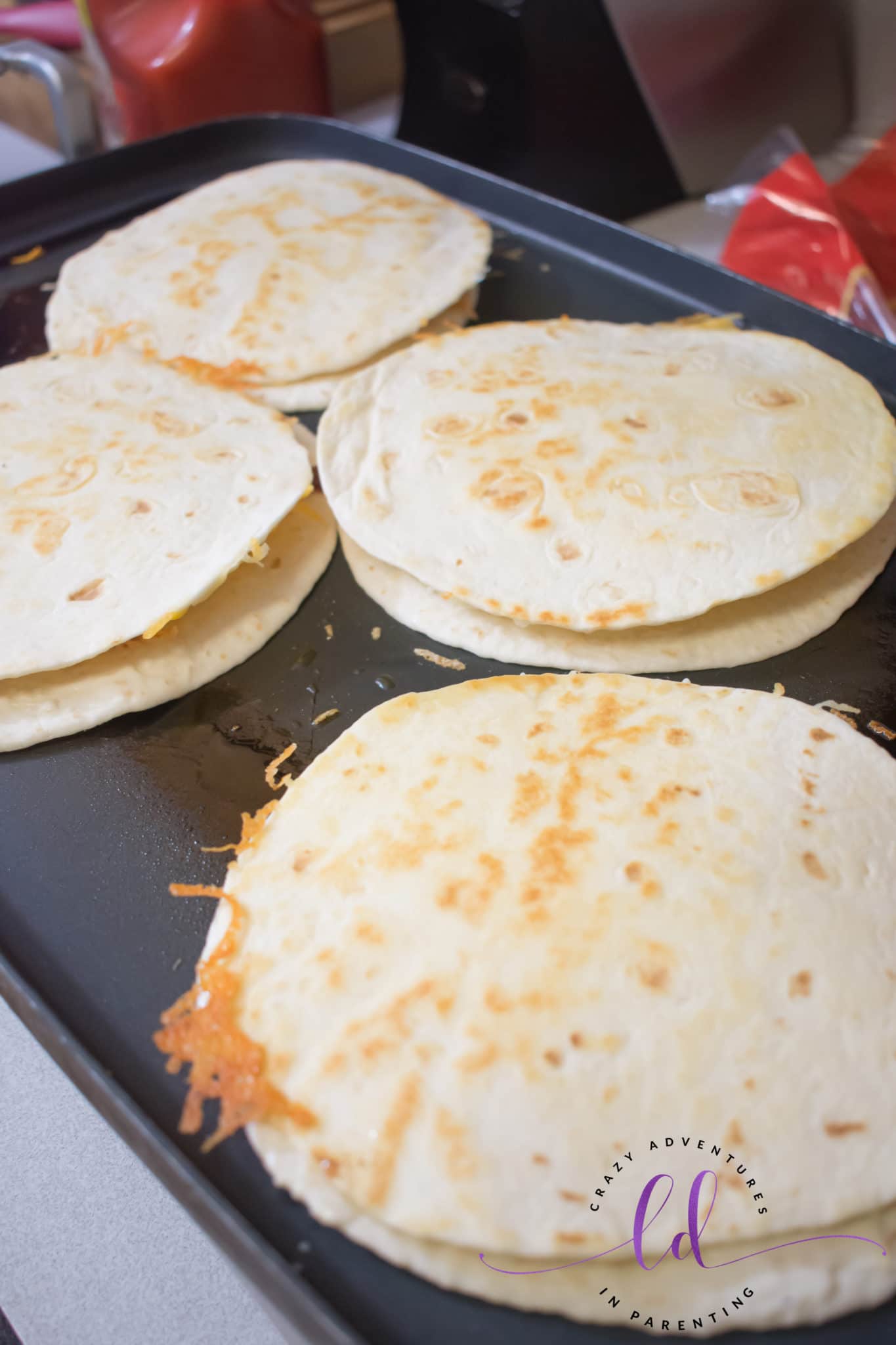 Give it about a minute or two on this side before removing from heat and placing the finished quesadillas onto a platter to cool before cutting. Ready your cutting board with knife or pizza cutter and start cutting!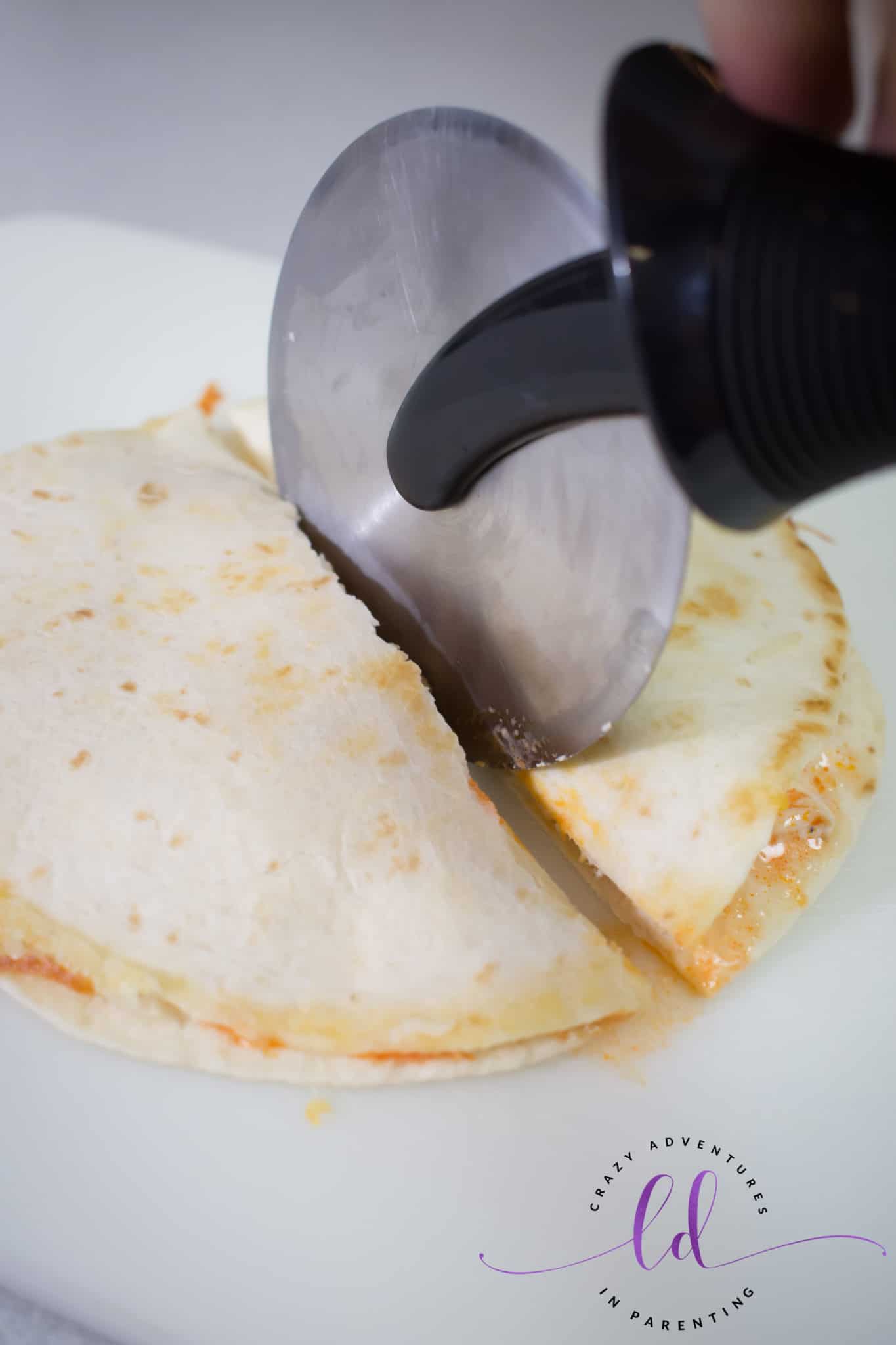 One at a time on the cutting board, slice them in half first, then in half again to make quarters (I find this is the best serving size)!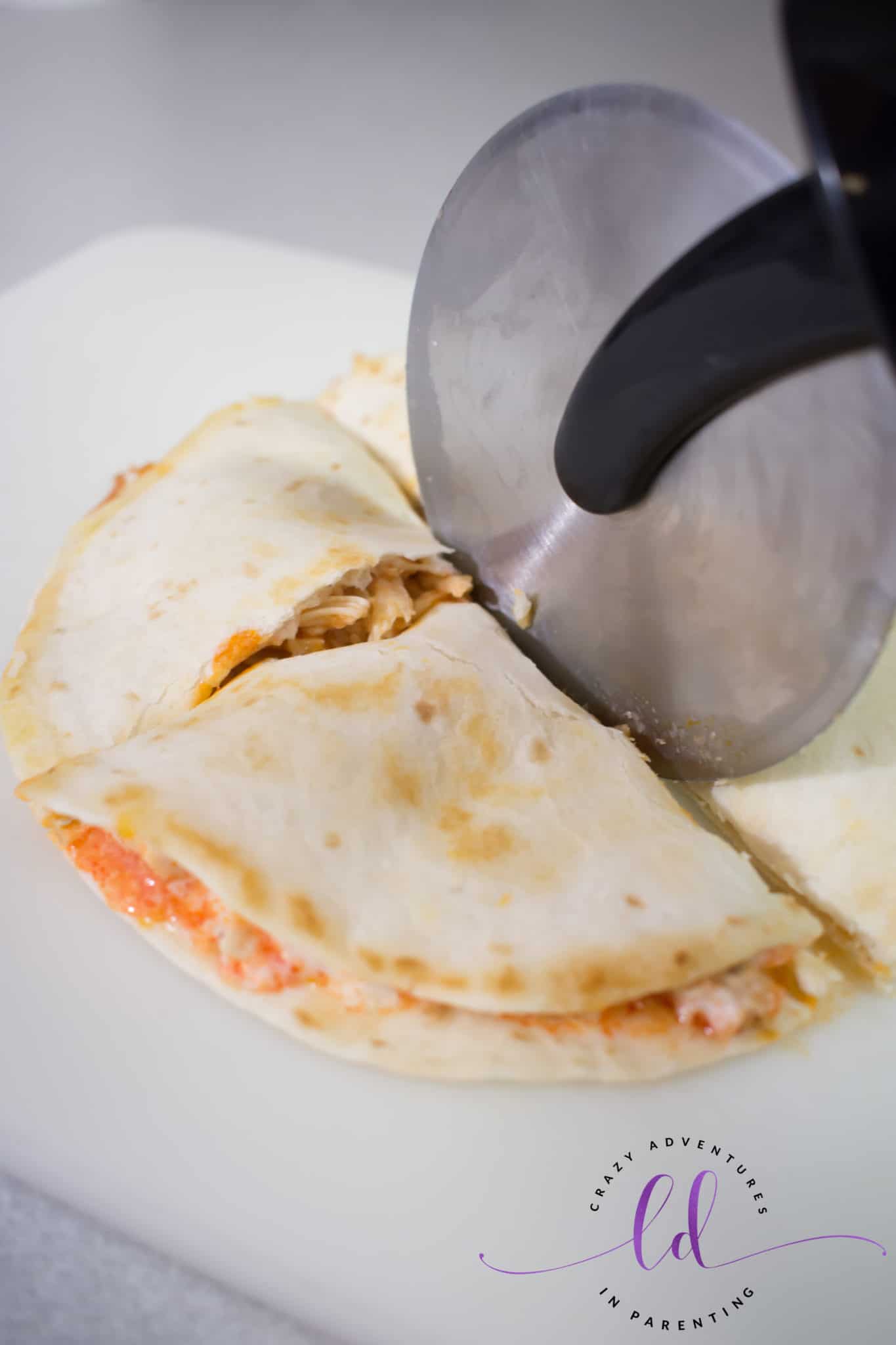 Place the cut up quesadillas on your nearby platter awaiting the chance to be devoured 🙂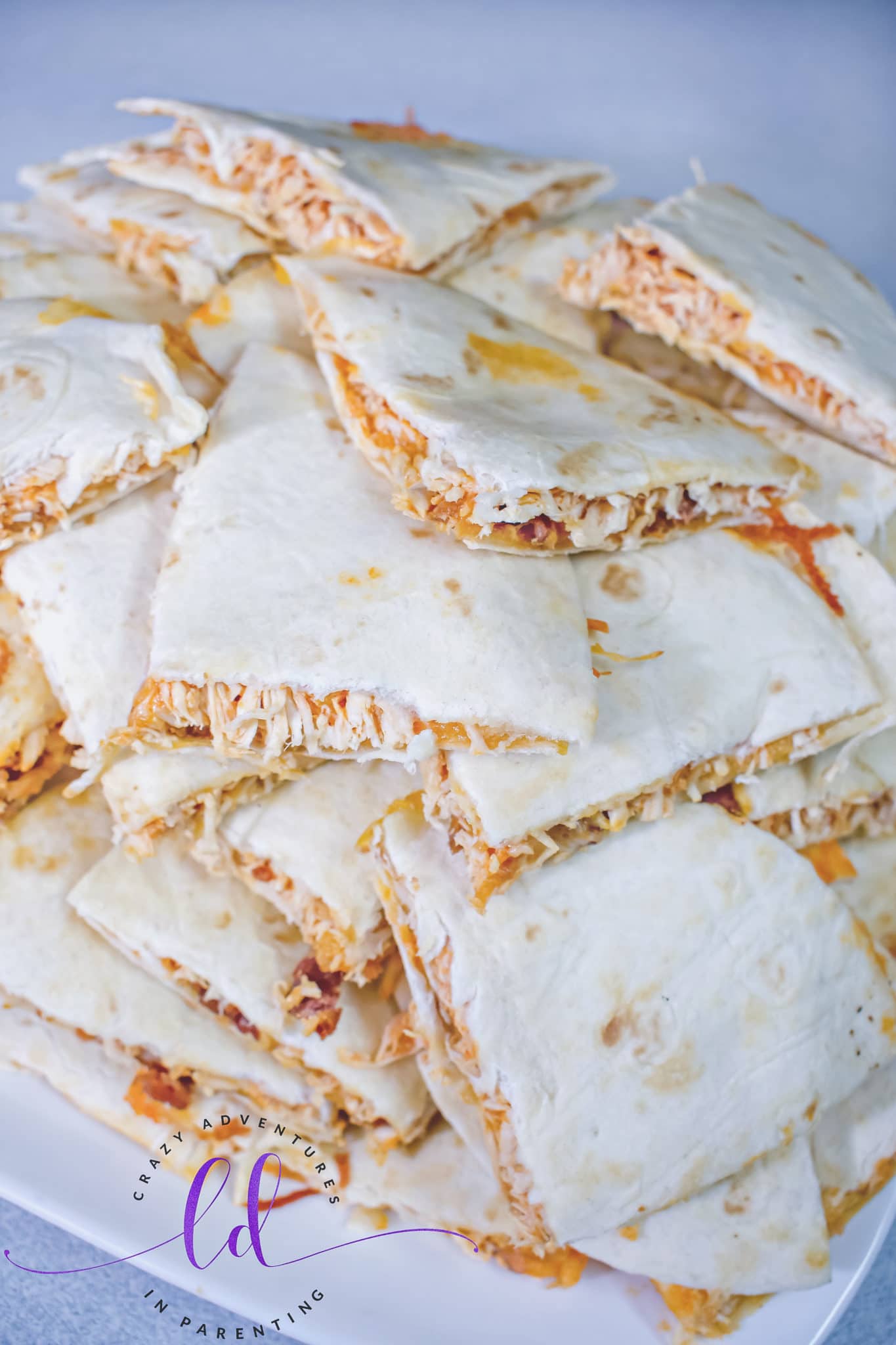 We served ours with onion rings because WHY NOT? We wanted the full restaurant experience and onion rings are just that kind of thing, you know?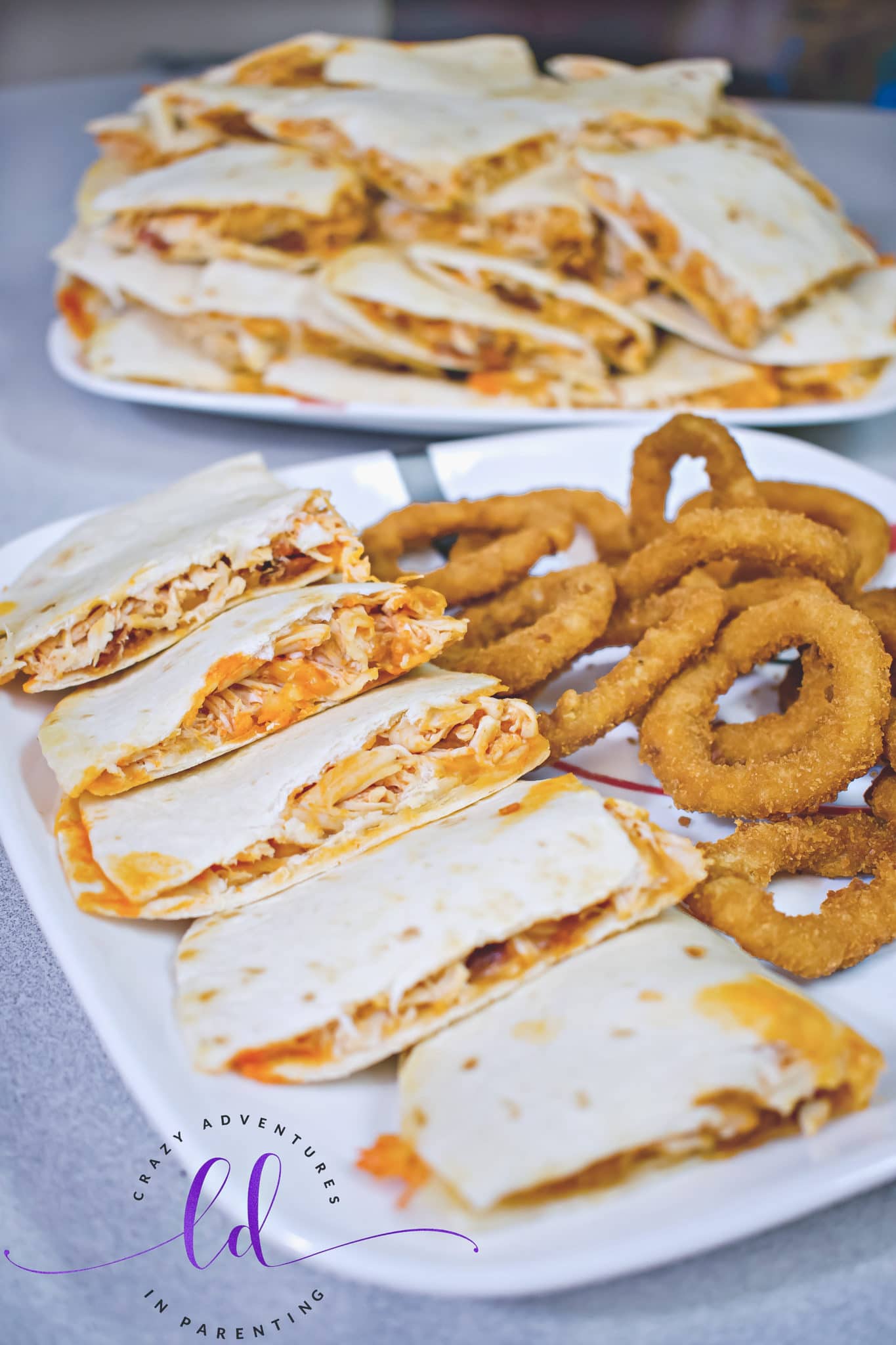 You can dip this in more ranch, blue cheese, or sour cream, serve this with cheese rice (or salsa rice oooh), nachos/chips and dip, fries, tater tots – you've got endless possibilities!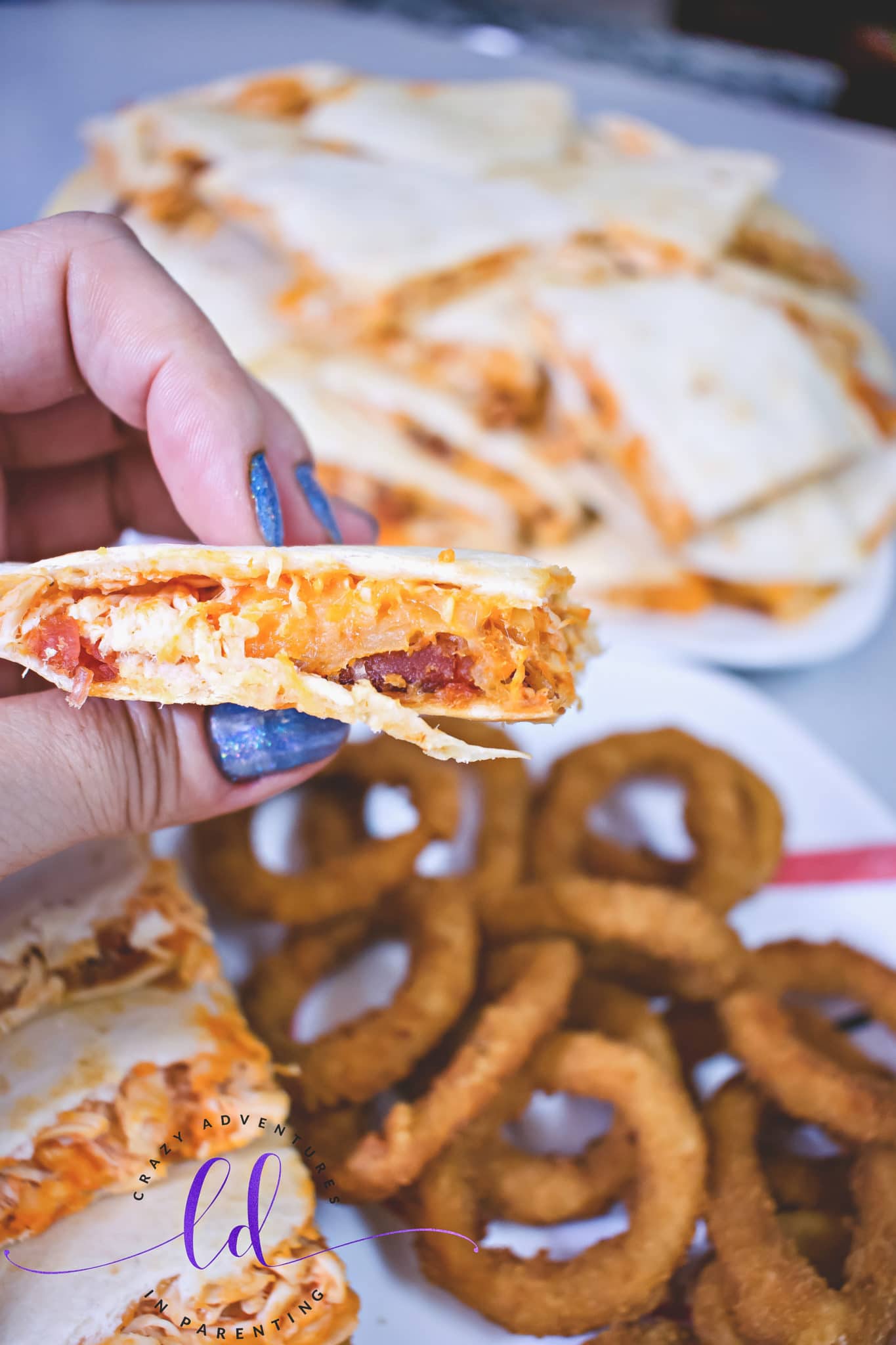 Who wants some? I've got a biiiiig stack of 'em just eager to be devoured mercilessly!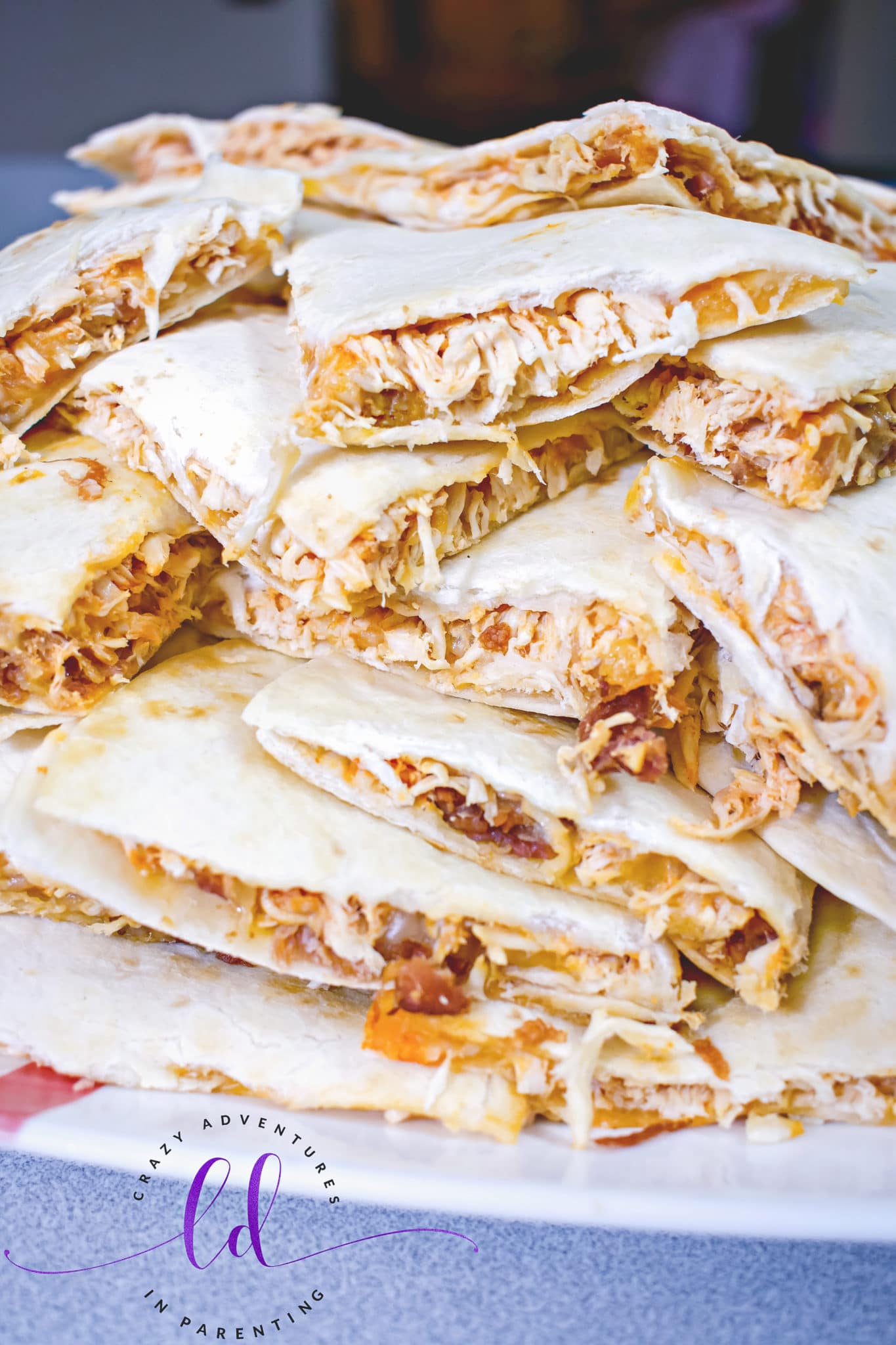 Can You Use Corn Tortillas?
You can, although I don't really recommend it. While corn tortillas certainly have more flavor, they are more fragile than flour tortillas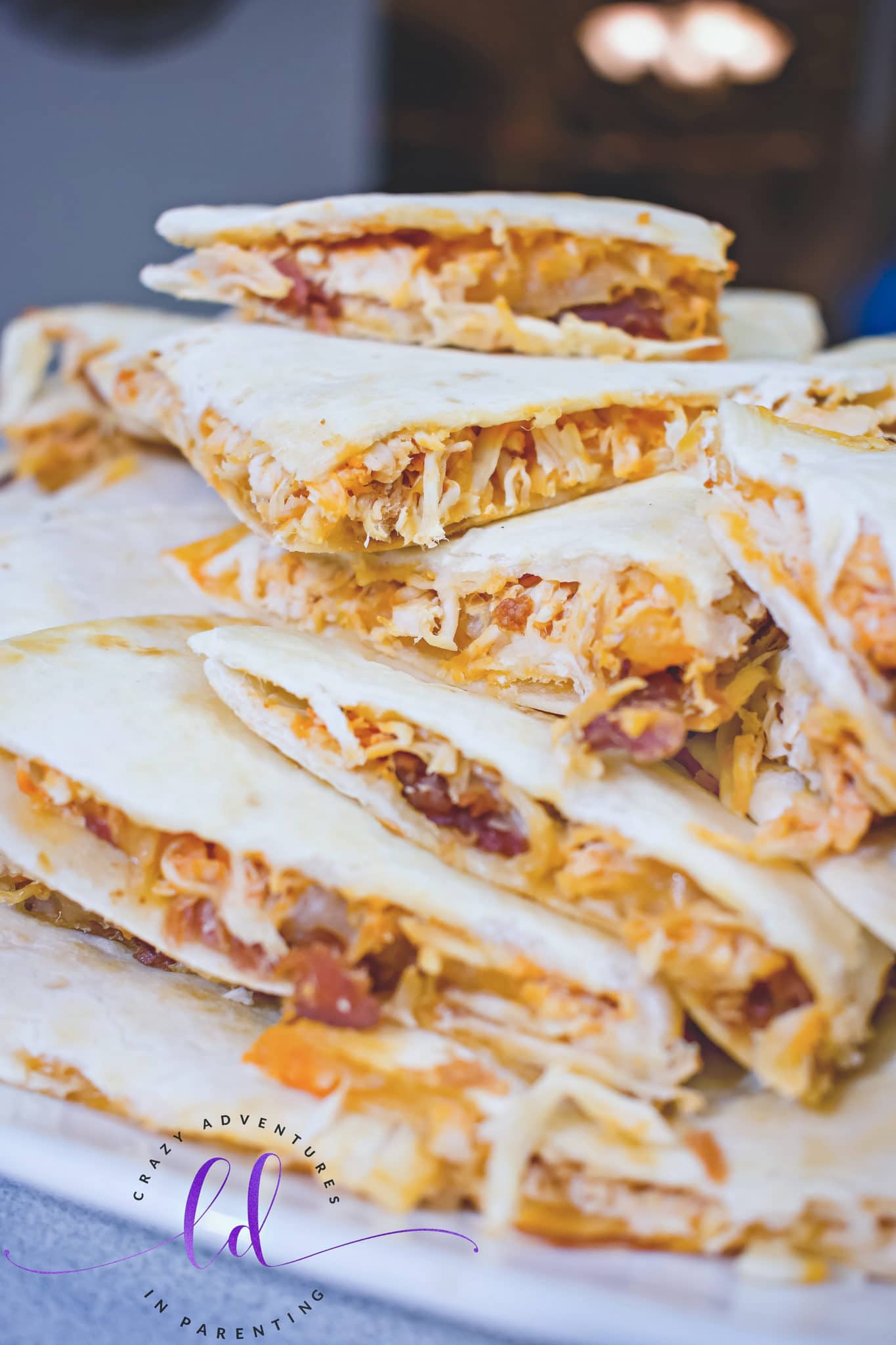 Can You Use Canned Chicken?
Yes…. but it too is also not recommended. While definitely easy (and already chopped), canned chicken has a far saltier taste from being canned and a much different consistency (it's more moist and clumps) making it a little difficult to separate enough so that cheese and bacon will be intertwined while cooking. The only reason I even suggested potentially using rotisserie chicken instead of boiling chicken breasts is because I know firsthand that rotisserie chicken shreds wonderfully and whatever rotisserie seasonings it has only compliments the flavors of this recipe, not detracts.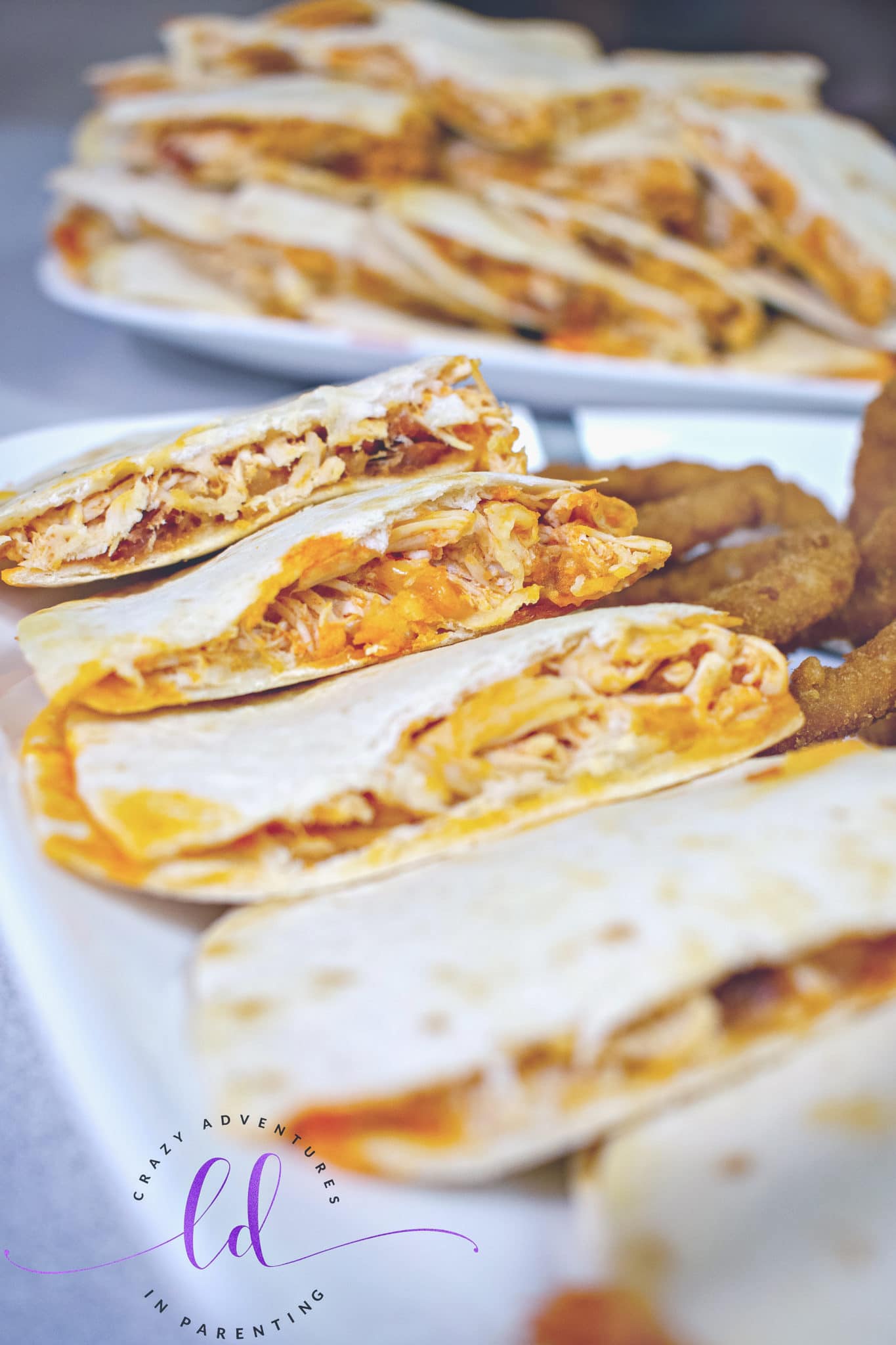 Related Recipes
Looking for something with a kick, or something with more chicken bacon and ranch flavors? Check these out!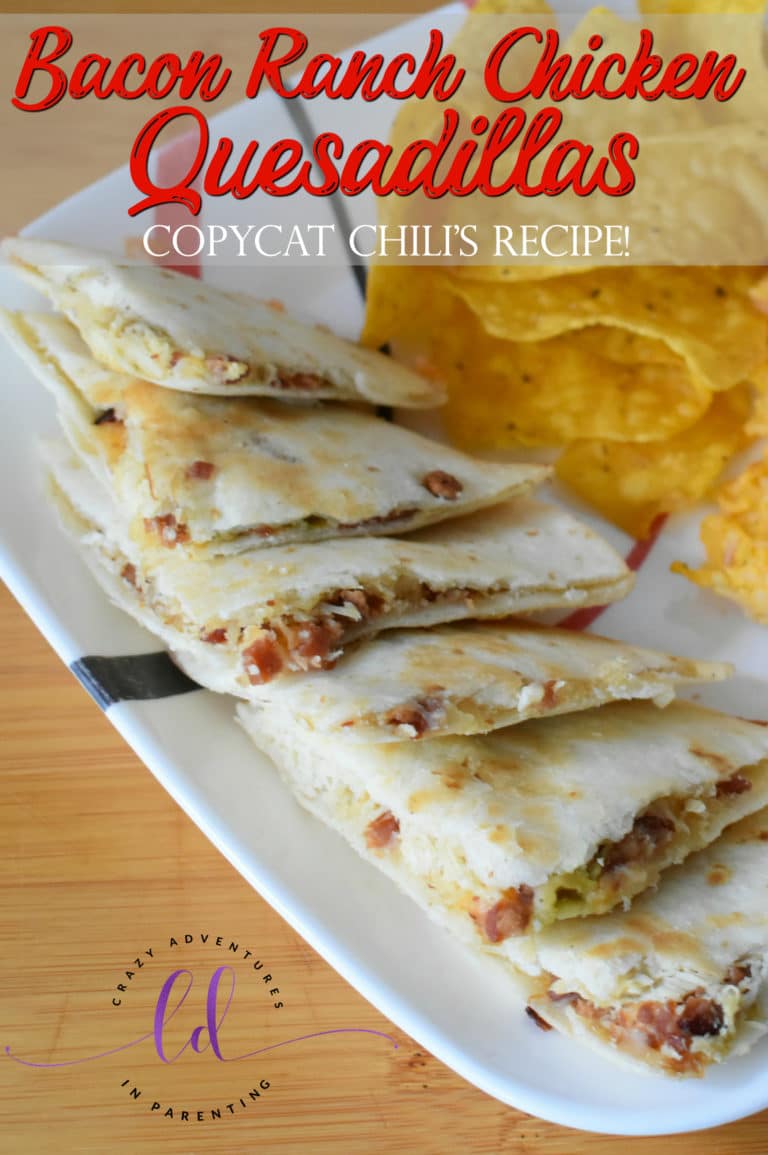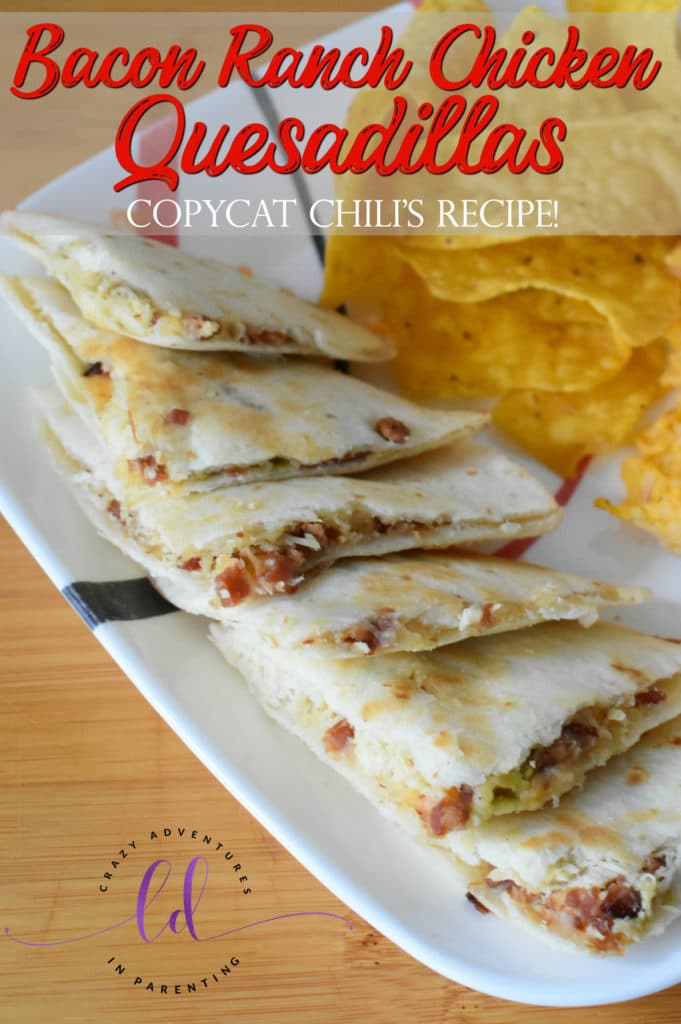 Get the Printable Recipe for Buffalo Chicken Bacon Ranch Quesadillas
If you love this Buffalo Chicken Bacon Ranch Quesadillas recipe as much as we do, please leave me a 5-star review below and help me share this recipe on Facebook and Pinterest! If you do make the recipe, I hope you'll share that you tried it on Pinterest! I love it SO MUCH when readers share their feedback! 🙂

CRAVING MORE CRAFTS AND DELICIOUS RECIPES? Subscribe to my newsletter and follow along on Pinterest, Facebook, YouTube, and Instagram for all the latest updates!
Sign up below to receive my newsletter filled with delicious recipes, fun crafts, and family adventures straight into your inbox: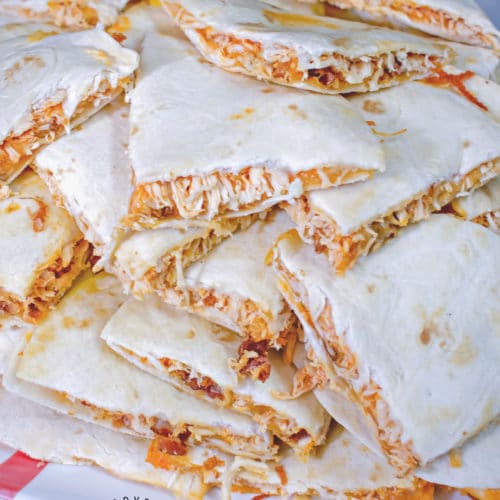 Instructions
Boil your chicken breasts in a saucepan until cooked thoroughly and chicken is completely white throughout and the temperature reaches 165 degrees. (If you opted to use a rotisserie chicken instead of breasts, skip the next couple steps.)

Once chicken is cooked thoroughly, roughly cut the cooked breasts into squares to make it easier to be chopped in the blender.

Pulverize the chicken until it's shredded nicely. Place shredded chicken into a large mixing bowl as you shred more chicken.

Once all the chicken has been shredded, start adding buffalo sauce and preferred seasonings to the bowl.

Toss and coat chicken with a rubber spatula until covered thoroughly while seasoning to taste. Set bowl temporarily aside.

Place your first tortillas on the heated and sprayed surface of the griddle.

Carefully add dollops of ranch onto the tortillas.

Baste with a basting brush to fully cover the surface of the tortillas.

Add your shredded and seasoned buffalo chicken by the forkful to the tortillas basted with ranch dressing. The ranch acts like a "glue" of sorts to get the chicken to stay!

Generously add shredded cheese over top the shredded buffalo chicken. The cheese will be what "glues" the top tortilla onto the mixture!

Using your basting brush, brush ranch onto the tortillas you will place on top and place on top.

Press gently to press all the ingredients together.

Now it's time to flip! Flip those babies over gently using a flat spatula. You will see golden brown deliciousness, yesss! Almost there, friends!

Give it about a minute or two on this side before removing from heat and placing the finished quesadillas onto a platter to cool before cutting. Ready your cutting board with knife or pizza cutter and start cutting!

One at a time on the cutting board, slice them in half first, then in half again to make quarters (I find this is the best serving size)!

Place the cut up quesadillas on your nearby platter awaiting the chance to be devoured