This recipe is sponsored by Carbonell and Social Moms.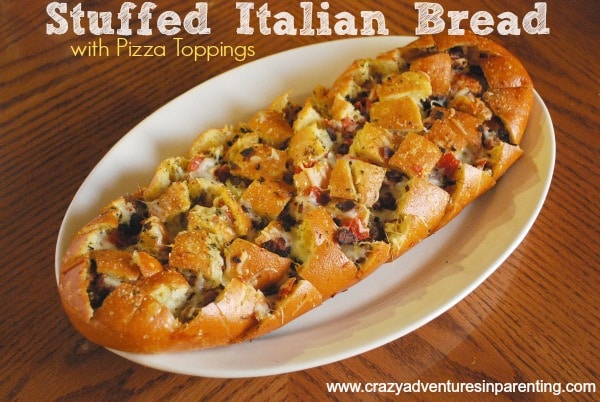 Have you ever eaten Stuffed Italian Bread before? It's almost a fusion of cheesy garlic bread and pull apart bread. I love how you can add whatever ingredients you'd like to truly make it special for your family. I decided to turn it into a Pizza-Stuffed Italian Bread for mine, because my kids adore pizza (and I truly love making our own), but because I really wanted this dinner/appetizer to sing using Carbonelli Olive Oil. The result is one of the most glorious, most appetizing dishes you've ever seen, it's almost too pretty to eat.
Stuffed Italian Bread with Pizza
Stuffed Italian Bread with Pizza
This pizza-stuffed, italian pull apart bread is chock-full of taste and awesomeness that you simply won't believe until you try it!
Author:
Lisa Douglas - CrazyAdventuresinParenting.com
Recipe type:
appetizer, dinner
Ingredients
1 loaf of Italian or French bread (I know, how could you use French bread? But you can. It's okay. I won't tell anyone.)
½ cup Carbonelli olive oil
1-2 tbsp butter
2-3 cloves of minced garlic
1 tbsp dijon mustard
1 tbsp oregano
1 tbsp thyme
1 tbsp rosemary
1 tbsp basil
1 package of sliced pepperoni
1 lb of ground sausage, cooked and crumbled.
8 ounces of shredded mozzarella cheese
grated Parmesan cheese
tomato sauce for dipping (optional)
Tools needed:
Large pan (turkey pan, perhaps?)
Tin foil
Cooking spray
Basting brush
Instructions
Using a bread knife (or any serrated knife available), slice gently on the diagonal, in one direction, being careful not to slice all the way to the bottom, then criss-crossing in the opposite direction, creating an X pattern.

Spread out a large piece of tin foil, sprayed with cooking spray, and place the bread on it, ensuring the foil is large enough to fit underneath it and close. (You might need two pieces.) Place the tin foil and bread into the baking pan you will be using.

If you haven't already, prepare your sausage and cut up your pepperoni; set aside.

Melt the butter, and preheat your oven to 350 degrees. Mix the melted butter, olive oil, seasonings, garlic, and mustard together.

Using a small basting brush, baste the seasoned olive oil mixture into every crevice of the bread, making sure every interior surface has been coated. (It is okay to get it on the crust, too.)

Start stuffing the bread, first with sausage, then with pepperoni.

Finally stuff the bread with both cheeses.

Sprinkle the top with a little more Parmesan.

Spray more cooking spray onto the foil before wrapping the foil closed, so the bread won't stick, then close the foil, forming a pouch.

Place into the oven for 15-20 minutes; remove the foil from the top and place back into the oven for 5-10 minutes to brown.

Remove from foil and place onto a platter to serve.

You can use a bread knife to cut off sections to serve, or have folks pick up one square at a time if they choose.
The most incredible thing about this stuffed italian bread is that you don't have to use pizza toppings if you don't want to (or even the toppings I used), you can stuff it with anything! Cheddar and broccoli stuffed italian bread? BLT stuffed italian bread? What about ham and swiss? Or, what about a breakfast stuffed italian bread? OMG! Can you imagine? Yum!!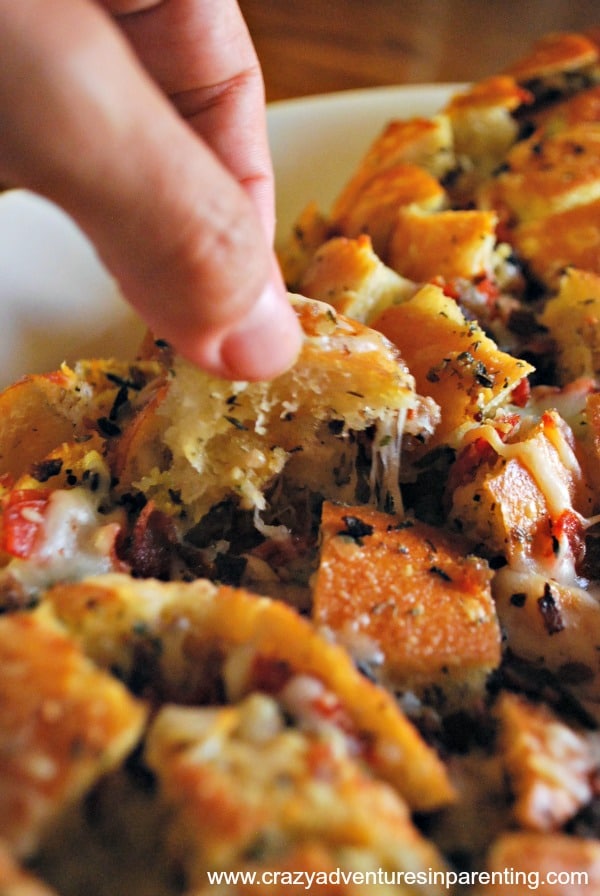 I promise you, this stuffed italian bread is MAGICAL. It even tastes fantastic as leftovers straight from the fridge the next day without even heating!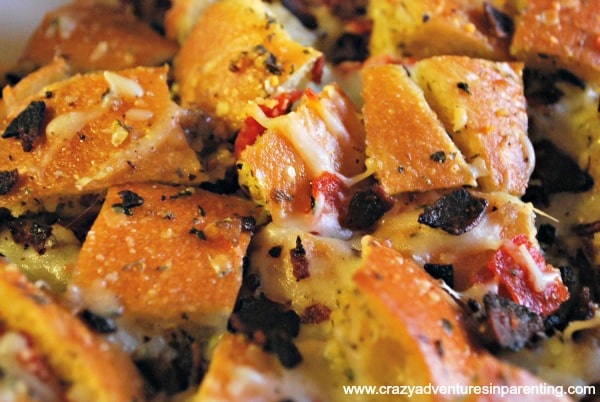 The cheese, the filling, the herbs, GAH! It's simply a SHOWSTOPPER, isn't it? Music for your mouth.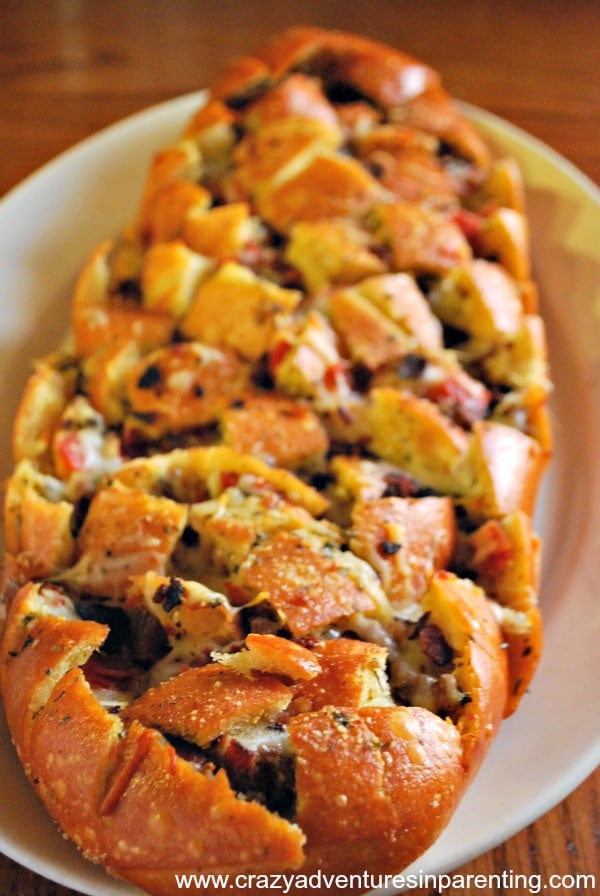 For more daringly bold and fun recipes like this one, visit DareToCarbonell.com, where you can experience the three different and bold worlds of Carbonell Olive Oil. You can find more daring blogger-created Carbonell recipes like mine here as well.
What about you? What daring recipe would YOU make using Carbonell olive oil? Do you think this recipe is something your family might enjoy?
Also, be sure to check out my recipe index, which is my virtual recipe box of everything I've created. Some more fun pizza themed recipes include my popular Easy Pizza Bread recipe, Pizza Stuffed Burgers, and Pizza Pasta.