If this is your first time reading and you're wondering what To-Do Tuesday is all about, click to check out the first post to find out more.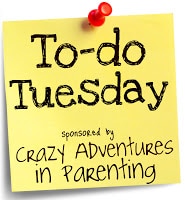 Strangely, as busy as I've been accomplishing so much, I didn't get hardly anything done on what I listed to get done last week. Isn't that weird? And yet (I repeat), I GOT SO MUCH DONE! Worked out? Not conventionally. My Wii Fit is gonna yell on me when I step on it, I know. But we were at the park, playing, walking. Cleaning and l-i-v-i-n-g this past week, with more of it this week. Eat well? Oh my goodness, the past three days have been HORRIBLE for my diet, two birthday parties, bbq's, boy scout parties, whoa nelly! This week's list is gonna have to be much more different than any other week.
You see, I'm going somewhere fantastically magical on Friday. But more on that another time. So, because I'm going to be away this weekend, the list can't be as it normally is because the circumstances are different.
Which I guess, considering last week's poor performance of getting my list checked off, is a good thing it won't be a normal list. Perhaps this'll be my week to finish it top to bottom?
We'll see.
Work out. Somehow, someway, do something(every bit helps)
Staying on my diet at least until trip(because you and I both know I will try, but I will cave. Just sayin')
PACK! Err, uh. Figure out what to pack, THEN pack.

Pack for kids and hubby
Ensure house is spotless upon leaving (

I need a clean house when I return. NEED it! Nothin' like returning from time away to a beautifully spotless home with which to wreck. Ahhh!

)

Post about the trip
visit the local park and take walks
bake pumpkin bread before trip (good traveling food)
bake cookies before trip (more good traveling food)
bake sausage rolls before trip (again, good traveling food)
bake bread or maybe bagels? Ok. I might be ahead of myself here. That's too much.
clean out the van before the trip

Post Reviews & Giveaways! Biiig one comin'
Vlog awesome review WITH HUBBY for Newbaby.com

Finish posts before I leave:
[email protected]TypeAMomNewBaby.com
Tackle It Tuesday/Blissfully Domestic
Wordless/Wordful Wednesday
Thankful Thursday Thirteen, A Thousand Words Thursday
And…

HAVE FUN ON TRIP! WOOHOO!
(That last one I need to keep reminding myself about. More later on that)
Would you like to join us this week for To-Do Tuesday? Start with just a few things. Don't over-do it your first couple of times. You'll grow to become a list-a-holic later, start small now, though, k?
Just so you know, you can join us at anytime, it doesn't have to be on Tuesdays – the list will go up every Tuesday for you to link to, but you can make your list and link to us at any point in the week!
Remember, with "To-Do Tuesday", we're attacking our to-do lists each week, blogging about our lists and what we've got going on, and sharing it with each other to help keep each other accountable. Everyone should come back here to link up in the Mister Linky as the central "To-Do Tuesday Hub" so we can visit who's participating and offer encouragement to each other throughout the week. Don't forget to add the "To-Do Tuesday" button to your post, linking back to this post!
Let's continue to cross items off our list as we go and help support each other in completing our lists! Don't forget my useful HTML tutorial on how to effectively "cross-out" or "check off" your items on your to-do list!

Never miss a post! Subscribe here for all kinds of crazy parenting fun!