Looking for an easy dinnertime solution, then look no further than this ridiculously easy Baked Chili Cheese Hot Dogs recipe for dinner! Make it in bulk for school lunches the next day too!
This post may contain affiliate links which means we receive a small commission at no cost to you when you make a purchase. As an Amazon Associate I earn from qualifying purchases.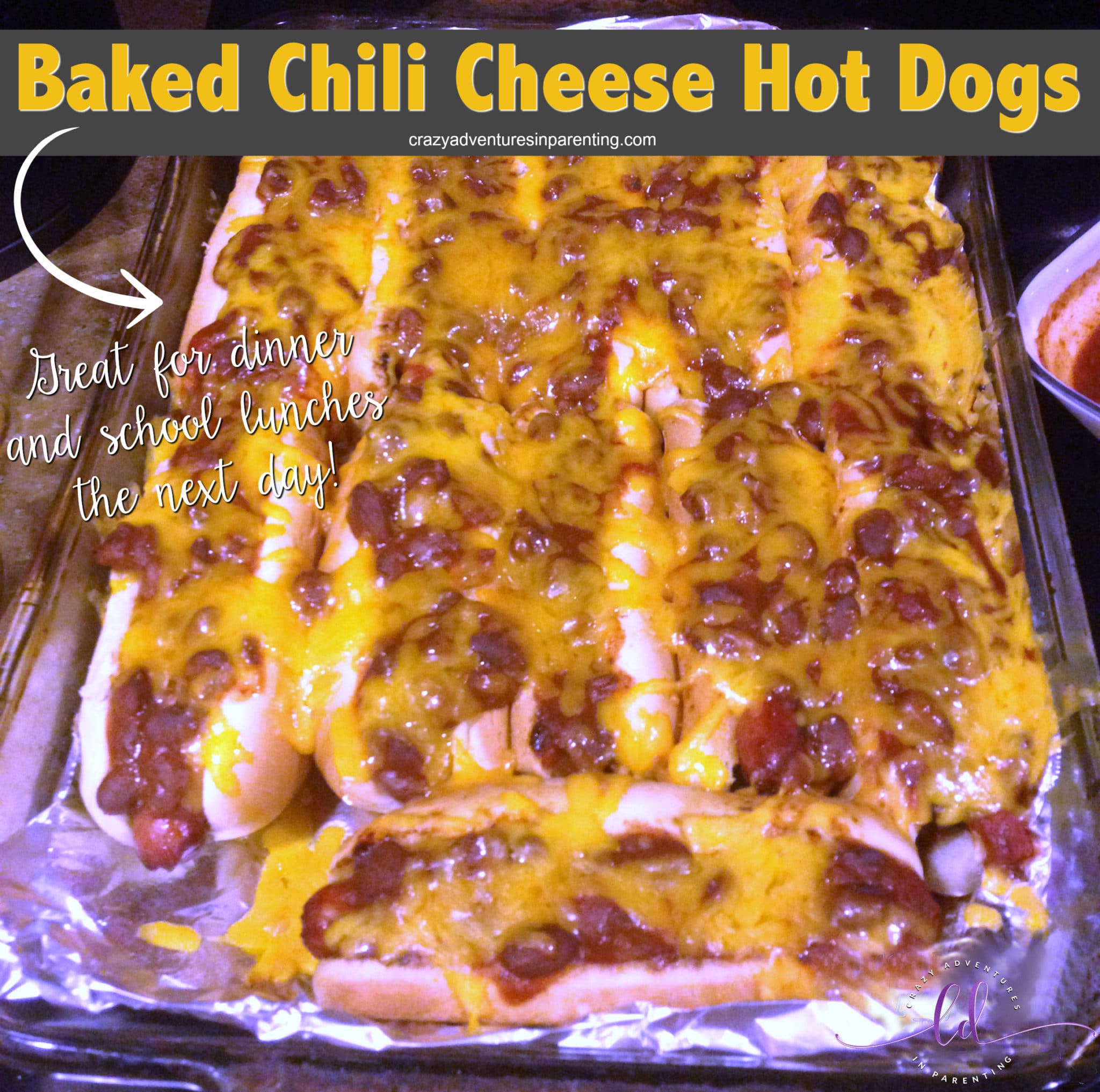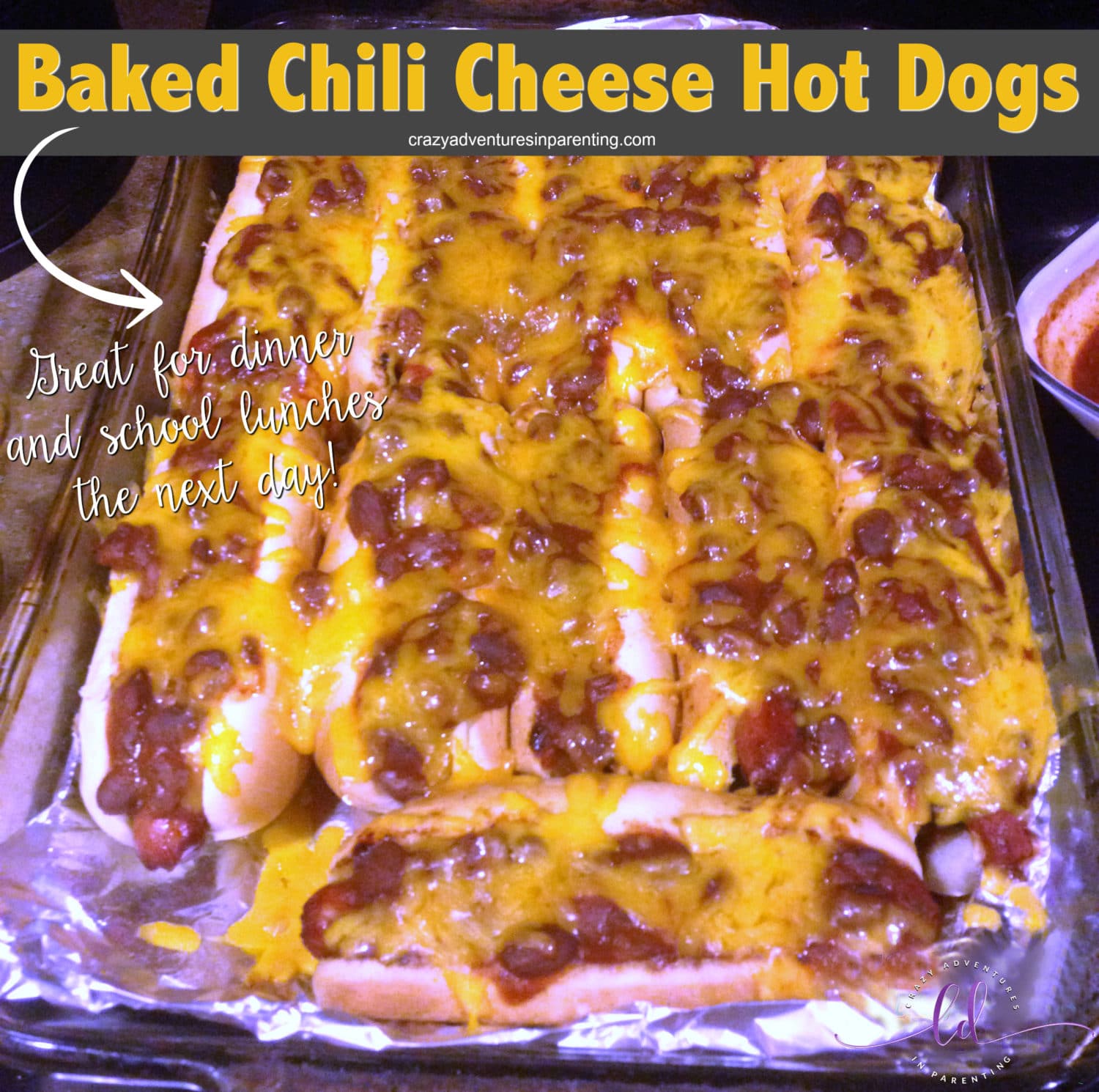 Easy Baked Chili Cheese Hot Dogs for Dinner (and Lunch the Next Day!)
I like making things easier for myself and my family. I make things homemade but I don't want it to have to be complicated, not with eleventy-billion kids and tons of stuff that needs to be done daily.
One day, when the kids asked for Chili Cheese Hot Dogs like Sonic, I knew I could do it and do it better (and healthier), too, using all-natural hot dogs and turkey chili. (You can use homemade chili, too! Our chili recipe is pretty bangin'!)
Enter in my trusty 9×13 baking pan and tin foil with cooking spray. 🙂
How Easy is This Recipe? Ridiculously Easy!
And I'm not even talking about cooking, I'm talking about clean-up, too!
I put foil in the bottom of the baking pan sprayed with cooking spray and placed the prepared hot dogs in the buns in the baking pan lined up nicely.
The oven gives the buns a slight crispness that helps withstand all the extra weight on top. Plus, the foil makes for easy-peasy clean-up! Not to mention, baking it sort-of melds the tastes altogether deliciously.
My husband and children said it was the best chili cheese hot dogs they'd ever had, ever. I take that as a pretty good compliment 🙂
Ingredients Needed to Make Easy Baked Chili Cheese Hot Dogs for Dinner
Tools Needed to Make Baked Chili Cheese Hot Dogs
How to Make Baked Chili Cheese Hot Dogs
Before I got down to the nitty gritty, I set my oven to 350 to get it nice and toasty while I turned a skillet on medium-high heat to cook the hot dogs on the stovetop first in a small sauté pan. To make for an easier clean-up, I lined and sprayed my 9×13 baking pan with tin foil sprayed with cooking spray placed the eager hot dog buns inside, slightly opened.
(Note: To make it extra-especially delicious, you can toast your buns open side down on the oven rack slightly, and then lightly butter the insides like toast before placing the hot dogs inside. An additional step, yes, but a potentially worthwhile one! I used to frequent a diner that did this when I was a child , and they served the tastiest hot dogs EVER and they toasted the buns first!)
Next, I opened the cans of turkey chili and shredded my cheddar cheese on a plate (forgot to buy pre-shredded – don't be like me!) while my hot dogs finished sizzling and cooking through. To me, there is no better way to cook hot dogs than with cooking spray on a skillet.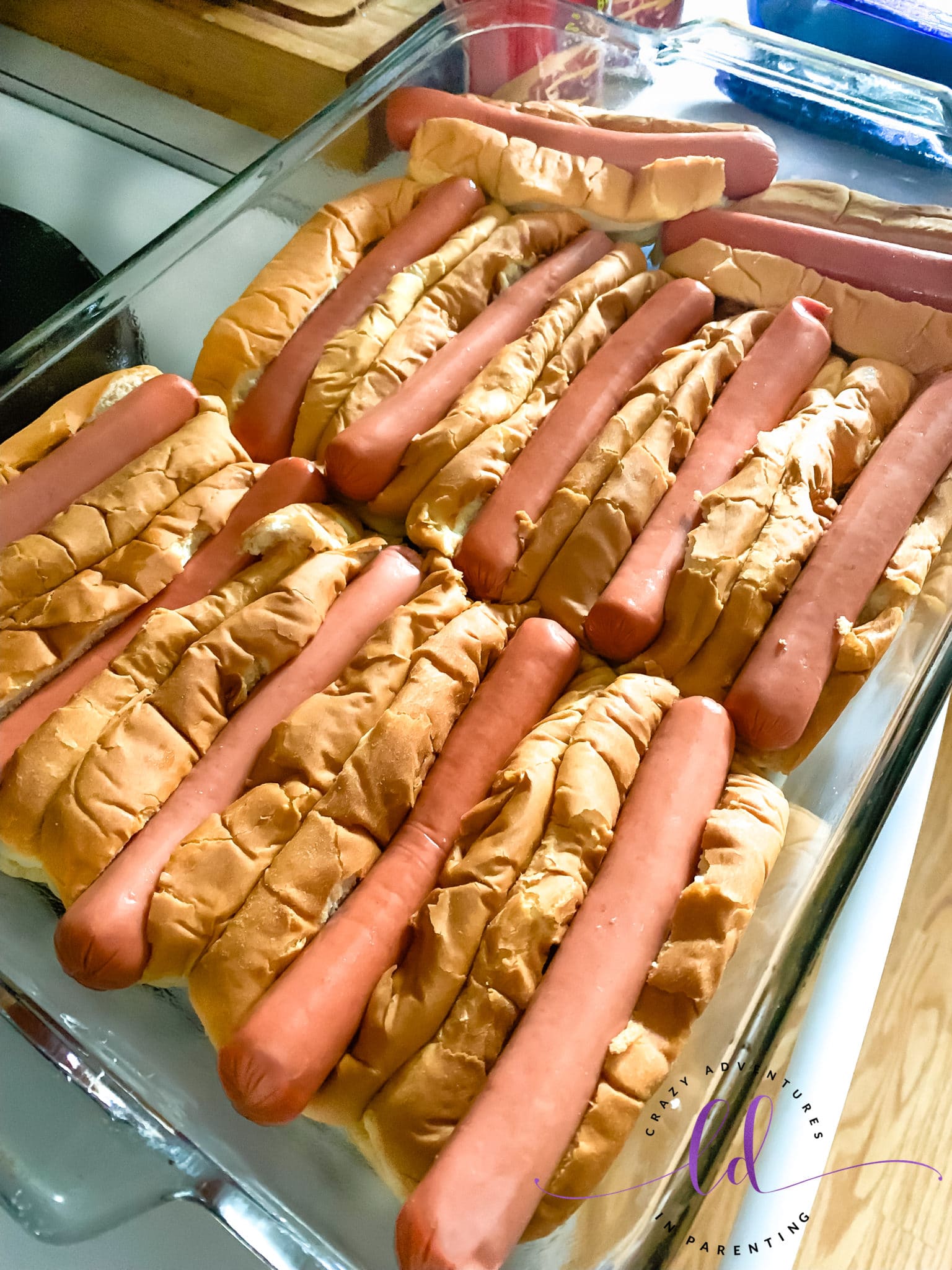 Once finished, I placed the hot dogs into the opened buns and spooned the unheated turkey chili over top, saving the cheese until later.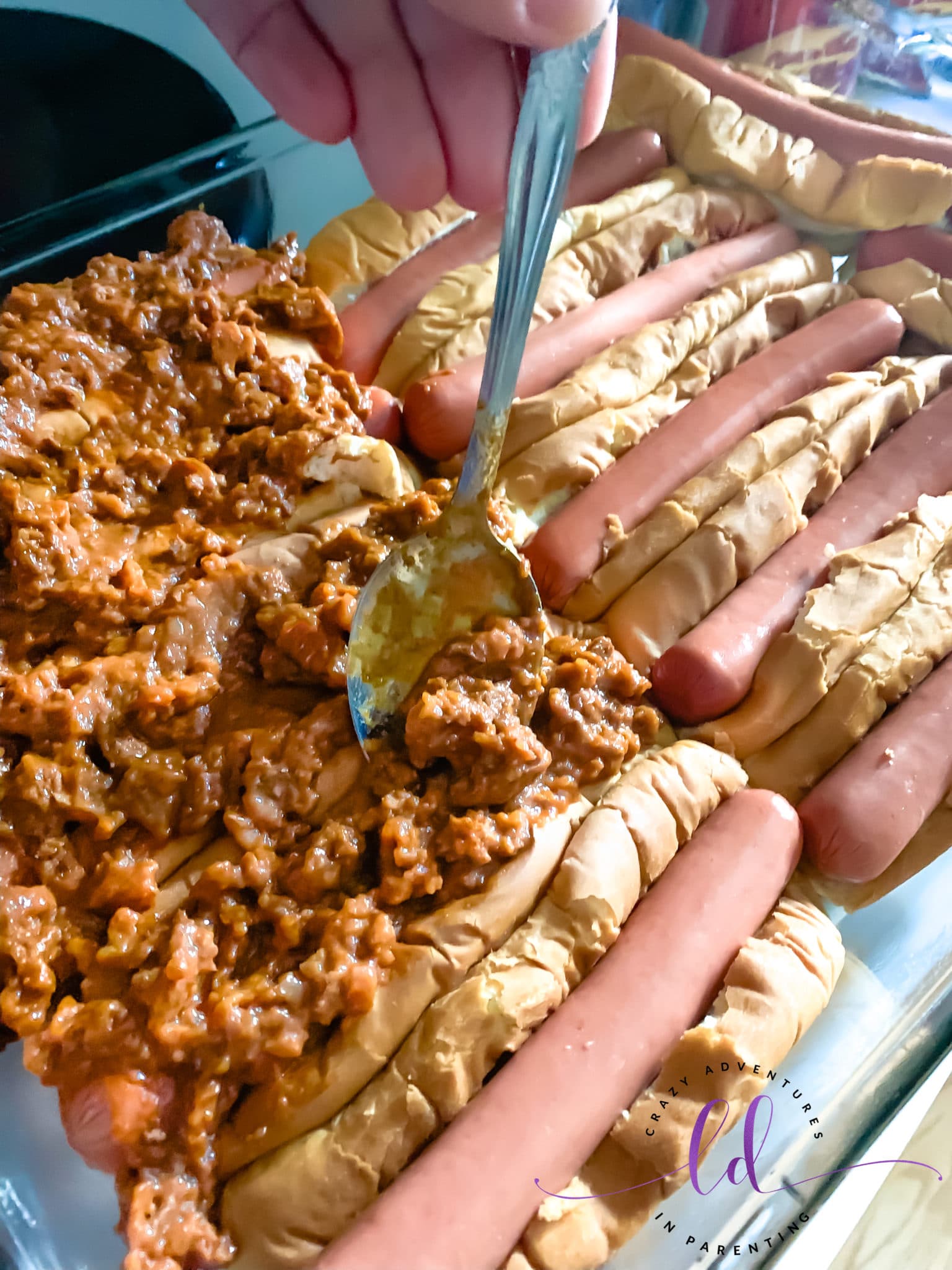 I popped these badboys in the oven for about 10 or so minutes. Once the chili was steaming, I sprinkled the cheese over top and let it cook until melted on the top rack.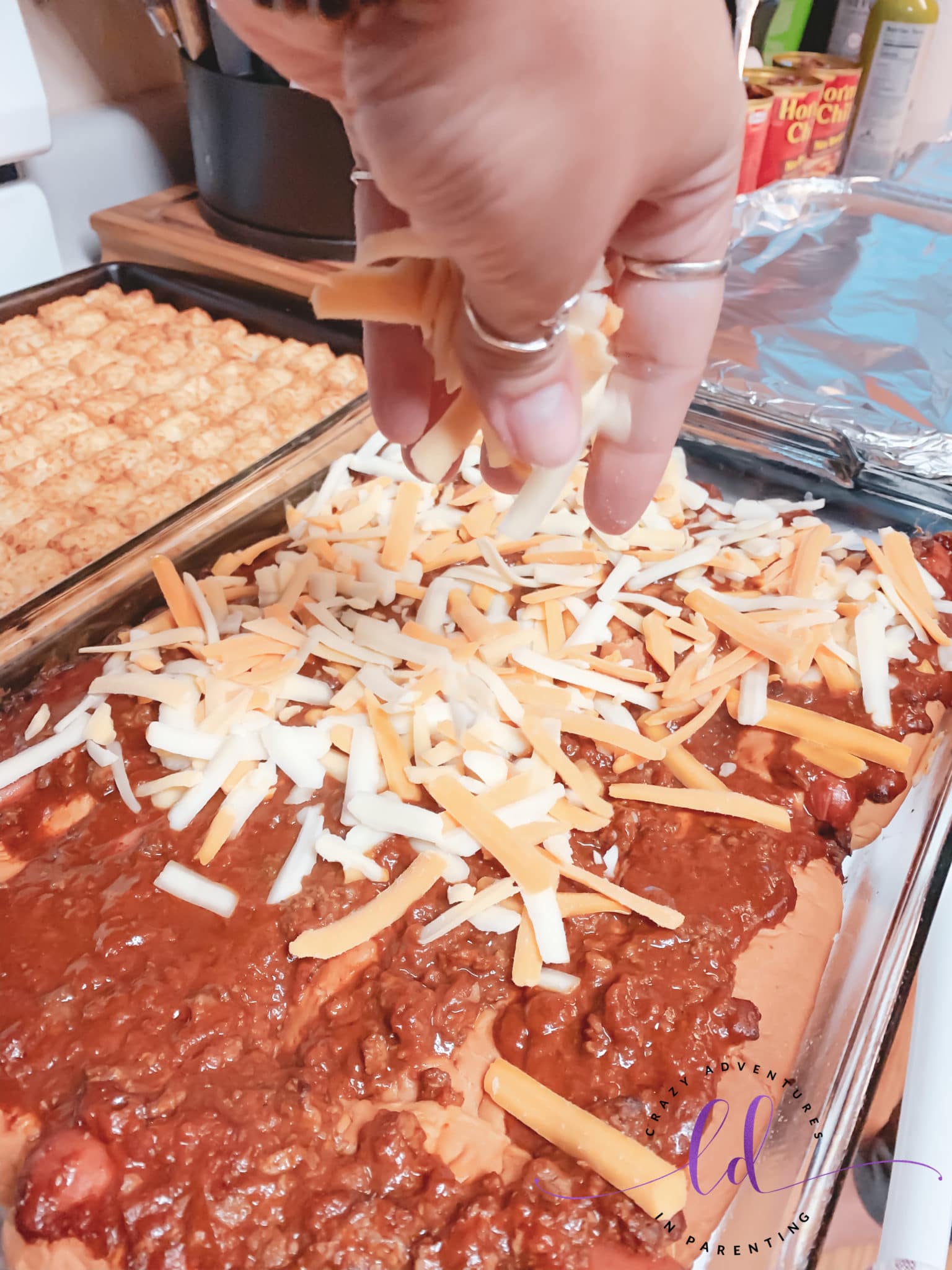 My house was filled with mumbled chewing during dinner. I had a little left over turkey chili that I heated up and spooned some over top my family's tater tots with some leftover cheese, too. The praise just kept on comin'.
As if this wasn't super easy to prepare enough, I made two pans of it, so that tomorrow's lunch was already ready to go, too. And, because it was baked, they will hold up real well in their lunch boxes!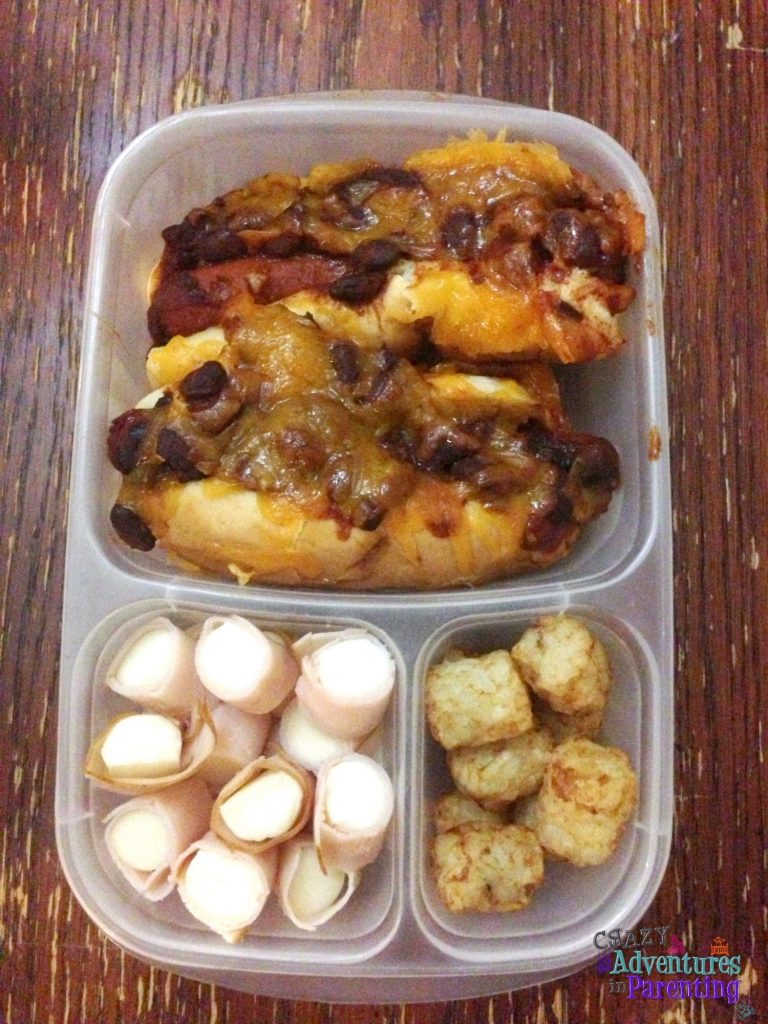 Other Awesome Chili and Cheese or Hot Dog Recipes
What do you think, have you ever toasted your hot dog buns before, or baked hot dogs like this? Be sure to visit my Operation Awesome School Lunch page for more healthy and easy school lunch ideas using dinner leftovers.
If you love this Easy Baked Chili Cheese Hot Dogs recipe as much as we do, please leave me a 5-star review below and help me share this recipe on Facebook and Pinterest! If you do make the recipe, I hope you'll share that you tried it on Pinterest! I love it SO MUCH when readers share their feedback! 🙂


CRAVING MORE CRAFTS AND DELICIOUS RECIPES? Subscribe to my newsletter and follow along on Pinterest, Facebook, YouTube, and Instagram for all the latest updates!
Sign up below to receive my newsletter filled with delicious recipes, fun crafts, and family adventures straight into your inbox: