I don't know about you, but I'm always looking for fun things to do with kids during summer vacation. I've vowed to make 2013 rock, and so every day this summer (and some days more than once), I'm going to be doing something special, something awesome, and fun for (and with) my kids. I hope you'll join me!
Today is officially DAY ONE of summer for us! We had our last day yesterday (which was quite bittersweet) and spent Day Zero celebrating by riding bikes and playing ball outside with the neighbor kids (some of whom already were out for the summer).
I had promised the kids I'd get up and make some pancakes this morning, but they didn't realize what KIND I was going to make them. Sprinkle pancakes, yes!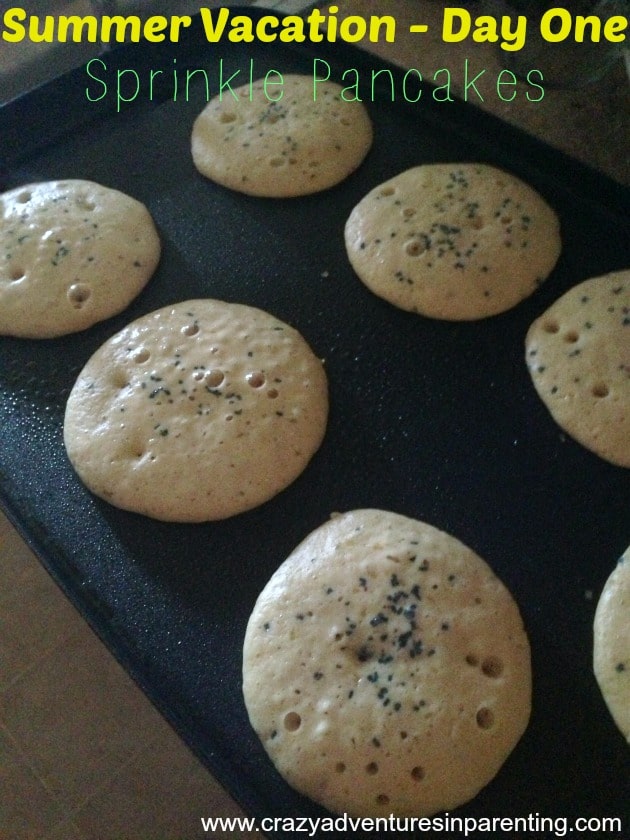 Unfortunately, I need more natural sprinkles, as I only had blue, green, and yellow. Whoops 🙂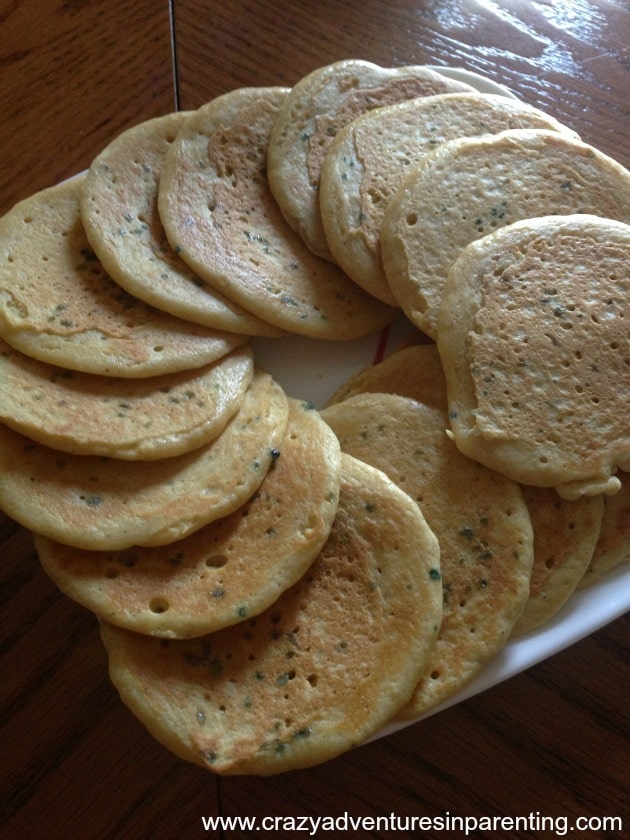 I'd call their first breakfast of summer vacation a WIN in my book.
My summer time-saving suggestion: Make two or three batches of pancakes to have on hand for an easy (and fast) breakfast. You can keep these in a baggie in the fridge to either heat in the microwave or toast in a toaster. You can also freeze your pancakes, or batch cook enough and cut into slices to make pancake sticks! Fun, right? Especially during those hustle-the-kids-to-camp-on-time days, this will help! Easy peasy!
What's your favorite recipe for pancakes? I haven't ever found a from-scratch recipe that works for me (and the kids), I've just always used mixes. I've mentioned before our favorite pancake mix, and I've shared other awesome pancake recipes, like pumpkin "carrot cake" protein pancakes, homemade blueberry pancakes, and even sausage pancake sandwiches, but I'd love to attempt to make ours from scratch this summer, and I'd love a good recipe – would you mind sharing yours with me in the comments? 🙂
Also, be sure to check out my new "Fun Things To Do with Kids During Summer Vacation" page, where all our fun summer ideas will be indexed