While a bulk of the unpacking has been done already, there are still some odds and ends that don't have homes, or organization for those things (so they're sitting in boxes until I can figure it out), and our garage has been untouched so far (yikes!). Plus, we've done NO planting whatsoever (which is SO unlike me). But, we've also had no time, with furnishing/decorating the inside, and school shopping, registrations, etc. We still have a full weekend of more school shopping, hair cuts, etc., to do before school Monday, too. (Can I haz a nap now?)
But! It's mostly done! I've spoken before about making a military house your own, and this time is no exception.
Here's our sunny and bright front door. The sign above our door was a gift from my brother and sister in law, the sconces are old decor pieces from when I sold Home Interiors long ago, the wooden colorful "Keys" holder is something the kids made me, the old entry table is from Hobby Lobby, and the rug is from Target.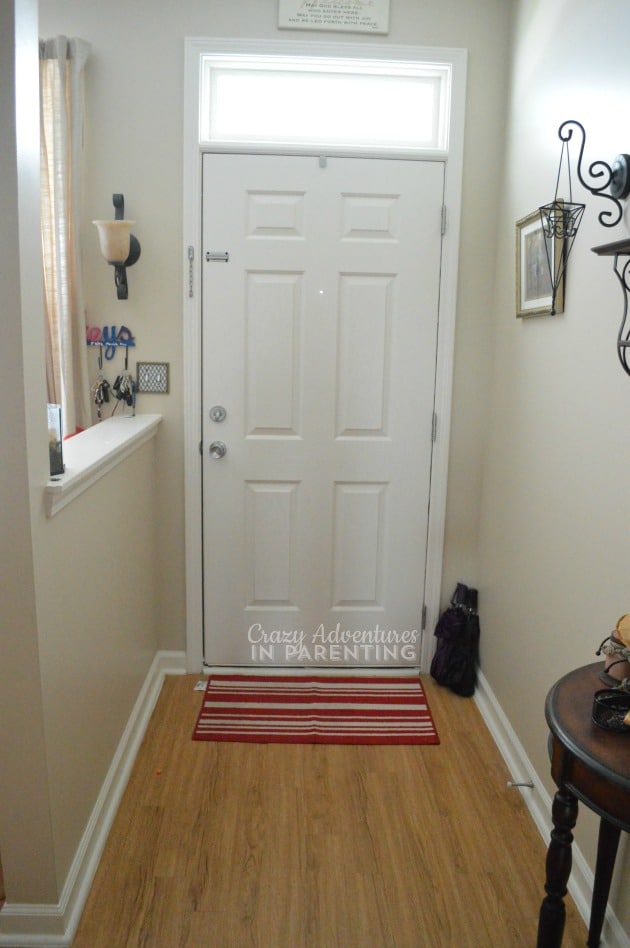 Ahhh, my kids' playroom. I have to tell you, I LOVE IT! It's so bright, with the huge huge windows, and playful and colorful and cheerful and YES! It makes me happy. I had my doubts about having the playroom as the first room in the house you see, but now? I FREAKING LOVE IT! Yay for finally redecorating it and making it awesome. Item crossed off our bucket list – check!
You will notice a couple changes from the last time I posted about it, the dotted rug from Wayfair came in (isn't it BEAUTIFUL!?), and we updated the wall art behind the futon. Those birds are PERFECT, aren't they? We got them from Target. I moved the homemade poppy picture over, and added my color block pictures to the left, above the dress-up chest (an oldie but goodie from Big Lots). We also added that flower picture above the bookcase (got it from Garden Ridge last year).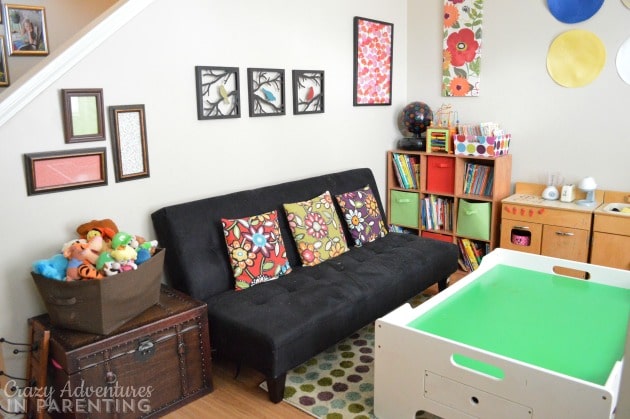 I love these curtains so much on the windows! That little pop of color at the bottom. And speaking of color – what do you think of that awesome cart!? Got both the curtains and the cart at Target, baby! (Gotta love stylish back-to-school college stuff!) That desk has now been organized so that the kids can work or play from it, using my husband's old office chair.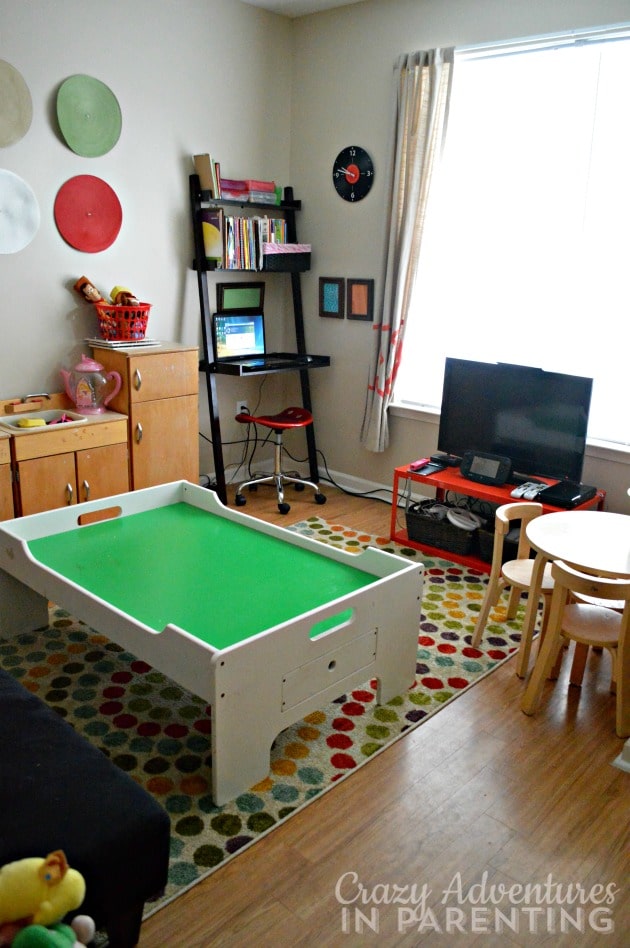 Another view of the window from the futon. The kids are LOVING their room in the house. THIS is EXACTLY what I've wanted to do for SO LONG! Yay for crossing things off from the bucket list!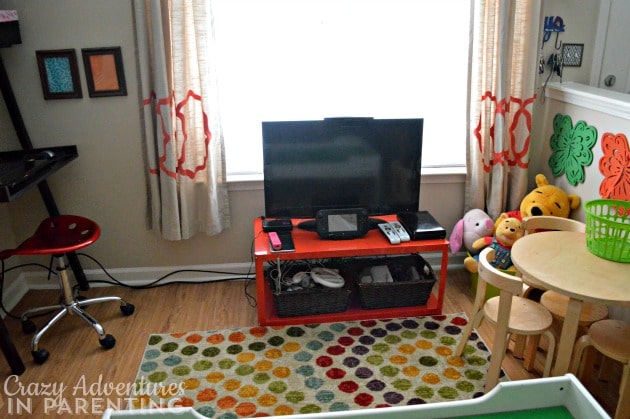 As I showed you before, our kitchen is ginormous! It hasn't changed much since being unpacked on day one.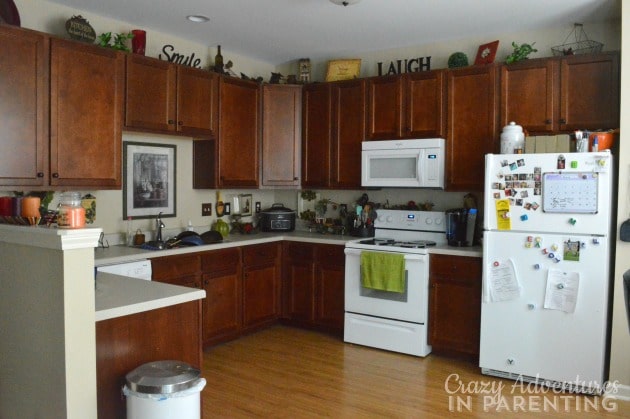 You've seen my new desk and desk area, but you haven't met my crazy big and comfy office chair (that's not decorative, sigh). I hate that it's the rolly kind, but it sure is nice to my lower back. I couldn't find a good decorative high back or conference chair that didn't hurt me.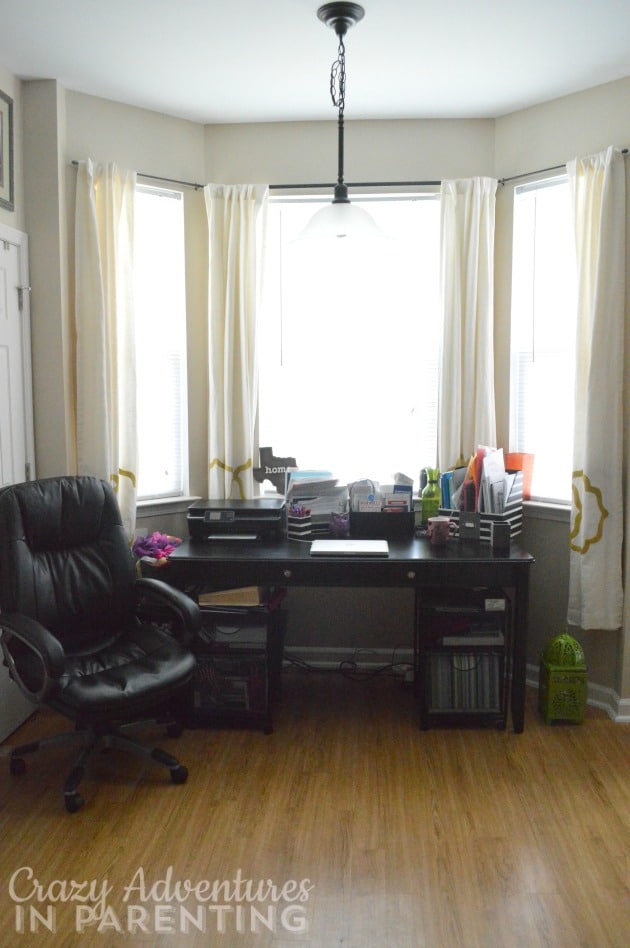 Our dining room, with the clock addition above the door, and the new back door rug from Target (that's Mystic's favorite).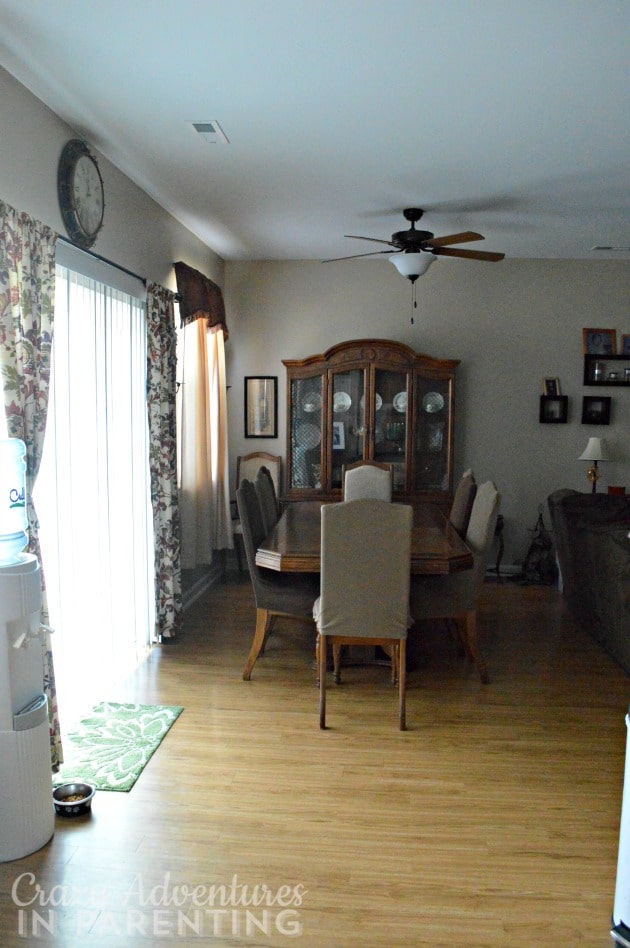 Our living room hasn't changed much since being unpacked on the first and second day. I'm still iffy on that "Family Rules" picture there above the smaller couch – what do you think?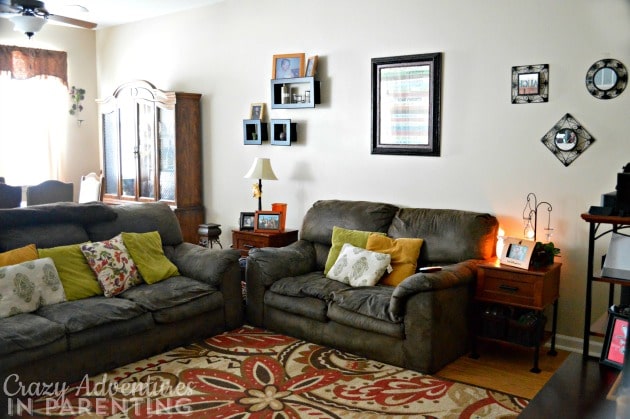 I'm reeeeeally loving that clock up there.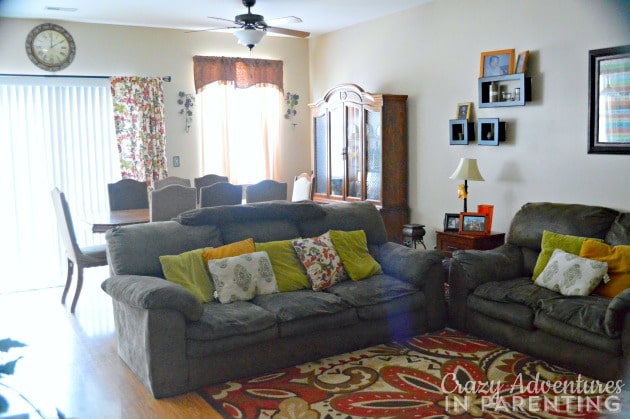 This wall hasn't changed, except I added the spare dining chair here. In our old house, we used to have a green chair with that pillow underneath this art. I am not sure, it might be too big for this wall now, though.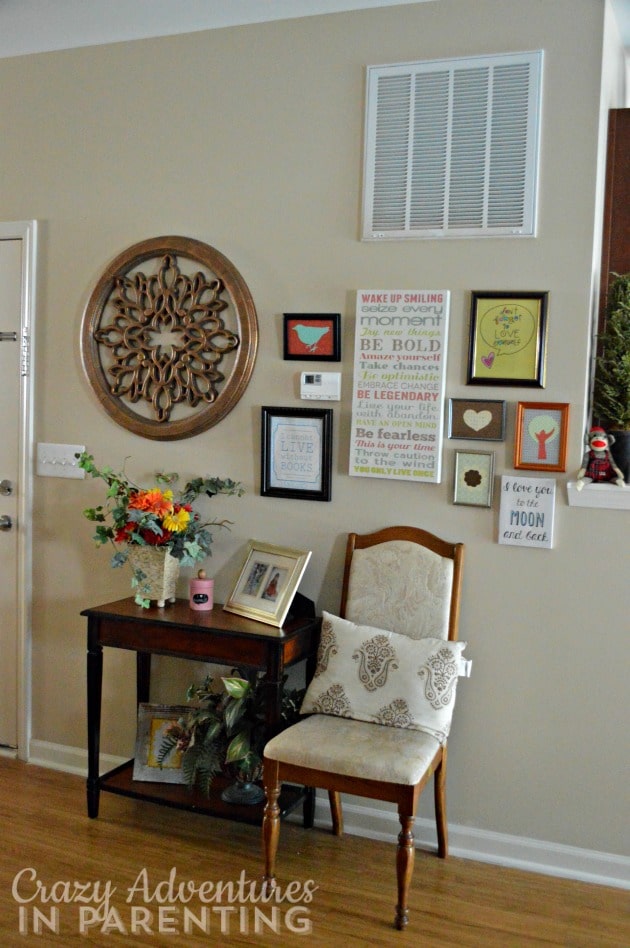 In my previous unpacking and decorating post, I shared with you the images of our living room, not knowing what to do with the TV wall. After a lot of input, I found this fantastic starburst mirror and these fantastic circular mirrors at Target, and went with it. What do you think? We also added those cute decorative vases from Anna's Linens, too.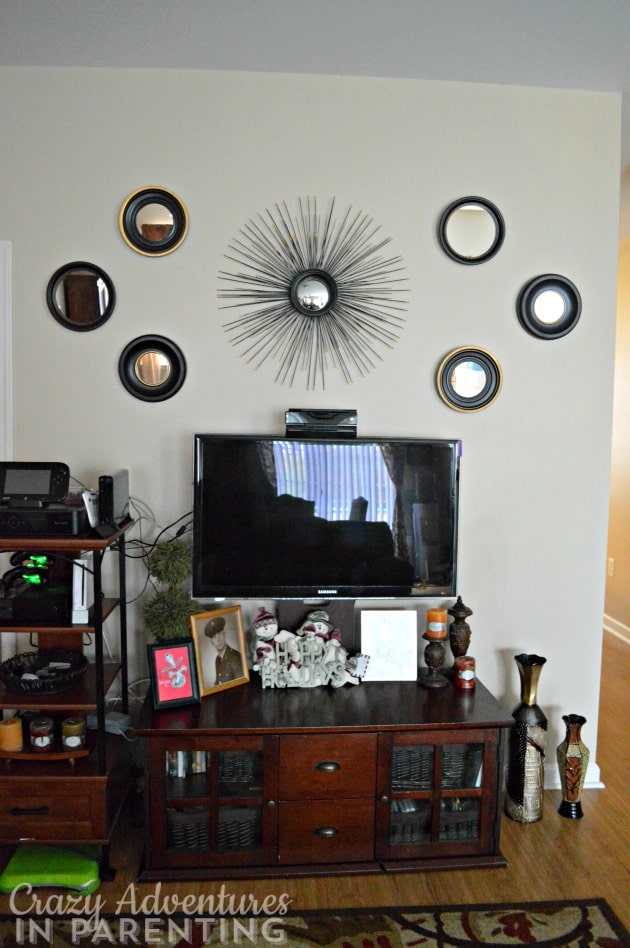 Here's the new look above our TV, now that the wall clock is over the sliding door. I really love the sunburst mirror, don't you?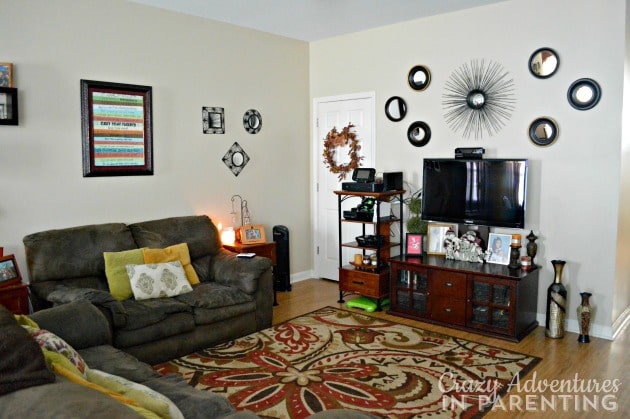 Lastly, our Mickey Bathroom is the same, still. As one person said, it's the happiest place on earth to potty! *giggle*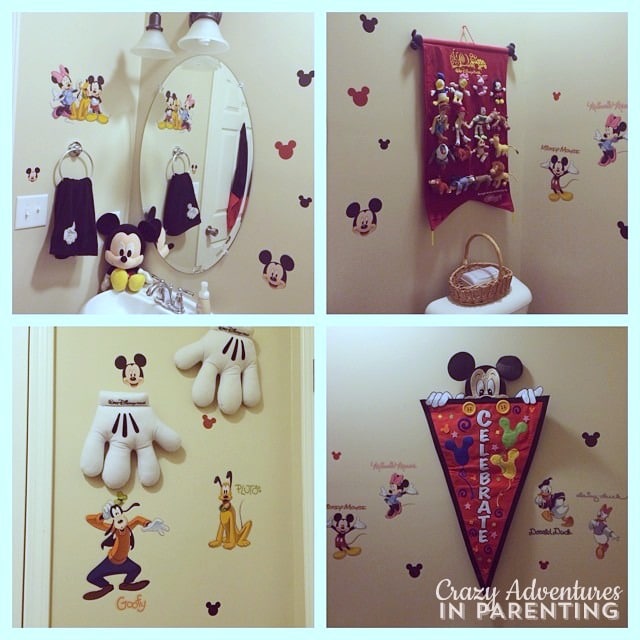 Now that we've toured the downstairs, here's the upstairs! But first, the actual stairs! If you've ever been in any of my houses, you'll know that I decorate the stairs' walls with a TON of family photos. The weird thing is.. I'm pretty sure this isn't all of them? I think the packers may have packed some in a box elsewhere, perhaps in the garage? I can't confirm, but I feel like I'm missing some. Meanwhile, here's the three walls of the stairs so far…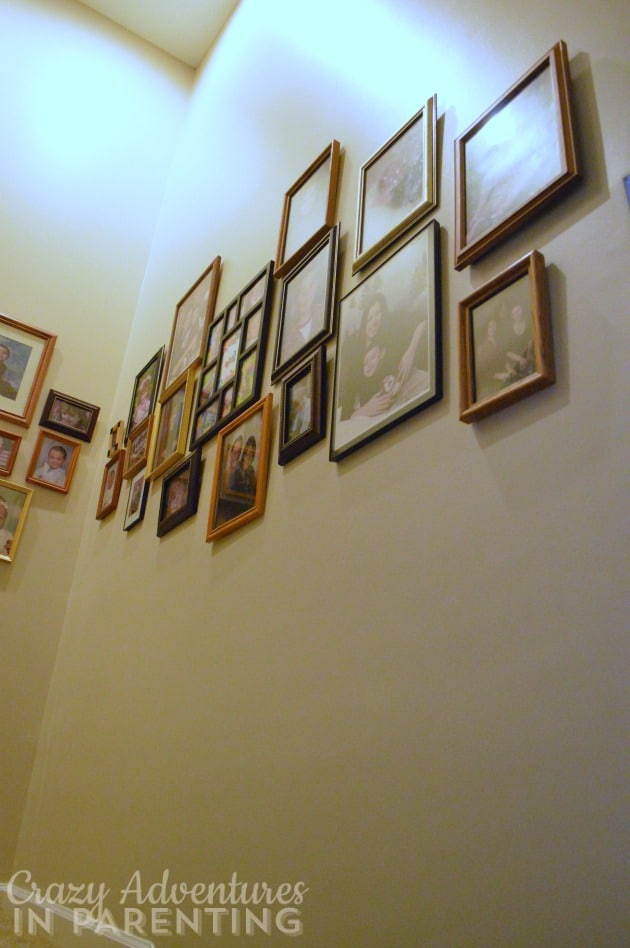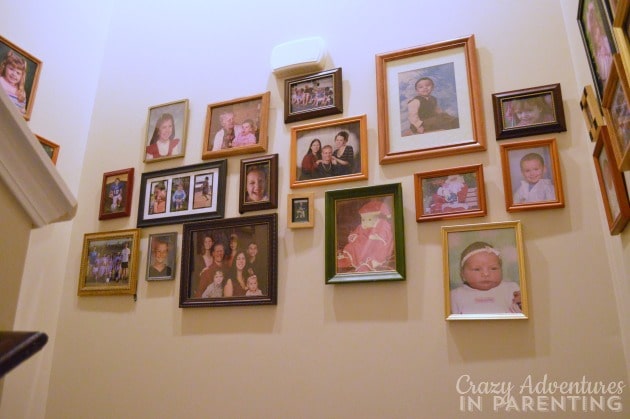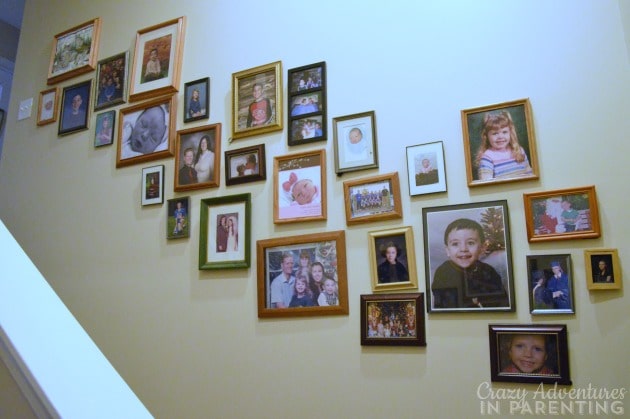 At the top of the stairs, you reach the Really Long Ass Hallway™. That double door on the right is a fun one!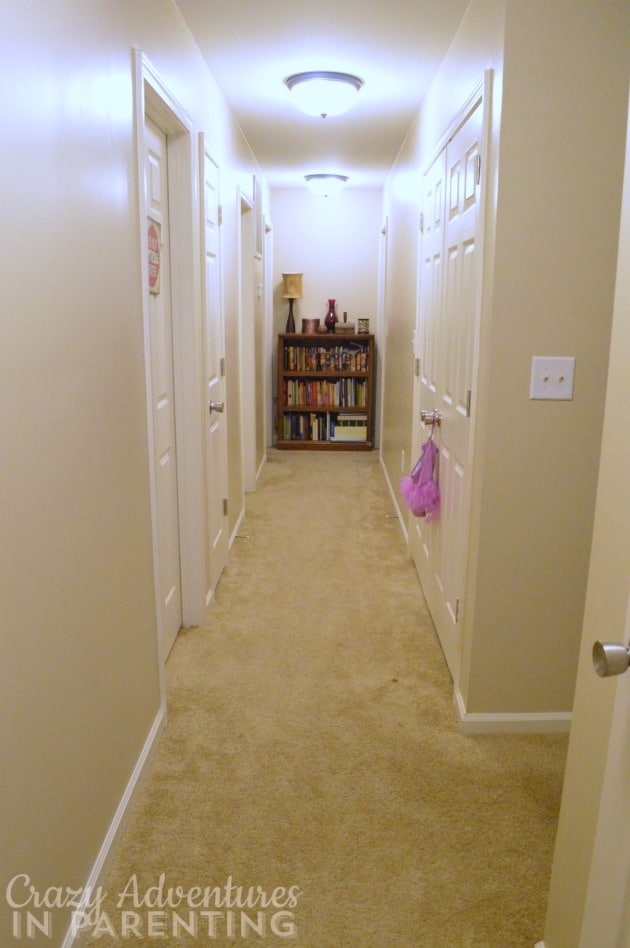 The first room, to the left of the stairs, is the boys' room. A little back story to the boys' rooms – originally, when Baby Dude was small, and Super M and Major Spaz shared a room, they had matching Ashley furniture in natural wood with Robin's Egg Blue. It's BEAUTIFUL stuff, but it was a combined set, with an expandable headboard (from twin to queen), a bookcase trundle bed, two dressers, a desk, TV stand, and end table. Gorgeous, but the Robin's Egg Blue became too "boyish" for the teen, who now wants black so he can do a Steelers room. The two younger boys, who share a room, didn't want the set anymore, either, even though they had the room to fit it all, they both wanted bunk beds. Now, the Ashley set sits in my garage, awaiting an eager seller while we have new furniture for the boys that works a LOT easier (and roomier) for them. Their new white bunkbeds looks REALLY good! (I was nervous getting white and not black, but I was wrong!)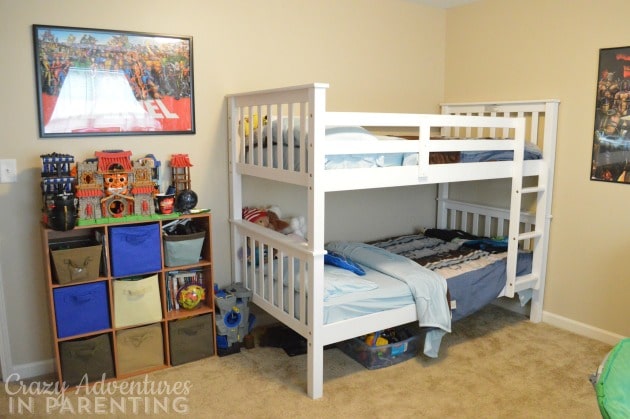 This is Super M's new dresser and mirror – we bought their set at a furniture store that was moving locations, so it was discounted. (Hooray!) We frame their favorite characters in posters on their walls.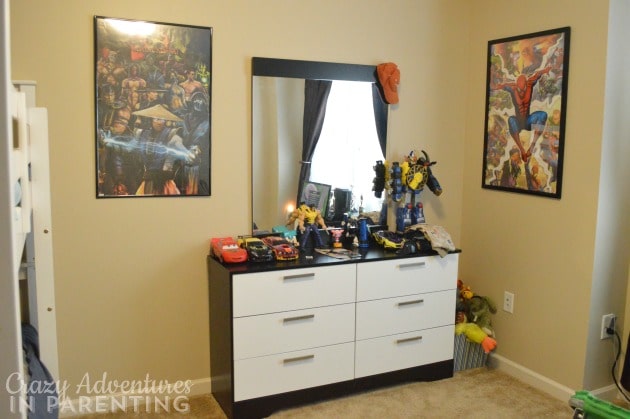 That Route 66 photo we've had a while from Hobby Lobby, as well as those bins I think we got from either Target or Walmart a loooong time ago. (That's their entry door on the right, by the way.)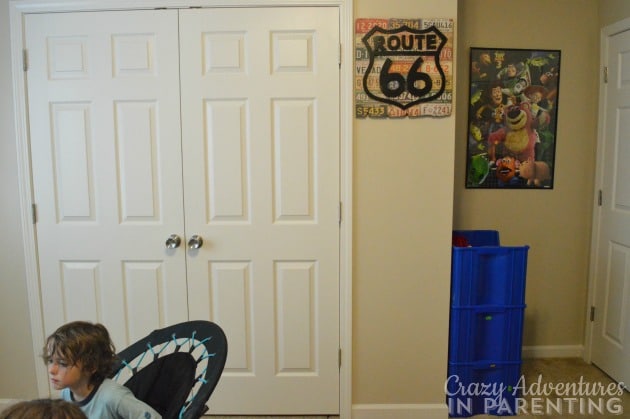 Inside that double door above is their huge closet. Each bedroom has a huge closet like this with those double doors. These closets are big enough for dressers to go in, so that's what we did with Baby Dude's dresser. (We might swap it out with the bookshelf, since the bookshelf is still natural wood, matching the old set. Not sure whether it'll stay like this yet or not.)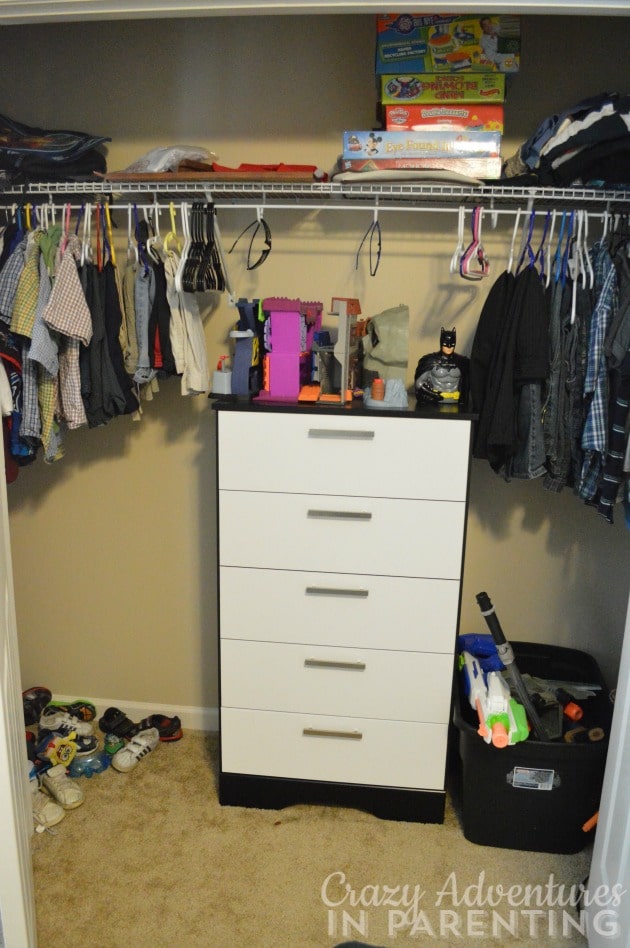 This is the view of their room from their door, they're football curtain tie-backs with an end table as their TV stand. Those drawers conveniently hold games, controllers, chargers and more. We've had that green chair a while, but that black/blue one we purchased from Office Max. My son's soccer trophies line the spacious window sill.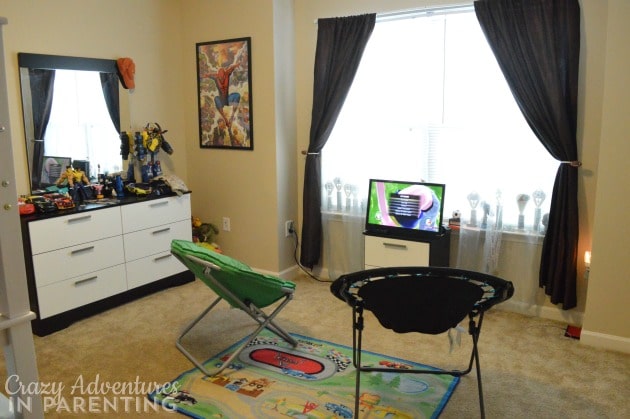 Pretty neat room for young boys, don'tcha think? They're on the Cars carpet right now, but all the Matchbox and Cars vehicles are underneath the bunk, easy to pull out and play, as is all their other toys, like Imaginext, Legos, Beyblades, Super Heroes and more in each bin in the bookcase. (As if you couldn't tell from the images above, we looove Imaginext stuff.)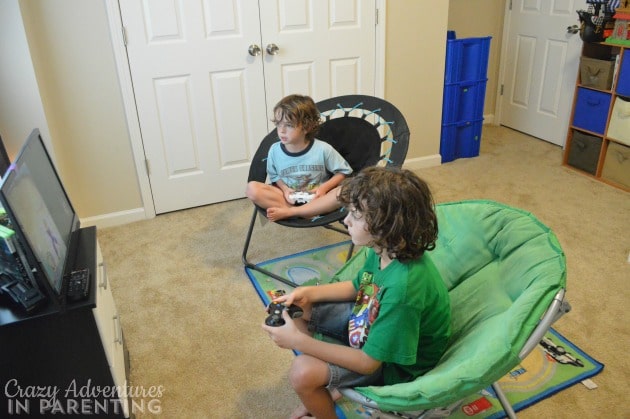 Right outside their door is the first linen closet, which holds spare blankets and sheets.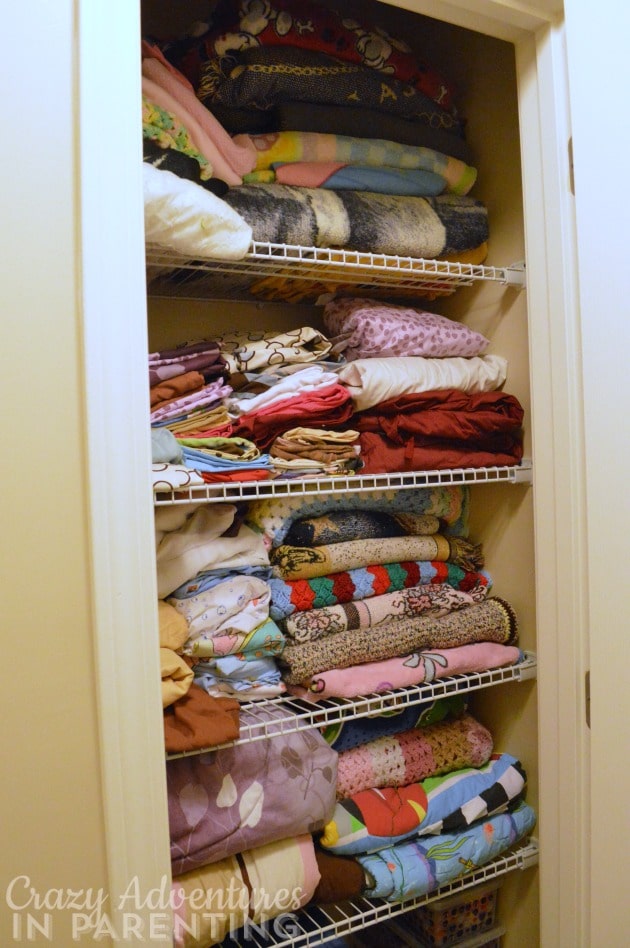 The next door you come across is my oldest son's door, but his room isn't finished yet, so we'll walk you through that another time. 🙂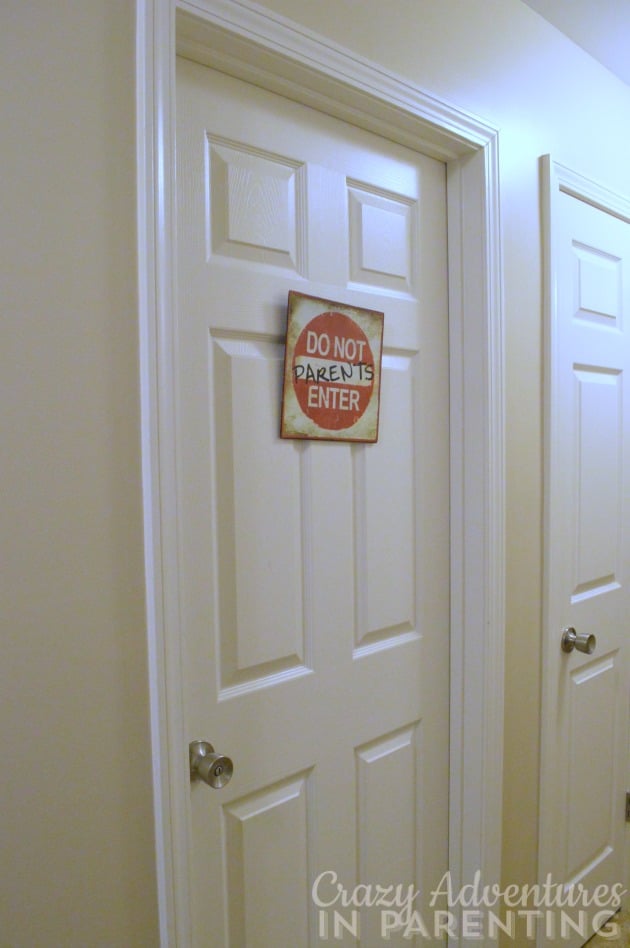 Those fun "double doors" in the hallway are across from my oldest son's room, and it's LAUNDRY! UPSTAIRS! YES! We loooove having the laundry upstairs! It makes it SO much easier to do and put away daily. These past few weeks we've been right on top of it. Those things you see hanging are hanging from a tension rod extending across there, so I can hang the delicates. Please excuse the mess on the machines, though, that shelf above the machines is hella hard for me to reach. I need to organize a little better on top (and remember I have shelves underneath the machines, too! Duh!) Haha.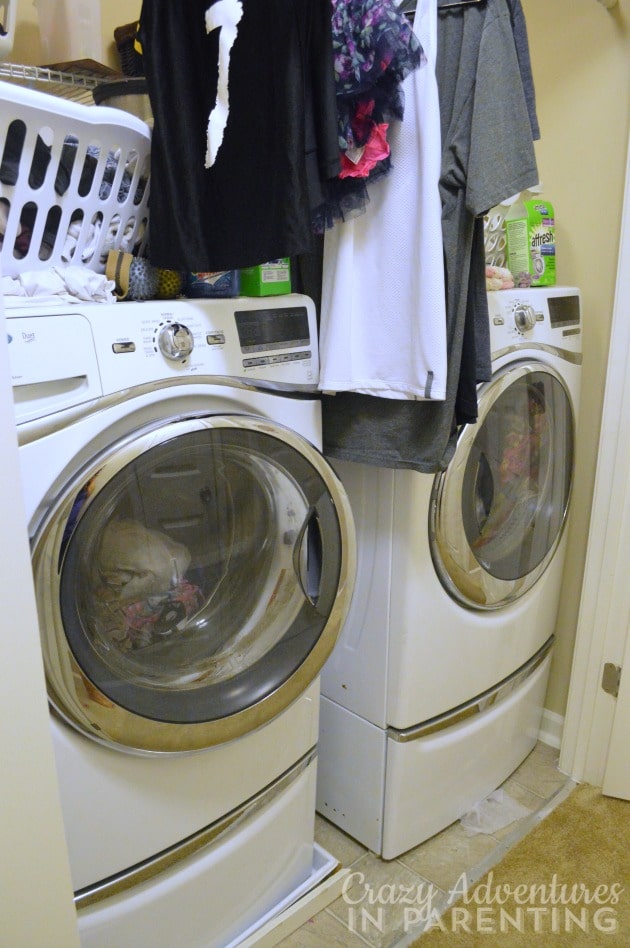 This is our second linen closet, across from the laundry. It holds both bath and beach towels, hand towels, and washcloths. On the bottom, we normally have our beach towel bag ready to grab and go when we want to swim. This closet is super handy to have here, as soon as I wash and dry the towels and washcloths, I can fold and put them away immediately. Same with the sheets, they're right there, too.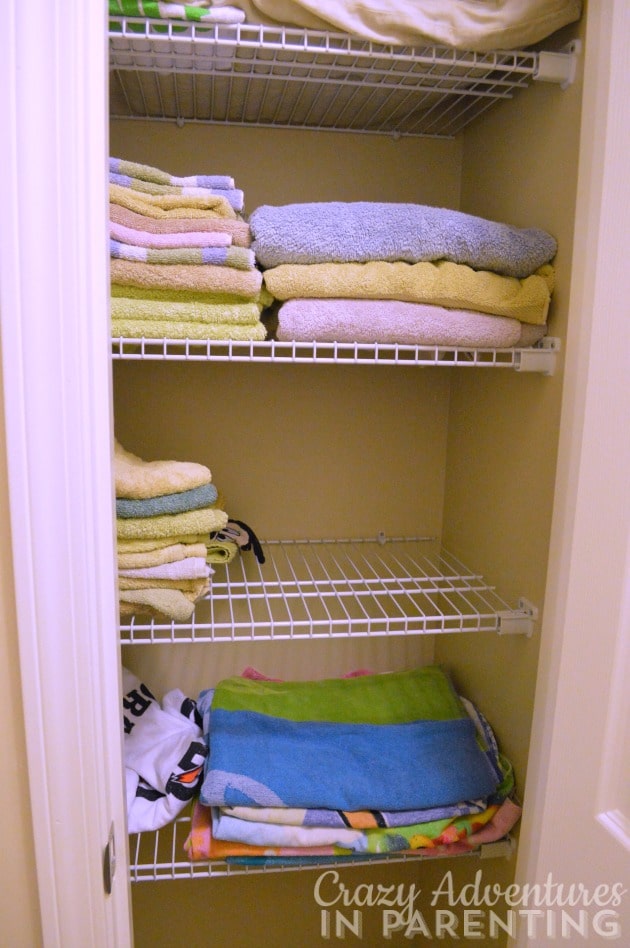 Next to the towel linen closet is the kids' shared bathroom. It's in desperate need of finish or redoing. It's been ocean animals forever, but we've lost a lot of the accessories over the years. I either need to find new pictures and stuff for their sinks (like toothbrush holders, soap dispensers) or get a whole new theme. But the double sinks for all my kids is super nice.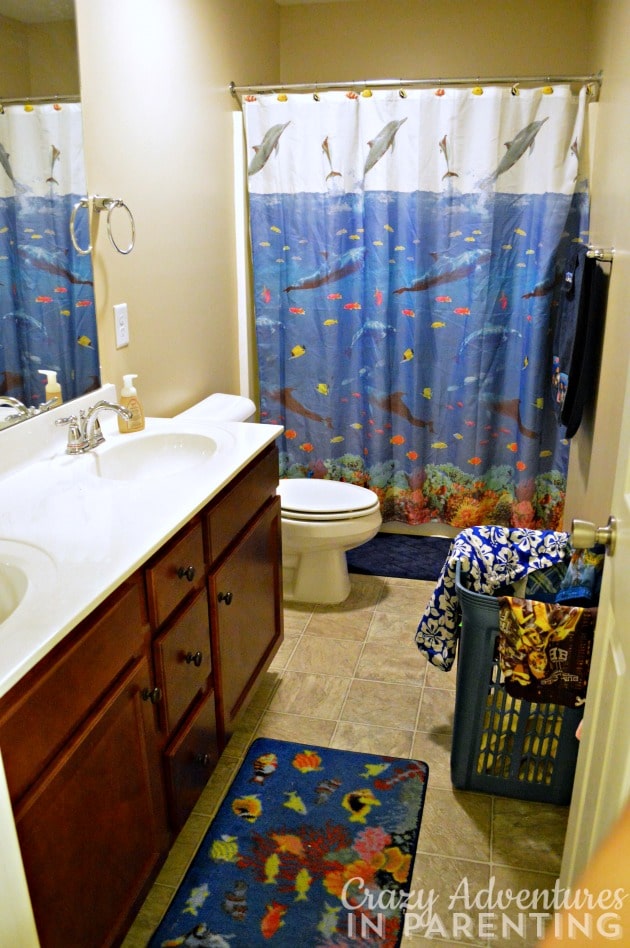 This is the girls' room, across from the master. They stuck with their bunk beds, also to have more room, and are sticking with their pink/purple theme, so not a ton has changed in their room, except new bedding, drapes, and a new dresser. The pink ruffly bedding on top is from Target.com, and the bottom set is almost identical to what they both had before, and it came from Anna's Linens. The boxy shelves, as well as a lot of the wall decor is from Home Interiors Kids Collection.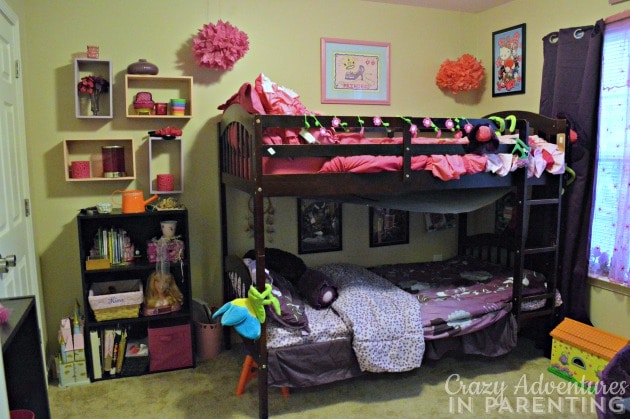 That beautiful portrait is from Garden Ridge, the flowers from Home Interiors Kids collection. We hung a hook behind the door for her to hang some of her favorite costumes. The bookshelf also features some of my older daughter's clay creations in art class (she loves art).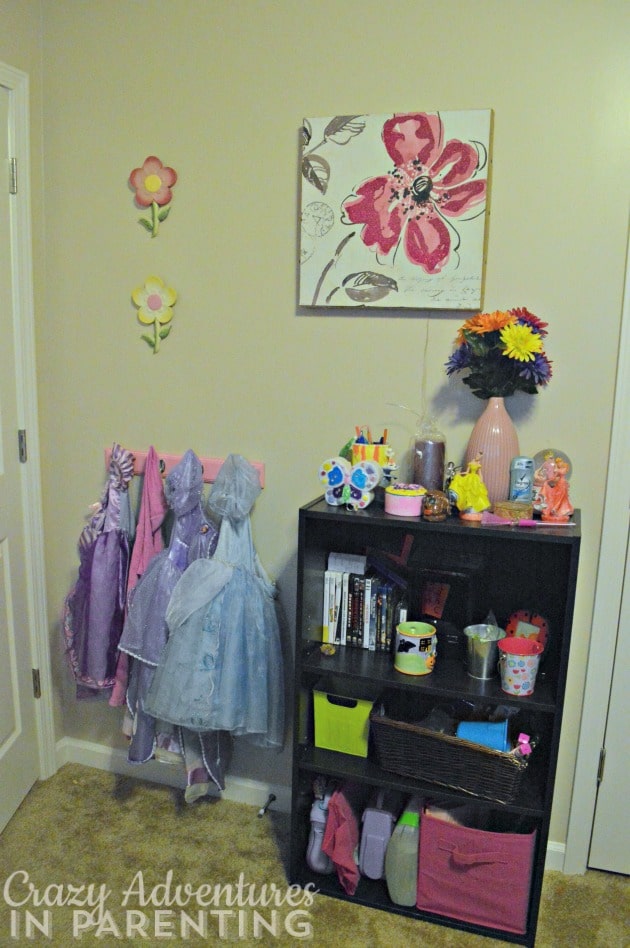 The new and beautiful Sauder Shoal Creek dresser is from the PX and it holds their TV and Wii. The picture above the door is from Garden Ridge, the flower mirrors are also from Home Interiors Kids. (Can you tell I used to sell it once upon a time? lol)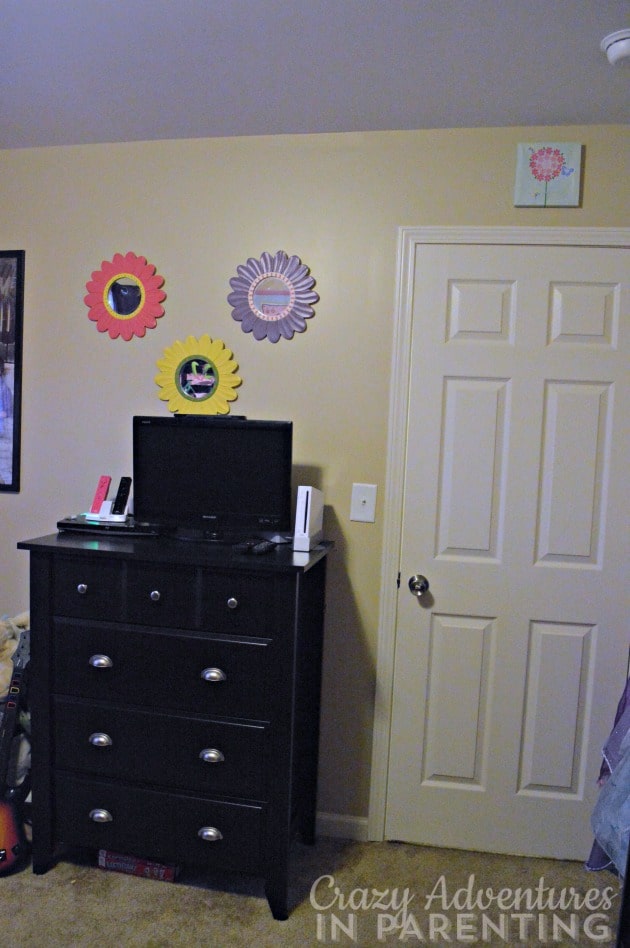 The purple curtains are also black out curtains we purchased from Anna's Linens. Other than the boy poster, the decor you see is, again, from Home Interiors Kids. My daughters' soccer trophies line their window sill, too.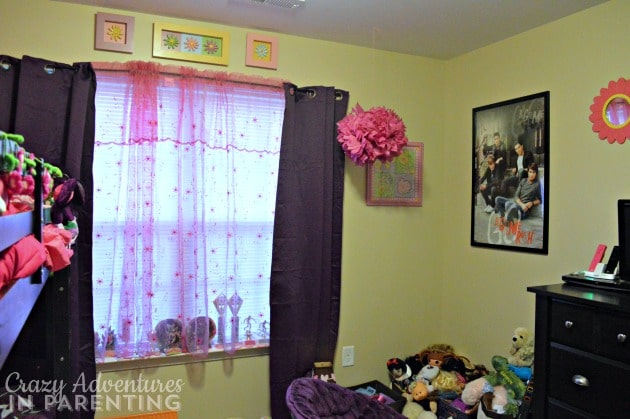 They also both have their gaming/reading chairs in their room, the purple was one we'd had for a while, and the black/pink is the same as the boys' chair, it also came from Office Max.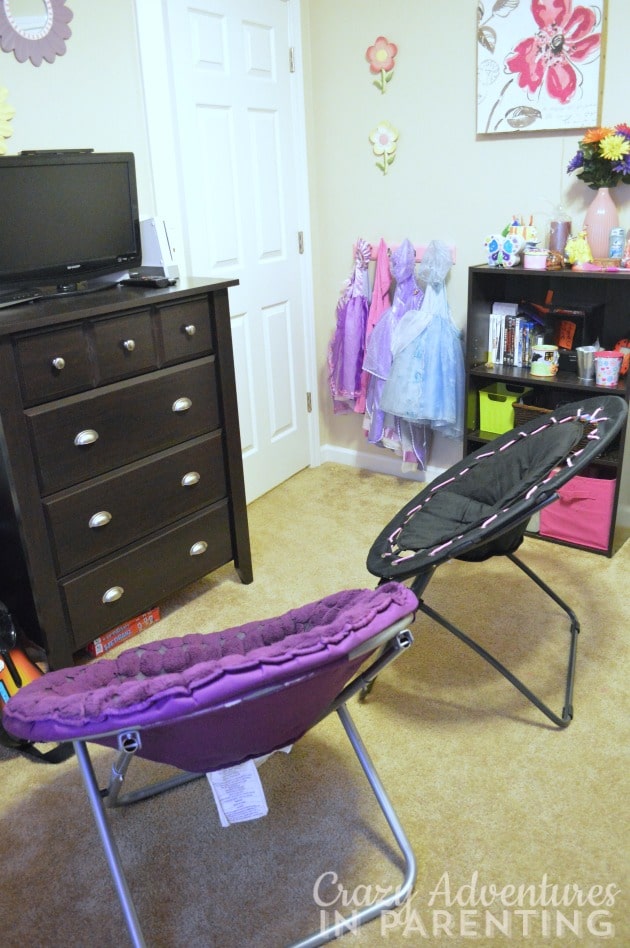 Our master bedroom is becoming dreamy! We finally did it, we got new furniture, too! (More bucket list things to check off!) Unfortunately, it's hard to show you right now with the room in chaos. This is the new headboard (with footboard and wood rails) from the PX and wall decor from Target. (My old dresser is seen to the left, but it's been replaced with my shiny new chest, that just got delivered yesterday! Eek!)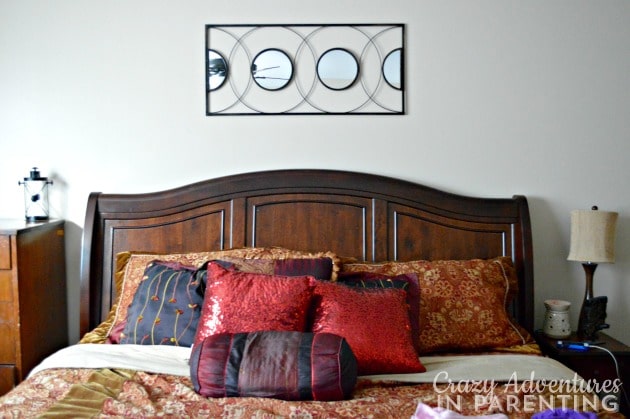 This is my husband's beauuuutiful dresser, that unbelievably not only fits all HIS clothes but the bottom three drawers there? Those are MINE. Can you believe it? My chest of drawers isn't big enough for all my stuff, so now I use drawers from his. Amazing! This set is called "Cameron" by Elements, and it's soooo pretty!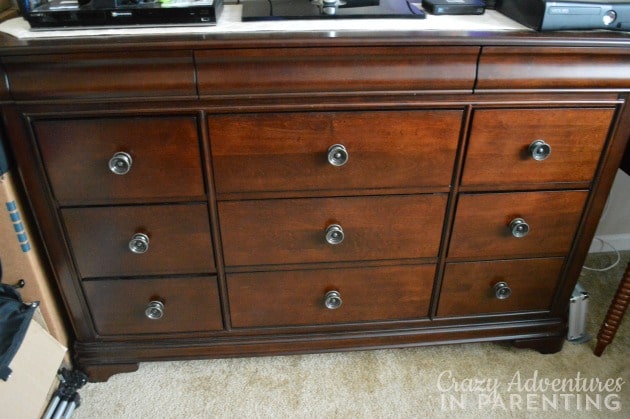 We got this Arden Writing Desk by Kingstown Home from Wayfair, with the gorgeous spindly legs. It matches perfectly, and looks lovely in our room. Unfortunately, as you can see, it's covered in tools because we're not done working on the house yet, haha! More from our master soon, as soon as it's finished!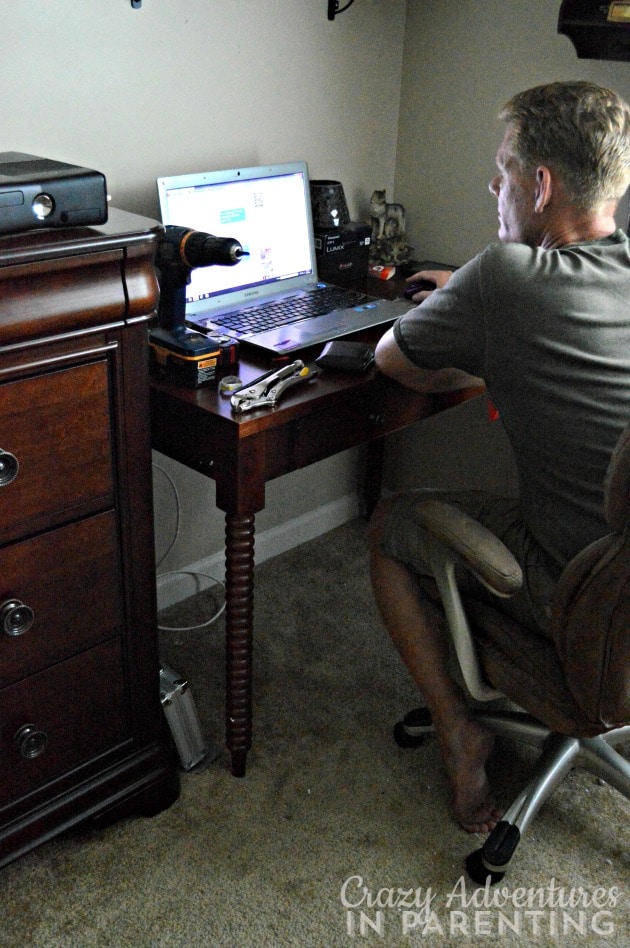 Our master is spacious – we have a two-room bathroom with a walk-in closet off the back of the first room. Here is our double sinks to start, lots of room for our stuff. Behind this is our walk-in closet (which I will spare you from seeing until it's organized better).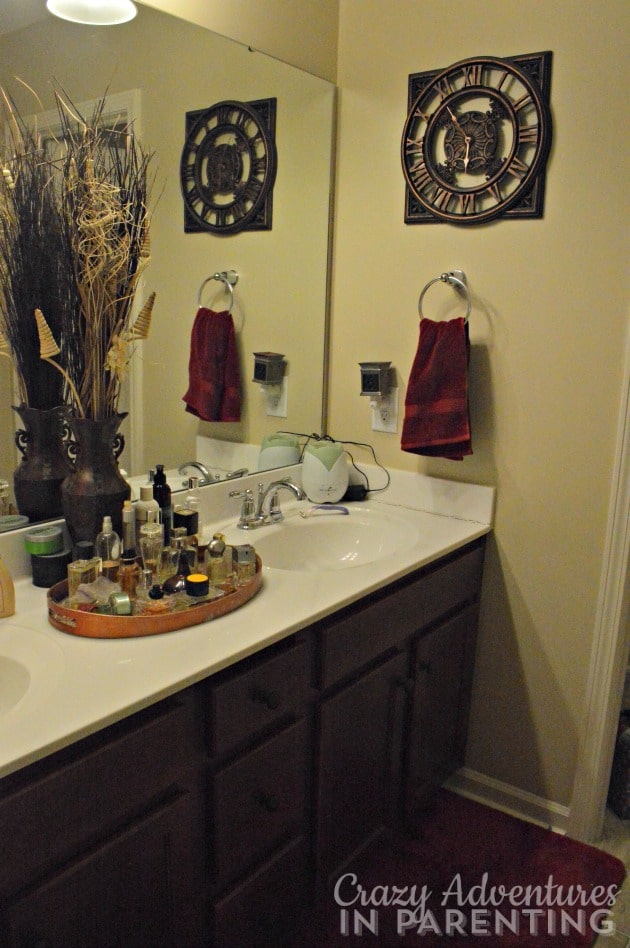 Through the door into the second room of the bathroom is the shower/toilet area, again lots of room, just not enough for a good photo of it, so you'll have to take my word. We haven't unpacked our shower curtain from the garage yet – we had it stored, since we had a glass shower stall in our San Antonio house.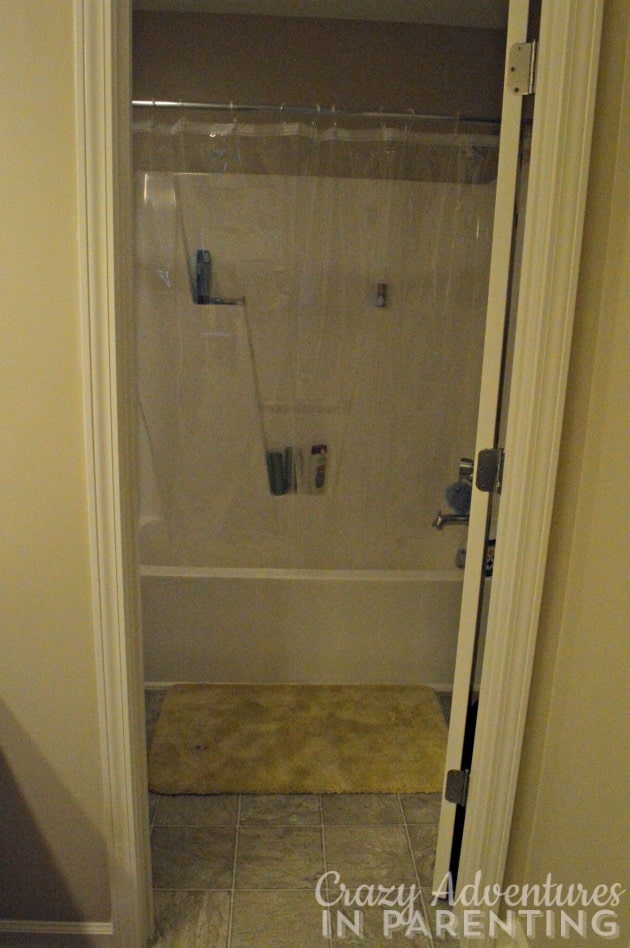 This is the view of the stairs from the top. It really feels like home now that these pictures are (mostly) hung.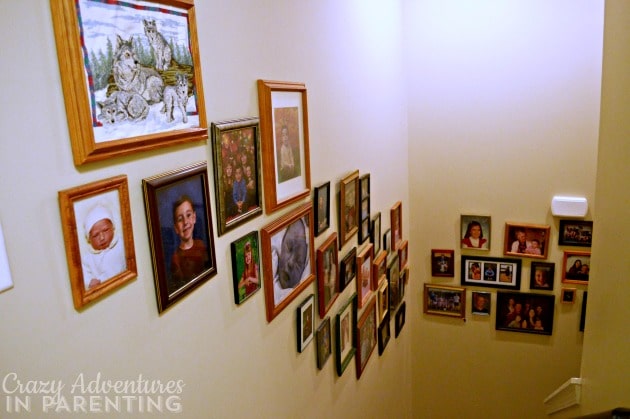 Here's the view from the middle landing, looking down to the first floor. That military cowboy picture has been with us for almost a decade (also from Home Interiors). It seemed fitting to hang it so prominently right there. Still stuck on that right wall with our "Home" sign. I asked you guys the other day, since I don't know how to arrange those pictures, especially since they used to stair-stack like this.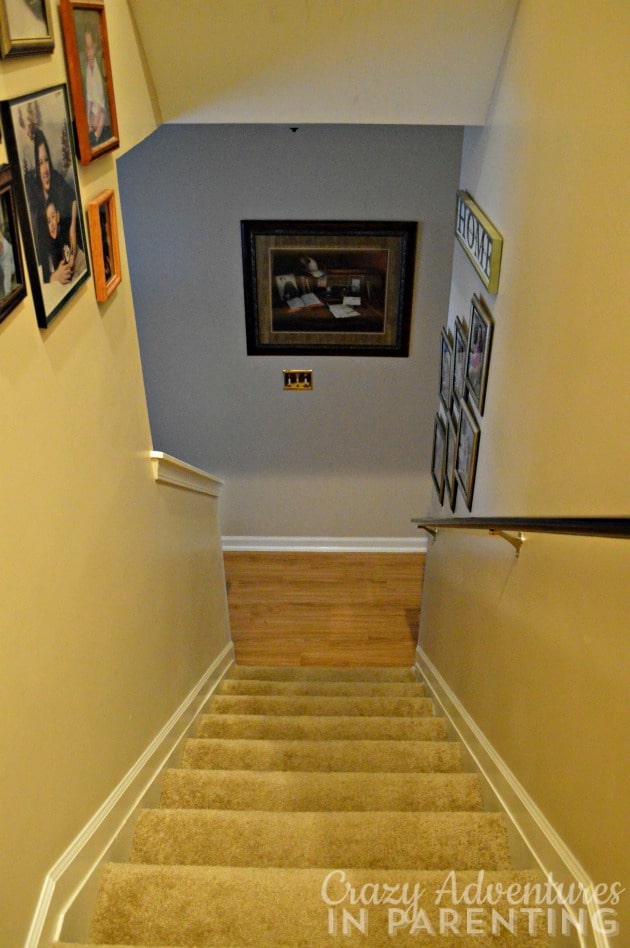 That's it! What do you think of all we've accomplished and done in the past three weeks?