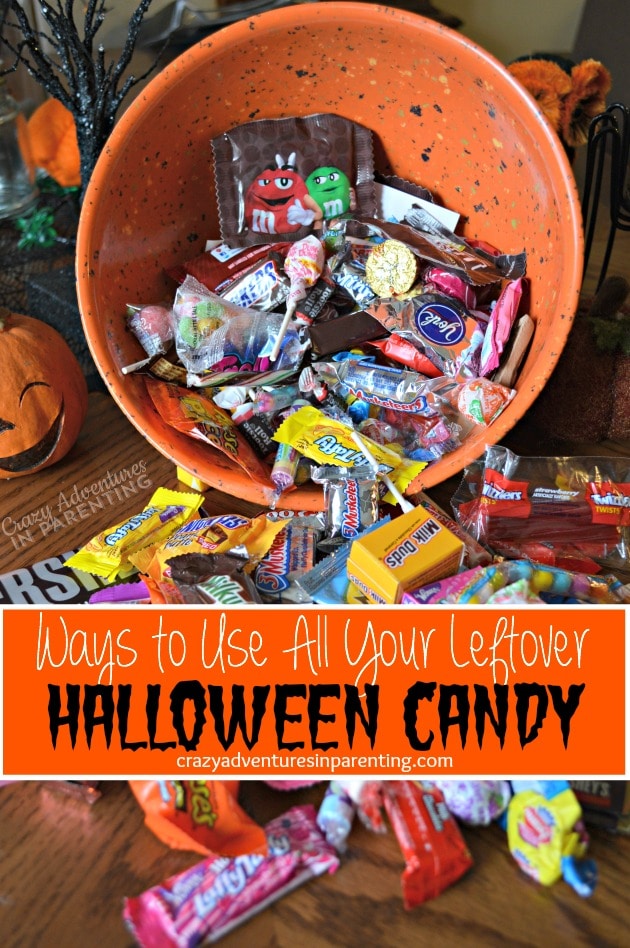 Oh, Halloween. We love you so hard. We love dressing up in costume, decorating the house, and throwing Halloween parties. The kids particularly love walking door-to-door to get all the candy their little trick-or-treat bags can hold, am I right? But once you're home, and the Halloween craziness is over, once you've checked it to be sure that it's safe (and sorted out the stuff that your family likes from what they don't like), it's A LOT, isn't it? Once the kids have enjoyed eating pieces of their candy for a few days, you can be left with bags upon bags of leftover candy. What do you do with it all?
Here are some great ideas on ways to use your leftover Halloween candy:
Bake with it. While I'm sure additional sweets might be the last thing on your mind right now, adding some candy into a baked treat is a nice little added surprise perhaps as a dessert? Or made for someone special? Here's a few candy-incorporated recipes I recommend trying: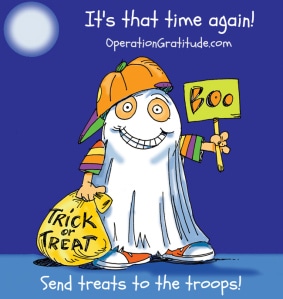 Give it. Being military, we know firsthand you can send candy to our troops overseas. Operation Gratitude can help you with that! Not only that, but you can find a local dentist who will, too! Visit HalloweenCandyBuyBack.com for more information and to search for a dentist near you.
Trade it. Got a bunch you don't care for? Get together with friends and barter for ones you might like! Maybe make it a costumed affair, so that you get to wear your costume again?
Decorate with it. Perhaps that bag of Skittles isn't something you and your family enjoy? Why not let your kids craft with it by gluing it to a picture frame, or something else fun? Here's a few fun candy crafts for you to try:
Learn with it. Ever considered conducting science experiments with it, or using candy pieces to count with? Candy can be fun to learn with, too? Here's some great ideas to use candy with learning:
Reuse it. Trail mix tastes particularly awesome when M&M's are added to it. Maybe make up a batch for a school snack or after-game treat if they play sports? You can also save your kids' candy for later to use to fill a piñata for your child/ren's next birthday. Maybe dole out some as a party favor? Perhaps the school would like some candy to use for a craft? Why not stash some for your gingerbread house? Or, reuse your leftover candy for a fun decorative holiday wreath?
Freeze it. Not only does candy freeze well for use later (lasts about a year), why not make a bunch of cookie dough with candy bits and freeze it for the upcoming holidays? Here's a few great frozen cookie dough recipes for you:
Also, here's a few frozen ways to use your candy (think ice cream):
Sell it. Why not offer for your child to "sell" their Halloween candy back to you in exchange for something they want (more than candy)? Or, maybe not sell it to you but to a local dentist who might be implementing a "buy back" program?
Bring it. Pack a few in your purse (for emergencies only, ahem), and send some to the office, too. There might be single folks or people without children there who might not have gotten to trick-or-treat and would love a little candy surprise!
Share it. Why not bring it a local nursing home, children's shelter, fire station, local church, children's services, even doctors offices and local emergency rooms at the hospital?
What ways have YOU gotten creative with your leftover Halloween candy! Share with me in the comments below, I'd love to know! (We have SO MUCH LEFT, AHH!)