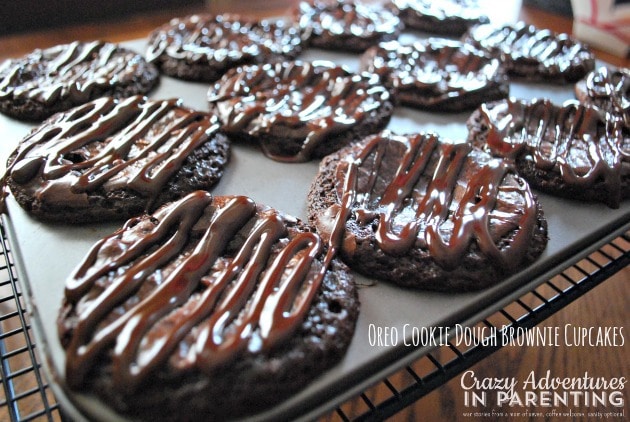 Please don't hate me for this one. This is one of the most decadent desserts out I've ever made and enjoyed, and it's not at all hard to make. You might recognize this from my Dessert for Dinner post.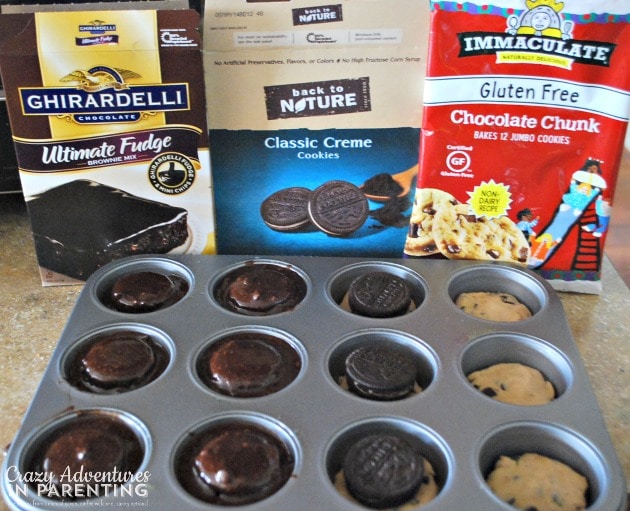 See how the layers work? Favorite chocolate chip cookie dough on the bottom (ours is, hands down, Immaculate Baking Gluten-Free Chocolate Chunk), Oreo-type cookie in the center (we love Newman O's or Back to Nature), and a fudgy brownie mix on top. (Ghirardelli's Ultimate Fudge always hits the spot).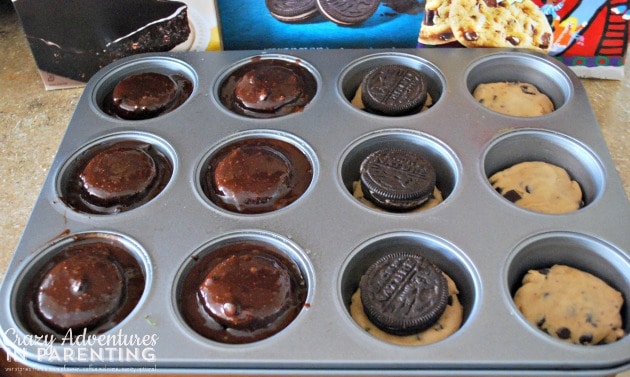 Bake until the brownies on top are cooked to perfection.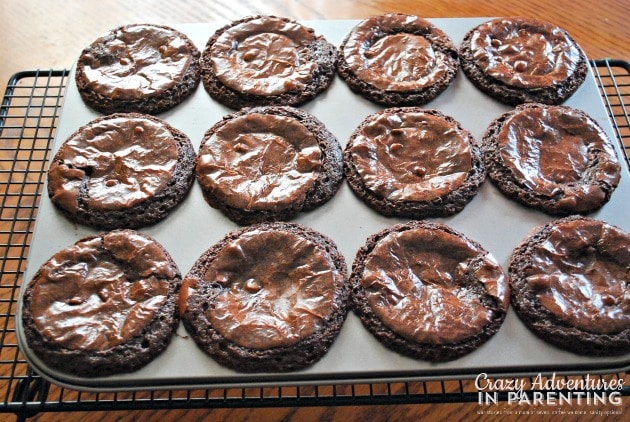 I swear I wanted to dig these out with a fork before they were even cooled. MY GOSH!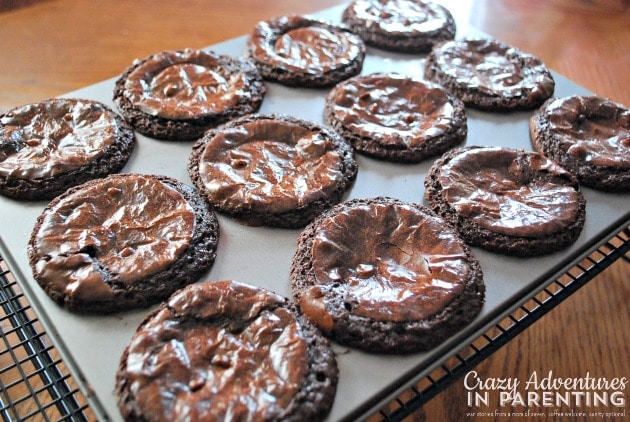 But no, you can't! You simply MUST drizzle fudge sauce on top. YOU MUST! (Or caramel.)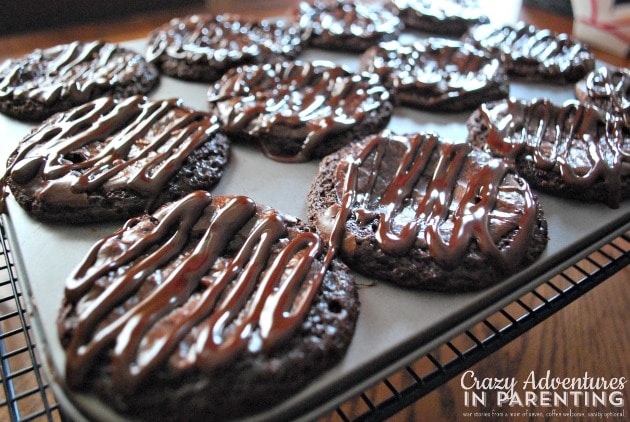 See that right there? HOLY CANNOLI!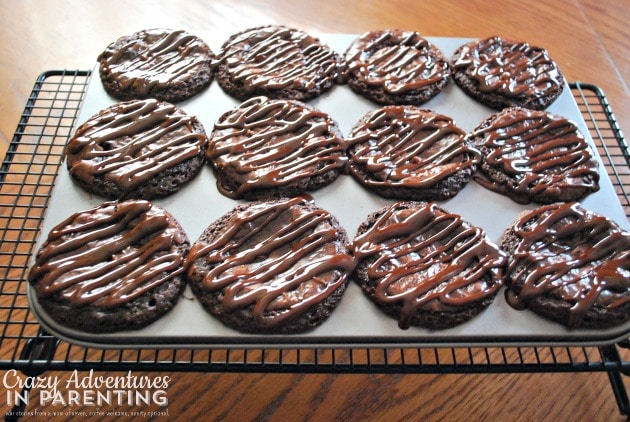 I sliced open the insides for you, so you could see how the layers look. Holy fudge! Holy creme! Holy cookie dough!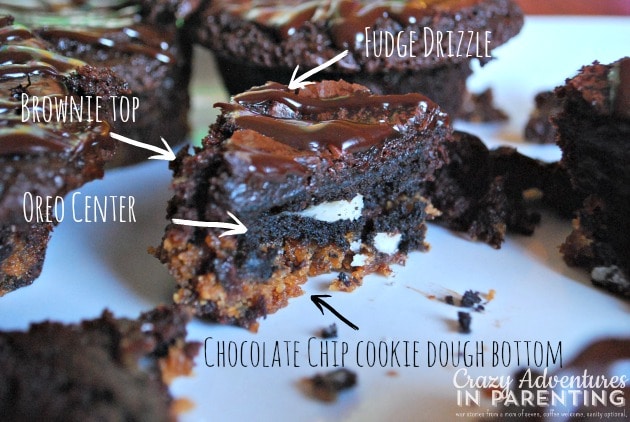 Alright, friends – who wants one? I've got extra, but if you want to make 'em for yourself, here's the recipe:

Oreo Cookie Dough Brownie Cupcakes
A fusion of two separate cookies and brownies into mega-stuffed cupcakes, these Oreo Cookie Dough Brownie Cupcakes are TO DIE FOR!
Ingredients
1 package Immaculate Baking Gluten-Free Chocolate Chunk Cookies
1 package Oreo-type sandwich creme cookies (we love Newman O's or Back to Nature)
1 package of your favorite brownie mix (we love Ghirardelli's Ultimate Fudge)*
Hot fudge sauce or caramel sauce
*ingredients needed for your favorite brownie mix - we needed one egg, water, and oil.
Muffin cups (optional, but recommended)
Instructions
Spray the muffin pan both in the wells and on top, as the brownies will spread (spray the paper cups if you use them, and still spray the top of the muffin pan, too)
Massage each cookie dough ball to fit the bottoms of the muffin pan; place gently into the sprayed well.
Layer one Oreo creme cookie on top without pushing down.
Mixing together whatever ingredients you need for your brownie mix, and, using a tablespoon, gently spoon overtop the brownie batter.
If you're using a standard muffin pan, the muffin wells will fill up almost to the top.
Bake at 350 for 15 or so minutes, keeping an eye on the brownies on top - they will be fudgy and soft, but crisp around the edges. Do not overbake.
Set them on a baking rack to cool - drizzle with hot fudge sauce or caramel.
These were made for my husband's birthday yesterday. HAPPY BIRTHDAY, HUBBY!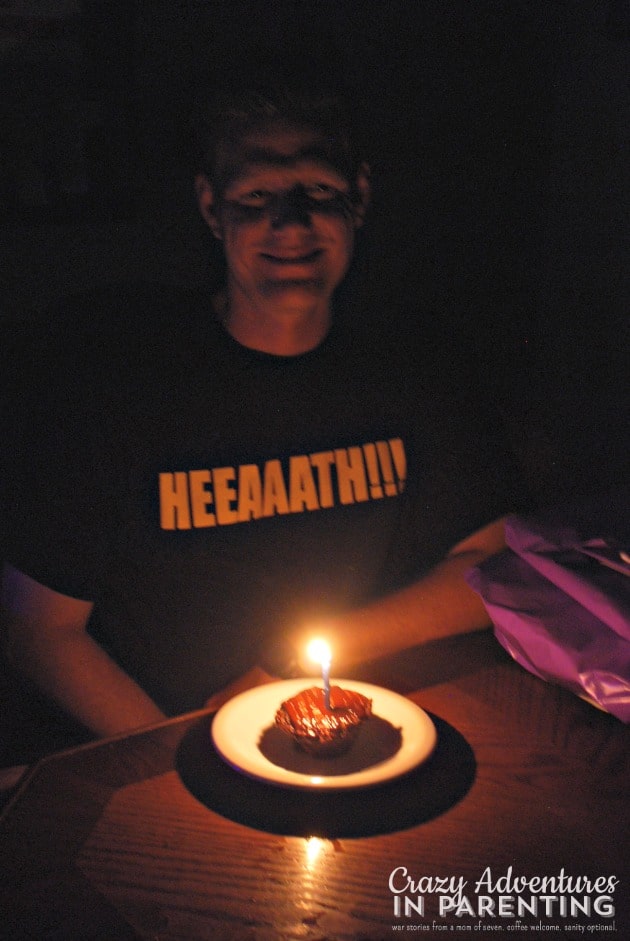 This was his birthday cupcake. And it was DIVINE!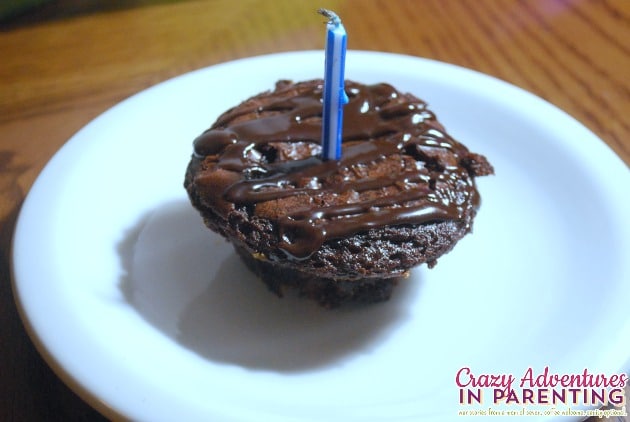 Look at those LAYERS!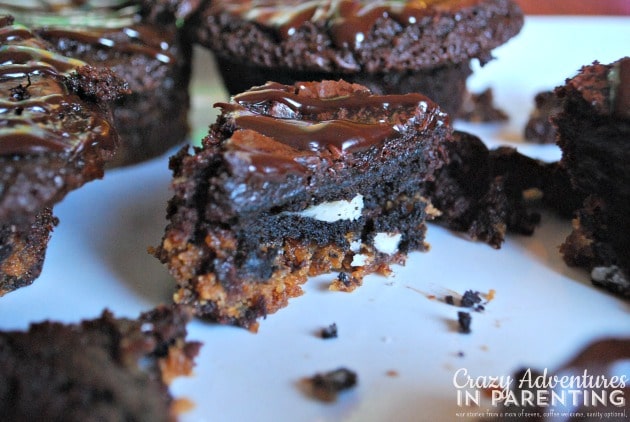 Is this something your family might want to enjoy, too? What are YOUR favorite desserts? I'd love for you to tell me in the comments 🙂
Be sure to check out more Oreo Recipes, Cookie Dough Recipes, and all my desserts! Or, check out my recipe index for everything else!