I know it's been a while since I shared pictures of the new house. It's been a pretty busy time here in the Douglas household, but since I've been a busy bee at work decorating for fall, I decided to finally take and post some pictures to show you what we're up to. Still work to be done, though, but I think being a homeowner means always having weekend projects planned. Am I right?
Here's the view when you walk in the
front door
(stair way not shown on the right):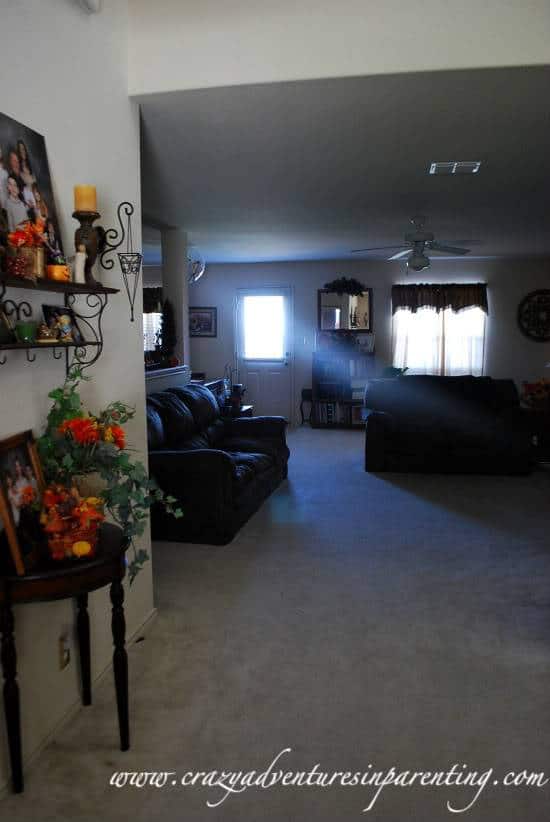 Love the natural light that fills our house.
And, as you step in, just past the staircase (you can see the banister sticking out on the right of the photo) here's a full shot of our great room/living room: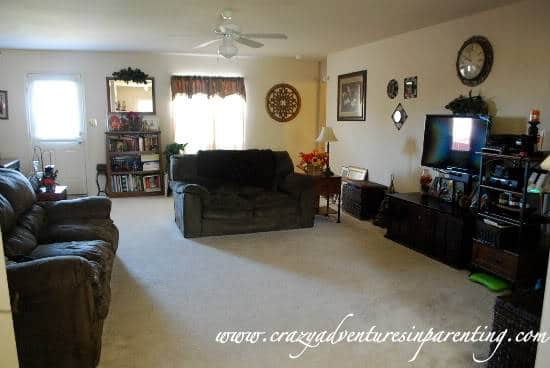 Amazingly, we haven't wrecked the white carpets yet. Whew! Hate the ugly ceiling fan, though. Need something brown and decorative, that thing's just plain ugly.
I think I want to move that bookcase to the side wall, so it isn't the first thing you see when you walk in. I thought about putting a side table and chair there, by that beautiful back window. What do you think?
Here's the part you couldn't see upon walking in, you have to turn to face the entry way to see the stairs here. Love that this is what you see from the dining table and couches.
Here's my very festive vineyard-themed kitchen with black Whirlpool appliances. Yes,
my fridge
is always this crowded. You should see the calendar all filled out with soccer games and practices now. Sca-ry!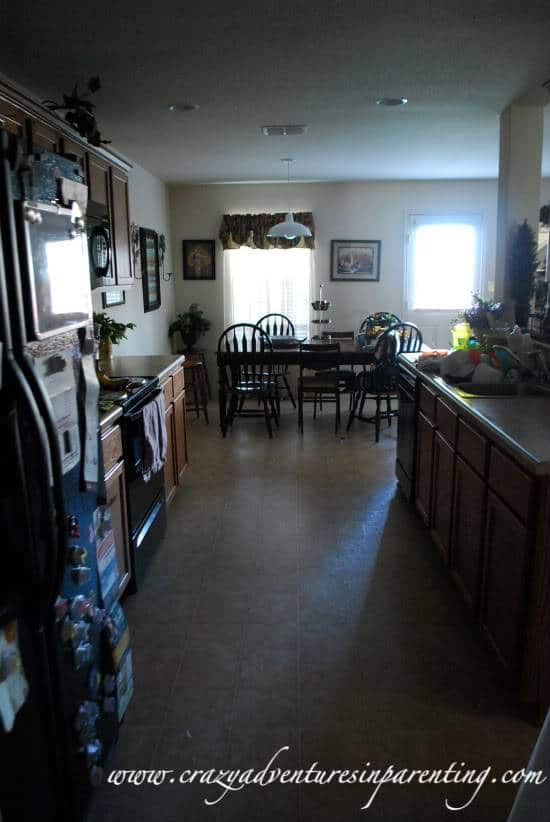 With a sink-full of dishes. Keepin' it real, yo! Here's an alternate view of the dining room from the living room, from Baby Dude's Toy Story Birthday Party.
Can you tell this is an open-concept house? It's very airy and bright, with lots of natural light, but OH MY, is it sometimes loud. No doors or walls to shield yourself from noises. There are good and bad qualities to open concept living we are witnessing first hand.
I love this little artsy "peek-a-boo" shot through the blinds on the back door to see our back yard. Lots of potential back here.
Still lots more to share with you, like the kids' playroom makeover, including the storage bed my husband and I built ourselves!
Never miss a thing! Subscribe today for all kinds of crazy parenting fun!