I cried during yoga today.
I cried as I stretched and breathed and visualized the person I want to be again, the person I fought so hard to become, the person I've let slip away.
—
When I picked up the kids from after their awards ceremony, they were in the dance instructional room. "It sure has a big mirror, huh?" They mentioned, looking at the wall-to-ceiling mirror behind them.
As we walked out, I responded. "Oh yes, it helps you to see every move you make. I miss it (dance)."
"You miss it?" one of my kids asked.
"Yes, baby. I used to be a dancer."
"Mom, you used to be a lot of things." My son said.
What he said hit me like a sledgehammer. I could barely breathe.
He's absolutely right, I used to be a LOT of things. A lot of things that I am no longer, things I've lost over the years, things that have become buried, part of my past, things I'm not too happy that have gone and not resurfaced. I've experienced so much in my lifetime, experiences I've practically forgotten about since becoming a mother.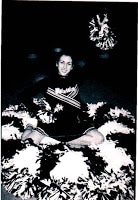 I used to be a dancer.
A cheerleader.
A soccer player.
A restaurant manager.
A painter.
An athletic woman.
A cheerleading coach.
A poet.
A tree-huggin' hippie.
A skinny woman.
A sketcher/drawer.
A woman who wore make-up regularly.
A woman who SHOWERED regularly.
| | | | | |
| --- | --- | --- | --- | --- |
| | | | | |