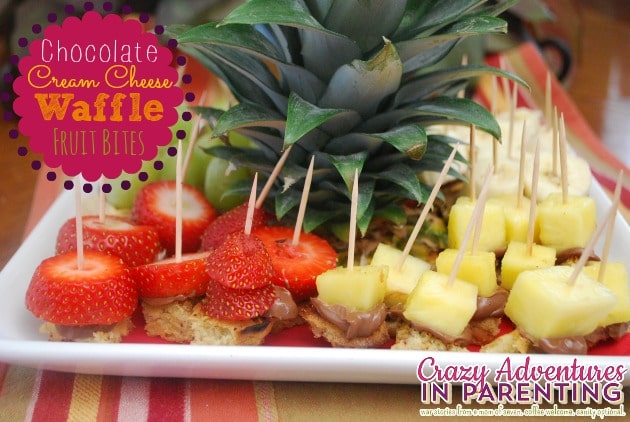 I am a compensated Chief Waffle Officer for Eggo®.
Fall may have arrived, but it's still warm here in heart of Texas. We're going into week four of NFL football season (while only still in week three of our local season), and we're appetizer and entertaining crazy on the weekends. Chili? Check. Spinach and artichoke dip? Check. Chicken Bacon Ranch Quesadillas? Check. But what about something fruity and fun? We serve cut up fresh veggies, but rarely do you ever see fruit at our entertaining table. (Or more importantly, the fruit DIP. Heh.) I've solved that issue, by making these adorable and scrumptious Chocolate Cream Cheese Waffle Fruit Bites.
By cutting up some Eggo® Thick & Fluffy Cinnamon Brown Sugar Waffles into small, bite size pieces, slathering them in indulgent chocolate cream cheese, paired with some cut up fruit on a toothpick, you have something simple, delicious, and OHMYGOD fantastic!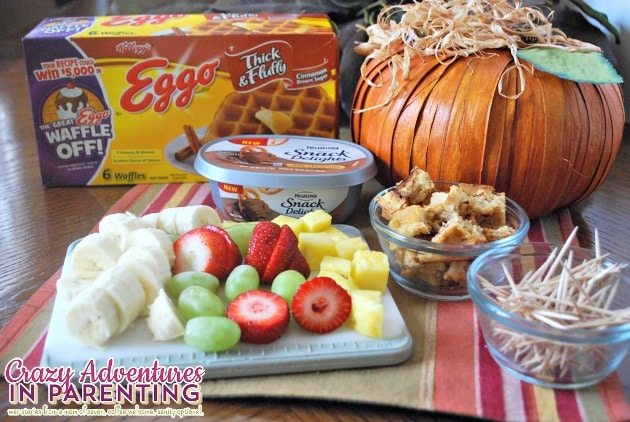 Would you LOOK at THAT!?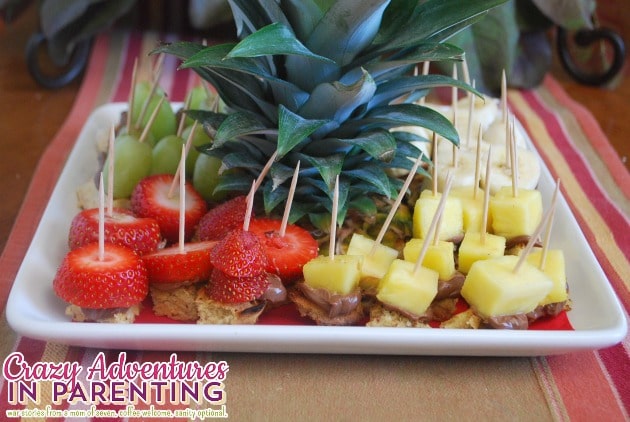 Look at all that mouthwateringly awesome chocolate cream cheese!!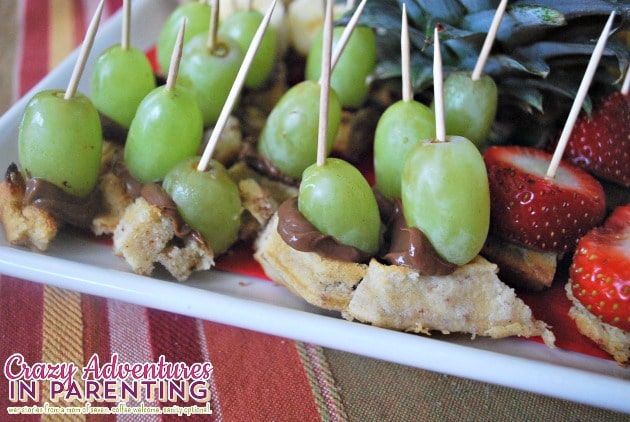 It's like a fruity chocolate cream cheese on a stick, with a hint of cinnamon from the waffles. It's MAGICAL!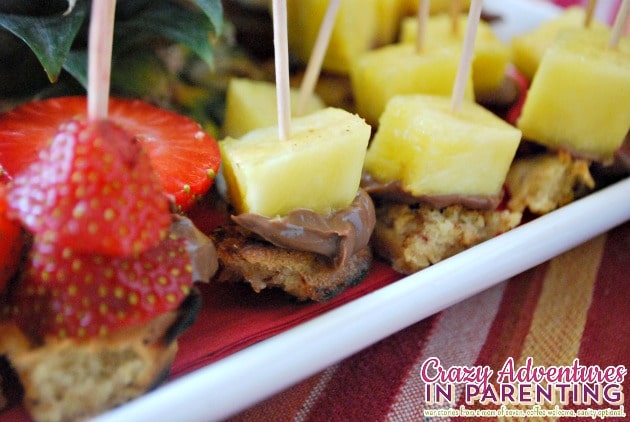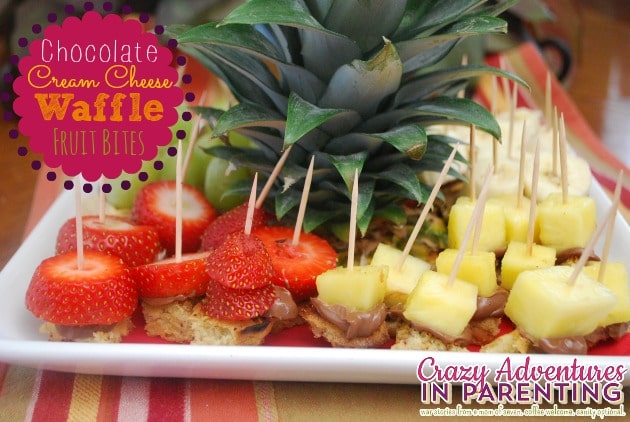 Chocolate Cream Cheese Waffle Fruit Bites #EggoWaffleOff
The fun chocolate cream cheese waffle fruit bites are the perfect complement for your appetizer table.
Print
Pin
Rate
Ingredients
Eggo® Thick & Fluffy Cinnamon Brown Sugar Waffles

Philadelphia Snack Delights milk chocolate cream cheese

fruit of your choice

I used bananas, strawberries, pineapple, and grapes
Instructions
Toast your waffles.

Dice up all of your fruit into bite sized pieces.

Spread a little bit of the chocolate cream cheese onto the fruit, then press into the waffle, and finish with the toothpick on top. (You might want to skewer the fruit first to spread the chocolate cream cheese on - you decide.)

Press down until the toothpick goes into the waffle firmly and can stand on its own.

Arrange on a platter or tray - chill until serving time or serve immediately.
That tiny crunch at the bottom really makes it, too. These were such a huge hit here at home! I hope you decide to try these! Wouldn't these also make a fantastic after school snack, too?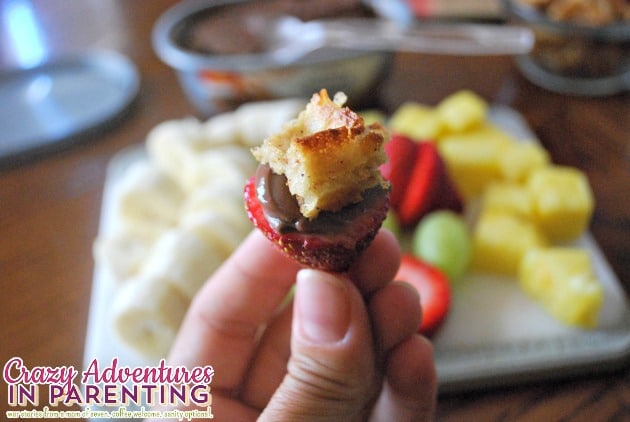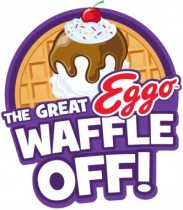 What could you create using Eggo® waffles? Enter The Great Eggo® Waffle Off! contest and visit Eggo® on Facebook for their contest app. Breakfast, lunch, dinner or dessert, you choose what recipe to create and enter that could win you the $5000 grand prize (or several other prizes for runners-up, including cash or Eggo® products)!
Did you catch my Whole Wheat Peanut Butter Banana Blueberry Waffles and Ice Cream Birthday Waffle Sundae with Biscoff Spread and OREOs that I made previously? Stay tuned for more wafflelicious recipes from me every Wednesday from today until the end of October as a Chief Waffle Officer for Eggo®.