I love decorating for every season and holiday and Halloween and Fall are no exception! Come take a look at our Halloween and Fall decor and fun autumn decorations around our house!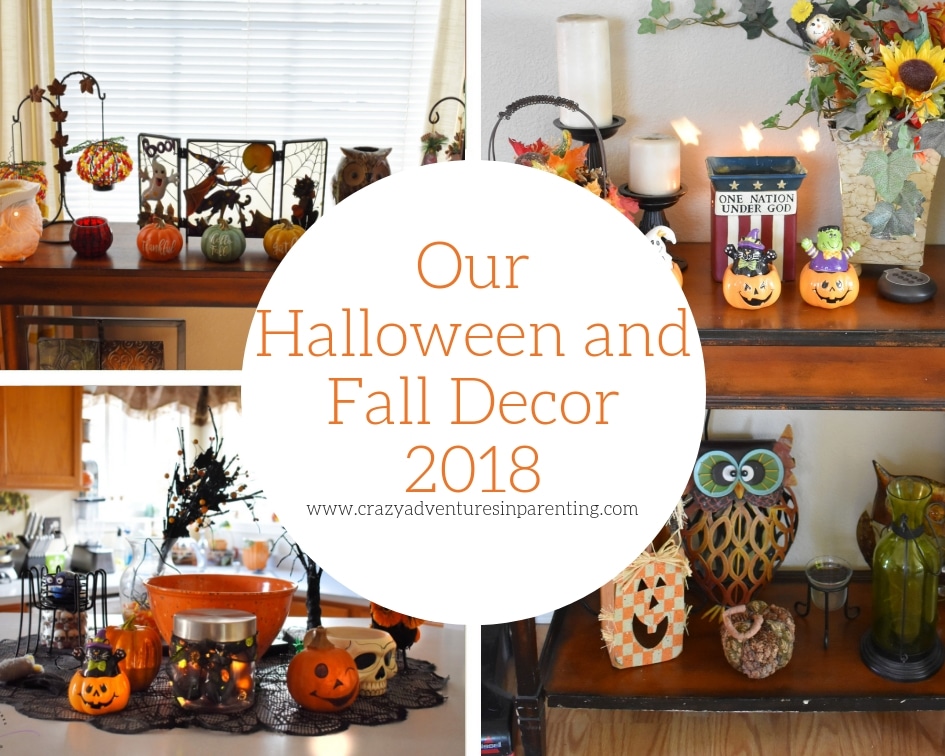 Our Halloween and Fall Decor 2018
We are moments away from Halloween and I absolutely had to share what we've been up to here at home this year! I'm passionate about decorating for every holiday and decorating for fall is no exception, it's actually the start of some of my favorite holidays and so of COURSE I'm going to go all out decorating, duh! I had to buckle down and shoot all the spots in our home where I've put up Halloween and Fall decor, I just HAD to show you!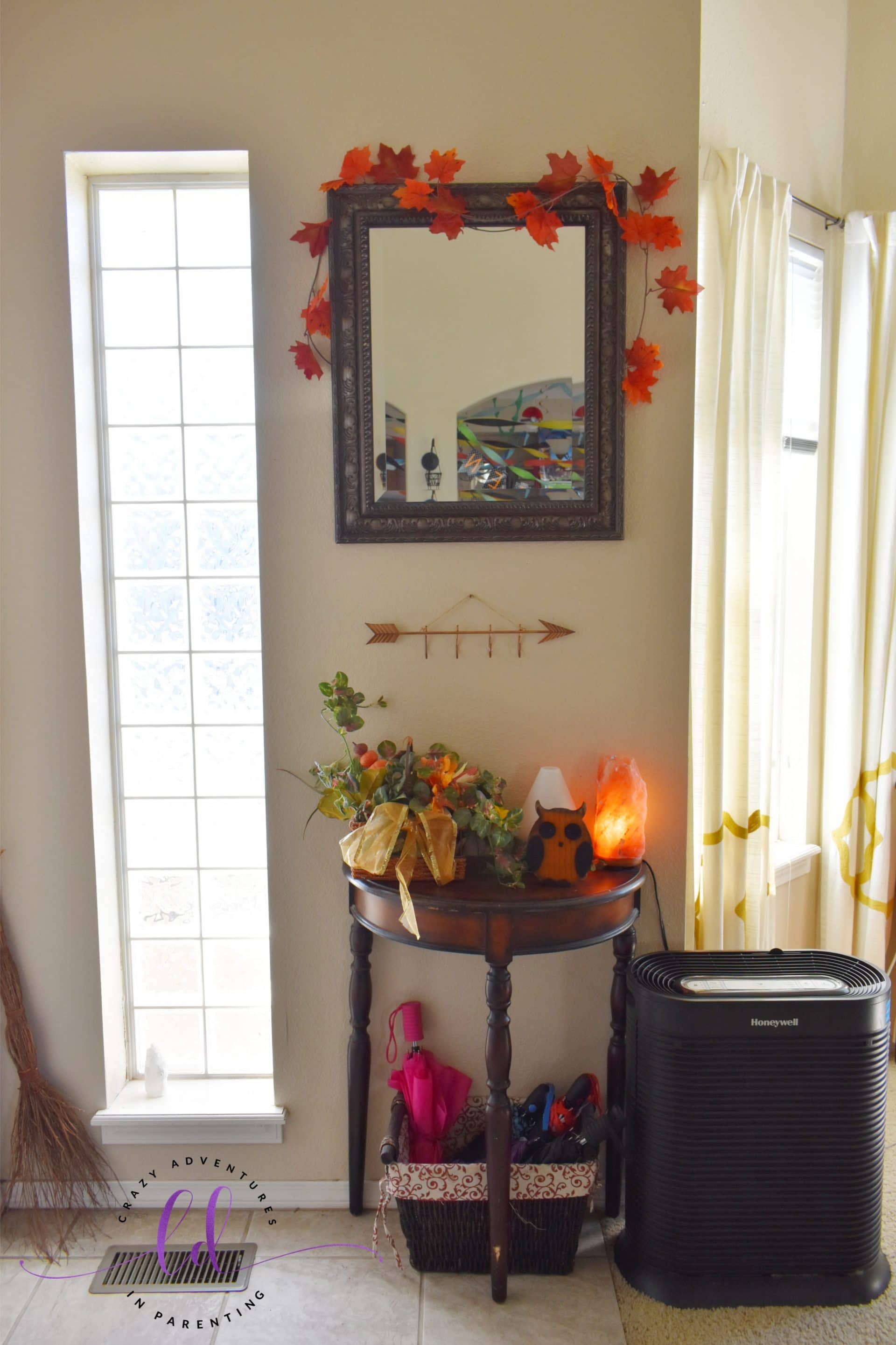 Halloween and Fall Decorations
In the above picture, this is what you see right by the front door. That's our little umbrella rack under the table, complete with fall garland on the mirror above the table so you can check yourself before leaving for work, school, or appointments. This area is a prime area where I can add fun Halloween and Fall decor items. Below you'll find the wall area next to the front door that you also pass on your way out. I'm such a sucker for inspirational block signs!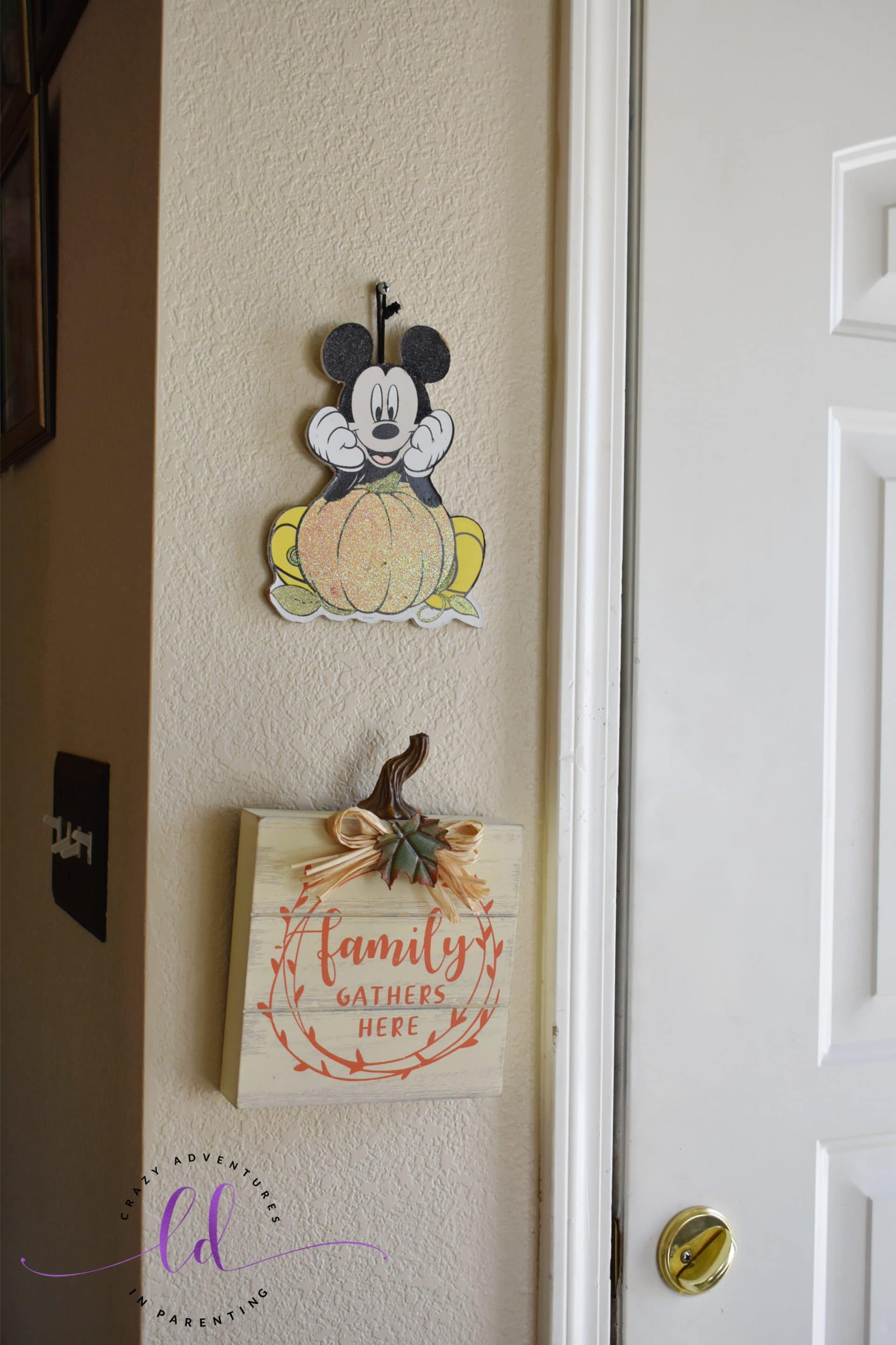 By our bay window in the living room, we have a large decorative table which I adore adorning with some of my favorite Halloween and Fall decorations. Some of these are really old (from Home Interiors over 12-13 years ago kind-of old) and some are brand new this season!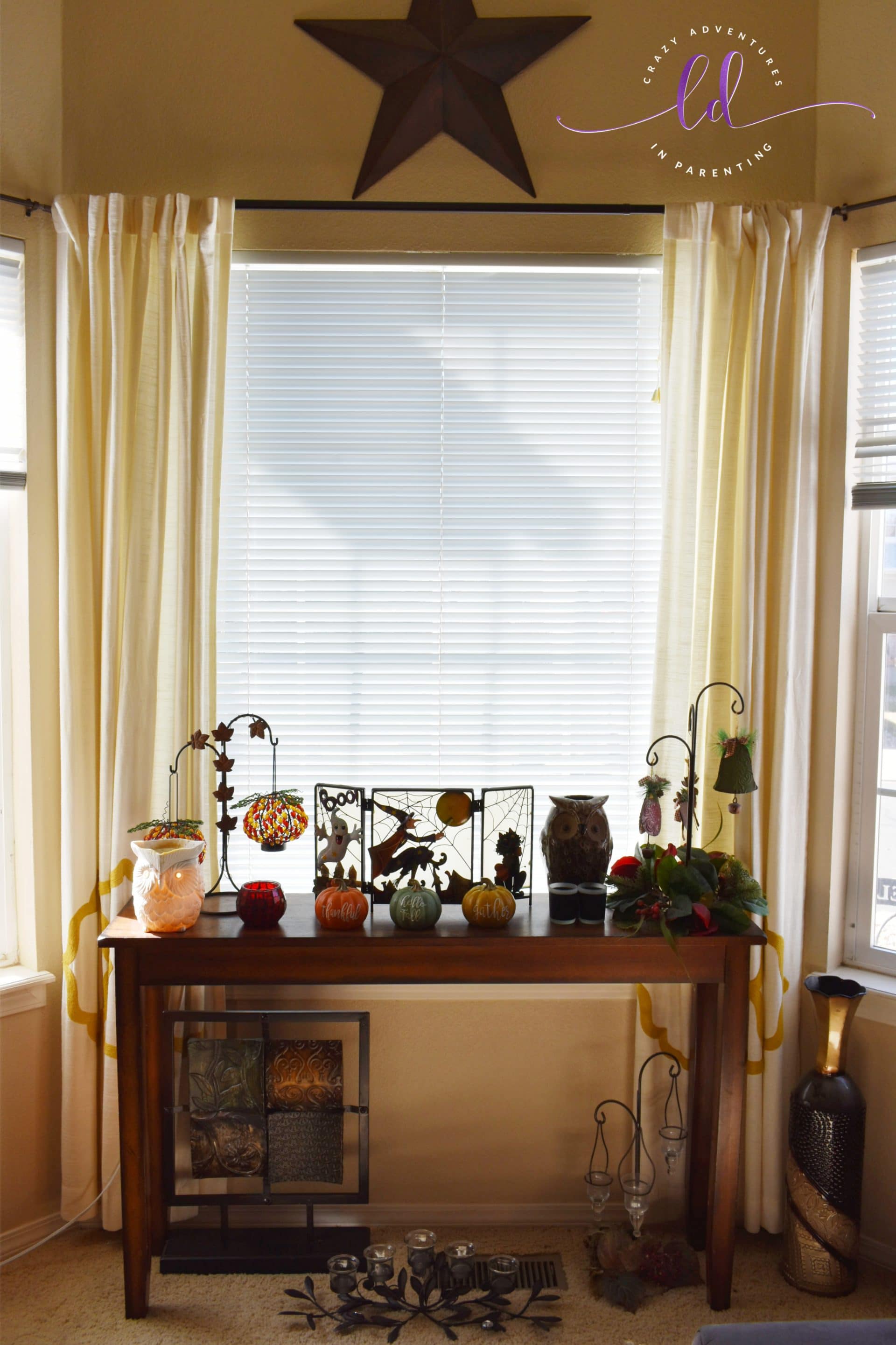 Halloween Decorations
Here's a close-up of that window table – that "Boo" screen there actually holds tealights! And that owl warmer is from Scentsy and is up year round (Owl lover here!) and I've always got something fall and bakery-esque melting in it to make the house smell like I'm baking – yum!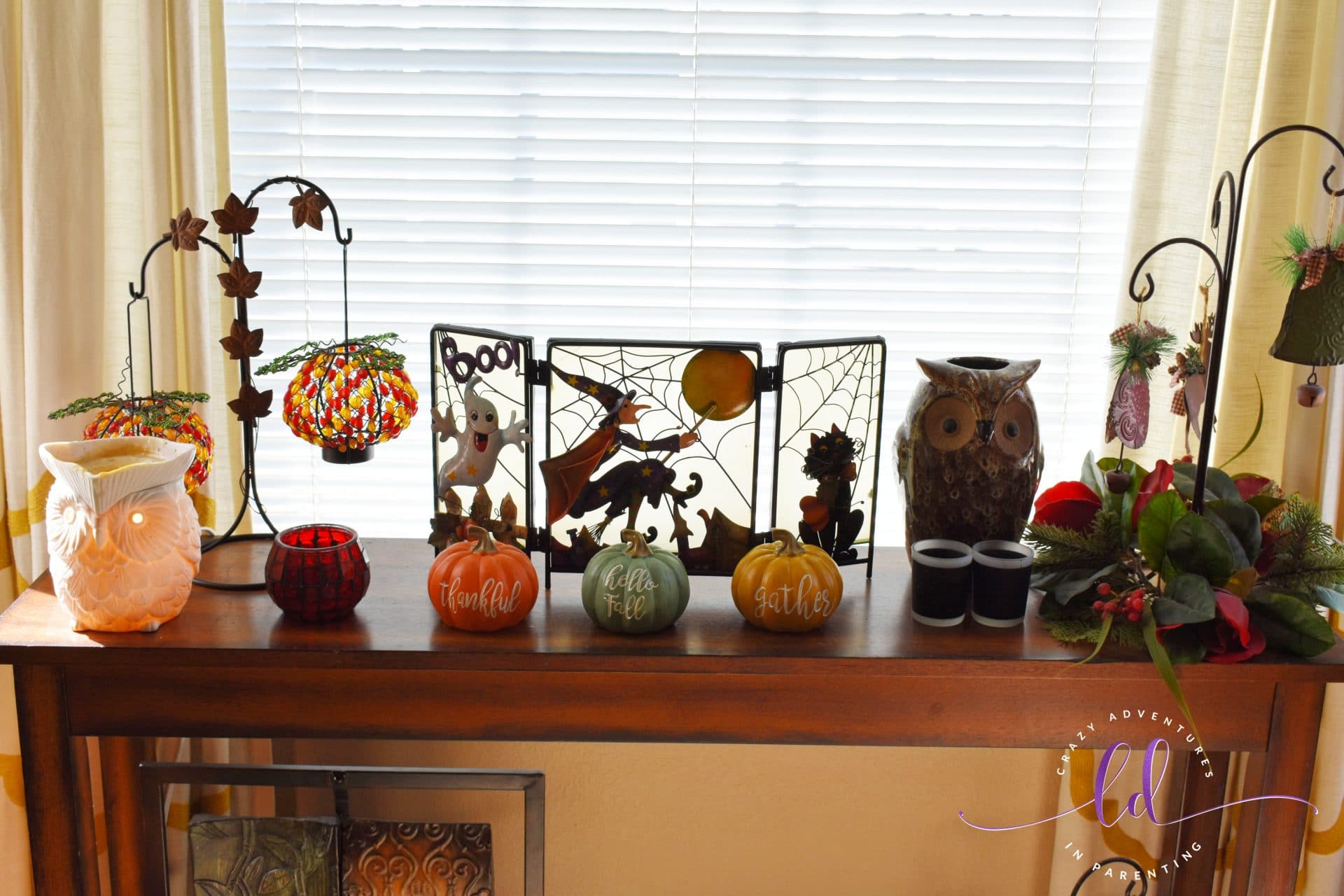 As you step into the living room by the front door, you'll see our staircase with stair step shelves. These shelves are AWESOME for decor, as you can see.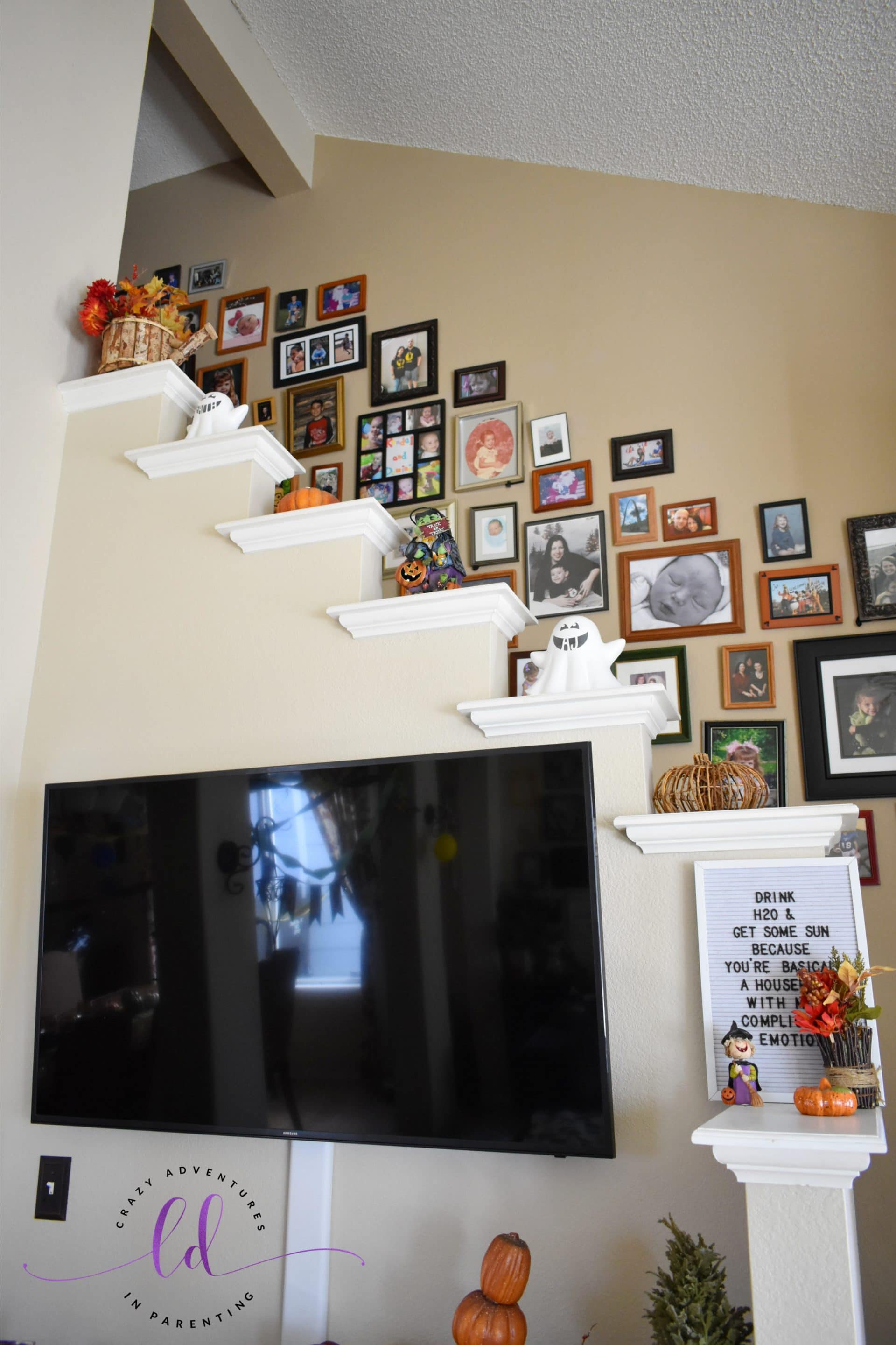 Decorating for Halloween and Fall
Underneath this area as you can see is our wall mounted TV and our TV cabinet, chock-full of awesome Halloween and Fall decorating awesomeness! Yes, that is a Yankee Candle Candy Corn Candle and it smells deliciously like Candy Corn! I can't take it!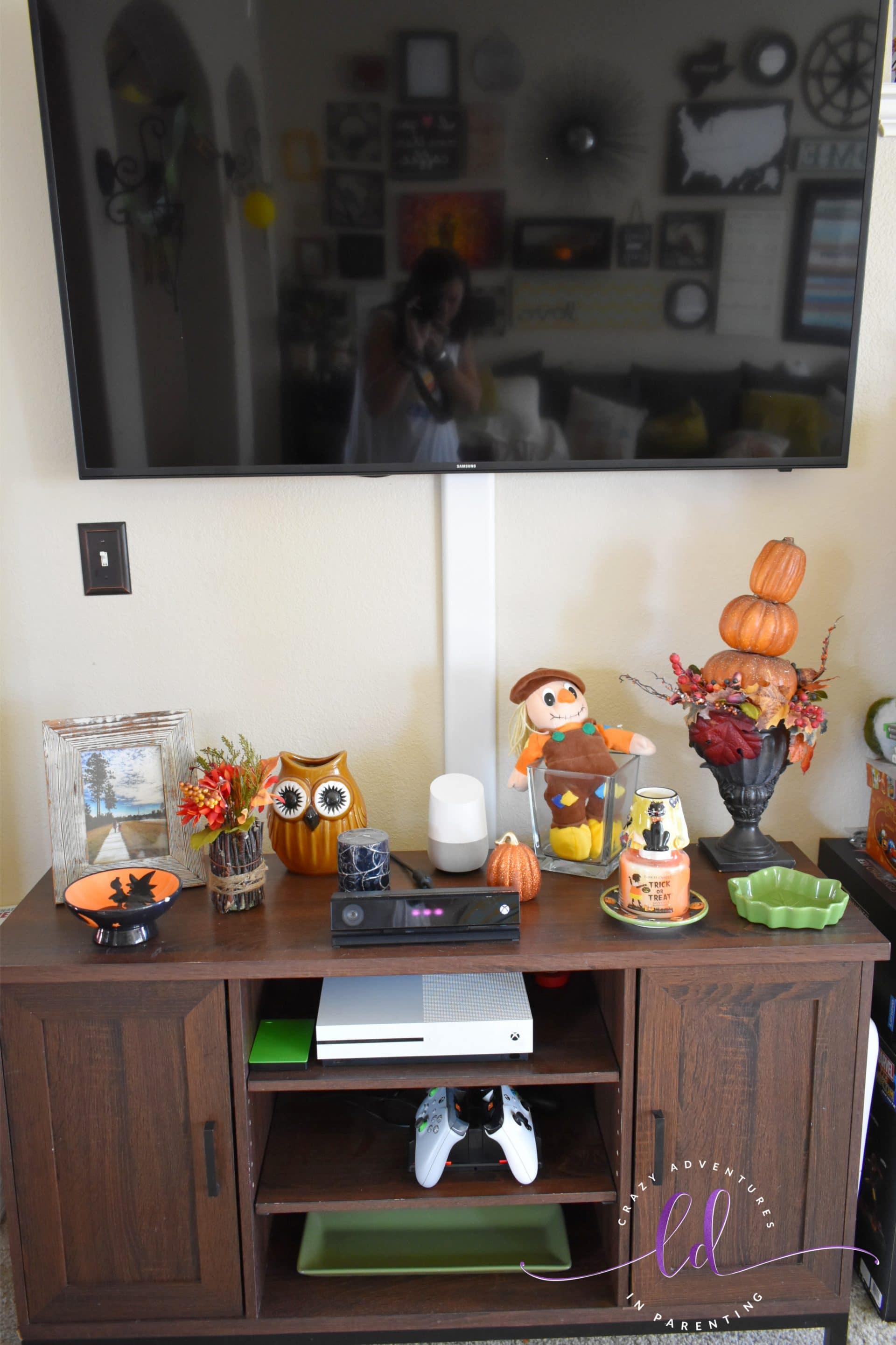 As you leave the wide open living room area, you enter into our dining room area (also open) to find more Halloween and Fall decor on the side table in the dining room. You'll recognize a few of these items as items I've had for YEARS now, including more owl decor like this! And yes, it's dry here in Colorado, we need essential oil diffusers in every room!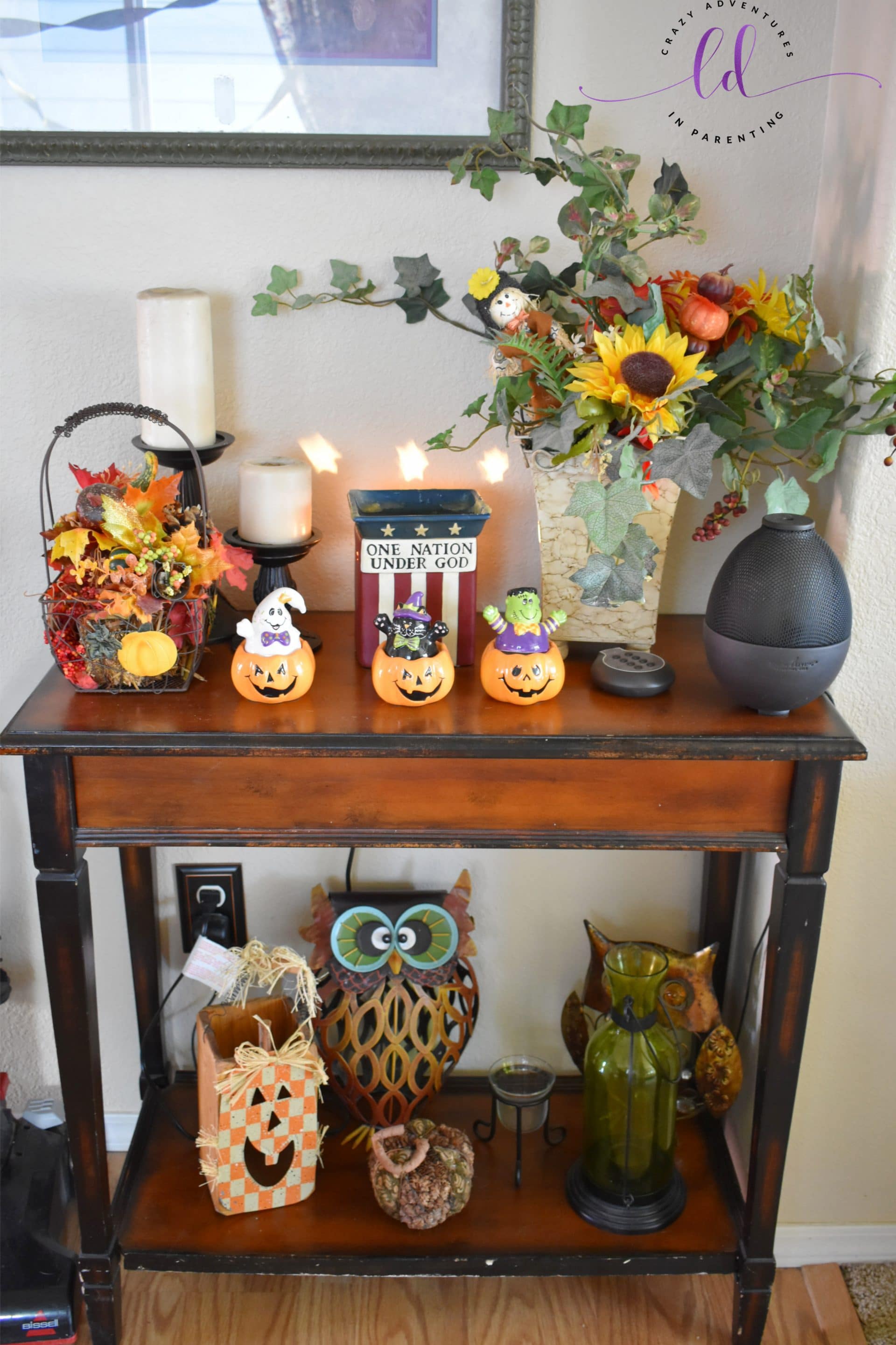 Fall Decor
The dining room table is kept fairly clean, I could go crazy here but it's proven difficult before, lol! Little hands want to constantly touch everything so we try to go as easy as possible here. These pumpkins were found at Walgreens but I've found similar ones at Target and Amazon.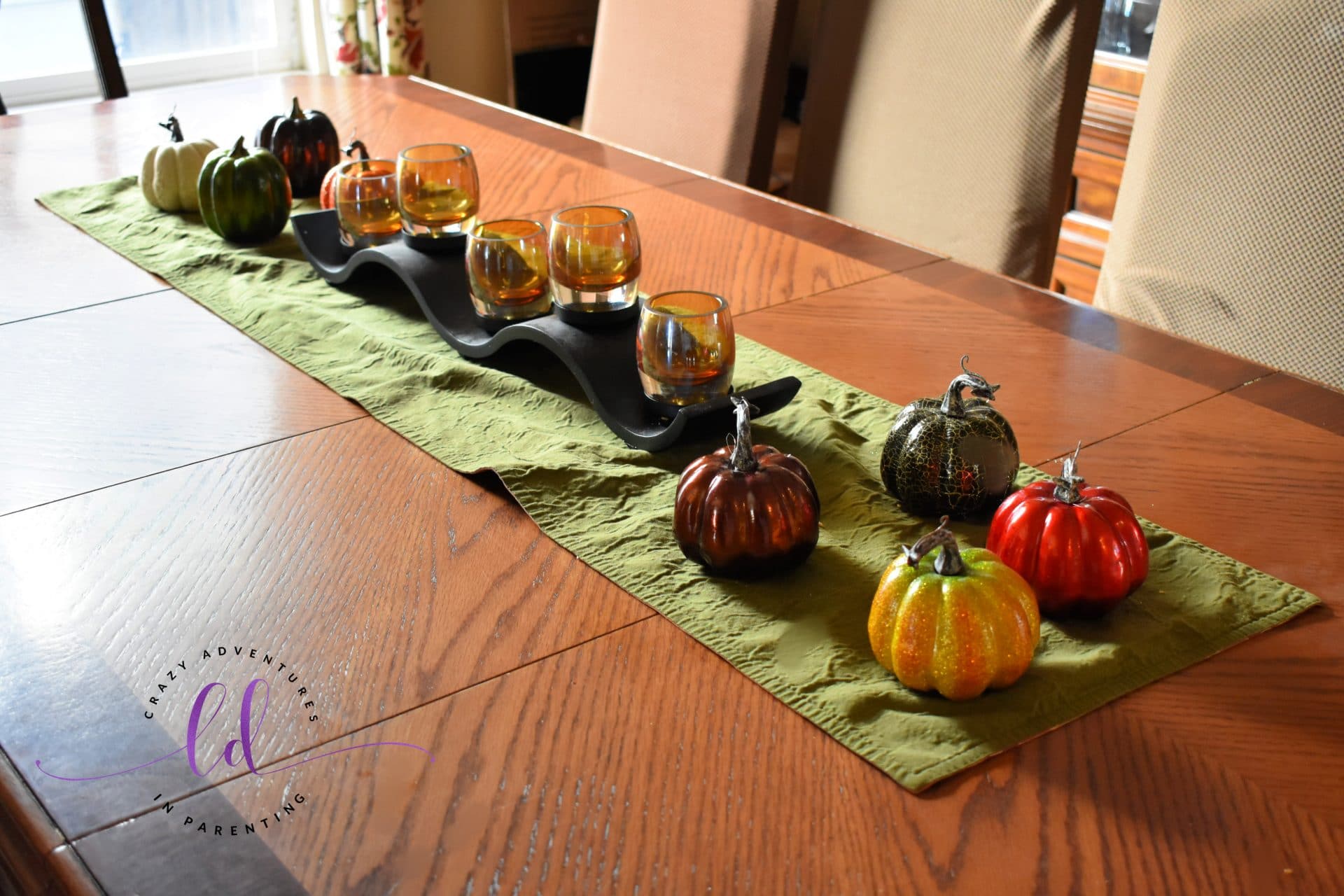 The fireplace mantle is my favorite during the holidays and I get to stare at it often because it's in my office/family room! (I can't wait to show you all our stockings when it's time!) For now, I love to illuminate this area with these fun pumpkin lantern lights and fall leaves weaved in between glass votive candleholders.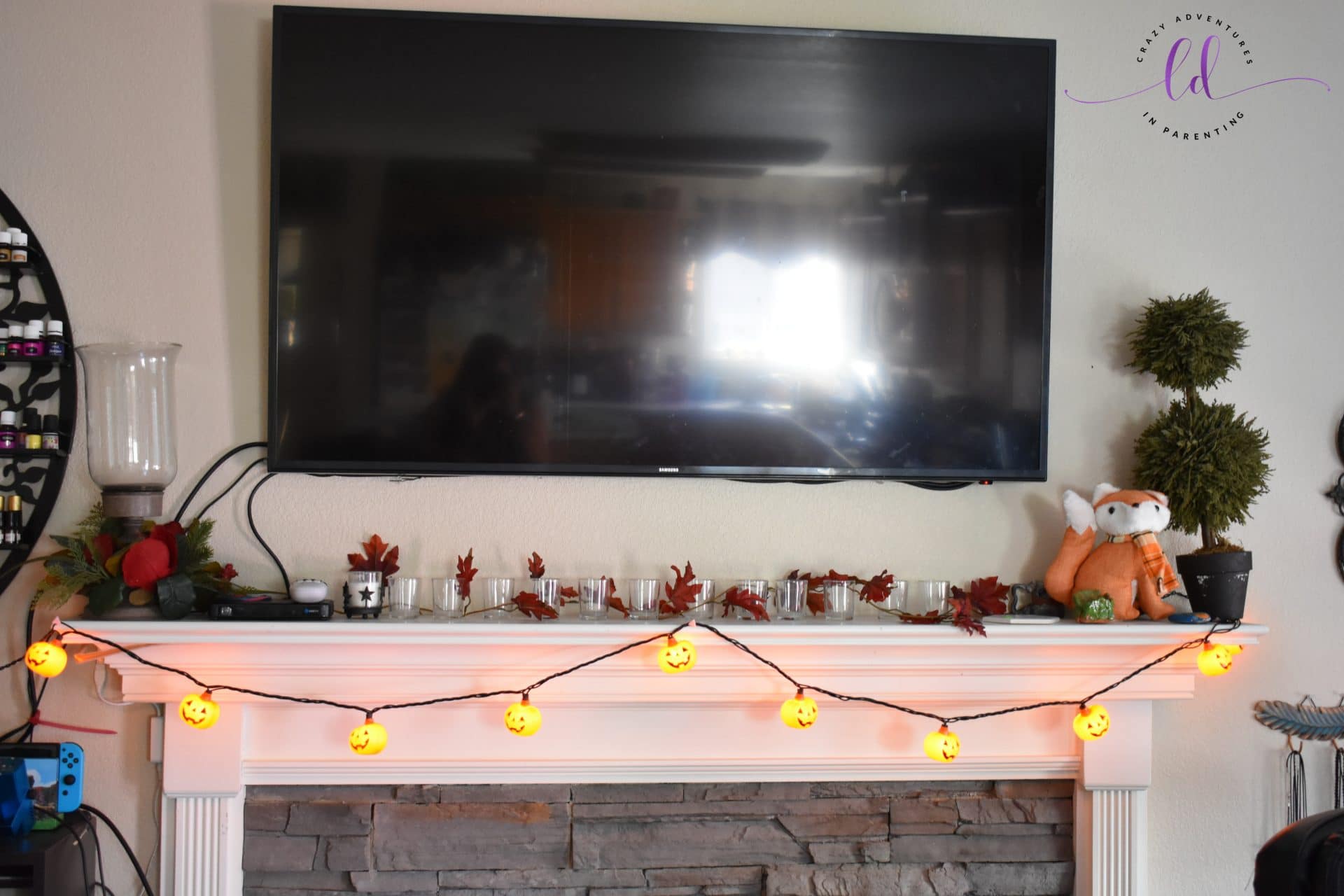 In this wonderfully sized kitchen, we have a "bar" counter area which makes a great breakfast spot and homework spot in the afternoons. However, I get a little crazy on it with stuff I used to keep on the table.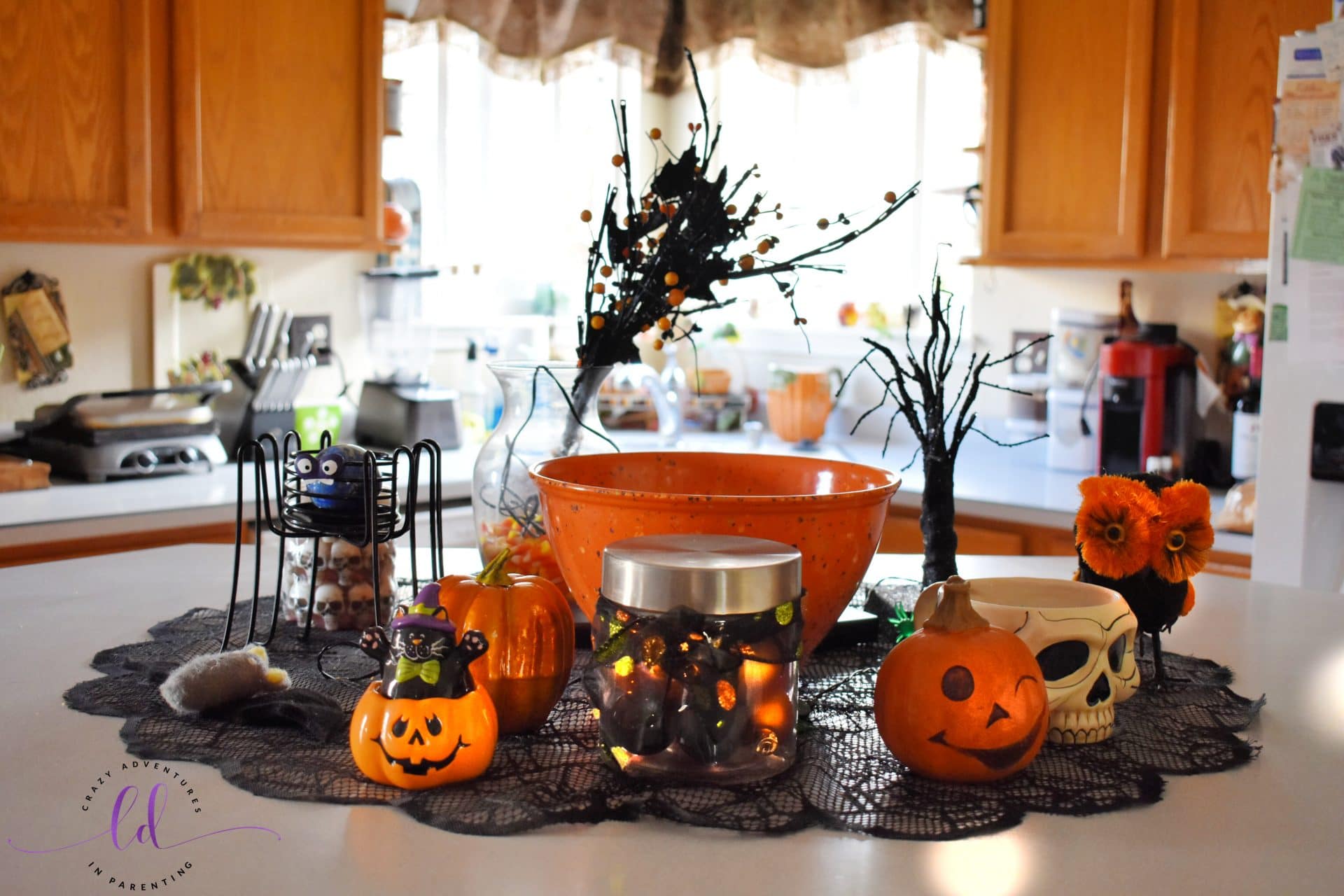 I don't do much in the kitchen area, but what I do decorate, like this wrought iron Halloween decor, it works well with what's already up (we have a vineyard theme so fall works quite nicely).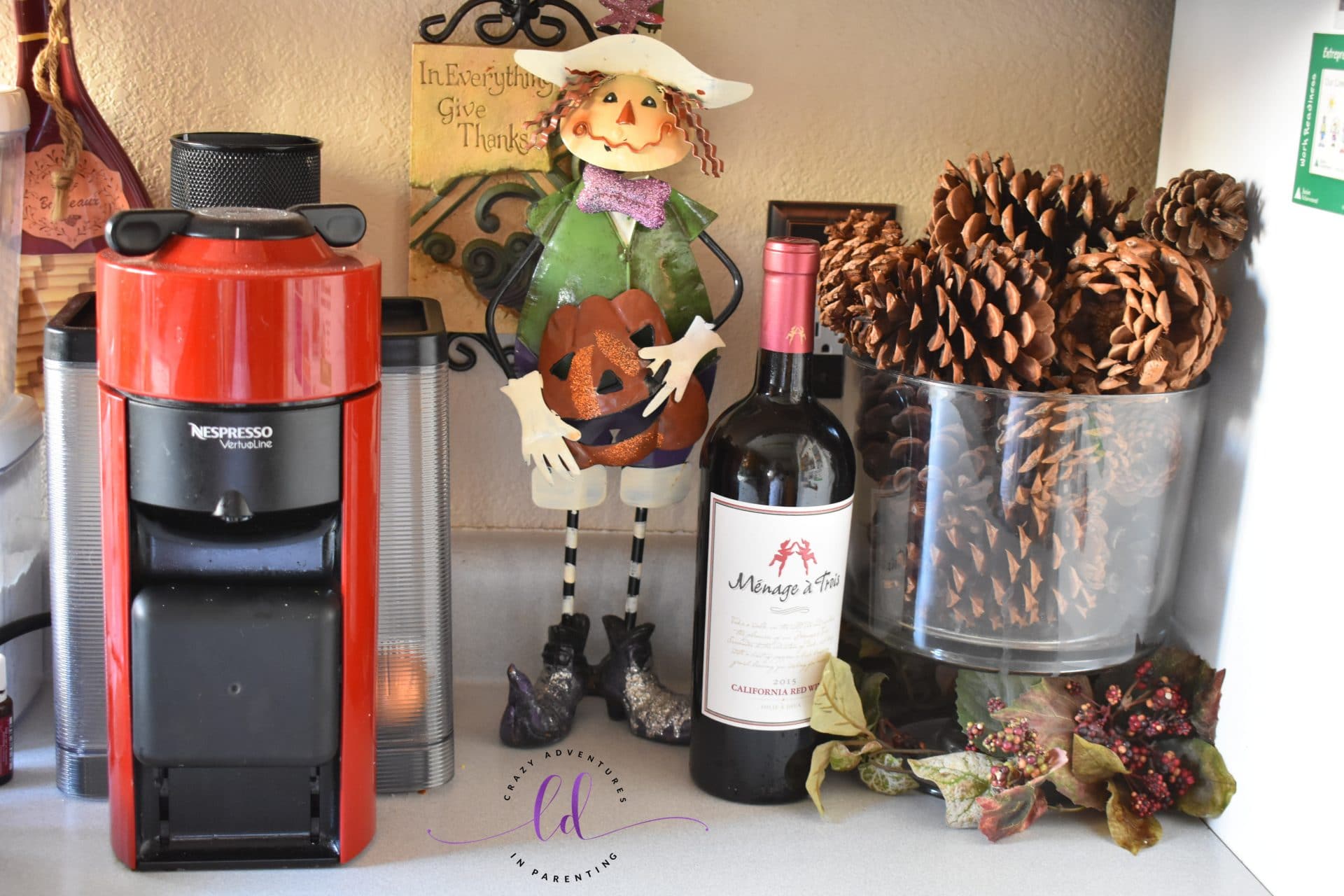 The sink can get crazy with eleventy-billion kids and dishes, so I keep this area pretty uncluttered as much as I can, so I went with an easy (and gorgeous) pumpkin pitcher and owl salt and pepper shakers.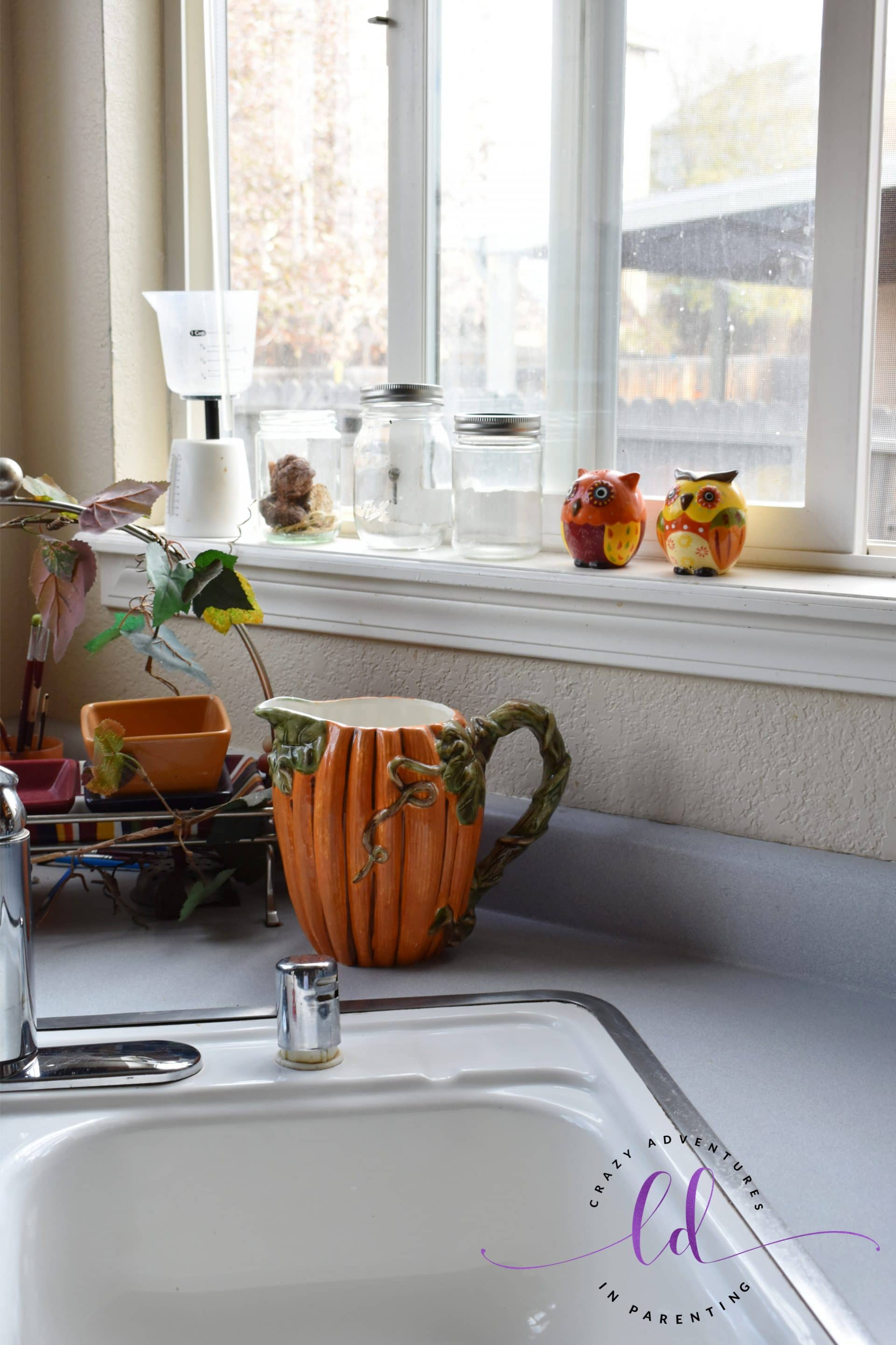 I hope you enjoyed this mini tour of our home! What do you think? Do you decorate for all the seasons and holidays like I do? Check out my other decorating posts while you're here! If you're interested in any of these items, I've linked all these accessories and decor here on my RewardStyle page.