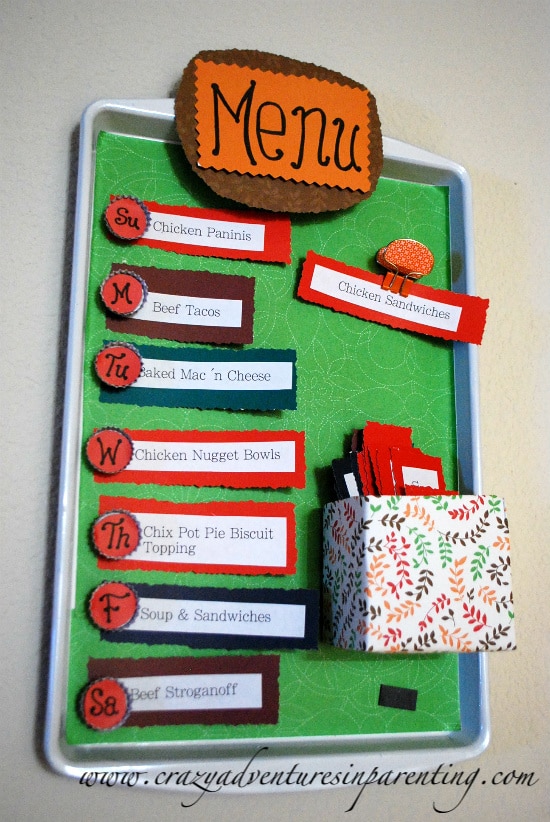 It's (possibly/more-than-likely) Baby Week here, and our menu reflects a laid-back, easy-going menu – one that's easy for kids to take over, or grandma to fix on the fly, or dad to throw together just in case mom's a-huffin' and puffin'. It's also an easy week because it's a full week of soccer, with first games starting this weekend (oy).
That is, if our family gets to feeling better.
Our second-grader, Super M, just returned to school today, after being down-and-out with a fever/cough and heightened asthmatic symptoms. Baby Sis is in the thick of having this 'gunk' right now, too, having just begun the fever portion of it, and Baby Dude went to bed with a slight cough, only to wake with an even worse one this morning. With Baby Dude and his inability to know how to cover his cough, the whole house will probably have it by week's end. Sigh.
"Mooooooooom!" he calls to me, coming towards me, only to hack his germs all over my shirt and arm. Double sigh.
Whatever this illness is, it took out a good portion of my second-grader's class before making it's way through our family, and it really wants to spoil the excitement of Baby Week here in the Douglas household. And potentially drive momma Douglas into hysteria with worry over how this will all play out, giving birth with sick kids at home, and how mom can take care of everyone without getting it herself. Triple sigh.
So, easy meals it is this week.
Dinners this week include:
Chicken Paninis (which we had last night) a la Robin Miller's cookbook. We hadn't had it in a while, and were sad to find the store didn't carry the necessary miso paste needed, so we made it with a peanut paste. TOTAL YUM!
Beef Tacos – we always try to have at least one mexican meal a week, and we haven't had beef tacos in a while (we usually substitute for ground turkey). We have some beef left in our deep freezer, so we decided to go with it.
Baked Macaroni and Cheese – Ohhh, yes. One of the kids' favorite meals. Figured this one would go over REAL well if mom (ahem, me) is in the hospital with the new baby.
Chicken Nugget Bowls – Because these are so crazy easy and delicious and yum.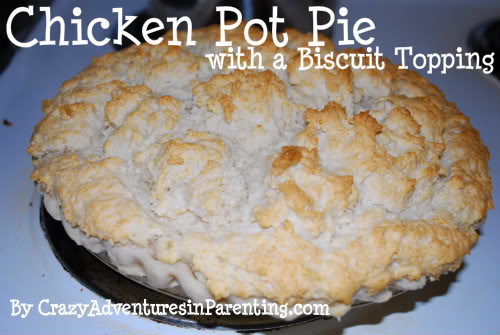 Pin It
Chicken Pot Pie with a Biscuit Topping – again, this one's pretty easy with a pre-made pie crust. Just a couple of ingredients and the kids can help stir the biscuit mix.
Soup and Sandwiches  – I am not sure you can get easier than this. Ha!
Beef Stroganoff – My oldest wanted this on the menu this week. This will be for when mom is NOT in labor, but yet, it's still easy to make.
(On deck, just in case, extra "quickie" meal – Chicken Patty Sandwiches)
Lunches will be hard to say this week – the older, non-sick ones will have their school lunches, while the sickies at home will be trying to mend on lots of chicken soup, grilled cheese, toast and other things that help kids feel better.
Breakfasts this week will include egg sandwiches, chocolate chip pancakes, and a new recipe I tried, Peanut Butter Chocolate Chip Crescent Rolls. I'll share that with you this week, as I'm still experimenting on how best to make it tasty.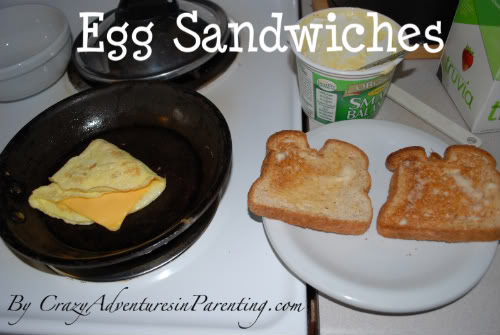 Pin It
What are YOU making this week?
Never miss a thing! Subscribe today for all kinds of crazy parenting fun!