In case you haven't noticed, my toddler is all-girl. She's a pink-lovin', hair-doin', make-up stealin', finger nail paintin', food servin', Princess adorin' girly girl who loves dolls and dress-up and tea parties and giggling her sissy-sweet voice in a high pitch that makes us all melt into pieces. She is the first one to pull up a chair and help me make something in the kitchen, and my biggest helper/assistant around the house, too (most of the time).
Everyday she gets dressed up and prepares me something from her play kitchen. She sets out her pinkiest of pink blankets on the floor to do impromptu tea parties with me, serving me plates of (fake) food wherever I am in the house, and even though it's difficult to get up from the floor, I can't resist the toddler picnics. Even Baby Dude gets into it, serving food to me. Gah! This has to be one of my most favoritest things on the planet, for realz.
When it came time to populating our wooden kitchen many years ago, I used to be a (not-so-wise) collector of fake toddler kitchen food that was plastic and cheap. Blerg! I can tell you, it has not withstood the test of time. Not to mention, peeling, dented and not worthy of keeping any longer (not to mention the plastic dangers nowadays). I have learned my lesson, though, cheaper is NOT always better, and since then, I have been doing my best to replace all this play food in our toy kitchen for her with more durable alternatives, doing a little here, a little there. We bought a lot for her for Christmas, and her most recent addition is her Sweet Treats set for her Toddler Tea Parties.
In this set, she can serve me now tea-sized cookies and adorable cupcakes on her tea plates as she serves me her tea and "food" she's "prepared" for me. She particularly loves that they came with serving trays that look a lot like my stuff in my real kitchen. My husband will be checking email, and suddenly an adorable wooden cookie or cupcake will end up next to him on a Princess plate from out of nowhere, just because she loves to surprise us.
My only wish with this set is that they were bigger. If they were only actual cookie and cupcake size, that would make it a lot easier for this mom to keep track of 'em. Unfortunately, she and Baby Dude both wander with these foods around the house, and we're now currently missing quite a few cookies and one cupcake somewhere in the doldrums of a toy box, I'm sure.
Win it!
Are you looking to switch out some of your kids toys for better, sturdier ones like we are? I thought it'd be fun to give a set of these away to one of my readers.
Mandatory entry:
Click on the CP Toys Button below and take a look around, come back and leave a comment telling me what other toys they offer that interest you. By the way, after clicking this button, you will receive a 15% discount off should you decide to order. (Bookmark! Especially if you're like me, and like to plan for gifts in advance! They offer play-sets, children's educational toys, and even a play kitchen or two that might strike your fancy!)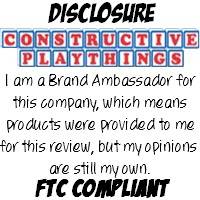 For additional entries, you can tell me more about some of the products you found there that are of interest to you at CPToys.com by leaving additional comments. You can also follow CP Toys on Twitter, subscribe to my blog, follow me on Twitter, or share this contest using the share buttons below. Please leave a comment for each additional entry you decide to do.
Not available for an extra entry, but, if Facebook is more your "thing," you can "like" CP Toys on Facebook, too.
This contest ends March 14th at 10pm CST. Winner will be notified by email. Contest open to residents of US and Canada, 18 or older. Good luck!
Never miss a thing! Subscribe today for all kinds of crazy parenting fun!