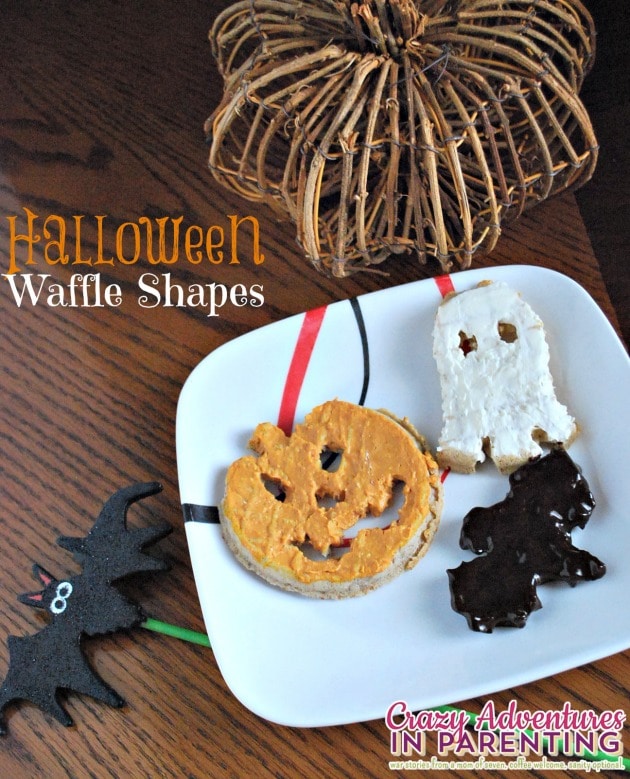 This is it! My last assignment as a Chief Waffle Officer for Eggo®! With Halloween being this week and our last theme for Waffle Wednesday to be Halloween snacks, I decided to do something kid-friendly and fun! Using my pumpkin cream, melted whipped chocolate, and whipped cream cheese, these BOOtiful waffle cut-outs were a huge hit for breakfast!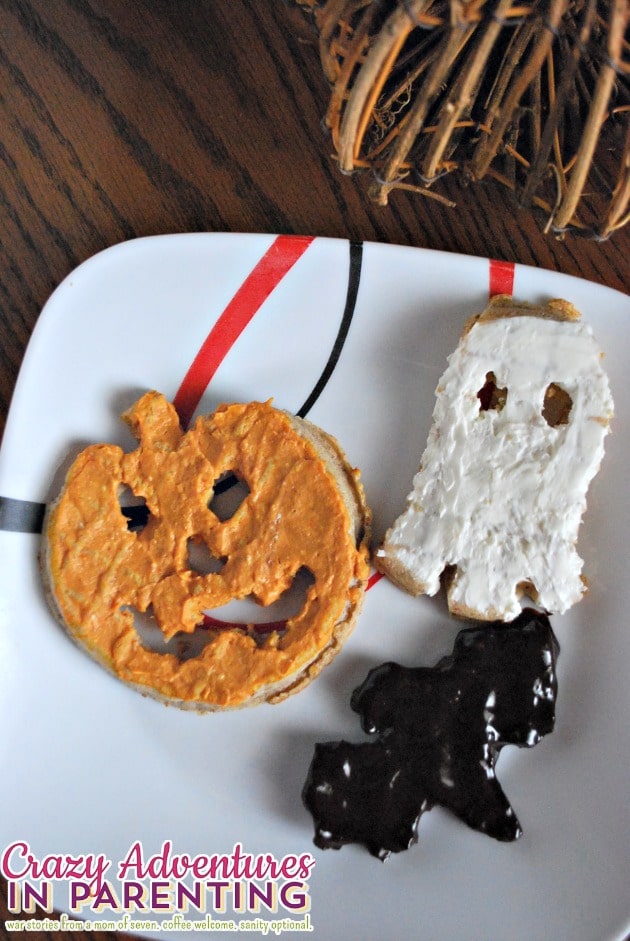 To make the ghost, simply use a sharp knife to cut two crescent shapes out on the sides, two circle holes for the eyes, and a few triangles from the bottom. Using a baby spoon (fills in the crevices nicely), use whipped cream cheese (which is easier to spread) and make a nice, even surface.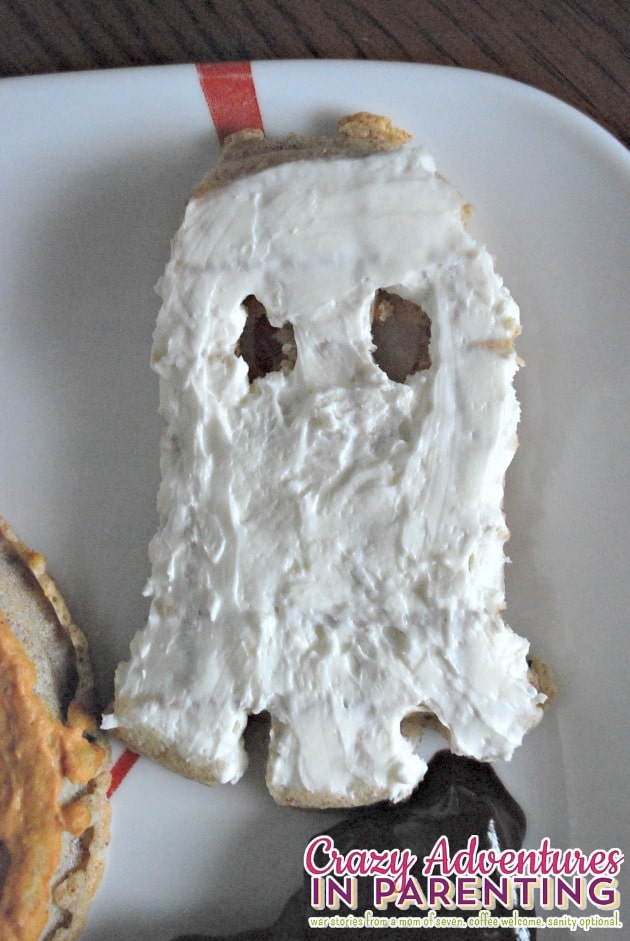 To make the pumpkin shape, use a super-sharp knife to cut out two triangles at the top (for the stem), three more triangles for the eyes and nose, and cut a mouth with one, two, or three teeth gently. Whip up some of my pumpkin cream cheese for this, and enjoy!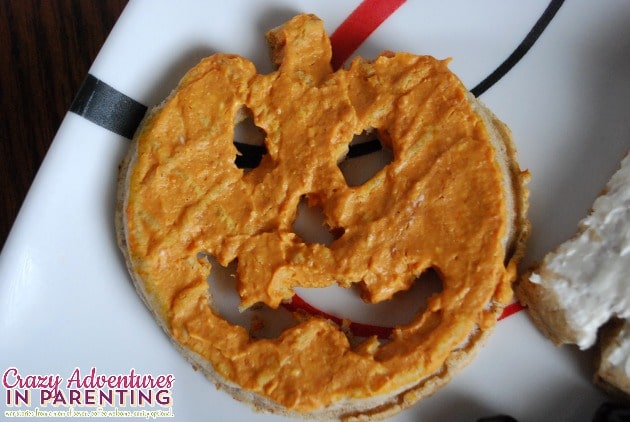 For the bat cut-out, be sure to use lots of angles (to make it easier for you) and not cutaway too much. Once the chocolate is spread over top, it's hard to see detail, so go with big angles to keep it resembling a bat. I cut out a square for the head, a triangle shape at the top for the wing, and then longer triangles for under the wing, with a pointed, long triangle for the rest of the body.
For the chocolate sauce, melt about ⅓ to ½ cup of chocolate chips with a little milk added in, and microwave for 15-20 seconds. Whisk it with a fork until it's blended together perfectly. The more milk you add, the creamier and easier to spread it gets. I double-dipped the bat waffle in twice, and was sure to spread the chocolate evenly to fill in any crevices.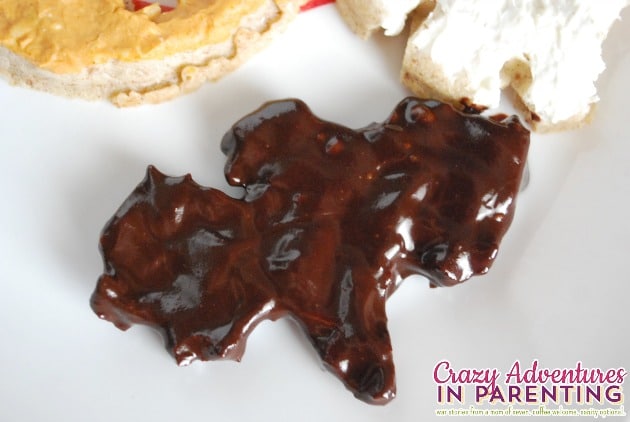 My little Batman's favorite was the bat, as you can see.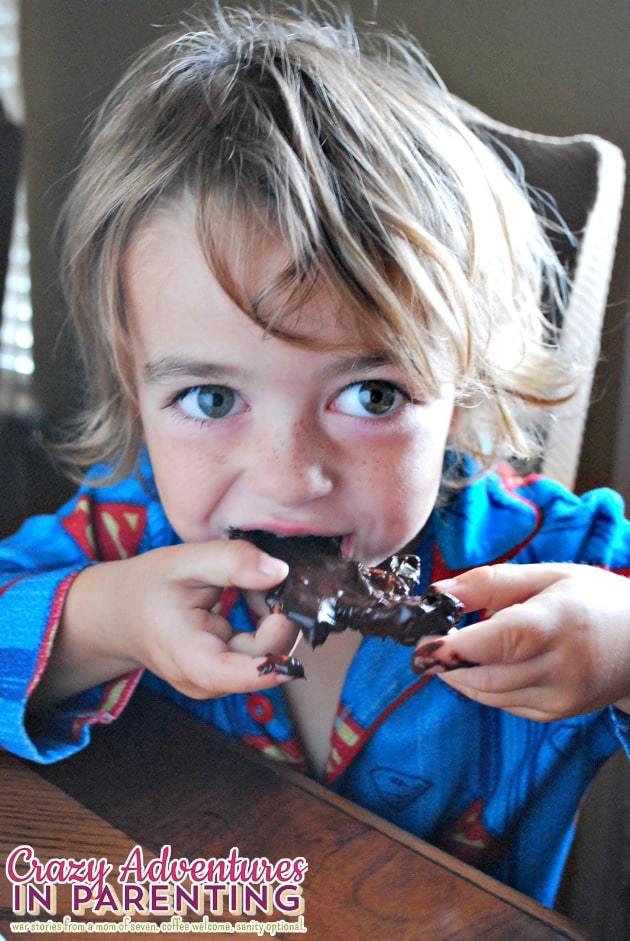 What do you think? Would this be something fun your kids would enjoy?
Win it!
Would you like to win an Eggo® prize pack!?
a Rafflecopter giveaway
Official rules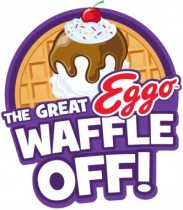 What could you create using Eggo® waffles? Enter The Great Eggo® Waffle Off! contest and visit Eggo® on Facebook for their contest app. Breakfast, lunch, dinner or dessert, you choose what recipe to create and enter that could win you the $5000 grand prize (or several other prizes for runners-up, including cash or Eggo® products)!
Did you happen to catch my previous waffle recipes for Pecan Pie Topped Waffles, Maple Cinnamon Pumpkin Cream Cheese Dip, Mickey Mouse Waffles, Waffle French Toast, Chocolate Cream Cheese Waffle Fruit Bites, Whole Wheat Peanut Butter Banana Blueberry Waffles and Ice Cream Birthday Waffle Sundae with Biscoff Spread and OREOs that I made previously? Stay tuned for more wafflelicious recipes from me every Wednesday from today until the end of October as a compensated Chief Waffle Officer for Eggo®.